Between a Volcano and a Pandemic: In the Shadow of Guatemala's Volcán de Fuego, a Community Displaced by War Struggles to Survive
"We're not here by choice—Covid has forced us to come back," says Estuardo Lorenzo, sitting at a table on his patio in Colonia 15 de Octubre, a neighborhood in the small community of La Trinidad in Guatemala's Escuintla Department. His gaze is fixed on his children, who are playing on the floor. There is a steady light rain. El Volcán de Fuego—the Volcano of Fire—rumbles in the distance, subtly marking its presence.
"Just imagine, all five of us living together in one of those little wooden shacks, sharing a bathroom with the neighbors, another family of five," Lorenzo's wife, 34-year-old Ada Camposeco, says as she stands up to swaddle her daughter, Keren. Ada was born in a refugee camp in Mexico during Guatemala's armed conflict. Keren was born in a refugee camp in Escuintla for survivors of the June 2018 eruption of El Volcán de Fuego. History repeats itself, and not just for this family.
"We don't know if we'll make it out of here alive, because of the volcano, but we're here so that we can eat, and to try to avoid getting that disease. Yes, according to CONRED [a government disaster relief agency], it's technically uninhabitable here, but it was even more difficult where we were before. There's no work in Escuintla, we don't have enough money to buy food, school has been cancelled. What are we supposed to do there?!"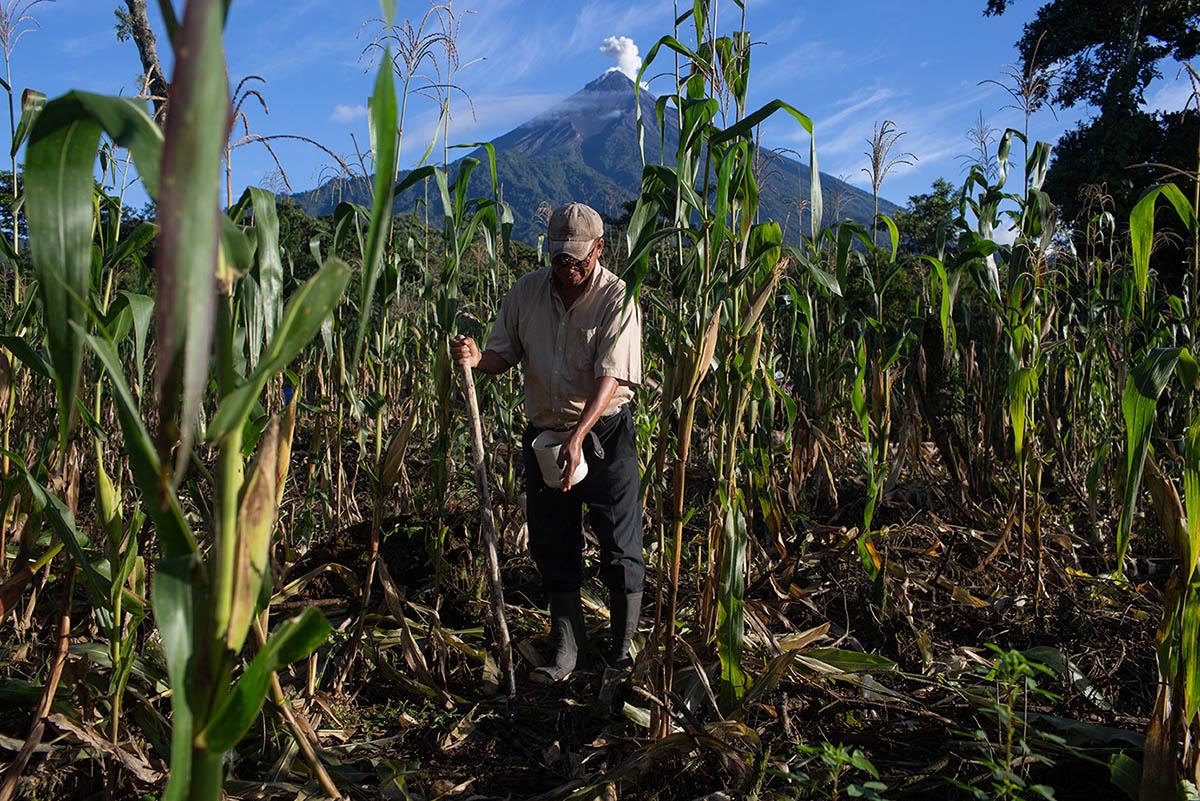 More than two years have passed since that deadly June 3, when lava flows rendered the area officially "uninhabitable," and the community of La Trinidad is still waiting for a resolution to its situation. Residents of other affected communities—places declared uninhabitable due to their proximity to the volcano—have accepted government offers of housing in La Dignidad, an urban neighborhood in Escuintla. But 163 families in La Trinidad, or approximately 800 people, remain "a la deriva"—unmoored, adrift, in limbo.
The families of La Trinidad had been staying in government-provided Transitional Single-Family Shelters (Albergues Unifamiliares de Transición, or ATUs), but when the pandemic arrived, out of fear as well as hunger, most went back to living under the volcano. Government restrictions imposed in response to the coronavirus did away with what little employment families in Escuintla depended on to buy food and survive.
"If I'm going to die from the pandemic and from hunger, I might as well go back and work our garden plot and take on the risk of the volcano. At least here we have chipilín, some basic staples like corn and beans, sometimes an egg or two," explains 29-year-old Yosmari Hernández, who, like Ada Camposeco, was also born in Chiapas, Mexico.
Originally from Huehuetenango, the families of La Trinidad are the survivors of a 1982 massacre who were relocated to the foothills of El Volcán de Fuego after returning from exile in Mexico in 1998. In 2019, the community's search for a new home was showing promise, and with the support of the Fondo de Tierras (FONTIERRAS), an institution created after the Peace Accords to provide comprehensive and sustainable access to land, they were able to identify a set of properties. Toward the end of that year, however, the landowner died suddenly, and the process of acquiring the land was permanently stalled.
"We had a second meeting with FONTIERRAS planned for March 15, but everything stopped on March 13. Since then, no one has answered any of our calls," says 53-year-old Urbano Pérez, president and legal representative of the Indigenous Authority of La Trinidad. 
"We haven't received any support from the government. They haven't considered us at all since the pandemic began. No one from the Ministry of Health has visited the ATU's, much less La Trinidad, since technically we aren't here. Nothing has been coordinated, there's no health or security measures in place for another eruption," says Yosmari Hernández
No food in the ATUs
In downtown Escuintla, a commercial city between the coast and the capital, social distancing is virtually non-existent. An endless line is formed outside the police station. "I've been here since four in the morning and am guessing I'll be here until ten or eleven tonight," says a man who prefers not to give his name, as he waits to receive a copy of his police record, a job application requirement.
Meanwhile, mobile street vendors fortify their stalls with plastic tubing and nylon coverings. Delivery workers pass by, their carts loaded with fruit, vegetables, clothing. A rat crosses the street, scuttling between the feet of the waiting people. It's 6:30 a.m., and the coastal sun is already scorching.
Just a few kilometers away, in the ATUs, Berli Pérez, a 28-year-old father of two small children, explains his situation. "If I were single, I'd go back to La Trinidad, but my wife, Mari, and my son, Hector—they were really traumatized by the eruption. I've managed to find a few jobs here and there in Escuintla, enough to buy some food, since we can't plant anything here, there's no space. We haven't accepted the offer of housing in La Dignidad because we don't want our children to grow up there. I want them to learn how to plant crops and live off the land. The environment is bad here, you have to pay for everything, and I'm sure they'd grow up to be gang members. We're really hoping the community can secure our own finca soon."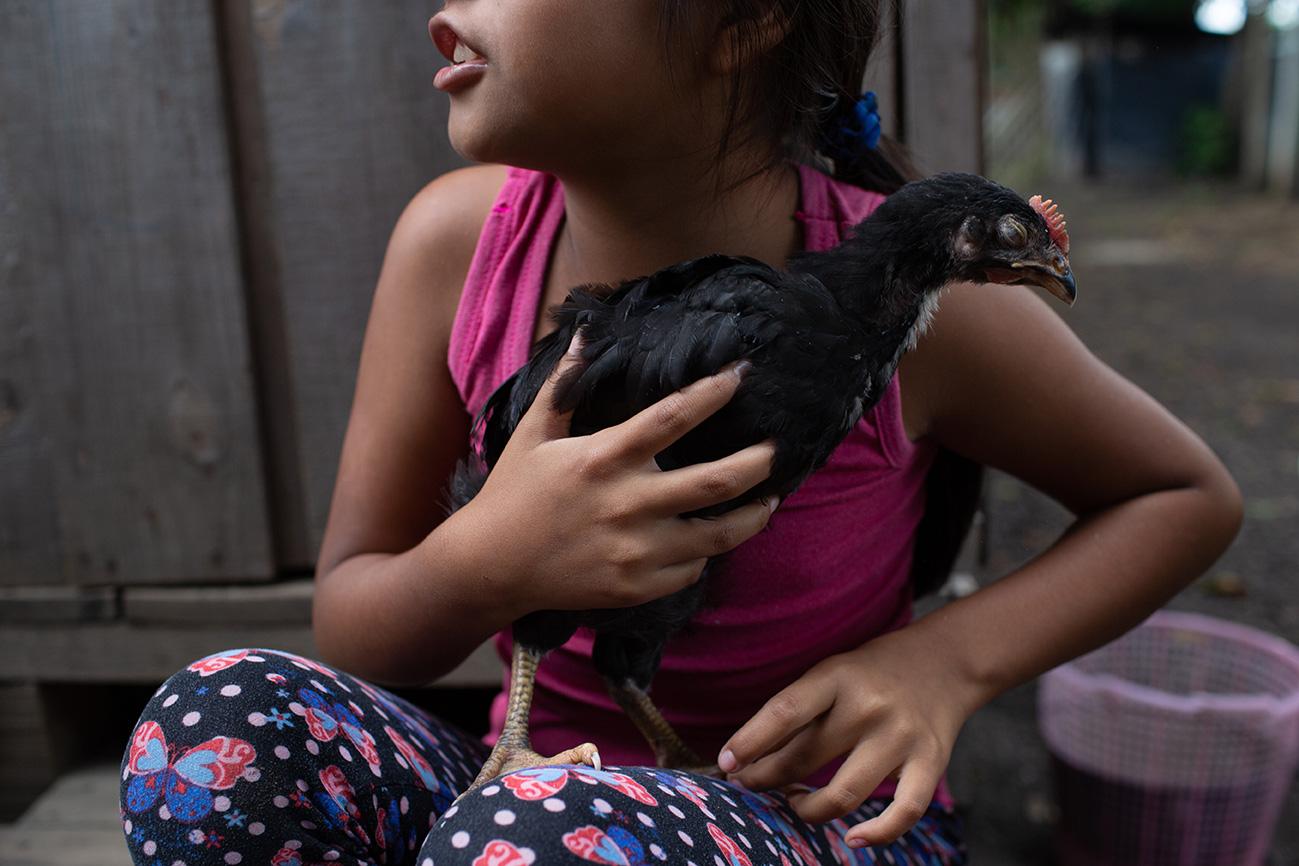 "There are about 30 families permanently living in the ATUs," says Urbano Pérez. "A number of people are too traumatized to go back, so they've stayed to look after the place and take care of their mental health. And with less people in the ATUs, there's more space and less chance that the virus will spread. Needless to say, we're organized and are supporting each other. Luckily, we haven't had a single case of Covid in the community so far. Some of us take turns going there every few days. We have to maintain the ATUs in order to safeguard our survival."
28-year-old Glendy Jiménez was also born in Mexico as a refugee. "We stay here in the ATUs because we're afraid of the volcano, and for the children," she says while sweeping out the space between the wood and corrugated tin shacks, "It's been very active lately, and now with the rains, there are new drainages created by the eruption and all this ash can come down. Luckily, my husband has been able to continue working a little during the pandemic, so we're here most of the time. We're still working the fields, of course, since that's the only way we're able to eat."
As she returns from La Trinidad, 44-year-old Simona Lopez, mother of Yosmari and a survivor of the massacre that forced her to seek refuge in Mexico, talks about the community's experience of recurrent trauma: "I don't sleep at night anymore. Honestly, I'd rather go back to the ATUs. I'm really shaken by what happened with the volcano. But we can't be there, there's no food, and there's the virus. We don't have anywhere to go, with the pandemic, the volcano, it's a shame."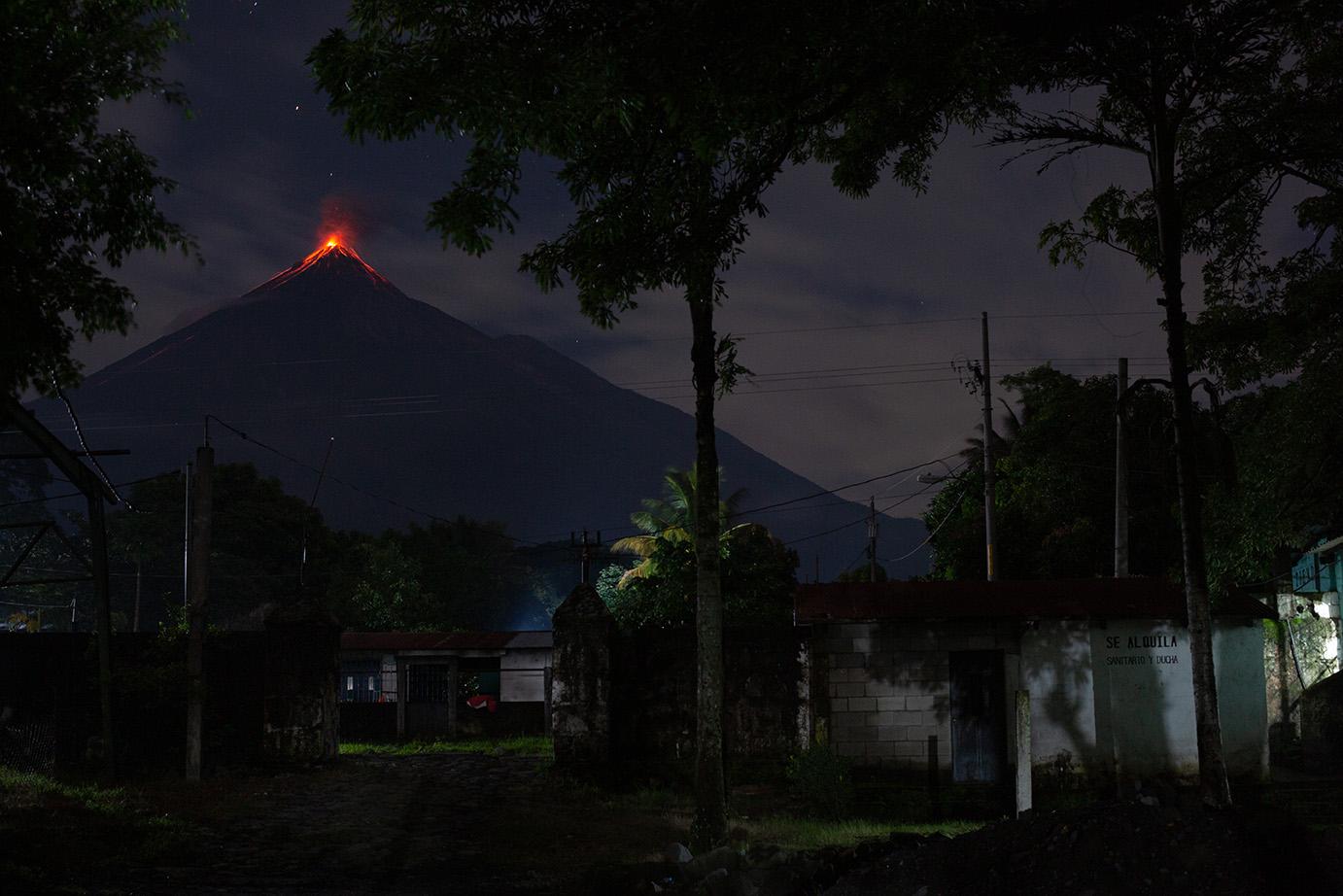 Nevertheless, the people of La Trinidad are not the kind to give up. The community is remarkably organized, and in spite of the complexity of the situation, as Estuardo Lorenzo concludes with contagious enthusiasm, "Aquí todos le echamos ganas, todos trabajamos juntos—here, everyone pitches in, we all work together. The women are hard workers," he says. "And the community is united. I'm already feeling good here again, but no, when it rumbles, we all remember each other. We are alive and we will fight. If we're able to find a new finca, I know that we'll make it through this."
This story was produced with the support of the National Geographic Society's Emergency Fund for Journalists and was originally published in Spanish at Plaza Pública.
*Translated by Max Granger
Apoya el periodismo incómodo
Si te parece valioso el trabajo de El Faro, apóyanos para seguir. Únete a nuestra comunidad de lectores y lectoras que con su membresía mensual o anual garantizan nuestra sostenibilidad y hacen posible que nuestro equipo de periodistas llegue adonde otros no llegan y cuente lo que otros no cuentan o tratan de ocultar.
Te necesitamos para seguir incomodando al poder.
¿Aún no te convences? Conoce más sobre cómo se financia El Faro y quiénes son sus propietarios
acá
.
elfaro.net/en/202009/internacionales/24895/Between-a-Volcano-and-a-Pandemic-In-the-Shadow-of-Guatemala%E2%80%99s-Volc%C3%A1n-de-Fuego-a-Community-Displaced-by-War-Struggles-to-Survive.htm

PP:
PC:
PN:
PT:
items_count:
items_pivot:

YY:

MM:

FI slug:
FI name: September 2020
FI sort:

FT slug:
FT name:
FT sort:

FS slug:
FS name:
FS sort: