Marooned in Guatemala City since early November, Juan fervently prays to catch a flight to his native Venezuela. Then, he says, he will take a bus across the Andes to Ecuador. I spotted him in late January, on the busiest pedestrian street in the city, because of the white laminated paper that he strung from his neck, with a Bolivarian flag, a red-blue-yellow heart, and a message: "I've been traveling for a dream that my family can live in good conditions, but I couldn't fulfill it. Please help me, so that I can be with them. Put your hand to your heart."
Juan is 25, slender, about five-foot-seven, and was born in the western city of Maracaibo. His black-rimmed glasses match the color of his close-cropped hair and ball cap, unironically checkered in white lettering with Nike's spiel, Just Do It. Rattled by an attempt to cross Mexico, he called off a months-long journey to the United States three months ago and now wants to head in the opposite direction back to his wife and two children in Guayaquil, the Ecuadorian port city. Short on cash, though, and mired in a bureaucratic labyrinth, he has been spinning his wheels here for weeks.
Every day, he hawks candies to save up pocket change, walking up and down La Sexta, a pedestrian avenue slicing through the rough-and-tumble city center, flanked by faux colonial pastel storefronts. It's a highway of punk rock skaters, street preachers, drag queens, students, marimba bands, and shuco sandwich vendors. It's urban Guatemala in a nutshell. In recent months, this stretch of pavement has become a waypoint for hundreds of Venezuelans who, alone, in pairs, and in groups of as many as ten, spend their days here saving and pooling money for their journey.
When we met Juan was holding a rustled bag of red Colombina suckers —"er, strawberry…I think," he shrugged, scrambling to check— and standing in the doorway of a glitzy bakery chain. "God willing, by the end of the month I won't be here anymore."
His predicament, though, runs much deeper than a shortage of cash. In 2018, he slipped by Venezuelan customs authorities amid the country's economic crisis with no passport —an obvious requirement for commercial air travel— to Ecuador, where he got married and had two children. He crossed five borders until reaching Guatemala. He says he has hoped to board a government charter plane with a letter endorsed by the Venezuelan Embassy asking for his voluntary return, but there is nobody to sign; Guatemala expelled his birth country's diplomatic mission in 2020.
When we met, he lied, "My flight is already approved," but added that he hadn't gotten a firm date. For the ensuing three weeks, he said that he was waiting for confirmation "any day now." But by mid-February, he told me he had given up on that plan and will fly with Copa Airlines, "a Venezuelan company that only requires your ID." As for how he knew that the company, actually based in Panama, would let him fly, he insists, "I went to the airport and they told me so" — anything to stave off the thought, perhaps, of re-crossing the Darien Gap, the Panama jungle that he braved six months ago, in reverse.
***
When the Biden administration announced in October that the U.S. would offer humanitarian visas to 24,000 Venezuelans, it was a call heard across the Andes. Juan is among the tens of thousands from the country —most of them young and middle-aged men, but also families and single mothers with infants and young children— making piecemeal voyages through Panama City, San José, Managua, Tegucigalpa, and Guatemala City in the ensuing months.
Guatemala has become a key gatekeeper for the United States in curbing migration. Authorities reported that 15,593 Venezuelans were barred from entering from Honduras, with a major increase in arrivals in October. There were just 2,039 migrants prevented from entering from the next-closest group, Ecuadorians. In Guatemala the government "assisted 882 Venezuelan nationals with voluntary return" by plane last year, Guatemalan Migration Institute (IGM) spokesperson Alejandra Mena told me.
Many Venezuelans in Guatemala, discouraged by border enforcement and Mexican organized criminal groups' killing, ransom, rape, and other crimes against migrants, are heading south to Panama, South America, or elsewhere. The only common pulse among those traversing Guatemala appears to be a desire to settle down anywhere other than Venezuela.
Alen is from the lakeside city Maracay. He wears a gray hat with a U.S. flag, and his baggy-eyed Caracas compatriot and travel companion José, 34, had just stepped off the bus from Honduras the night before I spoke to them as they rested on a wooden bench along the Sexta. José said he had left his country on October 12 —the day of the announcement of the humanitarian parole program— while Alen did so two days earlier. They said they met while crossing the Darién.
"The economic situation right now is complicated because of inflation," said Alen, a few minutes before they said goodbye and moved on to find a place to sleep. He said his father had worked for the state petroleum company PDVSA, but that he left because he and everyone he knew were earning $30 to $40 a month. A new passport costs around $200.
Both said they had paid bribes to the police along the route from the Guatemala-Honduras border and had arrived the night before with just enough cash to pay 60 quetzales (some seven U.S. dollars) for a night at a barebones hotel and a coffee in the morning. They told me they would move north as soon as they had collected enough money for a bus ticket.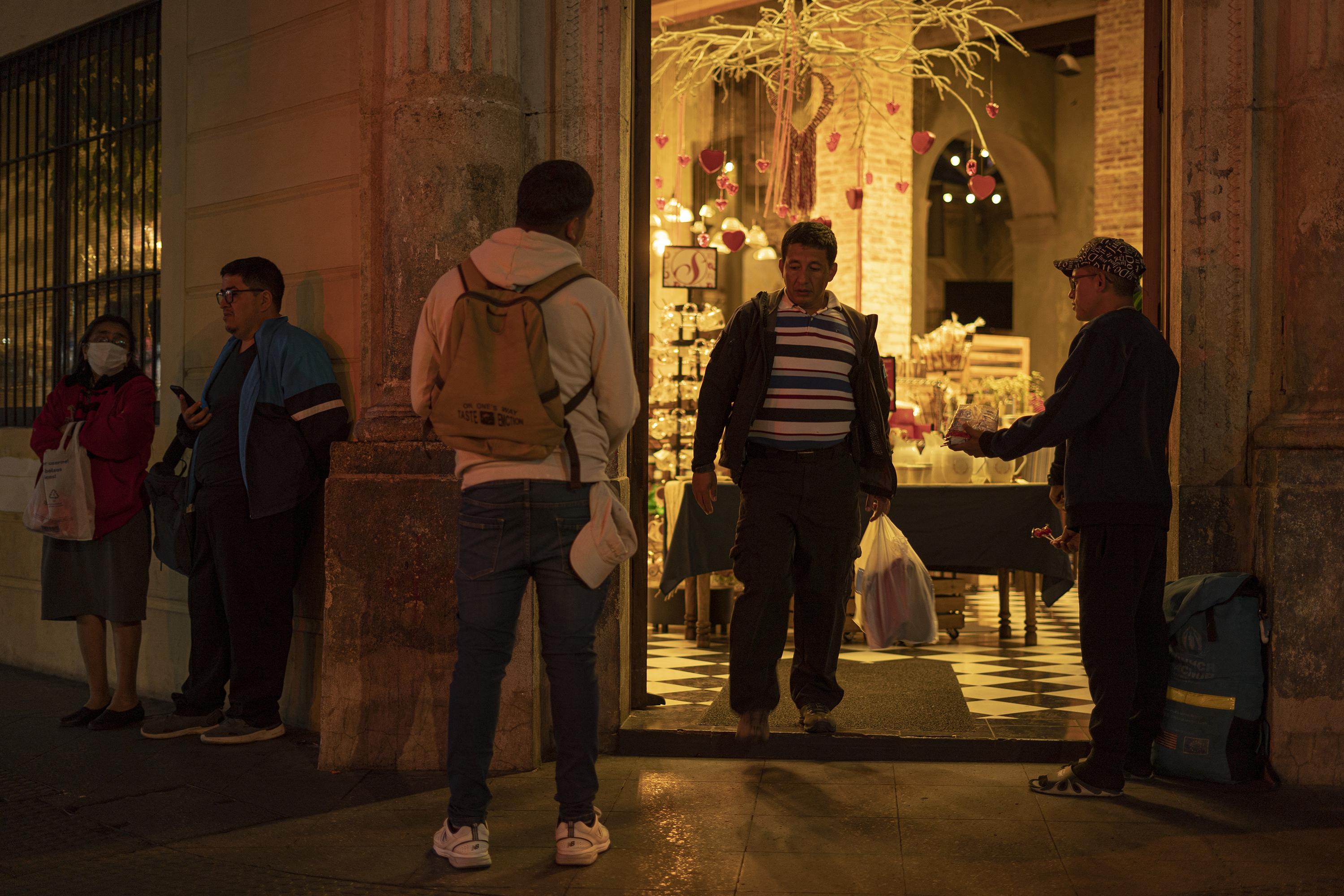 When asked why they had set their sights on the United States, where immigration restrictions are tight and where Mexico stood in the way, as opposed to elsewhere in Central or South America, Alen responded with steely, unhesitating conviction: "I'm going to make it to the border. If they send me back, that's fine," he shrugged, "but I have to try. For God, nothing is impossible." José nodded along in agreement, claiming that he had Venezuelan friends in Mexico City who "applied on a website" and were admitted into the United States.
Neither man seemed aware that the program stipulates that "Venezuelans should not travel to Mexico to pursue entry to the United States," that only U.S.-based sponsors could apply on their behalf through the U.S. Customs and Immigration Services online portal, and that unauthorized entry into Mexico would be considered a disqualifier.
But as they sat on the Sexta and thought about their next meal, their next pillow, and their next bus north, it's hard to believe that bureaucratic fine print —however determinant— would have greatly shifted their calculus. After saying goodbye, and with bags of yellow suckers in hand, they strode off down the sunset-kissed avenue to test their last few minutes of daytime luck.
***
In October, with the Venezuelan exodus in full swing, videos of Juan and three travel mates crossing the Darien Gap went viral on TikTok. He began showing me dozens of videos from the palm of his hand on January 25, the second time we spoke on the Sexta. While they were posted often weeks after the fact, the clips offer the only concrete window into a journey that has lost its precise, linear narrative and sharp calendar edges.
The recordings span from Lima, Peru, where his friend Joyner was living before migrating, to Costa Rica. "Vamos pa' los Yanquis" ("We're heading for the Yankees"), says a radiant Juan in Quito alongside his brother Jeremy and Joyner, with only their backpacks. In the next video, they cling to a trailer bed as it sped along the highway. They were heading to Medellín, Colombia, to pick up their fourth travel mate, Luis.
"To the United States, guys. We can do this, putting God first. There's strength in unity!" yelled Jeremy in the trailer bed video over the whistling of the wind in the microphone. Swiping through the videos one by one as we stood near the entrance to a tiny mall along the Sexta, Juan looked up and recalled the ride they had hitched with wide eyes: "One false step and you're dead," he exclaimed, punctuated with a brisk outward flick of his wrist.
In their greatest hit, posted to Joyner's account on September 22, he holds out a crumpled ferry ticket to travel 41 miles across the Atrato River in northwestern Colombia near the Panama border. He had paid 160,000 Colombian pesos, or $50 U.S. dollars. "I bought four… Such a rip-off!" he griped. The clip has amassed over 556,600 views and 2,800 likes.
In the videos they joke —like when Joyner dangled his middle finger in a sleeping Jeremy's face, as they sped along the water— and grow nostalgic. On a dock when they stepped off the motorboat, somebody played the popular Colombian vallenato group Binomio de Oro's accordion anthem Un Camino Lejano ("a distant path"): "Write to me, but with the truth, with your sincerity, telling me you'll return, not the contrary."
The second-most watched video —over 252,100 views— shows dozens of adults trudging through the quick currents of waist-deep brown river water. One man carries an infant on his shoulders and a cluster of women nearly tip over like dominoes. TikTok flagged the post: "Participating in this activity could get you or others hurt."
"The jungle is the craziest. I saw so many people die," Juan told me, bewildered, at dusk in early February, on the same corner where I had met him, minutes before picking up his backpack to head to his hotel. He trailed off: "There are snakes, tigers, alligators…"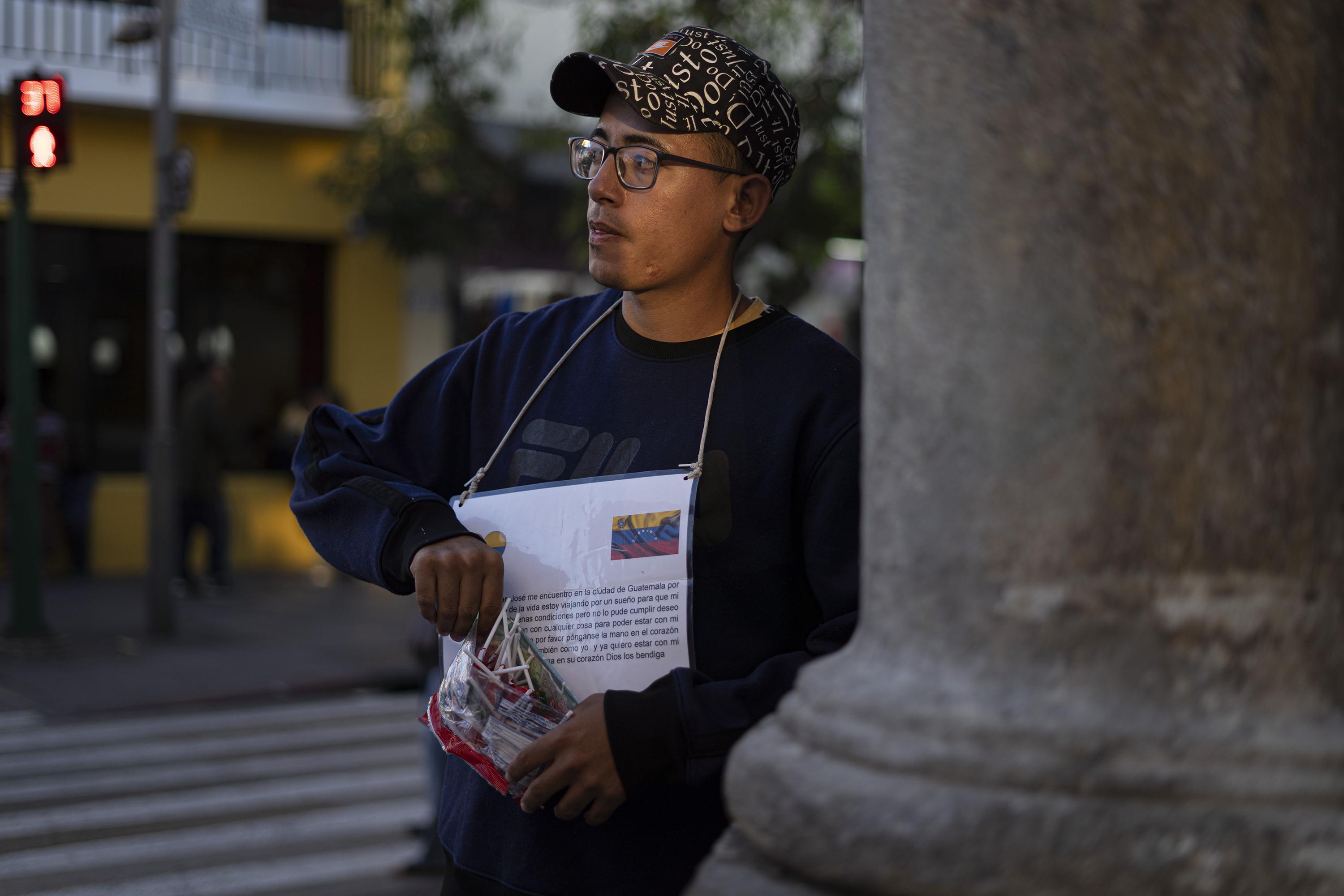 Hundreds of people have left in the comments well-wishes, heart emojis, or questions. "Brother, did you pay for a guide? Because supposedly they are a scam," one man asked. "I'm traveling with a child. Let me know what route is the fastest," inquired another. "In your group is there a kid named Franklin? From Maracaibo?" one woman wrote. "When is that, right now? I haven't heard from my husband since Thursday," pleaded another, "He was headed that way. Please."
At Mexico's doorstep in late October, their fortunes worsened, too. On the bridge to cross the Suchiate river into Mexico in Tecún Umán, the Guatemalan border town, the group was detained by Mexican authorities, Jeremy told me. He and Juan were held in the Tapachula migrant detention center known as Siglo XXI for three days. "They treat you like a dog in there. I didn't shower because I was worried someone would steal our things," Juan told me, pulling from his backpack his detention center intake, dated November 1.
According to Jeremy, the group met up again in Tapachula before joining a caravan of hundreds of people pressing north. In Arriaga, Chiapas, Juan wanted to head back, leading the group to fracture. On December 17, after a month in Guatemala City, Jeremy left him behind, crossing into Texas in early January. Jeremy and Joyner are now living in Los Angeles and Denver, respectively. Luis, according to Joyner, was expelled twice from Mexico and left for Panama.
***
"It scared the shit out of me," Juan exclaimed on February 1, showing me footage that he captured on his cell phone hiding on the second floor of a mall overlooking the Sexta, as pickups from Commissariat 11 of the National Civil Police pulled up onto the avenue on January 26 during the daytime. In one shaky clip, an officer jumped out of the truck bed and started running up the street. It wasn't clear in the videos, but he swears they rounded up Hondurans, Colombians, Peruvians, and "lots of my [Venezuelan] friends" and sent them to Honduras.
Juan avoided his usual spots on the Sexta, just yards away from the mall, for several days after the incident. "Yesterday I didn't come because they took away lots of people and deported them to Honduras — amigos, amigas, babies, everyone to Honduras," he said over WhatsApp on January 27, the day after he took the videos. "It wouldn't do me any good for them to grab me because I'm waiting for my flight and those people won't respect me."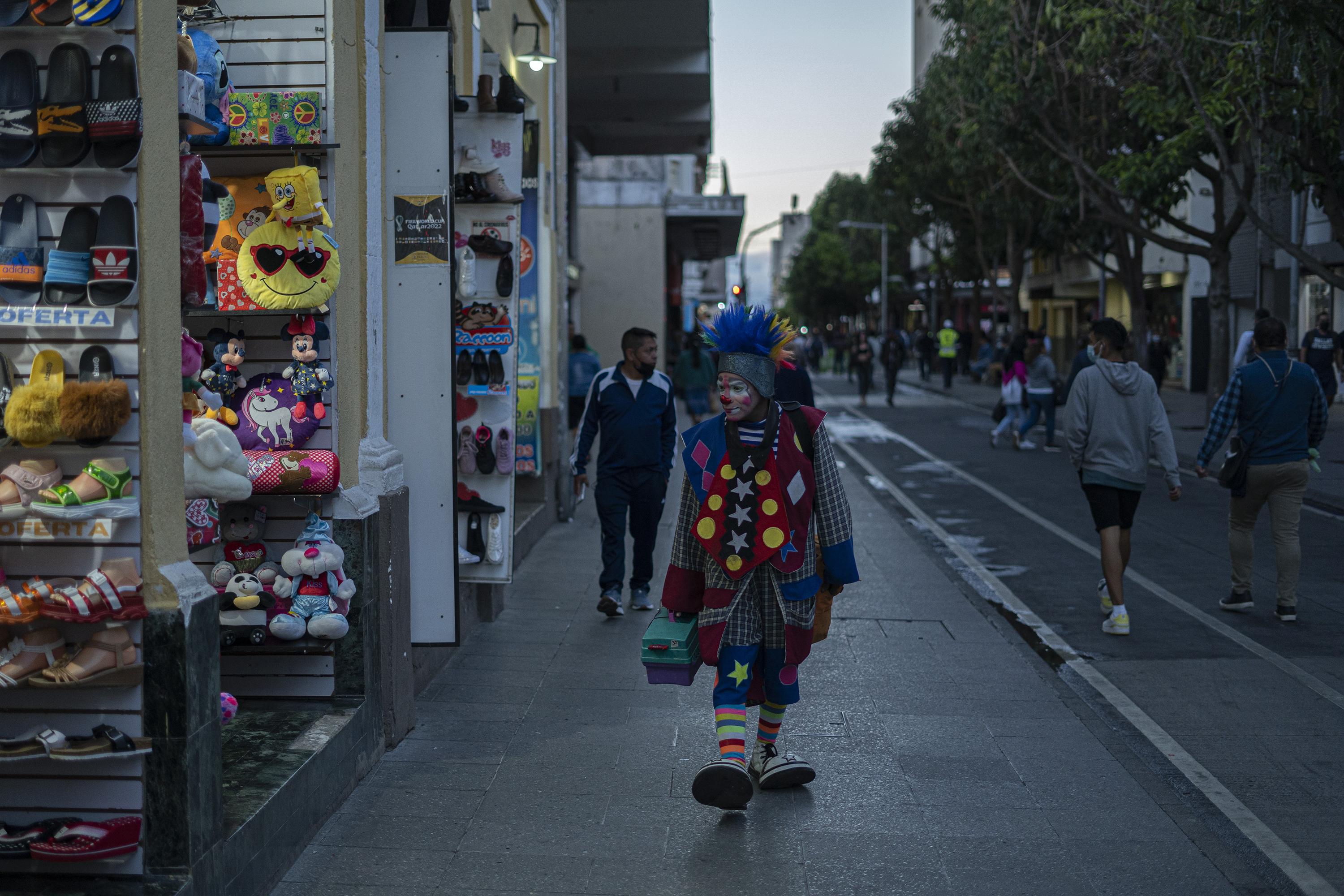 Police spokesperson Edwin Monroy confirmed that the Commissariat had carried out a joint operation on January 26 with the IGM, the police border enforcement unit Dipafront, and the Human Rights Ombudsman. "And not only that day," he added, explaining that they happen all the time. From September to November, he said, they "carried out operations every day." 
The Police don't need probable cause to ask people for their permit to enter the country, he asserted, citing article 25 of the Constitution. If they cannot provide it upon officers' request, "we put them at the disposition of [the Guatemalan] Migration [Institute]."
More than a dozen Venezuelans told me that Guatemalan police extorted them on their way from the Honduran border to the capital.
"They charged us a bill at each of ten stops. If not, they'll send you back to Honduras," a tall, lanky 34-year-old named Eduardo, from coastal Valencia, the country's third city about 100 miles from Caracas, told me through his white Covid-19 facemask. He was traveling with his muscular friend Brian, who is from the Venezuelan capital.
The tandem are not alone in reporting that constant extortion from Guatemalan authorities sapped them of any money they had saved along their route. "From the time they cross the border, at the checkpoints, and here in the capital, they [the police] pursue them for bribes," asserted Natalia Paz, a consultant on migration issues who used to work with Casa del Migrante. "It's that way along the whole route to the [Mexico-Guatemala] border."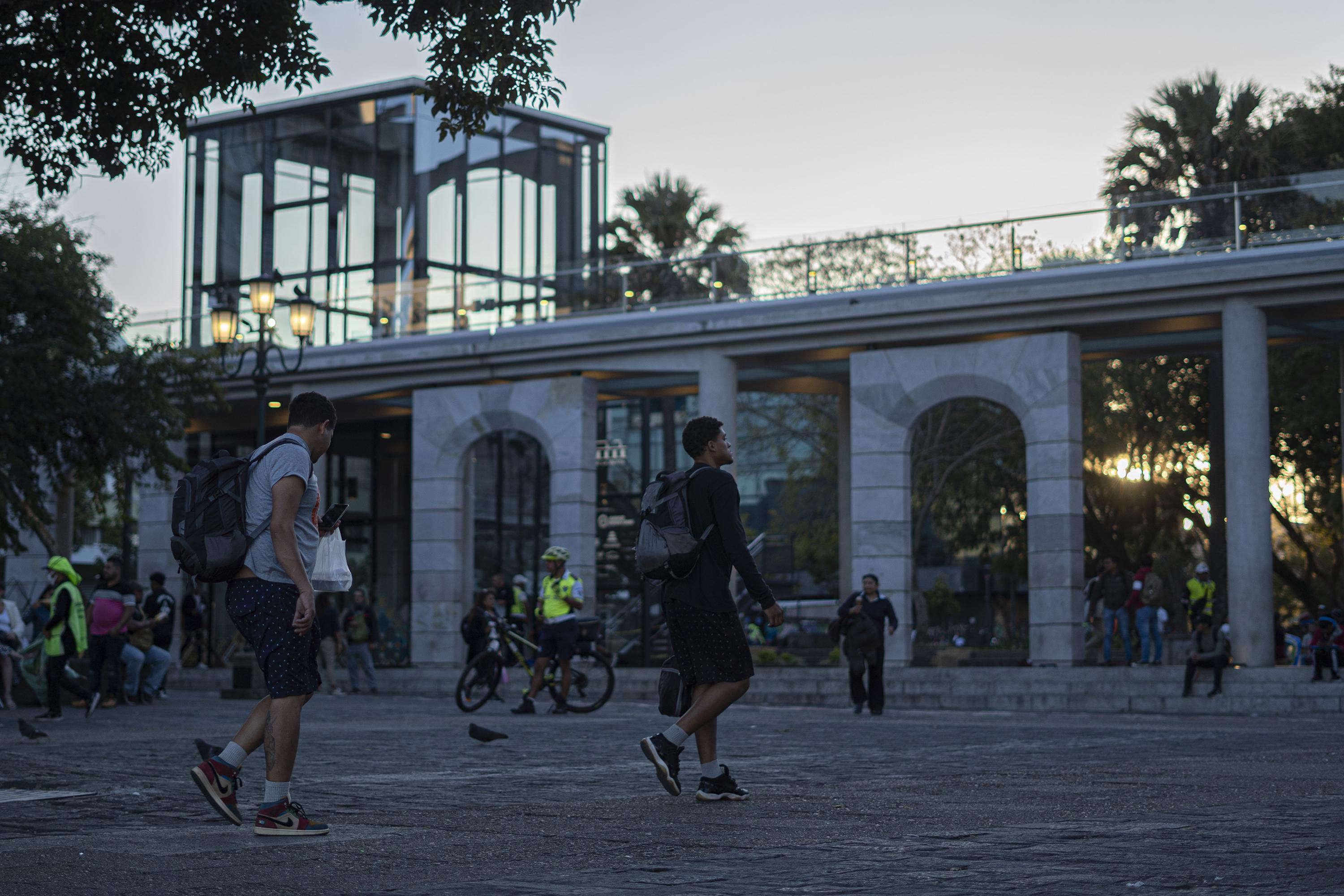 Spokesperson Monroy offered the bad-apples rationale for these reports, insisting: "The cases that have been reported have been investigated and brought before the law."
Neither the U.S. Embassy and Department of Homeland Security answered questions on whether U.S. authorities are aware of the allegations and how they would characterize their cooperation with the national police. Guatemalan Migration Institute spokesperson Mena claims that the upward trend of Venezuelan arrivals in October was related to humanitarian parole and hinted at diplomatic tensions over the program: "Yes, absolutely. It caused us a crisis at a national level. They were important [big] numbers."
The Guatemalan authorities aren't the only ones offering an at times chilly welcome. Eduardo and Brian asserted they had been robbed immediately upon arrival at the bus terminal on January 20. I met them at a gas station stop sign a dozen blocks to the northeast of the Sexta and a ten minute walk from Casa del Migrante, a shelter and advocacy organization where migrants can spend a night and take a shower.
Brian rested on a bench while Eduardo, wearing a Venezuelan flag hat, petitioned cars for cash —some Q300 (worth around $38 USD)— to fund their travel to Tapachula, Mexico. "We're caught in limbo," said Brian, "living day to day."
"If I find work I'd stay for a while," he caveated as the three of us sat on the bench.
"Have you asked around to see if you can do some day work?" I asked. 
"Yes, but the problem is that they tell you that you need to be Guatemalan," Eduardo chimed in, wringing his hands, frustrated. "We're not delinquents," he said. "We're not like the other Venezuelans, robbing people or doing drugs."
This appeared to be, in part, an acknowledgement of the hostility that has accompanied Venezuelan migrants' high profile in a country from which thousands of locals migrate every year as well. Few Guatemalans seem able to tell them apart from other travelers if it weren't for their flags, merging them into an amorphous group of "migrants" as they tell anecdotes of crime and other displeasures.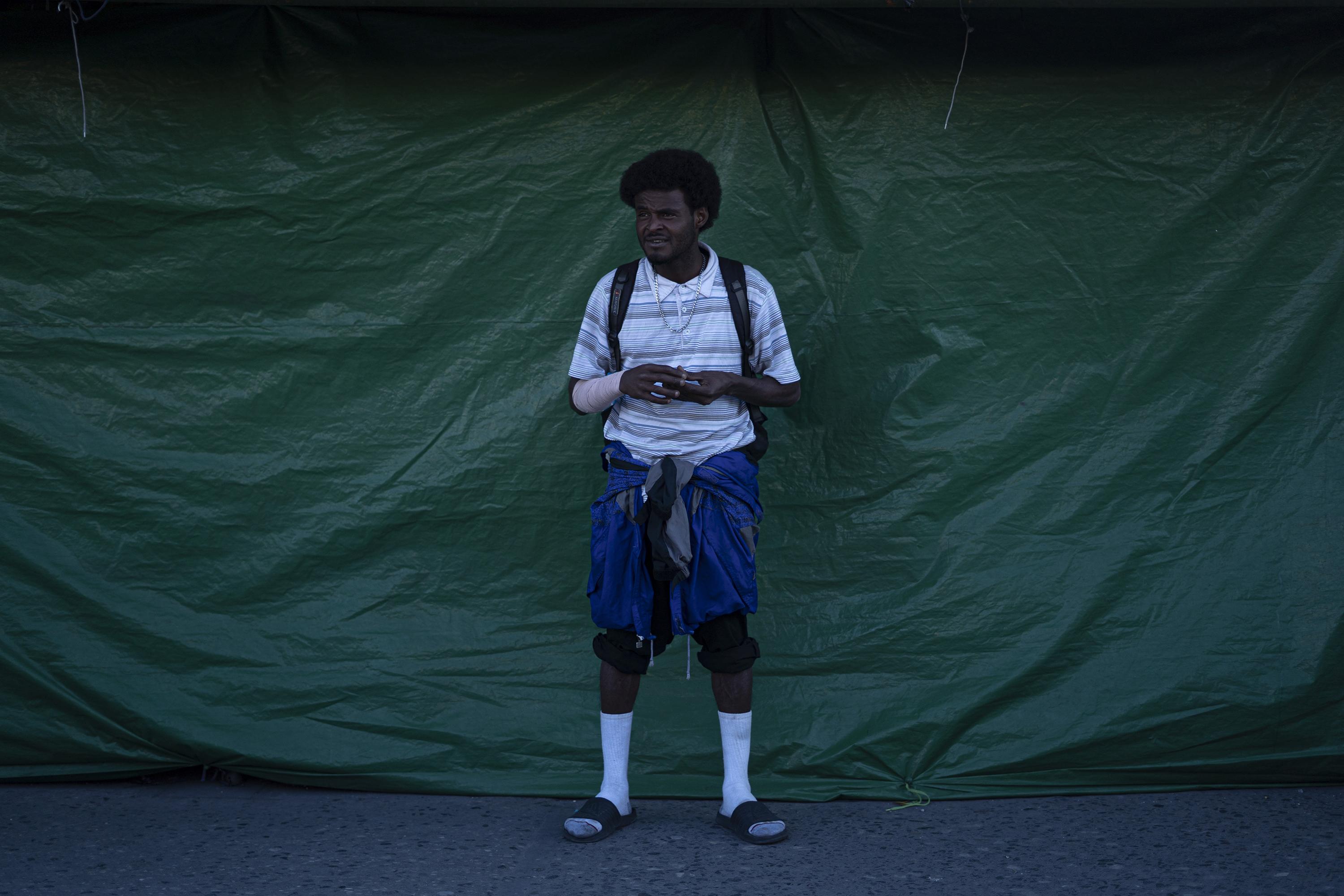 In late January, when I asked a waiter at a bistro along the Sexta why he thought no Venezuelans had approached their guests in days, he summed up the sentiment: "The police came and took them all away. They can't be coming around here panhandling."
"Then why are there still Guatemalans, or even Hondurans, asking for money?" I asked. He replied, in a slightly irritated tone, "Maybe they decided to support the nationals."
***
Juan rents what he describes as a modest hotel room for Q30 quetzales per night in a corner building where the manager doesn't let any visitors inside. It's the best —or perhaps only— maintained building on those four corners in the middle of the central district of Guatemala City, sitting yards away from a pair of watering holes blasting banda from morning until late at night and a convenience store with no entrance, where business is done between bars.
The neighborhood is a snapshot of Guatemala on the margins. Venezuelans, Hondurans, and migrants from a half-dozen other countries, Garifunas from Izabal, Mayans and mestizos, the mentally ill, the disabled, the homeless, those hooked on glue or paint thinner, and the dejected sell candies, bracelets, or metal cans contorted into windmills or pirouettes, shine shoes, and ask for change.
Every morning, he eats a piece of bread and coffee with milk for Q12. For lunch he eats ramen in a cup —Laky Men, "The rich [delicious] soup, ready in 3 minutes. Give it a personal touch," reads the yellow and orange label— for Q7. Around 6:30, when the sidewalks fill with the yellow glow of old street lamps, he hoists his blue tote backpack with a white logo of the U.N. High Commissioner of Human Rights and heads for a hot meal —usually chicken, rice, and salad— for Q15. He ends the day back at the hotel, shortly after nightfall.
This is his life, seven days a week, rain or shine — a Guatemala City Groundhog's Day. Faith in God seems to keep Juan optimistic. He streams Evangelical tunes on his battered Android, punctuates his speech with references to the Trinity and, early this month, changed his WhatsApp picture to a painting, iconic in Christian circles, of Jesus knocking at a door.
"I regret having ever left home," he told me when we first met, grimacing. "It's not easy to spend Christmas Eve and New Year's here. I want a hug from my mother, advice from my father, to spend time with my wife, and to play with my children."
These days, when he speaks with his children over the phone, both under four, he reassures them that he's coming home soon: "I told my oldest that I'm building him a wooden car for him to sit in, as I used to do, but that I'm not finished yet."