In the last 48 hours, U.S. tech company Apple sent warnings to 14 El Faro staff members that "state-sponsored attackers may be targeting your iPhone."
The company added that the attacks are likely targeted against specific individuals "because of who you are and what you do." A successful attack, they continued, would look to compromise personal communications, as well as tap into microphones and cameras.
On the same day that it sent out its warning messages in El Salvador, Apple sued private Israeli espionage contractor NSO group in U.S. federal court for damages and asked for a permanent injunction against the use of its technology on behalf of governments spying on dissidents, activists, and journalists.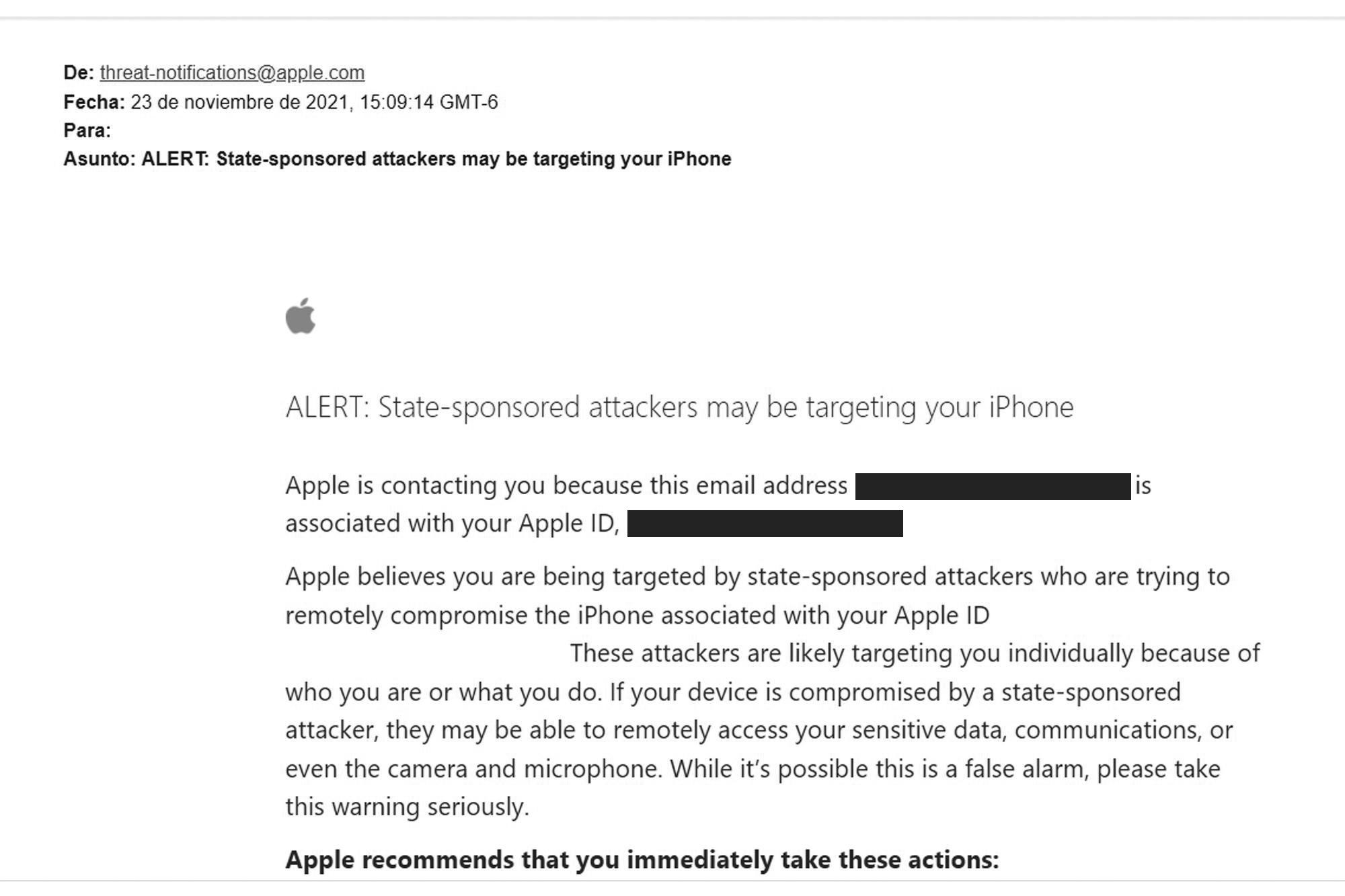 More journalists, activists, and political dissidents have come forward since El Faro reported the possible attacks. Some of them are members of transparency and human rights organizations and of opposition party Nuestro Tiempo. The Salvadoran Association of Journalists (APES) revealed on Wednesday at least 24 local journalists had received Apple's notification in the same span.
"The possible use of public funds to spy on journalists and civil society is an enormous trampling of freedom of expression,' reacted APES president César Fagoaga. "Intolerable."
Four ruling party legislators stated on social media that they received the same notification from Apple, claiming that the attacks reported by El Faro, civil society members, and opposition politicians hadn't come from the Salvadoran government.
Nuevas Ideas legislative bloc chair Christian Guevara quickly responded to El Faro's publication on Tuesday night, insinuating that the U.S. government was to blame: "We're under cyber-attack. A few legislators have already been hacked by the "state,"" he tweeted. "But you guys already know which "state" it is."
"As much as El Faro wants it to be the case, there is no persecution," he added. "You should change dealers, because the kind they're selling you breeds paranoia."
A Dec. 2020 report by Citizen Lab found evidence of the probable use of NSO software in the hands of 25 governments worldwide, including El Salvador. The list also included Guatemala, Honduras, and Mexico. Two years ago, a New York Times investigation revealed the widespread use of Pegasus against human rights defenders and journalists. One of them, editor Daniel Lizárraga, now works for El Faro.
Citizen Lab noted that NSO technology hitches itself to local telecoms infrastructure.
On Nov. 3, the U.S. Commerce Department banned the Israeli firm — which the NYT reported operates under the direct supervision of the Israeli government — from using U.S. technology for its operations.
Apple's warnings to journalists, politicians, and activists in El Salvador come amid a massive spike in reports of government harassment of critics and independent media since Bukele took office in 2019. In January, the Inter-American Commission on Human Rights issued protective measures on behalf of all El Faro staff on account of systematic stalking, threats, and financial persecution by the Bukele administration.
In 2020 the APES documented 125 instances of abuse, including denial of press conference access, threats of gender-based and other forms of violence, and financial persecution. The executive branch initiated four out of five of these incidents. In the last year of the presidency of Bukele's predecessor, Salvador Sánchez Cerén, APES registered 16.
International pressure momentarily paused the approval last week of a controversial Foreign Agents Law explicitly intended to choke off funding to critical civil society and media organizations.
On Jun. 1, in a speech charged with nationalist symbols, President Bukele announced his next goal after his party leveraged a newfound two-thirds supermajority in the legislature to illegally remove Supreme Court magistrates and the attorney general. He called it "the people's battle against the ideological apparatus," a thinly-veiled reference to civil society organizations, newsrooms, and think tanks.
Thanks for your time. Please pass along our work, and consider funding independent journalism in Central America at support.elfaro.net.