Seated on the steps of the Juan Francisco Barraza stadium, in San Miguel, three young men converse in fluid English about how school was going, in the United States, how they celebrated their birthdays, in the United States, but also a more serious topic, that has to do more with El Salvador. One of the young men is American, son of Salvadoran migrants; the other two are Salvadorans, but they have more in common with whom they are chatting, than with their fellow countrymen. On the stadium field, the Dragon Sports Club trains with the ball when one of the young men tries to solve a question that has had them worried since six days ago when they were deported by the government of Donald Trump.
—What's up with the gangs? – asks Lizandro Claros, with the doubt and ignorance that any tourist who steps on Salvadoran territory would have.
Emilio Torres, the American, son of Salvadorans, responds with the normality of someone who already knows how to live in a country with two of the most powerful gangs on the planet.
— You'll see them around, but they won't do anything to you- responds Emilio, who for several months now has lived in the country, and has already participated in a tournament wearing the jersey of the U-20 of Aguila, from the first division of Salvadoran soccer.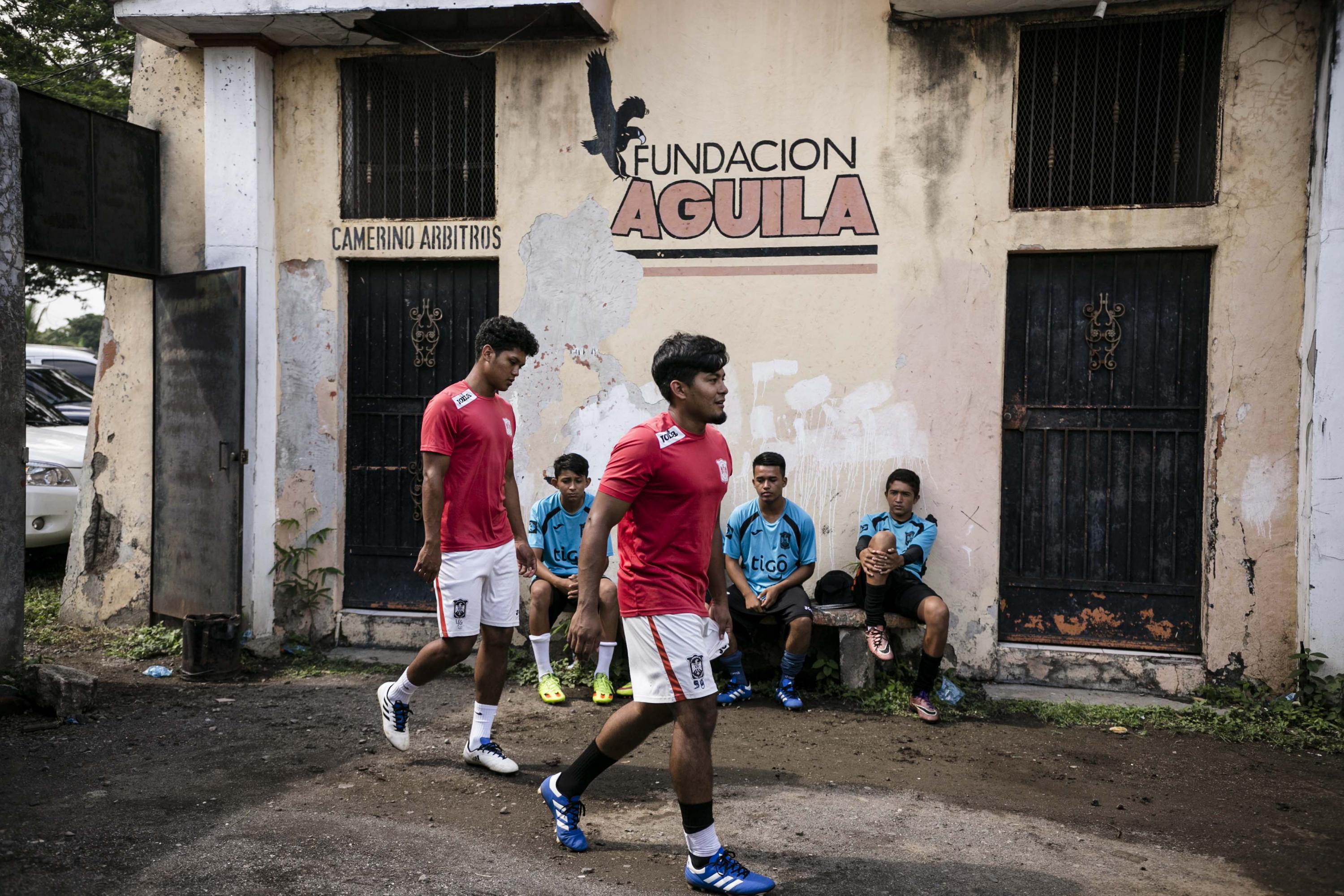 Lizandro's question illustrates the fact that he is not Salvadoran, even though his passport says he is. A Salvadoran knows, for some time now, that the gangs shape the lives of all Salvadorans, especially in the areas where they have power and control. But neither Lizandro nor his brother Diego knows that because all their life has been made there, in a country that took them in when they were children. Their family, their friends, their studies, the university scholarships and the jobs that they had have stayed 5,300 kilometers away in Gaithersburg, Maryland. More than Salvadorans, Diego and Lizandro are "Marylanders" as a Democratic senator called them.
Maybe Diego and Lizandro are better identified by the "dreamer" label: children who came to the United States in an irregular way, accompanied by their parents, and who consider the United States their home, because it's the only one they have known. But the administration of Donald Trump only saw them as two people who broke migration law and therefore deported them on August 2nd of this year.
In the United States, the dreamers are pivotal in the immigration debate, after some failed attempts in Congress to approve a bill that assures their future in a permanent way. Currently there is a differed action program that allows for protection from deportation as well as work permits: DACA. However, the Claros arrived two years too late to be able to apply to this program: one of the requirements to apply was to have entered the country before 2007.
The Claros brothers are part of a very large number: in the first seven months of this year, the United States has deported some nine thousand Salvadorans, according to data from the Salvadoran Foreign Affairs Ministry. But the deportation of these two caused protests by immigrant defense organizations and from politicians. Why? Because Lizandro and Diego had not only avoided problems with the law: "These kids didn't do anything wrong – but that bar is too low. These kids overachieved", said Heather Bradley to the Washington Post, a teacher who worked with both. In addition to their school work, Lizandro's ability for soccer had landed him a college scholarship. Diego also had a scholarship, but not for soccer.
That's why, preceded by their fame and with the help of some friends, three days after they arrived in El Salvador they began training with Aguila, maybe the most time-honored of the teams in the east, with 15 national championships.
"Really we are giving them all our support because, besides that they are our fellow countrymen, they are good soccer players", says Salomon Quintanilla, assistant coach to the Aguila substitute team. "They are in fantastic condition to be playing and to be able to show up and fight for a spot with the players that we have; also their leadership on and off the field", adds Quintanilla. Aguila has a main interest in Lizandro, who is old enough to join the team. But, for the moment, both have opted to play for the España Sports Club, in the third division and which plays home games at San Buenaventura, just two kilometers from their new home. As opposed to the majority of deportees that the country has received this year, the Claros have had a bit of luck.
Diego and Lizandro are foreigners in a country that they left as children in 2009. Lizandro, now 19, was 10; Diego, now 22, was 12. El Salvador in 2009 was already a country with an epidemic of violence, but with some hope: the FMLN ex-guerilla political party had just won the presidency –after 20 years of government from the rightwing ARENA- with a campaign that offered change, similar to the campaign that carried Barack Obama to the White House in 2008. Nine years later, these changes did not arrive: the power of the gangs has increased and the FMLN has done the same as ARENA with respect to the state's finances, the investment in education and the transparency in public governance.  The president from ARENA who finished his term in 2009 is in jail; and the president from FMLN who began his term in 2009 is in asylum in Nicaragua, while being accused of corruption in El Salvador. In essence, the country is the same, except in some aspects, where it is worse.
The Claros brothers are unaware of this reality. Neither of the two has ties to this country. If there were elections this Sunday, they wouldn't know whom to vote for.  They don't know who the president is; and in terms of national figures, they only know of Monsignor Romero, about to be declared a saint by the Catholic Church.  They say they no longer know the national anthem. When they left, they didn't speak English, but now they manage much better in English than in Spanish. When they speak Spanish, they mix in English words and concepts, though they still haven't forgotten that sometimes the "s" is replaced with a sound similar to the "j". Lizandro says "indecidido" instead of "indeciso" when he wants to say undecided.  Diego says "librería" (bookstore) to refer to the "biblioteca" (library).
Their dream began in 2009, when they flew into New York with fake passports. "They just told us to get on the plane and that soon we would be with our family," said Lizandro.
The altered documents passed the test with the Salvadoran authorities but not the Customs and Border Protection officials in the United States. They were held for the night, where they were written up for trying to commit immigration fraud. However, they were never legally charged because they were minors. They were admitted into the country where they met up with their parents and brothers.
With objections, the United States adopted the Claros and gave them an education in the Quince Orchard High School, as well as opportunities for college education and work. But the American justice system never accepted them. The Claros tried to obtain asylum, but three years after their arrival, an immigration judge ruled that their case had no standing. The United States offers asylum for people who are afraid based on race, religion, nationality or political actions. The Claros did not easily fit into any of these cases, and they say that their lawyer abandoned their case.
The Claros family was not escaping violence, like so many other Salvadorans who immigrate to the United States. Their father was in the United States since 1998, working in construction and covered by TPS, a temporary program that benefits some two hundred thousand Salvadorans and is about to disappear. Their mother, Lucia, followed him years later. Their older brother Jonathan works in construction and their sister Fátima is a "dreamer" covered by DACA, a program that is also at risk under the Trump administration. Diego and Lizandro traveled to reunite with their family.
A version of the American dream came to Lizandro by way of soccer. After being in the United States for three years, he began to play in the Ronald Cerritos School, a retired forward and Salvadoran national team player who also played ten seasons in the American major league. From there, Claros, middle defense, was recruited from his high school to play for Bethesda, an elite club with 30 years of experience. "I thought that I was good before, but when I arrived, the quality players made me see that I didn't really know much about soccer," says Lizandro. But he adapted. He adapted so well that by April of this year he had already won a scholarship to play at Louisburg University in North Carolina.
Diego also played soccer with a state team in Maryland and later with the Quince Orchard High School team, but a head injury prevented him from progressing. In the United States he drove his own car, but he doesn't want to drive in El Salvador because he thinks that traffic laws aren't respected. El Salvador is one of the worst countries to drive in Latin America, according to a study by the traffic app Waze.
Now he sees soccer as a hobby, because what he was really passionate about was working in an auto mechanic shop, where he made enough money to help with the family finances as well as send some remittances back to family in El Salvador. Now he doesn't see himself working as a mechanic: "it's really hard to start from the bottom," he claims.
That dream ended on July 28th of this year when Immigration and Customs Enforcement (ICE) arrested him after a routine check-in where ICE reviewed his criminal record and if they had been following the rules. "First they gave us six months, then they changed it to a year and we continued like this. Then they cut it back to six months again and in the last year they cut it to three months," said Lizandro. The arrest came as a surprise to everyone. The Claroses grandfather, who is Salvadoran, was visiting Maryland the last week of July. "My mom said that on the way back we would stop to pick up food for our grandpa," Diego recalls. "We didn't know that we would be detained," he adds.
There are no "permisos"
El Faro spoke about the Claros' case with Phillip Miller, National Operations Director at ICE. Miller has 20 years of experience as an immigration official and he has positioned himself as a supporter of tough policies to discourage immigration, such as increasing bond for detained migrants, or preventing immigrants from leaving on bond.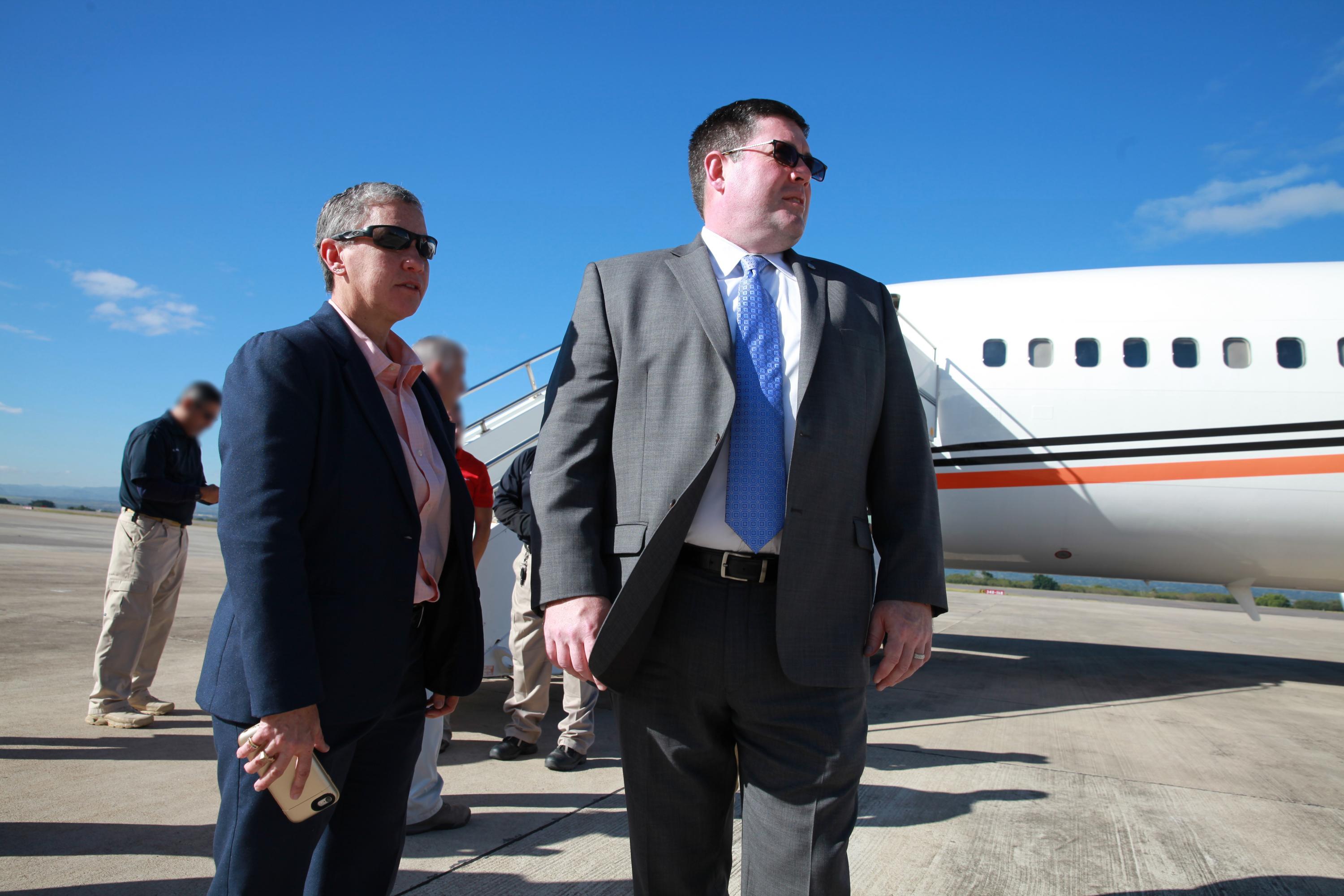 This newspaper asked Miller why the United States allowed the Claros to enter when they detected that they had false documents. After some hesitation, Miller responded that 'there was not sufficient detention space to detain them at the family unit (...) sometimes we have to make the decision on who stays on those beds and who's allowed to appear in immigration court from a non- detained environment', he says.
Miller explained that the Claros had a "voluntary departure" order since 2012, a legal mechanism where the United States asks immigrants to leave the country instead of issuing a formal deportation order. They appealed the decision, but their pleas did not have any effect. They were able to stay since 2013 by maneuvering with a guillotine above their heads: they didn't miss any appointment with ICE, but for the authorities, following the orders of supervision was only partial, considering that the Claros never showed any intention of actually leaving the country.
The brother's work permits weren't worth anything. "When they failed to buy plane tickets (to El Salvador), as we had instructed them, that was a failure to comply with the supervision order," said Miller. "In that moment, we detain them and the permits don't work," he claimed.
The Claros where detained for four days in the Howard County prison and were deported on August 2nd, on a commercial flight, instead of a flight chartered for deportees. "sometimes it's more efficient and cost effective to the government to go comercially," Miller justified.
American immigration law, during the Barack Obama administration (2008-2016) established a deportation priority program that forced ICE to apply immigration law first to people with criminal history or who represented a potential threat to American society. Miller explained that those priorities no longer exist. "What's different now? The President (Trump) and Mr. (Thomas) Homan (Director of ICE) have expressed clearly that there are no longer categories of people, there are no longer groups of people who are exempt from immigration law," claimed Miller. "There are no 'permisos'", he emphasized, using the word for "permission" in Spanish.
However, not all sectors of American politics are in agreement with the application of immigration law "to the letter". Since their arrest, immigrant defense organizations like CASA de Maryland and even Democratic senator Chris Van Hollen have protested the measure, according to the Washington Post. "They've been exemplary Marylanders, prioritizing their education and giving back to their community. It's important to go after MS-13 gang members, but it is an insult to decency and common sense for Diego and Lizandro to be deported," wrote Van Hollen, who also referred to the Claros as his "constituents" in a series of tweets the day they were deported.
Deported: and now what?
Gaithersburg, in Maryland, is a suburb of Washington, D.C. with 26 square kilometers and 68 thousand residents. The municipality's web page lists among their attractions water parks, skate parks, mini golf course, a museum, two youth centers and an observatory. It's also described as a city which concentrates many technology companies.
The Claros have moved from living there to Jucuapa, a municipality of 36 square kilometers with a few more than 18 thousand residents, about 130 kilometers from the capital city San Salvador. Jucuapa is halfway between rural and urban and is rarely in the news: sometimes for a homicide –August 1st there were two in the San Joaquín neighborhood- or for being a hub of a prosperous business in El Salvador: selling caskets. In the central park of Jucuapa, in front of the church and city hall, sometimes there are problems with cell reception, because it's close to a prison, where the signal is blocked.
This is the place where Diego and Lizandro have returned upon deportation. On their first day back, they bought clothes in San Miguel, the principal commercial hub in the eastern part of the country, because they came to the country without any of their belongings. They have been disconnected from their friends because they don't have cell phones, either. And they don't recognize the country that they had left behind. "The city, the parks are different. I know more than where I am right now," says Diego, who waves to a young man driving a moto taxi, each time that he passes on the dirt road next to their house, a cement structure that is painted pink and maintains the architecture of remittances.
When they arrived in the country, the Claros did not go through the deportee assistance program that the Foreign Relations Ministry offers. They returned as if from a vacation. "We are still disappointed by what happened. We have a few things in mind, to see how we can get out of this country and once again have more opportunities to better ourselves," says Diego. Both want to leave this country, convinced that there is nothing here for them. They evaluate the possibility of going to Canada. But Diego also talks about looking for a job in tourism, to take advantage of his being bilingual.
The brothers agree that the best would be to go back to the United States, but they are divided about how to do it. Going the legal route would take them a lot of time because they have been deported. There is another option: return by land. Lizandro thinks that that could be an option: "if there really were no other options, I think that I would go by land. My youth is there, my friends, my family. I would do anything to be back with my family." Diego, for now, doesn't even bring it up. The experience of the last few days has left him troubled: "I should just stay here; I know that nothing will happen to me, because I don't want to go back to jail. It's really intense."
*with reporting from Fred Ramos