Central America
Mexico
Migration (don't use this one)
ef_english
Andrés Manuel López Obrador
Mexico Tricks Another Central American Caravan
The first caravan of 2020 came up short. It failed to cross Central America as one solid mass, let alone reach the United States border. Mexico's new wall showed its efficiency as hundreds of Hondurans and a handful of Salvadorans who arrived at Tecún Umán and El Ceibo agreed to climb into the buses of Mexican immigration officials and head toward an uncertain processing. The López Obrador administration has already announced its intention to deport most of them.
The wall at Mexico's southern border swallowed the last caravan in one fell swoop, leaving no trace. Then came its next move: deportation.
Of the almost 4,000 migrants who left San Pedro Sula, Honduras four days ago, only crumbs remain. Scattered across the map of Guatemala or wandering lost through southern Mexico, they look nothing like a caravan. When it comes to containing Central American migration, Mexico is showing—as it promised to Trump's White House—that it can indeed act as an efficient wall.
And it pulled it off with the boldness and speed of a magician and the trickery of the most cunning politician.
At noon on Saturday, January 18, after crossing Guatemala from border to border by foot or bus, a large group—around one thousand, a lieutenant in the Guatemalan army estimated—had set up in front of the gate at Mexican customs along the remote border between El Ceibo, in the department of Petén, and the Mexican state of Tabasco. Most of them, having left their home countries with no intention of turning back, planned to head north up the map to the United States. They talked of their unshakeable determination to shun the enticements of the Mexican customs officers trying to dissuade them.
"Nobody is getting on those buses. We want them to let us walk through together," shouted Ricardo Cortez, a twenty-something Honduran who had become the exodus's most visible leader essentially overnight. The crowd around him rowdily agreed, applauding the determination of Ricardo, their wise guide.
Minutes before, a few Mexican immigration officials approached from their side of the gate to make them an offer: they would let them cross in groups of 20, load them into buses run by the National Institute of Migration (INM in Spanish), and take them to an unspecified "secure location" to "process" their migration paperwork and, eventually, offer them work.
To the Central Americans, that all sounded like a sleight of hand, so they shut down the negotiations. They would not be disbanded, nor pile into the migra's buses, nor allow them to lock them up anywhere. They would remain, said Ricardo, camped in front of customs until the gates slid wide open.
We -- the three journalists covering the thousand-strong march -- began imagining scenarios, predicting their future moves. We figured that, once weariness set in, the migrants would set out in large groups toward blind spots in the thick forest. We went looking for those blind spots by rafting up a section of the Río San Pedro, where it hugs the borderline, finding only birds fishing. Not a single migrant nor Mexican guard lying in wait.
When we returned to customs a few hours later, some 300 people had already climbed into the buses and the rest of the crowd was waiting in line for their turn. The very same Ricardo was now yelling out instructions to his flock in the dripping heat. The Mexicans had allowed him to cross to the other side of the gate, an act which apparently conferred on him extra authority. In the moment, he even seemed in control of those buses and their final destination.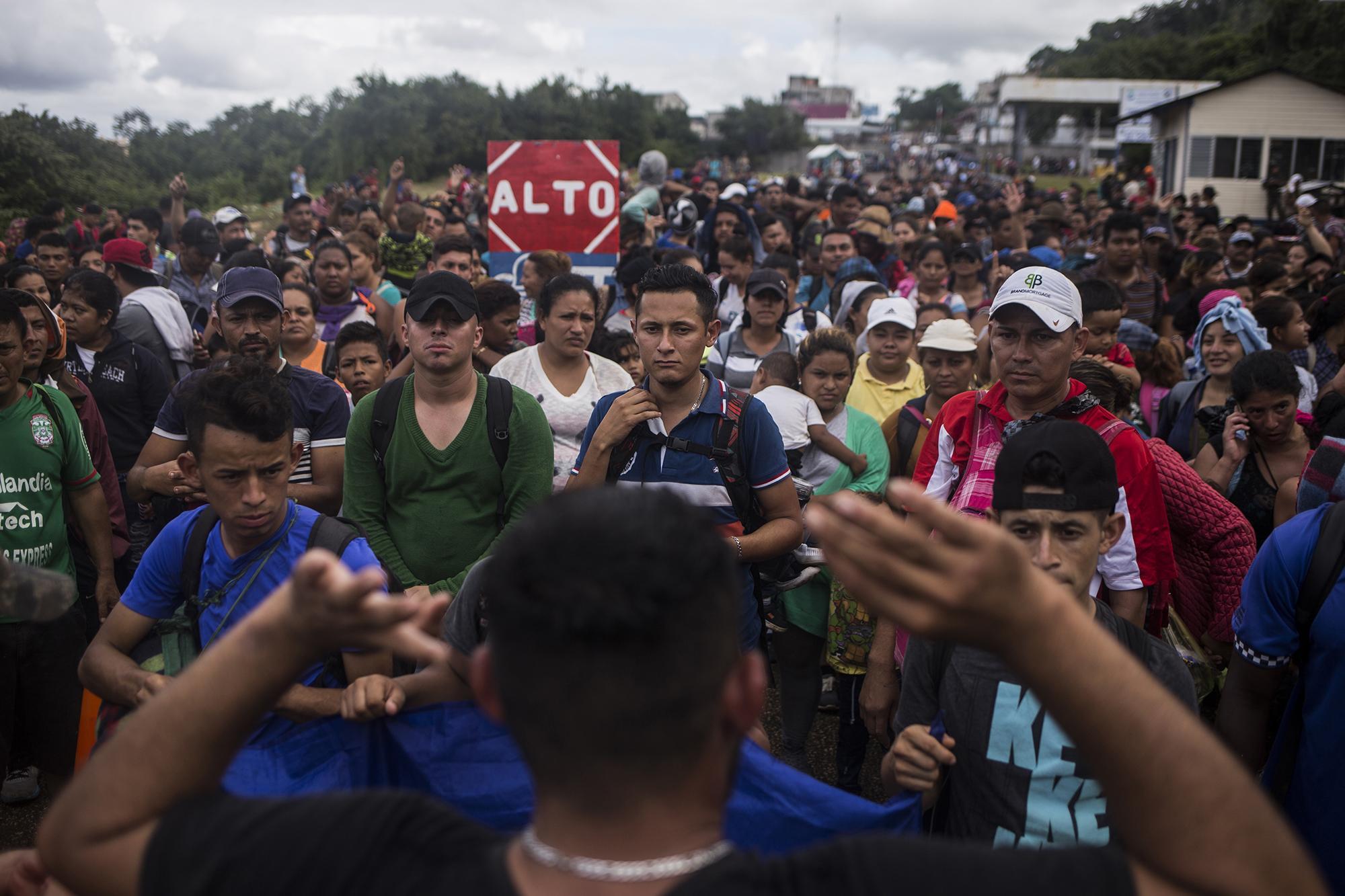 For some reason, the presence of a Mexican government official had changed the mood. A man with a mustache and the aura of a high school teacher had gained the necessary trust to convince them of what was an unacceptable offer just a short time before. Julio César Sánchez presented himself with a title that required a deep breath: Director General of Special Affairs for the Secretariat of Foreign Affairs of the Federal Government of Mexico.
"You are the most organized group we've seen," he said. "Just as we ask you to trust us, we want to be able to trust you." Then, "you'll stay with your families in the state of Tabasco to work." Finally, "you'll have a roof, food, and the chance to adjust your immigration status." Julio César said all of this to the crowd, to their exhaustion and their blistered feet, and their sunburnt children, and their empty pockets, and their uncertainty. And he got them into the bus.
Julio César Sánchez didn't say if his promises were for everyone, nor if they came with strings attached, nor how long it would take to fulfill them. Above all, he didn't say where they would be the next day, nor under what conditions.
"It's the third time you ask me that," he told me, the third time I asked where they were taking them.
"Is their destination a secret?"
"It's not a secret. The information belongs to the Mexican government. The people's security is our responsibility."
"You're saying the decision to withhold the destination of the migrants is for their safety?"
"That's right."
The only known fact was that the buses would take what was once a caravan to Villahermosa, the capital of Tabasco, a four-hour drive from the border with El Ceibo.
The women and children boarded first; next, the men of those families; after, some men who had waited patiently for hours in single-file lines. Then, they ran out of room. As it was getting dark, a short-winded official appeared to announce that there would be no more buses "until further notice," adding that if the migrants wanted to try their luck at other ports of entry, they were "well within their rights."
With that, he left them hanging: some 300 young men, standing foolishly in line in front of the deserted, locked gate. Some had seen their partners and children board the buses, while others had been separated from their travel groups. One began spreading a rumor that they had fallen into a trap. Another lamented that they hadn't knocked on the gate over when they had the numbers to do so. In the middle of the night, the rumors and cries began swirling.
Past migrants who have taken the Mexican officials at their word wound up in migratory detention centers, unable to communicate with the outside and often separated from their families. They were often deported. But those false promises to the past caravans were the work of the Peña Nieto administration. Andrés Manuel López Obrador's administration claims to be different.
Then El Ceibo went dark.
Hope in El Ceibo
The last time El Ceibo witnessed so many people heading north, there was no customs office, Mexican gate, or even a paved road. There was truly nothing but a few isolated houses forming an even more remote village than today. Then, in the 80s, El Ceibo was a migratory blindspot. The older generations remember the days when Salvadoran and Honduran migrants would pass in groups of 500, following a single coyote along the dark jungle paths leading to Mexico by foot.
In 1997, Guatemala and Mexico formalized the border crossing and placed customs officials and gates there. From then on, crossing there was never the same. El Ceibo has a few travelers' hostels, bars, a river close by, and the contagious thriftiness of a remote place. While it has a migrant shelter, the place never receives more than ten people, who tend to come and go fleetingly. Electricity is cut at 10 pm every night, resuming at 5 am as the population opens its eyes to the sounds of the waking animals.
A sizable portion of 2020's inaugural caravan thought that crossing at such an unexpected place would be a bold move, despite having to walk 60 miles more than previous caravans who had crossed into Mexico from Tecún Umán, close to the Central American Pacific, into Ciudad Hidalgo, Chiapas.
That's how Óscar arrived, who carries with him his nineteen years and all the death that can possibly fit into such a short life in the Rivera Hernández neighborhood of San Pedro Sula, Honduras. Óscar was just 12 when a gang murdered his sister with a sadism beyond words. At 13, killers confused his house with another, shooting up the place and splitting open his cousin's face with the tip of a shotgun. He's seen so many friends die. At 16 he "stole," as he puts it, a 14-year-old girl and got her pregnant to begin a life as a couple. Now they are fleeing together, struck with fear, with their baby boy of sixteen months. She, Katherine, just turned 17 and is, again, five months pregnant with a girl. Neither of them had ever wandered outside their rough neighborhood, and their ignorance about almost everything glares from their eyes like a deadly spider. Together they discovered that there was a world beyond Rivera Hernández. Dreaming of never returning, they sold every last thing they owned: two glass tables, two stoves, a fryer, two phones, a hammock, and a ventilator. With that, they amassed a fortune of $70 that would completely run out by the time they reached the Mexican border.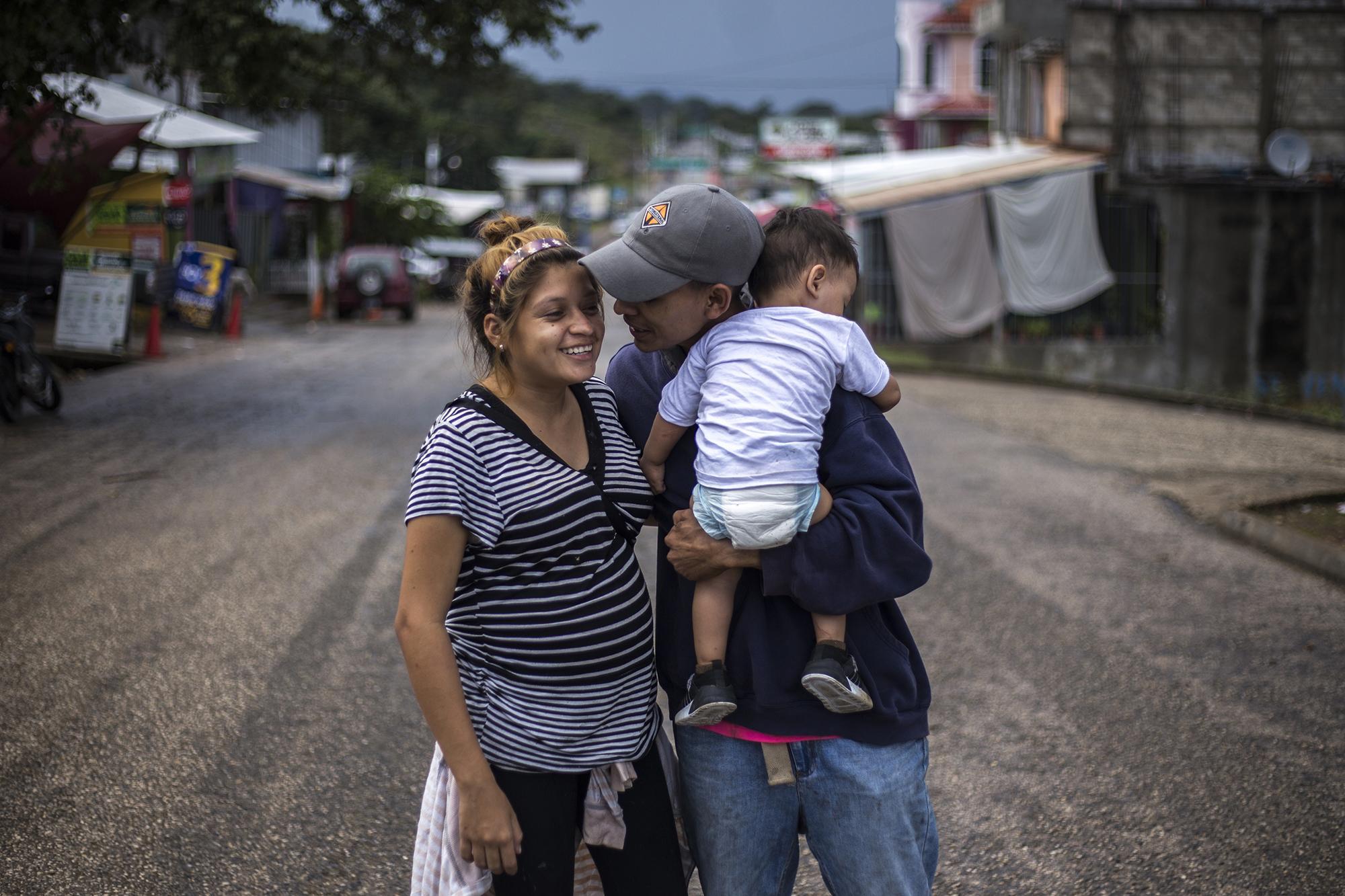 Carlos, a veteran caravanner, also traveled with the group. A year ago, he traveled in the mother of all caravans that set out in October of 2018. He arrived at Tijuana with the crowd, and contracted a coyote to cross to the United States. Just a few miles from Los Angeles, the migra stopped his vehicle and brought his trip to a halt. After spending three months in a detention center, he was deported to Honduras. He recounts that he tried finding a job in vain, so when the news of the new caravan surfaced, he didn't hesitate. But this time, something has changed: his dreams have moved south—over 3,000 miles south. Rather than heading to the United States, he says as if accepting a demotion, he plans to move to wherever he can in Mexico and make a life for himself there.
The problem is that the Mexican offer has also downgraded. Exactly one year ago, while president López Obrador was settling into his role, an enormous caravan found the doors to Mexico wide open with an incredible bargain waiting for them. In those first months of 2019, Mexico issued more than 13,000 humanitarian visas with all sorts of benefits, including: permission to travel through, enter, and exit the country freely; access to the health and public education systems; and above all, the grand prize of work authorization that spells life or death for a migrant. All of that after a five-day wait, without being locked up. After a year of threats from the Trump administration, the guarantees of the López Obrador administration are now significantly lighter on substance: go to jail who knows where, for who knows how long, to get—just maybe—a seasonal work permit limited to the state of Tabasco.
Even so, that seemed like a good deal to Carlos.
The end of the caravan
This mass exodus might be the last of its kind. It will, at least, mark a clear turning point. Whereas before the Central American travelers dreamed of getting past the United States wall in Tijuana, only to watch their dreams go up in a cloud of smoke, they will now dream of crossing the Mexican wall. The Border, capitalized, moved south, just as unmovable and unfeeling as before. The craziest caravan to date seems to have found this fact carved in stone.
The group began to fall into shambles from the moment it left San Pedro Sula on January 15. It had sprouted from various WhatsApp groups circulating sometimes contradictory instructions and directions. One group entered Guatemala by the border at Entre Ríos in the department of Izabal, and another by the border at Agua Caliente in the department of Chiquimula. Some headed to the Guatemalan capital, others set their sights on the customs office at Tecún Umán, San Marcos, and others yet headed to El Ceibo, Petén. All were convinced that the other groups were in the wrong.
Ultimately, all had the same destination: Mexico, which in the last year has sprinkled the migratory routes with national guardsmen, soldiers, federal police, and immigration officers. Adding locks to their chains, they have made clear that they will not open their doors anywhere. The migrants arriving at Tecún Umán were given the same guarantees—or lack thereof—as the other groups and sent hours away by bus to a makeshift shelter in Tuxtla Gutiérrez, the capital of the state of Chiapas.
As the sun rose in El Ceibo on Sunday, January 19, the stragglers were still holding their positions in line. They slept in front of the Mexican gate, muttering complaints and I-told-you-so's, submissive and patient.
Then the buses returned.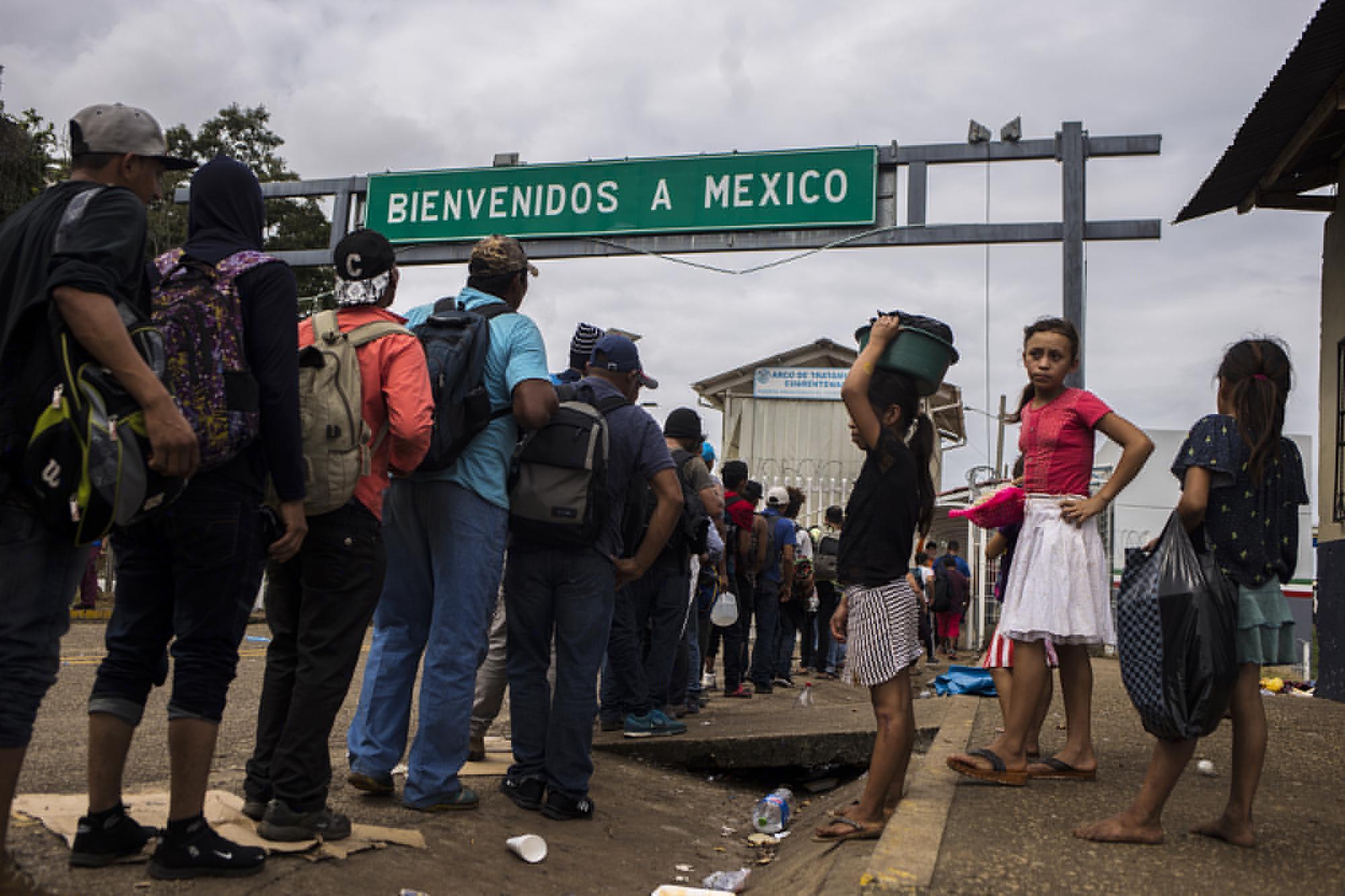 While the very first caravan, in 2018, hated even the idea of talking to Mexican officials, spitting on their offer and in many cases throwing themselves into the rivers to pass them, the 2020 caravan was relieved, almost happy, to see them. The officers ordered the migrants to stand and form a straight line. Then, in groups of 20, the gate began swallowing them up into the last person passed the white bars and the gate closed behind him.
Hours later in the afternoon, the INM issued a triumphant, crude statement, as if announcing a successful military operation: "the efforts of migrating people to enter the national territory in a disorderly fashion were unsuccessful." "Attention and information has been given to 1,087 people migrating from Central America, mostly from Honduras, who requested entry to Mexico through the border in the states of Tabasco and Chiapas." "In most of the cases and once each particular migration claim is reviewed, we will proceed with the assisted return to countries of origin where necessary."
Whereas Julio César Sánchez invoked trust and promised work, shelter, and food, Official Notice no. 025/2020 calls for "review," "specific circumstances," and "assisted return." It's the Mexican wall speaking after its first test of the year; it overcame the disordered caravan and plans to deport the majority of those who thought the buses at El Ceibo were taking them to a different life.
Mexico kept its promise to Donald Trump, turning Mesoamerica into his sentinel. The López Obrador administration seems bent on shattering the utopia of those traveling in the caravans to seek safety, pool their resources, and raise a collective voice. But if Mexico sabotages the caravans, it will condemn hundreds of groups, families who have left everything behind, to returning to the shadows at the mercy of the wolves, organized crime, extortions, robberies, beatings, and rapes that the Central Americans have endured for decades.
Hours after the deception, the gates reopened in El Ceibo. Lonely iron bars at the edge of town, sitting between the two countries, pretending to be a small, remote, musty customs office that nobody seeks.
*Translated by Roman Gressier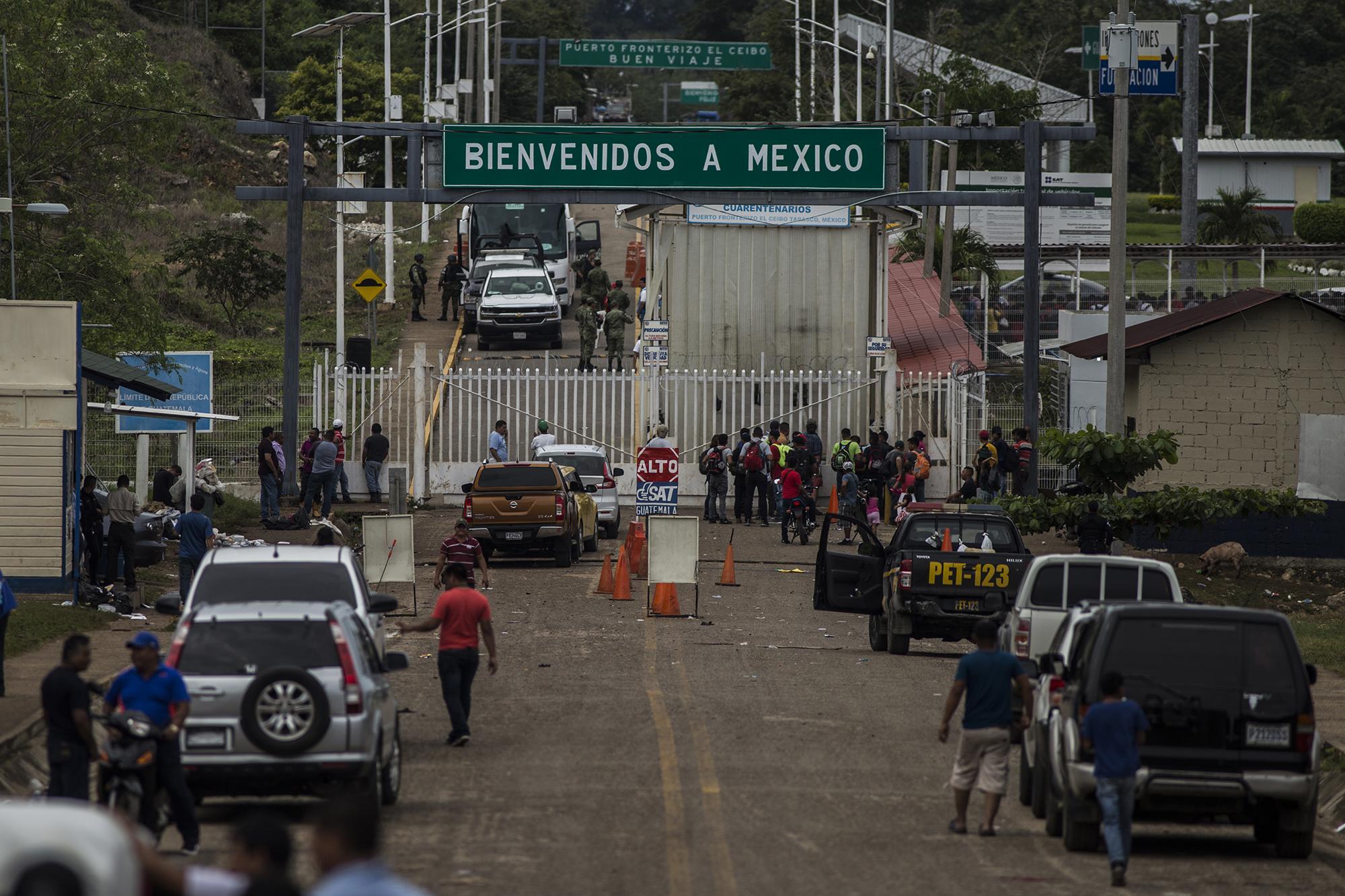 Apoya el periodismo incómodo
Si te parece valioso el trabajo de El Faro, apóyanos para seguir. Únete a nuestra comunidad de lectores y lectoras que con su membresía mensual o anual garantizan nuestra sostenibilidad y hacen posible que nuestro equipo de periodistas llegue adonde otros no llegan y cuente lo que otros no cuentan o tratan de ocultar.
Tú también puedes hacer periodismo incómodo. Cancela cuando quieras.
Te necesitamos para seguir incomodando al poder.
Conoce
acá
cómo se financia El Faro y quiénes son sus propietarios.
elfaro.net/en/202001/centroamerica/23945/Mexico-Tricks-Another-Central-American-Caravan.htm

PP:
PC:
PN:
PT:
items_count:
items_pivot:

YY:

MM:

FI slug:
FI name: January 2020
FI sort:

FT slug:
FT name:
FT sort:

FS slug:
FS name:
FS sort: