In February of 2007, the Mexican priest Alejandro Solalinde founded "Hermanos en el Camino," a migrant shelter in Ciudad Ixtepec, in southern Oaxaca, Mexico. At first, it was a kind of spartan sanctuary: dirt floors, a humble chapel that doubled as a dormitory for migrants, and a wobbly, tin-roofed structure under which tens and sometimes hundreds of undocumented migrants would gather every day. The migrants would cook for themselves, on woodfire, in an enormous, fire-blackened pot they would use to prepare tremendous stews out of scraps donated by a nearby chicken farm and vegetables from the local market, where Solalinde would solicit contributions.
The shelter was near the train tracks, where the commotions of everyday life were governed by the metallic clamor of the The Beast, which announced the arrival of migrants, or that it was time to wake up, hustle, and head north. The place would empty out and fill up in infinite cycles.
Those were some of the hardest years for Central American migrants. No one, or almost no one, arrived at the shelter without their own horror story: assaults, humiliations, beatings, rapes, kidnappings. Infuriated, Solalinde began to speak out. He accused the mayor of Ixtepec, the local police chief, the governor of Oaxaca, and the federal government of trampling over the undocumented—of not only allowing abuses to occur, but of being complicit in their occurence. He alleged that the National Immigration Institute (INM) was a 'branch of the Zetas' and claimed that all the various Mexican police forces were basically just criminal organizations. He was incapable of containing his anger at the right-wing governments of the PRI and PAN, which he accused of being corrupt, inhumane, and cruel.
At the age of 62, Solalinde hopped aboard the "train of death," accompanying migrants on their journey north; he faced off with smugglers and kidnappers; he was scorned by the citizens of Ixtepec, who saw him as the patron saint of the plague-stricken; he was arrested, beaten, received death threats—and yet he appeared immovable, unbreakable.
From the hot and surly streets of Ixtepec, Solalinde built up his reputation, constructing a public persona out of these impressive exploits and bold denunciations. He was no longer just a village priest, but had become an international symbol of solidarity and human rights.
In 2018, Andrés Manuel López Obrador (AMLO) became president of Mexico—"hope," Solalinde called him. During the presidential campaign, and later during the first days of the new presidency, Solalinde became a kind of unofficial spokesperson for AMLO on migration issues. They called each other 'friends' and 'brothers."
The following is an excerpt of a recent interview with Solalinde.
When we first met, a decade ago, in your shelter in Ixtepec, which at the time was quite modest, you were sleeping on a mat, or on that little cart you had, we thought we had found a voice of absolute honesty and independence, someone with an unwavering commitment to Central American migrants. But there are some, Alejandro, who say you have changed.
I have changed because life changes, and we have to find other ways of supporting migrants.
There are those who believe you have changed, who question your commitment and say you're placing too much trust in the new government.
In Andrés Manuel López Obrador (AMLO). Yes, in him, and I'll tell you what I see. Look, the way I've approached supporting migrants has always been based on whatever the needs are: I saw the need to ride the trains, so I rode them; I saw the need to set up a shelter, so I set one up; I saw the need to stand up to immigration police and corrupt governments, so I did. But things have changed. Listen, I'll tell you how they've changed: the need to support migrants hasn't changed, the fundamental situation of vulnerable people hasn't changed. The way I want to walk and be in solidarity with them hasn't changed… But today, walking with them no longer means getting on the trains or waiting for them at the shelter. There's not that many arriving. The migrants are somewhere else now. Things have changed.
There's the National Guard, for example.
No, hold on, hold on… Listen to me first, because I'll explain this whole National Guard thing if you want, but I want to tell you about what caused the change. Years ago, I learned that we must walk with migrants, not force them to walk with us. That's why I put the shelter right in the middle of the route they used. Starting on October 3 of last year, things began to change. I'm not saying that there are no more migrants leaving Central America, because unfortunately the conditions there haven't changed much: violence, corruption, impoverishment...but it's no surprise to anyone that from October [2018] up to today, people have been taking advantage of the migration situation, manipulating it. Organizations, but also smugglers, lots of smugglers who were trafficking people and conducting business negotiations. And they were carrying drugs. They had drugs and knives.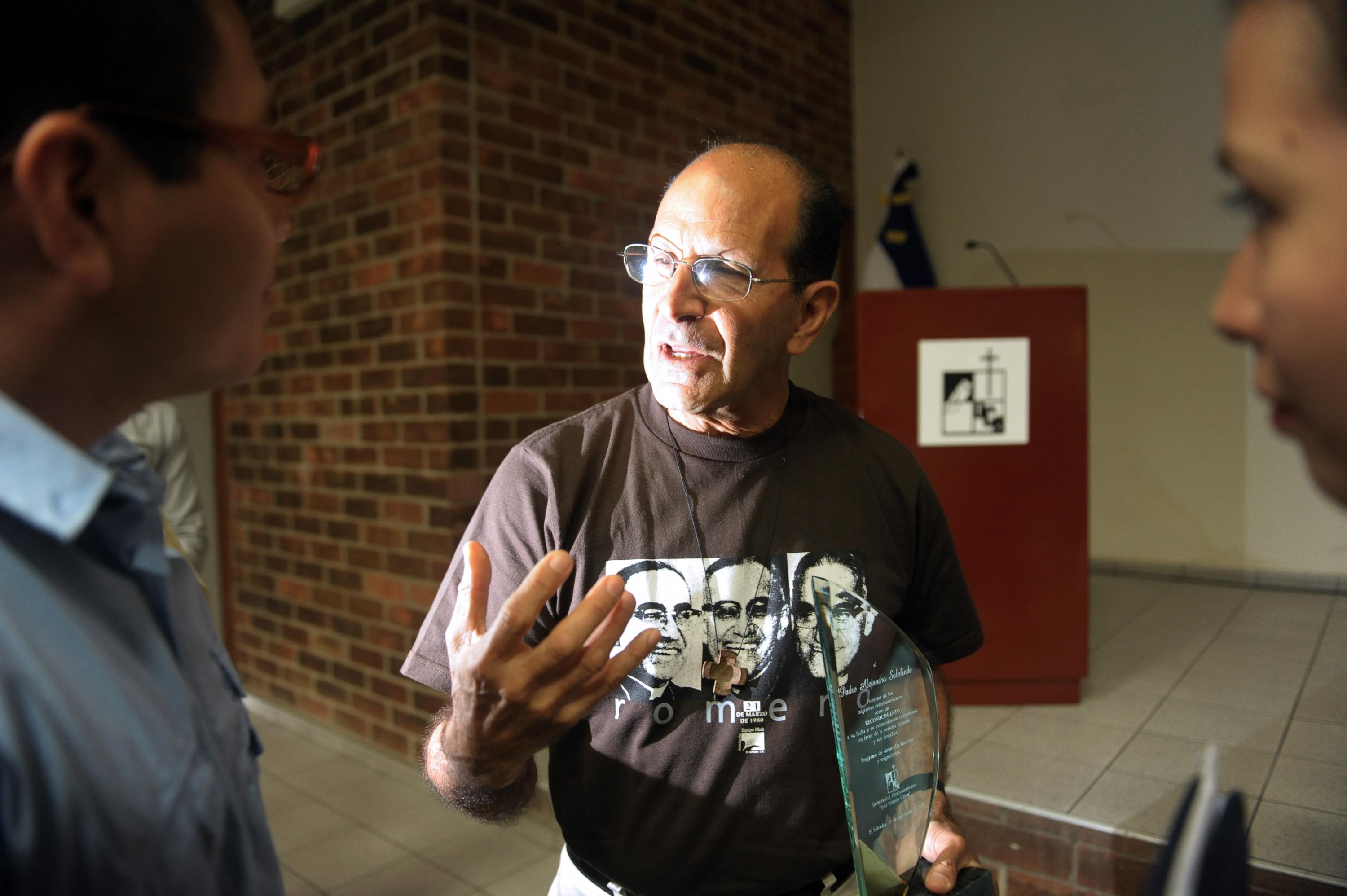 Are you talking about the caravans? 
About the caravans, of course. You began to see sinister influences, outside influences, take hold there. 
What sinister influences, Alejandro?
The sinister influences of the people financing these mass migrations.
I accompanied the first caravan from Guatemala to Tijuana, and in Tijuana I stayed with them for a while. I can tell you that the people I saw were people who were running away—from starvation or from fear. What basis do you have to say that there were sinister elements behind these people?
You didn't see the videos? Of when they were handing out cash to the women?
Who was giving them cash?
Well, you can see it on YouTube! It all came out on YouTube, and they are handing out dollars, starting in Honduras, bills, dollar bills, to the women.
Alejandro, you, more than anyone, have seen these migrants arrive at your shelter, exhausted and destitute, with no skin left on their feet, with...
How long ago?
Alejandro, they're the same people! They're the same people… You think they would walk that far and risk that much, with three babies in tow, for a few pesos? 
No, no… I saw the first caravan. I won't argue with you about that. But people were manipulating and taking advantage of the situation.
Who?
"Pueblo Sin Fronteras (PSF)" Why are you asking me this? You know it's true, Carlos. Don't tell me that PSF are these great heroes who help migrants and accompany them to the border.
From here, Solalinde went on a long diatribe against the organization Pueblo Sin Fronteras, whose founder, Irineo Mujica, according to the priest, embodies everything wrong with the organized support and accompaniment of migrants.
PSF supported the first migrant caravan, which left Honduras on October 18 of 2018 and travelled across Mexico on a journey that took more than a month and, with its stated goal of entering the United States without authorization, caused a diplomatic crisis between the U.S. government of Donald Trump and his counterparts in Mexico and Central America
Activists with PSF became de facto spokespeople for the caravan: they accompanied the migrants from Chiapas to Tijuana, mapping out a route, distributing donations, helping organize the group so they could choose their own leaders, and setting up workshops where migrants could receive legal advice.
Solalinde accuses PSF of having a political agenda aimed at destabilizing the government of López Obrador, and of encouraging the organizing of caravans in order to cause diplomatic trouble for Mexico. He mentions incidents in which PSF people 'took' migrants who were in his care. He accuses PSF of not listening to him. He also accuses them of criminal acts: he claims that PSF tolerated the presence of drugs, going so far as to claim that migrants were transporting marijuana in baby strollers, that Irineo Mujica was the leader of a human trafficking network, and that Mujica's organization charged up to eight thousand dollars per person. He says that Mujica, despite having been paid his fee, would sometimes just abandon migrants to their fates. He mentions some activists by their first and last names. But Solalinde's accusations are all based on evidence such as, 'Two migrants called me and told me that…,' 'Some videos on YouTube,' or 'I saw it.'
In short, he says that PSF and other groups working on behalf of migrants are "traitors to Mexico," even speculating that some of them might be receiving money from the Trump administration in an effort to destabilize the government of AMLO.
At this point I want to stop...
But I haven't finished. I want to finish and then I'll answer whatever questions you want. So I called the two of them out for being traitors to Mexico and because they didn't care about Mexico, but I also told him: "Irineo, enough is enough. A family spoke to me, accusing you, saying they gave you eight thousand dollars." And he just kept denying it. As time went on, Irineo continued to call me: he would ask me to get involved, to help support the organized mass movement of migrants, to pressure the government so that they would be allowed to pass through, like they had before. I told him, "Irineo, I'm not going to do that," and he said that I had abandoned them. I told him, "No, sorry, but I can't be involved in human trafficking. That's not my role. My role is to help migrants, not to get involved with that, and much less to cause an international problem between my government, a legitimate government, and Donald Trump." And I'll close with this: I have continued to support and accompany migrants, but obviously I can't support them in their right to go north—because they do have a right to go north—but I can't support them at this time.
Why?
Because they are very important, but Mexico must come first.
¡!
Listen to what I'm telling you. Yes, absolutely! I'll spell it out for you: For too many years, Mexico has suffered from the corruption of regimes that have trampled on us and kept us down, and I say, if we don't rescue Mexico, it won't be there for Central America or for migrants, or for Latin America, or for anybody… This is the point. I believe in this president, Andrés Manuel López Obrador. I also believe that the policies he's carrying out are not the best public policy, he's lurching and stumbling, in terms of immigration policy. Of course, but I understand it, because neither Andrés Manuel, nor the Ministry of the Interior, nor the Ministry of Foreign Affairs, nor any of the two previous Immigration commissioners, except, theoretically, the first [Tonatiuh Guillén], nor Alejandro Encinas [the undersecretary of Human Rights, Population and Immigration]—none of them know anything about migration. So, their mistake has been to ignore civil society organizations, because last year we did an extraordinary job, we had twelve working groups and we came up with public policy proposals, and they just threw them in the trash. They didn't listen.
Let's take this one thing at a time: For a long while you argued that human values—you called them Christian values—transcended governments and borders, but now you think that Mexico takes priority, the government of Mexico.
Well, because that's where the human rights of Mexicans and of migrants come from. I mean, let's see, why don't you tell me what the priority should be: should the priority be to defend a massive displacement of people so that they can continue to cause an international problem?
Now you view migrants as an "international problem"
Not now, it began last year, with the reckless mass exodus of the caravans. See if they say there weren't any business deals going on, that there weren't any traffickers. 
Remember, Alejandro, that they accused you of the same thing: they arrested you, they accused you of being a smuggler, of trafficking people...
But they never proved anything.
Same with Irineo. He's a free man.
He's a free man because that judge is corrupt and was scared.
Years ago they made the same accusations against you.
Look, don't compare me to PSF. Don't compare me! Don't get confused. If you have faith in them I accept that you have faith. But my priority is to save my country—there is a very legitimate transformation taking place here.  
To save your country, including from the undocumented migrants who seek to cross through it?
Excuse me. Migrants are not a burden, and the proof is that I'm helping them. I want you to visit one of the centers where I'm helping them. I'm successfully getting them to settle down. They have all the support of the government: papers, they have work, they have medical care for their families. It's all very incipient, of course, because they're just getting settled in. I've never agreed that they should be taken north. When they came here in 2014, as part of that Viacrucis migrant caravan, I spoke to them and I told them, "What are you going there for? Why do you want to go to the United States? There's organized crime there—that's what awaits you there."
Around this same time last year I interviewed you at your shelter in Ciudad Ixtepec, and you told me, 'If there is one thing I've learned, it's that you can't decide the fate of migrants. You have to accompany them."
And I still believe that.
But now you think that they are not going, but are being "taken."
They were deceived. They said so themselves. They were deceived because they were promised that they would be taken to the border, but, at the last minute, the promise fell through, because they couldn't get in [to the United States].
Those people were heading for the United States from the moment they left Honduras. They didn't need to be tricked into being taken there.
They have always gone to the United States, they have every right in the world to go, but taking advantage of them for the sake of making money is another matter, and organizing them for the purpose of trafficking is another matter. You can't deny that there is human trafficking going on. Don't deny it.
Of course there is. Do you still believe that the INM [National Immigration Institute] is the number one human trafficking organization?
No, not anymore.
You told me, exactly one year ago, that the INM was basically a criminal organization, that it was the number one human trafficking organization. That completely changed in just one year?
Well, we have a new government. Do you know what it's like inside the INM?
Tell me.
This INM, because everything is rotten, they're seeing if it stays or if it it goes, but at least it's militarized now. They got rid of the delegate from Veracruz for being corrupt, another equally corrupt one took his place, they removed him and now he's an officer in the Army. And the personal secretary for the Commissioner of Immigration is an officer, a major. And so the INM is militarized, to ensure that it won't fall into corrupt hands.
Solalinde's bodyguard, who was present for most of the interview, tells him it's time to go.
We need to speed this up. You told me that people responsible for migration policy are people who don't understand migration.
They don't understand.
Isn't it irresponsible of the president to fill these positions with people who don't know anything about migration?
Look, Carlos, you're Salvadoran. You don't know what we need here in Mexico. You don't know about the state of emergency we're in. Right now we have a chance at a new independence. You'll never understand. Here in Mexico we need to free ourselves from the capitalist powers that have de facto control over our country. You'll never understand the process we're going through.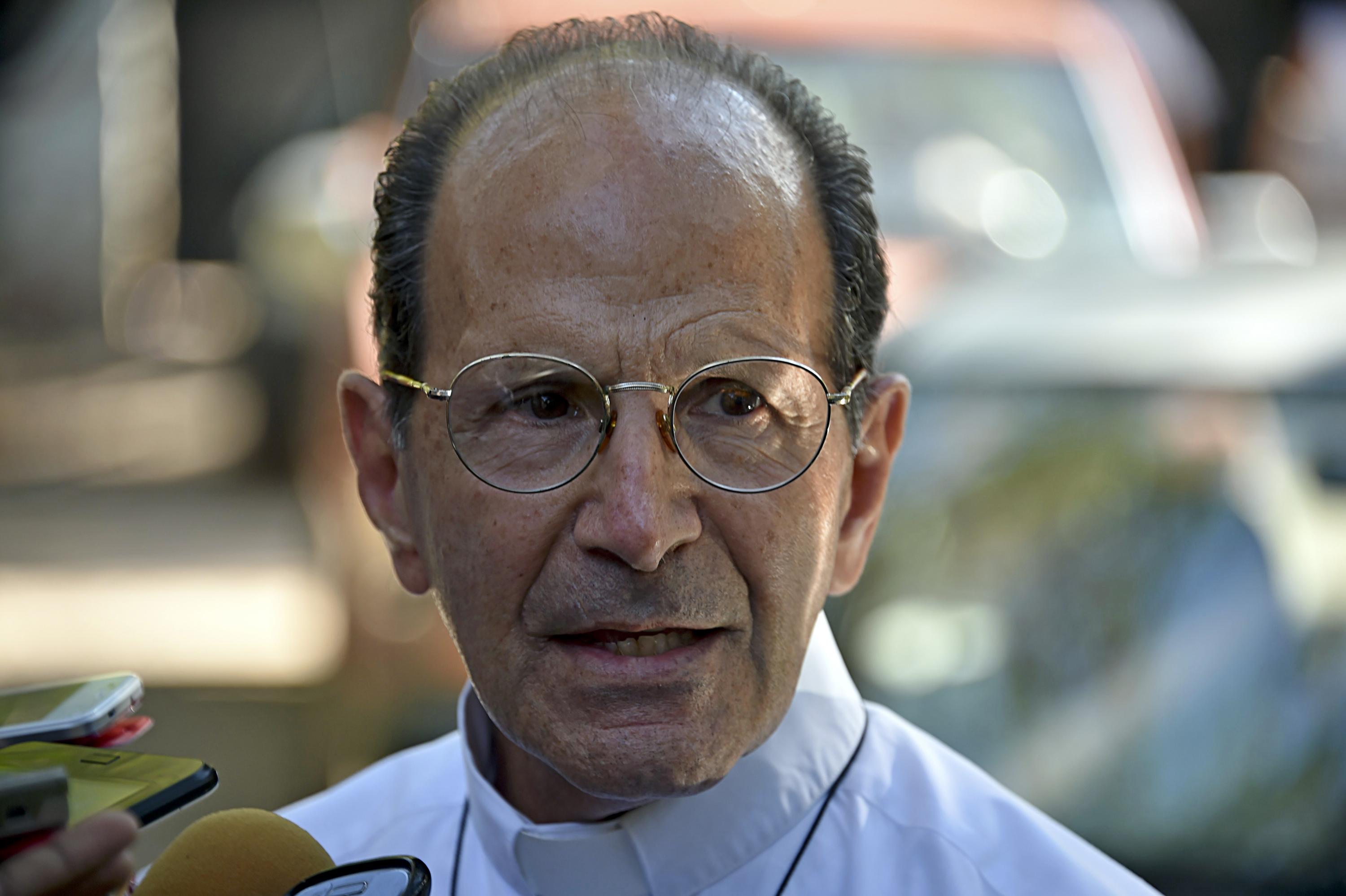 My nationality alone makes me incapable of understanding things?
You don't live here. You're not Mexican. We understand the anguish we've lived through for years, the corruption and oppression. We have to free ourselves from it, and we're under pressure from the United States. You don't have the pressure from the United States.
No?
You have it through your rulers, who have always been wimps, like ours, who have also been wimps.
Are you saying that AMLO isn't a wimp?
No, not him.
President Trump called Mexicans rapists and drug smugglers; later, he threatened to impose tariffs on Mexico if the country didn't do his bidding on its southern border. AMLO caved to this pressure. Does that not make him a wimp? Does that sound like someone who frees his country from U.S. influence?
Of course it does. This is where you betray your ignorance. AMLO is playing for time.
That's what he's doing?
Yes. You can't understand it because you don't have the United States right there. You're not their neighbor.
That doesn't matter, because their influence in Central America…
Yes it does. You haven't had more than half of your territory taken from you, and you haven't had nonstop intervention all the time.
Alejandro… Would you categorize AMLO's actions in the face of US government pressure as dignified and independent?
Dignified and independent, no question.
You mentioned that AMLO was "lurching." He went from taking in Central American migrants on humanitarian visas to militarizing the southern border. Because the National Guard is a military force, with badges that say "GN."
Yes.
You gave me the impression that this lurching wasn't his fault, but was the result of threats from Trump.
No. Sorry. Those are some awfully biased preconceptions you have. You must have seen what you wanted to see, but there are things you're not seeing. The National Guard wasn't set up because of migrants.
You're saying that the National Guard wasn't created to stop migration into southern Mexico? 
Of course it wasn't set up for that. It was set up because we have a homeland security problem. Did it happen to coincide with the pressure from Trump? Yes, of course. They coincided. I'm going to ask you a question: How many migrants has the National Guard killed in that time? Answer me!
Alejandro…
Answer me!
None, as far as I know.
So now you can shut your mouth.
Does the National Guard need to kill people in order to upset you?
You're biased. You'll never understand because you're not living through what we're living through in Mexico. No foreigner will understand it. If you had that deep desire for Latin American liberation, then you would understand, but you don't have that mindset.
*Translated by Max Granger