On his first day as president of Guatemala and following a restless night, Alejandro Giammattei visited the base of the Mariscal Zavala First Infantry Brigade, situated next to a prison named after the same military hero—in 1857, Zavala expelled the filibuster William Walker from Nicaragua. At the moment when he was expected to salute the armed forces as their newest commander-in-chief, he broke protocol and, pointing to his left, recalled a dark chapter of his past. In the adjacent prison, where former president Otto Pérez Molina is now locked up, Giammattei also served ten long months behind bars.
"Before I begin, I want to thank God that I am here today. Just a few years ago, I was released from that prison, the very same prison that is a product of the injustice I faced," he said.
Before becoming president, Giammattei was director of prisons from 2005 to 2007. After six people were massacred while imprisoned in Pavón, he was detained and put on trial. The case, along with another from 2007 in which three Salvadoran deputies and their driver were assassinated, set off a political firestorm that revealed the extent to which organized crime had infiltrated the state. As a result, the national police commissioner and minister of governance were sacked and the International Commission against Impunity in Guatemala (CICIG in Spanish) was born. Only a few of the accused in the Pavón case were convicted, and although the court established that Giammattei was in fact in the prison on the day of the massacre, he was released due to insufficient evidence. Years later, CICIG reopened the case and secured new convictions, but Giammattei was never again brought to trial. The commission concluded its mandate in September of 2019, and Giammattei never expressed interest in renewing it. His animosity toward the commission is most likely rooted in the resurrection of the Pavón case. Guatemala's institutions now face an uncertain future, as CICIG no longer exists and Giammattei is the most powerful politician in the country.
"I haven't come here today with a spirit of revenge, but with a desire to bring justice to our country, so that things go well for us," he said.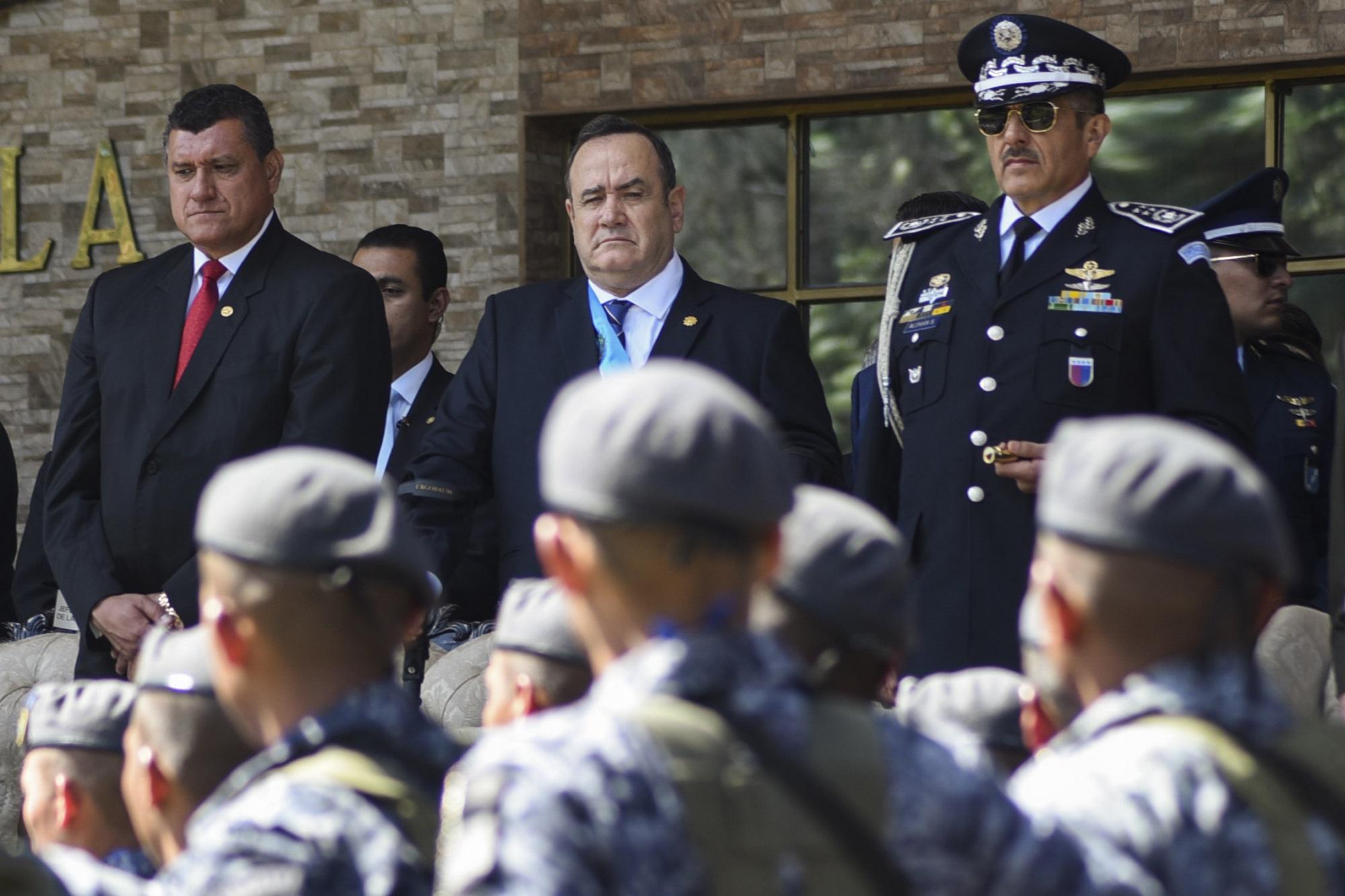 How does a former director of prison facilities connected to a massacre end up as president of Guatemala? In the country's recent history, discontent with the political class has created fertile soil for people claiming to be saviors to take root in the electoral process. Such is the case of Giammattei. Just as in 2015 Guatemalans took a leap of faith on Jimmy Morales, a television comedian billing himself as an untainted political outsider, in the 2019 runoff presidential election, the people chose a conservative demagogue who has already opened up ample space in his cabinet for members of the private sector's far-right, as well as the same radical military groups who have shaped Guatemala for years. That's why some analysts, journalists, and human rights activists view Giammattei as the sign of an era of national regression in the fight against corruption.
Giammattei has said that he wants things to go well, but he has risen to power in the shadows of Morales, his predecessor, who had to escape from office through the back door while under investigation for corruption charges that have now been thrown into limbo.
On his last day in office, Morales narrowly escaped a public lynching from a society that, when it feels that the system has failed, tends to seek justice by its own hand. In order to prevent Morales from taking oath as representative to the Central American Parliament (Parlacen in Spanish) with the immunity from prosecution that the position confers, a group of furious citizens ambushed him, shouting in megaphones and pelting him with fists and eggs as he tried to make his way to a hotel for the ceremony. Without a hint of irony, Morales saw no choice but to enter the five-star hotel through the garbage room—and by wading through trash.
Giammattei has tried to distance himself from that shameful image of the former president trampled in the street, yet his first acts already define him as a politician in the same vein as Morales. "We need to respect the law more," he said at Mariscal Zavala, referring to the misbehavior of his predecessors. Behind the curtain, though, packing in his cabinet with Morales allies as well as leading figures from the anti-CICIG campaign, along with a skillful move by his party to take control of Congress, bring him closer to the old ways of Guatemalan politics than to the start of a new era. Furthermore, the old military figures surrounding him, wielding tremendous power and influence, are cause for concern. That's why his use of the term "Executive-Militia" in his speech at Mariscal Zavala rose eyebrows; he was making clear that he has the backing of a powerful Guatemalan constituency, the same that protected Morales when he most needed it, but also shielded Otto Pérez Molina and Efraín Ríos Montt. "The people should have confidence in the Armed Forces […]. The capabilities of the Army belong to the State, and should serve and respect our citizens," Giammattei said.
"The most radical retired military officials will control everything with Giammattei. How will they react to public demonstrations? How will they react when they receive orders from the Court of Constitutionality? How will they react when the Public Ministry asks them to arrest mobsters and criminals who are their friends or relatives?" asked Nómada, a Guatemalan digital newsroom, in an analysis of early moves in the Giammattei administration.  
Friends in the Military
Like Morales, Giammattei has filled his inner circle with military leaders who advise him on security, intelligence, and defense. But there's a caveat. Giammattei seems aware that he should not be as open about his ties to the military veterans as past leaders, so he tries to hide them until he can't. For example, whereas he announced the rest of his cabinet in October, he kept the name of his minister of governance a secret as long as he could.
Edgar Godoy Samayoa, the new minister whose name was revealed after Giammattei took office, is a retired military officer from the same 1969 officer training school graduating class as Otto Pérez Molina. Samayoa belonged to "The Brotherhood," an underground ring that, in the 70s, created a parallel structure to the Ministry of Finance that allowed them to traffic weapons from the army, according to declassified U.S. intelligence. The new minister is a trusted associate of retired general Francisco Ortega Menaldo, leader of The Brotherhood, and has written columns painting trials for war crimes as "circus[es]" and "political persecution." Ortega Menaldo made his private helicopter available to Giammattei during his campaign.
Ortega Menaldo's son, Luis Enrique Ortega, also sought—and lost—an election as a deputy for the same party as Giammattei. At the end of January, Ortega's son was named interim president of the General Property Registry. In June of 2019, when Nómada asked Giammattei about his relationship to these and other figures, he ripped into the journalists, accusing them of orchestrating a smear campaign against him.
Giammattei's most important security advisor is Roy Stuardo Dedet, a retired general and former public official who was investigated for corruption during the administration of Alfonso Portillo (2000-2004). His brother is Camilo Dedet, executive secretary of the new administration. In October, Roy Dedet made a trip to El Salvador to study the Salvadoran government's security plan with the hope, his team reported, of learning from El Salvador's reduction in homicides. The meeting took place in the Presidential House. Dedet seized the moment to reveal the administration's cabinet. 
Other names Dedet revealed include major Gustavo Díaz López, one of the military officers who tried to topple Vinicio Cerezo. At one point, the army contracted Díaz López to write a document defending general Efraín Ríos Montt after the massacre of the indigenous Mayan Ixil people during the Mayan Genocide. Díaz López has open lines of communication with Jimmy Morales: his daughter Haydée Díaz León was one of the best-paid advisors of the Morales administration. She has been named as one of the vice ministers of governance in the new administration.
Giammattei appears willing to cede even more power to the most reactionary segment of the security forces and military veterans. For example, he announced that he will seek to dissolve the Secretariat of Administrative and Security Affairs (SAAS in Spanish), a body that took the place of the Presidential Guard at the time of the peace treaty in 1996. The SAAS, which has been a civil organization since its inception, employs more than 1,200 people and is tasked with presidential security. But now, on the premise of transparency and avoiding government waste, Giammattei claims that his has become a "nest of corruption." Now, he is seemingly turning back the clock by reviving the Presidential Guard, which was accused of numerous human rights violations during the Guatemalan civil war—and after, including the assassination of the bishop Juan José Gerardi in 1998.
"We shouldn't shutter SAAS, but we should purge and restructure it. The model proposed by military officials in charge of security would create a Presidential Guard that is incongruous with democratic security," opined Oswaldo Samayoa, a human rights expert at the Center for Guatemalan Studies (CEG in Spanish).
You have my back, I have yours
From the moment he started surging in polls after two major candidates were disqualified by the electoral court, Giammattei started receiving comparisons to Morales due to overlaps in their support networks. Five months after taking office, his critics had already christened his government "the Jimmyttei administration."
Aside from the military figures, the other support network behind his government is the business conglomerate Cacif, which reared its head with the naming of Antonio Malouf, its former president, as the new minister of finance. Cacif has such power that it can spark boycotts of public policy that it views as harmful to its interests. In his book, Accountability, Álvaro Colom's minister of finance from 2008 to 2012, Juan Alberto Fuentes Knight, reveals that one of the groups represented by Cacif is the so-called "G8," eight businesspeople so powerful that they managed to boycott the deep financial reforms that Colom proposed. Malouf, according to the outlet Prensa Libre, was a key member of Unity in National Change (UCN), a political party allied with former president Morales whose founder and executive director, Mario Estrada, is currently in prison in the United States for drug smuggling.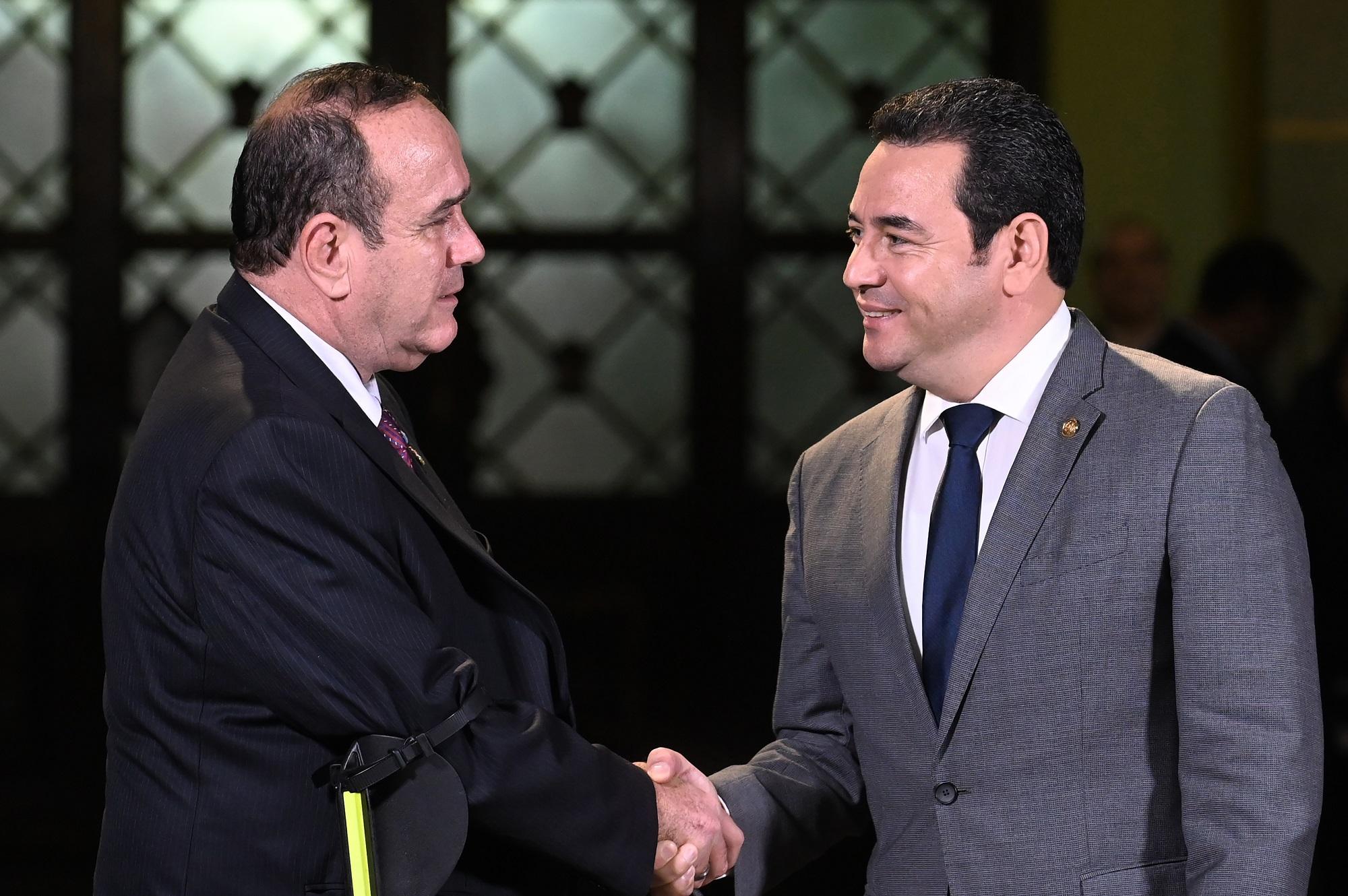 Financiers of the Morales campaign, like Alberto Pimentel, have also taken ministry positions in the new government. One of Pimentel's businesses was a state contractor, which, according to Guatemalan law, made him ineligible for the Cabinet. But Giammattei chose him anyway. José Edmundo Lemus Cifuentes, barred in 2015 from becoming a deputy because he was a state contractor, will be the minister of communications.
There are also bureaucrats of questionable reputation close to Giammattei. Accountant Edgar Barquín was president of the central bank and confessed, after an investigation by CICIG, to having sold influence, leading to his sentencing to 30 months in prison in 2016. He even tried to take the vice presidency on the ticket of Manuel Baldizón, who is in prison in the United States since 2018 on charges of money laundering.  Barquín also confessed to advising Francisco Edgar Morales Guerra, known as the "Dollar Kid," who is now facing a 38-year prison sentence in Guatemala for money laundering.
On Tuesday, January 14, after hearing Morales give his last report to Congress, the deputies who had been his allies since 2016 made a beeline from the congressional chamber to the Miguel Ángel Asturias Theater to attend the inauguration of Giammattei, the new field general. With Morales out of power, the networks that supported him only changed jerseys. The elites are now siding with Giammattei, according to Karin Slowing, an independent analyst and former official in the Álvaro Colom administration. "Giammattei didn't win on merit alone, but rather he won with the support of those behind it all, as they are experts in manipulating the system and playing with people's innocence," she says.
In his first two weeks at the head of Guatemala, Giammattei has already drawn from his predecessors' old playbook. Days after his swearing-in, journalist Marvin del Cid asked him in a press conference who had paid for his campaign advisors. Giammattei tried to mask his annoyance, but responded sarcastically, drawing immediate comparison to Morales's hostility toward the press. "It seems to me that Mr. Marvin del Cid, the journalist, has it out for us, and it's clear to us that he's getting carried away, but we'll gladly provide him that information," Giammattei responded.
One week later, the new president appointed Alfonso Fuentes Soria, president of the Central American Parliament who swore in Morales as representative, as head of the presidential commission on human rights, which is the leading government entity on that subject in the country.
Cooking up a new Congress
Jimmy Morales's exit from office and Giammattei's entry set off rumblings along the fault lines of Guatemalan politics. On Wednesday, January 15, as Giammattei spoke at Mariscal Zavala, the attorney general's office issued arrest warrants for several officials who had ended their terms—thereby losing their immunity from prosecution—seemingly as CICIG's dying effort. Some former deputies, ministers, and mayors were detained; others appeared in court voluntarily. The United States revoked the visas of more than 20 officials ending their terms.
In Guatemala, exemption and immunity are the insurance policy every official desires. One in six congresspeople is being investigated by the justice system, yet the new president must make a pact with them. Indeed, some say he already has. For example, Giammattei's inauguration, which took place in the Miguel Ángel Asturias Theater, began almost four hours late after waiting for the swearing-in of new deputies for the 2020-2024 term taking place a little over a mile away.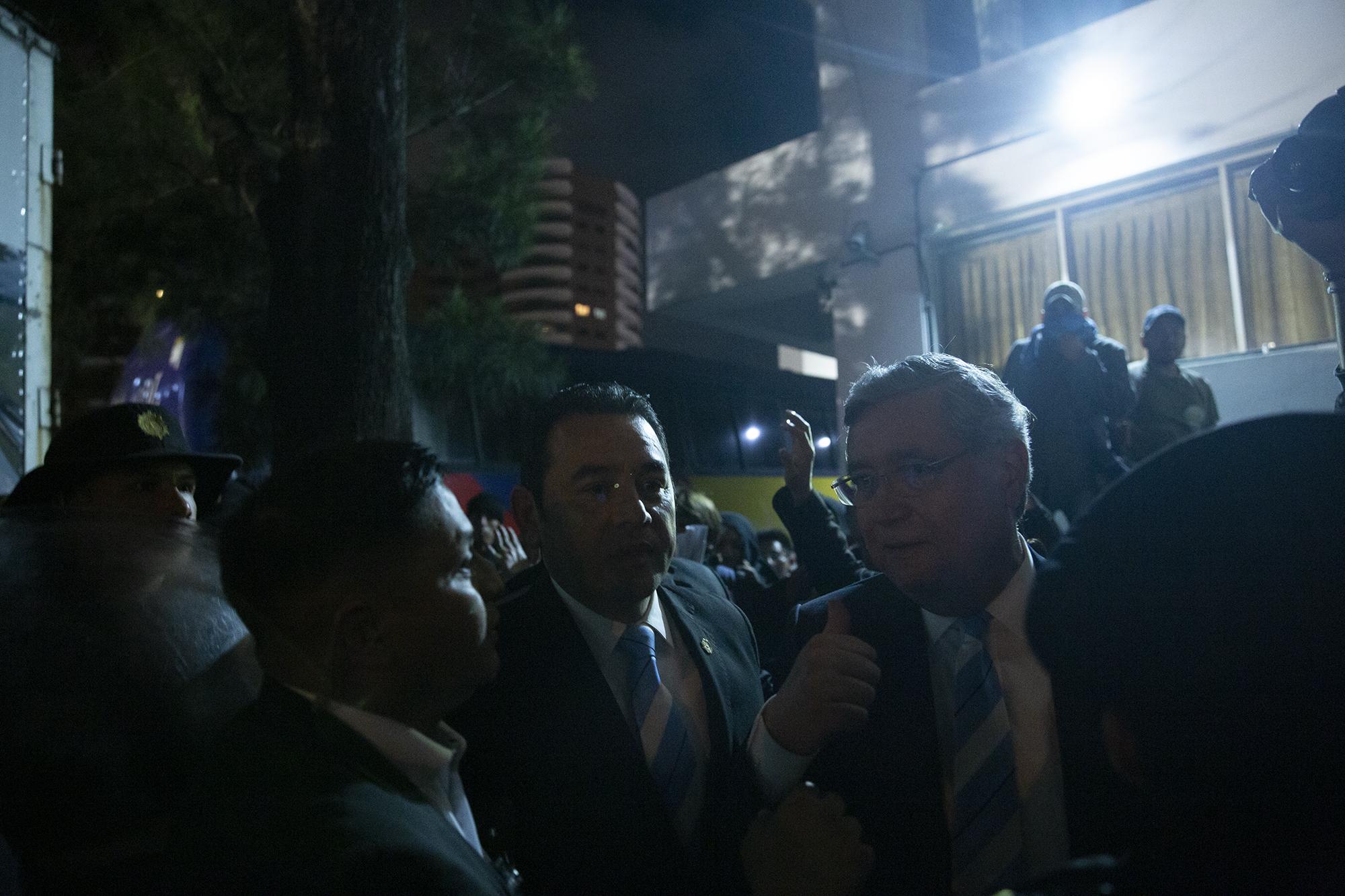 Outlets such as Plaza Pública reported that the delay of the swearing-in of Congress was due to the tardiness of key returning congresspeople allied with the Morales administration, who likewise had to renew their oath in order to maintain their protection from prosecution for the new term. One of those figures was deputy Herbert Melgar Padilla, an advisor to Morales who has been investigated for money laundering.
On Tuesday, January 14th, Melgar Padilla made a Herculean effort to be sworn-in and maintain his protection. Having recently undergone surgery, he arrived in a wheelchair connected to an oxygen tank. Only after his arrival, after three hours of unexplained "recess," the ceremony continued.
This deputy, along with another seven from the National Convergence Front party, might make up part of Giammattei's coalition of allies. As a show of goodwill, they and other conservative deputies allowed the president's party, Vamos, to take control of the presidency of Congress, which otherwise would have mathematically gone to National Unity of Hope.
Melgar Padilla represents a group of military officials who championed Morales's candidacy in 2015 when nobody took him seriously, and who are now willing to work hand-in-hand with the new administration. Padilla owns the ranch where three Salvadoran Parlacen deputies and their driver were tortured in February of 2017 as part of an operation planned in El Salvador and executed by Guatemalan policemen. The three deputies were cremated on a nearby ranch. Astrid Judith Melgar Figueroa, Melgar's daughter, became a rising star in the diplomatic corps. His brother Érick Melgar was arrested after a CICIG investigation concluding that he had attempted to obstruct justice in the Public Ministry and CICIG's joint investigation into his brother, José Armando Melgar Moreno.
With military officials and businesspeople at his side, it's unsurprising that Giammattei has now managed to have his way with the presidency of Congress, which is a position where special interests converge. It's unsurprising, as CICIG established in a 2019 report on illicit congressional networks, that those interests would be politicians' financiers. At the end of the day, the more politicians aligning with their interests, the better.
Vamos and Giammattei launched a campaign to take the presidency of Congress with surgical precision. It happened as it always does: with each new legislature, big coalitions splinter. In 2015, when Morales took office, his party, National Convergence Front, brought along few of its own deputies, but their camp quickly grew. Vamos, the second-largest party with 27 deputies, relative to National Unity of Hope's 53 seats, is expected to expand its coalition of allies.
Giammattei managed to knit together 12 political parties around his presidency, including legislators who are supposedly his enemies. Out of 160 possible votes, deputy Allan Rodríguez of Vamos received half plus one votes in his campaign for president of Congress. He gained the support of the National Change Union party, which, according to the U.S. embassy, has a "narco-ideology;" five deputies from National Hope of Unity identified by their own party as having taken bribes; and the collective votes of the conservative parties.
National Hope of Unity is currently being investigated for illicit financing and is the party of former presidential candidate Sandra Torres, now in prison for corruption. The party has the largest count of deputies, 53, and has accused Giammattei of bribing deputies: "It's been a rough start for Giammattei, buying votes and all," deputy Mario Taracena quipped. At another latitude, that statement might have caused a national ruckus, but this is Guatemala, where everyone has learned to tolerate turncoats. 
The new president brushed off the accusation. "The deal has been essential in facing the imminent danger of another party winning without the national interest at heart," Giammattei said after the vote. According to Prensa Libre, the chair of Vamos is Gabriel Mejía Popol, subject to a CICIG investigation for his ties to a firm investigated in the Otto Pérez and Roxana Baldetti corruption cases.
Conservative forces dominate the new Congress, despite 70 percent of the seats being occupied by newcomers. Left-of-center reformist or progressive deputies couldn't manage to come together on the vote, mainly because of the splintering of the old coalitions. The first openly lesbian deputy, Sandra Morán, for example, left office but symbolically passed the baton to the first openly gay male and HIV-positive deputy, Aldo Dávila. Both of them, accompanied by other left-of-center deputies and sympathizers, marched from Concordia Park to the side of the congressional building in Zone 1 of the capital at the time of the inauguration. The group has formed a coalition to promote a shared agenda. "We're making history. Trust us. We're going to make the pack of corrupt officials feel the heat. We're asking for receipts," Dávila said.
The alliance is still unofficial. According to an interview published by Plaza Pública, the group knows it lacks the numbers to impose itself on the voting process, but it also knows that it can take advantage of the new deputies' good intentions. The people, they say, will begin to discern "right from wrong."
Despite the political strategies that have shifted Congress's tectonic plates, it's still too early to tell how Giammattei will wield his power. Morales, for example, spent his political capital in undermining the anti-corruption campaign, leading the deputies to reduce the punishments for corruption crimes, and carve out exemptions for leaders taking bribes. His administration also attempted to soften the punishments for confessed corruption, an effort suspended by a constitutional court whose rulings have prevented a third of Congress from seeking reelection.
Justice according to Giammattei 
In Guatemala, despite initial signaling and new alliances, it's still difficult to predict Giammattei's anti-corruption agenda. As a precaution, the most astute analysts suggest not trusting appearances, such as in the case of Morales's attitude toward CICIG. He started as the most ardent supporter of CICIG, but ended as its grave-digger after its investigations into him and his family.
Morales left office with a record number of requests by the attorney general's office—17—to waive his immunity in relation to multiple cases. Rafael Curruchiche, a senior prosecutor, admitted a day after the expiration of Morales's mandate that there were two open cases for which he could have been arrested after turning in his presidential sash. That said, it would have been "humanly impossible to do it," according to Curruchiche, because the former president still has sympathizers in the judicial branch. According to the prosecutor, it would be impossible to hold a hearing after 3:30 in the afternoon, the end of public employees' work days. In Guatemalan style, nobody batted an eye when the prosecutor in charge of investigating a former president for electoral crimes admitted that he could not do his job "in a responsible, objective, and impartial manner."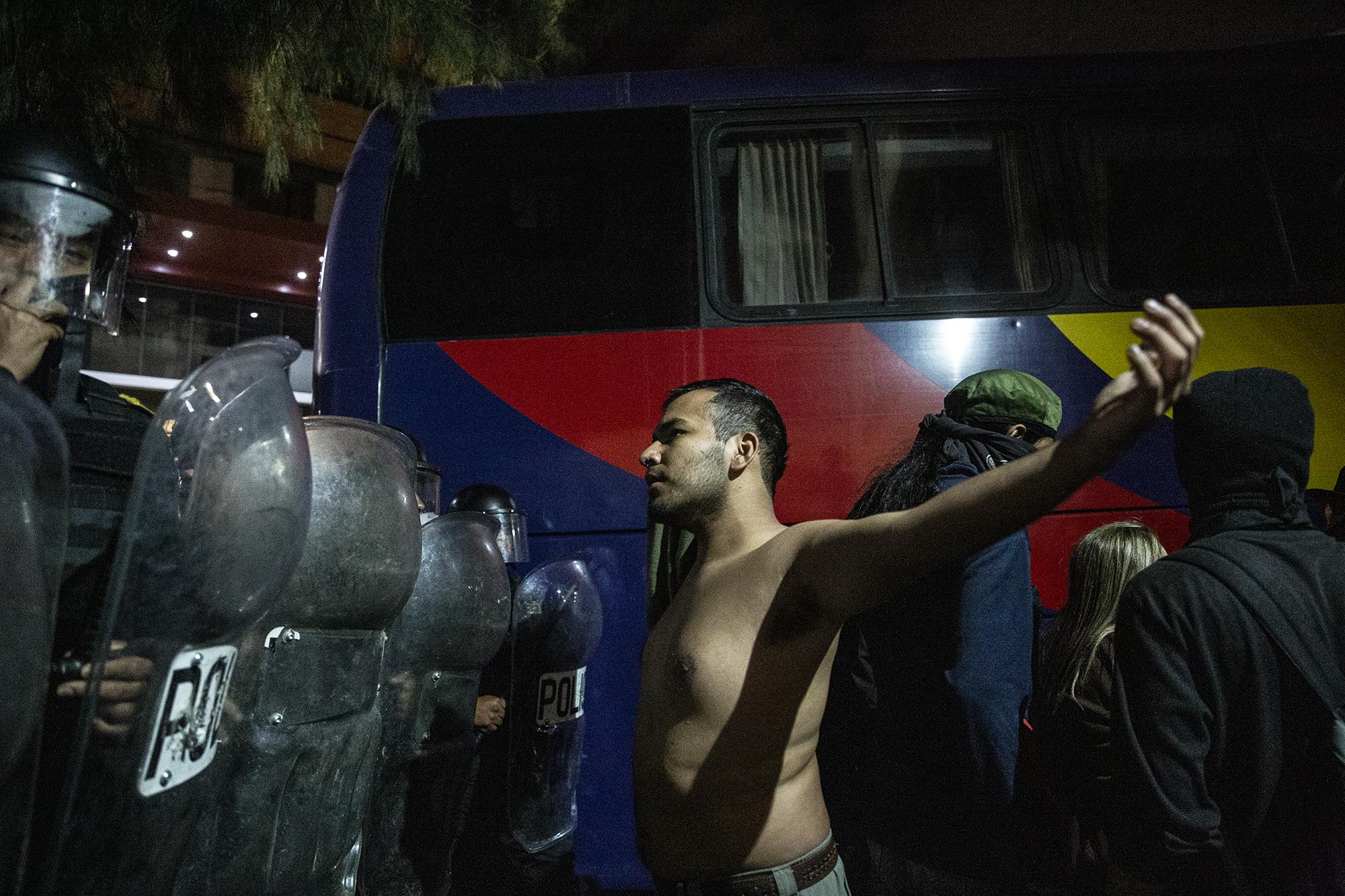 At first glance, Giammattei rejected CICIG for the same reasons as Morales: he didn't want to deal with international investigators and independent investigators from the National Police and attorney general's office building cases outside of his sphere of influence. CICIG had the power to present cases to the attorney general's office. If the same office approved, the two bodies would launch a joint investigation. But now Giammattei seems to be orchestrating a return to the old ways, when criminal investigation depended solely on the Public Ministry (MP). In recent months, with Consuelo Porras at its head, the MP has churned out fewer cases. On its last day, CICIG presented 11 complaints to the MP that the international commission ran out of time to process. To date, the MP has only processed one of those complaints.
Throughout his campaign, Giammattei peddled an idea of false nationalism, claiming that Guatemala didn't need outside help to fight corruption. In its place, he proposed his National Anti-Corruption Commission that would be dependent on the executive branch and whose allies are three institutions of dubious reputation: the MP, the attorney general's office, and the comptroller general's office.
Giammattei seems to have overlooked the fact that the last time there was a presidential commission of that kind, the chiefs of state ended up behind bars for corruption: Otto Pérez Molina and his vice president Roxana Baldetti. "It's concerning that the three pillars in the fight against corruption that Giammattei has proposed are those institutions," wrote the outlet La Hora. The three convened institutions have been revealed as having aided Morales in choking off and shutting down CICIG.
A group of elites are consolidating support for Giammattei's proposal in favor of impunity. Judges who handed down sentences for corruption were placed at the center of a smear campaign. Compounding the damage, Morales allies in Congress blocked funding to the Guatemalan human rights defender's office months ago.
It's in this context that five in 10 Guatemalans believe the president is implicated in corruption cases, according to Latinobarómetro. In 2004, 19 percent of Guatemalans believed that "something" or "much" was being done to curb corruption. By 2017, that figure had risen to 30 percent, according to the same study by Latinobarómetro. Whether the country will tolerate the shuttering of CICIG remains to be seen, although according to Juan Francisco Sandoval, lead prosecutor against corruption at the attorney general's office, that figure could quite possibly regress.
On this front, when Giammattei had the chance to break from Morales, he avoided doing so. The day before taking office, Giammattei only said that he would "prove everyone wrong. These past four years [of the Morales administration] have been a waste."
He walked into his inauguration slowly to the tune of "A mi manera," the Spanish-language version of a French song popularized by Paul Anka and Frank Sinatra as "My Way." It seemed like a calculated move: the song is about an older man reflecting on his achievements. Perhaps Giammattei was sending a message that he sees himself as a lone hero who never asked anyone for anything, a president with no accounts to settle. Yet it's a message that few believe, given his open lines of communication with the Guatemalan political establishment and the shadowy, old military guard.
In his speech, Giammattei avoided mentioning Morales—who was facing the pitchforks in the street—and calling out officials from his administration. He stated tersely that "we must investigate any act of corruption, however recent, and bring the perpetrators to justice. Let us do away with this disgusting corruption." Attorney general Porras, along with the chief defenders of the status quo amid more than two thousand attendees, gave a long, drawn-out applause.
At 7:39, after his inauguration, there was a celebration in the streets—not for Giammattei's arrival, but rather for Morales's departure. Some protestors followed along on a live-stream on their phones. Next, they pulverized the piñatas they had brought along, along with an eight-foot replica of Morales dressed in military garb. In the face of injustice, the Guatemalan resistance took to the streets to make clear that it is still very much alive. Minutes later, a young protester made the announcement through a megaphone that Morales had officially left office. She then read a press release announcing a symbolic civilian arrest warrant against Morales.
After 8:00 that night, the protesters spread animal dung throughout the street, directly in front of the pedestrian entrance to Parlacen. A powerful stench spread throughout the whole block. "The building's dirtier on the inside," one person wisecracked to a chorus of laughter.
*Translated by Roman Gressier