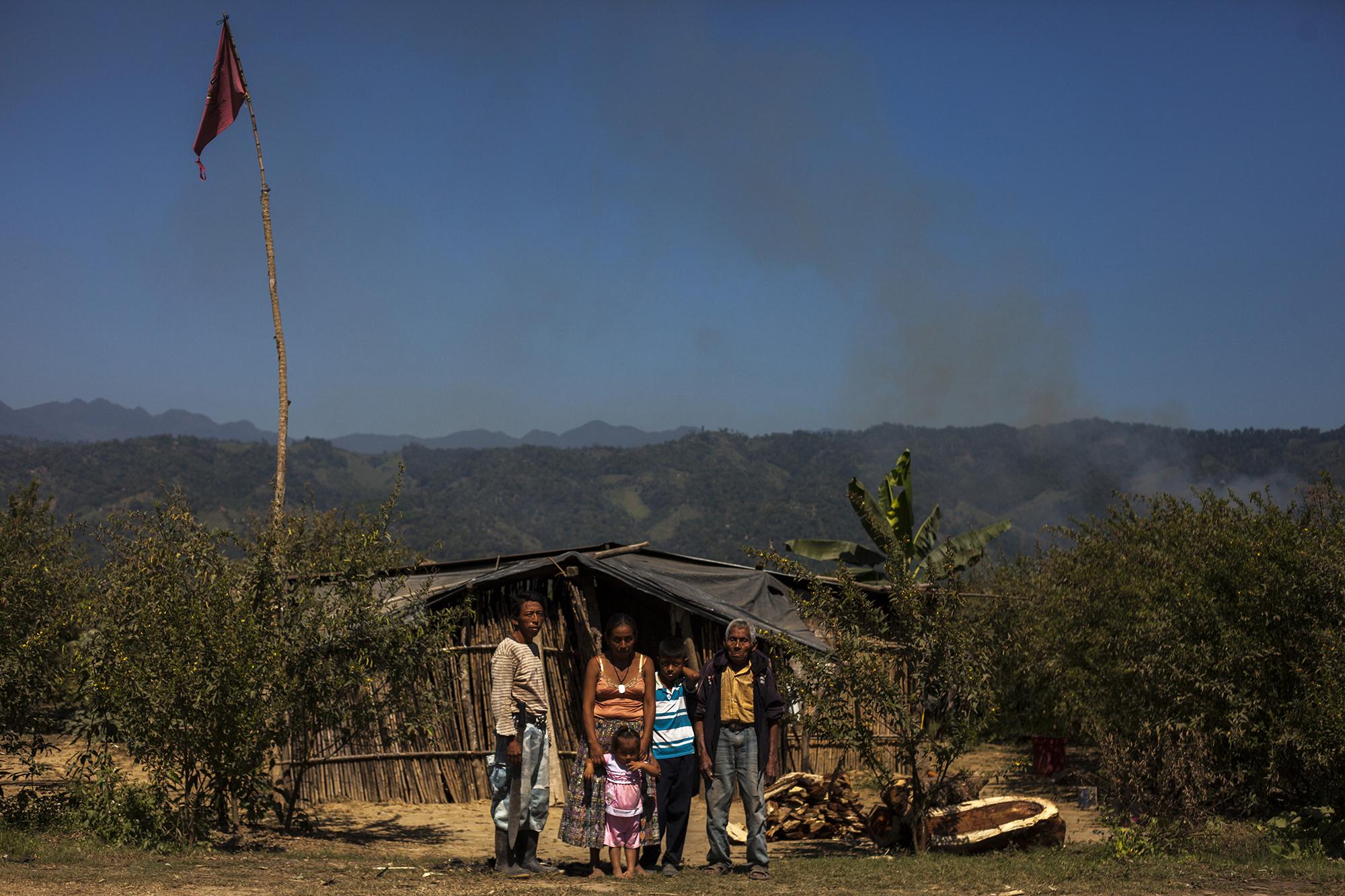 In 2020, more than a decade after assailants hacked her husband with a machete and shot him in the head, Angelica Choc is still fighting for justice. A teacher and respected leader in their Maya Q'eqchi community in eastern Guatemala, her husband Adolfo Ich Chamán was an outspoken opponent of the Canadian-owned Fenix nickel mine. Witnesses say security agents working for the mine killed him. 
Ich's killing was part of a series of violent attacks—all allegedly at the hands of Fenix security personnel—against communities standing in the way of the mining project. These included the shooting of another community member, German Chub Choc, which left him paralyzed, and the 2007 forced eviction and gang rape of 11 women in a neighboring village, Lote Ocho.
"Despite seeking justice, I haven't been heard for more than 10 years," Angelica Choc told me by phone. "Why do foreigners have to come to our communities to dispossess and steal from us? We're paying with our bodies." Choc is now a plaintiff in a precedent-setting civil lawsuit yet to go to trial in Toronto against Canadian mining company HudBay Resources over her husband's death. 
The case exposes many of the hallmarks of Canadian mining's egregious track record in Latin America. The 2007 and 2009 evictions and violence also echoed another bloody episode linked to extraction at the same site. In 1978, as Canadian mining giant International Nickel Company (INCO) ramped up one of its first forays outside Canadian borders in the throes of Guatemala's brutal armed conflict, the Guatemalan military massacred scores of Q'eqchi people in Panzós, Alta Verapaz. As with the roots of Guatemala's dirty war, this massacre began with a land conflict. The victims had marched to Panzós to protest increasing land pressures and evictions, including INCO's interests encroaching on their territories. 
INCO has been a forebear to Canadian mining's aggressive expansion in Latin American over the past three decades, its activity in Guatemala foreshadowing the violent and imperial machinations of Canadian mining interests in the region that the industry is notorious for today—and continues to get away with. 
First incorporated in New York in the early 1900s with the backing of J.P. Morgan, INCO soon became the world's leading nickel producer and began dominating the U.S. market. The company later moved north of the border, where it held flagship operations in the mining heartland of Sudbury, Ontario. Crediting the relocation into Canada for INCO's success, a 1967 Forbes article noted that Canada offered the company "a sanctuary from high taxes and antitrust" it would have been subject to in the United States. In continuing to promise tax incentives and a lax regulatory environment despite years of calls to address abuses, Canada remains one of the world's primary havens for mining companies: the country is home to 60 percent of the world's mining companies' headquarters. From their tax-and-regulatory sanctuary in Canada, these companies foray abroad to dig into the earth and extract riches, sometimes trampling the environment and human rights along the way.
***
Industrial mining began to emerge in Guatemala in the mid-20th century against a backdrop of a brewing civil war. According to sociologist Samantha Fox, Guatemala's armed  conflict "violently reinscribed the relations of domination set forth during the conquest" and "set the groundwork for today's extractive industry." In 1951, a World Bank economic development mission documented Guatemala's "major" mineral deposits and recommended the country expand mining exploration, broaden concession rights, and systematically survey its mineral resources. Around the same time, U.S. State Department researchers mapped mineral deposits in Central America, identifying in a report issued just three years after the CIA helped topple Guatemala's democratically elected president "deposits of lead, zinc, mica, and quartz in Guatemala" and other minerals across the region. These findings would help spur a resource rush benefiting globally dominant mining corporations.
When INCO began to turn its sights outside of Canada's borders in the 1960s, Guatemala was one of its first targets. By 1965, in the midst of a devastating 36-year civil war and genocide against Maya Indigenous people Guatemala had introduced a new mining code allowing open pit mining in the country for the first time. INCO helped craft the legislation.  "We had to grow or stagnate," INCO chairman Henry S. Wingate told Forbes in 1967. He boasted plans to tap into "the biggest potential sources of nickel in the Free World outside of Canada," and was looking in Guatemala, as well as in Indonesia and New Caledonia, a French territory in the South Pacific. 
Amid high global nickel demand and a spate of labor strikes in Sudbury, in 1965 INCO secured a 40-year concession to mine near Guatemala's Lake Izabal in El Estor as the 80-percent partner in local subsidiary Exmibal. The 40-year deal was a steal for INCO. "The mining operation did not pay a mining tax because it was declared a 'transformational industry,'" John H. Bradbury wrote in the journal Economic Geography in 1985. "The Guatemala government viewed INCO and Exmibal as a model of foreign investment, its Canadian origins representing a form of diversity away from United States firms and investment." 
Business circles also saw the deal as a new precedent, according to a 1974 article in NACLA's Latin America and Empire Report. The report noted that planned investment in the mine would mark "a major shift in the Guatemalan economy" by more than doubling existing foreign investment. Ominously, "EXMIBAL promised to become as central to the Guatemalan economy as the United Fruit Co. had been 50 years earlier." It was an early precursor to Canadian mining interests directly shaping mining law in the region in recent years, such as in post-coup Honduras and in Colombia.
But even before heading abroad, the roots of INCO's empire back in Canada had already established a dirty legacy. It had, according to a $550 billion lawsuit launched in 2008 by the Atikameksheng Anishnawbek, also known as Whitefish Lake First Nation, developed nickel and copper mines on stolen Indigenous land. The First Nation has also suffered mining-related pollution, including the presence of heavy metals, acid rain, and contamination of traditional food sources. 
Open Veins
While Spanish colonizers mined gold in Honduras in the early 16th century, precious metals deposits discovered in the region were marginal in comparison to discoveries in Mexico and parts of South America, where enslaved Indigenous and African people hauled exorbitant riches out of the open veins at mines like Potosí. In Central America, the colonial economy developed around extractive agriculture, especially cacao and indigo, the treasure of El Salvador's Indigenous Pipil. Centuries later, oil and nickel began to be hauled up from the dirt in Guatemala's Alta Verapaz region, where INCO's Exmibal endeavors were stoking land conflicts in the 1970s. The Panzós massacre, in 1978, marked a "prelude to genocide," in historian Greg Grandin's words; an initial tally by church workers put the death toll at 114, the Washington Post reported at the time. It was prelude, as well, to more violence linked to Canadian mining interests. 
Canadian mining, however, would not start digging in earnest in Central America for nearly two more decades. In the 1990s, the expansion of low-cost open-pit heap leach industrial mining techniques, which raze landscapes and bathe mounds of earth in cyanide solution to separate precious metals, along with neoliberal economic policies that opened the door to increased foreign investment, enabled a surge of Canadian mining abroad, particularly in Latin America. While INCO abandoned operations in El Estor after a few years of operation, Canadian company Skye Resources acquired the Fenix mine project in 2004 and changed Exmibal's name to Compañía Guatemalteca de Níquel (CGN). Toronto-based HudBay Minerals acquired Skye in 2008, then sold Fenix to Cyprus-based Solway Investment Group in 2011. Despite years of controversy, the mine restarted operations in 2014. Meanwhile, in the first half of the 1990s the number of Canadian mining projects in Latin America "exploded," as researcher Daviken Studnicki-Gizbert has put it. As of 2017, the value of Canadian mining assets in Latin America and the Caribbean exceeded assets on home soil. By January 2018, Canadian companies operated 1,113 mineral projects in Latin America. 
A report by the Justice and Corporate Accountability Project (JCAP), a volunteer-run legal clinic affiliated with two Canadian law schools, documents 44 killings—including 30 "targeted" killings—linked to Canadian mining companies in 11 Latin American countries between 2000 and 2015. Hundreds more were injured and criminalized in the same period. Guatemala suffered the highest death toll over those 15 years with 12 deaths connected to four Canadian mining projects, including one fatal shooting linked to INCO's successors at the Fenix nickel mine—Angelica Choc's husband, Adolfo Ich Chamán. 
Another five murdered victims were community members opposed to Vancouver-based Pacific Rim's El Dorado gold mine in El Salvador, where 12 years of persistent anti-mining activism secured a historic ban on metals mining in 2017. Before that victory, Pacific Rim—acquired in 2013 by Australian-Canadian OceanaGold—sued El Salvador in 2009 for infringing on its potential future profits by curtailing the El Dorado project. Though El Salvador ultimately won, the lawsuit underlined the challenges of reining in the industry under neoliberal free trade regimes that privilege corporate rights. Since the early 1990s, Canada has established a number of free trade agreements—including a new deal with Honduras in the wake of the 2009 coup—and bilateral Foreign Investment Protection Agreements in the region. Designed to boost foreign investment, FIPAs establish rights for corporations that critics argue undermine environmental and human rights protections—another boon to mining interests. Although Canada does not have a FIPA or free trade agreement with Guatemala, conditions remain favorable as the country's mining code mandates royalties of only one percent. 
Canadian Imperialism 
Given its role in the region, scholars Todd Gordon and Jeffery R. Webber dub Canada a "secondary imperial power." Focused largely on mining, their 2016 book Blood of Extraction details how "the extraordinary violence and social injustice accompanying the activities of Canadian capital in Latin America are systematic features of Canadian imperialism in the twenty-first century." 
One of the most poignant examples has been in post-coup Honduras, where Canada marshalled diplomats and development aid to craft favorable mining legislation after Ottawa joined Washington in legitimizing the 2009 military coup against president Manuel Zelaya. Gordon and Webber cite embassy communications obtained through freedom of information requests, such as one 2012 email stating that, for two years, the Canadian embassy had been "working actively with Honduran government to promote a modern, competitive, and transparent mining law." The new 2013 law reversed Zelaya's moratorium on new mining concessions, relaxed requirements for securing concessions, gagged access to information around mining projects, and enshrined tax loopholes. 
Family members of slain anti-mining Mexican activist Mariano Abarca, killed in 2010 while organizing against a Canadian-owned barite mine in Chiapas, are pushing for an investigation into the Canadian embassy's role in putting his life at risk. "The Abarca case is symptomatic of some of the problems with Canadian diplomacy," Shin Imai, director of JCAP, told me by phone, noting that the embassy "advocated" for Canadian mining company Blackfire amid a conflict with community members. 
Catering even more blatantly to mining interests, Ottawa has long refused to hold mining corporations accountable on home soil for abuses committed abroad. Instead, the industry has enjoyed a consequences-free self-regulatory environment under a model of voluntary corporate social responsibility. After years of prominent calls for new regulations, including from multiple United Nations bodies, in 2018 Ottawa created an ombuds office, the Canadian Ombudsperson for Responsible Enterprise (CORE), to address complaints. But not only has the much-awaited body been slow to get up and running, the government has also rendered it toothless, hollowing out its powers to investigate and to force mining companies to the table. The result is an ombudsperson "at the mercy of mining companies," according to Imai. More than a dozen civil society groups pulled support for the office over disappointment in the changes. 
For Grahame Russell, director of Rights Action—a human rights organization that works closely with mining-affected communities in Honduras and Guatemala—CORE was an inadequate solution from the start, due to what he sees as its weak regulatory framework and pro-business tilt. "Its fundamental raison d'etre is to promote good business," he told me by phone. "A problem-solving mechanism shouldn't have as its mandate promoting good business." These limitations underline the importance of cases like Angelica Choc's against HudBay, which he believes are part of "a slow shift." 
Imai points out that such court cases, too, have limitations. Well-resourced mining companies maintain the the upper hand, and only the most egregious abuses are eligible to make a court case while everyday violations, such as inadequate community consultation, remain overlooked. "It's wrong to think that these court cases will create fear in the companies," he said, because the financial hit is small compared to their profits. "There's so little that can be done." 
Water vs. Mining Profits
In another landmark case, community members of San Rafael Las Flores, the site of the Escobal silver mine, sued Vancouver-based Tahoe Resources in Canada over security personnel opening fire in 2013 on peaceful protesters. Last year, Pan American Silver, which acquired Tahoe months prior, settled with the plaintiffs out of court. Though the conclusion of the case received scant media attention, it marked the first settlement in a case of this kind. The case also reaffirmed the precedent, set in the ongoing HudBay cases, of local courts' jurisdiction over abuses committed by Canadian companies abroad. 
Tahoe's Escobal mine has also faced controversy over contamination, lack of consultation, and denial of the Indigenous identity of Xinka communities surrounding the mine. One of the plaintiffs in the settled case, Misael Martinez, told me while participating in a protest camp in Guatemala City in 2018: "For us, [the mine] is not development. It's death…We want the mine to close definitively and stop operating because this is a company we can say is murderous. Because if it doesn't kill with bullets, it kills with contamination." On pause by court order since 2017 amid legal wrangling in Guatemala, the Escobal mine has vowed to restart. 
Even if companies definitively cease operations—not just pass the baton to a successor, like INCO did—the environmental toll left behind is staggering, and recourse for affected communities is nonexistent. Canadian company GoldCorp shut down the Marlin mine in San Miguel Ixtahuacán in Guatemala's western highlands after violence, lack of consultation, and pollution had fueled calls for its closure. The victory for the community, however, was half-baked; the company pulled out without clean up or compensation for damages left behind, which included health problems related to contamination, presence of heavy metals, and impacts on agricultural production that farmers attribute to polluted and depleted water sources. The community surrounding GoldCorp's shuttered San Martín gold mine in Honduras's Siria Valley has faced similar challenges. Meanwhile, contamination from an operational—and expanding—open-pit gold mine in western Honduras, Canadian-listed Aura Minerals' San Andres mine, has also sparked health concerns among local residents. 
Anti-mining activists resisting Tahoe's Escobal point to the Marlin mine as a sign of where they could be headed without a drastic change of course. "Look how that community [San Miguel Ixtahuacán] ended up after years of exploitation—the water isn't even good to water the plants," Dr. Hugo Loy, the mayor of Mataquescuintla, which neighbors San Rafael, told me in 2018. "Our brothers and sisters will end up the same way." Like in other areas surrounding the mine, producers in the coffee-growing area of Mataquescuintla say they have suffered water shortages as silver extraction guzzles resources. 
Water is an increasingly key concern in a region hard hit by climate change, underlining the need for stricter environmental regulations. In El Salvador, where water scarcity could make life impossible in just 80 years, according to a study by the country's human rights ombuds office, outlawing metals mining marked a huge step, but regulatory challenges still loom. Since much of El Salvador's fresh water flows from Guatemala and Honduras, activists fear continued mining in neighboring countries' border regions—like the Canadian-owned Cerro Blanco gold mine at Guatemala's border with El Salvador—will further threaten the country's contaminated and increasingly depleted water sources. Despite public outcry in both Guatemala and El Salvador, Cerro Blanco, acquired by Vancouver-based Bluestone Resources from GoldCorp in 2017, is slated to start operating after a years-long hiatus. 
Russell says these and other big questions underline the "enormity" of the problem and the need for an "ideological shift in Canadian politics" to grapple with systemic root causes of mining abuses abroad. "It is the very economic model that is harming the environment, violating human rights, and leaving many people in poverty," he said. "That's the deeper change that's needed." 
Retracting the claws of Canadian imperialism is no small task, but Russell believes the precedent-setting civil suits like Angelica Choc's finally taking Canadian companies to task after decades of abuses are a step in the right direction. "A HudBay Minerals lawsuit lends itself to the short-term struggle for minimal accountability," he said. "And it lends itself to the big picture struggle: What do the Maya Q'eqchi people actually want for their communities?" 
As Angelica Choc put it: "If the companies that have come here—palm oil and banana companies, hydroelectric and mining companies—would do us the favor and leave, we would be left in peace in our lands." She stressed the community's resolve to stay put and their desire to heal the land and environment. 
"We're not going to recover all we have lost," she added, "but we wish at least our children may be able to move forward." 
Heather Gies is a writer and editor from Southern Ontario, Canada. Her reporting from Central America on politics, environmental issues, and human rights has appeared in Al Jazeera, The Guardian, The Intercept, National Geographic, and other outlets. She previously covered Latin American news, including resource conflicts, as a writer and editor at teleSUR English, based in Ecuador. She is currently managing editor of the NACLA Report.