Remembering My Neighbor, Ernesto Cardenal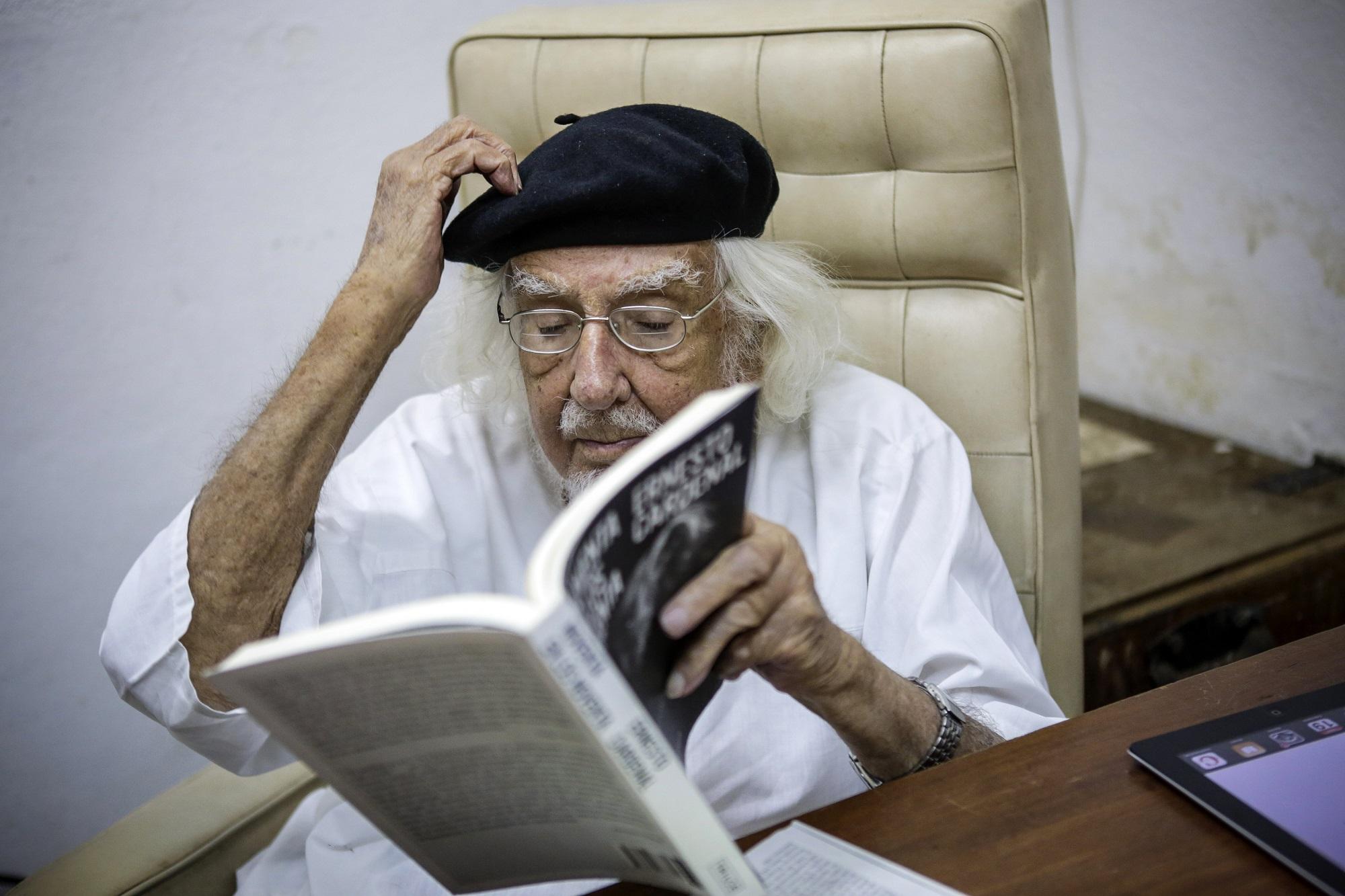 Editor's Note: This article was originally published by El Faro in 2016 to commemorate the addition of Cardenal's personal archive to the Benson Latin American Collection at the University of Texas at Austin.
In November of 2015, the Benson Latin American Collection of the University of Texas at Austin added the personal archive of Nicaraguan poet Ernesto Cardenal to its vast and unmatched estate, which also houses the archive of Gabriel García Márquez. As a prelude to his magnificent poetry reading at the opening ceremony, I offered a few words about his life and work.
By then, Ernesto had been my neighbor for almost forty years, dating back to the triumph of the Sandinista revolution, when we moved to the same street in Manila. We frequently met to swap newspapers and books, and shared in our grief over the fortune of Nicaragua. We were two neighbors who lived through our writing—he through poetry, and I through fiction. 
We met in the seventies, just as I was ordained a priest. At the time, I was an apprentice seeking a model. He was just the type of writer I sought: his literary work acknowledged the reality of our country under a vicious, dynastical dictatorship. His was a breathing, nascent form of poetry, far from the traditional mold of modernism; poetry approaching prose, with a stunning narrative bent, a story told by verse.
Of course, I was taken by his work, Epigrams, which all lovers of my generation have committed to memory. But what profoundly influenced me was his poem, Zero Hour, published in Mexico at the beginning of the fifties. It had narrative tension and purity; its stanzas—naked and blunt, yet longing and stirring—were as the chapters of a novel spilling across different capitals of Central America, into the moonlit palaces of dictators, "as the House of Caiaphas."
They depicted the foul regimes of generals Carías, Ubico, Hernández Martínez and Somoza, tin pot dictators installed by the United Fruit Company and the Dulles brothers across the Central American "banana republics."
Zero Hour is also a eulogy to the handful of retired officials of the National Guard and civilians who attempted to raid the presidential palace in the 1954 Nicaraguan rebellion. Many of them were tortured and killed, including Adolfo Báez Bone, who spit in the face of his torturer Tachito, the youngest son of the aging and final Somoza.
Báez Bone conspired alongside Pedro Joaquín Chamorro, the journalist murdered by order of the same Tachito. Ernesto joined them, and spent several days hiding under an order of arrest.
His destiny was not that of a political figure or guerrilla leader, but of a poet. Yet, since the beginning, when he wrote Zero Hour, his poetry helped nurture fertile soil for political action. As armed conflict emerged as the only recourse for the Nicaraguan people to topple Somoza, his poems inspired the revolution's young protagonists.
In that sense, the poems National Song and Apocalypse in Nicaragua are fundamental to his work. They are part of his double conversion: first, to a new sect of Christianity committed to the poor and oppressed, as put forth by the Second Episcopal Conference of Medellín in 1968 under the direction of the Second Vatican Council; and second, to the revolution. Both conversions became essential to his life and poetry.
In writing Zero Hour, Ernesto invoked the name of Sandino, the artisan who bucked the rule of his country's occupiers at the head of a small peasant army until the first Somoza assassinated him.
The revolution is inexplicable without Ernesto's poetry or the songs of Carlos Mejía Godoy. Today, those ideals have been distorted and counterfeited by a familiar power usurping revolutionary rhetoric but undermining the dreams that inspired thousands of Nicaraguans. Those poems and songs, a history of the revolution, cannot be effaced.
Indispensable to the story of the revolution is Ernesto conducting countryside mass near the fields of battle, or wrangling international support for the young combatants seeking to topple the dictatorship—among them his spiritual children who accompanied him in the establishment of the archipelago community in the Solentiname Islands of Lake Nicaragua. Some of them died in open combat, while others were murdered in torture chambers.
After the triumph of the revolution he took on the role of minister of culture, despite his misgivings with the idea of becoming a bureaucrat. Yet he did an extraordinary job, creating unprecedented cultural institutions in the country and causing the government to take culture seriously. His work resulted in schools and organizations for music, theater, and dance, as well as programs promoting literacy workshops and a magazine and publisher. Popular artisanry, along with cultural traditions, were salvaged.
It was a revolution within a revolution, with the rallying cry that art and literature would be free from all political regimes. Freedom was the rule of thumb. There was never any "Sandinista realism."
Ernesto's poetry was the result of his extraordinary gift and labor. He is our twentieth-century Nicaraguan poet, one of the transcendental poets of our tongue. Yet his work would not exist without the deeper motivation of love.
His life, as his poetry, has been a work of love.
Arequipa, Peru, December 2016
*Translated by Roman Gressier
Sergio Ramírez is a writer and former vice president of Nicaragua from 1986 to 1990, during the revolutionary Sandinista government. His novels and short stories have won numerous international awards, including the Alfaguara Novel Prize (1980), the Casa de las Américas Prize (2000), and the Carlos Fuentes Prize (2014).
Apoya el periodismo incómodo
Si te parece valioso el trabajo de El Faro, apóyanos para seguir. Únete a nuestra comunidad de lectores y lectoras que con su membresía mensual o anual garantizan nuestra sostenibilidad y hacen posible que nuestro equipo de periodistas llegue adonde otros no llegan y cuente lo que otros no cuentan o tratan de ocultar.
Te necesitamos para seguir incomodando al poder.
¿Aún no te convences? Conoce más sobre cómo se financia El Faro y quiénes son sus propietarios
acá
.
elfaro.net/en/202003/internacionales/24086/Remembering-My-Neighbor-Ernesto-Cardenal.htm

PP:
PC:
PN:
PT:
items_count:
items_pivot:

YY:

MM:

FI slug:
FI name: March 2020
FI sort:

FT slug:
FT name:
FT sort:

FS slug:
FS name:
FS sort: