U.S. Deportation Policies Are Spreading COVID-19
Guatemala's borders are closed. Flights are canceled. Businesses are shuttered. Transportation is suspended, and Guatemalans are not permitted to leave the departments in which they live. All these measures have been taken in order to prevent the spread of the COVID-19 virus. One of the few exemptions from the lockdowns are the near daily deportations: both flights from the United States and buses carrying migrants from Mexico continue to spill into Guatemala, undermining methods of controlling the spread of the virus. 
Between March 13 — when Guatemala announced the first positive case of the COVID-19 virus — and April 14, the United states has deported over 1,600 Guatemalans. In the same time period, another nearly 2,000 Guatemalans were returned by land through Mexico. Faced with the global pandemic, migrant rights advocates have called on the United States and Mexican governments to suspend deportations. Trump, meanwhile, has threatened to impose visa sanctions on any country that refuses to accept deportations amidst the pandemic. 
"This is dangerous," Father Juan Carbajal, the director of the Catholic Church's Pastoral of Human Mobility in Guatemala, said. "[The deportations] show a lack of ethics and a lack of respect for international rights, especially amidst this crisis." Carbajal added "there have been deportations that are being carried out without any concern for their health." 
As of April 16, Guatemala has registered 214 total cases of COVID-19, resulting in 7 deaths.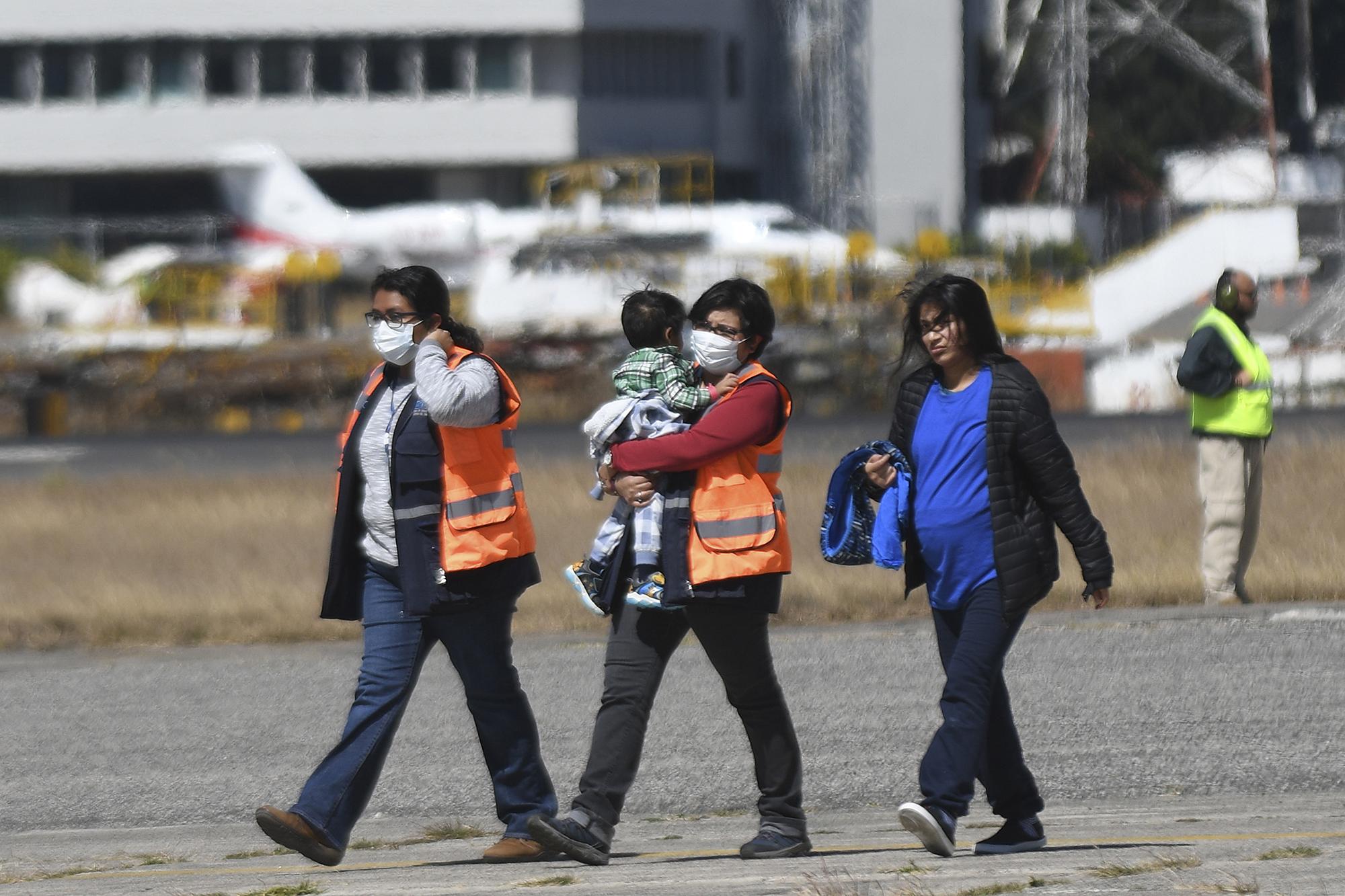 According to Hugo Monroy, the Guatemalan Health Minister, the recent increase of cases is the result of the massive deportation and expulsion of Guatemalan migrants from the United States and Mexico. Monroy's statements contradict both the statements of Guatemalan President Alejandro Giammattei and the United States Immigrations and Customs Enforcement agency, which have stated that no migrants have been deported with the virus.  
The Health Minister, however, told reporters on Tuesday, April 14, that at least 50 percent of the total 41 people deported on a single flight on March 26, which departed from Mesa, Arizona, tested positive for the virus. While the Guatemalan Health Ministry has not made exact numbers public, they have confirmed four COVID-19 positive cases among migrants deported on the March 26 flight, including one case that was found to be asymptomatic. The four individuals who tested positive all returned to their homes, likely furthering the spread of the virus.
The Associated Press reports another 44 cases of deported migrants testing positive for COVID-19. The migrants arrived on an April 13 flight that Guatemalan officials claim arrived from Brownsville, Texas. According to a flight tracker, however, the flight registered as having departed from Alexandria, Louisiana. Neither the Guatemalan Health Ministry nor ICE would clarify details about the flight or confirm the total number of people deported to Guatemala who have tested positive. 
Guatemalan officials announced on April 15 that they would begin testing all deported migrants who show any symptoms for the COVID-19 virus. If any tests are positive it would lead to the testing of everyone who arrived on the flight. Prior to the decision by the Ministry of Health, only those who had symptoms were tested for COVID-19. 
According to official data from ICE, there are also currently 100 confirmed cases of COVID-19 in detention facilities across the United States, including in the Florence Detention Center in Florence, Arizona, where, according to a spokesperson from ICE, one of the migrants deported on March 26 who tested positive for COVID-19 was held.
As confusion continues, and as the virus spreads at unknown speed both within U.S. immigration detention centers and among those who have already been deported, on Thursday, the Guatemalan Minister of Foreign Relations announced the temporary suspension of deportations. On April 17, Guatemalan President Alejandro Giammattei announced that 12 people deported on April 13 had tested positive. He confirmed the suspension of deportation flights.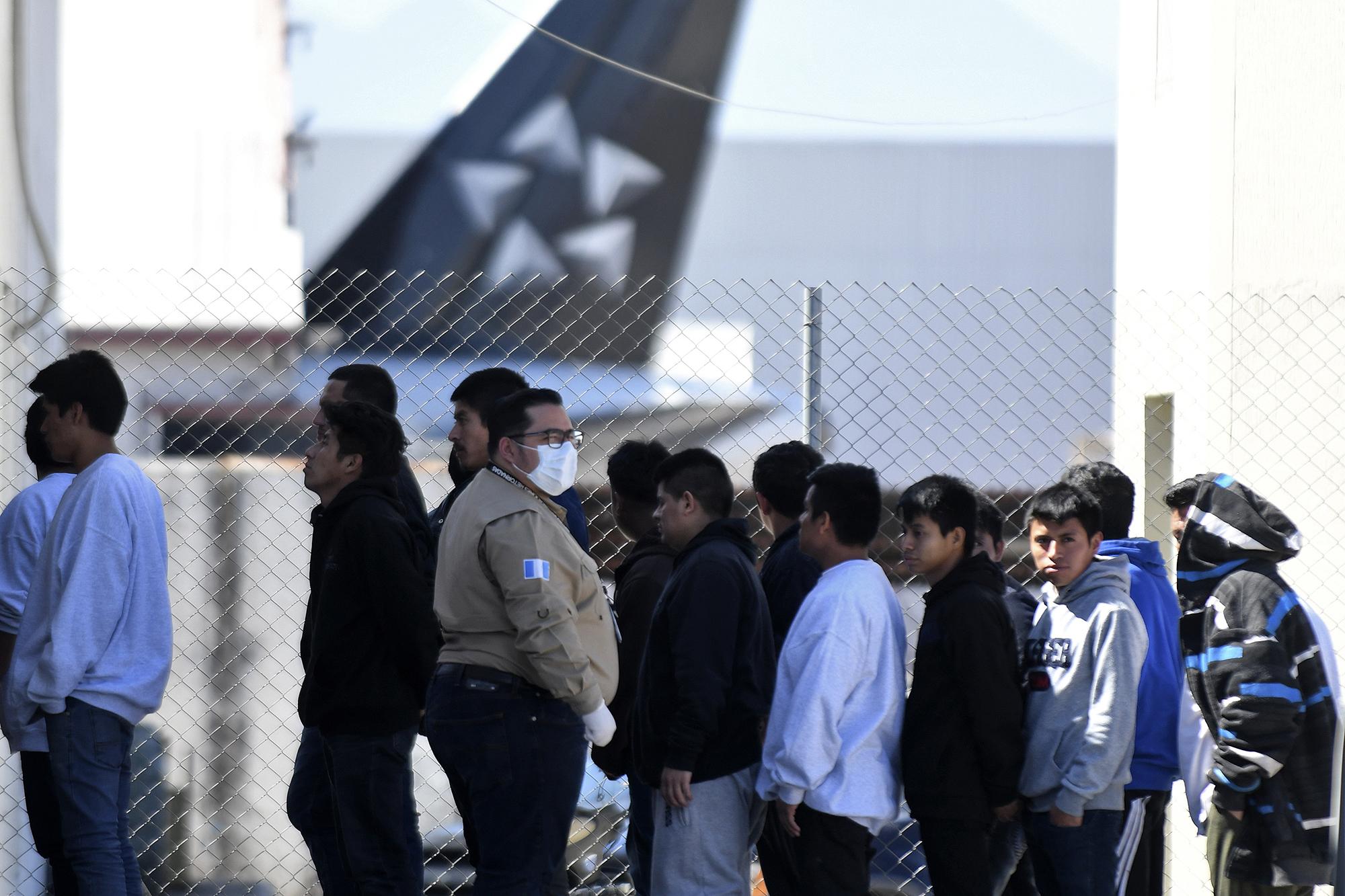 ***
"I wasn't as worried for me as I was for my children," Laura, the wife of a deportee from an indigenous town Santa Lucia Utatlán, in the department of Sololá, told me. 
The 32-year-old, who requested a pseudonym to protect her family, explained that her husband developed a cough and stopped eating after being deported by bus. Upon presenting symptoms at home, he was taken by ambulance for nearly three hours to Guatemala City, where the only hospitals currently capable of testing are located. He is currently recuperating in the hospital. 
Turning away migrants at the border, a policy the Trump administration implemented in late March, which involves sending Central Americans migrants back to Mexico immediately after they cross the border, has also exposed migrants to more possible points of contagion. Instead of being placed on a flight, Laura's husband was returned to Mexico, where he was detained by Mexican Immigration officials, boarded onto a government bus, and then driven back to Guatemala. The trip took about 10 days.
"After he was taken to the hospital, I didn't want to touch any of my things or lay in our bed," Laura said. "This virus is not like any other virus."
The deportation of Guatemalans, many of whom come from poor rural communities where multiple generations can share a single home, has put communities with limited economic resources, and little access to the health care system, at grave risk. 
"They should not be carrying out [deportations]," said José Manuel Gómez García, the mayor of the Maya K'iche town of San Francisco el Alto, who took office in January with the VAMOS party. The mayor says the municipality registered two cases of residents who have tested positive for the virus after being deported from the United States on March 30. 
"Countries like ours do not have the capacity to absorb the deportees, even if they arrive healthy, as there is no work and there is no opportunity," he explained. "Now many are coming back sick. Our healthcare system does not have the capacity to attend to them."   
***
Since obtaining office in 2017, the Trump administration has worked to deport migrants as part of the administration's "zero-tolerance" policy towards immigration. These policies have, at this point, practically nullified the asylum process and have resulted in the amassing of both migrants and asylum seekers south of the US-Mexico Border.
In 2019, the United States deported 54,999 Guatemalans on 486 flights chartered by the Immigration and Customs Enforcement agency. Two private companies fly deportation flights, iAero Airways, formerly Swiftair, and World Atlantic Airlines. Each flight costs around $7,800 dollars per hour to operate, according to the Associated Press.
In the same year, another 49,145 Guatemalans were deported by land from Mexico. 
Deportation flights have continued in the first months of 2020. According to data from the Guatemala Institute for Migration, the country was receiving between two and five flights per weekday prior to the pandemic. These flights have decreased to between one and two per weekday since mid-March.  
***
In an attempt to contain the spread of the virus, on March 13, in his first declaration informing Guatemala of the arrival of the coronavirus to Guatemala, President Alejandro Giammattei requested that Mexico suspend the deportations of Guatemalan nationals in the context of the global pandemic. The President made no comment about deportations from the United States.
The following week, on March 17, the daily deportation flights were temporarily suspended. Pedro Brolo, Guatemala's Minister of Foreign Relations, stated that the country would no longer receive Hondurans and Salvadorans deported to Guatemala as part of the Asylum Cooperation Agreement between the United States and Guatemala. The agreement, reached in July 2019 amidst outcry against what was seen as former President Jimmy Morales's acquiescence to U.S. demands, establishes Guatemala as a country willing to receive people who had intended to seek asylum in the United States. Though Giammattei initially criticized the agreement as a candidate, declaring that he would renegotiate the terms, over 900 Hondurans and Salvadorans have been sent to Guatemala as of last fall. 
Two days later, by March 19, the deportation flights from the United States carrying only Guatemalans were renewed. According to Guatemalan officials, new screening protocols were put in place to guarantee the health of migrants. The new protocols require every migrant receive a series of health screenings, including the taking of temperatures, prior to deportation. Those who present a high fever are supposed to be removed and sent to a healthcare provider. 
Guatemalan officials requested on April 5 that the Trump administration limit deportation flights to 25 people per flight, but the Trump administration has not complied with the request. 
Officials within the Trump administration have maintained that they are dedicated to guaranteeing the health of detained migrants. "ICE is certainly committed to ensuring that comprehensive medical care is provided for all of their detainees from the moment they arrive in ICE custody through the entirety of their stay," Acting Deputy Homeland Security Director Ken Cuccinelli told reporters on April 14. 
But deported migrants, as well as migrant rights advocates and internal DHS watchdog reports, have decried the health conditions within detention facilities. 
Upon arriving at the "welcome center" next to the Guatemalan air force base, which sits across from the Aurora International Airport, migrants receive another medical check prior to being processed. According to an official from the Guatemalan Institute of Migration, the deportees are then taken by buses contracted by the government to their homes, where they are placed in quarantine. 
As cases of COVID-19 continue to be found among migrants, concerns have been raised about the quality of health screenings that deportees receive upon arrival. Faced with the crisis, the centrist Semilla party launched a bill in the Guatemalan congress that would push to expand the clinic in the reception facility. According to Ligia Hernández, a congressional representative with Semilla, who serves on the Migrant Commission, and who presented the bill, the clinic lacked medicine and materials needed to respond to migrants' needs. 
But even Semilla's proposed measures may not be enough to stop the spread of the virus.
"How are we going to know if they arrive without symptoms?" asked Father Carbajal. "They could arrive to their community in Chimaltenango, and it could affect others. [The deportations] are like a weapon. They need to guarantee their health in order not to put their community and their family at risk."
Apoya el periodismo incómodo
Si te parece valioso el trabajo de El Faro, apóyanos para seguir. Únete a nuestra comunidad de lectores y lectoras que con su membresía mensual o anual garantizan nuestra sostenibilidad y hacen posible que nuestro equipo de periodistas llegue adonde otros no llegan y cuente lo que otros no cuentan o tratan de ocultar.
Te necesitamos para seguir incomodando al poder.
¿Aún no te convences? Conoce más sobre cómo se financia El Faro y quiénes son sus propietarios
acá
.
elfaro.net/en/202004/internacionales/24303/US-Deportation-Policies-Are-Spreading-COVID-19.htm

PP:
PC:
PN:
PT:
items_count:
items_pivot:

YY:

MM:

FI slug:
FI name: April 2020
FI sort:

FT slug:
FT name:
FT sort:

FS slug:
FS name:
FS sort: