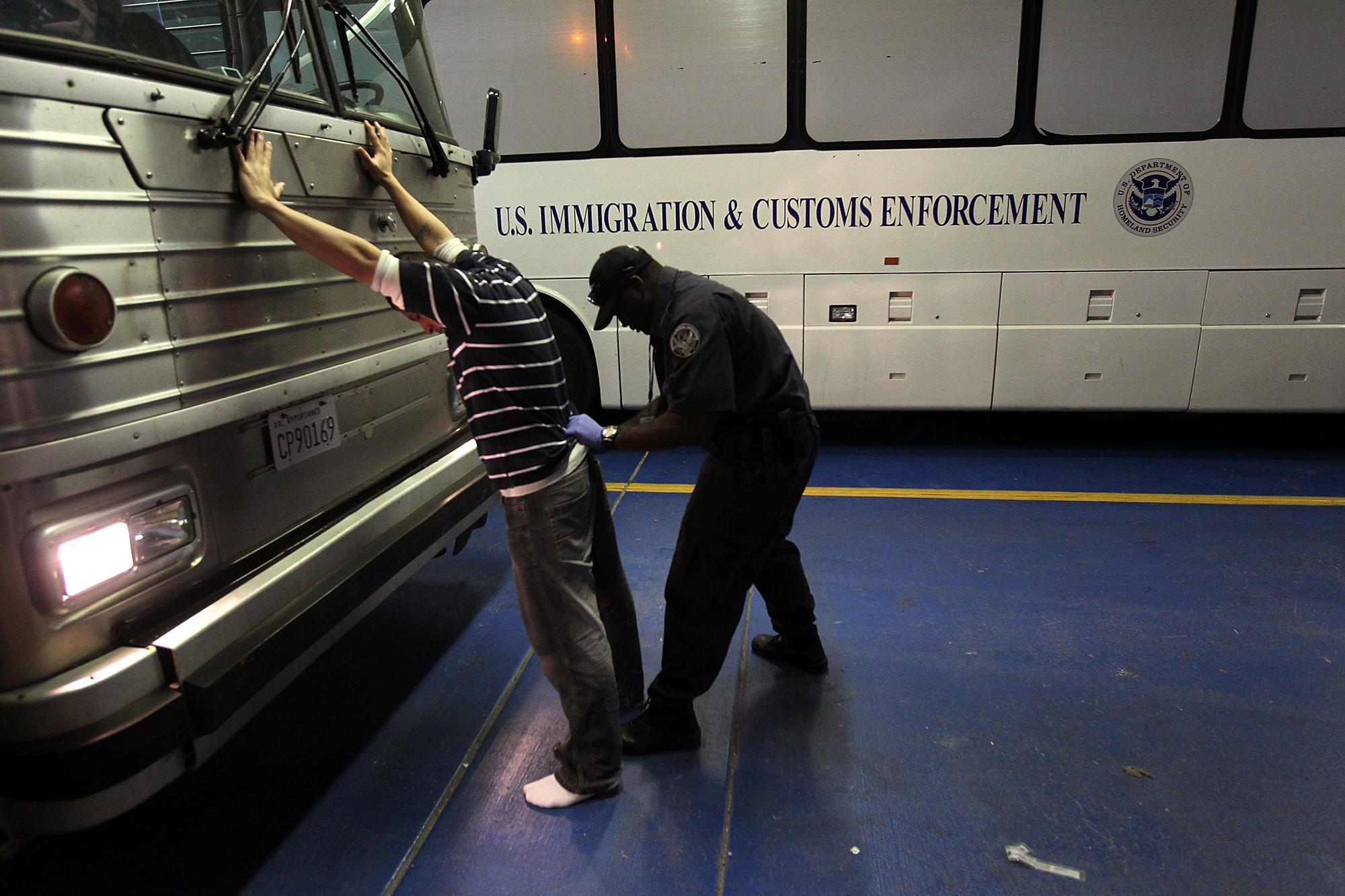 Rafael had been in isolation for five days, suffering from a high temperature, hacking cough, and body aches, yet he still didn't know if he had the dreaded coronavirus or not.
The first time he'd complained to guards at the Otero County Processing Center — an immigration detention facility run by the for-profit Management and Training Corp. (MTC) in New Mexico — about his symptoms, he'd been waved off, with medical staff claiming that he was only experiencing anxiety. "Then," he said, "they just put me back in with the other guys in there." 
It was only after a bunk mate had been found to have the virus that his condition was taken seriously. "There was a guy here from Ecuador who had symptoms, and we were telling the guards 'Our friend doesn't feel well, he's got a fever, he's got a headache'... Three days later they came to quarantine him, but by then he'd been with us in the tank," he said, referring to his cell unit. "It's been five days since they gave me the COVID-19 test, and the doctor then told me that the results take three days." By his fifth day of waiting, he'd started to feel a little bit better, but wonders what treatment he'd get if he ends up positive for COVID-19.
Immigration and Customs Enforcement (ICE) detainees and their representatives around the United States have described unsafe and unsanitary conditions in detention, even as coronavirus cases keep spreading and deaths pile up, now nearing 70,000 nationally.
Public health experts and epidemiologists have warned that no detention setting is safe while a pandemic rages. Even so, while some of the recommended courses of action for warding off contagion are impossible, others are definitely possible—yet still not being put into practice. A Cuban man who was recently released from Adams County Correctional Center in Mississippi — a facility which now has at least 14 confirmed COVID-19 cases — described being given a single facemask to keep reusing for an entire month. Others have talked about dangerous shortages of soap, disinfectant, and other means to prevent the spread of disease, let alone maintain basic hygiene.
"At the beginning, when I arrived here in Otero, they only gave you some shampoo so you could bathe, if you wanted soap you had to go buy it at the commissary," said Rafael, who had been transferred to the center in mid-March, after having traveled from Honduras to the U.S. border, forced to wait for a while in Mexico, and then spending some time in detention in Texas. "About a month after I got here, they started putting little bottles of soap next to the sinks, and started disinfecting things, but it was too late."
Allowing detainees who could be carrying the virus to continue interacting freely with one another has had predictable consequences. According to Rafael, a group of men who worked in the detention center's kitchen together all became ill, and conceivably could have spread the virus internally. This posture of reacting to the threat posed by the pandemic, as opposed to proactively taking steps to mitigate it, has been consistent among ICE officials and their local public and private partners.
Immigration detention around the country is divided into federal detention facilities; private detention centers run by for-profit companies like MTC, CoreCivic, and the GEO Group; and local jails, where space is available to ICE through contracts with area elected officials, including sheriffs. Some situations are hybrids, with localities contracting with both ICE and a private detention provider to operate a center in their jurisdiction.
There are differences between the centers, with some having achieved notoriety as a result of their histories of medical and physical abuse, as well as outbreaks of disease. Still, conditions and officials' response to the coronavirus pandemic have been lacking across the board, with detainees reporting feeling vulnerable and having insufficient self-protective equipment or the ability to socially distance in jails and detention facilities around the country.
So far, ICE has officially acknowledged 606 confirmed coronavirus cases among its detainee population, out of a total of 1,285 tests performed. The total detainee population is hovering near 30,000, and some of those tested will have already been released, meaning ICE has tested probably less than 4 percent of the people currently in custody. Several detainees have claimed that the number of people being quarantined with the virus in their facilities exceed ICE's publicly admitted totals. On May 6, the first person held inside an immigration detention center, in Otay Mesa, San Diego, died of coronavirus.
The lack of information and preparedness has led hundreds of detainees in centers around the country to stage protests, including hunger strikes. Some of these protests have been met with heavy-handed reaction from guards. On occasion, detainees have been pepper sprayed, or have had their ability to communicate with the outside world cut off as retaliation for speaking with the press.
ICE also continues to move people around the country, transferring them from facility to facility, and in doing so, introducing the virus to new detainee populations. Rafael himself was transferred from Texas to New Mexico while the pandemic was already well underway, and he said new people had kept coming into his part of the detention center, even after he and others had begun exhibiting concerning symptoms. "When I got quarantined, the day before we'd gotten three new people, and we didn't know where they had come from,' he said.
Like many others in ICE custody, Rafael doesn't strictly have to be there, even by law. The majority of the agency's detainee population at any given time is not subject to mandatory detention, and it has broad if often randomly exercised discretion to release them. He's an asylum-seeker who has already had multiple requests for humanitarian parole denied, while others in his section have been released.
Several federal judges have ordered the release of medically vulnerable detainees, and ICE has said it will take into account certain medical factors in making detention decisions. Yet Rafael so far has been left to wait in detention for an immigration court process that can take months, if not years.
For those who are ultimately ordered deported, ICE has had no qualms about removing them even if they are sick. Roughly one-fifth of all officially reported coronavirus cases in Guatemala are deportees that the U.S. has flown in in the last few weeks.
As time drags on, the likelihood of fatal outbreaks in detention grows. The detainees wait inside, watching others be transferred in, watching guards coming in and out, and not understanding why their lives are being risked in what is supposed to be civil, non-punitive detention. Rafael is bewildered that he's facing such a situation after coming to the U.S. to seek help. He was recently moved into a solitary confinement cell in the Special Housing Unit, which officials at the detention center have decided to use, according to his attorney, for excess medical observation. "Since I've turned myself in to Border Patrol I've done things right," he said. On May 6, Rafael tested positive for COVID-19.