Just before noon on Tuesday, April 7, a deportation flight from Houston, Texas touched down at the Óscar Arnulfo Romero International Airport in San Salvador. The aircraft, with registration number N803T, carried 70 passengers, including Guillermo, José, Claudia, and Miguel. Upon arrival, employees from the Salvadoran General Directorate of Migration and Foreigners (Migration) loaded the passengers onto a bus. Under custody of the National Civil Police, the group then traveled to the Adolfo Pineda National Gymnasium—a sporting complex in San Salvador converted into a Covid-19 containment facility—to observe the mandatory 30-day government quarantine for those returning from abroad. 
Five days later, one of the 70 from the same flight developed flu-like symptoms. When he informed the Ministry of Health, doctors prescribed him acetaminophen and did not test him for Covid-19. When the number of detainees at the facility broke 100 on May 3, the government finally tested each person for the novel coronavirus. The doctors informed Guillermo and José that they had tested positive on May 5. After a second test a week later, Claudia and Miguel received the same test results.
For three weeks, El Faro maintained communication over the phone and via tex message with these four deportees who tested positive for Covid-19. Each agreed to speak on the condition of anonymity; their real names have been withheld from this article. Prior to their deportation, U.S. Immigration and Customs Enforcement (I.C.E.) held them in different detention centers across Texas: Guillermo in the South Texas Detention Complex, a site reporting 32 official cases of Covid-19 by May 28; José and Miguel in the Rio Grande Detention Center in Laredo; and Claudia in the Don Hutto Residential Center in Taylor. To date, I.C.E. has not reported Covid-19 infection totals in the latter two facilities.
Rather than testing them for the novel coronavirus, I.C.E. took the four individuals' temperatures immediately before deportation and, before that, sporadically while detained. Guillermo reports that he shared his cell—which he calls a bunker—with 40 other people. "They checked our temperature twice a week but did not test us," he said.
At the time of their return to El Salvador, the Salvadoran government's health protocols were no different from those of U.S. immigration authorities; they opted only to take the temperature of each member of the group. Not until after the first 27 days of detention in the quarantine facility did the doctors administer the Covid-19 tests to the group. Salvadoran migration authorities have not yet reported a single positive case among the 1,700 people deported from the United States since Bukele established the national quarantine on March 11. The agency has even backed the claims of U.S. immigration authorities that deportation flights to El Salvador are free of Covid-19, claiming in a video issued over social media on April 21 that "I.C.E. carries out a series of medical evaluations" to detect the virus prior to deportation' and that "those testing positive are sent to healthcare providers for treatment" on U.S. soil.
Just five days after his deportation, Guillermo says that he developed a fever, sore throat, headache, and burning sensation in his eyes. José developed a temperature on his tenth day in quarantine. Miguel also reported a brief fever and sore throat. Claudia is the only of the four to report no symptoms; doctors have told her that she is an asymptomatic carrier. Each of the four received the first test on Sunday, May 3, after 27 days in detention.
On May 22, the Human Rights Ombudsman announced in a public statement that it had received reports of three positive cases of Covid-19 among those detained at the National Gymnasium, though the entity declined to say whom. Personnel from the National Civil Police and the Ministry of Health confirmed to the Ombudsman that they had registered an unspecified number of positive cases. According to the Ombudsman's report, the director of Migration, Ricardo Cucalón, ignored two information requests from the Ombudsman—on April 27 and May 11—and instructed his officers to withhold their cooperation. As a result, the Ombudsman accused Cucalón of having violated interagency cooperation laws.
Both Migration and the Ministry of Health ignored information requests from El Faro about the total number of deportees who have tested positive for Covid-19.
In a joint press conference with president Nayib Bukele on Tuesday, May 26, Ambassador Ronald Johnson reiterated U.S. claims that every deportee undergoes a medical evaluation to scan for symptoms of the virus prior to departure to El Salvador. "There's a very strict protocol in the United States, and when they arrive here in El Salvador, we work very closely with the Salvadoran government to ensure that they are put into a strict protocol here," he stated, adding that "the coronavirus is very elusive" but that the U.S. government is "committed to continue to do everything we can to make sure that no one returns here that is sick."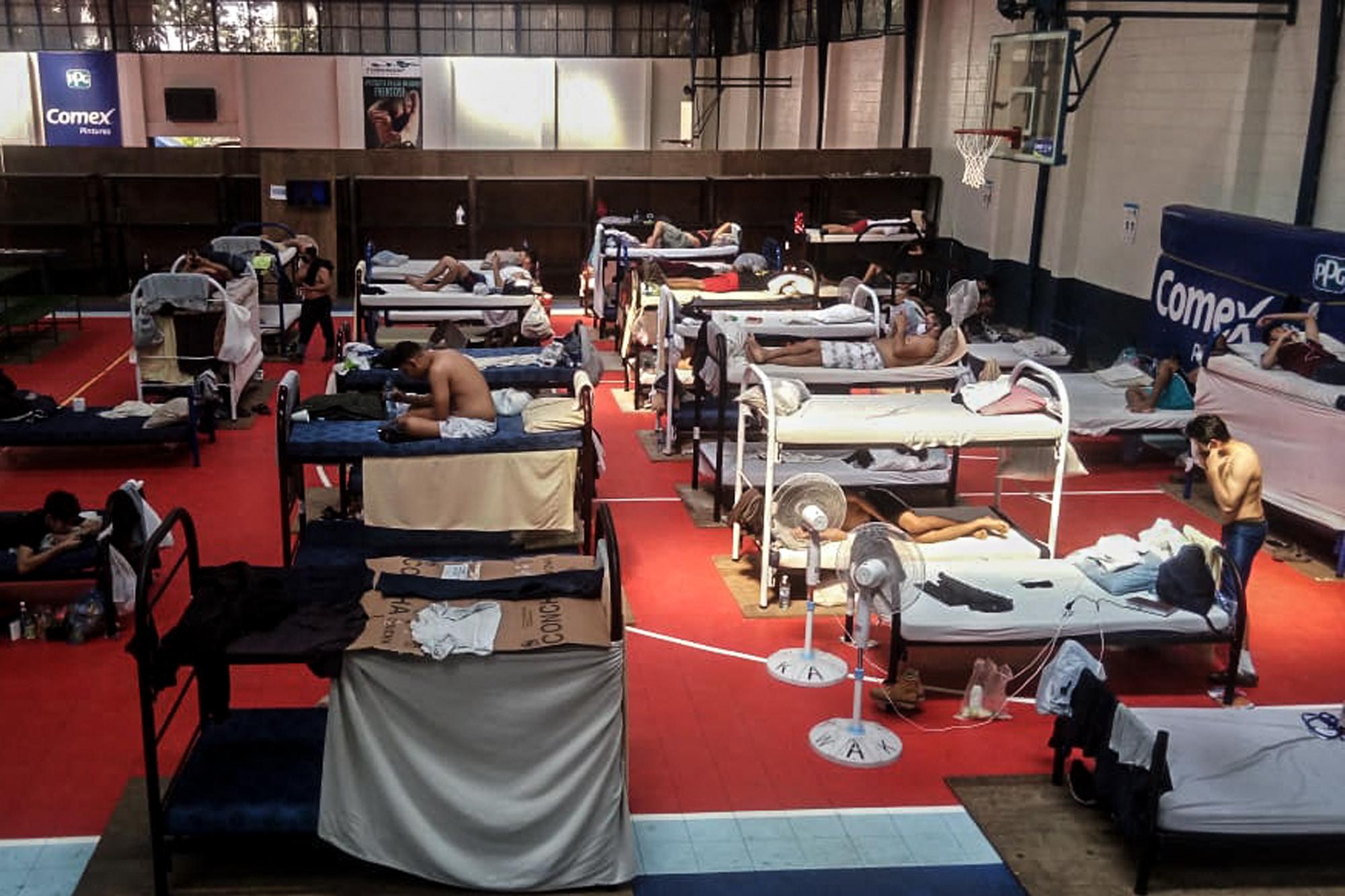 El Faro contacted the U.S. Embassy in El Salvador about its criteria in determining who gets tested, adding the details of the four positive cases among passengers on the April 7 flight. A spokesperson said that they had nothing to add to the ambassador's remarks. 
"I Couldn't Breathe and My Lungs Hurt"
Guillermo left El Salvador after a police officer tried to kill him. His only path to safety, in his view, was to flee to the United States. "If I stayed, they would try to kill me again, so I decided it was better to leave," he said over the phone. He set out on February 26, 2019, and spent a week traveling through Guatemala and Mexico before arriving at Matamoros, a critical pitstop along the migrant trails that the Trump administration has increasingly squeezed into a bottleneck during the pandemic. There, he crossed the Rio Grande to Brownsville, Texas.
After crossing the border, he spent six days in a bodega—or so he calls the safehouse where he, like other migrants, waited for days en route to their final destination—before he saw his family. "You see, I was happy when I arrived. I was at peace. I thought I had left it all behind," he recalled.
Guillermo spent a year renovating buildings to send money every month to his parents and on occasion to his eight siblings who live on the West Coast of the United States. Then, on March 6, I.C.E. detained and transported him to the South Texas Detention Complex. One month later, he was deported to El Salvador.
After five days in the National Gymnasium quarantine facility, he developed a headache, sore throat, and fever. He also told El Faro that he felt a burning in his eyes, as if someone had "thrown bleach in them." At the time, he doubted that he had Covid-19, but on April 12 he sought out the quarantine facility doctors for testing. They found his temperature not unusually high, but prescribed him acetaminophen and told him that his symptoms were "due to change in climate." They then allowed him to return among the other 109 detainees staying on one of the basketball courts. At the facility, the deportees sleep on cots a yard away from each other. The court has a roof, but the cots cluster together when it rains to avoid the water pooling along the edges.
The pills did not relieve the pain, and after ten days his symptoms worsened. "When I would shower and the freezing water would hit me, I couldn't breathe and my lungs hurt. That's when I realized I wasn't well," he said.
On April 20, two weeks after his deportation. José told his doctors he had developed a fever and they immediately isolated him. When they took his temperature the next day, the results were normal, so they decided he could return to the group. "I only felt I had a fever once. I never felt other symptoms," he told El Faro.
José left El Salvador for the United States on February 21, 2020. When he set foot on U.S. soil, Border Patrol detained and took him to the Rio Grande Detention Center in Laredo. He tried to request asylum, but he was unable.
At the National Gymnasium, authorities from the Ministry of Health issued acetaminophen to all those feeling sick, but withheld Covid-19 testing until May 3. Two days later, the head doctors called Guillermo and José to verbally notify them that they had tested positive for the coronavirus. They later called for a meeting with the detainees to inform them that two of them had tested positive. On Wednesday, May 6, Guillermo and José were transferred to separate rooms of the Ayagualo Salesian Retirement Home.
Meanwhile, 108 Salvadorans remained at the National Gymnasium, awaiting the second round of tests from the Ministry of Health. At the time, they had already met the mandatory 30-day quarantine threshold for new arrivals. They were tested for the second time on May 12. Three days later, the head doctors did as they had with Guillermo and José: they called those who tested positive before informing the group.
One of the two who tested positive in the second round was Claudia, who fled El Salvador due to domestic violence on May 7, 2019. On June 19, she was detained in the United States while attempting to reach a safehouse where she would stay for six days before completing her journey. She filed for asylum from the Don Hutto Residential Center in Taylor, Texas, but her case was rejected this past March. The other person testing positive was Miguel, who left El Salvador on January 20, 2020 and was detained by Border Patrol. Like José, they sent him to the Rio Grande Detention Center.
After testing positive in quarantine, the Salvadoran government sent Claudia to the hospital in Tecoluca in the department of San Vicente. "I feel very weird because I have no symptoms. In the 45 days I was locked up in the National Gymnasium, I didn't feel a thing, but the doctors say I'm asymptomatic," she told El Faro from the hospital. Meanwhile, they transferred Miguel to the Ayagualo Salesian Retirement Home. He doubts he has Covid-19. "They say I'm asymptomatic, but I don't believe them. I had a sore throat once and they gave me some pills, but I've felt nothing since," he said.
Claudia and Miguel are still in government custody. José is at home with his family. Guillermo, the man who showed symptoms five days after his deportation, finally returned home on Saturday, May 23. Before discharging him, the shelter doctors ran two more tests, which they told him came back negative. "The day they told me I no longer had the virus, I signed a paper, but they didn't give it to me. They held onto it. I didn't even notice [what it said]. I just wanted to go home," he recalled.
The medical authorities have not issued written bills of health to Guillermo nor any of the others who tested positive.
Guillermo is hopeful that by next year El Salvador will reopen its borders, which have been closed since March 11 in response to the pandemic, so that he can return to the United States. "I have nothing to do here. My future is over there," he said.
ICE Tests Less than Ten Percent of People in Detention for Covid-19
While it is currently unclear where these four Salvadorans—Guillermo, José, Claudia, and Miguel—contracted Covid-19, the Guatemalan government has noted that ICE detention facilities represent a significant risk of contagion. By May 28, the agency reported having tested roughly 9.5 percent of the 26,660 people in detention. Of those tested, more than half tested positive—some 1,300 people.
Two Central Americans have already died from Covid-19 while in I.C.E. custody: Carlos Ernesto Escobar Mejía, a 57-year-old Salvadoran, on May 6 in the Otay Mesa Detention Center along the U.S.-Mexico border near San Diego; and Santiago Baten-Oxlaj, a 34-year-old Guatemalan, in a Georgia hospital on May 24 after spending weeks in the Stewart Detention Center.
Throughout its pandemic response, the U.S. federal government has held steadfast to its deportation policy, despite overtures from Central American governments to halt deportation flights during the pandemic. On March 19, the Salvadoran government announced the suspension of deportation flights until further notice, a move that lasted only a week. On March 24, El Salvador received its first deportation flight on March 24, the day after a spokesperson for the Department of Homeland Security said that "it is unacceptable to the United States that other governments are not receiving their citizens," adding that nobody with a severe fever was traveling on deportation flights and that each person was undergoing a medical examination.
At the beginning of April, Guatemala issued a formal complaint. The Guatemalan minister of health, Hugo Monroy, reported that 75 percent of the passengers on a deportation flight tested positive for Covid-19 upon arrival. On those grounds, Guatemalan president Alejandro Giammattei halted all deportation flights for 18 days amid uncertainty about contagion in future flights. On May 5, the country began receiving deported migrants on the condition that they carry with them a bill of health documenting that they received coronavirus testing. Meanwhile, Salvadoran and Honduran authorities have not announced, and have even denied, the existence of positive cases among deportees. 
ICE carried out 112 flights to 13 countries from March 8 to May 9, according to the Center for Economic and Policy Research (CEPR). Although the agency has not provided an official list of flights, CEPR's report compiled a database of probable destinations based on the records of ICE contractors. According to these estimates, El Salvador received 19 flights over the span, the third-highest total after Guatemala (26) and Honduras (35).
Ombudsman Cites 'Reckless Exposure' of Migration Employees
In its report on the Salvadoran government's quarantine facilities, the Human Rights Ombudsman states that the authorities' failure to isolate people found through epidemiological contact tracing has indefinitely prolonged the quarantine and "has recklessly exposed the rest of [detainees] to contamination." The document cites reports of facility conditions from people detained at the National Gymnasium and La Chacra—nickname for the Comprehensive Care Center for Foreigners and Migrants (CAIPEM), a government-run facility in San Salvador that receives and processes people returning on deportation flights. 
The Ombudsman also called attention to the "hazardous conditions" facing public employees working as first responders, including the "inadequate provision of biosecurity gear" and the "physical impossibility of isolating people found through epidemiological contact tracing in dignified living conditions, amid the detection of positive cases through in increasing number of PCR diagnostic tests."
Personnel from Migration working as first responders regularly come into proximity with groups of deportees as they supervise different activities within the quarantine facilities: food distribution, cleaning, logistics, and even surveillance.
A source from Migration told El Faro that, on the morning on Tuesday May 19, their facility received an evacuation notice from headquarters located near the capitol. "They told us that certain people had tested positive, that we needed to clean as much as we can," said the source, whose identity has been withheld out of fear of workplace retaliation. "Then, [they instructed us] to evacuate the building because it all needed to be sanitized. And it was with this bravado of 'everybody out,'" the employee added. A different source working in different quarantine facilities holding deportees showed El Faro chats in which Migration employees voiced their concern about getting sick. "We're exposed," one person said in a chat circulating the news that two employees had been transferred to care centers.
On May 25, El Faro contacted Migration to request the total numbers of Covid-19 cases in the government quarantine facilities, infected employees, and people deported from the United States since the emergency began. Astrid Ávalos, chief spokesperson, said that the agency would process the request, but that only the Ministry of Health could specify the number of cases in quarantine facilities. The Ministry of Health did not respond to El Faro's request for comment.
Quarantine Detainees File Habeas Corpus Petition against Prolonged Detention
On May 14, 22 of the deportees that the Ministry of Health had tested twice for Covid-19 submitted a joint filing for habeas corpus before the Constitutional Chamber of the Supreme Court. In their petition, they note that they have spent 45 days in detention and have undergone two tests, and call for the magistrates to order their transfer to home quarantine. None of the four people mentioned in this story who tested positive were party to the filing.
Class action attorney Bertha Laría DeLeón argued in the petition that, furthermore, the court should grant habeas corpus due to the National Gymnasium's failure to properly sanitize and the worsening facility conditions when it rains. The people get wet "and their lodging area floods, to the point of wetting the mattresses, thus causing them to move the cots to an adjacent sector where they can no longer respect social distancing," she wrote.
On Monday, May 11, 15 deportees attempted to leave their quarantine facility, alleging that they had already fulfilled the 30-day lockdown they had agreed to when they returned to El Salvador. The National Civil Police's riot control unit (UMO) took over the gymnasium to control the situation. That same week, another group attempted to flee for the same reason.
The following Wednesday, the Ministry of Health informed the groups that they would be transferred to their homes, yet there are still returning migrants detained in the National Gymnasium as they await their third test.
In its report, the Ombudsman also concluded that the deprivation of liberty was "unnecessary" for people who had already undergone "multiple PCR tests without resulting positive for Covid-19." The extended detention measures cause "greater injury to fundamental rights and have proved both ineffective and exceedingly costly from an economic standpoint," the agency argued. "Exposing deportees to Covid-19, in prison-like conditions in which the observance for social distancing measures is impossible, creates a greater threat to public health, thereby promoting the spread of the coronavirus."
*Translated by Roman Gressier