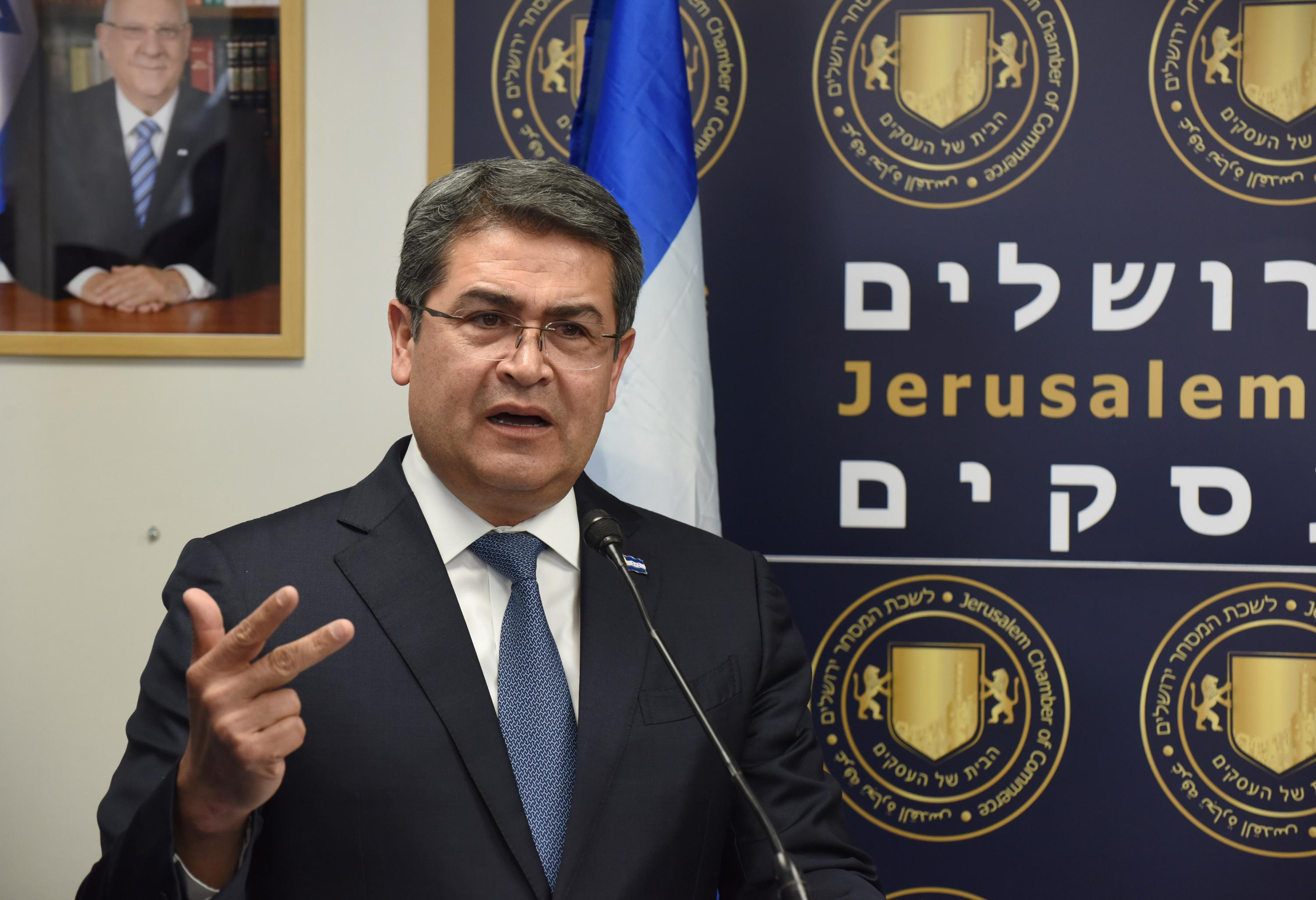 (This article was originally published in Spanish by Contra Corriente.)
Controversial statements by President Donald Trump about methods to prevent or even treat COVID-19 have raised alarm, yet again, about the way he communicates information regarding the handling of the emergency. On April 24, Trump spoke by phone to Honduran President Juan Orlando Hernández. According to Trump, Hernández told him that the use of hydroxychloroquine has had 'incredible results' in Honduras as a treatment for patients with COVID-19. This conversation took place after Trump had already faced widespread criticism in the United States for promoting the use of the drug as a treatment for coronavirus, despite a lack of medical and scientific evidence to support its use for this purpose, or information regarding its potential side effects.
While neither the United States nor any other developed country in the world—nor Honduras—have produced any rigorous studies indicating the effectiveness of hydroxychloroquine in treating or preventing COVID-19, its use has already been included in the Honduran government's guide for treating patients with COVID-19, a document approved by the Honduran Ministry of Health. The guide—a medical document—shows how hydroxychloroquine, in combination with azithromycin and microdacyn, can be administered in the throat. Data on whether or not the treatment works does not exist, a fact at the center of the debate taking place among the highest authorities in these countries about the management of scientific information during a global health emergency.
At present, Honduras is severely lacking in its ability to identify rates of contagion and recovery. This is due to the country's limited ability to perform widespread testing. Currently, the exact number of tests being administered in Honduras is unknown. According to official information, there is capacity to perform 80 tests per day, and with the added resources provided by a virology laboratory in the northern part of the country, an additional 40 more tests a day. But Honduran Health Minister Alba Consuelo Soto admits that it is difficult to collect data on those infected, especially on patients who may have gotten sick and recovered at home. "Our teams don't have the capacity to do 1,000 tests a day," Soto said. "There are teams that can't even conduct 100 tests a day because, simply put, they get burnt out. In other countries, they are using rapid tests, the PCR tests, which we also have here in Honduras." The PCR tests are viral load tests, and Trump sent 8,000 of them to Honduras in response to President Hernandez's request that the U.S. donate 300,000.
Meanwhile, the Honduran Health Minister insists that patients who were treated with hydroxychloroquine in four different hospitals have responded satisfactorily, and that doctors have been using this treatment plan for over a month now.
An article published in The New York Times on April 4 explains how President Trump, ignoring the opinion of experts, has been engaged in a campaign to popularize the use of hydroxychloroquine, a drug approved by the U.S. Food and Drug Administration (FDA) for treating malaria and lupus. 'If it works, it would be a shame if we didn't do it sooner," Trump said. By that point, the U.S. federal government had bought and stockpiled 29 million pills of hydroxychloroquine. 'We are sending them to various labs, our military, we're sending them to the hospitals,' Trump said. The Honduran Health Minister agreed with Trump's statement: 'There's nothing to lose," she said. 'On the question of the coronavirus, you have to experiment. It's being sought out, the country had some hydroxychloroquine in stock and now we're arranging to get more and to continue treatment. Countries around the world are working to get more of the drug, not just us."
Indeed, Honduras is not the only country in the region trying to obtain more hydroxychloroquine. On April 7, Salvadoran President Nayib Bukele announced the purchase of more than 1,000,000 doses of the pharmaceutical for the purpose of treating patients with COVID-19. "We are one of the countries that receives free hydroxychloroquine treatments, from [the pharmaceutical industry]," Bukele said during a state television broadcast. "The first shipment of 55,000 doses is on its way. They are going to give us 55,000 doses for free, and in addition to that, we've purchased another 1,000,000 doses." In Honduras, the Ministry of Health has not yet publicly indicated any government purchases of the drug. They have only reported orders of azithromycin and other basic medicines for hospitals, but are expected to acquire doses of hydroxychloroquine in the coming weeks.
There's a lot of talk, but little proof. According to a CNN analysis of Trump's public appearances, the President has mentioned the words "hydroxychloroquine" and "chloroquine" almost 50 times since mid-March. And according to the New York Times: 'A small trial by Chinese researchers made public last week found that [hydroxychloroquine] helped speed the recovery in moderately ill patients, but the study was not peer-reviewed and had significant limitations. Earlier reports from France and China have drawn criticism because they did not include control groups to compare treated patients with untreated ones, and researchers have called the reports anecdotal. Without controls, they said, it is impossible to determine whether the drugs worked."
 A recent statement from the FDA warned of the use of these drugs to treat COVID-19. The FDA said it had received reports of serious heart rhythm problems in patients with COVID-19 who had been treated with hydroxychloroquine, often in combination with azithromycin or other medications that can affect the heart. "Hydroxychloroquine and chloroquine have not been shown to be safe and effective in treating or preventing COVID-19,' the FDA said.
Responding to questions about the position of the U.S. FDA on the use of hydroxychloroquine, Honduran Health Minister Alba Consuelo Soto dismissed concerns about the safety of the drug: "Hydroxychloroquine is used to treat malaria and will not cause harm to anyone, because doctors take extra care when treating patients with heart problems. That's why doctors always ask patients if they have any diseases, because medications can have negative effects. So, it's not prescribed for patients with kidney disease, or for patients with heart problems, because they can't risk getting tachycardia. It's not like they're just going to go handing it out to everyone; there's always a medical evaluation," she said. "Right now, there is a trade war. You [journalists] need to be more analytical. It's not because they say it's so or not, you'll see when the vaccine comes. This is a new virus, this is real, and everyone is struggling with it,' the Minister added.
In San Pedro Sula—the city at the epicenter of the pandemic in Honduras, with 61% of all national cases—the Honduran Social Security Institute (IHSS) has administered the drugs to patients with COVID-19. Dr. Carlos Umaña, president of the IHSS Medical Association in San Pedro Sula, says that although patients are recovering and being discharged from the hospital, there is no way to prove that positive outcomes are a result of that specific drug. "At the IHSS, patients are given the drug and their progress has been satisfactory. I can't tell you if it's because of the drug—that's why the drug has to be studied—but we have had good results with patients. We have already moved nine patients out of the Intensive Care Unit (ICU), but no one in Honduras is studying the drug. It's being administered because it's approved by the U.S. FDA,' Umaña said.
After all the publicity presidents Trump and Hernández have given the drug, hydroxychloroquine has been selling out at pharmacies across the country, Umaña says, even though the Honduran Minister of Health has said that the drug is not for over-the-counter sale. "People should not be using it if they don't have symptoms," Umaña said. "This medication can cause cardiac problems if improperly used. When we use hydroxychloroquine, we also conduct medical assessments. The truth is that we don't know if the drug is showing positive results per se, or if it's the combination with the other drugs we're administering.'
Honduran epidemiologist William Valladares says that to test a drug, there is a process that must be followed which requires testing every seven days. "The stage of the disease must be identified," says Villaferes. "Phase one is when the test comes back positive; phase two, the pulmonary phase, is when there is an effect on airways—not just fatigue, fever or pain, but an impact at the pulmonary level; and then phase three is when we see hyper-inflammation, which indicates a damaged respiratory system. The first thing to ascertain is whether the drug, in this case hydroxychloroquine, is effective in all three stages, during a cycle of seven to 14 days, during which time we can continue or repeat the test to determine if the viral load has dropped. So we have to wait a while before we can establish what effect the drug has had. In countries like France, Italy, Korea, China, Brazil, Costa Rica, and the United States, these tests can be done every seven days to determine the viral load and whether the effect of the drug has been positive or negative. But that's where there's a deficiency—not just in Honduras, but in third world countries generally: in the application of the tests, detecting the number of positive or negative cases. This makes it hard for us and it's what gets in the way of determining the effectiveness of the drug… There are pathologies that produce negative test results, and medications can cause adverse reactions and the patient can die. The system has proven weak in its ability to conduct tests, to detect the number of cases, and there is no question that there is an underreporting of cases." Dr. Valladares says that the health system has done everything it can to control the rise of the contagion curve, and that if the restrictions that have been put in place are loosened, the situation will quickly get worse."
As of May 4, there were 1178 confirmed positive cases of COVID-19 in Honduras. Of these patients, 83 died from disease and 122 have recovered. Two days ago, average number of tests per day rose to 300. One recently identified case was an inmate in the maximum security prison in Ilama, a municipality in the department of Santa Barbara, who was tested three days after dying of a heart attack. "We're not going to lie because we don't gain anything from lying," said Health Minister Soto. "You have to know, as a journalist, that if there are more than 500 people infected, each person had contact with numerous other people—and that's what we've reported. It's simply a matter of common sense that we would have many more infected, but it's irresponsible to tell you that we have 10,000 or 20,000. We don't know if half of Honduras is infected right now; we just don't know,' said the Minister, who minutes earlier claimed that a medication was proving effective on recovered patients.
"He's not a doctor," Trump said, referring to President Juan Orlando Hernández while speaking about the effectiveness of hydroxychloroquine on patients with COVID-19. Neither of the two presidents is a doctor or specialist, but it is nevertheless up to them to make decisions on how to manage the emergency. From implementing new social restrictions, to allocating the use of resources, to purchasing mechanical ventilators that remain unused (because Hernández decided to ignore the opinion of experts) to using tests and medications to treat the disease—the decisions being made in Honduras demonstrate how the concentration of power tends to bring out the worst in a country.
The pandemic is global, and has caused governments and people to try all sorts of things, including experimenting with different drugs. Even in countries with the scientific infrastructure needed to conduct robust drug testing (universities, hospitals, laboratories), governments and health systems have been overwhelmed by the emergency. Acknowledging that reality is important. But in Honduras—a country that lacks even the minimum infrastructure necessary to conduct proper drug testing—promoting the success of an unproven treatment could have serious implications for the spread of information and misinformation, and for the reaction of the citizenry, most of whom are already overwhelmed by the uncertainty and instability of their immediate future.
*Translated by Max Granger