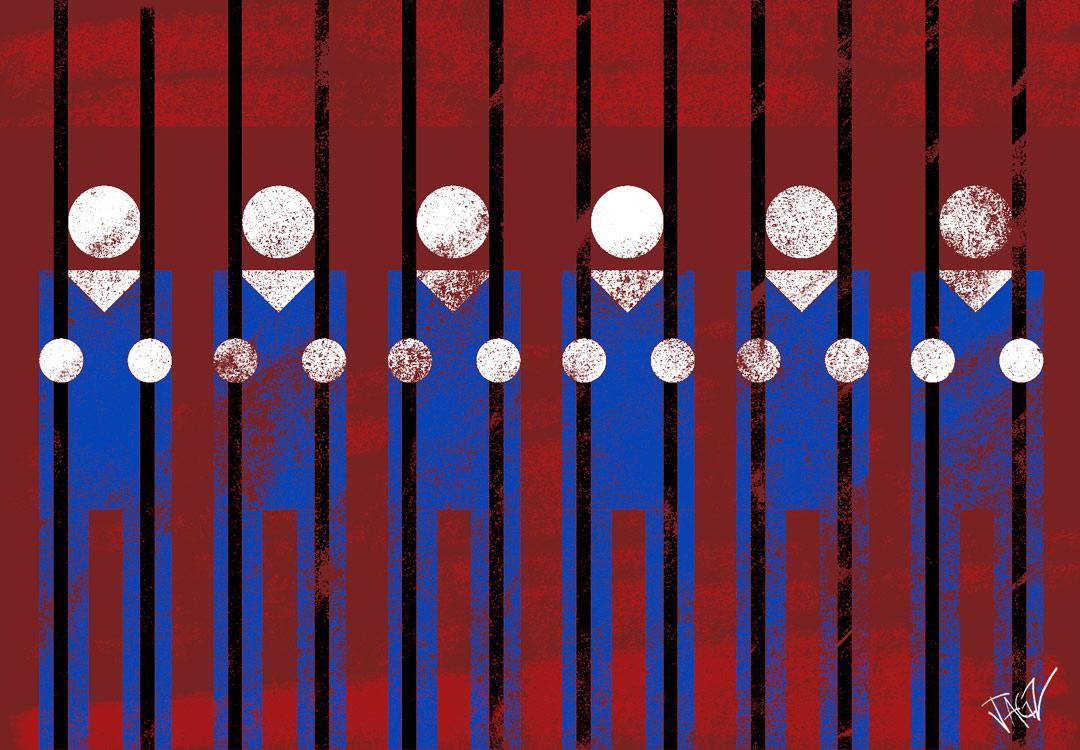 Twenty-three days after Luis Carlos Valle Tinoco was imprisoned, his mother died of cancer. 709 days later, Luis Carlos remains in prison. He is the longest-serving political prisoner of the Ortega dictatorship: he was not allowed to attend his mother's funeral, he has spent two Christmases there, and he's spending his third winter in prison as a pandemic rages on. Luis Carlos was arrested on July 3, 2018, accused of the alleged aggravated robbery of a security company. He was sentenced to five and a half years in prison: 2009 days locked up.
Jhony Castro Hernández, originally from the municipality of La Concepción, in Masaya, was arrested on August 9, 2018. He is the second oldest political prisoner on the list: 672 days on June 11, despite the fact that his sentence was annulled.
One year after the approval of the Amnesty Law, criticized for being 'tailored' to the regime, 86 political prisoners remain in the jails of the dictatorship of Daniel Ortega and Rosario Murillo. There are 82 men, three women and one transgender woman. Eighteen of them have been in prison for more than a year, and twelve of these eighteen have spent more than 500 days in prison.
Confidencial is publishing a series of special reports on the situation of these prisoners and the reality faced by the 767 who've been released.
The investigation is based on the testimonies of prisoners and the released, as well as on the analysis of data from the lists of political prisoners reported by the Monitoreo Azul y Blanco and other citizen groups organized to record the aggressions in the context of the official repression against the April Rebellion. This was the self-convened movement that rose up against Ortega and Murillo in 2018.
Those who are out of prison face harassment and threats. Dozens have had to leave their homes or go into exile, unable to reunite with their families or to try to resume their lives and survive in a Nicaragua stuck in economic recession. Of those who remain in prison, 37 of the current 86 inmates have reported symptoms of covid-19, and they live in overcrowded and unsanitary conditions. National and international demand for their release meets the deaf ears of the regime, which is also being questioned for its 'epidemiological blindness' in the face of the health crisis caused by the pandemic.
A Political Prisoner with Covid-19
Uriel Pérez, originally from Masaya, has been a political prisoner for seven months. He spent the last month in a bed at the Nicaraguan German Hospital, where he was admitted with symptoms of covid-19.
Silvana Pérez, his mother, waited for him on May 12 at the Managua Courts, where he was scheduled to have an oral and public hearing. Despite seven months in prison, Uriel is one of the 49 prisoners of conscience who remains in custody with a judicial process against him, but without any firm sentence.
The young man was never brought to that audience. His mother declared him as disappeared and, after hours of waiting and searching, they confirmed that he was admitted to the Intensive Care Unit of Portón 2 of the German Nicaraguan Hospital, where covid-19 patients are sent. They told him he was intubated and had a diagnosis of 'deep pneumonia.'
Before the 2018 protests, this 30-year-old systems engineer was engaged in repairing laptops and cell phones in the Masaya market. He is the oldest of Silvana's two children, both political prisoners of the regime, although Víctor, 27, was released in mid-February, after 90 days in prison.
Silvana, a single mother, fed and paid for her children's education by selling meat in the city's central market. Uriel grew up listening to his grandfather curse the Sandinista Front. 'He was conservative and detested everything that had to do with Sandinismo,' a relative recalls. 
On April 18, 2018, when members of the Sandinista Youth beat a group of older adults in the Social Security delegation in Masaya, Uriel thought that it could've been his grandfather, and joined the protests.
He began by bringing basic grains to Monimbó, but the protests dragged on and Uriel joined an organization calling itself the Nicaraguan University Resistance. They threw mortars during protests and contact bombs at the barricades. The police accused Uriel and Víctor of belonging to a criminal gang and engaging in drug trafficking.
With her two sons in prison, Silvana left her market stall to keep an eye on them in the Penitentiary System. 'It is a horrible place, there are no conditions there,' she laments. The mother is concerned about Uriel's state of health: he is diabetic, hypertensive and has a fatty liver. Victor claims that he and his brother are innocent and were imprisoned for being "blue and white'.
Uriel had a fever, vomiting, diarrhea, migraine, dry cough, and shortness of breath. When he was admitted to the hospital, his health was so delicate that his lungs barely responded. He spent three weeks with a shackle on his ankle, so that he would not "escape." For three days he was sedated and when he woke up he found himself surrounded by other patients and heard of the bodies of the deceased being piled up in the hospital's corridors. 'At first he was scared, but he is already recovering,' says the relative who has had contact with Uriel.
Julio Montenegro, a lawyer for the group Defensores del Pueblo, assures that Uriel — one of his clients — is innocent and must be released.
Upon learning that her son was admitted to the hospital, Silvana pleaded for the release of the political prisoners. 'They must be freed, because they are all going to die, there are no conditions, there is nothing,' she pleaded through tears. The mother's cry was not heard.
On June 5, Uriel was discharged. The news of his recovery has been 'bittersweet' for the family. While completing his recovery, Uriel was sent to one of the cells in Gallery 300 or El Infiernillo, the maximum security area of ​​La Modelo prison, where he must remain isolated for the next few days. The cell is a space of a couple of square meters, with little ventilation, limited access to water and electricity and little or no natural light.
Panic in Prison for covid-19
Uriel's sudden hospitalization caused panic within the National Penitentiary System. Prisoners have told their families that they fear a possible outbreak in Modelo's cells. 
Lawyer Yonarqui Martínez, who is defending 26 of the 86 political prisoners, warns that 'the concern is that an innocent person may die.' The political prisoners are in vulnerable condition, Martinez argues, because 'the unhealthiness in the Penitentiary System is great': there is no drinking water, they do not provide them with medicine and there is overcrowding, up to 20 people placed in a single cell.  
A group of national organizations that watch over political prisoners affirmed in mid-May that 37 prisoners of conscience have presented symptoms of covid-19, mainly cough, fever, and difficulty breathing. Some have also presented pain in the body, eyes, throat, loss of taste, appetite, and one of them also had an upset stomach. In addition, several have chronic or pre-existing diseases such as hypertension or diabetes.
Lawyer: 'There Really Was No Amnesty'
Of the 86 political prisoners who remain in jail, 17 are prisoners of conscience who've been re-incarcerated and who are currently on trial or are again convicted of alleged common crimes.
Jaime Navarrete, convicted in 2018 of the alleged murder of a paramilitary, was released on June 10, 2019, and on July 24, he was re-incarcerated for alleged drug trafficking and illegal possession of weapons; Carlos Bonilla, prosecuted and sentenced for the death of an anti-rioter, was released on June 11, went into exile in Costa Rica, and when he returned he was captured again, and now he is accused of illegally carrying weapons. Richard Saavedra, was also recaptured, was detained for alleged aggravated robbery.
Currently, 'all three are convicted and sentenced,' summarizes Martínez.
Montenegro maintains that in Nicaragua 'there really was no amnesty, but a resolution was made by means of a file order' of the causes that are still open today. The lawyer assures that the "only case in which there was a definitive closure... was that of Pierson Gutiérrez Solís," a former military man who was identified as responsible for the murder of the medical student Rayneia Lima, of Brazilian origin. 'They are obscure figures, and one does not know how to defend the citizens in the cycle that follows the process,' continues Montenegro.
Of the 17 recaptured political prisoners, seven have already been convicted; nine are being processed and one was acquitted, but remains in prison.
Change in a Repressive Strategy
From June 2019, when the Amnesty Law was approved, to May 2020, a total of 68 Nicaraguans who have been imprisoned for political reasons remain in prison: 36 of them were arrested between January 8 and April 30 of this year, including 19 inmates since the first case of covid-19 in the country was confirmed on March 18.
Additionally, another 18 remain in prison since before the release of the 106 political prisoners in June 2019, including Edward Enrique Lacayo, "la Loba", from Monimbó, and Jorge García Arancibia, from Matagalpa.
The Inter-American Commission on Human Rights (IACHR) warned in its annual report on the situation in Nicaragua in 2019, that there was 'a change in the patterns of criminalization against opponents' which, in addition to making evident the complete absence of a system of impartial and independent justice, would have the purpose of concealing that the judicialization of the opponents is based on political reasons.
The first political prisoners, who were mostly students and self-summoned, were charged with crimes of terrorism, organized crime, and in some cases, theft, murder, murder, injury, or damage to public property.
Instead, most of the current political prisoners are being prosecuted or have been convicted of drug trafficking offenses. 'Why drug trafficking? Because it is a crime in which no benefit can be obtained for the detainee," explains lawyer Martínez.
Irregularities in court proceedings have also become the norm: court hearings are constantly rescheduled, detainees are prosecuted outside their home cities, and judges consistently reject evidence from the defense. 
'What we do,' adds Montenegro, 'is complemented with documentary evidence, videos, photographs, and screenshots of conversations,' where the inmate's political connection is demonstrated.
The last time there was a release of political prisoners was in February 2019: a total of eight inmates, including Víctor Pérez, Silvana's son and Uriel's brother, were freed. Two others were 'pardoned' two days later, but when the regime released 2,815 common inmates in late May, the list did not include any political prisoners.
Wilfredo Brenes and Karla Escobar, both originally from Masaya, are the most recent political prisoners in the Azul y Blanco monitoring list. Both are confined in the cells of Chipote, a jail in Managua. They have no convictions. Still, June 11 marked their 42nd day in jail.