On Sunday, April 19, an emergency bell convoked dozens of people in the plaza of the Guatemalan municipality of Santa Catarina Palopó before the 4 pm curfew. A deported migrant, they learned, was scheduled to return home that day from the United States.
Carlos Cumes, 19, spent six weeks quarantined in a U.S. detention facility, where he tested negative for Covid-19. The Guatemalan Ministry of Health verified the results, yet a palpable fear of his return stirred local unrest as he entered town in an ambulance at 7 pm. The local news channel's live broadcast of his arrival showed firefighters dressed in movielike hazmat suits for the return of the young boatman who, like thousands of Central Americans every year, had set out in search of a better life on U.S. soil.
Cumes is now emblematic of another reality: the rejection facing thousands of deported Central American migrants as they attempt to return to their native communities amid the pandemic. Between March and April, the U.S. government deported 20,860 migrants of all nationalities from its southwest border, claiming such action was "required in the interest of public health," according to U.S. Customs and Border Protection (CBP). Some of these Central American communities have treated returning migrants as pariahs.
"[Carlos] came back with documents in hand, but the people weren't satisfied. They told us they were going to lynch my brother and the whole family," said Carlos's brother Juan Cumes. Unable to make it home, Carlos traveled with the police to a hospital for Covid-19 patients in Ciudad de Guatemala, and finally to a quarantine facility in Sololá—capital of the department of the same name—under 10 miles from Santa Catarina Palopó.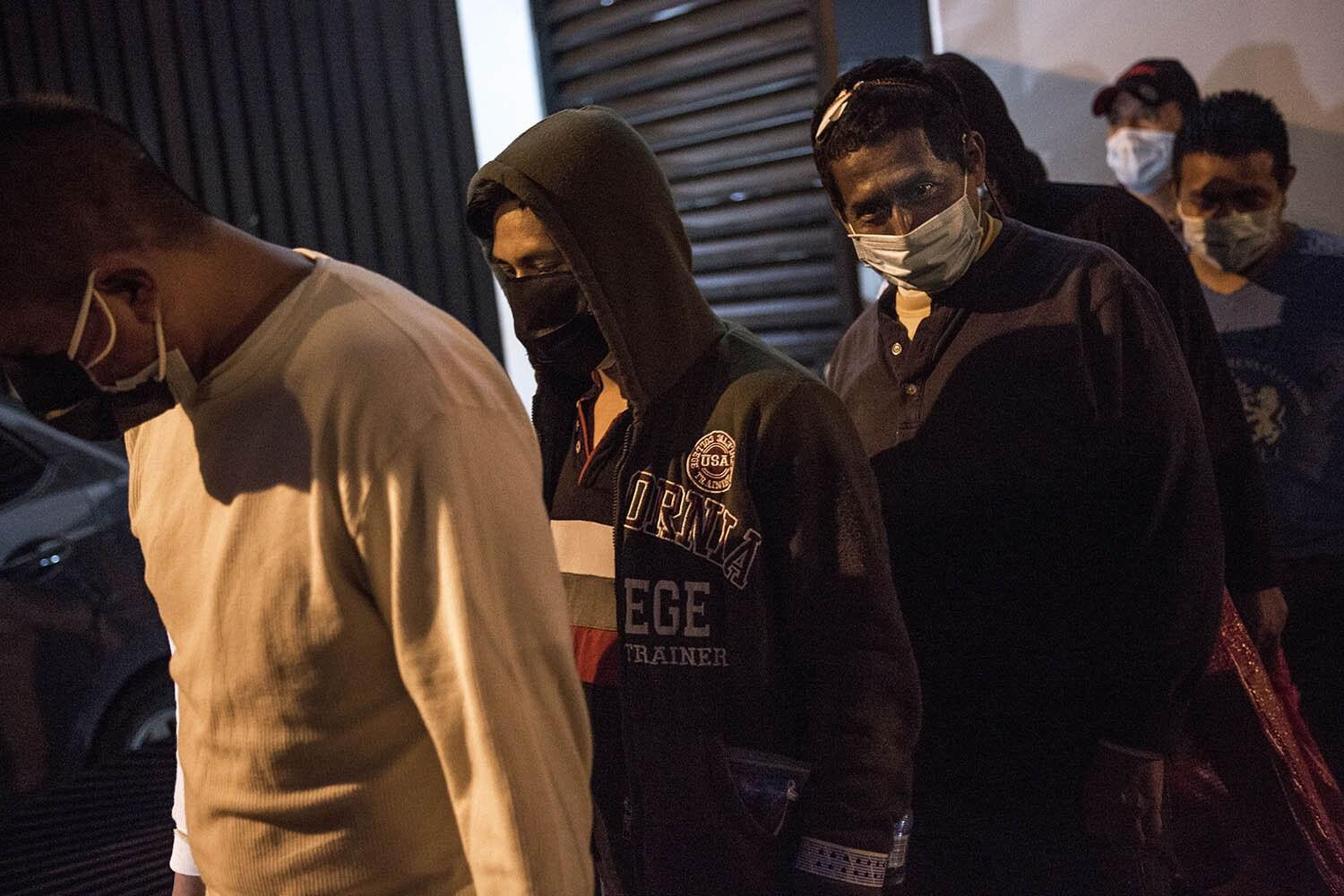 As the ambulance swerved through the streets on its way to Cumes's house, several neighbors petitioned the mayor, while others protested in the town center, to prevent his return. Two weeks later, official figures emerged explaining the community's fears: of the 630 people testing positive for Covid-19 in Guatemala through the beginning of May, one in six were returning migrants. 
Similar scenes played out in San Antonio Suchitepéquez, a municipality 50 miles southwest of Santa Catarina Palopó. On April 7, local authorities and neighbors denied entry to two migrants deported from Mexico, despite having tested negative for Covid-19 and showing no symptoms, according to Ana Lucía Gudiel, spokesperson for the Ministry of Health. They were taken to quarantine in a nearby hospital.
In such instances, the administration of president Alejandro Giammattei—a former doctor and director of prisons—has proposed to lodge and isolate returning migrants in hospitals, hotels, or temporary shelters. The pandemic has gradually become yet another wall in the path of migrants already facing increased restrictions since Donald Trump took office in 2017.
Of the U.S. workforce, 20 percent of workers are migrants, according to Manuel Orozco, the Nicaraguan-born director of the Inter-American Dialogue's Migration, Remittances and Development Program, an international think tank promoting democratic governance, prosperity, and social equity in Latin America.
In recent years, the White House has promoted the doctrine of "America First," as part of its agenda casting migration as a threat. On March 21, amid the upward U.S. trend of Covid-19 cases, the U.S. government began interpreting Title 42 of the U.S. Code Section 265 as grounds for expulsion of foreigners. That interpretation, combined with the cooperation of countries such as Mexico, Guatemala, El Salvador, and Honduras, has led to mass deportations amid the pandemic. At the end of April, the U.S. government acknowledged the infection of 297 migrants within its detention centers—an admission which, as in the case of Cumes, sparked unrest among communities with large numbers of migrants.
The economic impact of the pandemic on migrants and their families is of great interest to regional experts. Orozco, who has lived in Washington, D.C. since the 80s, explained in an April 24 report on the pandemic's impact on remittances that the economic recovery of migrants is essential to the continued flow of remittances and economic growth of migrants' countries of origin and the people who live there. 
According to Orozco, the economic effect of the pandemic is multifaceted: high costs of medical treatment, widespread unemployment, and a drastic reduction in remittances.
He estimates that at least 13 percent of "the migrant labor force from Latin America and the Caribbean in the United States will lose employment," totaling just over 3 million workers. He believes that this widespread unemployment, which could last as long as nine months from March, will lead to "a 20 percent fall in remittances, translating to a loss of $17 billion and 4 or 5 million households without remittance income."
Remittance flows to Latin America and the Caribbean have various sources: the United States (75 and 50 percent of migrants, respectively); internal migrants (10 and 30 percent, respectively); and the rest of the world (roughly 15 and 20 percent, respectively).
But Daniel Villafuerte, an economist specializing in migration from the Center for Advanced Studies of Mexico and Central America (CESMECA, in Spanish), told GatoEncerrado that the circumstances of migrants during the Covid-19 pandemic will be even more dire.
"In the coming months, a U.S. recession will lead to a shortage of family remittances, border restrictions will tighten even further, and violence in countries of origin will spike given the decreased possibility of migrating," he predicted.
Those who became stranded along their route to the United States when the World Health Organization declared a global pandemic on March 11 are now living in worse conditions. At the time, it was still possible to access the roughly 600 miles of Mexico's southern border with Guatemala and Belize, whether the goal was to continue north or to return to one's home country. But by the end of April, circumstances had shifted; almost no migrants were crossing, on any given day, in either direction. 
Central American countries, with the exception of Nicaragua, had begun closing their borders in March as a pandemic response measure. Guatemala banned travel between departments, closed migration checkpoints along its border with Mexico, and deployed army patrols along the 100 miles of the border along the Suchiate River to "dissuade" those attempting to cross illegally.
The patrols target rafts that transported migrants prior to the pandemic, but that now only transport merchandise and local residents. During a boat ride undertaken to research this story, we met four women sitting on a makeshift bench inside the shelter "Jesús el Buen Pastor" (Jesus the Good Shepherd) near Tapachula, Chiapas. Children run around inside while men play cards to kill time. Others simply stare at their phones. There are two elderly people. Before the borders closed, there were roughly 800 people here on any given day. Today there are 250.
Within the shelter, a central courtyard is surrounded by rooms and offices. The migrants keep the place clean. Here, there is no shortage of stories. On April 28, a man arrived from Guatemala—one of the few who had managed to dodge the checkpoints and surveillance. The woman in charge says that he arrived on the same day he had crossed the border, badly beaten and fleeing a violent confrontation.
While most decline to give their full names when asked for an interview, Nolvia Maribel Flores, from Honduras, is one of two exceptions. She crossed the Guatemalan-Mexican border in mid-March, just two days after the official closing. Alma Iris Rugama González, from Nicaragua—the second person—says she has taken shelter here since August 2019. Jenny and Zoila have also been here for over two months.
These women and the others in the shelter regularly receive bad news about the impact of Covid-19 from their home towns. "[My mom] told me, 'Look, honey, 60 people have already been infected and we can't go outside,'" recounts Flores, who, like the other migrants in the shelter, have seen the tightening of border restrictions in Mexico.
One day, Zoila recalls, they heard the shelter would be closing to avoid contagion. Many left, but others—like these four women—had no place to go and were allowed to stay. Every evening, they find a spot to sleep on a mattress, bunk, the ground, or wherever they can.
Among the problems they face is hunger. Donations have declined and, without the means to buy their own food, worries have increased. The group also fears infection. The rooms are not spacious enough to respect the social distancing measures that experts recommend to avoid transmitting the virus.
The shelter reveals just a fraction of the challenges these migrants face. Others travel every day to the offices of the Mexican National Institute for Migration to inquire about their situation, only to hear that they will receive a response via email. Soldiers frequently patrol around the offices.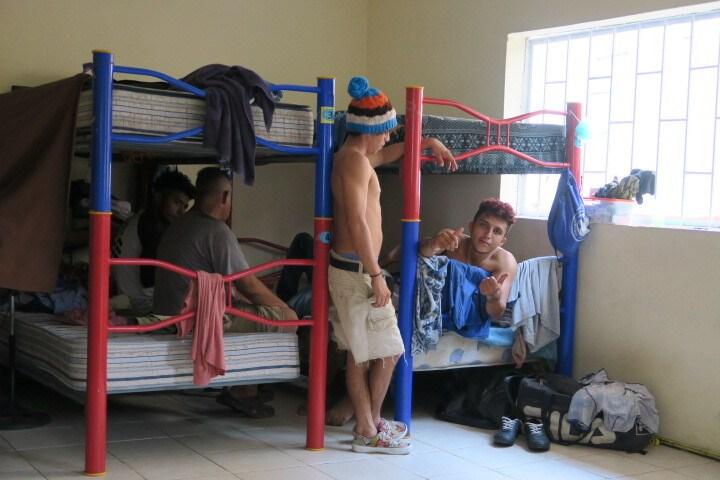 Guatemalan-born Anderson Lima looks distressed. He has visited the government offices for two weeks. One day, he arrived at 4 am to wait, but it was no use. "Do you know how long this will last? When will the pandemic be over?" he asks insistently.
He does not say it outright, but he is hoping for a miracle. "I'm renting a room, but I'm already low on money and need to keep sending money to my kids, even if it's just 1,000 lempiras (roughly $40). 'When this is over,' he says, he will continue north, "even if it is just to Monterrey [in the northeast of Mexico], because there's work over there."
***
Tensions have flared as deported migrants from the United States are stranded in towns like Talismán, a Mexican border community surrounded by mountains situated along the Mexican-Guatemalan border.
On the morning of April 8, nine busses carrying some 480 migrants parked 300 yards from the port of entry into Guatemala, which was closed by the Guatemalan military and police. The group of migrants had called on Mexican officials at four different stations to return them to their countries of origin.
One of these calls escalated on March 31, when a Guatemalan migrant traveling with his wife and child died of asphyxiation at a facility in Tenosique, Tabasco, after four other migrants lit several mattresses on fire. "Around 7:45 pm, a group of mostly Honduran men [...] lit mattresses as a pressure tactic to demand their return to their home country after the closure of borders as a sanitation measure," the Mexican Secretary of the Interior explained in a statement.
On April 8, a group from among the 480 stranded migrants set out to the town center of Talismán. The local population, alarmed, obstructed their path. The police and army arrived soon after. "Thank God we were able to send them back. [...] We have no idea if any of the migrants are sick. We've agreed to not let them through," said Virgilio Castillo. 
From that day forward, the locals established a checkpoint along the side of the highway, signaling that the town is closed to avoid contagion. Some towns in Guatemala have taken the same measures.
Crispin García, vice president of the board of directors of the 48 cantons of Totonicapán, capital of the Guatemalan department of the same name, argues that when a deported migrant arrives, the family should notify the municipality. The mayor of Quetzaltenango, in the neighboring department, banned the arrival of migrants from Mexico by land, but later loosened the restriction to allow for the installation of a shelter in Atanasio Tzul, a state-funded sporting complex. The neighbors were outraged.
"Take them away! You're putting our lives and those of our families at risk. We only ask that you take them away. They should leave already! Take them away or we'll set them on fire," yelled the neighbors from outside the shelter in the afternoon on April 15, four days before the return of Carlos Cumes set off the alarms in Santa Catarina Palopó.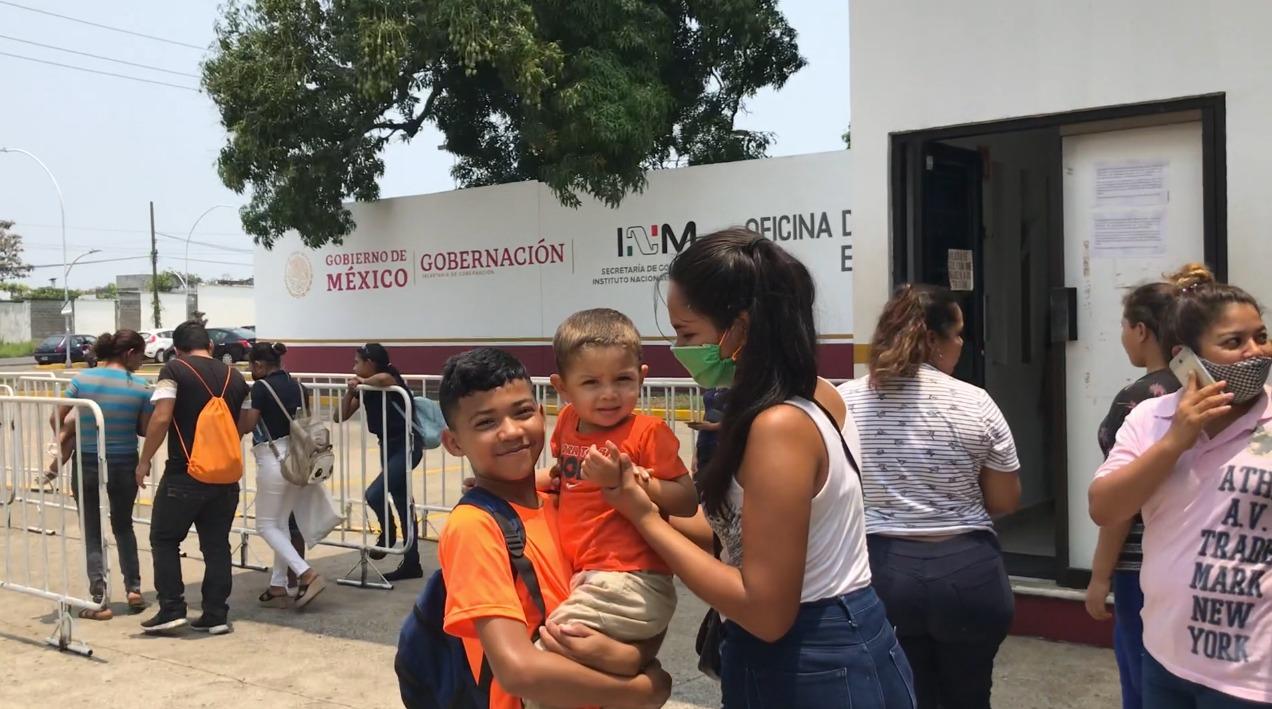 That afternoon, there were 80 newly returning migrants. "If those who are coming by plane are infected, then we can't just rule out ground travel. That's our concern," said Oscar Nimatuj, community leader. Although many of his neighbors showed up with sticks in their hands and full of rage, he claims that there was never a real intent to burn anything, but that they were asking for the group to be dislodged to avoid contagion. Officials left the group of returning migrants at the shelter for five days before sending them home for quarantine. Guatemalan authorities later confirmed that one of them tested positive for Covid-19.

*Otras Miradas is a collaborative project of ten Central American and Mexican media outlets covering the effects of Covid-19 on migrants, informal workers, women facing violence, sex workers, and incarcerated people in the region. Participating outlets include: Desinformémonos (Mexico), Chiapas Paralelo (México), Agencia Ocote (Guatemala), No-Ficción (Guatemala), GatoEncerrado (El Salvador), Contracorriente (Honduras), Radio Progreso (Honduras) Nicaragua Investiga (Nicaragua), Onda Local (Nicaragua) and Confidencial (Nicaragua).
Editor's Note: This article, originally published by GatoEncerrado, is part of the Otras Miradas series.*
*Translated by Roman Gressier