International
U.S. Police Brutality
"Why Did You Kill that Boy?" Los Angeles Sheriff's Officers Fatally Shoot Salvadoran-American Teen
The Central American community of Los Angeles was rocked by the news that, on Thursday, June 18, L.A. County deputies shot and killed 18-year-old Andres Guardado. The next day, the immigrant community turned out to the site of the killing in the Gardena neighborhood in protest, carrying signs demanding answers. This became yet another publicly-visible instance of lethal police brutality in America. Guardado was the son of immigrants who left El Salvador in the 1980s, during the country's Civil War, in search of safety in the United States.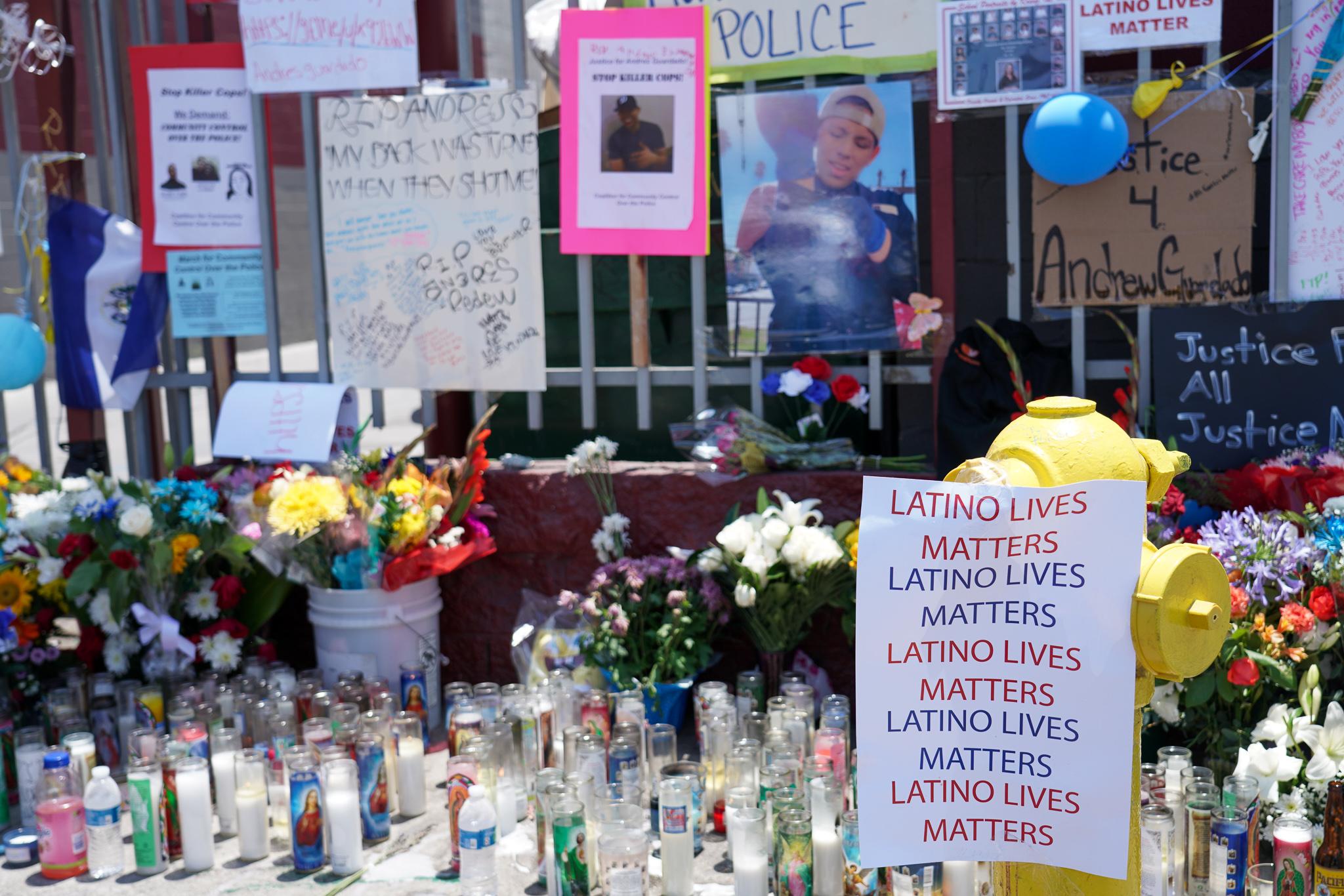 The shooting sparked concerns amid the growing focus on rampant police brutality that has taken over U.S. streets over the last few weeks following the death of George Floyd, an unarmed black man, who was killed by white police officers in Minneapolis. Guardado was one of two men shot and killed by the Los Angeles County Sheriff's Department in the span of 24 hours. On Wednesday, June 17, plain-clothes deputies shot Terron Boone, 31, in Rosamond, Kern County. Boone was the brother of African-American Robert Fuller, 24, who was found hanging from a tree outside Palmdale City Hall on June 10, 2020. The county coroner's office rushed to rule Fuller's death a suicide, sparking public protests that led state and county officials to call on the FBI to conduct a federal investigation. Protesters believe Fuller was lynched. 
In its statement on Guardado's killing, the Sheriff's Department said that two deputies from the Compton Sheriff Station observed Guardado outside a body shop before he "looked toward the deputies and produced a firearm." Guardado worked part time at the body shop, and also worked elsewhere as a security guard.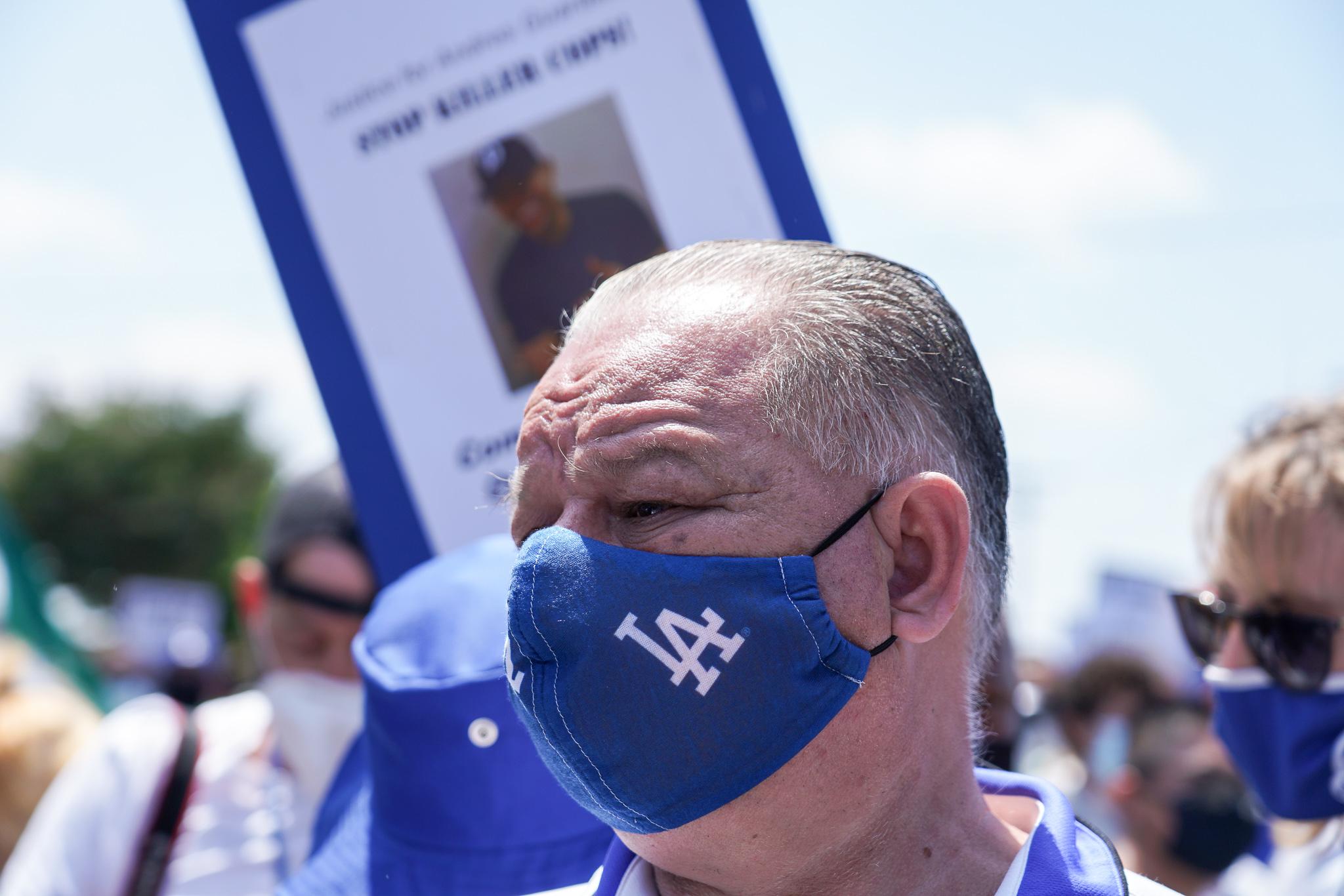 The Guardado family and the body shop owner dispute the Sheriff's account. "The cops were in an unmarked car, in plain clothes. When they came out of their car pointing guns at Andres, he ran out of fear. He didn't know who they were. I would've ran too if somebody pointed a gun at me. The cops were from a gang unit," the shop owner, Andrew Haney, told El Faro English.
"What witnesses have told us is that [Guardado] was outside the shop. When he saw the cops, he tried to go inside and the cops told him to stop and he didn't. Nowadays, we are all afraid of the police," Guardado's uncle Noe Abarca told El Faro English. "Things look weird. The surveillance cameras were working before the shooting. After the shooting, some of them were ripped off the walls. Civilians were not allowed at the scene during the investigation, so the question remains: who broke the cameras?" Abarca asked. The deputies took possession of the camera footage.
At a news conference on Saturday, Sheriff Alex Villanueva didn't explain why Guardado was shot. Captain Kent Wegener, head of the L.A. County Sheriff's homicide unit, stated that "the forty caliber gun that Guardado was carrying was not licensed and did not have a serial number." Yet family members say they doubt that Guardado had a gun.
Celine Abarca, Andres's cousin, described him as a "sweet young boy who cared for his grandma a lot. He would do anything for his grandmother." Guardado was attending Los Angeles Trade Technical College in the hopes of becoming a mechanic.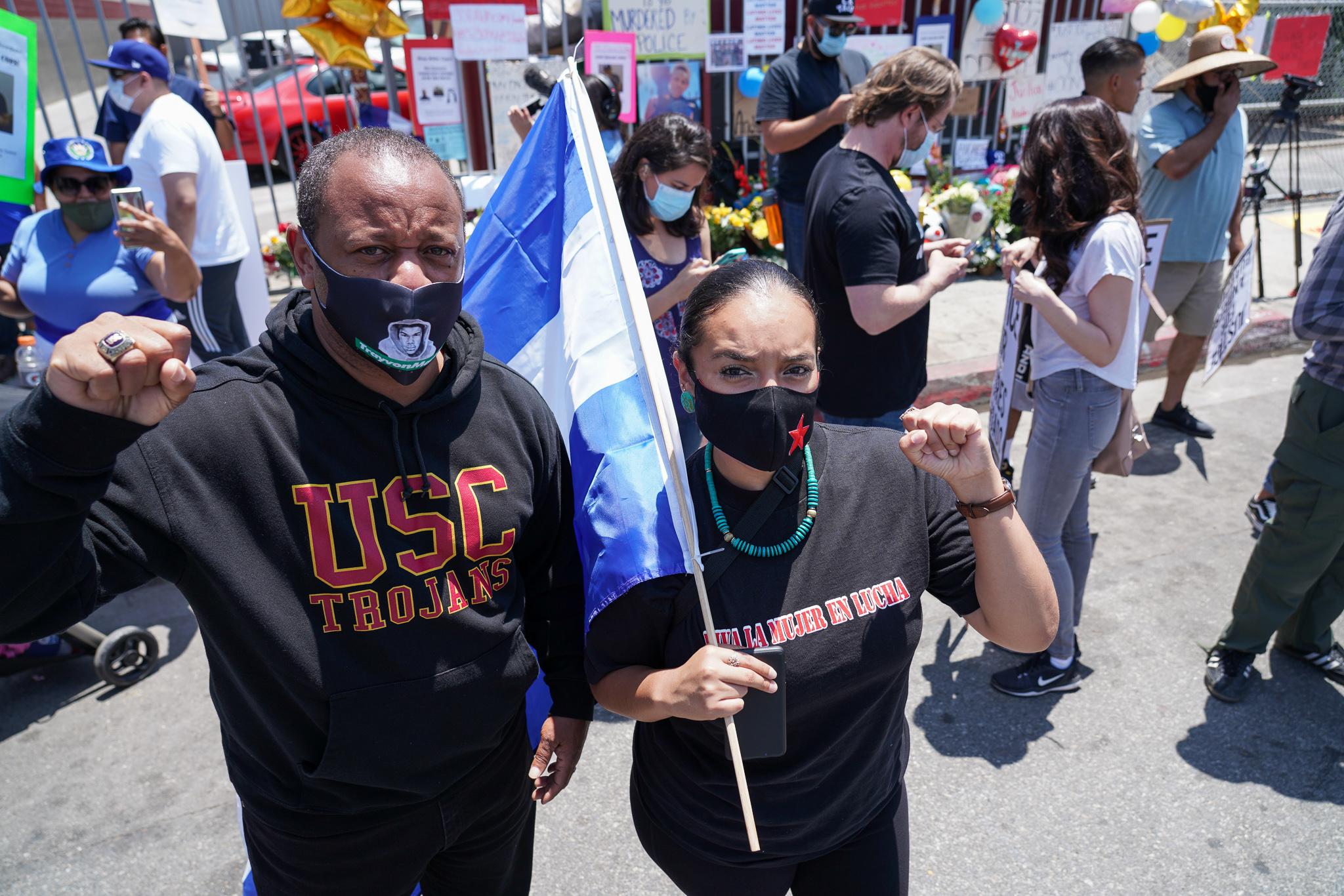 On Father's Day, the immigrant advocacy group Union del Barrio was one of several community organizations to lead a march of over 2,000 people from the site where Guardado was gunned down to the Compton station where the involved deputies work.
Ron Gochez, a Salvadoran organizer with Union de Barrio, said in a statement to the media: "We are here to denounce what happened. If la migra comes to our neighborhood, we protect each other and we expel them. When cops come and kill immigrants, we need to expel them from our streets."
As the protestors gathered in front of a line of deputies dressed in riot gear in an intense standoff in front of the Compton station, Cristobal Guardado, Andres's father, addressed the group, eliciting cheers and applause. "I see a lot of young people here. What happened to my son I don't want it to happen to any of you," Guardado said. "As a father, we feel this deep pain. We wouldn't want our young children, who have a whole life ahead of them, to be unjustly destroyed."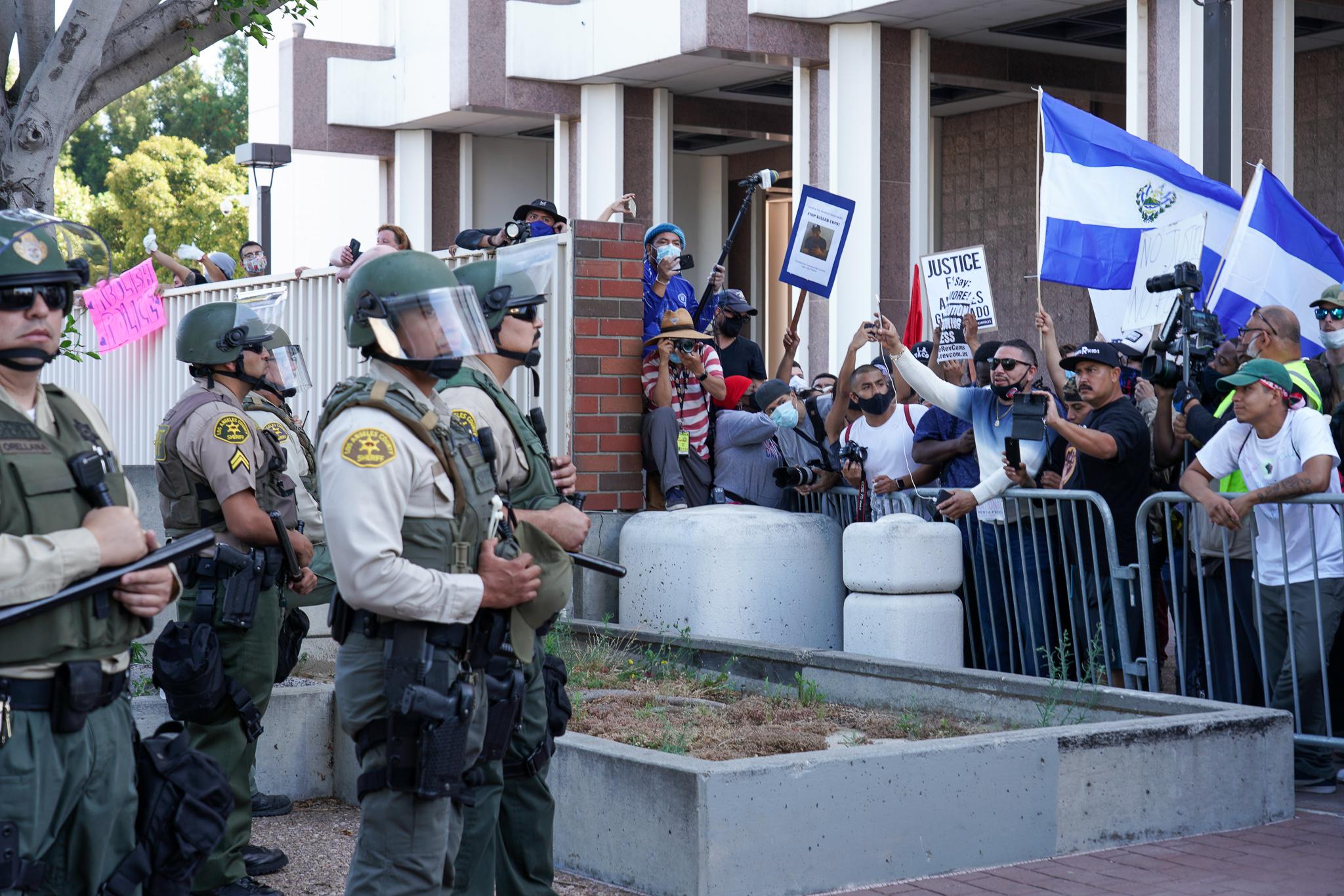 "Why did you kill that boy?" and "where is the camera footage?" were among the repeated cries from the angered crowd. At one point, as tensions rose between the deputies and the protestors, a group of Aztec dancers moved to the front of the group and started their dance with chants of protest, which seemed to calm the mood for the duration of their dance. People stopped shouting at the deputies.
After about two hours of the tense standoff, deputies in anti-riot gear fired tear gas and what appeared to be rubber bullets at the crowd. At the sound of the shots, people began to flee. Devin Cejas, a Marine veteran, was hit in the face with a projectile. Emily Valdez, a reporter for KNX 1070 News Radio, was sprayed in the face with a chemical irritant and was treated by protesters who poured milk on her face.
"Protesters didn't do anything violent for the cops to shoot at them," said Alexis, 36, a Los Angeles resident, of the police violence she witnessed. She declined to give her last name for safety reasons, worried about being harassed online. "The cops were just antagonizing them," she said in reference to the protesters. Other protesters who knelt in front of the deputies with their hands up were arrested after more shots were fired.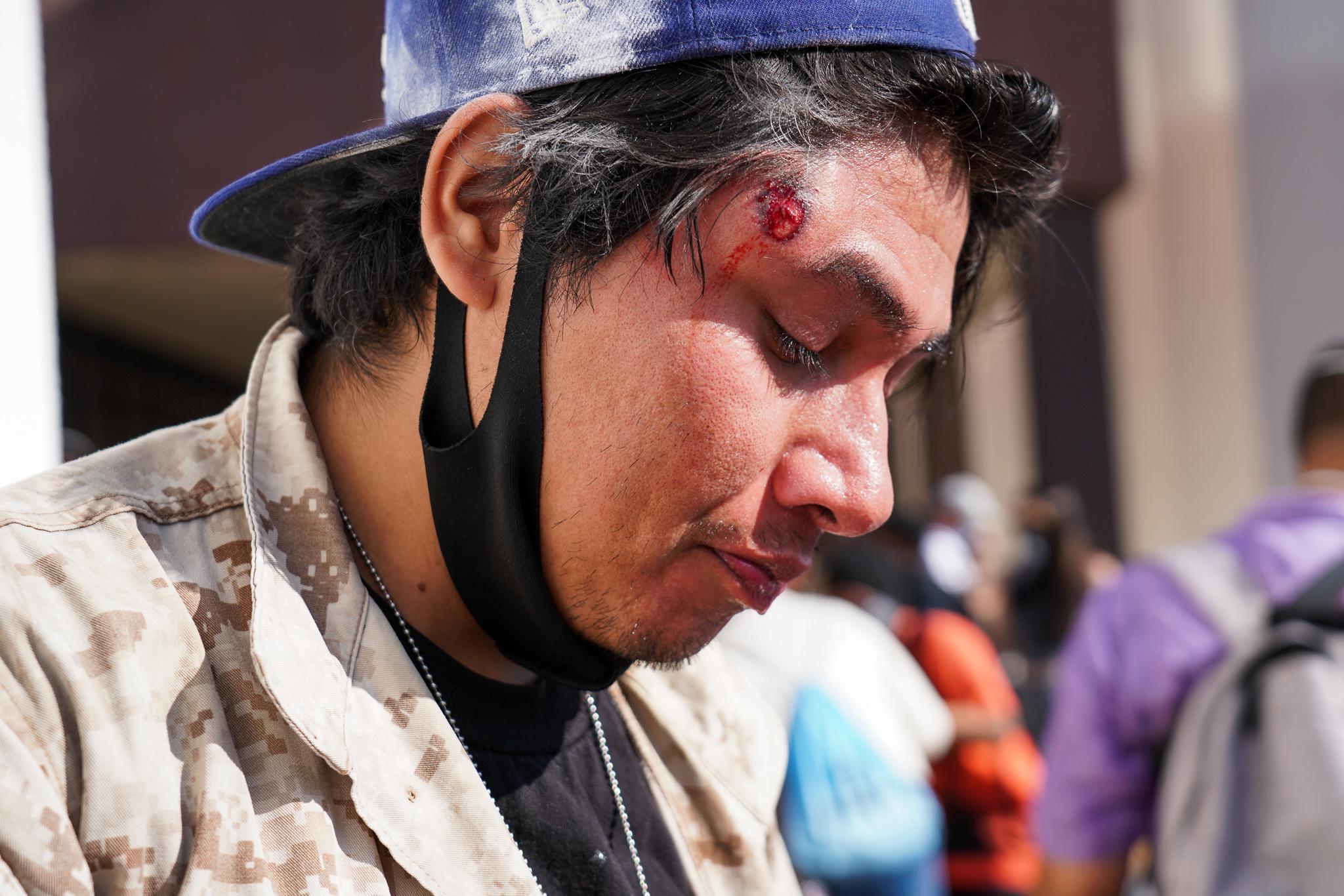 "If you are a troublemaker, you will be arrested," a Sheriff's helicopter flying overhead said via loudspeaker. "This is an unlawful assembly. You need to leave the area or you will be arrested."
The Salvadoran community was joined in the protest by the Mexican community and supporters of the Black Lives Matter movement. Najee Ali, a long time South Los Angeles activist, who is African American and helped direct the march, told me, "Everyone across America is talking about Black Lives Matter, and they do. Latino lives matter, too, and it is important to support the Latino community when they need us the most."
Apoya el periodismo incómodo
Si te parece valioso el trabajo de El Faro, apóyanos para seguir. Únete a nuestra comunidad de lectores y lectoras que con su membresía mensual o anual garantizan nuestra sostenibilidad y hacen posible que nuestro equipo de periodistas llegue adonde otros no llegan y cuente lo que otros no cuentan o tratan de ocultar.
Te necesitamos para seguir incomodando al poder.
¿Aún no te convences? Conoce más sobre cómo se financia El Faro y quiénes son sus propietarios
acá
.
elfaro.net/en/202006/internacionales/24573/%E2%80%9CWhy-Did-You-Kill-that-Boy%E2%80%9D-Los-Angeles-Sheriff%E2%80%99s-Officers-Fatally-Shoot-Salvadoran-American-Teen.htm

PP:
PC:
PN:
PT:
items_count:
items_pivot:

YY:

MM:

FI slug:
FI name: June 2020
FI sort:

FT slug:
FT name:
FT sort:

FS slug:
FS name:
FS sort: