Gangs
Violence and Crime
Nayib Bukele
El Salvador
ef_english
Crisis Group Dissects El Salvador's Historic Dip in Homicides
The reasons for the broad reduction in homicides across El Salvador during Nayib Bukele's first year in office are "complex and often unclear," summarized the International Crisis Group in a security policy analysis, arguing that the drop is likely not attributable to Bukele's flagship security plan, as the president has claimed. To sustain the decline, though, the researchers argued that the administration should push socioeconomic, prison, and policing reforms it believes will open up the politically fraught path to disarmament and reintegration with El Salvador's gangs. But with a pivotal national election season approaching, Bukele has leaned instead on mano dura, or iron-fist, rhetoric and policies that play well with the electorate but have fueled hardline anti-gang measures for decades.
President Nayib Bukele and senior administration officials have made repeated claims—some thinly-veiled and others explicit—that the 60 percent reduction in annual homicides across El Salvador in the administration's first year is directly attributable to the Territorial Control Plan (PCT), the pricey cornerstone of Bukele's domestic policy agenda. To the president's allies, his signature plan has become a rallying cry of violence reduction; to skeptics, it has come to embody a grab for executive power and a blow to the pillars of institutionality.
A report from the International Crisis Group, a Belgium-based think tank, attributed the downward trend to quiet, informal understandings between the state and the gangs, rather than the president's security plan. Crisis Group's analysis comes within a year of the 2021 legislative and municipal elections in which Bukele hopes to consolidate a political coalition and at a moment when Bukele has employed deeply popular, hardline anti-gang rhetoric in public while endorsing a more measured, and at times conciliatory, approach in private. To sustain the downward trend, Crisis Group recommends authorities address the causes of gang violence through a dual track: moving away from hardline mano dura policies and rhetoric while supporting the social and economic reintegration of gang members; and implementing modest prison and policing reforms while equipping police with stronger investigative technology to lower impunity—moves that, they argue, will foster increased procedural justice. 
But from now until the February 2021 elections, Bukele's public-facing mano dura rhetoric will likely continue to differ from the administration's internal security policy deliberations, according to Tiziano Breda, co-author of the report and Central America analyst for Crisis Group. "Bukele could be in the position over the next year to change tack, but it's surely unlikely to think that these abrupt changes in the framing of the security issue, and the implementation of some reforms, could happen in the very short term," he told me. 
Murky Causality
Experts generally agree that overall levels of violence—with homicides the chief barometer—are closely associated with gangs, whether from internecine gang fighting, gang violence against civilians, gang violence toward security forces, or security force violence against actual or suspected gang members. When experts refer to gangs in El Salvador, they are generally referring to three broad, historically rivaling gangs with a diversity of interests and motivations: the Mara Salvatrucha, or MS-13; and the two factions of Barrio 18, the Sureños and Revolucionarios. 
According to figures from the National Civil Police (PNC), homicides have fallen starkly under Bukele's tenure, but in keeping with a longstanding downward trend since the 2014–19 administration of president Salvador Sánchez Cerén. In 2015, El Salvador registered a staggering 103 homicides per 100,000 residents, overtaking Honduras as the most deadly country in the world among those not officially at war. By the close of the Sánchez Cerén administration at the end of May 2019, though, that rate had fallen to 51 per 100,000—or 9.2 total homicides per day, according to independent journalist Roberto Valencia, based on PNC figures. 
By the end of May 2020, PNC figures showed that the country had registered the lowest daily homicide rate—4.3 per 100,000—in the first year of the past four administrations, including those of Sánchez Cerén, Mauricio Funes, and Antonio Saca. Police also reported 64 homicides this May, the lowest recorded monthly total since the end of the civil war in 1992—not, as Bukele had claimed, for the entirety of Salvadoran history, during which there was shoddy data collection for large periods of time.
While it is true that homicides have declined in the past year, it is unclear to what extent the administration's security agenda is responsible, according to Luis Enrique Amaya, a Salvadoran international consultant and public safety researcher. He listed three dominant hypotheses about the decline, but argued that it isn't yet clear which is closest to the truth:
First, it was said, primarily by the administration, that it was attributable to Nayib Bukele's Territorial Control Plan. Second, it was said that it was not a result of the plan, but rather a pact between the administration and the gangs. Third, it was said that it wasn't a pact between the administration and gangs, but rather the gangs' unilateral decision as a show of good faith, a holding pattern, without direct negotiation with the administration [...], to make room for the administration to work and later be able to negotiate something that is still unknown to us based on that expression of good faith. 
The PCT, a multiphase proposal which the administration indicated would cost $575 million over three fiscal years, received significant scrutiny from the Legislative Assembly due to lack of clarity on proposed expenditures and questions of corruption in the procurement of outside contracts, prompting parliamentary leaders to announce that they wouldn't take up the third phase for a vote until additional clarity was provided. Under the PCT Bukele has so far deployed the armed forces in roles traditionally reserved for the civilian police force and claimed to have cut off communication between gangs outside and inside of prison. Historically, gangs' leadership have directed their organizations from inside prison. 
Then, on February 9, Bukele led a militarized standoff with the Legislative Assembly in an attempt to coerce the deputies into approving the third phase, which would largely finance security equipment acquisitions. Shortly after, Bukele instituted a preemptive nationwide stay-at-home order beginning March 14 as the pandemic spread to the region. The third phase of the plan itself fell into limbo, but Bukele's claims that his security policy has brought down the homicide rate continue unabated.
"In reality, they haven't carried out a rigorous evaluation," said Amaya of the administration's statements on the PCT. "Rather, they're expressing preconceived, ideological positions rather than the results of a technically sound and serious evaluation."
In its report, Crisis Group coincided with Amaya in that the reduction is not definitively attributable to the administration's security policy, but more explicitly proposed an alternate theory. 
"The collapsing homicide rate may stem not only from the government's public security policies, but also from the gangs' own decision to curb bloodshed, possibly due to a fragile non-aggression deal with authorities," wrote Crisis Group. "Statistical studies show that the Territorial Control Plan is most likely not the sole cause; specific local falls in murder rates do not correspond precisely to those areas where the plan has been implemented. Instead, in large part, gangs appear to have themselves decided to scale back their use of lethal violence," the researchers wrote.
In its own analysis, Crisis Group found no significant difference between the decline in homicides in the 22 municipalities prioritized under the PCT and its control group of like municipalities.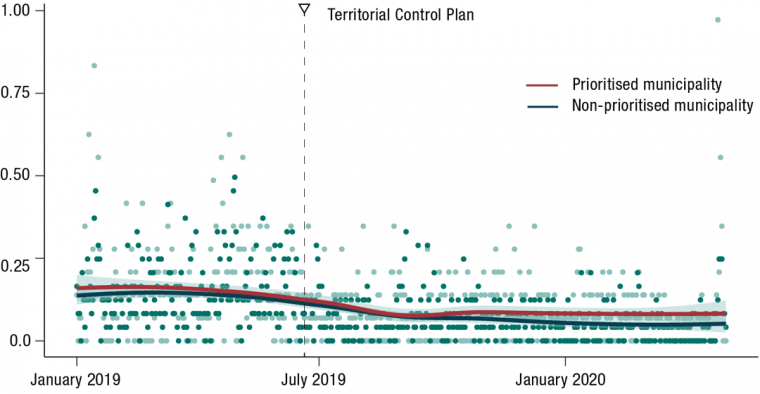 Crisis Group listed other factors that it argues belie the administration's cut-and-dry analysis. "Unassailable control over communities, declining gang rivalry and increasingly autonomous gang leadership outside jails may explain this decision more than the Territorial Control Plan," the researchers postulated.
Unilateral Movements or Signs of a Pact?
While experts tend to agree that the gangs wield considerable sway over El Salvador's politically influential homicide rate, historical evidence suggests the gangs sometimes cut back on violence due to their own internal deliberations. In 2016, for example, the gangs unilaterally negotiated a ceasefire to avoid extraordinary measures from the administration of president Salvador Sánchez Cerén. 
"The available data indicates that, regardless of what motivates a truce, major reductions in homicides have been associated with the gangs' decision to keep the rates low. In other words, past experience shows that government policies reduce murder rates only when they can change the gangs' own calculations," wrote Crisis Group.
Crisis Group also noted important, potentially unilateral, moves within the administration to implement a policy of détente toward the gangs, even as Bukele publicly called for a harsh police and prison crackdown after a five-day spike in murders at the end of April.
A commissioner within the National Civil Police (PNC), for example, told Crisis Group of an informal non-aggression order authorized by Bukele to rein in their fighting with the gangs. "This testimony was also substantiated by the figures that we received through the Unit for Access to Public Information of the police, through which they shared with us the latest figures on clashes between security forces and gangs and related deaths, which if not as stark as the overall drops in homicides, also showed that there was a real downward trend in clashes between security forces and gangs and related deaths in these clashes," Breda said.
Even as Bukele has publicly lambasted the gangs and the opposition parties Arena and FMLN for their past dealings with gangs, including the negotiation of votes in the 2009 and 2014 national elections, he has summarily shrugged off evidence of his own past negotiations. For example, El Faro published photo and audio evidence last week that his current minister of government, Mario Durán, had served as a liaison in a 2015 meeting with senior leaders of MS-13 during Bukele's tenure as mayor of San Salvador. And it's not the first time that accusations surface of a prominent Salvadoran politician denying having maintained covert backchannels with gang leadership. The last sustained, major dip in homicides occurred from March 2012 to June the next year, after the administration of then-president Mauricio Funes had negotiated a reduction in homicides despite months of public denials. 
Amaya asserts that, with the current evidence, it is unclear whether Bukele is currently covertly negotiating with gangs. He says, though, that negotiations with gang members are simply an unpalatable reality of politics, particularly on a local level where gangs often exert more control than the state.
"Dialogue with the gangs is a fact. I'm not saying whether it should be done. But to me, the first thing we must accept is that, like it or not, and beyond whether it should happen, it does happen, and sometimes by necessity. Some municipalities implement social development projects that require dialogue with the gangs for the entry of certain services and development initiatives," said Amaya. "The question is the content of the dialogue and what the method is. That is, not only the technique of the communication but also the transparency," he continued. 
A Fork in the Road
Salvadoran administrations over the past two decades have shown varying degrees of interest in broaching what they see as the root social and economic causes of gang violence in El Salvador. During the gang truce under the Funes administration, for example, there was considerable public discourse about reintegration of gang members into educational and economic activities. But as the 2012 gang truce became increasingly unpopular in public opinion and the Funes administration began to replace its early negotiators, cracks began to form in the coalitions of non-governmental organizations, academics, human rights groups, and suppliers of international aid who had initially called for reintegration.
Other preventative and rehabilitative efforts of past administrations, including proposals for state-funded soccer camps, vocational training and scholarships, and community-based anti-violence centers known as "cubes" didn't have the desired impact, due in part to lack of funding. They also cite the discrimination former gang members experience in educational institutions and labor markets and the adverse effects of the COVID-19 pandemic, which has particularly harmed the roughly 70 percent of the Salvador population that works in the informal economy. In that context, they argue the administration should prioritize public-private partnerships through the Unit for the Reconstruction of the Social Fabric to invest in education, health, and employment in localities outside of major city centers with long histories of state abandonment.
Crisis Group also argued that the administration should "be more cautious about harsh confinement measures in jails," in part a reference to Bukele's hardline rhetoric about the use of force by the police and military and a prison crackdown against gangs at the beginning of May. The researchers also point to high levels of overcrowding, the absence of sanitary measures amid COOVID-19, and lack of sunlight.
Prison policy has been at the heart of mano dura politics for two decades. When asked about whether these incremental reforms go far enough in shifting course, Breda responded: "Focusing on confinement in jails and expanding pre-existing programs previously not applied to gang members to rehabilitate and reintegrate them once they're out could trigger a positive cycle of prevention of recruitment, lower gang membership levels, and try to provide a longer-term solution that so far has been absent from government policies—not only under Bukele but also under the previous administrations."
The researchers also argued that the PNC should focus on increasing its investigative capabilities through the acquisition of enhanced technology and expanding their use of wiretaps in conjunction with the Attorney General's Office. This, they believe, will allow the PNC to close more cases and thereby reduce the levels of impunity due to unsolved cases.
"The buildup and improvement of the investigative capacity of the police could also force an effect in terms of the way in which the police operate and the impunity levels...which we believe are tied to the levels of violence," Breda said. "But of course, in the specific case of drones or cameras, like anywhere else in the world, the issue of strict regulation and accountability for the misuse of these tools would be crucial in terms of containing or limiting the possible boomerang effect that this could have on civil liberties."
Bukele has proposed the acquisition of surveillance-related and other equipment through the PCT. Meanwhile, El Salvador signed agreements with the U.S. Department of Homeland Security in 2019 that would grant the department access to sensitive information about Salvadoran nationals, from biographical information to biometrics such as iris scans, fingerprints, and facial identification, El Faro reported.
"If you ask who needs more technology, who will say they don't? Of course the police have a need—not only for more, but better technology," quipped Amaya, who has extensive knowledge of the inner workings of the PNC. "But the question is: for what purpose?"
Crisis Group's full report can be accessed on its website.
Apoya el periodismo incómodo
Si te parece valioso el trabajo de El Faro, apóyanos para seguir. Únete a nuestra comunidad de lectores y lectoras que con su membresía mensual o anual garantizan nuestra sostenibilidad y hacen posible que nuestro equipo de periodistas llegue adonde otros no llegan y cuente lo que otros no cuentan o tratan de ocultar.
Tú también puedes hacer periodismo incómodo. Cancela cuando quieras.
Te necesitamos para seguir incomodando al poder.
Conoce
acá
cómo se financia El Faro y quiénes son sus propietarios.
elfaro.net/en/202007/el_salvador/24664/Crisis-Group-Dissects-El-Salvador%EF%BF%BD%EF%BF%BD%EF%BF%BDs-Historic-Dip-in-Homicides.htm

PP:
PC:
PN:
PT:
items_count:
items_pivot:

YY:

MM:

FI slug:
FI name: July 2020
FI sort:

FT slug:
FT name:
FT sort:

FS slug:
FS name:
FS sort: