Three Borders Between Violence and Oblivion
Mexican author and journalist Eileen Truax explores the harsh reality faced by Central American women migrants. She describes scenes from the migration trail, gives voice to the women and girls who travel it, and reflects on the various forms of violence they face along the way. This is an essay about these women—the protagonists of a story that, as the author says, is almost always told from the perspective of men.
Women. Migrants. Undocumented. Discriminated against threefold and forced to cross three borders—when their husband left, when they were threatened by their partner, when they were raped, when they had to support their children, when the land and crops died, when the money ran out, when they were the last hope, when progress shoved them out of the way. Then, so that they might escape these other hundred violences, they chose to face the violence of the road. To start over. And often, to face oblivion.
When we talk about migrants, we talk in numbers: the numbers from Honduras or Guatemala, where seven out of every ten people are poor—eight out of ten if we're talking about rural areas, where on top of the poverty there's the drought, hurricanes, and earthquakes that come crashing down on the lives of millions—symbolically and sometimes literally. We talk about remittances from the United States to the Northern Triangle: ten percent of Guatemala's GDP; 17 percent for El Salvador; 20 percent for Honduras. We talk about the risk of being kidnapped—eight times higher for Central Americans crossing through Mexico than for Mexicans themselves. But amidst all the talk of numbers, migrants, and remittances, there's always something missing from the conversation. We speak of men working to make a better future for their families, yet, in El Salvador and Honduras, women are at the head of four out of every ten households. We speak, using Spanish's default masculine form, about los migrantes centroamericanos in the United States, when women—las migrantes centroamericanas—make up half of this population of three million. We speak of the proliferation of gangs that resulted from the deportation of men, but say very little about gang activity as one of the factors that compel women to migrate. We talk openly about the violence faced by Central Americans on the migration trial, but only in whispers do we acknowledge that six out of every ten women migrants are raped en route.
In stories about migration, the female dimension tends to get left out: the women who are the protagonists of their own stories, who make their own decisions to migrate, who take on the role of family provider, who send remittances, who support their children from afar, and who come to a foreign country to work as care providers for other peoples' children. We forget that if the future is female, this is because migration is too.
Every form of violence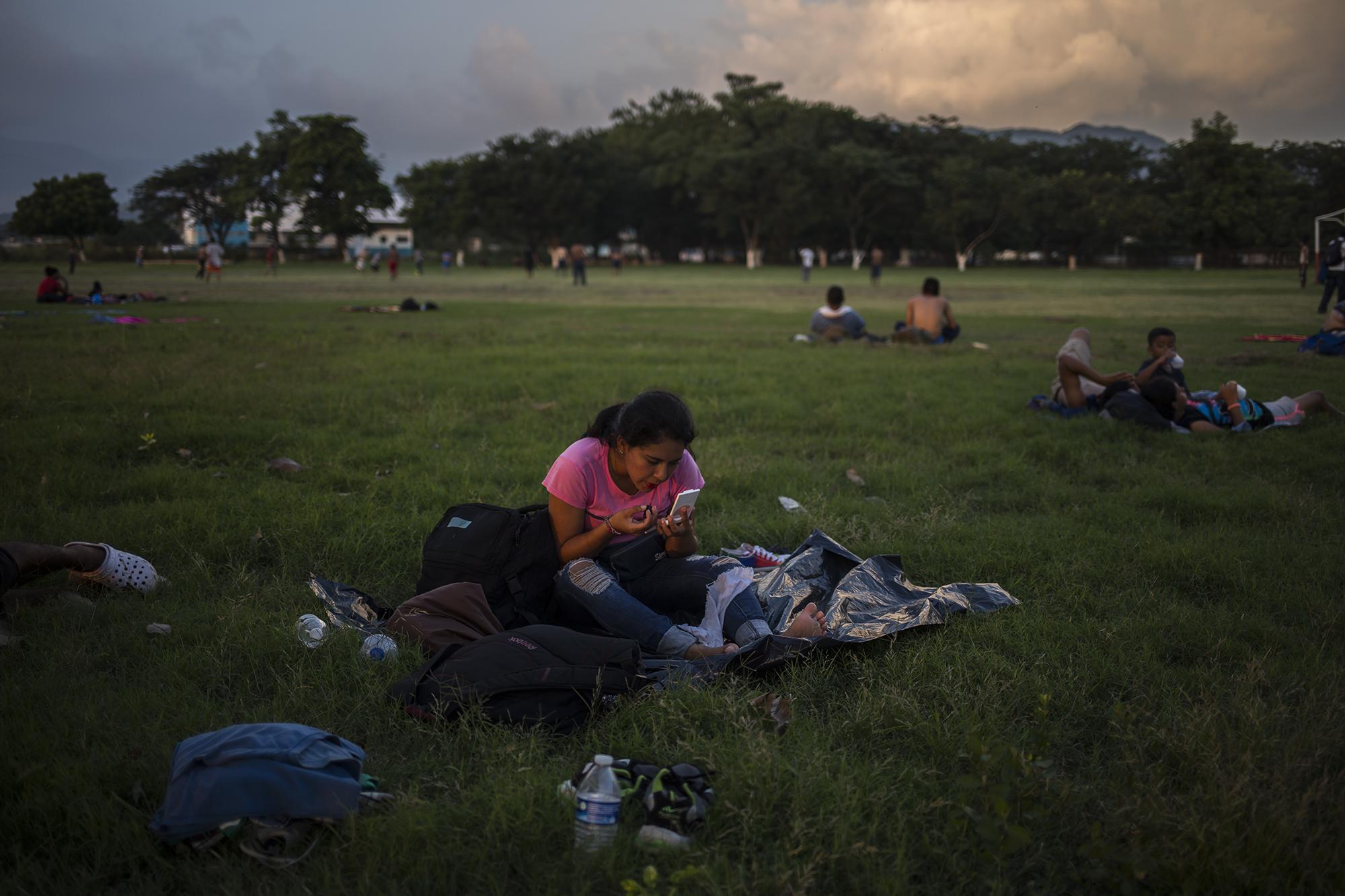 "The reason people are leaving the country is the generalized violence, because it's not just domestic violence, it's also criminal violence. Most mothers [...] want to get their daughters out because they're being targeted by las maras, who want to take them as their women, because when a girl reaches the age of eleven or twelve, she becomes eligible to be part of a kind of harem run by the leader of the gang."
This is not the voice of an academic, activist, or journalist. These are the words of a public official from El Salvador, interviewed in 2016, who in less than a hundred words summarized what everyone knows is happening but no one has been able to change: in El Salvador, women, beginning when they're just girls, are the victims of every form of violence.
In 2017, more than 19,000 girls and adolescents between the ages of ten and 19 became pregnant in El Salvador: 53 girls or teens becoming pregnant every day, in a country where having sexual relations with someone under the age of 15 is considered a crime, regardless of whether or not the perpetrator used violence or the victim consented. But what the letter of the law says and what the prosecutor's office does rarely coincide: in El Salvador, only ten percent of rape accusations end in conviction. Sexual violence against girls can be committed with 90 percent likelihood of impunity.
Compared to other countries in the region, the case of El Salvador tends to be better documented, but it's enough just to review the testimonies of women and girls from other countries in the region to know that this violence, these acts violence, follow them from when they leave to when they arrive: The woman from Honduras who was forced to leave her home after her husband was murdered and she began receiving threats, demanding that she leave; the women from Guatemala who were separated from the group they were travelling with so that they could be raped; the girl from Nicaragua who, after her father left for the United States, confessed that her greatest fear was that she would be taken, "because my papá isn't here anymore."
The stories of women who, resigned to being raped en route to the United States, start taking birth control before they leave—these stories seem to no longer move anyone. Some women seek out travel companions to provide a sense of protection against potential aggressors; sometimes they trade sex in exchange for protection, other times they encounter genuine male solidarity. Men who travel with women family members are warned before they leave: For women, the journey is more complicated, more dangerous, carries more risk. Women are a burden, a responsibility.
"Which is worse: being raped by one man, or being raped by many?" The woman who asked herself this question, in a hotel room in Mexico, accepted help from a man on his way to the United States after she was assaulted by a group of her fellow migrants. "How could I have left the room? If I left, the other men were waiting for me outside."
For women, to migrate is to choose the lesser of two evils.
If the violence of the road was the only price one had to pay to migrate to the United States, it might be easy enough to forget it all after arriving. But those who have made the journey one, two, or three times know that violence comes in cycles: it might get worse, or get better, or go away a little, but wherever it goes, there will always be a woman at the center. Migrant protections and labor laws, the existence or absence of networks of support, the ease of finding a house or a job in the United States, the dependability of one's family or partner—these are some of the things that determine the degree of violence that a woman will face in her new life. Tell me when, how, from where and to where you arrived, and I'll tell you how much violence you are likely to face.
"I started having problems with the father of my children, he started beating me, and in Sterling, in Virginia, he was arrested for domestic violence—but they released him on bail." 33 years old and from El Salvador, N— left for the United States in 2006 and spent one month on the road. Two years later, the father of her kids found her again. "I couldn't leave him, for the same kind of reason: his brothers started threatening me. Because almost all of them are there, I had no family there, I had to do what they said. I had to do what they said. But in 2008 I decided to come back to El Salvador—I refused to put up with it anymore."
Given a choice between violence or being forgotten, most women choose oblivion. I met Laura when she was 21 years old and four months pregnant. She was travelling with two men who said they were her neighbors, said they were Mexican, from Oaxaca, and spoke in thick Guatemalan accents, in sentences punctuated by the notoriously Guatemalan "cabal" ["right on"]. The three of them were sitting down in a plaza in Altar, Sonora, close to the US-Mexico border, waiting to meet with a coyote.
No one was waiting for Laura on the other side. She didn't know where she was going—didn't know which state or which city. She told me that she wanted to get to the United States to be able to earn a better living, to make some money "wherever there's work—washing clothes, cleaning houses, working in a paletería [popsicle shop]." That she wanted the best for her baby. That she was told she would walk for three nights. That she would try not to get left behind in the desert. That sometimes she would shake. That she was afraid for the baby, but that it was worth the risk, to live well: "So that when the baby comes, it won't just be like that, without me being able to provide for it." That if it was a boy, his name would be David Alejandro. If it was a girl, Sheila Isabel.
The doctor in Altar, a man who received patients in a makeshift office set up in the town's main square, told her that it wasn't advisable for pregnant women to cross through the desert. "They walk and walk, until they start bleeding. At first it's a little. Those who come back arrive on the verge of miscarriage," he told her, knowing that these warnings would never stop her or anyone. There's no way of knowing what happened to Laura, to her "neighbors," or to her baby. If they made it to the United States, they will have been swallowed up in the great anonymity; they will ll have learned to be invisible, to not bother anyone. With enough luck, no one will even remember they're there.
Ni putas, ni santas — Neither whores nor saints
They dance on darkly lit stages, at the center of the room, in venues with roofs made of tin. The dance soundtrack plays from a jukebox programed to cycle through romániticas and norteñas. The girls are from San Pedro Sula or Tegucigalpa; they left because of the violence, or the poverty, or both, and on their way to the United States, they ended up at this "zone of tolerance" in Tapachula, Mexico, where a river marks the border with Guatemala. To make a living, they stay awake all night. They drink a few beers and talk about their work as what it is: dancing. They do it for money, but they don't do other things—they're not whores. In fact, most of them are mothers.
Among them are a number of trans women who, being victims of homophobia, have sought out a place where they can be themselves without being judged. Sometimes they find such a place inside one of these clubs. But once they step outside, into the daylight, they face a new stigma—a new violence—that they must overcome. Here, girls who come from Honduras or El Salvador are accused of being "husband stealers" and sex workers. Women from Guatemala are known as "servants."
In addition to the social sanction of locals, who in recent years have seen the flow of migrants to their city continue to grow, and who must receive those who are left without enough money to continue on, there are the added problems of extortion and harassment by the police. The women who work in the nightclubs don't have visas or refugee travel documents, and the authorities know it. Every level of Mexican corruption converges here: the vans of government agents make their rounds; so do the border patrol vehicles; the municipal police stop by to conduct their checks and searches, and then, suddenly, the soldiers show up too. The girls say that agents plant drugs on them and then use this as leverage for extortion, and that the officers almost always "put their hands on them." Sometimes, the officials who molest them say they are doctors working with 3immigration agents.
The figure of the "unscrupulous" woman, the "husband stealer," or the sex worker is often cast in opposition to the figure of the good, selfless woman who sacrifices everything for her children and ignores her personal desires for the sake of her family. Rarely do we hear about the sexual life of migrants on their journey, when between the violence and the danger, there are also moments of joy, romance, and pleasure. New romantic relationships are born in shelters or between train tracks, and a dancer might fall head over heels in love with someone from the neighborhood. Yet, for migrant women, talking about consensual sex for the sake of pleasure, or for the sake of love, remains as taboo on the road as it does in the countries where they're from.
When you don't speak the same language
On December 6, 2018, Jakelin Caal, a seven-year-old indigenous girl who had travelled with her father from Guatemala to the United States to seek asylum, died while in the custody of US immigration authorities. One of the factors that contributed to her death was her and her father's difficulty communicating the state of Jakelin's health to the agents who were holding them. Originally from the department of Alta Verapaz, the Caals spoke Q'eqchi', a pre-Hispanic Maya language. While in custody, officials never provided them with an interpreter.
Situations where migrants in custody are denied the services of an interpreter are common in the United States, often involving girls and women from Mexico and Central America. Indigenous women often speak little or no Spanish, because in their communities it tends to be the men who interface with nearby towns and cities. Maya, K'iche', Q'eqchi', Zapotec, Mixtec, Mam or Purépecha—these are just some of the languages they speak. When they travel from their community to the United States, many have had little to no prior contact with the Spanish language.
Thousands of indigenous women work the fields, harvesting the crops that provide food to the United States. They don't have documents and they don't speak Spanish or English—when they go to a clinic or hospital, they might not be able to tell the doctor what's wrong. If they receive a summons to appear in court, they might not understand why. They usually don't talk much, because nobody listens anyway; or if someone does listen, they don't understand. In many situations while in US custody, if they say they are from Mexico or Guatemala, the most they'll get is a Spanish-English interpreter.
In addition to the language barrier, indigenous women migrants face other challenges. Many come from extremely poor rural areas, and when there are opportunities for formal education, men take priority. When they come to the United States to work, these multi-layered vulnerabilities—being female, migrant, indigenous, undocumented, and lacking formal education—make them targets of sexual harassment and labor abuse.
For many of these migrant women, this violence has an even deeper impact. Indigenous worldviews tend to be based on a strong attachment to community; some indigenous societies will bury the bellybuttons of their children in the places where they were born, as a testament to their connection to the land. The decision to migrate, then, is not something that's taken lightly. Yet this uprooting, with everything it represents, is increasingly the only way to escape conflict and persecution—the only way they can cope with the impacts of climate change or the dispossession of their land.
This quality accompanies indigenous women as they migrate, but many find that they must leave it behind when they reach their destinations. To find a job and a better economic situation, indigenous migrant women must distance themselves from their land, their traditions, their relationships with other women, and the safety net provided by their community. When thit happens, it is only by building a new network in the places where they settle that they can move forward, in spite of everything.
Solitas – Alone
Rosario is thin, with brown skin, long dark hair, and an easy smile. Wearing tight pants, sneakers, and a sweatshirt, she was sitting in a waiting room between two men in suits looking at their phones. At any moment she would be called into one of the rooms in that building of white corridors and icy walls that houses the Federal Immigration Court. 14 years old, and without a lawyer to represent her, Rosario was about to sit and face a judge for the first time in her life.
Rosario is from Sensuntepeque, El Salvador, and was arrested while trying to enter the country without documents and without the company of an adult, joining the other 52 thousand underage minors who were detained in the Southwest US-Mexico border region in 2014—kids like her, who left Honduras, El Salvador, Guatemala or Mexico to join their parents in the United States, to look for a job, or to escape violence. 
María is Rosario's mother. It had been seven years since they had last seen each other, when María left her five children in Rosario's care. Since coming to the United States, María has worked in the fields of California, planting and harvesting. She doesn't speak English and has a hard time reading and writing, but she found a way to make enough to send money back home, and to build up some savings. When she had finally saved up the $18,000 she needed to hire a "reliable" coyote to bring Rosario up from El Salvador, she didn't hesitate.
"They told me it was that expensive because it was safe and because she wouldn't have to suffer," María told me, standing in one of the courthouse corridors. Small in stature—Rosario is already taller than she is—María's face reflected her anguish as she spoke about the threats to her family: they came at night, to her mother's house, her children's grandmother, demanding a "fee," demanding extortion. Her mother gave them what money she had, but they threatened to return. That's when María decided to get her daughter out. "They promised me that they would take care of her, that she would be safe, in a car, that she would arrive safely. But she didn't. They made her travel on foot, or crammed into the trunk of a bus, and in the end, look—she got caught.
When Rosario was detained by the authorities, María received a phone call: her daughter was at the Los Angeles immigration detention center and María needed to start the process of trying to get her out. Rosario was taken to a shelter where she stayed until María could prove that she was her mother, and that she had the financial means to support her. At the shelter, María was told that there was already a deportation process underway, and that Rosario had an order to appear before an immigration judge. With limited finances, unable to speak English, and with no knowledge of the US legal system, María didn't know what to do to keep Rosario from being sent back to El Salvador. All she knew was that they had to be in court on the appointed date and at the appointed time.
When the clerk called Rosario's name, they went inside and sat on a bench in front of a judge whose back faced the beaming shield of the Department of Justice of the United States. Next to the judge was an interpreter; Rosario and María put on headphones to listen to the Spanish translation. Maria, eyes wide, was slow in answering the judge's questions, and at one point told the judge that that she did not understand what was being said. The judge asked Rosario if she had a lawyer. The girl's leg twitched nervously. In the end, the judge decided to grant them an extension so that they could get a lawyer, and set a new appointment to appear. For the time being, María would have eight months of peace.
***
The testimony of a teenage girl: "It's been two years since I have seen my mother. She is in Guatemala. I was there too, but my mother brought me and left me here. My other brothers and sisters are with their parents in Chichigalpa. My older sister is in Guatemala—she's 14 years old—and she's already married there. My mom came to drop me off at her uncle's here in Las Salinas... I didn't know him. I miss my mom. I do my chores before I go to school in the afternoon: I clean, I run errands and attend to the people who come in to shop. Sometimes I'm scared, especially when I'm here alone with my uncle.
***
Following the so-called "wave" of unaccompanied Central American migrant children, activist organizations began receiving information about abuses committed by immigration authorities against these children, and in response, several legal defense groups took action and filed suit. It was because of these lawsuits that hundreds of cases of rights violations against these children became known. For example, in the case of I–, an 11-year-old girl, legal groups petitioned the Department of Justice to have her deportation order rescinded because the interview that immigration authorities conducted to determine her chances of staying in the country legally was held under conditions of confinement and violated standard rules and regulations. The application states that I– stayed four days at a processing center on the border and was then transferred to a military shelter, where she stayed for another seven days. In those eleven days, I– lost about eight pounds: she ate almost nothing during this time, and was kept in cold conditions with fluorescent lights on day and night.
Among other reported cases, there is that of D–, a 16-year-old girl kept in a cell full of adults. When agents came to inspect her, they forced open her knees and touched her genitals. Or the case of K–, a 14-year-old girl who had her medicine confiscated when she was detained by agents from Customs and Border Protection (CBP). During her time in the cell where she was being held, K– suffered a number of asthma attacks. The officers threatened to punish her if she "didn't stop pretending." Then there was C–, a 17-year-old girl who was kept in an "hielera," or ice-box—the name detainees call the freezing cold cells where they are held, often still in wet clothes. C–'s cell was so cold that her clothes took more than three days to dry out. The only water to drink was what was in the toilet tank. The toilet was in clear view of the other detainees, with a video camera above it.
Mothers without children
Mercedes Moreno is always smiling. It's not a friendly or happy smile. It's a calm, patient smile—nothing seems to make it go away. Sometimes it softens a little, but the shape of the smile is always there. No matter what she hears, Mercedes' eyes never tear up. It's as if one day, just like that, she stopped crying.
28 years ago, in 1991, Mercedes' son, José Leónidas Moreno, disappeared. 
José Leónidas, just like the rest of his family, was from El Salvador but lived in Colorado, where one day he was detained without documents and then deported. Somewhere between Mexico and Guatemala, on his way back, he disappeared and was never heard from again.
Ever since then, Mercedes, who lives in California, has been travelling back and forth, tracing her son's route, wearing a picture of him on her chest. For several months, Mercedes' sign showed a skinny and smiling 20-year-old José Leónidas, below the number "45," with the five crossed out and a number six written over it in marker: Mercedes explained that José Leónidas had already turned 46. That was four years ago. Today, the young man in the photo would be 50 years old.
Perhaps those who best represent the tenacity and resilience of migrant families are the mothers who leave their children behind and don't see them again for many years, or the mothers who watch their children leave for the US, never to hear from them again. Every year, during a three week period between November and December, the Mesoamerican Migrant Movement, a group led by Marta Sánchez, travels the migration routes from Honduras to the United States with photographs hanging on their chests, just like the one Mercedes wore for nearly 30 years. On these trips, some of the women have found their son or daughter. When this happens, everyone celebrates, because they know that it's possible that next time it could be their son or their daughter—though their eyes often reflect that dark cloud that inevitably hangs overhead, telling them that their determination might be stronger than their hope. Some women who have lost a daughter will bring along their granddaughters or grandsons, who learn from a young age that to find one's mother, one must go out on the road.
In recent years, as disruptions in the world of organized crime in Mexico have caused a proliferation of violence along migration routes, the mothers of the Mesoamerican Migrant Movement no longer only travel the normal routes—they also search in areas where they've been told they might find mass graves of unidentified bodies. With a metal rod, they perforate the earth in the hope that a putrid smell might tell them that there, beneath the dirt, are the bones of a child.
Which is the worst pain? The pain that leaves you most broken? Never finding your child again, or finding your child like this?
Yolanda Mijangos and her daughter Zulma came to know this second kind of pain three weeks after their oldest son, Robin, left home. At 28 years old, Robin had taken care of the family ever since his father had abandoned them 15 years prior. With a mother, two little sisters, and a house in Sipacate, Guatemala, Robin found happiness in the happiness of others: to make sure Yolanda, his mom, had everything she needed in her kitchen; that Karina could go to school and become a teacher; that Zulma, the youngest, would always keep smiling. 
On August 2, 2010, Robin left heading north. His last contact with his family was ten days after he left, when, in a confusing and garbled phone call, he told his mom that he had been detained at a checkpoint. 12 days later it was August 24, the day many people heard the name Tamaulipas for the first time. Robin, along with the bodies of 71 other migrants, was found on a ranch in northern Mexico. He had been shot to death with his hands tied. When his casket arrived in Sipacate, the heartrending "hijo de mi alma" ["son of my soul"] that rose up from the depths of Yolanda's throat gave voice to all the pain she had held inside as a mother for nearly 30 years.
***
The women who traverse the migration trail, from Honduras, El Salvador, and Guatemala, across Mexico and into the United States, have not only had to cross physical borders between countries. At every step of their journey, they have broken through personal borders as well. They have mustered a willpower much stronger than fear, and have continued to resist in the face of a violence that never ends. But there is something that we should never forgotten: these women are much more than refugees who have suffered and survived trauma. On top of all that, they have also felt joy and happiness. They have also lived lives filled with laughter and love. Telling their painful stories, far from turning them into eternal victims, should serve to remind us that every person exists in their entire humanity. We tell these stories so that oblivion cannot win. Suffering is not what defines these women. It might, however, help us understand them better, and help make crossing all those borders worth the pain.
*This essay is part of the series "Mujeres que migran. Retrato del viaje eterno en Mesoamérica" ["Women Who Migrate: Portrait of an Eternal Journey in Mesoamerica"], a project of El Faro in collaboration with Médicos del Mundo/Doctors of the World, with support from the Xunta de Galicia.
*Translated by Max Granger
Apoya el periodismo incómodo
Si te parece valioso el trabajo de El Faro, apóyanos para seguir. Únete a nuestra comunidad de lectores y lectoras que con su membresía mensual o anual garantizan nuestra sostenibilidad y hacen posible que nuestro equipo de periodistas llegue adonde otros no llegan y cuente lo que otros no cuentan o tratan de ocultar.
Te necesitamos para seguir incomodando al poder.
¿Aún no te convences? Conoce más sobre cómo se financia El Faro y quiénes son sus propietarios
acá
.
elfaro.net/en/202007/internacionales/24631/Three-Borders-Between-Violence-and-Oblivion.htm

PP:
PC:
PN:
PT:
items_count:
items_pivot:

YY:

MM:

FI slug:
FI name: July 2020
FI sort:

FT slug:
FT name:
FT sort:

FS slug:
FS name:
FS sort: