Costa Rica has built a global brand as a standard-bearer for biodiversity, reforestation, and ecotourism – but when it comes to its fight against the climate crisis, a reality check is no further away than a drive down any San José street at rush hour. Spoiler alert: It'll be a slow trip. 
The small Central American country's capital is besieged by gridlock and aging vehicles, making transportation far and away Costa Rica's leading source of greenhouse gas emissions. That's why any discussion of Costa Rica's climate change policies turns quickly to public transport issues, where a number of young leaders are spearheading efforts to free San José and the rest of Costa Rica from dependency on fossil fuels and achieve zero net emissions by 2050. This new generation of climate innovators has been boosted by the 2018 arrival at Casa Presidencial of Carlos Alvarado, who, at forty years old, is the youngest Costa Rican president of the modern era, and First Lady Claudia Dobles, an architect who has made the country's public transportation her area of focus.
The electric train project Dobles champions as part of the country's climate strategy has been subject to a wave of resistance during the global pandemic: the next step for the project is the legislative approval of a $550 million loan, a hard sell during a period when national unemployment has reached a historic high of 24 percent. However, climate activists point to a silver lining, claiming that COVID-19 has created opportunities in climate change mitigation as well. For example, it has made massive shifts to virtual work, once a point of contention in Costa Rica, an overnight reality across all kinds of institutions.
"Telecommuting is a mitigation strategy for this country, but it faced huge resistance," says Andrea San Gil, 32, the founder of the Center for Urban Sustainability and co-founder of Agile City Partners. "Now it's almost the status quo." 
Trouble on the Tracks
Costa Rica's successes in the field of climate change mitigation roll off the tongue not only of policymakers but also of hotel owners, tour guides, and many of the tourists the country receives each year. It has protected nearly 25 percent of its national territory from development and, through a number of successful reforestation efforts on land formerly used for cattle or monocultures, has achieved 50 percent forest cover. The country's hydroelectric projects have their own negative social and environmental impact, but hydropower has allowed Costa Rica to make headlines around the world: for more than five years, upwards of 98 percent of the country's energy has come from renewable sources. (More than 67 percent of that came from hydro in 2019—with wind, geothermal, biomass, solar power and backup plants supplying the remainder.) 
Public transportation, therefore, remains the biggest hurdle to Costa Rica's fossil-free goals. More than 50% of the country's total emissions come from its public transport sector, and the sector is a focal point of Costa Rica's National Decarbonization Plan. The plan calls for a massive shift to electric transport: electric trains in service by 2022, the end of Alvarado's term, and most cars and buses shifting to electric by 2050. 
The electric train project's hefty price tag has earned opposition that became increasingly fierce when the COVID-19 crisis and the closure of Costa Rica's borders caused the suspension of all tourism, the country's leading industry, and created the worst economic crisis since the early 1980s. In early August, as the country's legislative calendar entered a session in which the Executive Branch selects the priorities for discussion, Alvarado's administration chose not to put the $550 million loan from the Central American Economic Integration Bank (BCIE) on the assembly's agenda. 
"People are saying: this is a luxury. It's not the time," explains San Gil, noting that another major priority of the Decarbonization Plan — reorganizing the city's chaotic system of bus routes — is being similarly cast aside. "There, the argument is that the [bus] sector is in crisis, so how are we going to renegotiate public bus contracts and change the rules? The bus sector has even claimed that the money for the train should be used to rescue bus companies… People don't see that investing in public transport generates long-term economic, social and environmental impact, as opposed to continuing to invest in building highways."
Biologist Ximena Loría is the founder and executive director of Misión Dos Grados, a citizen advocacy movement focused on climate change. She agrees that the tensions raised by short-term emergency response issues have clouded some sectors' vision of the longer-term climate crisis.
"This focus just on the cost of the [train] and not its economic benefits, shows how some people continue to have a very fragmented view of the many resources the country has for an economic recovery based on a green economy model," she says, calling out the typical leaning toward short-term benefits that continues to block substantive change.
Building a Better City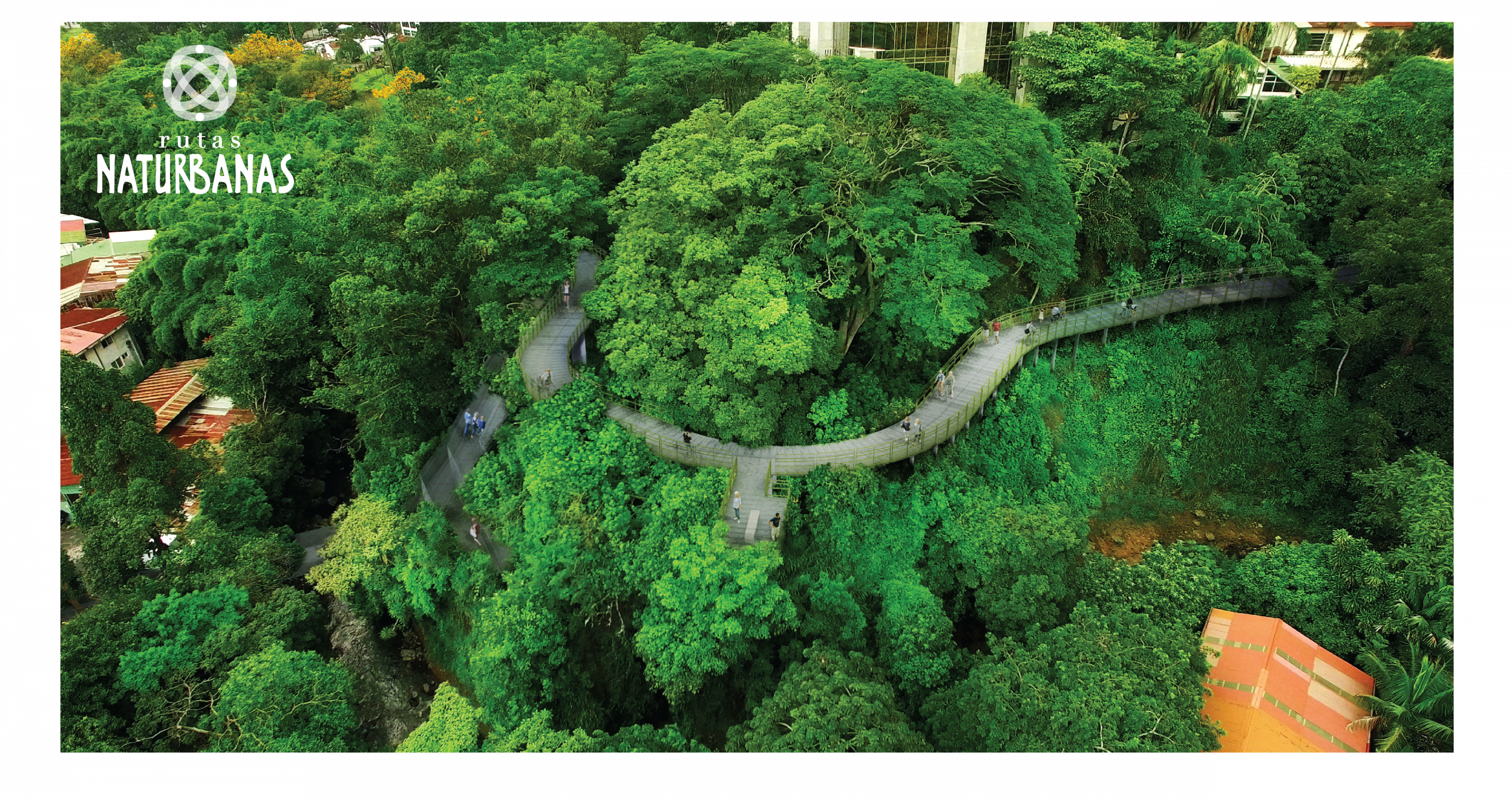 This kind of confrontation between traditional sectors is precisely what Federico Cartín has tried to circumvent through the ambitious project he founded in San José, Rutas Naturbanas, which seeks to transform mobility in the city through a network of bike and pedestrian paths along the capital's rivers. The economist and urban planner, 40, says the initiative has united a group of what he calls "unusual suspects."
"You won't [generally] see a lot of developers or bus company owners or cab drivers rooting for space for cycling or running or walking," Cartín says. "Rutas Naturbanas is able to create that emotional connection to something that is very intrinsic to Costa Rican values, which is our connection to nature." Because his project — which inaugurated its first segment in January and is preparing for additional construction on its path towards a 25-kilometer network crossing the entire capital — adds value to problematic, polluted areas without removing space from vehicles on the city's streets, it has allowed unlikely partners to join forces, he says.
For Cartín, there's no question that addressing Costa Rica's urban problems must be at the heart of its climate crisis strategy. Those problems — not just transportation, but also overcrowding and a lack of safe urban spaces in low-income areas — have been cast into sharper relief by the COVID-19 crisis.
"People who are making decisions come from a position of power and privilege. We've segregated ourselves, and of course this is part of what's fueling this rage, this battle of classes," he says. "Climate change is really that, when you think of it: on a macro scale, this is the dialogue that powerful countries are having with smaller countries, the tension during the climate change negotiations in Paris. Smaller countries saying, 'We need to develop, and it's not fair that you impose [restrictions] on us after you consumed a lot of energy and created a lot of climate emissions.'" 
Loría echoes this point, arguing that engagement with climate issues (or lack thereof) during the pandemic splits along lines of economic stability.
"In general, people who have been most affected by the pandemic have left their environmental actions to the side, since their immediate worries are determinant," she says. "But people who have managed to keep their jobs, their studies and their lifestyles still have a strong focus on actions against climate change, because they see that the climate crisis will hit us even harder than the global pandemic."
Room for Central American Collaboration
For Loría, 40, the country's youth are the key to resolving standoffs like these. She says that while some Costa Ricans have become less engaged with climate issues during the pandemic, the country's youth are overwhelmingly passionate about the issue.
"They're very involved in seeking solutions for what they define as their next threat," says Loría. "Even virtually, these groups of young people are promoting awareness in society and participating more actively." 
She adds that the Costa Rican government and organizations like Misión Dos Grados are "involving Costa Rican youth in the creation of policies and metrics related to climate change, such as updating the Nationally Determined Contributions (NDCs)."
The carbon emissions of the five million people who call Costa Rica home are, of course, a drop in the bucket on a global scale. However, Costa Ricans engaged in the climate crisis often characterize their country and its increasingly powerful youth movements as a potentially important source of inspiration for climate crisis mitigation efforts in other countries.
San Gil says the forced shift of workspaces to virtual formats has opened the doors to enhanced collaboration across borders. More fluid cooperation among the countries of Central America is no exception.
"There is a huge opportunity to share experiences and highlight best practices. This pause has allowed us to accelerate our learning curve… [in sustainable transportation], we're compiling and sharing so much information in real time," she says, adding with a laugh, "There's been an overload of webinars."
Cartín says he sees potential for regional collaboration because of something much more tangible: the topographies shared by the regions' cities.
"We all have a lot of little creeks and rivers criss-crossing the cities [in Central America], so these are huge opportunities in terms of how we can move throughout them," he says. "Especially since we're in the tropics, greening the cities with trees is a huge way of reducing the heat island effect and creating opportunities for people to move in a sustainable fashion." 
COVID-19 is forcing us all to reconsider the inequalities and shortcomings of our urban system; it may also be opening the door for finally implementing much-needed change. As Cartín puts it: "Nature is calling."