Online Classes, Offline Students — A Pandemic of Inequality in Panama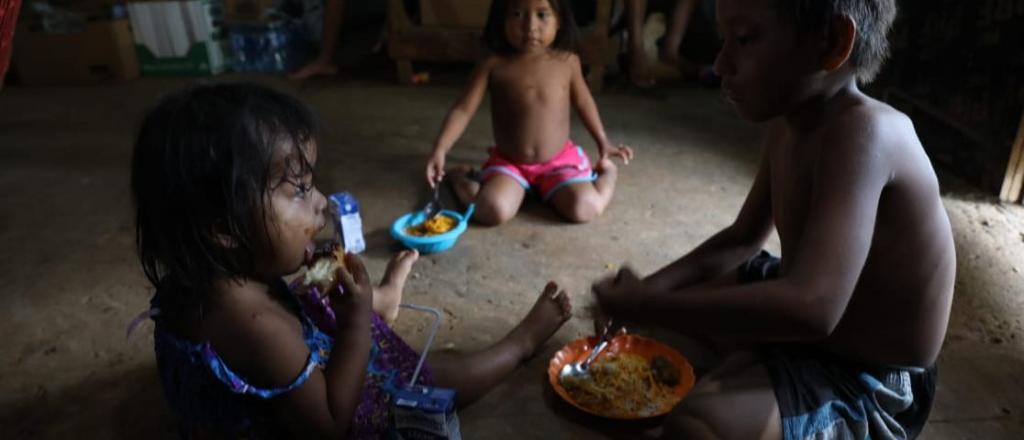 More than 219,000 public school students in Panama—three out of every ten—lack the resources to connect to distance learning environments. Obstacles of access to cell service, Internet, and other technologies are leaving many children behind, compounding the inequality that cities and towns along the banks of the Canal, which are already dealing with the impacts of the Covid-19 crisis, have suffered for decades. In the "hub of the Americas," thousands remain disconnected.
This story was originally published in Spanish at Revista Concolon.
On June 20, when the Panamanian government ordered all schools to institute distance education after four months of suspended classes, Yaribeth knew her daughter Cristal would lose the whole year. The situation felt hopeless: In their small town of Katuma, Yaribeth and Cristal don't even have electric lights, much less the cell phone or Internet access required to participate in online classes. It felt unfair that after four months since her daughter started pre-school, in a community on the outskirts of the capital city, but still in the middle of nowhere, Cristal was suddenly expected to go online every day from 8:00 am to noon, or she would miss class. 
"Right now my daughter isn't in school because there's no way for us to connect with the teacher. We can't afford to buy a cell phone, and she doesn't have the right tools and all the other supplies," she said. 
Katuma is a small Indigenous community nestled in the rainforest on the banks of the Chagres River, in the Panama Canal basin. Together with the neighboring villages of San Antonio Wounaan and Ella Puru, the roughly 30 families who live in the area, including Yaribeth's, survive primarily on the community's small ecotourism economy. Tourists arrive by small boat to observe local Emberá-Wounaan traditions, hike the trails that wind through the rainforest, and breathe the thick jungle air. But since the beginning of the pandemic, tourism here has been suspended, which is why Yaribeth doesn't have any money to buy a cell phone for her daughter to connect to classes. Their situation is far from uncommon: three out of every ten students in the country, or more than 219,000 children and teenagers, are currently unable to connect to distance learning resources.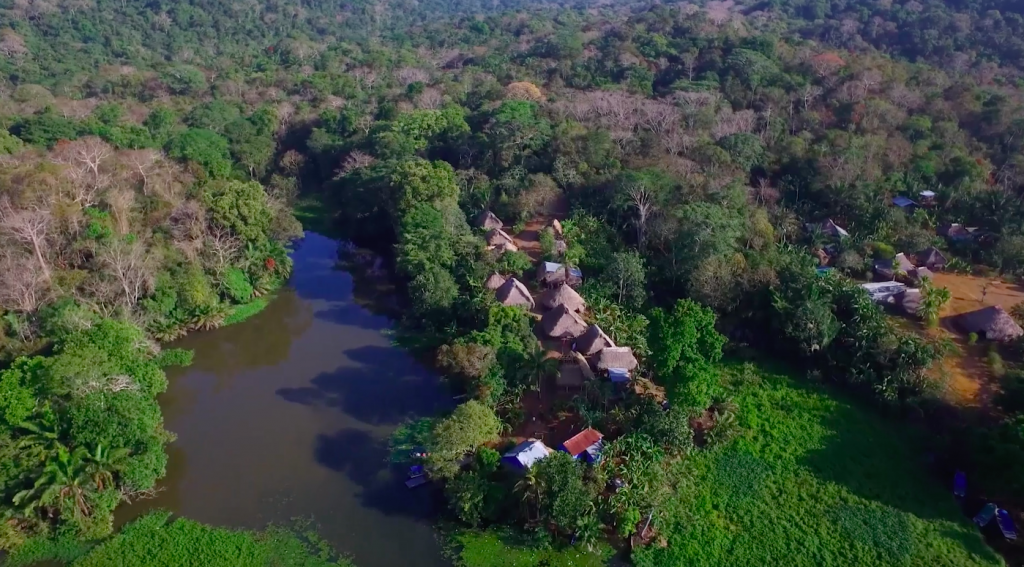 Cell phones are essential tools for Panama's students this school year, but there was never a time when they were accessible to everyone. According to the government, 96% of residents have access to phones, but cell service is only available in 38% of the country. Of the phones that exist, only 16.6% are under contract and only 11% can access fixed broadband. "In other words," according to the Centro Internacional de Estudios Políticos y Sociales AIP-Panamá, a public policy research institute, "those Panamanians who do have reliable cell phone and Internet access are mostly people who live in cities and use prepaid services."
Cristal's hell actually began four months earlier, one muggy tropical morning as she attended her first classes at the Omar Torrijos school in a town called Paraíso. Only a few meters from the Panama Canal—that bridge between worlds, which just last year recorded US$ 3,365 million in revenue—Cristal sat excitedly through her first days of class, not knowing they might be her last.
That morning, Cristal had left Katuma by boat, crossing the Chagres River and then catching a bus in Gamboa and eventually walking the rest of the way to school—a journey that every child from Katuma who wants to attend classes must grow up making. And although Omar Torrijos is famous for being the first school founded in "las areas revertidas"—sections of former U.S. territory reclaimed by Panama in 1999—it is also known for the profusion of sewage that flows past the school's campus, impacting more than 600 students. But that morning, nothing could dampen Cristal's enthusiasm—until, suddenly, the teacher ended class with a farewell that, to Cristal, felt more like a sentence: "You won't be coming back to school anymore. Covid-19 has arrived."
This was the same news that more than 905,000 students across the country received this June. Of that total population of students, 82% are enrolled, like Cristal, in Panama's public education system. As this news spread across the isthmus, region-wide, according to UNESCO, the pandemic had already impacted roughly 156 million school-aged children and teens. Global statistics from the end of March were as follows: nine out every ten students, across 190 countries, have experienced interruptions in their education due to school closures.
With the world paralyzed and the borders of "the hub" shut down, the Panamanian government has had to look inward as it confronts deep and centuries-old inequalities compounded by the unforeseen challenge of distance education. "Panama doesn't have the necessary programs, technological infrastructure, or professionals trained in remote learning modalities to guarantee the educational continuity of all students," the country's Ministry of Education (Meduca) confessed. Given this reality, students like Cristal have had to resign themselves to being left behind.
Before July, even many teachers lacked the ability to connect with students. "All those months, I was disconnected," says Mr. Mendizama, a teacher from Ella Puru. As the sun sets over the Panama Canal basin, Mendizama tells me how, in May, the government launched the Conéctate con la Estrella project, which broadcasts clases over the radio and on TV. But only a few schools were able to use these or other media to conduct classes, and between May and July, according to Meduca, only 831 out of the country's 3,179 schools had successfully implemented some form of remote learning. Tired of the darkness and disconnection, Professor Mendizama resorted to asking a neighbor who owned a television to let him use it to review his lessons. But he felt frustrated and incapacitated by his inability to communicate with his second graders at the Nuevo Progreso School, who faced a similar reality to that of the "offline" students of Ella Puru, San Antonio Wounaan, and Katuma.
A recent UNICEF study found that in Panama, 53% of all households surveyed reported children and adolescents who had received some form of distance education between May and June. According to the study, the form this distance education took corresponded to the socioeconomic status of the household and school. For example, households with children that attend private schools use more virtual platforms that allow for interacting with teachers, as well as downloading and sending materials from home. Households with a monthly income of less than US$ 1,000, or whose children attend public school, use less interactive technologies like radio and TV. Homes in Darién Province and the semi-autonomous Indigenous territories known as the "comarcas"—where nearly 100,000 Panamanian families do not even have access to electric power—were not included in the survey.
"I see the children of Ella Puru, San Antonio Wounaan, and Katuma, but I know it's something that happens all over the country," Mr. Mendizama tells me. "The situation is especially hard for unemployed parents." In this new normality plagued by old problems, houses have been turned into classrooms. But many families have lost everything. In the last month, three out of every four households in the country have suffered a partial or total loss of income, according to UNICEF. In Katuma, Ella Puru, or San Antonio Wounaan, offline students like Cristal don't have lights or solar panels, much less a radio or TV to listen to or watch classes. The government is promising to send help, but it won't be arriving until at least one month after the start of the school year.
Cristal first managed to connect with her teacher three days after the start of the new school year. Now she is only able to connect once a week. Frustrated by the situation, her mother, Yaribeth, walked to the nearby village of San Antonio Wounaan to ask for help from a neighbour, who has a cell phone and whose son is in the same class as Cristal. "He's more advanced than my daughter now, because his family has phone access and can communicate every day with the teacher and do the homework. But we can't," she says.
When remote learning was first instituted, the first thing Mr. Mendizama did was purchase a prepaid card to add data to his phone. "There's zero support," he says, "as a schoolteacher, it's up to you to figure it out. One way or another, you have to invest in your students." Mendizama has students that are disconnected for three or four days a week. Having lived under similar circumstances, he understands their situation. "This year has been really hard. If there's no work, how can you buy cell phone data? Some parents are able to buy three dollars worth here or there, but that's not enough. Think about the families that have only one phone for three or four children. I do what I can to help," he told me in an interview over the phone. Ten years ago, he did just that. When Mendizama was teaching at a school in the Emberá Drua community, he received a grant of US$ 10,000 to install solar panels and Internet service. Now he dreams of reproducing a similar success in Ella Puru.
"The health crisis has highlighted the inequality gap," Meduca explains in their guidebook for remote education, "and we should also remember that many of our students face complicated situations at home, which are directly or indirectly affected by the pandemic. These factors have an impact on their level of performance and their ability to follow along with the educational process."
Inequality in education access is a form of violence that has plagued Panama for decades. Last year—pre-coronavirus—there were 136,584 school-age children and teenagers who did not attend classes. That same year, 14,000 students dropped out of school, and results from the OECD's Programme for International Student Assessment (PISA) ranked Panama 71st out of 79 participating countries. Two striking statistics offer insight into the state of education in Panama, the sixth most unequal country in the world: Nationwide, only 47% of schools have Internet access, and only 52% have potable water—a resource critical for washing hands and combating a virus that continues to menace the world. The Panamanian Minister of Education herself, Maruja Gorday, has confirmed that more than 200 schools across the country are in critical condition, and says there are some teachers who walk two or three days to get to classes.
The disconnection faced by Cristal and Mr. Mendizama, like that faced by thousands of "offline" students and public school teachers across the country, did not begin with the pandemic. It is a chronic condition of the Panamanian system.
*Translated by Max Granger
Apoya el periodismo incómodo
Si te parece valioso el trabajo de El Faro, apóyanos para seguir. Únete a nuestra comunidad de lectores y lectoras que con su membresía mensual o anual garantizan nuestra sostenibilidad y hacen posible que nuestro equipo de periodistas llegue adonde otros no llegan y cuente lo que otros no cuentan o tratan de ocultar.
Te necesitamos para seguir incomodando al poder.
¿Aún no te convences? Conoce más sobre cómo se financia El Faro y quiénes son sus propietarios
acá
.
elfaro.net/en/202009/internacionales/24779/Online-Classes-Offline-Students-%E2%80%94-A-Pandemic-of-Inequality-in-Panama.htm

PP:
PC:
PN:
PT:
items_count:
items_pivot:

YY:

MM:

FI slug:
FI name: September 2020
FI sort:

FT slug:
FT name:
FT sort:

FS slug:
FS name:
FS sort: