Migration (don't use this one)
Amy Coney Barrett's Confirmation Is a Risk to Migrants and Asylum Seekers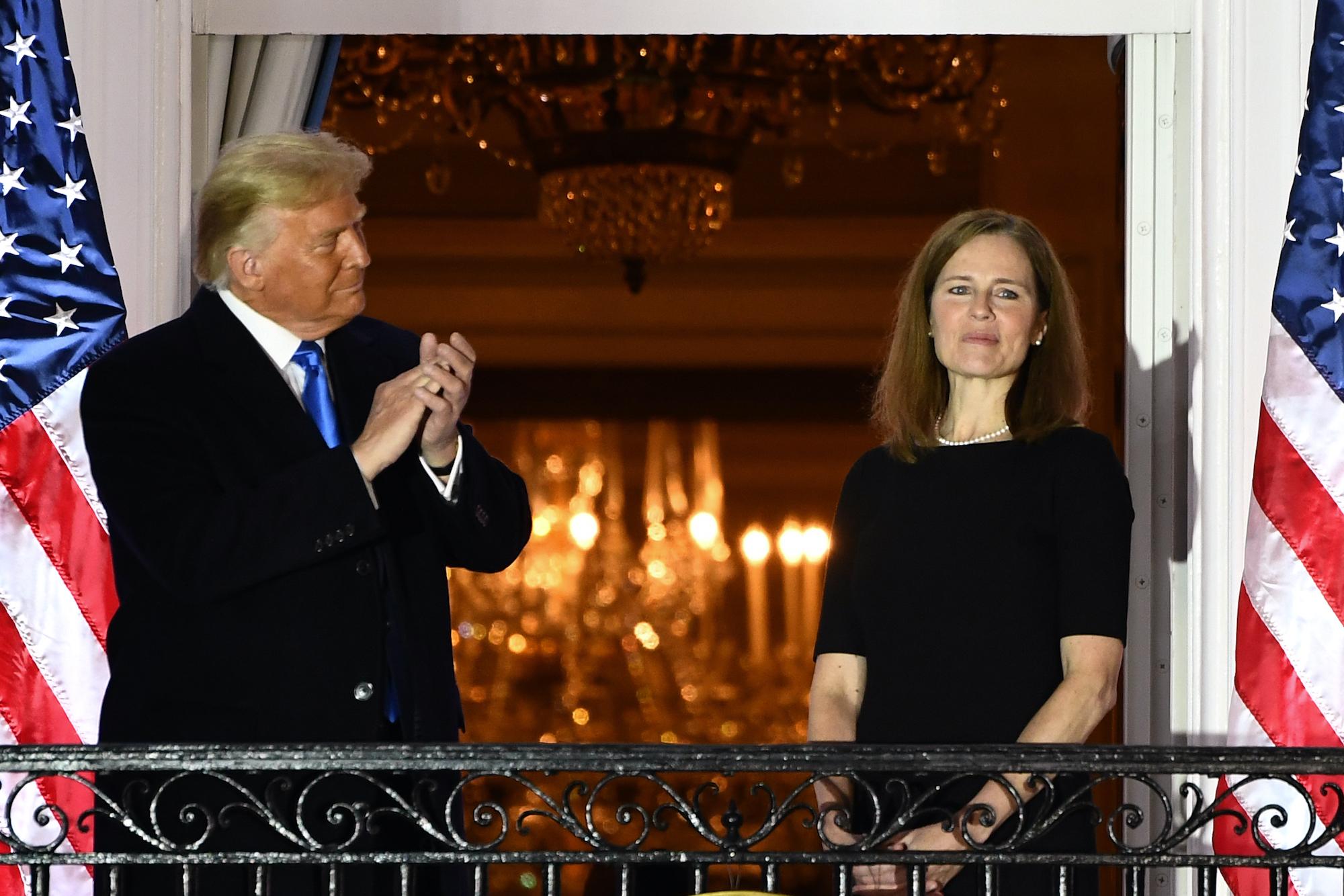 The confirmation of Judge Amy Coney Barrett as a Supreme Court Justice on October 26, 2020, came just a few days before the U.S. presidential elections. Her confirmation was pushed through by the Trump Administration despite calls and votes against her nomination by Democratic senators. Her confirmation means that the Supreme Court will have a new judge willing to defend the anti-immigrant and anti-asylum policies that have put the lives of thousands of people at risk over the last four years. Given the number of immigration cases that could ultimately be decided by the Supreme Court, this is deeply concerning.
Amy Coney Barrett became the sixth judge to be confirmed by Republican presidents and joins a minority of three justices appointed by Democratic presidents. The highest court in the United States will now have a conservative majority for years, and possibly for decades, to come.
Regardless of the final outcome of the U.S. presidential election, Barrett's confirmation means that there will be more support for the anti-immigrant policies implemented under the Trump Administration, which could ultimately be decided by the Supreme Court in the future.
Judge Amy Coney Barrett's track record in the lower courts is relatively short—she was appointed by President Trump to the Seventh Circuit Court of Appeals and only served three years before being appointed to the Supreme Court. But even during this brief period, she issued decisions based on a very rigid interpretation of the law, regardless of the negative impact the decision could have on the lives of immigrants and asylum seekers.
For example, in 2018, Barrett denied asylum protection to Gerson Alvarenga-Flores, a Salvadoran survivor of a brutal attack from the MS-13 gang, just because of minor contradictions in his court testimony. Another judge said the discrepancies in his testimony were "irrelevant," but because of Barrett's decision, Alvarenga-Flores was deported and his life remains at risk. Barrett demonstrated that she fails to understand the trauma suffered by asylum seekers and how it impacts their ability to give testimony on the persecution they've suffered, especially when a long time has passed between the incident and their court testimony, as was the case of Alvarenga-Flores, who had to give his testimony four years after the crime occurred.
This was not the only time that Barrett denied protections to asylum seekers in the United States. In at least ten other cases, Barrett voted with other justices to deny asylum seekers' petitions for review by the Board of Immigration Appeals (BIA), even though they shared clear evidence of persecution — setting precedents for the limited possibilities that future asylum applicants have to dispute their cases.
Barrett has not only issued decisions that resulted in the deportation of people fleeing persecution in their countries, she has also ruled in favor of one of the Trump Administration's policies that punishes immigrant communities in the United States. In a case before the Seventh Circuit Court of Appeals that tried to block its implementation in the state of Illinois, she voted to maintain the "public charge" rule, which seeks to deny permanent residence to applicants who the government believes may become dependent on public benefits. Fortunately, the suspension of the rule was still temporarily upheld, but her written dissent made her opinion clear that the rule could not be considered "unreasonable." Barrett also once issued a ruling against a U.S. citizen who argued that his wife's visa had been wrongly denied by a consular officer and required a review. This decision by Barrett could impact the chances that visa applicants have to dispute arbitrary denials in the future.
While it is true that there have been some cases in which Barrett aligned herself with more progressive judges to review deportation orders or asylum petitions, according to a report by the nonpartisan watchdog organization Accountable.US, she ruled against immigrants in nine out of ten cases throughout her time on the Seventh Circuit Court of Appeals.
Unfortunately, Barrett's appointment puts a lot at stake for immigrant communities in the United States, as well as for the tens of thousands of asylum seekers, mainly from the northern countries of Central America, but also from other countries, who have been waiting at the U.S.-Mexico border for months due to unlawful policies such as the illegal waitlists and the Remain in Mexico policy that the Trump Administration has implemented to restrict or block access to asylum in the United States. The chaotic implementation of several of these policies and their violations of U.S. and international law have resulted in lawsuits in the lower courts that could eventually make it to or are already being considered by the Supreme Court. In fact, some new cases already on the list to be decided by the Supreme Court include a lawsuit against the Remain in Mexico policy and a lawsuit over the Pentagon's $2 billion investment in the construction of the border wall between the United States and Mexico.
Fortunately, the Supreme Court already ruled on the DACA program last June and decided to uphold it, blocking Trump's efforts to end it, protecting more than 700,000 Dreamers so that they can continue to live and work in the United States. However, if the Trump Administration wanted to end the program again or if new lawsuits are presented, the case may go back to the Supreme Court. There are currently several lawsuits against the cancellation of Temporary Protected Status (TPS), affecting more than 300,000 Hondurans and Salvadorans, in the lower courts and that could possibly move on to the Supreme Court. In one such case, the Ninth Circuit Court of Appeals issued a decision that, if not reheard, could end protection for Honduran and Salvadoran TPS beneficiaries as early as March and November 2021 respectively. Department of Homeland Security automatic extensions may still prolong these terminations for a few months longer in 2021, but DACA and TPS recipients continue to face uncertainty, and it is critically important that Congress immediately pass legislation that gives them a path to citizenship.
At her Senate confirmation hearing, Senator Cory Booker asked Amy Coney Barrett about the zero tolerance family separation policy implemented by the Trump Administration, and she declined to respond, even when he asked her if, as a human being, she considered it to be wrong. Unfortunately, her record on the rights of immigrants and asylum seekers is enough of an answer and is as worrying as her record on the sexual and reproductive rights of women and the rights of the LGBTQ + population.
The decisions to be made by the United States Supreme Court will have serious repercussions on immigrant communities in the United States and for migrants and asylum seekers from Mexico and Central America, regardless of the final outcome of the U.S. presidential elections. Unfortunately, everything seems to indicate that the confirmation of Amy Coney Barrett will not help to defend these rights.
*Daniella Burgi-Palomino is the co-director at the Latin America Working Group (LAWG) since 2019. She leads transnational advocacy campaigns with civil society organizations across the United States, Mexico, and Central America in favor of migrant and refugee rights and human rights defenders.
Apoya el periodismo incómodo
Si te parece valioso el trabajo de El Faro, apóyanos para seguir. Únete a nuestra comunidad de lectores y lectoras que con su membresía mensual o anual garantizan nuestra sostenibilidad y hacen posible que nuestro equipo de periodistas llegue adonde otros no llegan y cuente lo que otros no cuentan o tratan de ocultar.
Te necesitamos para seguir incomodando al poder.
¿Aún no te convences? Conoce más sobre cómo se financia El Faro y quiénes son sus propietarios
acá
.
elfaro.net/en/202011/internacionales/24997/Amy-Coney-Barrett%E2%80%99s-Confirmation-Is-a-Risk-to-Migrants-and-Asylum-Seekers.htm

PP:
PC:
PN:
PT:
items_count:
items_pivot:

YY:

MM:

FI slug:
FI name: November 2020
FI sort:

FT slug:
FT name:
FT sort:

FS slug:
FS name:
FS sort: