Migration
Central America
Politics
El Salvador
Guatemala
Honduras
United States
Migration (don't use this one)
Joe Biden
ef_english
"A Leader Unready to Go after Corruption Won't be a U.S. Ally"
Joe Biden stepping into the White House as president has broken the pact formed between the United States and Central America during the Trump administration: U.S. silence about corruption and the abuse of power in the region in exchange for Guatemala, El Salvador, and Honduras collaborating with the White House's brutal anti-immigrant platform. 
Juan González is the National Security Council Senior Director for the Western Hemisphere and, therefore, lead advisor to the president on Latin American policy. In a Spanish-language interview with El Faro, one of the first that any White House official has given to international media since the transition, González confirmed the change in course. Though his discussion about immigration revealed certain contradictions — he seemed to laud Guatemala's violent repression of a caravan of migrants that tried to enter from Honduras earlier this month — he also noted a new priority: "We have to return to the initiative that President Biden took in the White House as Vice President, which is to work with the countries in the region to resolve the issues of poverty, inequality, and insecurity, which is what pushes people to leave their homes and attempt the dangerous journey to the United States."
González knows Central America well. During the Obama administration he was Deputy Secretary for the Western Hemisphere in the State Department, and worked directly with Biden in his response to the unaccompanied minors crisis in 2014. In the interview, he confirmed that the fight against corruption will be a primary focus of the administration's policy toward the region. Announcing their intention of creating a "task force" through which the U.S. Justice Department assists federal prosecutors in Central America — who he says often work alone — in their investigations into corruption and organized crime, he also warned that governments will not be their only partners in the region: "In these countries there are very active civil societies that are demanding more from their governments, which is the right thing to do."
He also confirmed — as ex-ambassador Mari Carmen Aponte stated in a column published by El Faro on January 20, and as a tweet from the U.S. Embassy in El Salvador insinuated — that the Biden administration backs the initiative proposed to El Salvador's National Assembly by a group of NGOs to expand the powers of the CICIES and give it more independence from the Bukele administration. 
When asked directly for the opinion the Biden administration has for the Salvadoran President, González noted that there were "differences" and "concerns," and reiterated the necessity that regional governments demonstrate a commitment to fighting corruption. When asked about the Nicaraguan regime, he was much more forthright: "The actions taken by the Ortega administration against their own people… possibly constitute crimes against humanity."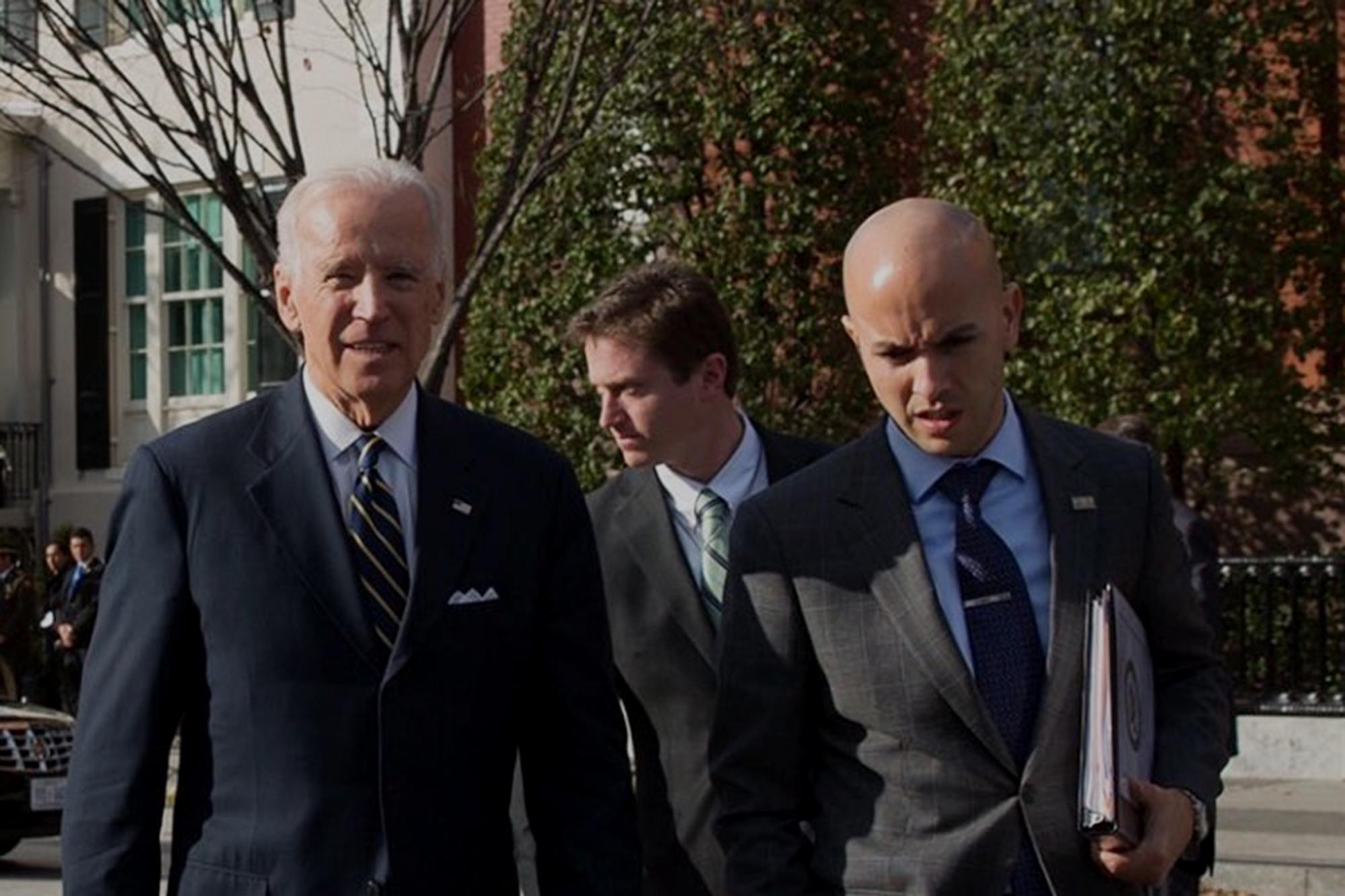 The pandemic, the economic crisis and state of politics in the United States, as well the difficult legacy of Trump's foreign policy, are all going to limit the scope of action that the Biden administration can take. What will be your priorities for Latin America?
The pandemic isn't going to limit the administration's mission in the region. Our weakness in controlling the pandemic in the United States requires cooperation with our allies in Latin America, the Caribbean, and Canada. We're already engaging in active dialogue. You'll note that during the transition, [National Security Advisor to President Biden] Jake Sullivan and ambassador Roberta Jacobson had conversations with the Mexican government about migration. They also talked about Covid. And right now we're having a similar dialogue with the Canadian government. 
And on the topic of irregular migration to the United States, there are implications for Covid. It's something that we need to take on together. The state of the border, our ability to manage the border has been damaged and inhibited by the previous administration's dismantling of the legal migration system. The clearest message that I could give to people who are thinking of migrating is: don't do it. The immigration reforms President Biden is proposing aren't going to affect anybody who wasn't already present in the United States before January 1. Not only that, but they would be taking a very dangerous journey and putting themselves and their families at risk. And they are going to arrive at a border where Covid is a very serious danger. And they're not going to be able to enter the United States and be processed.  
I need to recognize here the work that President Giammattei has done in managing the migration flows when the caravans started out. Unfortunately, the Honduran government, for the moment, their actions so far have been disappointing.
In reality, we have to return to the initiative that President Biden took in the White House as Vice President, which is to work with the countries in the region to resolve the issues of poverty, inequality, and insecurity, which is what pushes people to leave their homes and attempt the dangerous journey to the United States. 
President Biden himself has told us that his intention is to be very personally involved in this issue, because for him migration isn't just about dignity, but is a very important political issue for the United States.
We will focus on a commitment to work against corruption, because whether it's poverty, inequality, lack of representation, lack of opportunity, many of these issues begin with endemic corruption that we see in the northern triangle, as well as elsewhere in Latin America. And we need to admit that in the United States we have our own problems. So we have learned that we need to approach these issues with humility and in a spirit of collaboration. 
To implement the policies that you list, you need counterparts. How can you fight corruption with countries that have structural systems of corruption? 
The allies for the United States aren't only governments. The President has been very clear that he has committed $4 billion dollars for the four-year term. It's something that isn't going to have any impact without the political will of the governments to take actions that may be counter to their political interests, but for the good of their countries and against corruption. If they're ready to take this on in a serious way, they will have an ally in Joe Biden. 
But the allies of the United States aren't just foreign governments. They're also civil society organizations. And in these countries there are very active civil societies that are demanding more from their governments, which is the right thing to do. We also have the private sector. The commitment of the United States is a fraction of what the private sector can invest. And we also have the international community, which has the expectation that these governments take these steps. 
I'll repeat, all of this begins with corruption, with respect for institutions, resolving disputes through democratic and transparent processes. These are the ingredients of a robust democracy that responds to the needs of its people, and it's what, as an administration, we're trying to implement in our own country after four years of the Trump administration ignoring corruption in the United States and in the region. It's an issue we're taking on not only here, but in terms of foreign policy.
President Biden's plan for Central America includes the creation of a regional commision to fight against corruption. What type of a commision do you have in mind? What power would it be invested with?
The CICIG [International Commission against Impunity in Guatemala] has left Guatemala. The MACCIH [Mission to Support the Fight Against Corruption and Impunity in Honduras] left Honduras. And the CICIES [International Commission against Impunity in El Salvador] that's working in El Salvador, I don't know how effective it's been. To return to national commissions is something that takes a long time and we need to take action now. 
We recognize that there are very active prosecutor's offices in many of these countries. There's a very active Attorney General in El Salvador, as well as in Honduras, but for these regional prosecutors, including in Colombia and Mexico, the challenge for them to put together cases and do their work is that they're on their own. So we hope to find a way to give them support from the U.S. Justice Department as well as with other governments, and to put together a task force, a commision to work together to investigate cases and to give them the tools, such as the Magnitsky Act, that the United States has to go after criminal groups, after money launderers, by taking away visas, implementing sanctions. All the tools that the U.S. and international partners have to go after corruption, which is a scourge impacting the potential of countries like El Salvador, Honduras, and Guatemala.
Donald Trump seemed very comfortable with the Bukele administration in El Salvador. What opinion does the Biden administration have of Nayib Bukele?
Well, we are willing to dialogue with any government that has been democratically elected, but we are going to have our differences with Bukele's government. And we're going to voice worries in a respectful and well-meaning manner. But I'll repeat: a leader unready to go after corruption won't be a U.S. ally. 
This week the U.S. Embassy in El Salvador made a statement in support of strengthening the CICIES. Were they referring to the civil society initiative to give more independence to CICIES? 
That's right. And we aren't here to prescribe solutions. I think we are going to have to dialogue with civil society, with our embassy, with the Department of State leading our diplomatic efforts to see how we can work as a community with governments, civil society, and the private sector for the good of the countries. But I'll repeat, it all begins and ends with combating corruption and respect for institutions. 
Would the Engel List include Central American officials currently in office? For example, the President of Honduras is right now accused by a prosecutor in New York for allegedly receiving bribes from Chapo Guzmán. Could he be put on the Engel List, and how would that affect bilateral relations with Honduras?
I can't say exactly what we're going to do, but I can say that we're going to use all the tools that we have in the fight against corruption, and in support of democratic institutions in the region, which is the base of the consensus that we have in this hemisphere.
In the case of Nicaragua, do you think the United States can play a productive role in ending the democratic crisis?
Nicaragua is very worrying. The actions taken by the Ortega administration against their own people, using snipers to target peaceful protesters, possibly constitute crimes against humanity. Here the major problem that Nicaragua has, since Ortega reassumed the presidency in 2006, is that he changed the rules of the game so that he remains perpetually in power. The U.S. focus will be ensuring fair and transparent elections. What we have seen is that Ortega is manipulating the system again to his own favor. It's something that has been overlooked for too long. The previous administration focused on Venezuela and Cuba, and Nicaragua was basically forgotten. It's very worrying, and it will be a focus for this administration. 
*Translated by John Washington
Apoya el periodismo incómodo
Si te parece valioso el trabajo de El Faro, apóyanos para seguir. Únete a nuestra comunidad de lectores y lectoras que con su membresía mensual o anual garantizan nuestra sostenibilidad y hacen posible que nuestro equipo de periodistas llegue adonde otros no llegan y cuente lo que otros no cuentan o tratan de ocultar.
Te necesitamos para seguir incomodando al poder.
¿Aún no te convences? Conoce más sobre cómo se financia El Faro y quiénes son sus propietarios
acá
.
elfaro.net/en/202101/internacionales/25184/%E2%80%9CA-Leader-Unready-to-Go-after-Corruption-Won't-be-a-US-Ally%E2%80%9D.htm

PP:
PC:
PN:
PT:
items_count:
items_pivot:

YY:

MM:

FI slug:
FI name: January 2021
FI sort:

FT slug:
FT name:
FT sort:

FS slug:
FS name:
FS sort: