'Guatemala sells itself to the world as the country of women in huipiles, but they don't want us here,' says Gloria Estela García, an indigenous woman who lives in Sacatepéquez and has made textiles by hand for years. Many other women weavers in Guatemala are also angry and tired of being used to promote a country where their clothing is worth more when they aren't the ones wearing it.
Last November 6, the women of the Ruchajixik ri qana'ojbäl National Weavers Movement celebrated a Constitutional Court (CC) ruling. 'It's one of our greatest achievements,' said Leonarda Dionicio, one participant. In their movement to defend the intellectual property of weavings and Mayan ancestral knowledge, the women weavers considered the ruling a small victory against 'a monster that could eat us at any moment" — the Guatemalan state.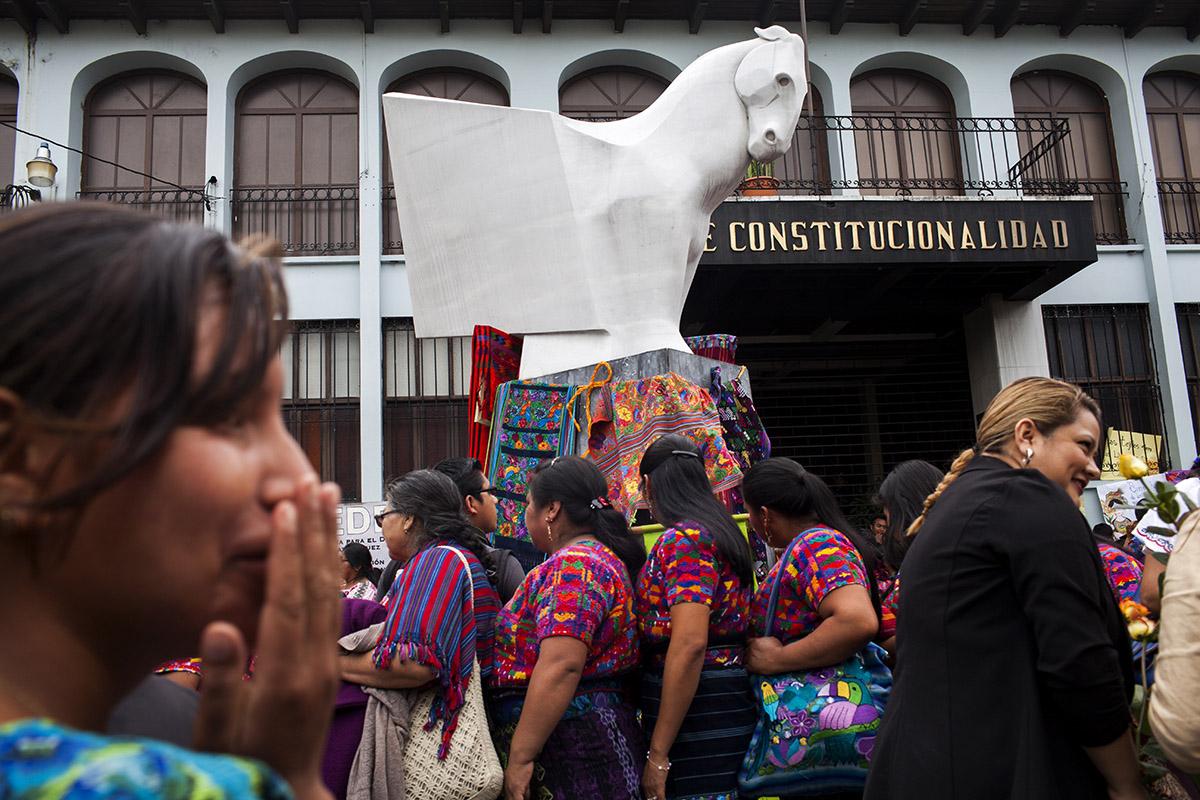 27 women, representing the national movement, promoted and brought a legal action before the CC against the Guatemalan Institute of Tourism (INGUAT). Their complaint denounced two problems: the folklorization and commodification of the image of indigenous women in INGUAT's tourism policy, which uses their faces to promote travel to the "Heart of the Mayan World," and systematic exclusion, especially by withholding state tourism revenues from the weavers.
Thus, they demanded that INGUAT refrain from these practices and that the State adopt administrative measures and public policies with benefits for indigenous women weavers. The CC ruled in their favor and ordered the Institute to 'implement adequate mechanisms for indigenous peoples' real and effective participation in formulating and designing public policies on the matter, specifically those that could affect their rights, through legitimate representatives elected according to their own forms of organization.'
"We're not against community tourism,' says Gloria Estela. At 58 years old, she has stopped weaving because her eyesight has weakened. She suspects it's the result of so much weaving, especially at night.
Gloria, whose parents were both weavers, started at 5 years old. She quickly mastered the backstrap loom, used for weaving huipiles, sashes, and napkins. Weaving has allowed her both to earn income for her family and preserve one of the ancestral practices of which indigenous women are proudest — creating their clothing by hand. She's not happy that INGUAT uses her visually colorful and attractive heritage to allure tourists while indigenous women are constantly rejected within the country.
'We're fighting because we, as Mayan women, as women from rural villages, aren't wanted in the capital. Why do many ladinos [non-indigenous people] not want us? Because we're Indians, we're dirty, we're the servants of the people with money. They treat us as inferior because we're poor, because we're Marías, because we wear cheap, useless clothes. Ahh, but INGUAT has its folk art and they use our communities' clothes!' she complains. Gloria wonders why they want the clothes. She knows: 'They make good money with it, while our communities don't get a cent for education, health, or anything we need."
Claudia Saquiq is a 38-year-old weaver from Santa Lucía Utatlán. Along with 19 other women, Claudia is on the municipality's Weavers' Council. 
It's difficult for Claudia to calculate her exact monthly income. She dedicates herself completely to weaving and then sells them in the market. It takes a month to make a huipil; more complex ones can take three to four months. The hours weavers work at the loom aren't paid well. A huipil worth 800 quetzales (about 100 dollars), she estimates, can turn around a profit of 200 quetzales (about 25 dollars, after the cost of materials). Haggling with the buyers, though, chips away at the profits. 'Nobody values our work anymore and that's why we fight,' she says.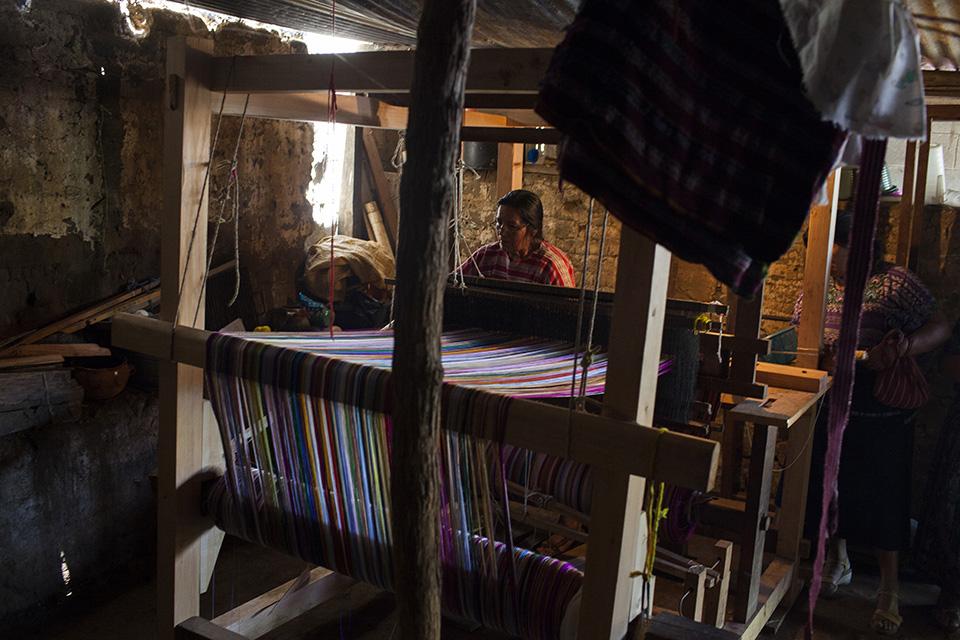 Beyond haggling, she faces denigrating comments: 'María, how much are you selling your fabric for?" She adds: 'We see a lot of discrimination all the time. When we go to the market, they make offensive comments, they call us all Marías, but we have an identity.' 
For Claudia and her compañeras, discrimination, racism, and devaluation of their labor and time are part of a structural problem that involves the state. That's why their petition asks INGUAT to stop promoting these activities and adopt measures and policies that benefit women weavers.
From the Loom to the Courtroom
The long-simmering anger of Gloria Estela and the other women caught fire four years ago when one of Guatemala's most normalized problems, and the most disturbing for weavers, came up at a movement assembly.
'We've always talked about folklorization, but we decided only this year to denounce it as a form of violence, because we don't like being objectified,' says Angelina Aspuac, a member of the movement. 'We sought legal advice and decided to file an action because of the violation of our rights because, while indigenous people look good in scenic pictures, the state is otherwise indifferent toward how we live,' she explains.
Initially, they filed the action with an Administrative Litigation Chamber, which rejected their petition. They brought a direct action before the CC, which overturned the Chamber's decision and ruled in the weavers' favor.
In the complaint filed by Angelina, Gloria Estela and some twenty other women, they denounced how INGUAT promotes indigenous peoples' knowledge as easily accessible. 'The traditional process of weaving is transformed and reduced to a spectacle for tourists, to the detriment of its historical and cultural importance; the state clearly lacks a comprehensive policy to promote, protect, and safeguard the art of weaving, commercializing indigenous women weavers like objects,' the injunction asserted.
Tourism advertising campaigns promote the idea that the indigenous population, and its way of life and impoverishment, are 'something picturesque that makes Guatemala a unique tourist destination.' For example, they use pictures of children selling handicrafts as if it were a spectacle to see them on the streets.
While children and women appear as attractive objects in tourism campaigns, they're not active decision-makers in formulating tourism-related and other public policies. Indigenous representatives don't participate in INGUAT's Tourism Advisory Board, the complainants argue, but business sector and government representatives do.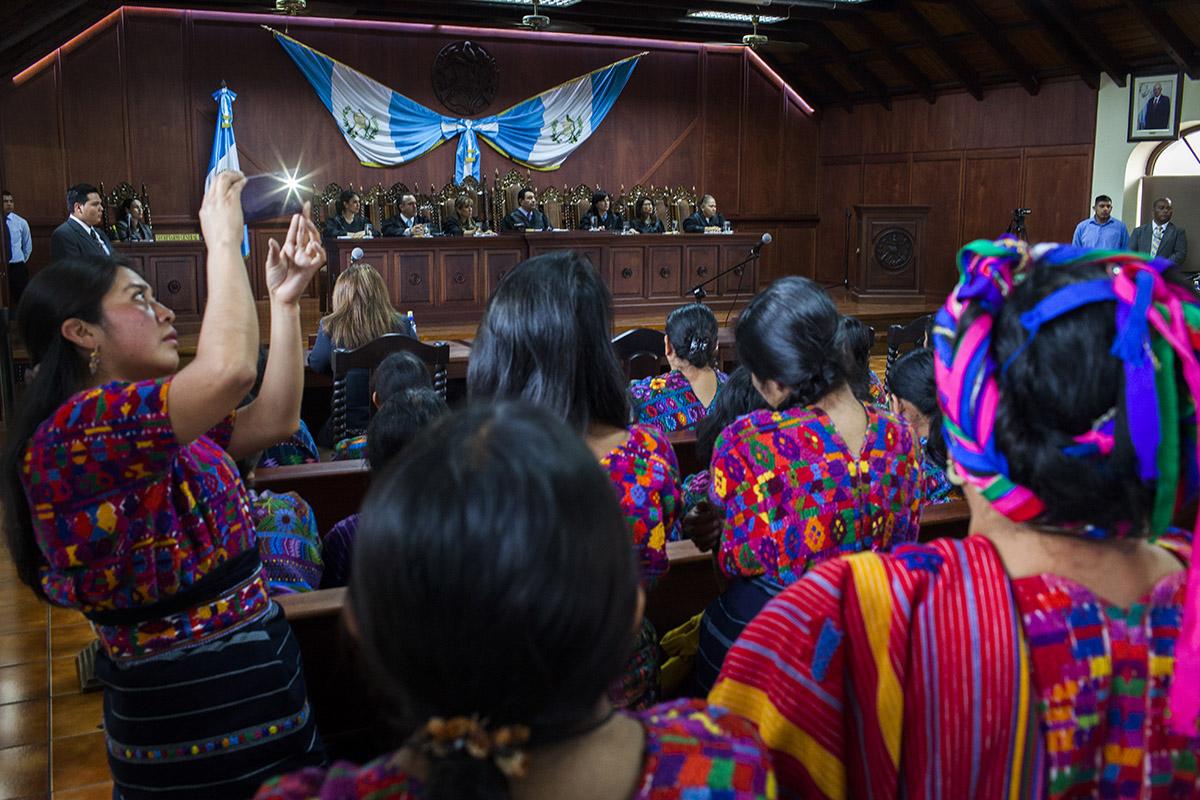 Leonarda began experimenting with the loom when she was 10. "My grandmother told me, 'You have to learn to weave to carry on the tradition,'' she recalls. Now 33, she's part of the Weavers' Council of Santa María Visitación, Sololá.
Like many other women, Leonarda learned to weave to continue passing the practice from generation to generation, and so she'd have a trade to guarantee income, however minimal. Sometimes, she adds, weaving gives women survivors of violence a way to move forward. Leonarda has noticed, however, that making a living with weaving is becoming less profitable. 
But this hasn't stopped weavers' images from appearing in Guatemalan tourism campaigns. Rather, 'the folklore makes us curious, exotic, a global-marketing object for photographs,' she laments.
A study coordinated by historian Santiago Bastos and Aura Cumes, a Mayan researcher and teacher, supports Leonarda's theory, arguing that cultural heritage drives value in foreign markets, but at a high cost for indigenous women in Guatemala and countries with similar systems.
Their confinement to rural areas keeps them 'traditional,' 'colorful,' 'exotic,' 'curious' objects of worldwide commercialization, of magazine photo shoots. "Their rituals, colorful clothes, handmade weaving, and languages attract tourists from around the world,' reads the study. Paradoxically, these women bear the brunt of the inequalities in their bodies, because they sustain a 'nationalism' that is simultaneously ashamed of and commodifies their symbols.
The gravest aspect of this commodification, says Elena Curruchich, a weaver living in Comalapa, is that the image of indigenous people used to promote tourism doesn't bring income to the communities where the weavings are made. They're only taken into account as folklore to attract visitors.
As the study explains, 'The market, by taking advantage of 'the indigenous,' suggests that indigenous people will serve as symbols but not be agents themselves.'
'So, who benefits? The big hotels and businessmen in the most-visited areas,' Elena intuits.
Anthropologist Alejandra Colom argues that the portrayal of women weavers is a crude caricature. 'Weavers and indigenous women are of use to INGUAT as long as they don't express themselves or demand anything,' she adds.
The Weavers' Movement activism has made the women more than folkloric Mayan figures, according to Colom. They've become uncomfortable subjects who demand rights. 'Indigenous people who speak out bother the elites,' she adds.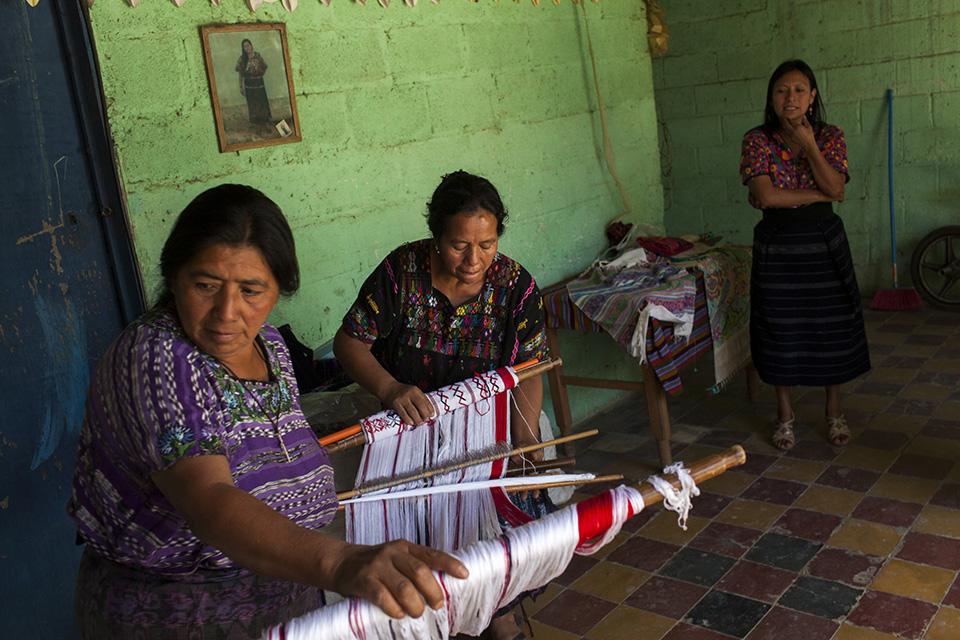 Plaza Pública requested an interview with INGUAT officials to ask their position on the weavers' demands and its take on folklorization. Their response was limited to noting their respect for the rule of law and court rulings. The institution's view of the weavers' claims and defense against them only appears in the CC resolution.
In its court filing, INGUAT dismissed the weavers' claims under the argument that its function is to develop domestic tourism 'by all means.' INGUAT contends that the weavers' petition is demanding that INGUAT "refrain from promoting national culture, constituted by the nation's intangible cultural heritage," and that such a restriction "would limit [the institution's] powers and negatively impact the country's economy. Therefore, the broader public interest should prevail over that of the particular.' On using images of indigenous children and women to achieve this objective, [INGUAT] claims to 'promote our culture to the world, highlighting that Guatemalans are proud of our roots.'
In its arguments, INGUAT also questioned how representative the weavers' movement was of all weavers. Some of the plaintiffs also received prying phone calls from INGUAT. 'They asked if they knew what they were signing, if they wanted money or what they wanted, that we should be grateful,' said Angelina Aspuac.
Leonarda isn't offended that INGUAT questions their legitimacy. She sees it as an invitation to demonstrate that the women's group is gaining strength around the country; it's now represented in Santiago Sacatepéquez, San Juan Comalapa, San Martín Jilotepeque, Santo Domingo Xenacoj, Santa Lucía Utatlán, San Juan Sacatepéquez and Santa María Visitación. 'We were all elected by a community assembly; we didn't appoint ourselves,' she insists. Over 100 women participated in a community assembly to elect the local weavers' council, and she was selected.
Despite INGUAT's objections, the CC finally ruled unanimously in the weavers' favor. The court invoked international norms that support the women's claims, especially their right to be included in discussing and implementing policies to promote their communities' development. Per the American Declaration on the Rights of Indigenous Peoples, indigenous communities must participate in deciding matters that affect their rights and may do so directly or through their representatives, according to their own norms, procedures and traditions.
Meanwhile, INGUAT still hasn't taken concrete action to implement the order. 'We're analyzing how we'll enforce the state's compliance with this ruling,' Angelina explains. The pandemic and devastation from the 2020 tropical storms that hit Guatemala have made holding weavers' assemblies difficult. Angelina estimates that next year they'll work on a plan to call for concrete actions from INGUAT.  
Birth of a Movement: 'Our Ultimate Goal is Dignity'

Guatemalan society has long rejected and discriminated against indigenous women and their work. The need to organize, says Angelina Aspuac, emerged over 10 years ago. In 2005, the women began forming a network to support each other in marketing their weavings. An underlying problem has been the undervaluation of their labor, unfair prices, and buyers' unwillingness to pay for the time and work weaving requires.
'Many compañeras think about their survival, so they weave and weave, but they don't earn much; since there aren't many job opportunities, they keep doing it at a low price,' Angelina explains.
The organization gradually became a force for change through legal action. Since its founding, they've filed complaints against individuals for using names like 'María's bag' or 'María Chula' to promote products with Mayan textile details. Indeed, says Angelina, designers' threats to patent the weavers' Mayan textile designs was the last straw and increased the movement's cohesion. 
'Our legal team filed a claim against the state for not investigating the matter, and there's no law protecting the women's and indigenous peoples' intellectual property over their textiles,' Angelina says. 
They filed a partial action by omission before the CC. The Court took two years to rule in their favor and exhort Congress to pass a specific law to protect the weavers' work. The law still hasn't materialized.
A bill establishing the collective intellectual property of indigenous peoples and communities, known as the Law on Copyright, Related Rights, and Industrial Property, has languished in Congress for four years. The Weavers' Movement presented the bill in February 2017 to shield indigenous communities and women weavers from companies' threats of usurping intellectual property rights; over the last decade, these companies have sought to replicate textile designs on industrial machines or textile prints to sell at market-rate prices.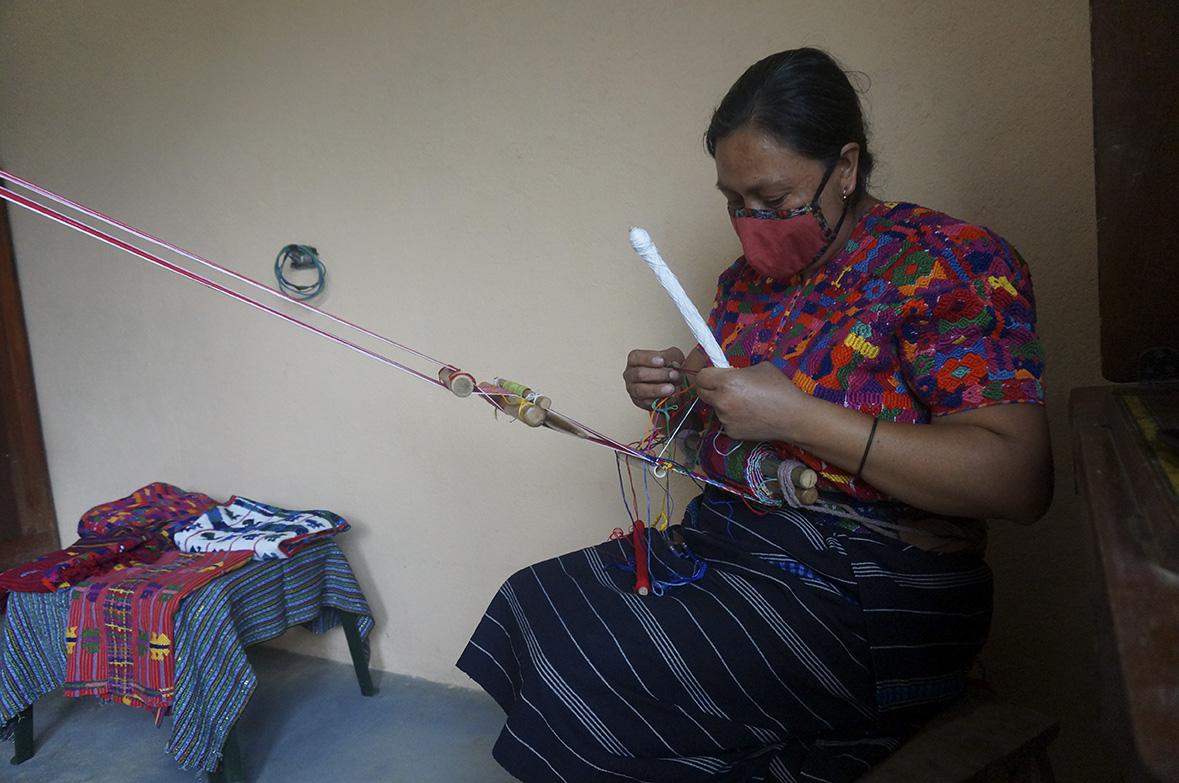 Marta Julia Puac, a weaver from Santiago, Sacatepéquez, explains the importance of a law that prevents foreign or national companies from profiting from designs that are the communities' heritage, especially those that frustrate the work of women who spend months creating huipiles and other products.
"This huipil I'm wearing,' she explains, 'takes at least three months to make. That's working from 6 a.m. to 6 p.m., not getting up from the fabric,' she confirms. Such work can be worth up to 2,000 quetzals. But nobody is willing to pay that price when replicas of fabrics are available for four times less.
Another problem, she adds, is that many poor Mayan women sell their used huipiles at excessively low prices. The buyers want small fragments for putting designs on shoes, bags, and other accessories. 'It's a lack of respect for our clothing. Each garment has a history, sometimes it's clothing exclusively for indigenous authorities, but some just tear our clothes apart and make different designs,' says Marta Julia.
Thus, the bill proposes prohibiting the registration of trademarks, trade names, emblems, expressions, signs, designs, letters, characters or symbols that indigenous communities use, and banning third party reproduction of indigenous textiles and clothing without the involved community's consent.
At the end of 2017, the Indigenous Peoples Commission endorsed the initiative. It's been stalled in Congress since.
Angelina notes that their struggle is about more than pressuring INGUAT to stop objectifying indigenous women and peoples and passing legislation to protect the intellectual property of textiles. It's a fight for their dignity, says Angelina.
'We've talked often about how hard this has been for us, how hard it is living with Guatemala's predominant racism, which affects the bodies of the women who wear our clothing,' she explains.
While these practices continue, Mayan women will continue to be colorful subjects photographed and promoted by the state as tourist attractions, not recognized as dignified people with rights and in need of economic development.
'As long as none of this changes, we, the women weavers, continue to pay the economic costs and subsidize the companies that profit from our textiles. It's more about dignity than anything else,' she continues.
They'll continue their legal battles as long as women weave all day but remain impoverished. Nothing will change as long as 'consumers don't question what they buy,' she notes. Angelina says her battle has two strategies: questioning and demanding changes to state laws and regulations; and continuing to promote community organization based on the people's self-determination.
Editor's Note: This article was adapted from Plaza Pública's original Spanish-language version.
*Translated by Jessica Kirstein