Judge Erika Aifán may not be as well-known outside of Guatemala, but at home she's known for the numerous high-stakes corruption cases that have passed through her courtroom. Aifán, 45 years old, convicted nine businessmen on charges of bribing former government minister Alejandro Sinibaldi, for example, and ordered the ministers to apologize to the people of Guatemala and donate 35 million Quetzals toward public works as compensation for the damage they caused to the country.
Aifán is a judge under constant attack. The latest accusation against her involves the death of Guatemala's former Health Minister, Jorge Villavicencio, arrested in 2019 on corruption charges. Judge Aifán had authorized the home-release of Villavicencio, who had contracted coronavirus in prison, but the Penitentiary System failed to comply. Villavicencio died on June 20 in the intensive care unit of Guatemala City's Roosevelt Hospital.
In her 17 years as a judge, Aifán has been reported almost 75 times by defendants, lawyers, unions, and her own employees for alleged misconduct. Adding to this long list of accusations is a recent complaint filed by Guatemala's Institute of Appellate Magistrates, a union representing 127 of the country's 132 judges.
Despite these regular attacks, she has continued to serve as judge, presiding over high-profile corruption and war atrocity cases and the prosecution of numerous powerful businessmen, drug traffickers, and corrupt government officials. Aifán was one of several recent recipients of the U.S. State Department's 2021 International Women of Courage Awards, for her role in "the fight against corruption, efforts to increase transparency, and actions to improve independence in [Guatemala's] justice sector."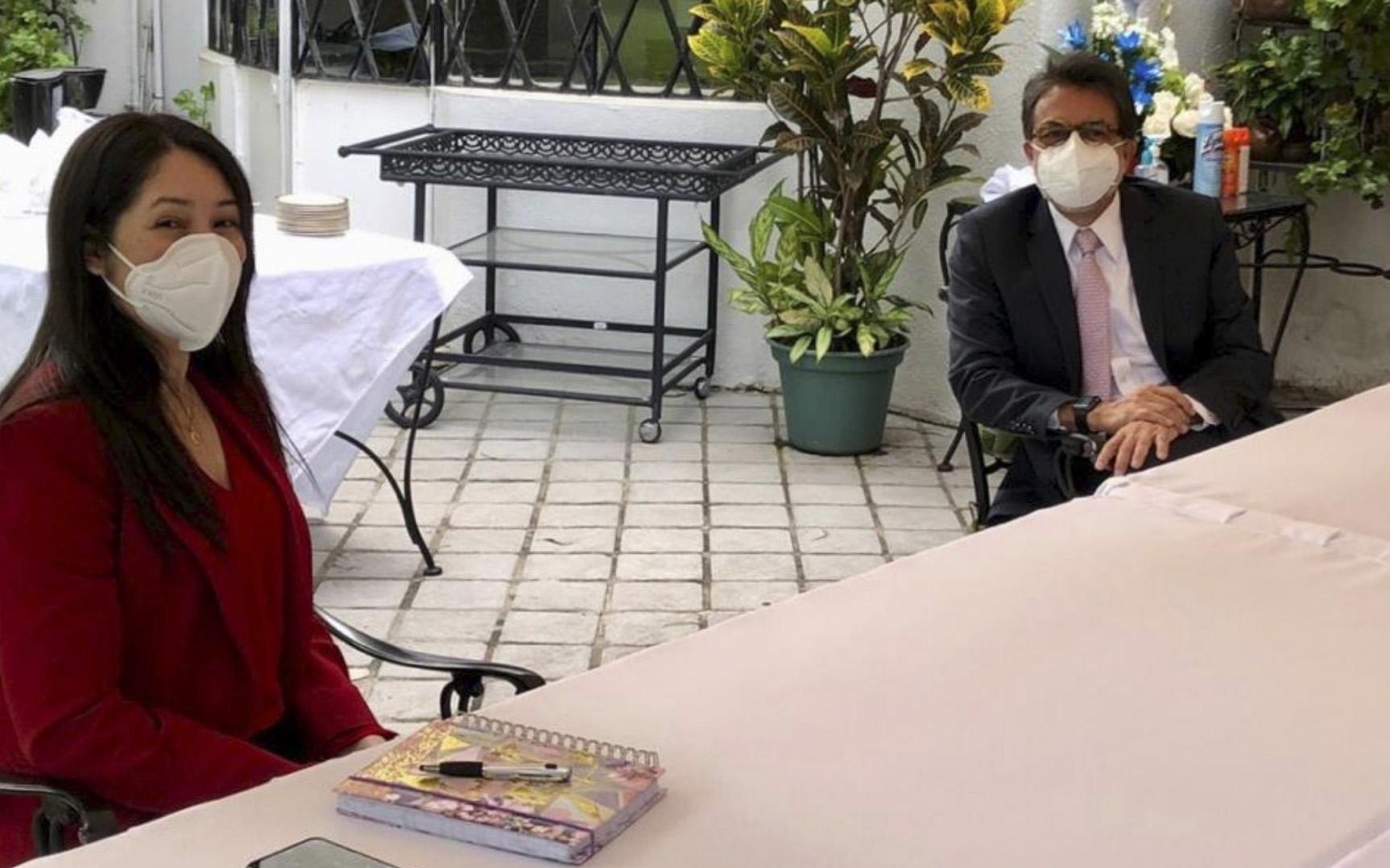 Aifán has no shortage of other supporters. When Guatemala's Supreme Court of Justice (CSJ) admitted an unfounded motion for impeachment from the court, ambassadors, university students, judges from all over the world, her own colleagues, and various social organizations spoke out in her defense.
Accustomed to defending herself, Aifán says the attacks from within the justice system are intended to cause her harm and undermine her reputation. Aifán has sought protection through the country's top constitutional authority, the Constitutional Court (CC), which shares ultimate appellate power with the CSJ, and so far has managed to contain the threat.
Despite the domestic and international support, Aifán faces several hurdles alone. She has only three staff members assigned to her, two of whom are temporary, despite several vacancies. Three employees have accused her of mistreatment, and one of unlawful restraint, and Aifán has reported staff for leaking information, misplacing documents, unexcused absences, and administrative delays.
Guatemala's Judicial Branch has delayed the proceedings and entangled them in a bureaucratic labyrinth with no clear exit. Aifán believes that either the judiciary is attempting to obstruct her work, or the Judicial Branch's Human Resources office suffers from severe incompetence.
On top of all this, there are pending trials, many implicating dozens of high-level defendants accused of acts of government corruption involving millions of Quetzals.
A Long Line of Accusers
Aifán doesn't hesitate to define her experience as one of "harassment." The accusations didn't begin when she started working as a trial judge with the High-Risk Court; she experienced similar treatment her entire career.
Aifán became a judge in 2002, three years after graduating as a lawyer from the University of San Carlos, but she had to fight for the position by filing an injunction before the Constitutional Court. She had all the merits and qualifications for the position, but the Supreme Court of Justice refused to select her. 
Aifán's first assignment was with a lower court in Ixchiguán, San Marcos, a mountainous area in the western part of the country, nearly 300 kilometers from Guatemala City. She accepted the job, and remained in the position for three years and two months. She was eventually transferred to Jutiapa, and later to Cuilapa, Santa Rosa, and then finally to the capital.
In 2019, Aifán applied for a seat on the Supreme Court of Justice (CSJ). Despite her high merit score of 89 points, she received only three votes. Of the 26 candidates who applied, 16 had a merit score lower than Aifán's, but she lacked political support from the union and from academia, and had failed to meet some of the requirements stipulated by the Constitution — namely, previous experience as an appellate court magistrate and a minimum of ten years working as trial lawyer.
In almost every court where Aifán has presided, complaints have followed her. In 2014, when she was the judge for the Court of the First Instance in Jutiapa, attorney Romeo Monterrosa claimed that Aifán's security guards had removed him from the courtroom at gunpoint. (Moterrosa is currently an Appellate Court judge who, in February 2020, admitted that he had discussed the selection of federal judges with Gustavo Alejos, a Guatemalan businessman and former private secretary for President Álvaro Colom, convicted for corruption).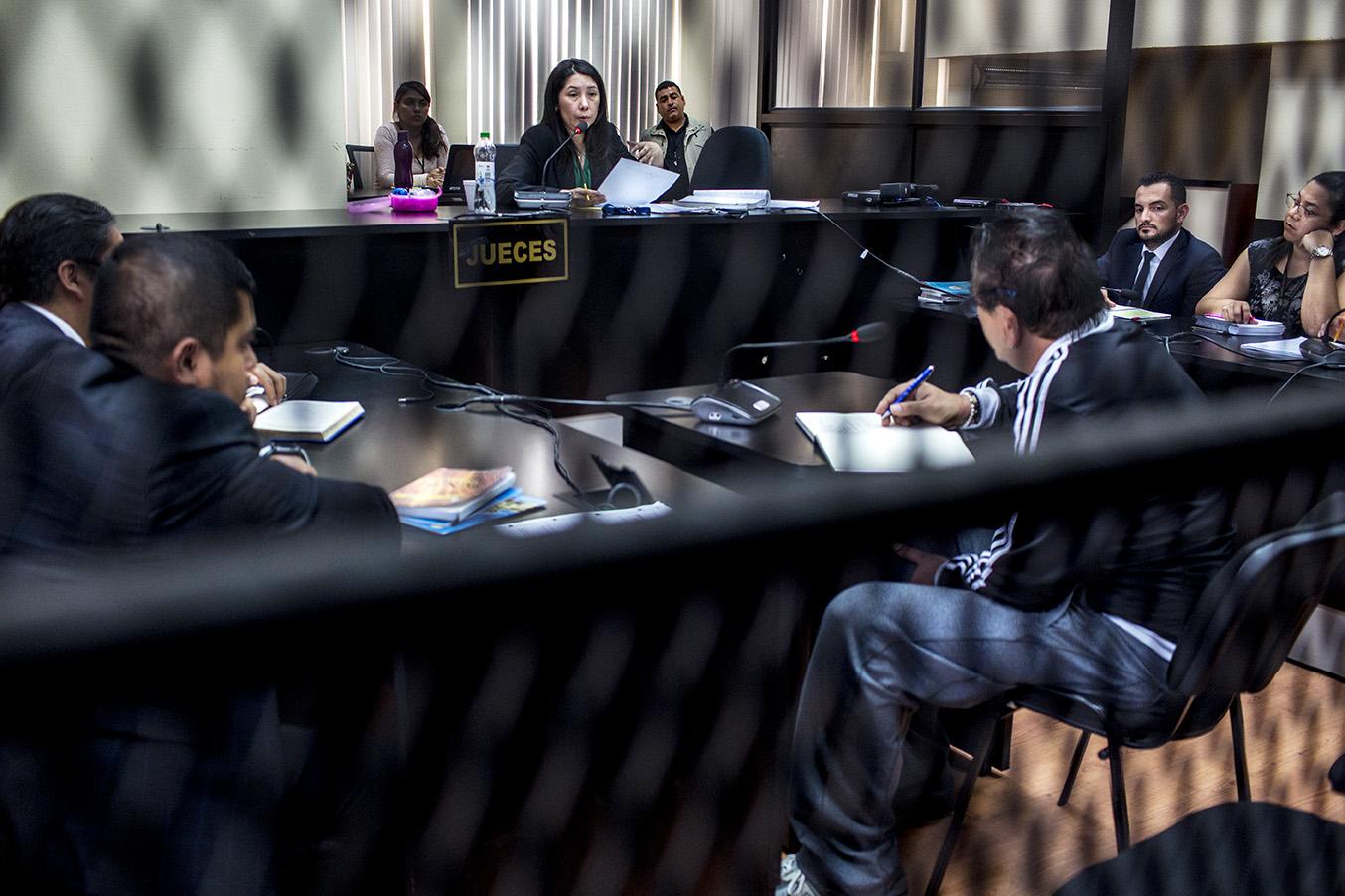 The case reached the CSJ, where Aifán presented evidence proving that the guard accused of removing Monterrosa was off-duty the day of the alleged incident. The case was closed.
That same year, 2014, several lawyers also filed complaints against Aifán. Jaime Leonel Guerra Aguilar, for unjustified delays and oversights; Edwin Cardona, for an alleged lack of respect toward subordinates and representatives from the justice administration's auxiliary bodies; and Livio Homero Morales Juárez, for failure to comply with the internal administrative provisions of the Judicial Branch. None of these accusations were given a hearing in court, and all cases have been closed.
The Jutiapa court litigants and employees accused Judge Aifán before the Supreme Court's Criminal Chamber, but they never received a response. Aifán does not give up, nor does she hesitate to defend herself. Since she became magistrate of the High-Risk Criminal Court in 2016, at least 21 complaints have been filed against her, 11 of which included requests to revoke her judicial immunity. 
Dissatisfied with Aifán's rulings, several defendants have filed lawsuits against her. Among these are Moisés Galindo, a lawyer accused of money laundering in the "Pandora's Box" case; former congressman Armando Escribá, also accused of money laundering in the "Construction and Corruption" case; and Igor Bitkov, also known as Leonid Zaharenco, the Russian citizen who managed to convince the National Registry of Persons and the Office of Migration to register him as a Guatemalan citizen born in Santa Rosa and named "Igor Benítez." Bitkov used his blog and social media accounts to defame and attack Aifán.
In an opinion column for La Hora, former magistrate Claudia Escobar called Aifán "the rebel judge" for refusing to allow the Appellate Court's Third Chamber to rule on the Bitkov case. Aifán sent the Bitkovs to trial twice, prompting complaints from the accused and from the judges of the Third Chamber, who requested internal investigations into the case and even managed to fine Judge Aifán.
One of the Third Chamber's members is Beyla Estrada, who was appointed to preside over the case filed by the Institute of Appellate Judges in July 2020. Estrada is the wife of Alfredo Brito, former Secretary of Social Communication under ex-President Jimmy Morales. The Bitkov family case was emblematic of the Morales administration's undermining of the International Commission against Impunity in Guatemala (CICIG), a United Nations commission that helped convict hundreds of corrupt politicians, military officers, and businessmen before Morales refused to renew the commission's mandate in 2019.
Although Guatemala's Special Prosecutor's Office against Impunity (Fiscalía Especial contra la Impunidad, or FECI, an office of the Attorney General) has distanced itself from the case, prosecutor Cinthia Monterroso has also reported Aifán, accusing her of demanding that Monterroso present accusations in another corruption case known as "the Assault on the Ministry of Health."
An Inside Job
Aifán's rulings haven't earned her much popularity. She is known as "la carcelera," or "the jailer," and one lawyer, who asked not to be identified by name, says that Aifán has the reputation of being a "tough judge" who never grants requests. 
In 2018, Guatemalan congressional representatives asked the National Office of the Commission Against Torture to investigate the case of Manuel Barquín. Aifán denied Barquín's request to be transferred to house arrest, and he later died of pulmonary fibrosis at Roosevelt Hospital in Guatemala City.
"Former representative Manuel Barquín did NOT die, he was killed and the name of the woman who killed him is Judge Erika Aifán," Guatemalan congressional representative Felipe Alejos wrote in August 2018 on Twitter. According to the FECI, Felipe Alejos is yet another representative who communicated with Gustavo Alejos ahead of the selection of candidates nominated to Guatemala's high courts.
Aifán characterizes these accusations as a "systematic attack" against her judicial independence. The latest to denounce Aifán, the Institute of Magistrates, almost managed to break through her judicial immunity, asserting that Aifán illegally authorized an investigation into the bank accounts and telephone records of some of its members, citing as evidence a FECI report submitted to Congress that lists the names of magistrates seeking reelection who communicated with the convict Gustavo Alejos on the eve of the election of candidates.
The text of the complaint from the Institute of Magistrates disputes Judge Aifán's right to hear the case without an endorsement from the Judicial Branch's Criminal Chamber. The complaint also includes harsh criticism directed at Aifán: "This judge is the ad-hoc executioner that Helen Beatriz Mack Chang seeks to use, through Juan Francisco Sandoval Alfaro, to indefinitely imprison her political enemies, violating all manner of rights." Helen Beatriz Mack Chang is a leading Guatemalan human rights activist and Juan Francisco Sandoval Alfaro is the head of the FECI; both face regular threats and attacks for their work.
Aifán refutes the accusations. "I have not authorized nor have I been asked to authorize anything against any judge or magistrate in any of the proceedings, and specifically not in [case number] 359, the 'Construction and Corruption' case, which has several phases, one of which includes [Gustavo] Alejos," Aifán said.
It was not until Thursday, July 16, that the FECI filed a motion to the Judicial Branch to withdraw impeachment proceedings against 12 magistrates and one judge accused of communicating with Alejos in an effort to help them win the appointments. The list of accused magistrates includes Wilber Castellanos and Dasma Guillén, president and second vice-president of the Institute of Magistrates.
Judge Aifán insists that the FECI report, which is the foundation for the Institute of Magistrates' accusations, has nothing to do with the proceedings under her purview. Wilber Castellanos claims he is being "denied access because they say I'm not part of the process, but then they mention my name on the list of people who communicated with Mr. Alejos, a man I don't even know."
The Supreme Court of Justice (CSJ) then moved to impeach her without providing any concrete reasoning or evidence, she says. She requested an injunction from the Constitutional Court, which temporarily suspended the ruling. The presiding investigative magistrate, Beyla Estrada, recused herself from hearing the case against Aifán because Estrada is herself a member of the Institute of Magistrates.
Membership with the Institute should not be "grounds for a magistrate to recuse themselves," said Wilber Castellanos, the president of the Institute of Magistrates.
The proceedings drew national and international support for Aifán, and the Guatemalan Association of Judges for Integrity (AGJI), an organization formed in 2018 to challenge the dominance of the Judicial Branch's Association of Judges and Magistrates, filed an injunction before the Constitutional Court to stop the impeachment. The Association argued that the complaint against Aifán "presents inconsistencies" (the CSJ itself used that term in its resolution) and places other judges at greater risk and vulnerability, because it would allow any judge to be subject to an investigation based on false or unfounded complaints, which would "violate judicial independence."
Attacks on Guatemalan justice, reflected in the experience of one judge, have inspired an international movement to denounce the persecution of Aifán and expose the CSJ for questionably accusing her. International judge federations, Guatemalan civil society organizations, students, and ambassadors from the United States, France, United Kingdom, Italy, Germany, and the European Union have rallied in support of Aifán.
All of this support has given the judge "faith and peace of mind" that everything will turn out fine. "I have been subjected to harassment my entire judicial career, so at this point I've learned to approach these things with a calm mind, with prudence, to ask God for wisdom, and to analyze it legally," she says.
Chaos On the Fourteenth Floor
There's a huge gap between the outpouring of support for Aifán in recent days and her reality in the chambers on the fourteenth floor of the Torre de Tribunales in Guatemala City. Since 2019, Aifán has had problems with her staff, and neither the CSJ nor the Judicial Branch human resources office have helped.
In late 2019, five of seven employees assigned to Aifán's court accused her of mistreatment and requested transfers. Aifán accused the same employees of failing to carry out their duties and formally reported one for misplacing documents relating to the Fénix case, involving the embezzlement of millions of dollars from Guatemala's Social Security Administration, the IGSS, and implicates businessman and political operative Gustavo Adolfo Herrera. Aifán also reported the official for leaking confidential information.
The CSJ authorized the transfer request of the five staff members, but it took six months to transfer the commissioner, who is currently waiting to be notified of her new post. Despite the transfers, the situation in Aifán's court offices has remained largely unchanged.
Aifán says that throughout the pandemic she has continued to go to her office and that to complete her work she must often stay in the office until midnight. In 2019, she earned a high score of 91 points in her evaluation by the Judicial Career Council.
The court's human resources office admitted to Plaza Pública that it is responsible for nominating courtroom personnel and determining eligibility. Hiring, though, rests with the CSJ magistrates. The human resources office points out, however, that they have attempted to fill two of the three vacant positions but that the individuals proposed by Aifán failed to demonstrate satisfactory results in their performance evaluations, and that another person turned down the position for personal reasons.
Because of all the problems Aifán has with her staff, she has resorted to putting all of her instructions in writing, so that she has records of what order she gave and how or whether it was carried out. Her courtroom work environment is characterized by absolute distrust.
A 2019 report by Impunity Watch states that "courtroom personnel can have a significant impact on the proper performance of judicial work. Therefore, it is important to determine whether the selection processes for such personnel are adequate and responsive to the needs of the courts, according to their specialization and the nature of their caseload."
In October 2019, the Inter-American Commission on Human Rights granted precautionary protective measures to Judge Aifán and called on the Guatemalan state to provide her with protection due to the "serious, urgent risk of suffering irreparable damage to [her] rights." Aifán says these measures are necessary so that she can "conduct [her] work without interference, because the Judicial Branch has failed to do so."
Reflecting on her situation, Aifán says that what is playing out in her courtroom, and the ongoing threats to judicial independence in the country, should not be unfamiliar to any citizen. Judges "make very important decisions that affect people's lives," she says. "What the Inter-American Court of Human Rights has said is that the foundation of any justice system is an impartial and independent judiciary, because judges are the ones who can resolve conflicts in society. Sooner or later, these decisions affect the lives of every citizen, and this is why it's important that we pay attention to what's going on."
Editor's Note: This article was originally published in Spanish by Plaza Pública.
*Translated by Max Granger