When Washington Post columnist Jamal Khashoggi stepped into the Saudi consulate in Istanbul to handle marriage paperwork on October 2, 2018, it would be his last move. An audio recording of the events showed that, after officials falsely claimed Interpol had authorized his extradition, Khashoggi resisted, and a struggle ensued. A Saudi hit squad apparently killed and dismembered Khashoggi, on embassy grounds, that same day.
A former adviser to the Saudi government and prominent journalist, Khashoggi fled the country in 2017, fearing a crackdown on dissent following the rise to power of Crown Prince Mohammad bin Salman, the country's de facto ruler. In his columns and speaking engagements abroad, Khashoggi spoke publicly of the importance of democratization and warned of the increasingly concentrated power in the hands of the crown prince.
For two years, Bin Salman flatly denied involvement in Khashoggi's murder, which he dismissed as a "rogue operation," and received key support from powerful global allies. "Whether [bin Salman] did or whether he didn't, he denies it vehemently," Donald Trump told reporters that November.
But last month the Biden administration pivoted on the Khashoggi case by releasing an intelligence report accusing bin Salman of authorizing members of his elite security detail to carry out the murder.
The administration also announced it would deny U.S. visas to 76 implicated Saudi citizens, including high-ranking military and intelligence officers but not the crown prince himself, and unveiled a "new global policy" — dubbed the 'Khashoggi Ban' — to "impose visa restrictions on those who engage in extraterritorial attacks on journalists or activists."
The willingness of governments to call out other governments persecuting journalists, even when politically inconvenient, is a bellwether of global press freedom. But while press advocates acknowledge the importance of the Biden administration's move, bin Salman himself remains untouched. 
Likewise, state actors across the Atlantic in Honduras, Guatemala, El Salvador, and Nicaragua have faced scant condemnations and no consequences for their attacks against the press in recent years. Central American press monitors note that while the new sanctions against Saudis connected to Khashoggi's murder are a welcome change in U.S. posture, the policy may not be as broadly applicable or consequential as it appears.
"It's an important, ad hoc step after what happened to Jamal in 2018 and the evidence that [Trump] hid this report, and I think it's important to hold accountable those hiding information as well as the intellectual authors," said prominent Central American human rights advocate Celia Medrano on the State Department's new sanctions policy. "But I think it's not impactful enough to deny officials visas to the United States because it doesn't strike at the impunity they enjoy in their own country."
"Compared to Trump, the Biden administration has put in place a much clearer policy," echoed Angélica Cárcamo, president of the Association of Salvadoran Journalists (APES). The Khashoggi case, she continued, "is a precedent and we'll have to see what's to come in Latin American countries where we're seeing democratic backsliding, especially in El Salvador." 
In Honduras, where the State Department has been quiet relative to El Salvador, Guatemala, and Nicaragua, independent observers are taking note with cautious optimism.
"It's a crucial step for Biden to put pressure on Honduras," said Jennifer Ávila, founding director of Contracorriente, one of the few Honduran independent newsrooms.
Barring extradition, U.S. policymakers' options for unilaterally cajoling bad actors into upholding the rights of journalists are limited to public shaming, financial blacklisting, U.S. asset seizure, and immigration restrictions. Blocking entry to the United States, a leading element of the new sanctions policy, has had a checkered impact when leveraged against Central American officials involved in corruption and gross human rights violations. 
"Nicaragua is a prime example," said Medrano. Nicaraguan officials, including those issued financial and immigration sanctions for the violent government crackdown on protests beginning in April of 2018, "have accepted they won't be able to travel to the United States, but that doesn't mean they've changed their behavior, even in cases where members of their family or inner circle have lost their visas." 
Reporters without Borders — a leading non-governmental monitor of press freedoms around the world — ranked Nicaragua 117 of 180 countries in its 2020 world report, noting that the government has wielded "censorship, intimidation, and threats" in a political crisis that deepened with mass protests in 2018. Since then, the Ortega-Murillo administration has jailed reporters, seized newsrooms, and revoked the licenses of independent Nicaraguan journalists.
The organization offered an even harsher outlook for press freedom in Honduras, which it ranked at 148 — second-worst only to Cuba in the hemisphere. "The situation of the media has worsened steadily for more than a decade, ever since the 2009 coup d'état," says the report. 
Journalists working for independent and community outlets often flee the country due to death threats and violence from security forces, are sometimes put on trial or imprisoned for defamation, and can be banned from working in the industry after release.
"Local journalists from small outlets and radio stations, which are at the greatest risk because they're the least visible and closer to violent actors, have asked for protection and been murdered and their deaths have gone unsolved," said Ávila. She noted that in some cases the journalists had previously "reported harassment from public officials, whether mayors or legislators, involved in drug trafficking."
But an equally insidious threat against independent journalism in Honduras, she argues, comes from within the industry itself.
"In general, the Honduran press has unfortunately been very corrupt, and hasn't done its job of holding the powerful accountable. On the contrary, they're part of the structures embezzling public funds," she said. The few independent outlets in Honduras, strapped for funds and often confined to the internet, can't compete with the mainstream press, which broadcasts on television and radio, in terms of audience.
"That creates a risk," Ávila notes. "Without visibility, the public won't necessarily protect us when we're under attack. We independent outlets strive to cultivate audiences." 
In the (Self-) Defense of Journalism
Far more influential in the long run than unilateral U.S. action against individual abusers is the willingness of governments to abide criticism and dissent. Also essential is the cultivation of mutual trust and understanding between the public and press, and the development of a robust rule of law with explicit protections for journalists and human rights defenders.
"The best tool for defending journalists is having a local government that supports and upholds press freedom," said Natalie Southwick, Central America coordinator for the Committee to Protect Journalists.
"The key is guaranteeing that public institutions respond when a journalist is subject to legally-defined abuse such as harassment, repression, surveillance, threats, or harm, ending impunity, and preventing the abuse from happening again," elaborated Medrano.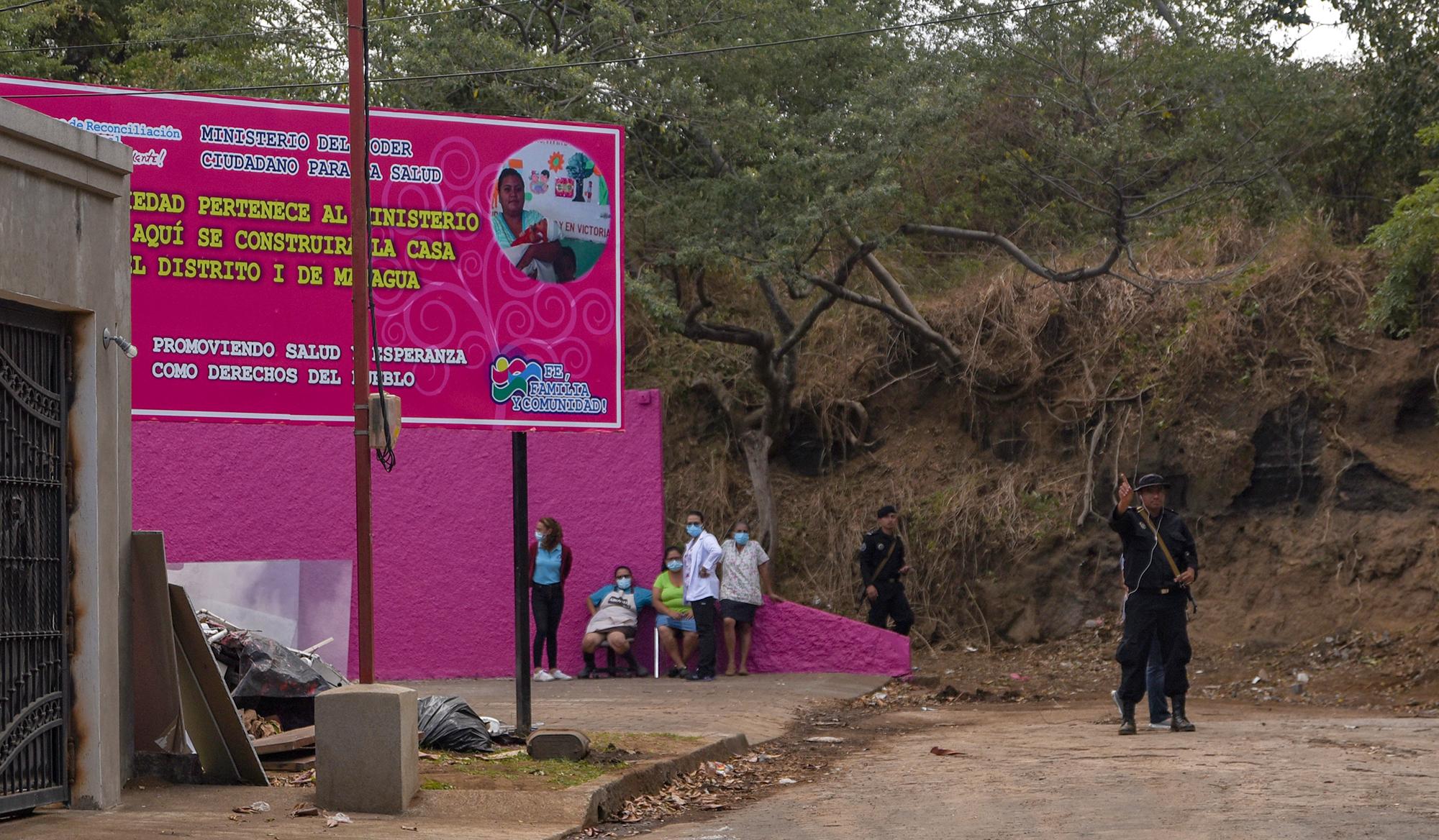 Central American civil societies have sought to make these incremental changes in different ways. Guatemala, for example, created a special prosecutor's office to investigate crimes against journalists, albeit under-resourced and hamstrung by the administration of Alejandro Giammattei, according to Human Rights Watch. Honduras passed a law to protect human rights defenders, journalists, communicators and other activists in 2015. El Salvador and Nicaragua are notably lacking such institutional protections. 
"To this day, El Salvador has no law to protect journalists," said Angélica Cárcamo, president of the Association of Salvadoran Journalists (APES). On March 15, a committee of El Salvador's Legislative Assembly began to debate a bill offering protections to journalists. If the bill makes it out of committee, legislators will have until the end of the session, on May 1, to pass it into law. 
While journalists in El Salvador have long experienced harassment, threats, and violence from organized crime, security forces, and other state and private actors, APES has noted a significant uptick under Nayib Bukele's administration. In 2020 alone, the association documented 125 instances of abuse, including being denied access to press conferences, coordinated threats of gender-based and other forms of violence, and financial persecution. 
The executive branch initiated four out of five of these incidents, Cárcamo added. In the last year of Salvador Sánchez Cerén's presidency, ending in May of 2019, APES registered 16.
Bukele has taken a particularly antagonistic approach to the press during his presidency. Amid significant investigations into his administration's dealings, he has diverted public attention by singling out and mocking specific journalists, retweeting thinly-veiled threats, and disseminating false accusations —including of sexual assault — against independent press organizations from state-controlled media outlets with the backing of vitriolic online trolling campaigns. 
During the pandemic, his administration has displayed open contempt for freedom of information and temporarily shuttered El Salvador's Institute of Public Access to Information (IAIP). 
In July, even as the national press corps uncovered graft and nepotism in the administration's pandemic spending, the Treasury Ministry launched a months-long audit demanding access to the personal information of subscribers. Two weeks after September revelations of his administration's covert negotiations with MS-13 for electoral support, he accused this newsroom during a public broadcast of laundering money and accused El Faro, Revista Factum and Gato Encerrado of being part of an international shadow agenda against his government and serving the interests of George Soros.
Even though abuse is mounting in El Salvador, journalists facing harassment, threats, or violence often opt not to report to authorities because the cases go uninvestigated, Cárcamo explained. A law to protect journalists would offer clearer language to hold government institutions accountable for abuse, require prosecutors and the police to investigate, and further clarify when domestic protective measures have been exhausted and international action is necessary.
Now that the president's party, Nuevas Ideas, has taken two-thirds of the Legislative Assembly, APES says the window is closing for the Assembly to act. "It's very unlikely that this legislature will pass the law, with a little more than a month and a half left, and we don't think the next legislature will be interested," said Cárcamo.
Recent experience in Central America, however, shows that having a law on the books to protect journalists is no panacea. The case of the 2015 Honduran law to protect journalists illustrates that these mechanisms are only effective to the extent that those in power respect and enforce them.
"One of the greatest challenges for our law to work is that the Honduran justice system hasn't resolved any of the crimes against journalists and the protective mechanism we put in place isn't working," said Ávila. "Our greatest challenge is identifying those who are killing or violating the rights of journalists because local institutions like prosecutors and the police aren't investigating." 
When protections at the national level fall short, Central American journalists, human rights activists, and political dissidents can seek protection from the Inter-American System. Precautionary measures from the Inter-American Commission on Human Rights, for example, both acknowledge systematic abuse and call on state actors to both put an end to harassment and initiate other reforms, depending on the case. 
But while these rulings often save lives, they can also fall short. "Central America has clear examples of states refusing to comply with and carry out precautionary measures from the IACHR," noted Medrano, who is a finalist to become the commission's next executive secretary. 
Guatemalan trans rights leader Evelyn Zulma and Lenca land defender Berta Cáceres, for example, both received protective measures from the commission and were subsequently murdered. 
When states refuse to comply, Central American journalists must often fend for themselves despite international support. "That's the reality on the ground for a lot of reporters, for example in Nicaragua, where there is absolutely no willingness from the national government whatsoever to prioritize press freedom so journalists are out there on their own," stated Southwick.
In Honduras, "reporters working on investigations often end up self-censuring to protect themselves from public officials involved in drug trafficking or who are members of other criminal networks, because we know what happens to them otherwise," said Ávila of Contracorriente.
The Journalists in Distress Network (JID), a consortium of 18 international monitors of press freedom including the CPJ, offers emergency support to journalists in need, including financial support for medical bills, legal fees, or emergency relocation and personal security consultation. "I would encourage journalists and media outlets to really make use of that network because we and the other organizations are here to support as best we can," noted Southwick. 
"From a historical perspective we're on a dangerously regressive path," reflected Medrano on today's threats against Central American journalism. "Unfortunately these actions only lead to one outcome — putting journalists in grave danger to the point that physical violence becomes plausible and we lose the life of a journalist. First come the verbal threats, then the physical violence."