Anastasia Mejía was already uneasy by the time the authorities reached her door last September. An indigenous K'iche' journalist in the rural Guatemalan department of Quiché, and a prominent woman in a community stained by widespread sexism and a country known for its anti-indigenous racism, Mejía had no shortage of antagonists. But after reporting on an August 2020 protest against the mayor of Joyabaj, Quiché, accused of corruption, which devolved into the sacking of a municipal government building, she'd felt more on edge than usual. The arrival of the National Civil Police to her house on September 22 confirmed the worst of her fears: she was accused of participating in the disturbance she'd reported on and, alongside twelve participants, was being charged with sedition, arson, aggravated assault and robbery. 
It was the beginning of an ongoing nightmare for Mejía. Confined to conditional house arrest, the court forbade her from writing about or approaching the mayor against whom the protest was staged over half a year ago and from leaving the department of Quiché.
"It's a way of continuing to silence me," Mejia said last December. For seven years, she'd been able to use the radio equipment, installed on a rickety wood table in her house, to report on the protests and steadily mounting corruption allegations against Florencio Carrascoza. Now, according to the terms of her arrest and release, saying even a word about him would send her straight back to jail.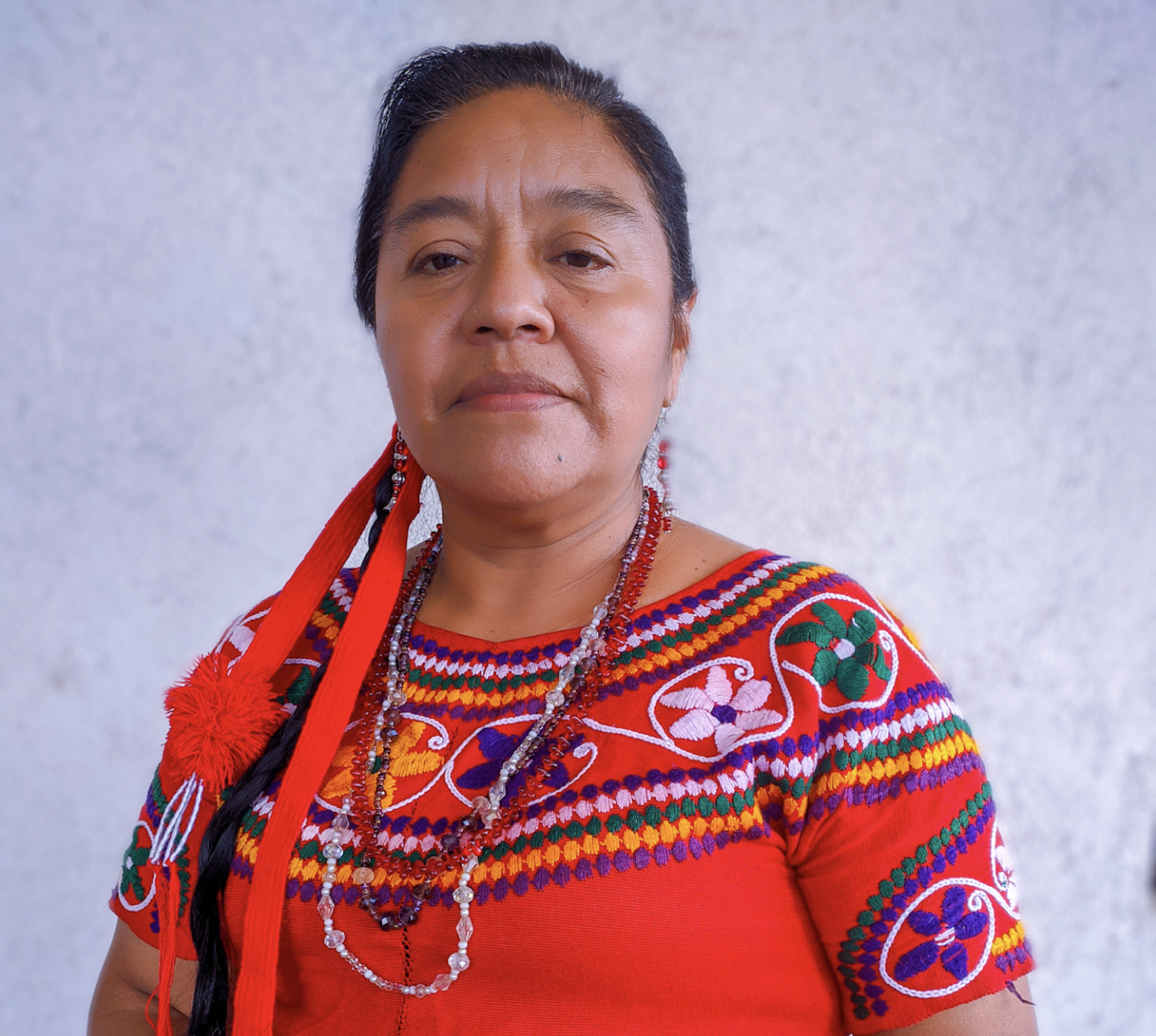 The first judge arbitrating the case, Susy Perez, who has faced accusations of anti-Indigenous racism, continued pushing back Mejía's preliminary hearing well into 2021 before recusing herself from the case altogether. The drawn-out legal process against her following her release from jail, she says, is an attempt by entrenched local authorities to make an example out of a woman who challenged their power structures and underscores the failure of the Guatemalan state to protect journalists. The state, Mejía told me, is trying "to keep blocking my point of view. This judge has just been working to protect this corrupt politician who's been governing our municipality for over fifteen years."
For years Guatemala has been ranked as having one of the highest rates of corruption in the hemisphere, ranking at 149 out of 180 countries for 2020 on levels of perceived corruption, according to the anti-corruption watchdog Transparency International. Many argue the situation has worsened since the controversial 2019 expulsion of the CICIG, the UN-sponsored anti-corruption commission. The CICIG's investigations led to the conviction or prosecution of prominent generals and politicians, including former presidents Otto Perez Molina, now in prison, and Jimmy Morales, who narrowly avoided prosecutors by his swearing-in to the Central American Parliament. 
The Guatemalan mainstream press, long dominated by outfits run out of Miami and Mexico City, such as Albavision, has historically done scant work investigating corruption. Critical investigative reporting often falls on under-funded, crowd-sourced community radio outlets. 
These internal and external threats to the Guatemalan media industry make independent journalism all the more necessary — and dangerous. In 2019, Reporters without Borders ranked the country at 116th out of 180 on the global press freedom index. Shocking levels of violence against journalists remain commonplace, from physical assaults and verbal aggressions at protests they are covering to anonymous threats and assassination. Twenty journalists have been murdered in Guatemala since 2007, two of them since President Alejandro Giammatei took office in 2020. 
Last November, as Guatemala reeled from two hurricanes, the country was roiled by protests after Congress proposed budget cuts to childhood malnutrition programs and an increase to government salaries. When Guatemalans stormed the streets in subsequent days, riot police assaulted at least ten journalists, according to the Inter-American Press Association. One freelance journalist, Carlos Sebastián, was severely beaten by riot police in Guatemala City after attempting to take pictures of them dragging away a protester. 
Since coming to power in January, 2020, the administration of the right-wing former prison director and now president, Alejandro Giammattei, has "targeted the media through bellicose rhetoric and false accusations throughout the president's first year in office," according to a recent Human Rights Watch report. The same report documented numerous cases of police officers and soldiers spying on, tracking, robbing, detaining, and beating journalists investigating corruption. While Giammatei spent much of the pandemic denying crucial public health information to the press, as well as harassing them for demanding access, the Special Prosecutors Office for Crimes Against Journalists has withered due to a lack of funding and staff.
For Quimy de León a Guatemalan journalist and director of the community news outlet Prensa Comunitaria, the position of the new administration is one of "confrontation—a declaration of war, [especially] toward critical investigative independent journalism that questions and challenges abuses of power, impunity, corruption." 
Guatemalan Human Rights Ombudsman Jordán Rodas said the hostility expressed by Giammattei has been emulated by political actors at all levels of society. Local mayors like Florencio Carrascoza, the mayor antagonizing Mejía, "operate like Giammattei, who has a hugely hostile attitude toward the press," said Rodas. "The culture of respect for journalism simply doesn't exist here."
***
Mejía began working as a journalist in 2009, when she was 37. She made her name by covering indigenous issues in the rural hamlets that ringed Joyabaj — a dusty collection of rough-mortared homes high on the pine-forested ridges of the altiplano of Quiché — that few reporters had ever regarded as newsworthy. She profiled Indigenous community customs and traditions, such as the blessing of seeds before the bi-annual planting of corn, and transcribed stories from village elders for online publication.
Later, she took her reporting on campesino complaints against local government officials to the radio with the financial support from benefactors in the community. By 2013, frustrated with having to borrow money to buy time slots on department-wide radio channels, she created her own station, Xolabaj TV and Radio, which would livestream events on their own channels. Her team of seven, most of them women, ran the newsroom from the studio she installed above her garage on the second floor of her home, just above the sign out front, painted onto the building, that reads "Xolabaj 95.3" 
Mejía's court-ordered muzzling is far from the first instance of persecution against Indigenous Guatemalans; nor is it the bloodiest. Joyabaj is located in southern Quiché, where forty years ago, the military committed genocide against Indigenous locals allegedly collaborating with the guerrillas. Between 1981 and 1983, facing a rising insurgency, the Guatemalan military began attacking unarmed, largely Indigenous civilians with perceived connections to communism. These villages, which had already suffered centuries of racialized violence, were designated by the military for "annihilation." Quiché suffered by far the highest number of mass killings throughout the country of all departments — 344 government massacres, according to the Historical Clarification Commission.
The memories of counterinsurgency and genocide are still fresh in Joyabaj, wounds in the social fabric that have festered in the quarter-century since the 1996 peace accords. 
Residents who lived through that nightmarish decade remember the reports of firefights between the guerrillas and the army in the forested hills above town. Mejía, for one, recalls the sound of grenades bursting when, in early 1982, the army discovered a clandestine cell of the Revolutionary Organization of Armed Peoples (ORPA) boarded at a house her father rented out. Her father dodged execution after a coup d'etat brought General Efraín Ríos Montt to power, disorienting the armed forces and causing them to temporarily withdraw from the town. (Guatemala's High-Risk Criminal Court found Ríos Montt guilty of genocide and crimes against humanity in 2013, though his conviction was overturned by the Constitutional Court and he died during a subsequent retrial.) Petrona Siy, an indigenous woman in her seventies imprisoned along with Mejia, recalls soldiers routinely raping women in the "model villages," or concentration-camp style settlements where the army relocated campesinos for heightened surveillance, and the soldiers killing them in the local Catholic convent.
"Joyabaj was particularly hard-hit by the counterinsurgency campaigns," said Dr. Marcia Esparza, professor at John Jay College of Criminal Justice. Dr. Esparza, who has researched post-war militarization in Guatemala for over two decades, points out that the notion that violence ended with the peace accords is misleading: "When they signed the peace accords, they didn't even say 'post-war,' they just said 'democracy.' That shows the levels of militarization were sky-high." 
'Democracy,' may as well be a hollow term for many poor Guatemalans, describing a state of affairs in which soaring homicide levels means violence resembling wartime, and systematic state corruption and skyrocketing levels of impunity—all of which factored into the mass exodus of hundreds of thousands of Guatemalans every year. 
***
Florencio Carrascoza Gamez was councilman for Joyabaj beginning in 2004, and has been mayor since 2008. Politically well-connected, two of his closest allies were Guatemalan Congressmen Mario Rivera Cabrera and Carlos Lopez Giron, both well known caciques in Quiché who were flagged for money laundering and corruption by the CICIG.
That Carrascoza would end up locking horns with Mejía, herself a lifelong resident of Joyabaj, is perhaps unsurprising. She'd been reporting on corruption accusations made by community members against him since she'd started working in radio, according to Evelyn Blanck, a Guatemala City-based human rights worker with the organization Centro Civitas who has worked with Mejia. In December, 2016, the Public Prosecutor's Office received reports that Carrascoza had embezzled 20 million Quetzales ($2.6 million USD) through the purchase of stoves, infrastructure works, and social programs. The Public Prosecutor's Office had been investigating him since 2017 in nine open investigations for crimes including robbery, violence against women, fraud, illicit enrichment, and embezzlement. 
"He didn't want me to talk," Mejia told me, describing how she began documenting complaints from the community members against him between 2012 and 2014, when she started working the radio. "He doesn't want me to call out all of these acts and thefts that he carries out in the Joyabaj municipality."
"It makes me sad," Carrascoza told me, "because a bunch of people who call themselves 'community journalists' talk badly about me. It's a mountain of lies. Not once have they bothered to come sit down and talk to me."
Poverty levels in Joyabaj are high even for a country that ranks as the fourth poorest in the Western hemisphere, with eighty-one percent of the local population living between poverty and extreme poverty. To survive, people sell what they can on the streets: recycled clothes, cheap shoes, produce from nearby farms, slices of mango. The makeshift markets are set up in the spacious, Spanish-style cobblestone square between the church and the municipal building. 
Bitter antagonisms between Carrascoza and a local street-vendors association run back to his earliest days as mayor: a copy of a 2008 petition obtained by El Faro, and signed by 179 people, accused the mayor of racist discrimination and hostility, and denounced a pattern of Carrascoza's violent behavior, including an assault on a street vendors' encampment by local security forces in September of that year.
Up until earlier that summer, Carrascoza told me the street-venders made a heaping mess out of an otherwise pleasant square: "There was never a moment in which they [the protesters] came here to make a complaint to me, or to present a complaint to the Ministerio Publico," he told me, throwing up his hands with theatrical flair.
The arrival of the Covid-19 pandemic gave him a final pretext to clear the central plaza of Joyabaj, limiting the timespan when they could sell their wares on the public plaza to one day a week. Carrascoza said it was for sanitary measures. Members of the association argued he was trying to get rid of them. After showing up at the Municipal government building on Tuesday, August 18 to reopen the square to them again, the mayor refused, telling them to come back the next week. The President of the Association of Vendors, Petrona Siy asked if Mejía could cover the group's return to the mayor's office. Mejía agreed, but, as she told me later, "I never thought of what the magnitude of the event would be like."
***
"They had their objective," Carrascoza told me in his office in the Joyabaj municipal building, refurbished with varnished wood furniture, an ornate chandelier, and fresh new paint after it was sacked by an irate mob four months prior. "They wanted to come, to grab me, to bring me to the people. And who knows what they would've done to me then."
Carrascoza claims the coverage of his political career and local protests are signs of a plot against him by human rights advocates and journalists
"She is no journalist," he said of Mejía. "She comes to defame me."
Carrascoza claims he almost died the day that protests broke out: "If I stayed where I am now," he said, "I wouldn't be here telling you this story today."
But, in spite of the heated atmosphere, in neither of the two Facebook videos that Mejía live-streamed at the protests can anyone be seen physically threatening the mayor. In the first, you see the group gathering in front of the municipal building, yelling at Carrascoza. Mejía holds out a microphone to the silent mayor, who is contemplating the crowd on the steps before leaving a few minutes later. 
After the protesters broke inside and made it to the second floor, they threw the furniture, desks, seats, papers out off the balcony, and set them alight in a bonfire in the square. Several dozen people standing on the margins of the crowd contemplate the spectacle with curiosity. Mejía narrates with excited, but matter-of-fact steadiness. Every few seconds, a man on the second floor returns to the balcony to dump another chair down into the bonfire, throwing an occasional flurry of papers that is caught in the wind with the trail of rising smoke. The video ends with the crowd rifling through sacks of food — undistributed pandemic supplies they found within the building—and the flames of the dying bonfire. 
***
It didn't take long for the National Civil Police to begin making arrests after the August 24 sacking of the town hall — not only for Mejía, but also for twelve of the members of the association who attended the protest. The first arrests by the National Civil Police of four men involved in the sacking came just hours afterwards. Mejía, who awaited in mounting anxiety as rumors of her impending arrest spread, was taken twenty-eight days later. 
In a a public denunciation signed by 51 journalists and international press advocates, the Committee to Protect Journalists (CPJ) wrote that "the disproportionate charges and erratic judicial process seem aimed less at justice than toward intimidating community journalists like Mejía, discouraging them from important reporting on under-documented communities and leading to even greater self-censorship." The "outrageous charges," CPJ continued, are symptomatic of a culture in which, in spite of constitutional guarantees freedom of expression, rural indigenous journalists face heightened risk of criminalization and arbitrary detention when covering contentious topics such as land rights, environmentalism, and corruption.
For Quimy de León, a signatory to the denunciation, the legal case against Mejía is tantamount to "a backslide for democracy. It's a sign that racist structures in Guatemala are made more concrete in these cases. Her case is that an indigenous woman doesn't have permission to be a journalist."
De León emphasized that Mejía's case is a paradigmatic example of a larger trend of criminalization against indigenous and local community journalists, a pattern she argues has deep roots in racism. 
She referenced Carlos Ernesto Choc, a Maya-q'eqchi journalist in the El Estor department who in 2017 faced criminal charges for reporting on the police killing of a fisherman at a peaceful protest, where local residents had been demanding an end to pollution of Lake Izabal by foreign mining corporations. Three years later, after continuing to report on the environmental damage wrought by large-scale nickel mining in the region, Ernesto Choc had all his equipment stolen from his house by unknown intruders. 
And the persecution goes beyond Ernesto Choc and Mejía: on January 15, a judge ruled that indigenous community journalist Ana Gonzalez was prohibited from carrying out any journalism for two years. In October 2018, thirty police officers raided her radio station in Totonicapán, arresting her as well as her colleague, under the pretext she was "stealing" a radio frequency. But activists have pointed out that the government's refusal to legalize community radio stations makes it difficult to pay for those frequencies. For critics, arguing they're not paying for channels provides an easy excuse to shut down independent journalism outlets. 
"The message… for all of the press, but especially for community and indigenous journalists, is terrible" she said. "Now, these people are criminalized and not even considered journalists. Any business or group in power seems to have the right and power to limit and censure journalistic investigations, both when it comes to simple things and topics like corruption and extractive industries, especially in rural areas, where impunity is much stronger."  
When I asked Mejía about her time in prison, she started crying, and then after a few moments, bawling uncontrollably. Once she calmed, she explained the nightmare of being in jail: "Really, it was so hard," she says of her 38 days in prison. "They sent us to a dirty room that was full of trash. It smelled like death."
She stayed in solitary confinement the first few days until a guard transferred her to a crowded female holding cell. She made friends with two gang members to protect herself after hearing that she'd become a target among the general population. While there, eating little food and with insufficient medicine, both she and Petrona Siy, with whom she was incarcerated, contracted urinary infections. 
"The truth is that she felt abandoned while she was in the jail," Jose Cancinos, a Quetzaltenango-based journalist who visited Mejía while she was behind bars, told me. "She thought the world had forgotten her, that 'no one is trying to help me.'"
"I asked her, 'Do you want to put yourself at risk?'" her lawyer Floridalma Aguilar said of the terrifying period before she was arrested. "Because you can end up in prison for standing up for one's convictions. 'I'll risk it,' she told me, 'because I can't betray who I am.'"
Some critics have suggested the first judge, Susy Perez, and prosecutors have been complicit throughout Mejía's trial in working together to censure her journalistic work. On October 29, 2020, the Association of Guatemalan journalists called for an investigation into the case's lead prosecutor and judge for alleged ties to Carrascoza. Susy Perez gained notoriety for letting an ex-soldier, extradited from the US to face trial for war crimes in 1982, walk free in January 2020, and allegedly mocked one of the incarcerated members of the Joyabaj street vendors' association for her indigenous religion. 
Mejía's lawyer argues that her languishing in jail had less to do with deliberate persecution, directed at her as an individual, than it did with the systematic malfunctioning of a prison system. Mejía's imprisonment comes after the case of Francisco Chox, another indigenous journalist who, after being assaulted and nearly lynched by an angry mob he was reporting on, was framed by that same mob and then incarcerated for several days among Barrio 18 gang members.
Though she can use her equipment as she waits for her next court hearing, she's prevented from using it to report on the one person who has provoked so much controversy in the community and directed vitriol towards her: the mayor. 
For Aguilar, her sin, as a journalist and indigenous woman in Guatemala, was clear: "What I see the most in Mejía's case is that she's Indigenous, that she got involved in politics, and that she gained access to the political life of the country. And that isn't acceptable," she says. 
"It's the same thing that's happening throughout the whole country," Mejía says regarding similar situations facing other embattled journalists and indigenous defenders. "The same situation that we're going through now has allowed [men like Carrascoza] to accumulate more power, so that they feel more free to attack and silence us."
Aguilar is worried that Mejía could attract more attention, and more danger, if she continues standing up for herself. "Guatemala isn't a safe place to fight for your rights," she said.