At 7 p.m. on Tuesday, June 8, two events competed for Salvadorans' attention: on the one hand, kickoff for the men's national soccer team; on the other, the economy minister's presentation of a bill to convert bitcoin into legal tender in the country. By 8:45, Salvadoran forward Walmer Martínez had yet to consummate a three-nil victory over Antigua and Barbuda, but the Legislative Assembly's Finance Committee had already sent the bill, mandating that Salvadorans accept the digital currency in exchange for goods and services, to the Assembly floor for a final vote. 
El Salvador is the first country in the world to make bitcoin legal tender, effective in September. By any account, the Bukele administration rushed the bitcoin law through the legislature. From its initial presentation to its passage with 62 of 84 votes, the bill spent five hours in the Assembly, ending just after midnight on June 9.
The law requires "every economic actor to accept bitcoin as a form of payment" and allows for the payment of taxes as well as debts acquired before the bill's passage to be paid in the cryptocurrency. Excluded from these obligations are "those who evidently and by established fact cannot access the technologies to carry out bitcoin transactions." The bill doesn't specify the criteria for determining who gets the exemption. Rather than studying how the bill fit into existing legislation, the deputies simply decreed that "any provision contradicting it is hereby repealed.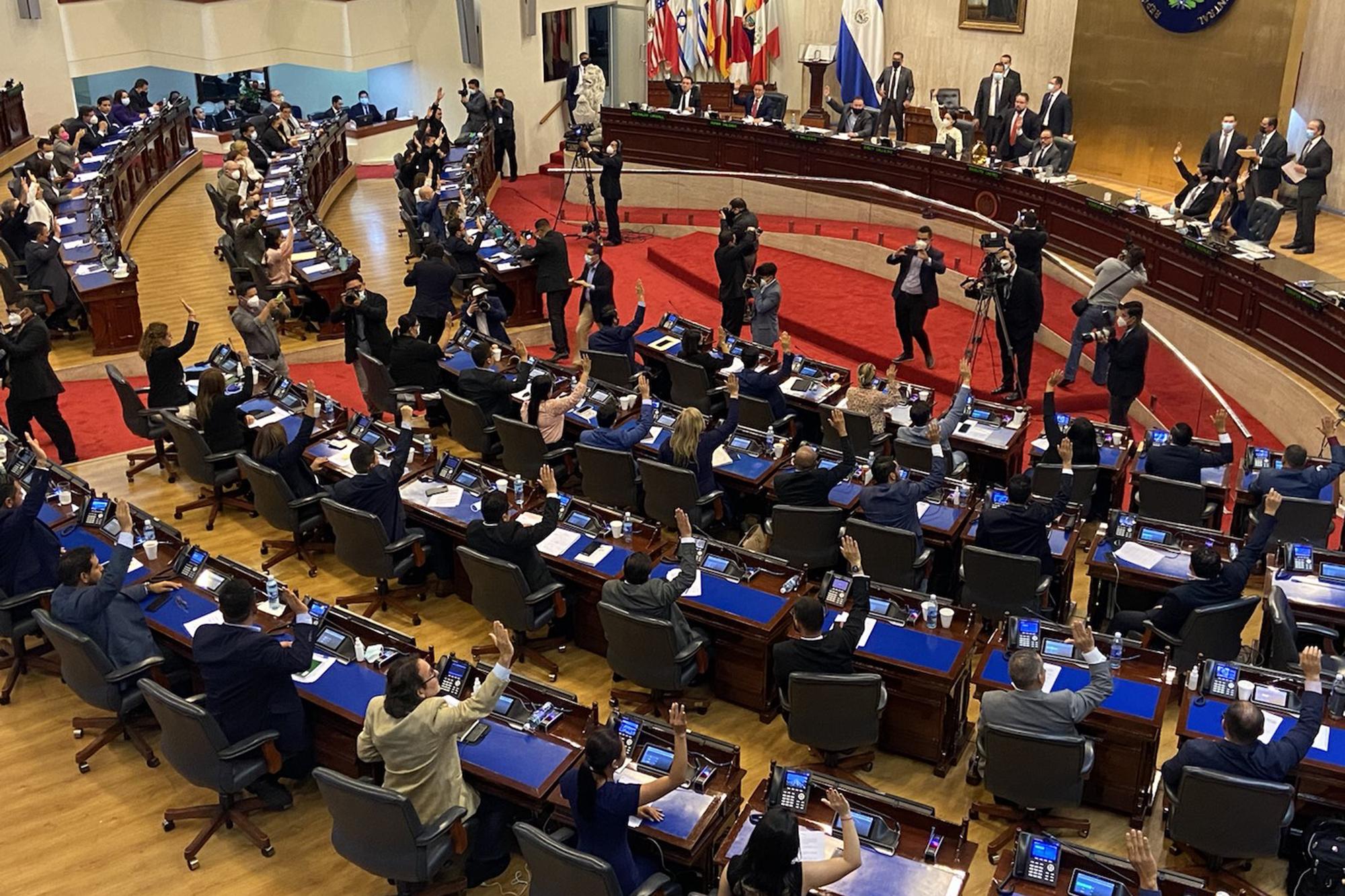 The decision to dollarize El Salvador's economy in 2001 was also hasty and lacking rigorous analysis and proper debate, economists say. President Francisco Flores announced the decision on November 22, 2000 and sent the bill to the Assembly the next day. It passed into law on November 30. A month later, dollars began circulating, but the permanent rise in foreign investment that Flores promised never followed. By the time the Bitcoin Law was passed, just two and a half days had gone by since Bukele made a surprise virtual appearance at the Bitcoin 2021 conference in Miami to announce that El Salvador would convert bitcoin into legal tender.
On stage during the announcement, and apparently holding back tears of joy, was U.S. cryptocurrency executive Jack Mallers, 27, dressed in a ballcap and hoodie. He revealed that Yusef Bukele, one of the president's three brothers and closest advisors, had reached out to him. "I kind of pissed my pants," he recounted. 
Yusef explained to him that 70 percent of the population has no bank account, and that he had been working with the government to develop a platform in increase financial inclusion by allowing users to send free remittances, "so that when you send money home they're not going to take fucking half of it." The government also "asked me to help write a bill," he elaborated, to convert bitcoin into legal tender.
A 2016 poll conducted by El Salvador's Central Reserve Bank revealed that 77 percent of Salvadorans lack a savings account, and that two in five have none of the following: a savings account, credit card, insurance, or pension. Western Union, a middle man for remittances, says it charges 6 percent per transfer, though Bukele told bitcoin entrepreneurs on Twitter the day that the bill passed that the rate reached 30 percent.
The Bukele administration contracted Jack Mallers's company, Strike, to create a digital bitcoin wallet, an application similar to those of private banks in which clients can make transfers, consult their account balance, and access other services. The difference, given that bitcoin is totally digital, is that there are no ATMs or cash withdrawals. Salvadorans will be able to use other wallets according to availability, but will have the government wallet as a fall-back.
The bitcoin announcement happened on Saturday, June 5. By the following Tuesday, the Bitcoin Law, which Mallers allegedly helped to write, passed through the Assembly at breakneck pace. Between the announcement and the bill's passage, those who most received Bukele's public and personal courtship to promote his project were foreign investors. "Bitcoin has a market cap of $680 million," he wrote on Twitter on Saturday following the announcement. "If 1% of it is invested in El Salvador, that would increase our GDP by 25%."
Since the video of Bukele and Mallers went viral on June 5, the Bukele administration has leveraged state-run media coverage and social media marketing to keep bitcoin on the national agenda. The president tweeted in English about the cryptocurrency dozens of times, and changed his social media profile picture to one where he has red eyes shooting laser beams — a nod to the international cryptocurrency community. Dozens of public officials, including his former private secretary now serving as president of the Assembly, copied the move.
As El Salvador grabbed headlines around the world, Bukele wrested control of the media narrative from his administration's June 4 announcement to end cooperation with the International Commission against Impunity in El Salvador (CICIES), an anti-corruption monitoring and advisory commission formed in a 2019 agreement with the Organization of American States. The CICIES had been investigating evidence of corruption in his administration.
While the bill worked through the Assembly on Tuesday, and without having given a press conference or public speech on the topic, Bukele and his brothers Karim and Yusef appeared in an English-language livestream on Twitter Spaces to sell their plan to cryptocurrency entrepreneurs, most of whom spoke with accents from the United States.
The questions and answers in the Twitter Space, hosted by U.S. venture capitalist Nic Carter, were far longer and more substantive than the commission tasked with evaluating the Bitcoin Law. 'We're designing this new law that gives permanent residence to anybody that invests three bitcoins inEl Salvador,' Bukele told the audience, which at one point amassed 20,000 viewers. The new bitcoin law mentions no immigration reforms. At the time, bitcoin was trading at $33,000. 'Innovators, investors, entrepreneurs, bitcoiners that want to buy a vacation house or live by the beach,' he added.
The Nuevas Ideas legislative bloc has also weighed in online. "Financial inclusion and freedom. Deflationary counterweight. Ease of transactions (i.e., remittances). Long-term investment with exponential growth," tweeted Nuevas Ideas deputy Rodrigo Ayala, an economist. "Bitcoin is also ecology, humanity, respect. It's progress, the future. It's moving forward, and it's democracy," intoned Nuevas Ideas deputy Carlos Bruch.
The speeches on the Assembly floor, just like the language of the law, offered no public explanations of bitcoin, what will be the difference in transaction fees between current intermediaries and those handling cryptocurrency, and how the monetary change will be applied and implemented. The Bukele brothers did, though, offer more insights in the June 8 Twitter Space — some of which clashed with messaging on the Assembly floor.
"Nobody will be forced here. Those who do want it will use it," said GANA Deputy Guillermo Gallegos, a staunch legislative ally of Nuevas Ideas who sits on the executive board of the 2021 legislature, on June 8, of accepting transactions in bitcoin. Bukele, meanwhile, said the opposite in the Twitter Space: "If you go to McDonald's, they can't say 'we don't accept bitcoin.' They have to accept it by law. Bitcoin won't apply to accounting but you can pay your taxes in bitcoin." 
According to Bukele so far, consumers won't be forced to make payments or convert their savings into bitcoin, but merchants will be forced to accept it as payment, whether they are a banker or an ice cream vendor. 
The ice cream vendor will then have the option to convert the bitcoin they receive as payment into dollars before transferring earnings to their bank account — assuming they have one — through a government exchange, Bukele elaborated in the Twitter Space. "They have to take the bitcoin, but not the risk. So they will translate that risk to the government," he said. If the value of a transaction in bitcoin, which regularly shifts by 10 percent in a given day, changes between the sale of a stick of ice cream and the time to transfer the money to the bank, Bukele says the government will convert the bitcoin to dollars at the value of bitcoin when the ice cream was sold, assuming any gain or loss.
To bankroll these fluctuations, the new law creates a trust fund through the public Development Bank of El Salvador. "The purpose of the trust fund is not to make money, but to support this decision of having bitcoin as legal tender and that it runs for years and years with no problems," explained Bukele. "It doesn't involve the Federal Reserve or even our central bank. It's just a trust fund in our development bank." He added that merchants can also trade their bitcoins for dollars on private cryptocurrency exchanges.
None of these explanations made it to the Assembly floor, into state-run media broadcasts, or even into the Spanish language.
"Every Day Will Be a New Idea"
At one point a participant in the Twitter Space asked Bukele whether his administration had considered creating bitcoin mining facilities in El Salvador. "Never thought of it, but every day is going to be a new idea. So we're not thinking of mining, but we can do something to promote mining," he responded. "Here there's energy that you get from volcanoes...it's also 100 percent clean because the energy of the volcanoes turns the water into vapor and that makes energy." 
The next day, June 9, Bukele unveiled a new project, in English, on Twitter. "I've just instructed the president of La Geo, our state-owned geothermal electric company, to put up a plan to offer facilities for bitcoin mining with very cheap, 100% clean, 100% renewable, 0 emissions energy from our volcanoes. This is going to evolve fast!"
Bukele dropped more news in the June 8 Twitter Space: the International Monetary Fund (IMF), with which the administration is negotiating a $1 billion loan to refinance its debt, reached out to schedule a meeting for Thursday, June 10, and expressed trepidations about the bitcoin project. In May, government debt exceeded 90 percent of the value of the country's gross domestic product. "I tried to explain to them that this is a huge opportunity for the country and a big message for the world, but it's not going to change our macroeconomics," he said of his talks with the Fund.
The Bitcoin Law, 16 articles long, fits on two pages. In sending it along to the Assembly floor for a final vote, the Finance Committee left no time to hear from the implementing agencies, banks, economists, or anyone else. Arena Deputy Rodrigo Ávila said his party wasn't opposed to the discussion of the bill, but asked to hear expert opinions and for a slower process. Nuevas Ideas flatly said no. "I took the time to sift through the list of 'experts' that they've invited to give their opinion, and they've always been the same. So, why would we call them here if they know nothing about this topic?" said deputy William Soriano, 29.
"What they want to approve in the Assembly about bitcoin has implications too severe for the whole population to approve without debate and a serious technical analysis," said Ricardo Castaneda, economist with the Central American Institute for Fiscal Studies (ICEFI), on Twitter. Renata Ávila, a Guatemalan attorney and Stanford University researcher specializing in technology, wrote: "Instead of a visionary, experimental approach to test alternatives (starting with small pilots, independent risk assessments, etc), the #ElSalvador #Bitcoin Law is an imposition, reckless and rushed. Disconnected from the country's social and economic context." She then added: "I've never seen so much ideological, juridical, mathematical, and economic-monetary incongruence converge, in three pages."
A group of ten Salvadoran economists signed a letter questioning the promise that the cost of sending remittances will decline. "There's no government action behind the price of bitcoin to guarantee the value of this pseudo-currency and...people would receive remittances that can lose value from one moment to another." They also lamented that "such a transcendental decision was taken so lightly, behind the public's back, without open, pluralistic discussion and sufficient rigorous analysis."
*English version by Roman Gressier