In la casita de Corona, a house in the neighborhood of Corona, Queens, no one fears the virus — not anymore. The virus infected them all. The virus turned Nemesio and Gabriel to ash. There is no more fear, but there is mourning. 
Mourning is why the Méndez family, gathered in a small room of the house, will kiss the urns at the end of the ceremony. Shedding tears, they'll pass the remains amongst themselves, kissing the urn, passing it for the next kiss, and then embrace each other in grief. The pandemic can't pull them down any more than it already has.
April 12, 2021. In the neighborhood of Corona, New York City transforms into a place that is no longer New Yorker nor skyscraper nor hipster-chic. Stop after stop, the subway car empties of stilettos and office workers and souvenir bags. Crossing the East River, the iconic landmarks of Manhattan fade and the stereotypes of Queens gain form: a man with pants spackled in white paint, a woman speaking Spanish on the phone explaining why she can't pay her electricity bill, a boy clutching his toolbox even as he dozes. Outside the Flushing-Main Street Station, the city speaks: La Gitana, El Gallo Negro, Mendoza Agencia de Vivienda.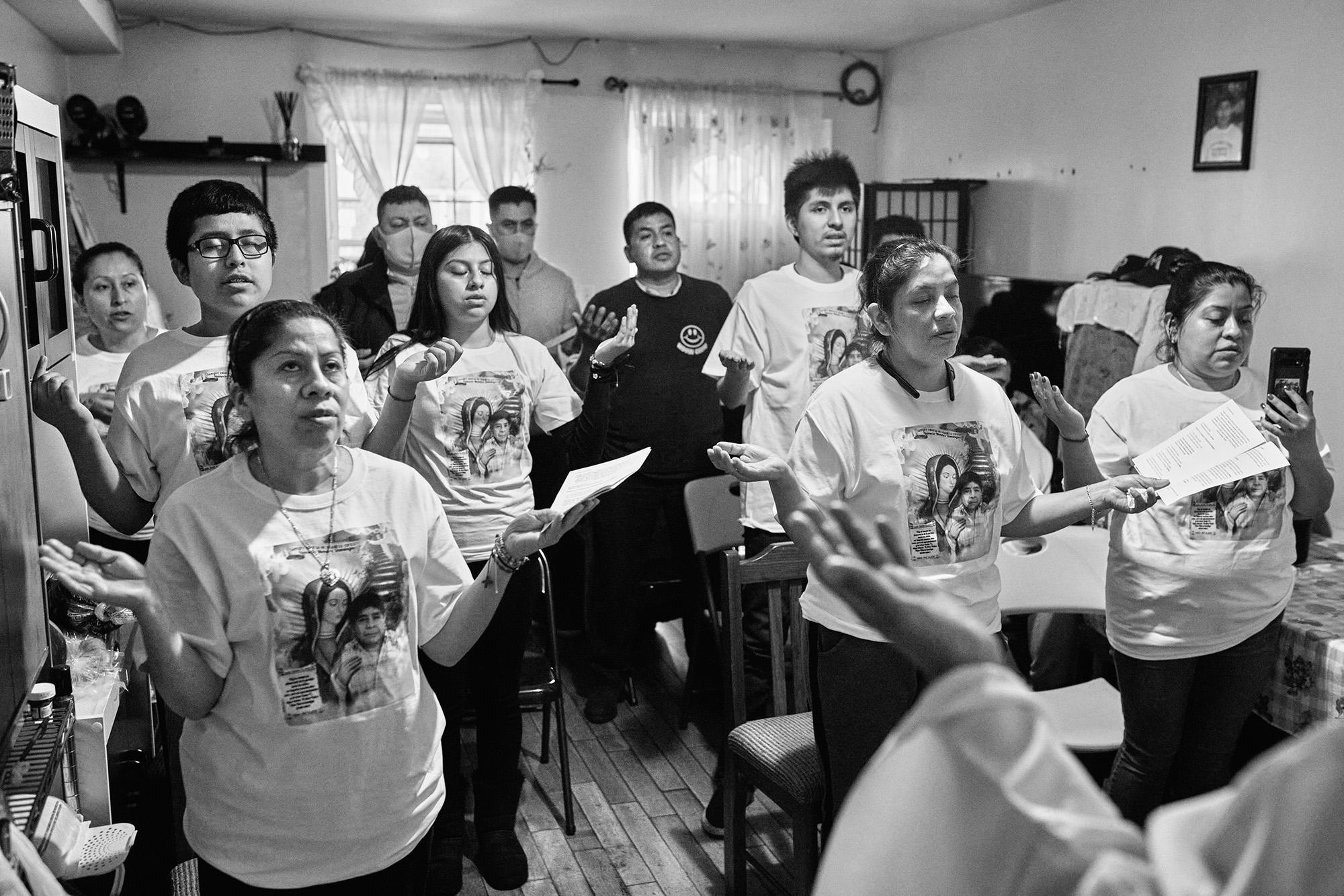 Here, migration interlaces with the coronavirus. By June 2020, Corona was the area code with the most virus-related deaths in all of New York: 394. And the neighborhood with the most known infections: more than 4,000. For over a decade, it has also been home to one of the city's largest migrant populations: 63 percent of the neighborhood's more than 110,000 residents were born outside the country, and more than half are from Latin America. In Corona, it's not unusual to find a single restaurant selling a selection of pupusas, tacos, and Ecuadorian-style baleadas; a street cart offering Chinese; lamb over rice; or Mexican tortas.
If New York City was the capital of the virus, Corona was its downtown. If New York is the capital of the world, Corona is the capital's home of its international working class.
To understand, you have to be there. From the outside, you can't understand.
On 111th Street, Father Fabián Arias told us. A two-story house, he said. The Méndez family will hold Mass at four in the afternoon, the Father said.
It's raining lightly and the three-story building is a hulking mass, impossible to decipher from the outside: a wrought-iron door, a hallway lit by one lone lightbulb, some stairs, no indication as to how six families might fit inside. Whatever's behind the metal door seems a secret. How can 40 people live in there? Where do those 40 people sleep? There are about seven people living behind every door in the building. On what tables do those 40 people eat dinner? And breakfast and lunch? Where do those 40 people shower in the morning rush, or find solitude when they're feeling sad or circumspect?
Father Fabián arrives late. It's 4:40 p.m., and the gray-haired priest, who seems agitated, is wearing a black shirt and clerical collar and carrying a briefcase containing Catholicism's sacred vessels. "Perdón, muchachos, but come, come, we're late," he says to me and my photographer companion, in his thick Argentine accent. Trailing behind Father Fabián is an Indigenous-looking young man, barely five feet tall, strong and stocky, with dark skin and kinky hair. "We'll be packed in, but just find a spot. It will be a lovely ceremony, very heartfelt," Father Fabián tells us as we climb the stairs.
They open the door. They hug Father Fabian. They welcome us both in, the photographer and me. They direct us to the kitchen, which is standing room only.
La casita de Corona has a hallway, a kitchen the size of a closet, three rooms barely big enough for a bed, and a living room that looks more like a small Central American corner store: huge bags of candy and bric-a-brac stacked against the walls, cartons of instant soup, a folding table and mattress stashed away in the corner.
The American dream, only the pluckiest of people would still say.
The living room has been converted into an intimate altar, with photos of Nemesio and Gabriel, alongside the Virgin of Guadalupe and San Judas Tadeo — Jude the Apostle. In the room, nine adults, three children, and a computer screen with a grandmother from Atlixco, Puebla, Mexico, observing the ceremony from afar.
It's impossible to move without bumping into someone.
"Don't be afraid — detachment is painful, like giving birth, but it's necessary," Father Fabián tells the Méndez family, already officiating Mass, and cloaked in his chasuble.
Two more families enter the room. One man, still wearing his work shirt: a small smiley face with a "Movin' Crew" logo printed on the back. His forearm muscles still tense from work. He kneads his own arms, explaining that he just got off a job. Now there are eleven adults and three children. There's barely room for the priest.
For a moment, it occurs to me that this little house isn't any different from any other house in the cramped, working-class neighborhoods of San Salvador or San Pedro Sula. Then it occurs to me that it is: there's food here, piling up in the living room, and no one attacked us while we waited outside in the pouring rain.
Mass ends, and the most emotional moment begins. The ashes pass from hand to hand, one person to the next. The Méndezes kiss and hug the urns with the delicateness of someone embracing a newborn child. "You will always be the best abuelito in the whole world. I love you so much," the youngest Méndez says to the ashes of his grandfather, Nemesio.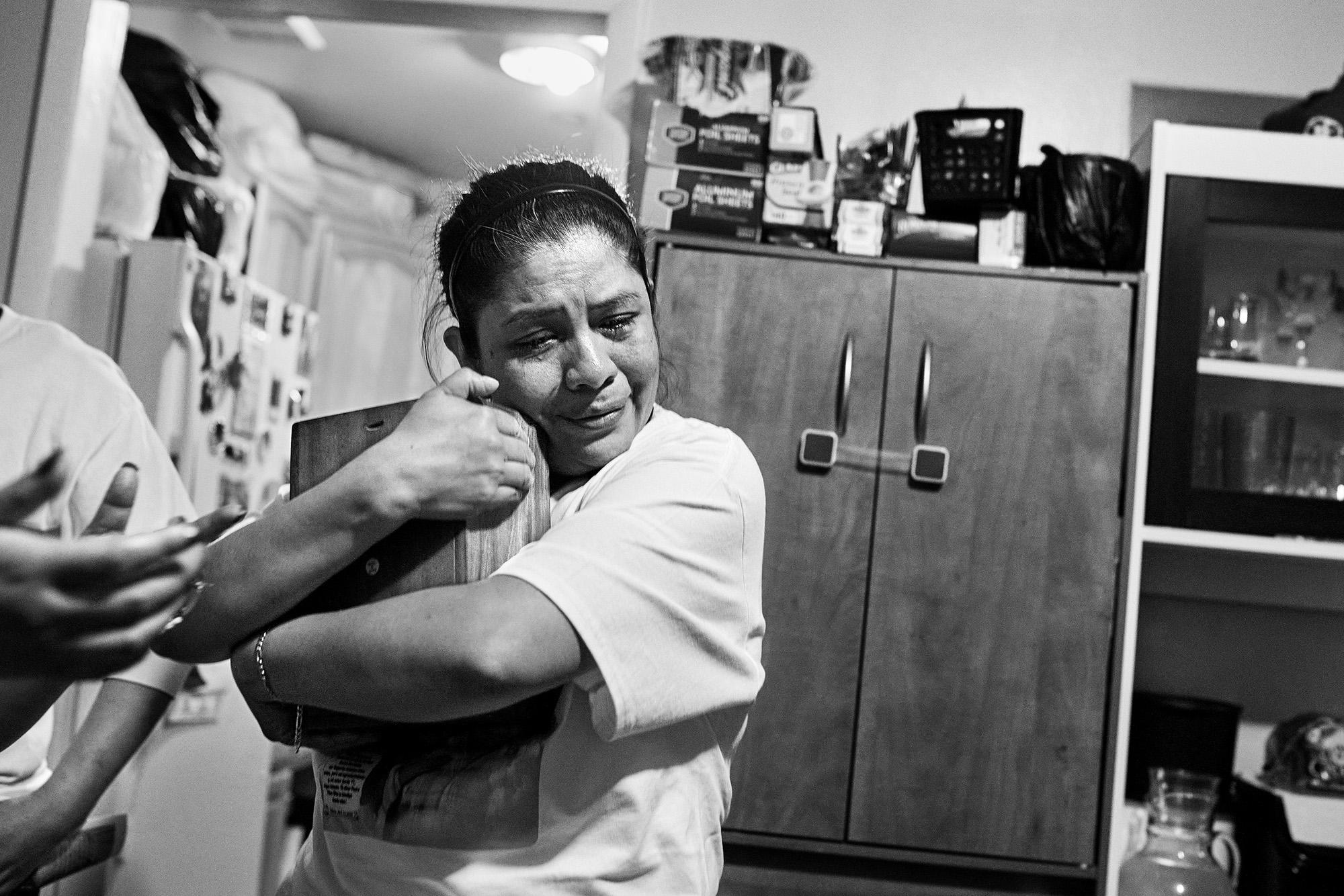 They give the urns to Father Fabián. With the help of the young man accompanying him, he leaves the apartment of mourners and walks out into the streets of Corona, carrying the ashes on their way to be repatriated to Mexico.
"You're not afraid of getting infected, padre?" I ask.
"Everyone here has already had it."
"How many Masses like this have you officiated, padre?"
"In the last year? Me, personally? About 90, maybe 100."
"All for migrants, padre?"
"All for migrants."
What's Worse: Pandemic or Post-Pandemic?
In May 2020, after spending a week in the hospital, Nemesio Méndez, age 72, died, infected with the virus. Two months later, Gabriel Méndez, Nemesio's son and still a young man, died of the virus. Today, both men left their home in Corona in urns carried by Father Fabián.
Before the contagion, Nemesio shared this house in Corona with his son Gabriel, his 46-year-old daughter Alejandra, her husband, and their two children — all migrants from Puebla.
When Mass is over, I take the opportunity to leave the kitchen and pace the living room: three steps wide, five steps long.
I meet with Nemesio's children in one of the other rooms. The room is square, three steps across. Dolores, Alejandra, Griselda, and Valentín attempt to find words for the pain they feel. "Mutilados," Griselda says — mutilated — and the adjective strikes me as the most powerful of any they utter.
Griselda, Dolores, their children and spouses — eight people have moved into the house since Nemesio and Gabriel passed away. "Because of the economic situation, we decided to move out of our apartments and move in together here," Dolores explains.
One of the catchphrases of the pandemic was to "maintain social distance." "Stay home" was another. Here in Corona, migrants have little choice but to defy such slogans.
I ask the family how much they pay in rent. In New York, whenever I ask this, I expect the answer like someone expecting a thunderclap — a little apprehensively, and ready for a shock. In this case, I didn't think the thunder would crash so loud: "$2,600 a month."
And I always do the mental math. For that much money, in Central America or Mexico, I think, I could rent a big house with a garden and a swimming pool. But in Central America or Mexico, the combined salaries of the entire Méndez family wouldn't come close to $2,600 a month.
"And how do you pay that?" I ask.
"Well that's the problem," Valentín responds, "We haven't been paying.'
Spring in New York was nipped in the bud just as the city prepared to bloom. The year's first flowers and signs of good weather appeared right as the virus took hold. At the end of March 2020, with more than 25,000 known infections and 125 deaths, New York State had 6.5 percent of the world's cases, and the number of people infected was doubling every day. Left with no alternatives, the whole state, including its sleepless city, shut down.
"Last year, the soundtrack of the city was the ambulance's siren," Dolores says.
The women worked cleaning houses, and every day there was less and less work, until one day, around midyear, there was none. Valentín waited tables until the business closed. The restaurant reopened about a month ago, but the boss only needed one waiter, so Valentín recently started working for a moving company. "Sometimes there's work; sometimes not."
"We owe four months of rent," Valentín tells me in the small square room.
$2,600 times four is $10,400. Pulling yourself out of that much debt is quite the task when, like Valentín says, sometimes there's work, and sometimes not.
The pandemic is over in Corona. In the world, it rages on. In Corona, conditions of government neglect, overcrowded housing, and the need to leave home and go to work converged to accelerate the spread of the virus, and by June 2020, the neighborhood had reached that most severe-sounding of statuses: herd immunity. The infected mass, the dead mass. During that month, 68 percent of people who visited one neighborhood clinic tested positive for antibodies; they had been infected. The average for the city was 26 percent. 
Now, in Corona and wherever the city is undocumented, a new pandemic persists — that of precarity, grief, and uncertainty.
The Tragedy of Los Delivery Boys
After the Méndez family Mass, Father Fabián, who always seems to be in a hurry, told us to meet him today, the morning of April 13, near the Harlem River in Manhattan. He said los delivery boys would be holding a march. He said that they were all migrants from Mexico and Central America, that we should come, that it was important, that it might help us understand how the pandemic has made life harder here. And then he left in a hurry.
The procession of roughly 60 migrants is making its way down First Avenue. They march toward Willis Bridge, which connects the island to the South Bronx. Mexican flags predominate, but two Guatemalan flags and a Honduran one rise up out of the crowd.
A symbolic coffin leads the march. A killing has convened the crowd.
Just 20 days ago, only a few blocks from this bridge, food delivery worker Francisco Villalba Vitinio, an Indigenous Nahua man from Xalpatláhuac, Guerrero, Mexico, was shot to death, at the age of 29, while out delivering an order. Like many of the delivery workers here, Vitinio was an undocumented migrant. He had been living in New York for nine years.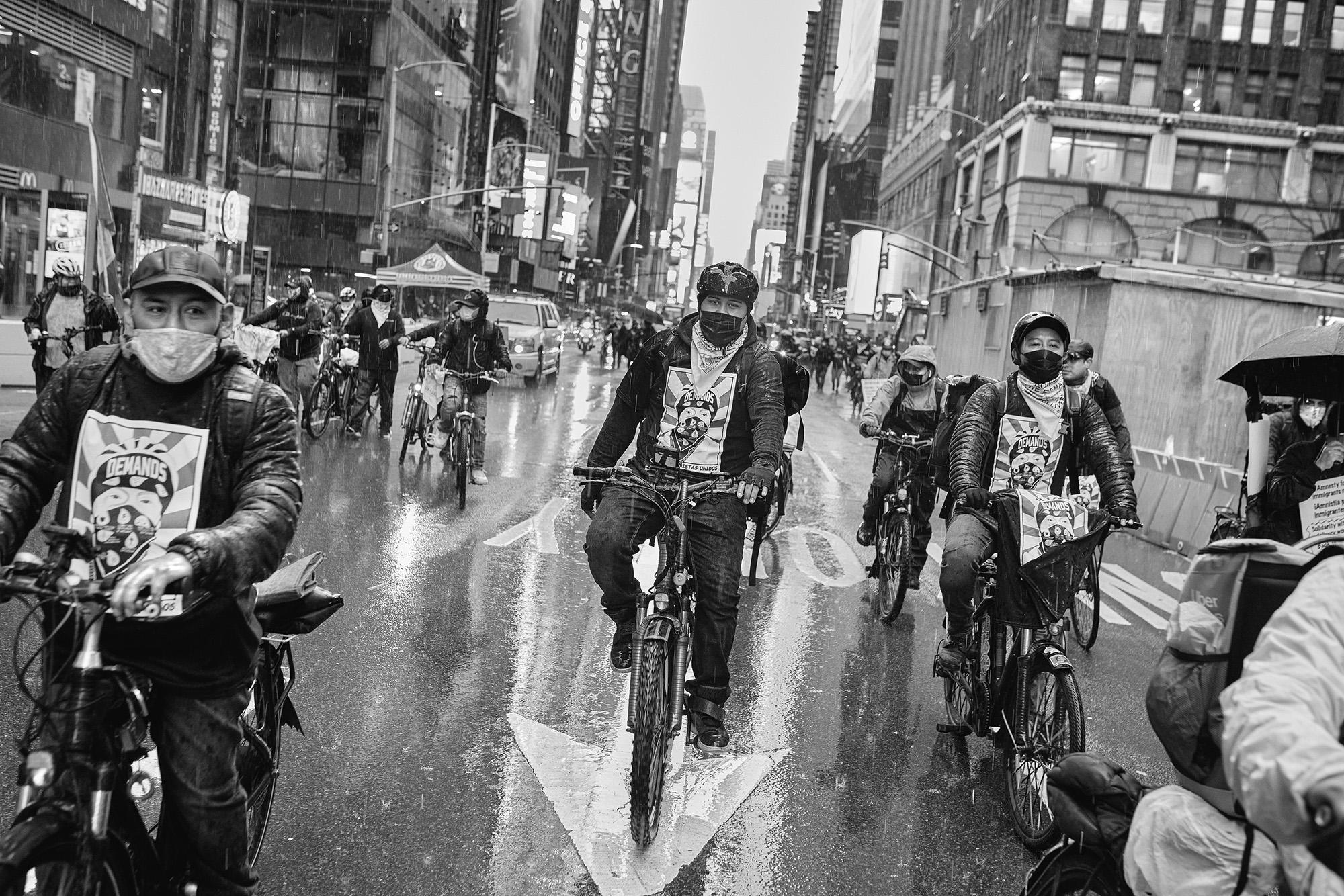 According to the police, a group of African-Americans tried to steal Vitinio's E-bike — the kind you can buy new for around $2,000 — near one of the housing projects next to the Willis Bridge. Vitiano resisted, and then was shot and killed. The bike, however, was never stolen; it was found lying just a few meters from Vitinio's body.
At the tail of the march I find Mauricio Salgado, another migrant from Guerrero. As he walks, his hat is almost covering his eyes and his baggy clothes and neck chains project a style that in Central America might prompt most people to cross to the other side of the street. But Salgado is open and friendly right away. I ask him if he has papers. Only when he needs to go to the bathroom, he says. I ask how old he is, and how many years he's been here. 33 and seven, he says. I mention that a lot of delivery workers seem to have shown up to the march. "A lot? Nah man, this is nothing. There used to be a shit ton of us, but a lot died last year, a lot of Mexicans and Central Americans. We didn't have a choice, we had to go out and work, even with that green beast floating around in the air. If you don't work, the app downgrades your rating and your family starves."
The delivery drivers work for different app companies like Uber Eats, Relay Rider, or Doordash. Conditions vary by company, but the common denominator is that none of them provides you with anything — no benefits, no bike, no backpack, nothing for free. They offer a percentage per delivery, plus tips, as if these were costs that came out of the company's pocket, and not the customer's. 
In other words, if the delivery boys pedal, they earn; if they don't, they get nothing. But it's one of the few jobs available for New York's undocumented, since companies rarely check for false Social Security numbers. On any given day, if a migrant has a bike to ride, he's out in the streets working. Breaking his back and pumping his legs for 12 hours, a delivery worker can make around $150 dollars a day. That's the equivalent of the city's minimum wage of $12.50 an hour.
I ask Salgado, the down-and-out delivery boy, if things have gotten any better this year. "In terms of the pandemic, yeah, but now those Black kids are robbing and killing us. Those fucking morenos stole two bikes from me this year. It's hard, man. A lot of us carry baseball bats on our bikes now."
Some realities aren't pleasant to talk about, but that doesn't make them go away. In the past five years, I've travelled to Los Angeles, Long Island, North Carolina, and New York to report on Central American migrant communities. In all of those places, hostility toward African Americans is intense, stinging. Marginalized against marginalized — the classic tale of our modern world.
On a Facebook page titled El Diario de los Deliveryboys en la Gran Manzana — The Deliveryboys' Daily in the Big Apple — where events such as today's are announced, there are dozens of pictures of stolen bicycles, E-bikes, and motorcycles, along with photos and videos of night-time security patrols, stationed with their bikes at the foot of the Willis Bridge. The patrols are staffed by the delivery workers themselves, who volunteer on their days off to help protect others from muggings.
To avoid problems, four NYPD Community Affairs officers escort the march. Agent Miguel Murphy, of Dominican descent, walks in front of the casket at the head of the procession. I tell him what Salgado just told me, and the agent responds bluntly and in Spanish: "No doubt about it, crimes against these kids have increased a lot this year, especially around here, with all the housing projects." "For the bikes?" I ask. "Not just the bikes," he says. "For the $30 or $40 a delivery boy might have in his pocket?" I probe further. "Yeah, and after the pandemic, not just for that," he responds. "What else for then?" I ask. "For the food, señor, for the food."
The march crosses the Willis Bridge. Underneath the bridge, standing next to Father Fabián, one of the group's leaders speaks through a megaphone. "This is happening on a daily basis," he says in closing. "Just yesterday, there were six muggings." He hands off the megaphone. Noise from the passing cars overpowers the speaker, and I can only make out a few phrases. I note them down. "They ran me over." "They stabbed my brother-in-law to death while he was out on a delivery." "My brother died from the virus, because he was doing this work."
Death, Hunger, and Taxes 
Only a few hours have passed since the Willis Bridge demonstration, and Father Fabián is at 34th Street and Junction Boulevard in Queens, on the other side of the city. He's passing out 386 boxes of food to the migrants who show up there to receive them.
I ask the first three people I see in line where they're from: Colombia, Dominican Republic, Guatemala. I ask what they do for work. All three tell me they're unemployed, all for seven months or more.
The food distribution is coordinated by Miguel, a Oaxacan migrant and member of Father Fabián's vast network of volunteers.
As Miguel passes out the last boxes of food and diapers, he tells me the network in this area of Queens is made up of 22 individuals, all of them migrants, who started organizing in March 2020 by delivering boxes of food to the homes of other migrants who were stuck inside and had nothing to put on the table. Father Fabián collects monetary and other donations from humanitarian organizations and businesses. "The government didn't give us any of this," Miguel is quick to point out. "All of it was collected by the Father."
While they were working to feed the hungry, the pandemic tore apart their families. Miguel lost a brother and a cousin here in New York in 2020. On top of that, all 22 volunteers in the network lost their jobs. Ten are still unemployed, including Miguel.
I ask Father Fabián and Miguel how many boxes they think they've handed out. "In total? I mean, it's hard to say," Father Fabián says. "We do distributions in The Bronx, Queens, Uptown Manhattan, Staten Island, Brooklyn." Miguel jumps in: "We're just one group and we've been doing four distributions every week for the last year, never less than 200 boxes per distribution. You do the math." I do the math: about 40,000 boxes of food, at least. 
Migrant mutual aid has saved many, at least from hunger.
In April 2020, the Trump administration began issuing IRS "stimulus" checks: $1,200 at first, then $600 in December, and $1,400 in March 2021. Of course, relief was only given to those who were eligible: U.S. citizens, U.S. residents, or individuals with valid Social Security numbers. In other words, everything an undocumented migrant is not.
And so, university professors and lawyers and restaurant owners continued receiving their salaries, along with their federal stimulus checks, while the Honduran woman selling hats on the streets of Corona did not. And the delivery worker from Xalpatláhuac murdered near the Willis Avenue Bridge did not. 
When this country has the will, it finds a way. For example, the U.S. government has a special numerical identification that allows undocumented individuals to pay taxes. It's called the Individual Taxpayer Identification Number (ITIN) and it's designed specifically for people who cannot provide a Social Security number, and is issued, in the words of the IRS, "regardless of immigration status." Of course, as the IRS makes clear on its website, the ITIN does not authorize you to work in the United States, nor receive Social Security benefits, nor qualify for tax credits. It only authorizes you to pay in. Many undocumented migrants have an ITIN, knowing that if there is ever any kind of immigration amnesty, the ITIN will be required to apply.
The stimulus checks are only one public service undocumented individuals are barred from accessing: they also can't receive unemployment benefits, food stamps, or the service known as One Shot Deal, which provides debt assistance to individuals who are behind on rent, have no prior history of missing payments, and have declared their debt status in court. To access any of these services, you need a Social Security number. Here, the government doesn't help the needy, it helps the documented. (As of earlier this August, undocumented New York residents who lost wages due to the coronavirus can apply for state stimulus checks.)
There are no boxes left. Father Fabián, who apparently never stops, tells us that we can talk more in the car, that he'll take us to Midtown, in Manhattan, where he has a meeting at the Argentine Consulate. His assistant is sitting in the back seat — the small, stocky, silent young man who accompanied Father Fabián to Mass at the Mendez house
Since 2002, Father Fabián has been one of four priests in charge of Saint Peter's Church, located in the heart of Manhattan, on Lexington Avenue, surrounded by art galleries, jazz bars, and hotels like the Waldorf Astoria. This only makes the priest's daily rounds all the more impressive. Rather than take confessions and perform baptisms in the comfort of his Manhattan church, Father Fabián spends his time conducting private Masses in Corona or marching with delivery workers in The Bronx. I ask him why. "Because in such a grandiose country, all the state policies against migrants, they're so terrible. They unsettle me, they move me, they mobilize me," he says.
This weekend, Father Fabián has two other Masses like the one at the house in Corona. He tells me that many of the services he's performed have been for families without ashes — with dead relatives, but without their ashes.
"Many didn't have enough money to pay a morgue or funeral home — their bodies ended up in mass graves because no one could take responsibility for them. There were communal graves. The bodies were thrown out like garbage. Thousands of bodies were just thrown out like this," the Father says as he drives toward Midtown.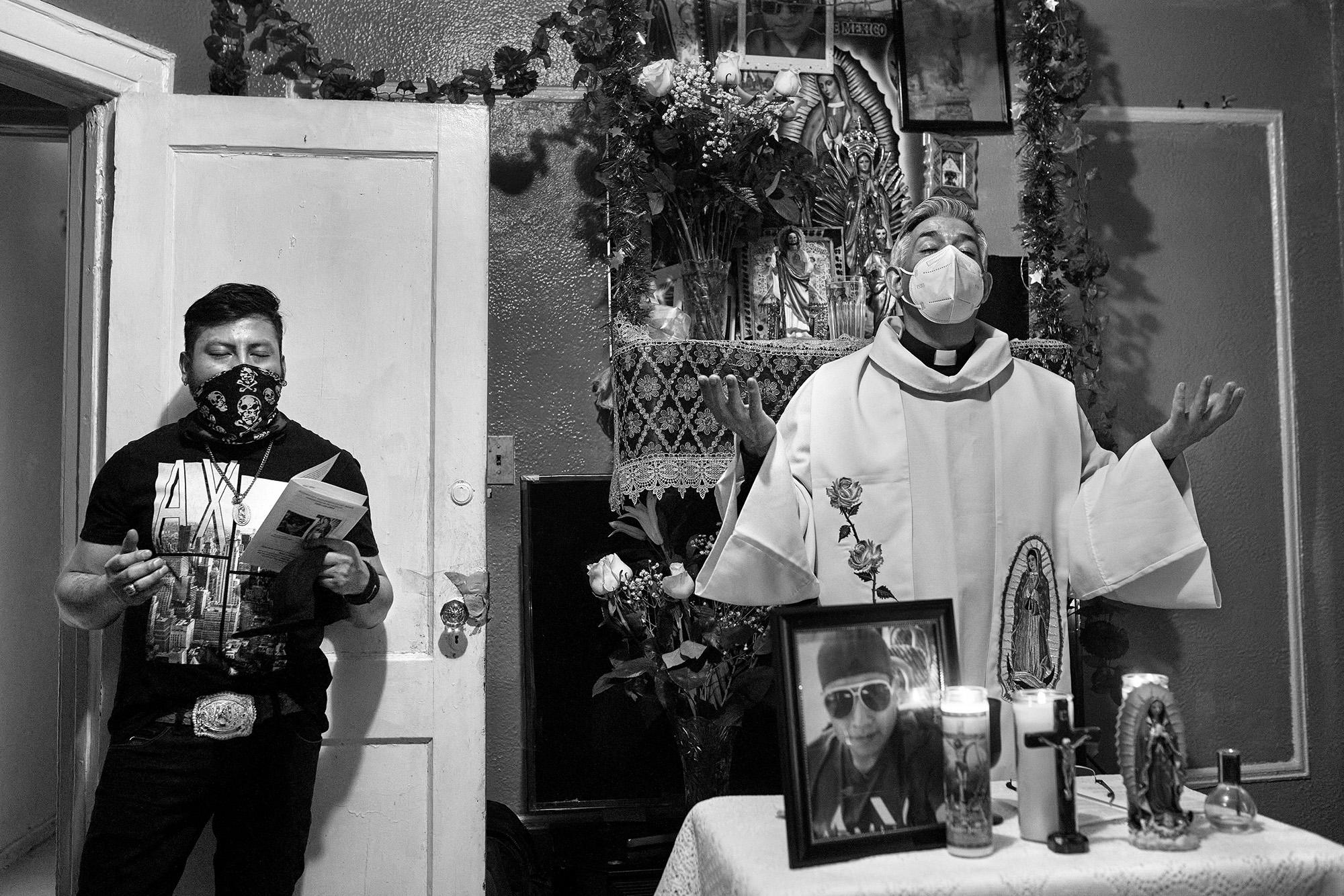 Beginning in April 2020, when the pandemic-related death toll in the United States had barely surpassed 15,000, New York authorities started burying corpses a few kilometers off the East Bronx coast, on Hart Island, a place with a long history of infamous uses: prison, psychiatric institution, tuberculosis sanatorium, homeless shelter, boys' reformatory, and now a cemetery for the nameless.
According to government estimates, there are at least one million undocumented Hispanics in New York, and more than 34 percent of all residents who died from the virus were Hispanic. It's no secret that the remains of many of the city's undocumented are buried on the island — people who fell ill and languished just as they died: alone.
"And the migrant detention centers...ugh, that was just barbaric," says Father Fabian. "He survived Covid in one of those centers," he says and gestures with his thumb to the young man behind him, his assistant.
This tough kid is named Diego. He's 19 years old and fled to the U.S. from his home in Quiché, Guatemala. He spent more than two years in a detention center after being apprehended crossing the Texas borderlands in 2019. As a minor, he spent the first year in that state, but when he turned 18 they transferred him to an adult detention center in New York, as his asylum claim wound through the courts. Diego was released a few weeks ago, and Father Fabián is now his legal guardian, as he has been for 139 other migrant children and teens over the past 12 years.
I ask Diego why he fled Guatemala. "Because it sucks to die when you're only sixteen," he answers tersely. Then he says: "In my cell, there were two of us," and that's all he says, mumbling, then goes back to losing his gaze in the city streets, which, in this part of New York, are stunning.
"I'd say around 75 percent of migrants in New York have lost their jobs and can't pay rent. The real crisis has only begun. It's a disaster," Father Fabián says, fighting his way through traffic in the heart of Manhattan.
The phone he keeps mounted on his dash rings. He answers. It's a Honduran, a Garifuna community organizer, who tells him something about a migrant, a minor, who's having a problem with a court date. Father Fabián promises to call a pro bono law office, then hangs up.
We pass East 52nd Street and he gets another call. A woman with a hard-to-identify Latin American accent asks if Father Fabián can help her get a Covid vaccine for an HIV-positive migrant. The father says he'll see what he can do. 
Before we reach the next stoplight, he gets another call. A woman asks if he can spare some "comidita" (a little bit of food), for two elderly women with cancer who can't work because they're not vaccinated and are undocumented. Apparently one of the women is from Colombia.
At 54th Street, he gets a call from a woman who speaks almost no English. She has an accent that, to my ear, sounds Eastern European. She tells the priest that she was given his number at a shelter, that she has four kids, and that one is just a year old. She says help, help, help. "I'll help you. I'll find a way to help," the Father promises her, as he tries to make a left turn.
Bitter Melon and Young Coconut
When I spoke with Doña Carla García over the phone four days ago, she told me that she doesn't believe in conventional medicine. She said her people back in Honduras, in the Atlantic coast departments of Colón and Atlántida, don't believe in it either. They've spent too long defending their customs against foreign trampling not to know how to take care of themselves.
García is the coordinator of international relations for the Fraternal Organization of Black Hondurans (OFRANEH), but now lives in New York. She left Honduras in 2012, for a syncretic blend of Central American reasons: death threats and the search for better opportunities.
Her father, who lived in the United States for years, had been asking her to move for over a decade, and a plan was starting to come together while García was still leading a fight against Canadian businessman Randy Jorgensen's plan to develop a vacation home complex in Trujillo Bay, on the Honduran coast. The afroindigenous Garifuna community had accused Jorgensen of usurping their land, and several community leaders had been attacked and shot at. Three days before Doña Carla and her children set out for the United States, several men went looking for her at the OFRANEH offices. A week after she landed in New York, they sprayed her mother's house with bullets. Doña Carla has lived here ever since.
She told me over the phone that she regretted not being in Honduras, since she was convinced that a mixture of bitter melon and young coconut would be a powerful remedy for the virus, but in New York, where there's a market for everything, it's still hard to find young coconuts, to say nothing of that fleshy, yellow, wart-covered fruit that grows in the Central American tropics — the calaica, or bitter melon.
Doña Carla agreed to grant me an interview, but only in the open air of Brooklyn's Prospect Park, since at the time, her only method of staving off the virus was to drink chamomile and bitter orange tea, and to gargle lukewarm water with iodine every morning.
It's April 14, a shy spring is emerging, a chill still in the air, and Prospect Park is a cliché: healthy joggers sporting their special attire, cozy babies in their immaculate strollers, dogs with enviable manes passing us by.
Doña Carla arrives and we look for a bench to sit and chat. Plain-spoken, self-assured, and resolute, she's one of the leaders of New York's Garifuna community, a population of migrants she estimates at roughly 100,000, most of whom live in the South Bronx.
Doña Carla tells me that many people in the community died in 2020: "In The Bronx, there was a daily chain of deaths."
The United States was late in responding to the virus. While New York was quicker than other states, it wasn't until the end of March 2020 that the governor ordered a partial quarantine. By that time, almost 10,000 cases had already been detected in the state. Some countries where the virus still seemed far off, like El Salvador, decreed quarantines at the beginning of March.
Doña Carla, who continues to wear a mask and plastic face shield while the rest of the city returns to normal, explains how the Garifuna throw their parties out in the sun, and host dances or spiritual and culinary rituals as a community. By the end of March, with spring flourishing outside and New Yorkers stuck indoors, many Garifuna — already infected with the virus — locked themselves into homes as crowded as the casita de Corona.
On top of that, Doña Carla adds, there was the disinformation: "Some of the information going around about Covid was that people from Black communities were less likely to get sick. I heard other Garifuna saying this a lot. Black folks felt protected."
Many Garifuna shut themselves in their homes or in the city shelters where many homeless people and asylum seekers spent the quarantine. "Up to ten people per room," says Doña Carla.
A convergence of circumstances that could only lead to tragedy. "I personally registered around 85 deaths in the Garifuna community. I'm the healthcare coordinator (for a New York organization) and I can tell you that many people called the city's hotlines asking for help. I spoke with many of my clients, and many died after being told to just take acetaminophen and eat healthy food."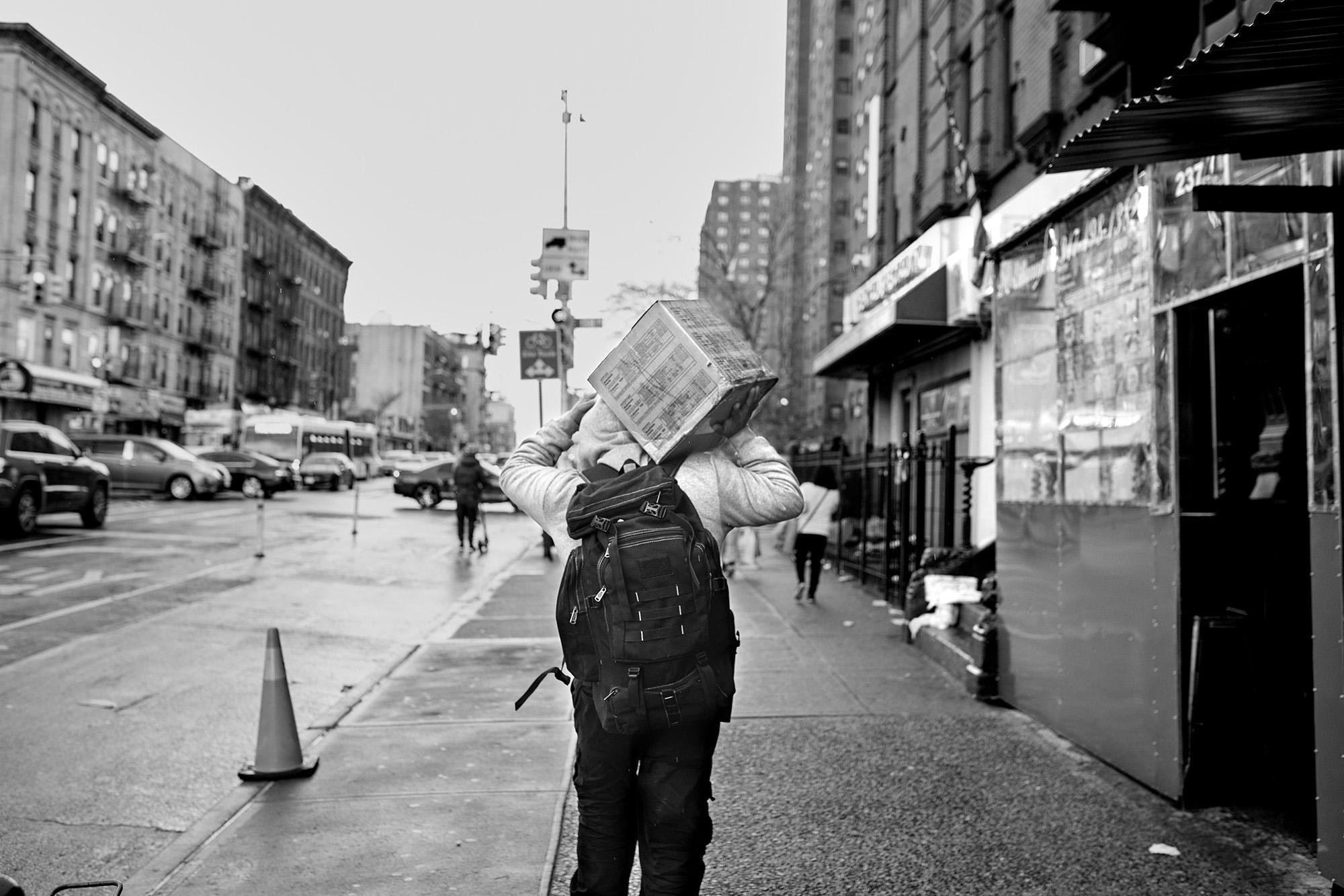 The virus became a taboo among the Garifuna. Nobody wanted to admit that someone in their family had gotten sick — or worse, that someone had died. They knew life would return to normal sooner or later and, as Doña Carla puts it, life for the Garifuna is made in community, and out in the sun.
OFRANEH grew increasingly concerned about the situation. When Governor Andrew Cuomo announced the statewide quarantine, Doña Carla had a dream. "I'm a spiritual guide. We have dreams, revelations, and different ways of hearing how the ancestors want the community to be guided," she explained.
Doña Carla called Miriam Miranda, the director of OFRANEH, to tell her about her dream. "I told Miriam that the ancestors said we had to knead the joints, to massage them, like when a child has a fever. They didn't tell me anything new, just that I should remember the practices for awakening the immune system. Dreams aren't the only visions I have, but in the United States it's not easy to say that you hear voices, because people will say you're schizophrenic. Sometimes we have what we call concentration, which is like Hindu meditation, where we enter into a space that's much closer to the spirit, and where different kinds of spirits can approach. I don't know anything. I can only pass along the message when they give me permission. At that moment, the ancestors showed me that calaica, or cundeamor, a vine that grows near the rivers on the Atlantic coast, is the best medicine. They told me this in Garifuna and Spanish. It's the best, because it's bitter, and they told me: 'There's no cure, but the body can grow accustomed to fighting it. If you follow our counsel, you won't die.'"
But customs and traditions were not the only factors at play. New York's undocumented population was excluded not just from the federal government's financial assistance, but from its hospital care as well. One thing that became clear during my time in New York is that the migrant community here associates hospitalization with potential deportation or, in cases where people have permission to be here, with unpayable debts or a future devoid of opportunity.
Fear of racking up exorbitant hospital bills exists despite the fact that many undocumented residents are aware that they can turn to Medicaid, a system designed to assist those who make less than minimum wage ($12.50 an hour in New York). But the United States under Trump was especially cruel in its calculations.
Just as the pandemic was drawing near, on February 24, 2020, the federal government implemented a new "public charge" rule, stipulating  that any undocumented person aspiring to one day normalize their status must demonstrate that they never received public assistance. That is, that they had never asked the United States for a handout. That is, that not a single U.S. dollar was ever spent on their health. That is, they came, sweated, cleaned, built, delivered, cared for other people's children and tended other people's gardens, never asked for anything, were quiet, and bothered no one.
The model migrant never complains — such is the logic that governs the country. But the fear that surfaced most in my conversations with migrants was the fear of going to a hospital and then winding up on a deportation flight.
A few days ago I spoke with Nathaniel Kratz, a doctor who works in uptown Manhattan, at Columbia Presbyterian Hospital, and used to work at Montefiore, in the South Bronx. Nate, as his friends call him, is also involved with projects that support migrant communities in the city. I asked him about it:
"Did undocumented people face discrimination in the hospitals? Were they targeted by immigration enforcement?"
"The short answer is yes, of course. Even though medical attention is available to everyone in the city, there are a lot of barriers. Many of my patients with serious conditions didn't want to go to the hospital because... Well, remember when the pandemic arrived, and under what regime. There has never been a good policy for migrants, but it was way worse during the four years [of Trump]. And that atmosphere of fear is rooted in real threats. I've been working in the hospital rooms, I supervise residents and doctors pursuing specializations, and we've received calls from ICE asking for patients in our care. It's a real, everyday threat."
"You've received calls from ICE?" 
"Asking for information about patients there, for people who are sick, asking for details about them. It's something that happens, and every doctor can attest to the fact that it happens in the hospitals. Many patients, my patients, have died at home because they refuse to go to the hospital. It's absolutely real, and it's rooted in a lived reality of the pandemic. I know of cases where they've found patients and then deported them once they return home. They're always looking for any piece of personal information to track them down and deport them. They'll call their work, their home, and the hospital."
Back at Prospect Park, with dozens of fit joggers still passing us by, Doña Carla tells me: "You don't have to believe me if you don't want to, but that's what people in the Garifuna community were saying — that undocumented folks weren't given medical attention. That they were left to die." "
She also tells me that, in her dreams, the ancestors spoke to her of sea baths. That her community in the Caribbean would toss buckets of seawater into the streets. That they made healing handbooks for their people. That, in a way, the calaica resembles the long-eared greenish ball of the virus. That she hopes to reunite with her family and her people, to sit around a drum and eat cassava and coconut bread and give thanks to the ancestors.
"We all got it, each and every one of us"
The Portillo family's black mailbox, decorated with a list of thirteen names, looks like the roster for a soccer team. 
In formal terms, New Jersey is no longer New York. In migrant terms, New Jersey cannot be understood without New York. Tens of thousands of undocumented migrants have fled the high rents of New York in search of more affordable living in the Jersey suburbs. Better prices, according to the Portillo family, means $800 a month for a basement, $700 for a room with a bathroom, or $500 for a room with a shared bathroom. 
Nailing down a hard number for the migrant population of New Jersey is complicated, but according to data from the Salvadoran consulate, there are more than 50,000 people from that smallest of Central American countries living there.
Thirteen of them live in this house on Adams Street.
The Portillos are "tepesianos," a group of almost 200,000 Salvadorans that were granted Temporary Protected Status (TPS) in 1990, as El Salvador was emerging from a 12-year civil war, and who have work papers that renew every year.
The patriarch and matriarch of the Portillo family, Aquilino and Nidia, arrived in 1990 and 1994, respectively, fleeing the war and what it left behind: dead relatives and a country flayed to the bones.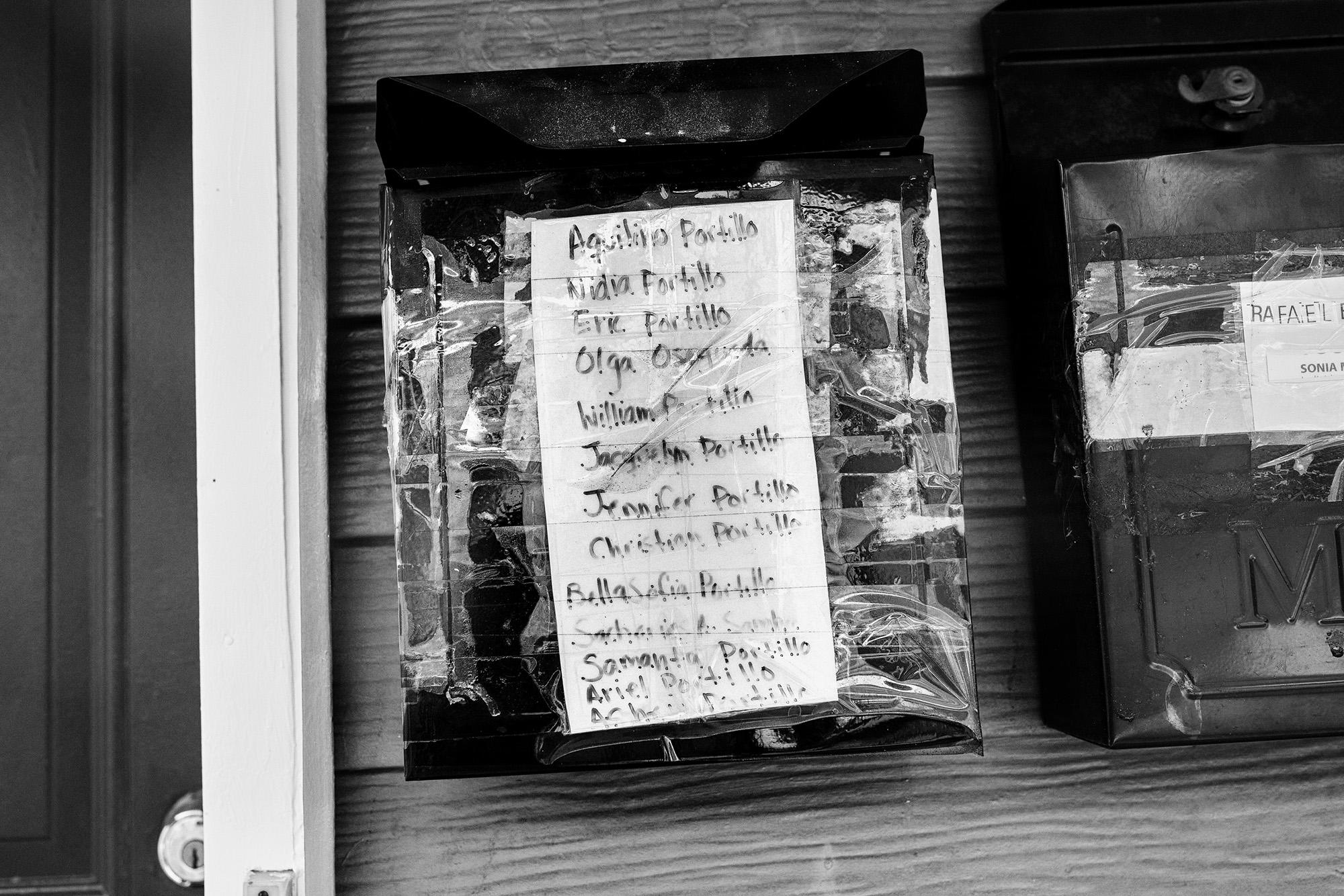 The virus invaded all these bodies — "each and every one of us," Nidia tells me, on April 14. Including the body of Karla, the 36-year-old Ecuadorian woman who looks after the youngest of the Portillo family, a nine-year-old boy and a 24-year-old woman with autism. William, the Portillos' 30-year-old son, was forced to come home in April when he lost his job delivering wellness products and took refuge in his parents' basement, along with his pregnant wife and his daughter.
The home is a portrait of migrant life in the United States, a labyrinth with a family living around every corner. A living room, with two adjacent bedrooms where Aquilino, Nidia and their two youngest children sleep. A room upstairs, which they rent to a Salvadoran family of three. A shed in the backyard where Erick, another of their sons, lives with his wife and works as a tattoo artist. A cellar below the house, with three rooms conjured out of drywall and an improvised living room with a  television on top of a washing machine, where their other three children live, including William and his family, a cat, and a dog.
The family is an example of what the pandemic left in its wake: a debt of $5,400 for three months of mortgage payments, a full house, an infection in one of Nidia's lungs, a lump in one of Karla's lungs, and a family that, three decades after arriving, must now start over.
The virus undid years of migrant struggle, decades of toil and hardship. The virus has forced people who were already exhausted to start all over again. People who, in 30 years, only stopped working when the pandemic forced them to. 
At the end of our interview, I ask Nidia how she got infected. The Portillos think she was the first, and recall how she fainted outside the bathroom in April 2020.
"The woman I was caretaking for died," Nidia tells me. "She was Colombian. After that, I got sick. She had been hospitalized for pneumonia. She couldn't breathe, and had a cough and a fever. Well, she died after two weeks in the apartment, and I was with her until the last day. Then I got sick. That virus spreads quickly. I was careful, with gloves and a mask, but it didn't matter."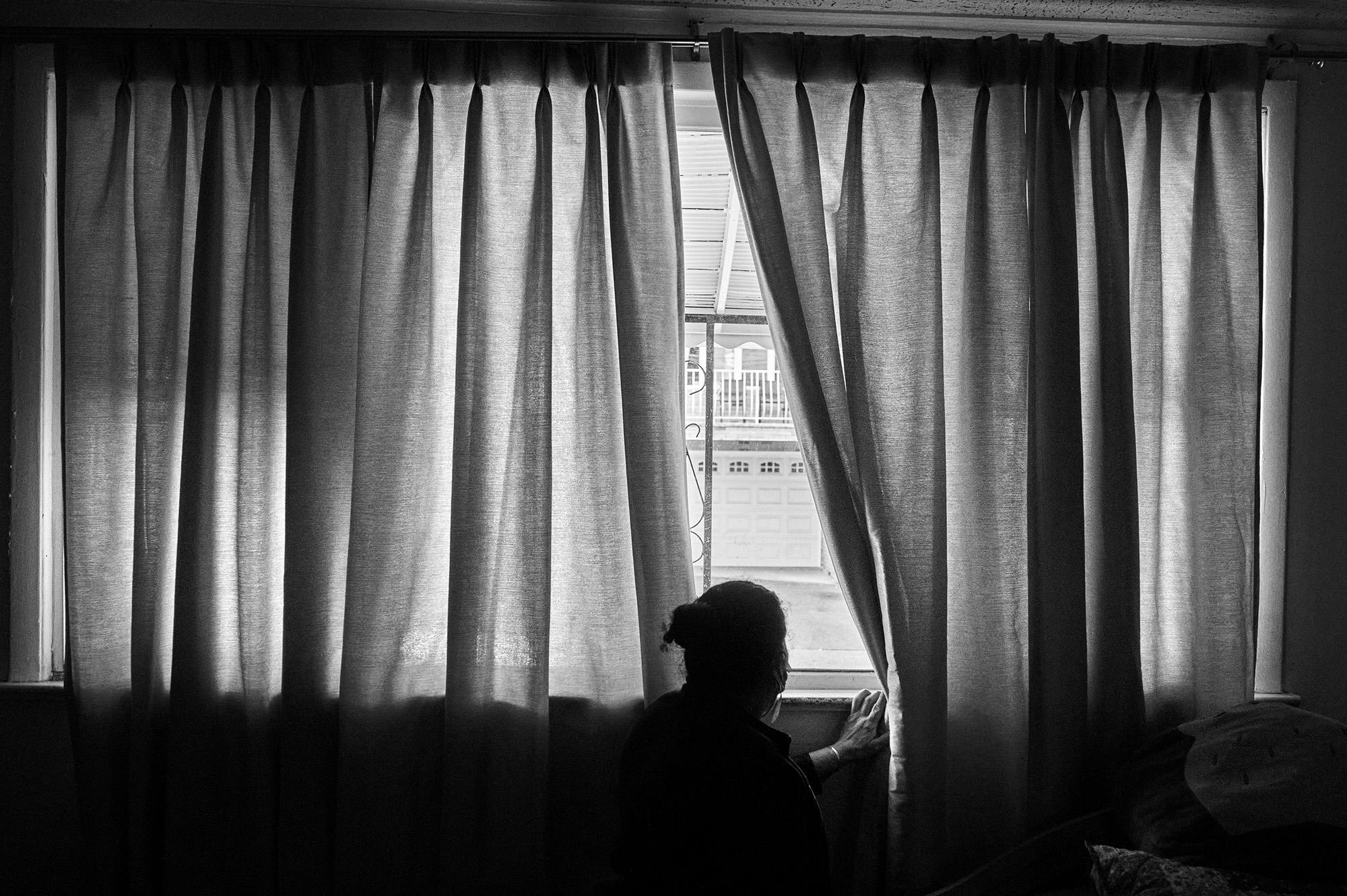 "Open Up! We're Looking for Juan!"
The scene is repetitive, but its ending is not.
It's April 16 and, once again, Father Fabián is handing out food — 124 boxes  — on the corner of East 139th Street in The Bronx, near the Willis Avenue Bridge, where they murdered the delivery boy from Xalpatláhuac.
The boxes hold apples, potatoes, onions, powdered milk, yogurt, American cheese, pre-cooked chicken drumsticks, and an assortment of cold cuts. It's raining and 50 degrees outside, but scores of migrants wait an hour in line to receive the boxes.
A Honduran woman steps outside of a nail salon and asks if any boxes are left over, could they please set one aside for her. Another woman exits a Mexican restaurant, the fat rumble of Norteña tuba spilling out with her. She asks for the same favor. Another woman leaves a bicycle shop. "Can you spare one for me?" The volunteers tell her that if any of the people who signed up don't come, there'll be a few to spare. 
Father Fabián opens the trunk of his car and pulls out some boxes of diapers. A woman holding a baby tells him that she's Guatemalan and undocumented, and that they're going to deport her. His hands full, Father Fabián responds: "Your name, dear? I'll call you in half an hour to talk." She leaves her name and number, adding that her phone is out of minutes, and that if he calls her, she would be "forever" grateful. Father Fabián promises he'll call. His arms still full of diapers, he gets another call. A woman reminds him that he promised to bless a banner of the Virgin of the Assumption. He says he doesn't have the address. She reads it to him. Father Fabián replies: "Gracias, querida, I'll be there in an hour to bless the virgin." He's too busy, I think, as I step away. Father Fabián, surrounded by women asking him for diapers, yells out to me: "You need to go to Javier's house. He'll tell you things."
Javier Rodríguez Méndez and Gabriela Valdez are a Mexican couple who arrived 12 years ago. They work in a restaurant and are part of Father Fabián's solidarity network. 
On January 15, 2020, before the pandemic, Javier was detained during a raid on the building. A group of men came to his door, knocked, told him they were New York police officers, that they were looking for Juan, that he should open up, that nothing would happen, that they weren't ICE agents. Javier opened the door and was immediately arrested. They were ICE agents. Javier is undocumented.
They detained him for almost a month. Father Fabián managed to get him out, and then the pandemic struck.
The raids continued. In that same building, later on during the pandemic, the police arrested three more migrants in March and April.
We're looking for Juan, Nidia, Aquilino, Fidencia. We're looking for…
The home is no house — it's a room, and it costs $1,375 a month. The building is in the South Bronx, in front of the spot where the 124 boxes of food were distributed. Javier and Gabriela live in the room, along with their nine-year-old son, their seven-month-old infant, and Javier's brother. 
When Javier got out of detention, the restaurant had closed and Gabriela had lost her job. Now, they manage to work a few hours while they search for the impossible: more affordable rent in New York City. But today they spent their time handing out 124 boxes of food outside their cramped tenement. If I were wearing a hat, I'd have taken it off several times: once for Javier, again for Gabriela, and once more for Father Fabián.
"What will you do?" I ask.
"Keep looking," Gabriela says quietly, her head down.
Today, they handed out food.
It's worth repeating, just to be clear: today, with their lives and futures up in the air, Javier and Gabriela went outside and handed out food.
"Remember Where We Come from"
La Morada is an icon of migrant solidarity in New York. The Méndez family, undocumented and from Oaxaca, founded La Morada on April 5, 2009. It's a restaurant, storage room, support center, and what they did during the pandemic.
To round out my brief visit to this vast city, I went in search of hope. Mrs. Natalia Méndez showed it to me, without heroism or grandiloquence or utopian thinking, cooking a batch of green tamales to hand out to other migrants. "Remember where we come from," she said, then told me where she came from. I'll tell you after I finish this story.
Today, there are two volunteers at La Morada. One of them, Alexandra Delano, a professor at New York University, is removing seeds from peppers.
Mrs. Méndez tells me that she came to the United States in 1992 from Ahuehuetitlán, Mixteca Baja of Oaxaca, not speaking any Spanish, accompanied by her husband, Mr. Antonio Saavedra. And she told me what it was like to arrive. I'll tell you after I finish this story.
The pandemic hit them hard here in New York. Mrs. Méndez lost the ability to walk, her daughter lost her sense of taste, and her son lost his sense of smell. They shut themselves in.
That's when Mr. Saavedra said: "Let's do something with all this food, before it goes bad." So they did something with it.
One day in April, they made 200 bowls of chicken soup. They handed them all out in an hour. The next day, 400. A week later, 1,000. A week after that, 5,000. Then they ran out of resources.
But then, Mrs. Méndez recalls, someone stopped by and offered up their stimulus check. A Chilean academic from New York University, Marcial Godoy. Then more people came to do the same. "Without planning it, La Morada ended up sending food all over, to buildings where people were dying of hunger, and to shelters," she said.
"How many meals?" I ask.
"You went to school, you can do math," Mrs. Méndez responds, confident and pleased with herself. "5,000 meals every week for one year."
"And the government?" I asked.
"'Not a single vegetable."
"And how do you pay rent?"
"We owe seven months, and it's $5,000 a month. They're going to shut us down, but we're not scared, we're satisfied, we've done what humans are supposed to do," she says, wrapping the green tamales that she'll later hand out. I manage one last last question:
"Is there a future here?"
"We'll lift ourselves up," she tells me. "It's never been easy. We've never said: here's my big bare chest, shoot me, let the bullet come! But… look how you have me talking… We know how to resist. It's never been easy. Sometimes things open up for us, other times they shut down. I feel sorry for people who don't know how to walk barefoot, how to eat one day and not the next. To work, all we need are our hands. I learned to speak Spanish here. I'm from Ahuehuetitlán. I entered with my husband on February 4, 1992, through Nogales, and the only thing I brought with me was a hole in my heart, from being separated from my children. Two holes in my heart. An emptiness in my soul. The coyote took us to a park in Washington Heights, here in the city. It was winter. I only had one shirt, my husband had two, and five dollars, which we used to buy two coats from someone on the street. We were like a pair of little kites, but here we are."
Later, Mrs. Méndez tells me:
"Does all of this scare us? Yes, but we come from where we come from. We come from cold, we come from hunger, we come from hard work and pain. That's where we come from."
"You're invited," she tells me. "Come peel potatoes."
This story was jointly produced by El Faro and Ruido Photo. 
*Translated by Max Granger and Roman Gressier