On Thursday, Bukele addressed the U.N. General Assembly with a clear message: his administration will move forward with its plans — widely considered authoritarian and even financially negligent — regardless of criticism from other governments and the human rights community. 
"Instead of calling again for a refounding of multilateralism toward a new model in which we unite as nations to analyze and decide the path that we'll take, I'm announcing the intention of my country, El Salvador, to take this new path — the path toward development," he said in a pre-recorded address intersticed with references to the human condition, Buddha, and the lessons of past civilizations. "God willing, we'll be an example for other countries." 
"God has already decided whether we will be successful," he continued, invoking an image of himself as El Salvador's messiah that has become a common theme of his discourse. After his party took a supermajority in the legislature in February, he went as far as to change his Twitter bio to "An instrument in the hands of God."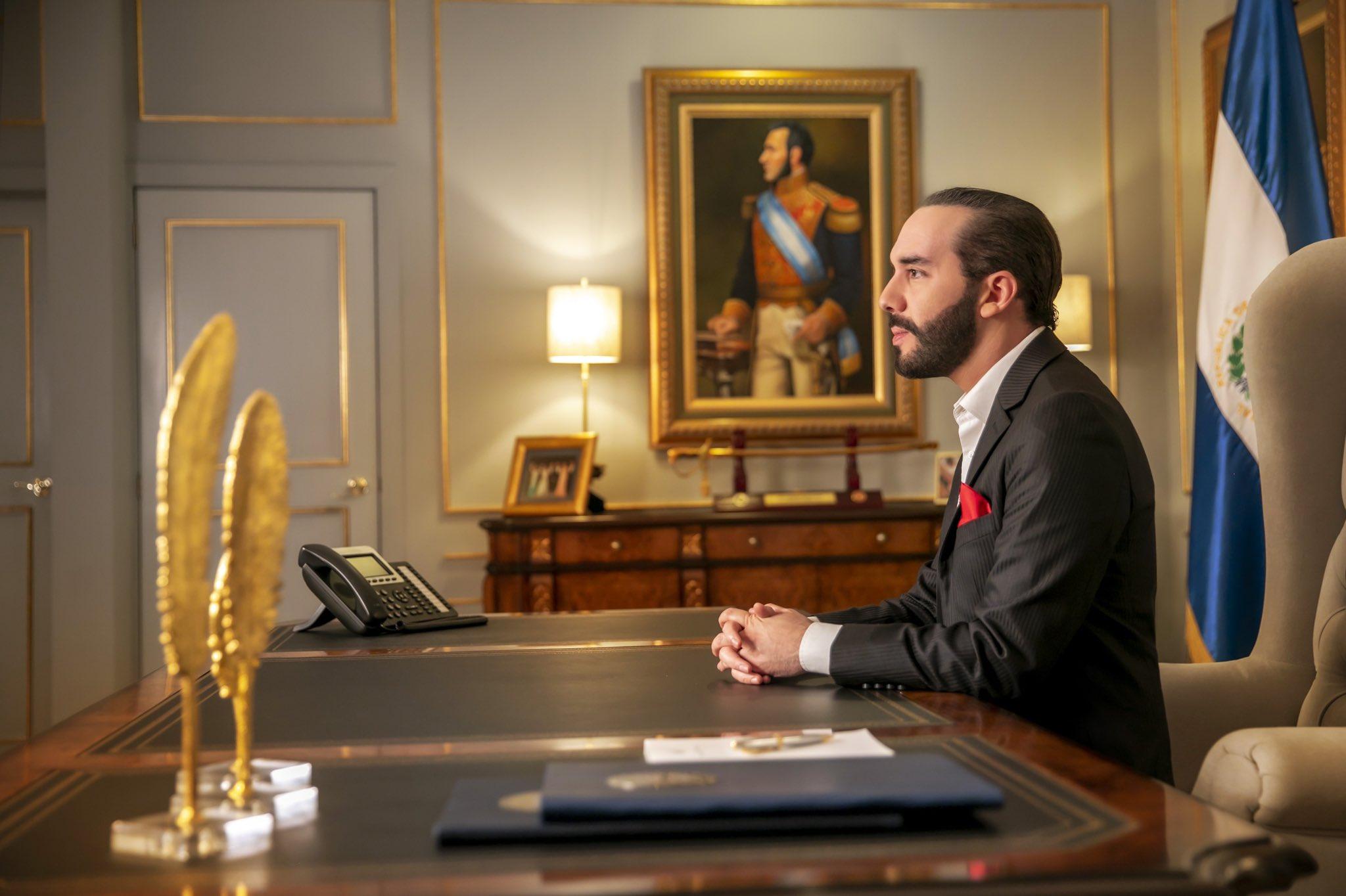 Times have changed since Bukele first appeared on the international stage. In 2019, Bukele shocked the General Assembly by snapping a selfie at the podium. He then gave a distinctly millennial sermon on the power of the internet to reach citizens. In those early days of his presidency, the international press widely dubbed him the region's cool millennial president and fawned over his use of social media in political messaging and his promise to break away from El Salvador's bipartisan postwar era. 
But now, as world leaders and the press are souring to his administration's consolidation of power and hostility toward dissent, he again rewrote his Twitter bio, this time ironically: "The coolest dictator in the world." Though many embraced the joke, civil society and human rights defenders did not find it so funny. 
"The cynical language that @nayibbukele resorts to is one more example of his contempt for those who constructively question him," wrote Amnesty International Americas Director Erika Guevara-Rosas on Twitter. "It is more "profitable," for his propaganda to respond with mocking, than to focus on building bridges of dialogue and designing serious public policies."
This new communications strategy comes after a rough few weeks for the Salvadoran government's usually dominant media apparatus. On the bicentennial anniversary of independence, El Salvador weathered the largest anti-government protests since Bukele took office, as demonstrators condemned Bukele's cooptation of the Salvadoran state — with many outright calling him "dictator" — and the introduction of bitcoin as legal tender. Days before, Jean Manes, the U.S. Embassy's top interim official, compared him to Hugo Chávez and asserted that Salvadoran "democracy is in decline."
Then, just this week, the U.S. State Department named the five Supreme Court magistrates illegally appointed by legislators from Bukele's party on May 1 as part of the Engel list of corrupt Central American officials, arguing that they had subverted the Salvadoran constitution by ruling that Bukele can seek reelection in 2024. Already included on the list are four senior officials in his administration.
Friends Come and Go 
When Manes left her first stint as U.S. ambassador to El Salvador from 2016 to 2019, Bukele tweeted that "thousands of ambassadors may come, and we'll work with them 100%, but we'll never have another Jean Manes." (He has recently deleted the tweet.)
Since the change of U.S. administration, Bukele has gone from posting photos of lobster dinner with Trump-appointed ambassador Ron Johnson to comparing U.S. criticism of his administration to a guest meddling at the dinner table.
"If you invite a friend into your home, he can bring a gift, something to go with the meal, bring nothing, or bring something small or symbolic. What he can't do is want to show up and make the rules in your home," he tweeted on Wednesday. "You're better off not inviting him back."
Since Manes's return to El Salvador at the beginning of June, U.S.-Salvadoran relations have become rickety at best. By then, the U.S. government was already using many diplomatic levers to try to reverse the decision to remove the Constitutional Chamber judges. On May 21, USAID announced it would cut funding to Salvadoran government institutions involved in the judges' removal.
When the long-awaited Engel list was published in July, four senior Bukele officials and two former ministers were included, sending a strong message to Bukele that the U.S. was not conflict-adverse. The U.S. drove the message home on Monday when it added the five Constitutional Court magistrates, illegally appointed by Bukele's party, to the list. 
Manes said in an interview Tuesday with widely viewed and influential TV interview program Frente a Frente that the U.S. believes other members of Bukele's government have also engaged in corruption. "If we have evidence, if we're right, we can put more names on the list at any moment and show the immediate consequences," she said. 
On Monday, in a clear response to the Engel list additions, Bukele tweeted, "We're nobody's backyard." In a speech before diplomats on Sept. 15, he accused the international community of financing protests against him that day, and of fomenting dissent in general. In July, when the Engel list was first published, he retweeted with a winking emoji a comment that pointed out Honduran President Juan Orlando Hernández was excluded.
It seems to be no coincidence, then, that government news outlets have recently published articles highlighting hits to Biden's popularity following the troop withdrawal from Afghanistan. 
In July, a State Department official told El Faro that the Engel list "complicates relations with the Northern Triangle, but in the long term it makes clear to the governments of the region that actions have consequences."
Nearly three months later, these efforts have not yet materialized. It's unclear whether relations with Bukele are salvageable.
Neither Manes' public comments denouncing Bukele's policies and emphasizing the longstanding links between the two countries, nor her private interactions with the Bukele administration have been able to reel in his anti-democratic actions — or his defiant tweets.
But there is one country that Bukele has increasingly embraced: China, which has sent more than three million vaccines to El Salvador.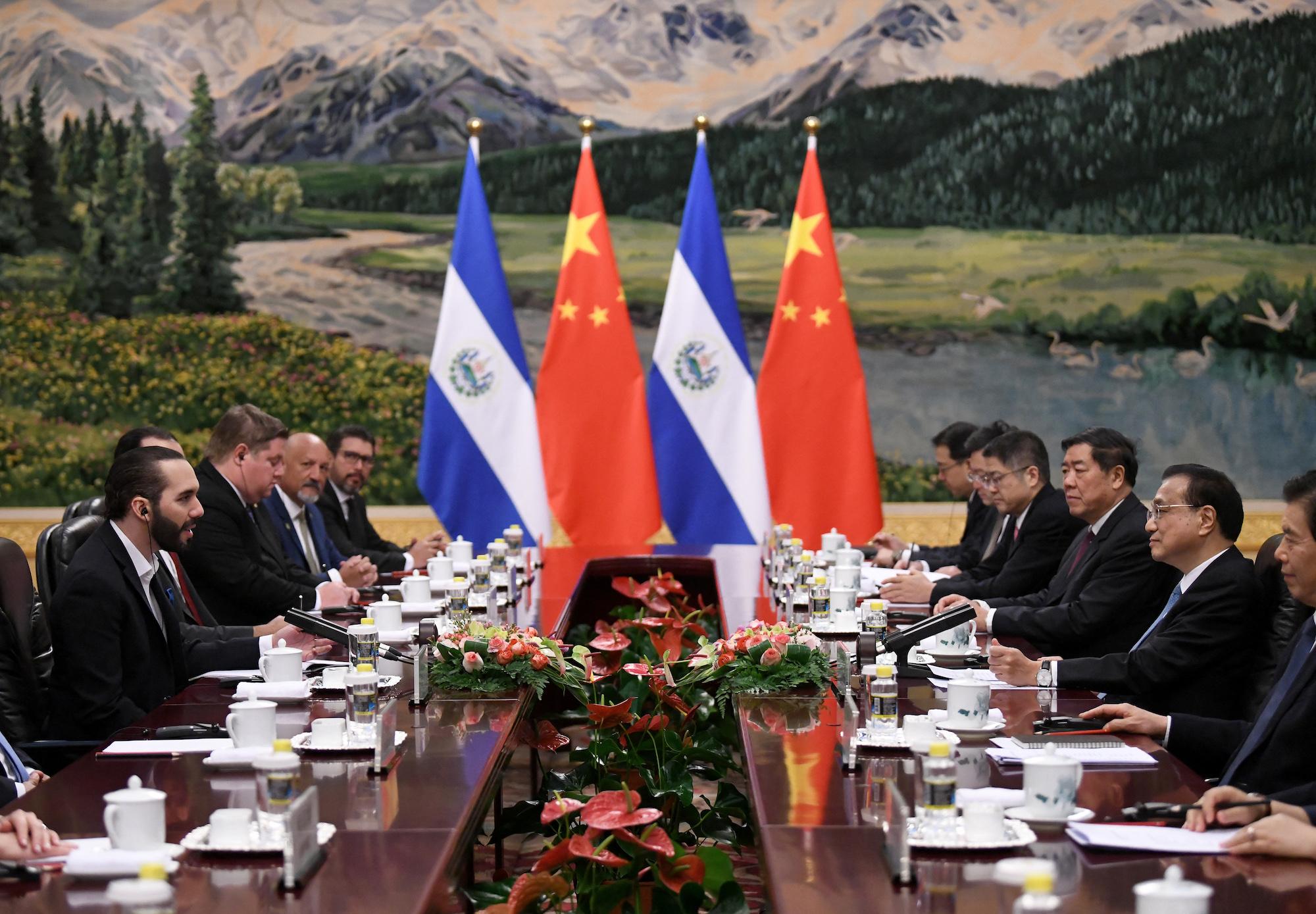 In the wake of the May 1 legislative coup, the Chinese embassy emphasized its commitment to the principle of non-interference in a tweet, saying it believes "the Salvadoran people are capable and wise enough to handle their own internal affairs."
After the State Department released a preliminary list of corrupt officials in May, Bukele praised China for its aid "without conditions." 
Just this week, Chinese ambassador Ou Jianhong quickly offered to put up the money to cover rebuilding costs after a fire consumed the popular Miguelito Marketplace in San Salvador. 
Nicaragua's Model
Bukele seems to be following the blueprint of his Nicaraguan counterpart, Daniel Ortega, in shrugging off international criticism of his anti-democratic actions. In the face of increasing international condemnation after their deadly crackdown on protesters in 2018, Ortega and wife and Vice President Rosario Murillo have refused to back down, going as far as imprisoning or placing on house arrest all legitimate opposition candidates in the run-up to November presidential elections. 
This week in a congressional hearing, Congressman Albio Sires (D-NJ) called for Congress to approve tighter international economic sanctions against the Nicaraguan government, scolded the IMF for awarding $350 million to the Nicaraguan government to respond to the pandemic and hurricane season, and called for the suspension of Nicaragua from the Organization of American States and the reevaluation of its standing in the Central American Free Trade Act. 
Relations with the United States may have more strategic importance for El Salvador than for Nicaragua. An estimated 2.3 million Salvadorans live in the U.S., according to Pew Research Center. More than 200,000 have Temporary Protected Status and are still waiting for Congress to pass legislation to provide a pathway to citizenship. El Salvador's current fiscal situation makes it dependent on international loans, and the U.S. holds sway in the international financial system. 
Sources in Washington said this week that U.S. pressure on the International Monetary Fund (IMF) not to approve a new agreement with the country is certain from now on. The fund is preparing a new round of meetings with the Bukele government in the coming weeks, but analysts are beginning to think that Bukele — who just embraced Bitcoin as legal tender — is planning to seek support for his model of progress outside the IMF as well. 
If Bukele's relations with the U.S. start to have consequences for Salvadorans — or even if Salvadorans just perceive it can make their lives harder than they already are — a reputation as a self-proclaimed "dictator" might not be so cool after all.