In the waning years of the Cold War, few expected democracy to survive in Central America, let alone thrive. Bloody military dictators, Marxist insurgencies, entrenched poverty and inequality, and the lack of previous experience with democracy seemingly posed too great a challenge.
Yet, by the start of the 2000s, democracy began to flourish on the isthmus. Competitive elections saw former civil war rivals trade power peacefully, with civil societies demanding greater accountability from their governments. In some cases, once-powerful politicians like El Salvador's Antonio Saca and Nicaragua's Arnoldo Alemán ended up behind bars for corruption (although the latter had his sentence lifted).
Then, as if in some sinister déjà vu, Central America's democratic ills came roaring back. Today, democracy in El Salvador, Guatemala, and Honduras hangs by a thread. Nicaragua, in turn, is just as authoritarian as Cuba or Venezuela.
The downside of democratic pacts
Central America's democratic progress in the 1990s and 2000s came with a Catch-22. The more familiar the region's political elites became with democratic institutions, the better they got at gaming the system. Elites became experts at forging under-the-table pacts to divide the spoils of government and protect their vested interests.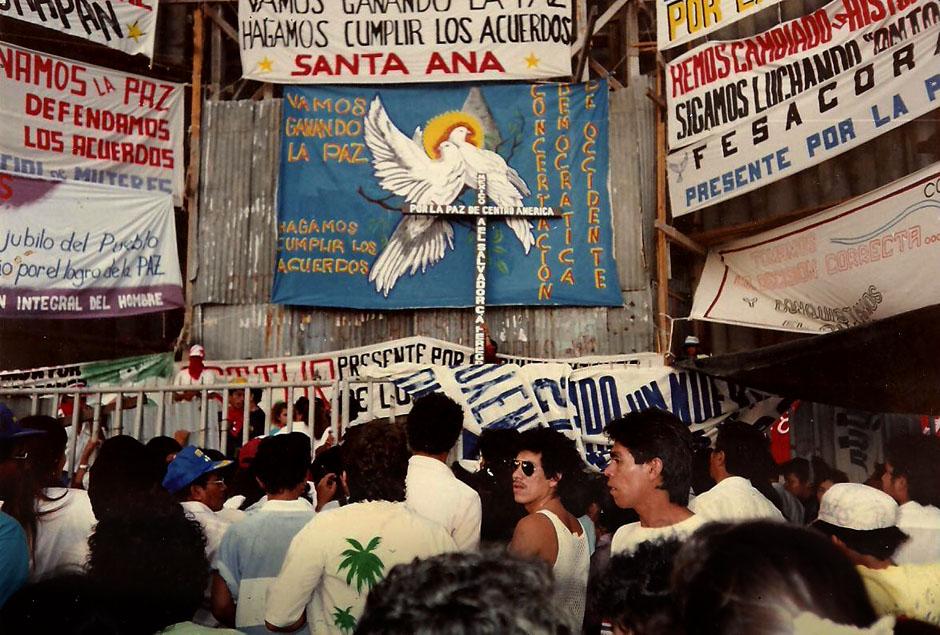 In Nicaragua, leftist ex-rebel leader Daniel Ortega teamed up with his long-time conservative rival to undermine institutions. He then returned to power, packed institutions, and locked up virtually all his opponents ahead of November's sham elections — effectively becoming Latin America's newest dictator.
Honduras's traditional political rivals forged a pact to oust President Manuel Zelaya in a 2009 coup, only to entrench strongman Juan Orlando Hernández. Hernández's regime oversaw widespread corruption, growing ties with drug trafficking cartels, and the dramatic erosion of democratic institutions. Although leftist Xiomara Castro defeated the autocratic incumbent National Party in November's election, her victory is no guarantee for democratization.
In El Salvador, voters fed up with pact-making and corruption among traditional parties took their chances on Nayib Bukele, a political maverick who has since leveraged high popularity to weaken checks and balances. Many praised Bukele as the face of hope, as he openly criticized the authoritarian drift in Honduras and Nicaragua. Yet, in February of 2020, Bukele ordered the military to enter the Legislative Assembly to pressure legislators to pass his security plan. The move was one of many power grabs that have become the norm since his party, Nuevas Ideas, won the legislative elections by a landslide earlier this year.
In Guatemala, former President Jimmy Morales dismantled the CICIG, a renowned UN-backed anti-graft commission. Alejandro Giammattei, his successor since 2020, has continued the attack against those who seek to curb corruption, as evidenced by the firing of Juan Francisco Sandoval, the Public Ministry's Special Prosecutor Against Impunity, who in July had to seek exile in the United States.
The impasse in Washington 
As Central America's democratic crises have brewed, Washington has not been a passive observer, nor can it afford to be. Under backsliding governments, problems that have long plagued the region — poverty, lack of economic opportunity, and criminal violence — grew worse, triggering a spiraling migrant crisis on the U.S.-Mexico border.
Eager to avoid a repeat of past U.S. overreach, the Obama administration trod lightly. It condemned the military coup that ousted Honduran President Manuel Zelaya but refrained from using its diplomatic muscle to reimpose him. President Obama cut funding to small international assistance programs as Ortega dismantled Nicaraguan democracy but shied away from applying conditionality to larger funding packages or vetoing multilateral loans. Diplomatic and financial assistance propped up anti-corruption commissions, which did valiant work, but assistance also flowed to security forces alleged to have committed human rights abuses.
Then came the Trump presidency. The message was clear: if Central American governments could block the flow of people and narcotics northwards, the administration would turn a blind eye as the elites dismantled democratic institutions. Except partly for Nicaragua, the Trump administration disregarded backsliding in the region. Central America's democratic crises kicked into overdrive, free from Washington's scrutiny. Governments chipped away at democracy by co-opting institutions, persecuting the opposition often into exile, rigging elections, and shuttering anti-graft commissions.
The Biden administration has made clear it will not replicate Trump's transactional diplomacy, as evidenced by dozens of newly targeted sanctions to thwart corruption and de-democratization. However, it is less clear what sanctions, on their own, can accomplish. That's why now is the time for a policy shift.
Supporting a new round of 'Democracy Accords' 
On December 9 and 10, President Biden is hosting the 'Summit for Democracy.' Whereas his administration is taking a step in the right direction, it remains unclear how the summit will allow countries suffering from democratic backsliding or authoritarianism to reverse their dire situations.
Understandably, El Salvador, Guatemala, Honduras, and Nicaragua failed to make the list of invitees. But ostracizing those countries will not make them less authoritarian and more democratic.
Instead, the administration should consider inviting rival parties—including incumbents, opposition blocs, civil society, and the private sector—to pursue a series of multilateral 'Democracy Accords.' The talks would chart concrete steps towards restoring competitive elections, checks and balances, and the rule of law. Washington could encourage follow-through by tying completion of these steps to the gradual lifting of sanctions and providing additional incentives.
The talks would also provide a platform to push for reform of Central America's multilateral institutions. The Central American Integration System and the Central American Bank for Economic Integration, mandated with deepening political and economic cooperation, have kept silent as democracies unraveled, lending a lifeline to the region's strongmen more than once. As the Inter-American Democratic Charter has largely failed to prevent backsliding in the region, Central American countries could agree on minimum democratic conditions for membership and actions to take if governments turn authoritarian.
Betting on a new set of accords might sound naively idealistic. Dialogues failed to restore democracy to Honduras after its 2009 coup or redress Ortega's 2018 deadly crackdown. And human rights abusers have done nothing to deserve a seat at the table. 
But we shouldn't forget: Central America broke through a seemingly impossible impasse before. Against the odds, the region came together in the 1980s to sign the Esquipulas Peace Agreements, also known as the Central American Peace Accords. The accords set up the framework for ending decades-long civil wars and established democratic ground rules.
True, in the years afterward, elites hijacked institutions. But this time around, there is the benefit of hindsight, plus a U.S. administration committed to investing resources in the re-democratization. The story isn't destined to repeat itself.  
A new round of Democracy Accords is worth attempting. If Central America could exit the war-torn 1980s through negotiations, it could surprise the world once more.
Lucas Perelló is a visiting assistant professor of international studies at Marymount Manhattan College. Follow him on Twitter @lucas_perello.