Presidential inauguration did not mark a transition of power in Nicaragua, but some opposition members hoped that it would mark a deescalation of the Ortega-Murillo regime's crackdown and the beginning of potential talks between opposition and the government. Not so.
"I do hope that Ortega will free the political prisoners," tweeted Nicaraguan writer Gioconda Belli five days ago. "There will be no truce while they are in prison, nor can he [Ortega] hope for anyone to believe in him."
After Ortega imprisoned the majority of opposition candidates throughout 2021, November's elections were widely condemned as fraudulent, including by Costa Rica, the U.S., European Union and Organization of American States. Nevertheless, 76-year-old Ortega and his wife Rosario Murillo remain in control.
"Our goal is to continue the good path we were on until April 2018," Ortega said in reference to the massive demonstrations against him that set off four years of state repression. "Let's wipe the slate clean and we move forward, beloved Nicaraguan brothers."
The inauguration was sparsely attended in a signal of broad condemnation of the regime and its repressive tactics. Heads of state of long-time allies Cuba and Venezuela, along with outgoing president Juan Orlando Hernández of Honduras and Mauricio Funes and Salvador Sánchez Cerén — former Salvadoran presidents accused of corruption who fled to Nicaragua — accompanied Ortega.
China, Bolivia, and Belize also sent representatives to Ortega's inauguration. Argentina and Mexico had planned on sending representatives, but backtracked after public backlash. Vice President Rosario Murillo said the U.S., Guatemala, Costa Rica, and Panama would also send representatives, but none of the government delegations attended.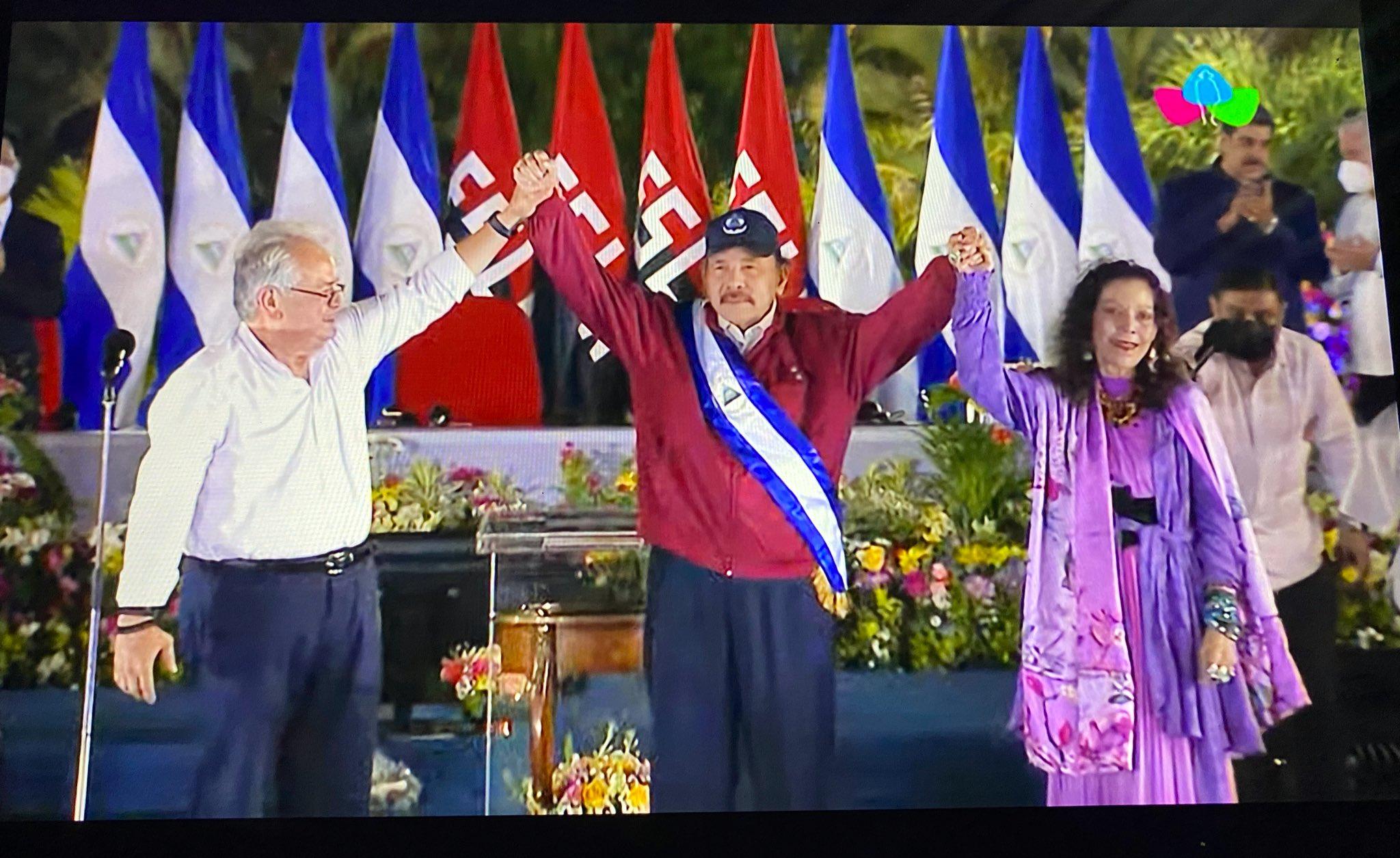 The European Union announced new sanctions Monday against seven Ortega regime officials, including two of the couple's children, and three Ortega-allied institutions: the National Police, the Supreme Electoral Council, and the telecoms company Telcor. 
In tandem, the U.S. Treasury Department announced sanctions against six officials, including top figures in the military and telecoms, citing "sham elections, silencing peaceful opposition, and holding hundreds of people as political prisoners." The State Department, meanwhile, imposed visa restrictions on more than 100 mayors, prosecutors, and security officials "complicit in undermining democracy in Nicaragua." 
In tacit response, Ortega requested in his inaugural speech that the Biden administration lift economic sanctions on Venezuela and Cuba and pay reparations to Nicaragua for its participation in the 1980s Contra War.
Torture in El Chipote
The real effect of the series of sanctions and condemnations is unclear. An opposition campaign to demand the release of political prisoners was unable to secure their freedom from the infamous El Chipote prison before the holidays, and the prisoners remain the principal bargaining chip in Ortega's hands. Some were allowed visits and reported constant interrogations and deteriorating physical and mental health. Under Nicaraguan law, incarcerated people should be allowed a weekly visit, but prison officials have only granted relatives and lawyers sporadic access.
Family members told Nicaraguan media outlet Confidencial that the prisoners are not given blankets or time outside, don't receive proper medical care, and many have started to faint as a result. One family member called the conditions "cruel."
The opposition coalition Unidad Azul y Blanco reported that Roger Reyes, a member of the group's political council, has not been given proper food or been allowed outside. His mental health has deteriorated to the point that he has trouble remembering his daughters' names. The family of campesino leader Medardo Mairena reported that he has lost 53 pounds since his arrest in June.
The children of activist Violeta Granera said that she has spent two months with three broken teeth without seeing a dentist. Student leader Lesther Alemán still has a pain in his right leg that has not been diagnosed and has not received the second dose of the Covid-19 vaccine, according to the student group AUN.
At least four political prisoners, Dora María Téllez, Ana Margarita Vijil, Tamara Dávila, and Suyén Barahona, have been in solitary confinement for months despite their families' demands that the government end their isolation.
The state of some political prisoners is still unknown. UNAMOS, a political party that emerged to reform Sandinismo, has demanded information about imprisoned former Sandinista commander Hugo Torres, whose state of health is unknown. El Pais reported that he has been hospitalized since mid-December. 

Relatives told Nicaraguan newspaper La Prensa that the government carried out a "census" to confirm which political prisoners had double nationality to potentially strip them of their Nicaraguan citizenship and deport them, even though legal experts told the paper such a move would be illegal.
Scattered Efforts
In an interview with the U.S. government-run outlet Voice of America published Jan. 3, Nicaraguan sociologist Oscar René Vargas said that Ortega's next steps remain unclear. "Part of his power is the capacity to hide his next plays, to mislead his own as well as outsiders, and to deceive big capital and the powers that be."
In the face of this uncertainty and with the most well-known opposition figures jailed or in exile, Nicaraguan opposition groups are trying out different tactics to move forward and lesser known opposition groups are coming onto the stage.
A group of Nicaraguans in exile, made up of less prominent opposition figures, believe the solution is to build a "collective leadership" that they call the National Transition Council with the goal of overthrowing the dictatorship and establishing a new government. They convened a Congress on Jan. 9 and elected seven members. "There is a leadership vacuum, and that leadership must be filled," exiled member of the Congress Liaison Commission Danilo Martínez told Confidencial before the Congress.
Still, the Council stated after its internal elections that it doesn't seek to become an "authoritative body over the people, but to enhance the capacity of the population to fight."
Another opposition group, Alianza Civica, launched a social media campaign on inauguration day urging Nicaraguans to light a candle and upload a photo to demand the release of political prisoners since in-person protests are still banned. In a statement, the group reaffirmed their commitment to a peaceful, democratic transition.
Unidad Azul y Blanco continues to push for a dialogue that they say can only be established once the political prisoners are released and democratic liberties, such as the right to protest, are re-established in Nicaragua.
"As democrats that want a civic and pacific solution, we believe that a dialogue can be a mechanism for a resolution of conflicts," said Unidad Azul y Blanco in an end-of-the-year statement. "But not just any dialogue, not at any price and not under just any conditions from the dictatorship."