Politics
Migration
Opinion
Transparency
Joe Biden
Kamala Harris
ef_english
Department of Homeland Security
After four years of the Trump administration targeting immigrants for deportation and denying refuge to asylum seekers, millions placed their faith in President Biden's administration to end the anti-immigrant antagonism. After all, that's how candidate Biden sold himself: as a humane alternative who would undo the many harms inflicted by Trump and his posse of anti-immigrant zealots. A year into Biden's presidency, however, his efforts at scaling back the brutal excesses have largely failed. From the resumption and expansion of the Remain in Mexico program, to the administration's near-shutdown of the asylum system at the U.S.-Mexico border, and its ongoing invocation of Title 42 during the pandemic: Biden has embraced many of the same cruel practices as his predecessor. 
Biden's first year in office was also marred by the failure — yet again — of passing comprehensive immigration reform. Incorporating immigration relief in the Build Back Better Act appeared to be a perfect opportunity for Democratic lawmakers. But that chance was shattered by Senate parliamentarian Elizabeth MacDonough, an unelected political figure and a former immigration prosecutor, who ruled against Democrats' proposals to include immigration reform in the spending bill. Senate Democrats could have overruled MacDonough's nonbinding ruling, but they chose not to. 
And while continuing to block immigrants and deny asylum seekers protection, the Biden administration has pushed for economic policies in Central America that will likely contribute to more displacement — all under the guise of wanting to fight the "root causes" of migration in the region.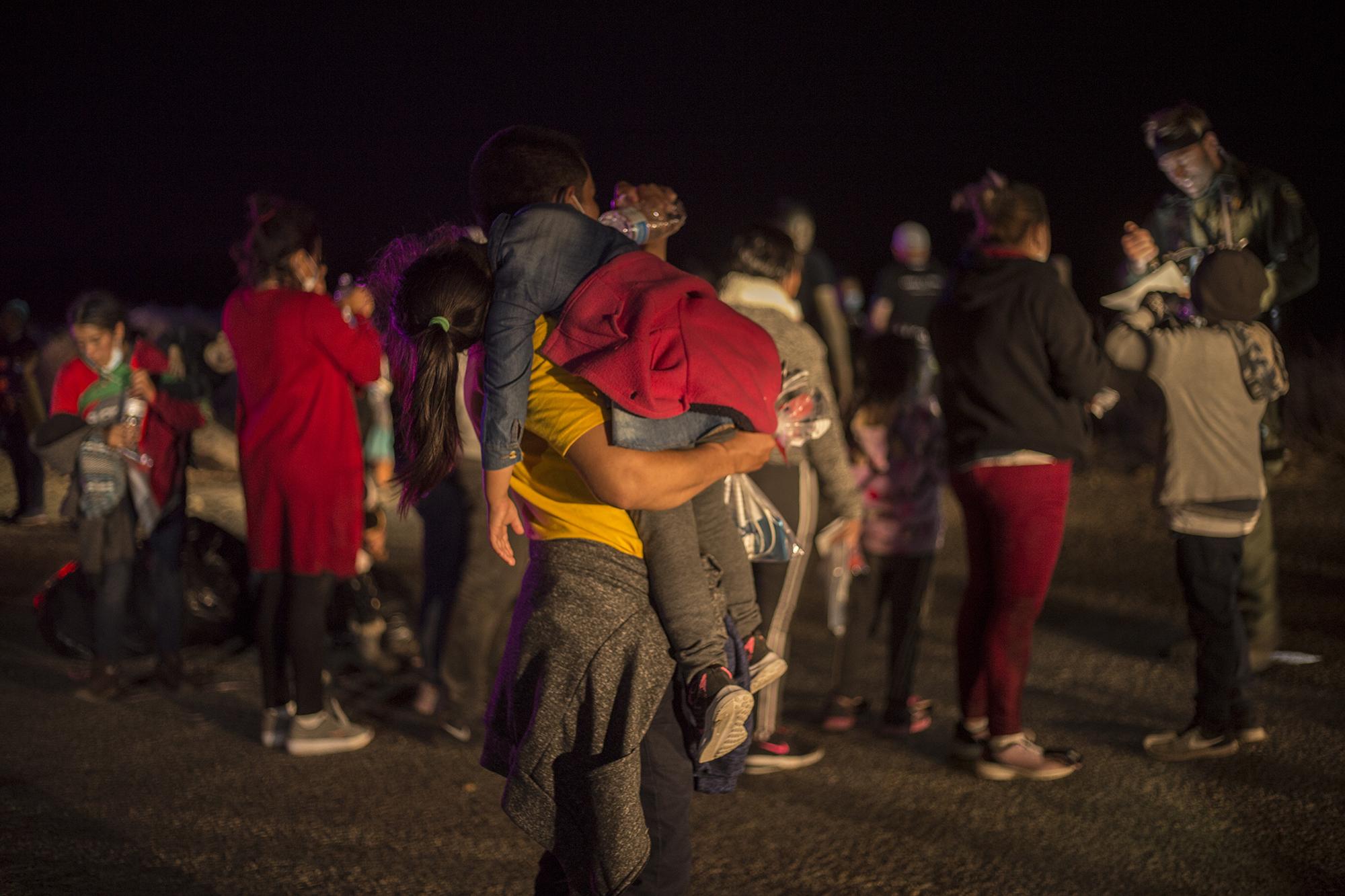 Beginning with Biden's candidacy, some immigrant justice advocates warned of his record on immigration as vice president to former President Obama, who was nicknamed "deporter-in-chief." Perhaps an early warning sign of hardline policies to come was Biden's inclusion of Cecilia Muñoz, a former Obama official, to his transition team. Muñoz often defended Obama's harsh immigration enforcement policies, including the deportation of thousands of Central American families and children and the mass targeting of undocumented people. Just a few weeks into his administration, it was clear Biden was following a pattern of anti-immigrant actions that have been emblematic of every U.S. president in recent history — Democrats and Republicans alike.
Tent Camps and Sweatshops

In March 2021, photographs surfaced of unaccompanied migrant children and teens, most of whom were Central American, in an overcrowded Customs and Border Protection facility in Donna, Texas. The kids were sleeping on thin floor mats with only foil blankets to cover themselves. Lawyers who spoke to the children inside said many went days without seeing sunlight. Around the same time, thousands of migrant children were detained in other Border Patrol facilities, many over the statutory limit of 72 hours. 
In response to these dangerously overcrowded facilities, Biden's government opened over a dozen makeshift so-called "emergency intake sites," including inside the Fort Bliss military base in El Paso, Texas, at a warehouse in Houston, and another oil field man camp in the remote Texas town of Pecos. Last February, the Biden administration reopened a former man camp for oil workers in Texas to hold dozens of migrant teens, which was also briefly used by Trump officials in the summer of 2019. These kinds of facilities are not equipped to care for children, and have long been plagued by accusations of abuse and a lack of transparency.
Three remain open — among them the tent camp inside Fort Bliss — despite reports of prolonged detention of children and inadequate mental and health care. A record 122,000 unaccompanied migrant children, the vast majority from Central America, were in U.S. custody last year — as they fled violence, extreme poverty, the impacts of the climate crisis, and other unsafe and unstable living conditions that have been exacerbated or even provoked by U.S. intervention in the region. The Biden administration's response to the humanitarian crisis has triggered comparisons to Trump's treatment of migrant children, as well as damning criticism from all sides of the political spectrum.
Over the past year, hope for the Biden administration to improve its treatment of asylum seekers and grant relief to the millions of undocumented people who continue to live in precarity has all but disappeared.
"I think things are worse," said Giovanni Batz, postdoctoral fellow in the Department of Native American Studies at the University of California, Davis. "MPP is back. Title 42 continues to operate. Babies are still in cages.""
The Biden administration launched a strategy to supposedly address the root causes of migration in Central America, describing the efforts as a "core component…to establish a fair, orderly, and humane immigration system." Vice President Kamala Harris was charged with leading the campaign.
When Harris visited Guatemala last June — her first trip to the region — she issued a stark warning to migrants and asylum seekers. "The United States will continue to enforce our laws and secure our border," Harris said at a news conference standing beside Guatemalan President Alejandro Giammattei. "I want to be clear," she said to potential migrants, "Do not come." Like other U.S. leaders, Harris failed to acknowledge that decades of U.S. intervention in Guatemala — and across the region — have largely led to the conditions that have forced Central American communities to flee in the first place.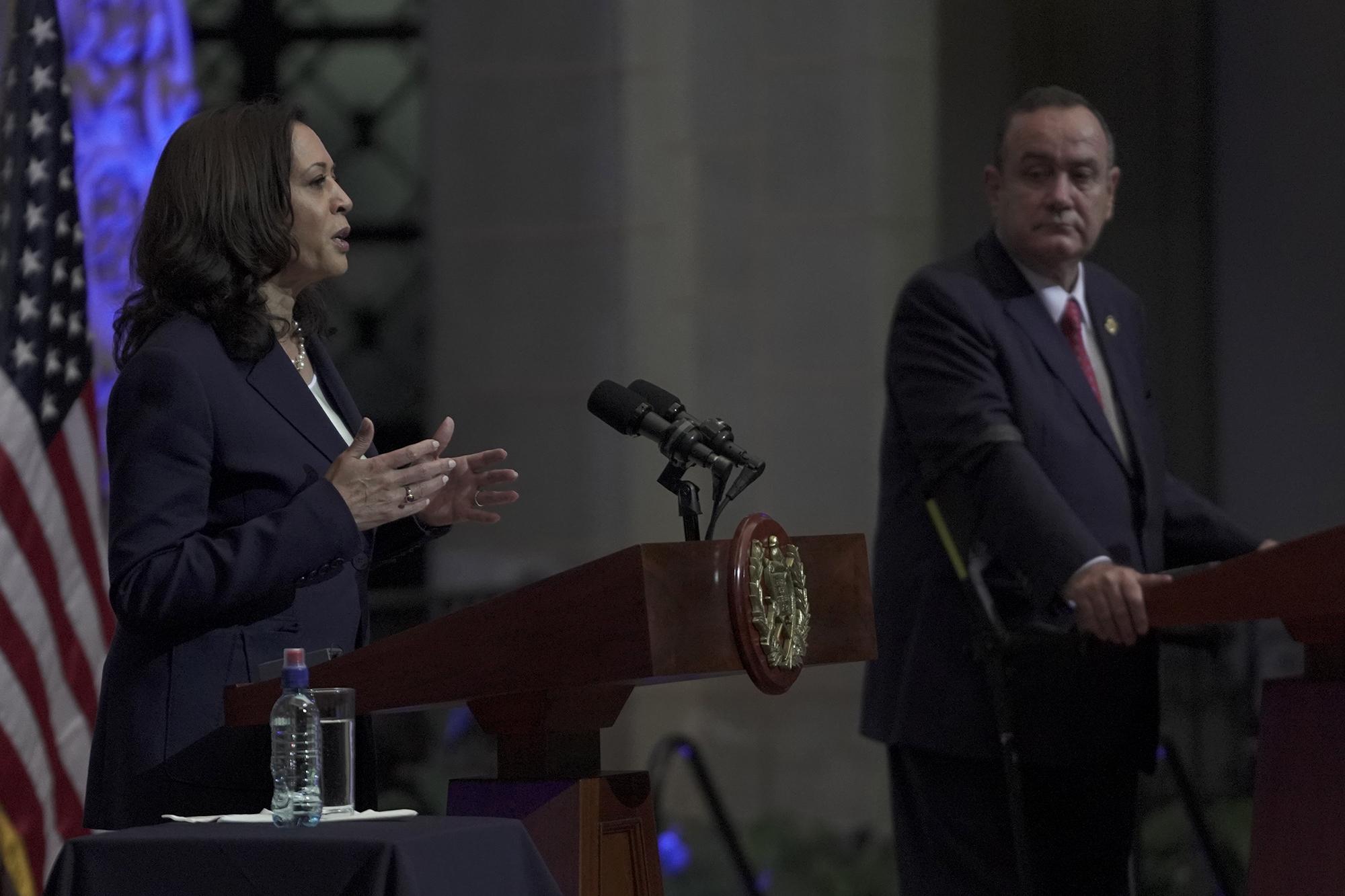 In that same speech, Harris announced the Biden administration wanted "to help Guatemalans find hope at home," calling on multinational corporations to "invest" in the region's economic development. Last month Harris announced $540 million in private investments in Central America — a partnership with entities like Cargill, PepsiCo and Nespresso. Altogether there's been a pledge of $1.2 billion in private investments in the region. Harris has also been vocal about the need to fight government corruption in Central America to prevent more people from fleeing. But funneling money to Central American governments and flooding the region with private investments are far from what's needed to fix the conditions that push people to migrate.
"Oftentimes these corporations knowingly engage with corrupt governments to do business. The U.S., as always, tries to have it both ways: to publicly demonstrate that they're trying to combat corruption while doing deals with corrupt figures," said Batz, who has years of experience researching and working with Maya Ixil communities in Guatemala, resisting destructive, foreign-funded megaprojects that perpetuate human rights violations, environmental destruction, and displacement. Batz explained that Indigenous communities tell him: "'No queremos maquilas aquí.' They don't want sweatshops. They want their land."
To Yesenia Portillo, an activist with the Committee in Solidarity with the People of El Salvador, or CISPES, the Biden administration's economic plans in Central America are just part of the U.S. government's prolonged imperialist presence in the region.
"U.S. foreign policy is corrupt," Portillo said. "The ultimate purpose is securing U.S. economic interests at the expense of the well-being of people in our homeland. Communities on the ground are fighting their local battles that are impacted by larger structural things."
Last June, CISPES, alongside over 130 human rights and immigrant justice organizations in Guatemala, El Salvador, Honduras, and the United States sent a letter to Congress urging it to reconsider key aspects of U.S. economic assistance in Central America, including ensuring that none of these funds are used to "finance infrastructure or energy projects that contribute to environmental damage, violate labor laws, and disregard community land rights." They also call for the United States to stop pushing for the privatization of public services, including water, electricity, education, and health care.
Unleashing Abusers
In its efforts to prevent migrants and asylum seekers from reaching the United States, the Biden administration is collaborating with governments and security forces known for their brutal and sometimes deadly repression of local communities. Last February, Biden suspended Trump's "safe third country" asylum agreements with Guatemala, El Salvador, and Honduras, but his government has also ensured that the region and its borders are heavily militarized. Under Biden, the Mexican government has also continued to enforce U.S. border security interests in its territory, functioning as a massive border wall where Central American, Haitian, and other migrants face kidnappings, torture, rapes and killings.
Picking up where Trump left off, ignoring the science and wielding public health authority to deny asylum seekers from setting foot on U.S. territory, the Biden administration has been relying on Title 42, an obscure public health rule first used by Trump that allows border agents to quickly expel migrants without due process, blocking them from seeking asylum. Last year, a former senior official with the Centers for Disease Control and Prevention told a congressional committee the enforcement of Title 42 wasn't needed to prevent the spread of the coronavirus. In September a federal judge ordered the Biden administration to stop using the policy. That same month Border Patrol agents on horseback were seen whipping and chasing Haitians in Del Rio, Texas as the agents attempted to push the asylum seekers back into Mexico. 
"The administration's treatment of asylum seekers at the southern border has been just awful, abysmal," said Kennji Kizuka, associate director of research and analysis for refugee protection at Human Rights First. The organization has tracked over 8,700 reports of kidnappings, rapes, tortures and other violent attacks against migrants blocked at U.S. ports of entry or expelled to Mexico under Title 42 since Biden took office. "The Mexican government doesn't have the capacity to host this many refugees and to provide them the kind of support and protection they would need. Some refugees simply aren't going to be safe in Mexico, the conditions don't allow for that. This is why these policies are just fundamentally flawed and dangerous."
By far one of Biden's most ambitious immigration policy moves last year was to end the highly-contested Migrant Protection Protocols, or MPP, which forced tens of thousands of asylum seekers to stay in Mexico while U.S. immigration courts reviewed their claims. A federal court in December ordered the revival of MPP, but the Biden administration chose to expand nationalities included in the program to include all asylum seekers from the western hemisphere. The U.S. government has since requested the Supreme Court to hear its case to terminate MPP.
The Biden administration "hasn't been willing to argue in court that the policy itself is illegal…just arguing that they have discretion to use it or not, which we always thought was a mistake," Kizuka said. "The intent is clear: it's to send a message to asylum seekers not to come to the United States. That they won't receive protection here. And that's totally illegal."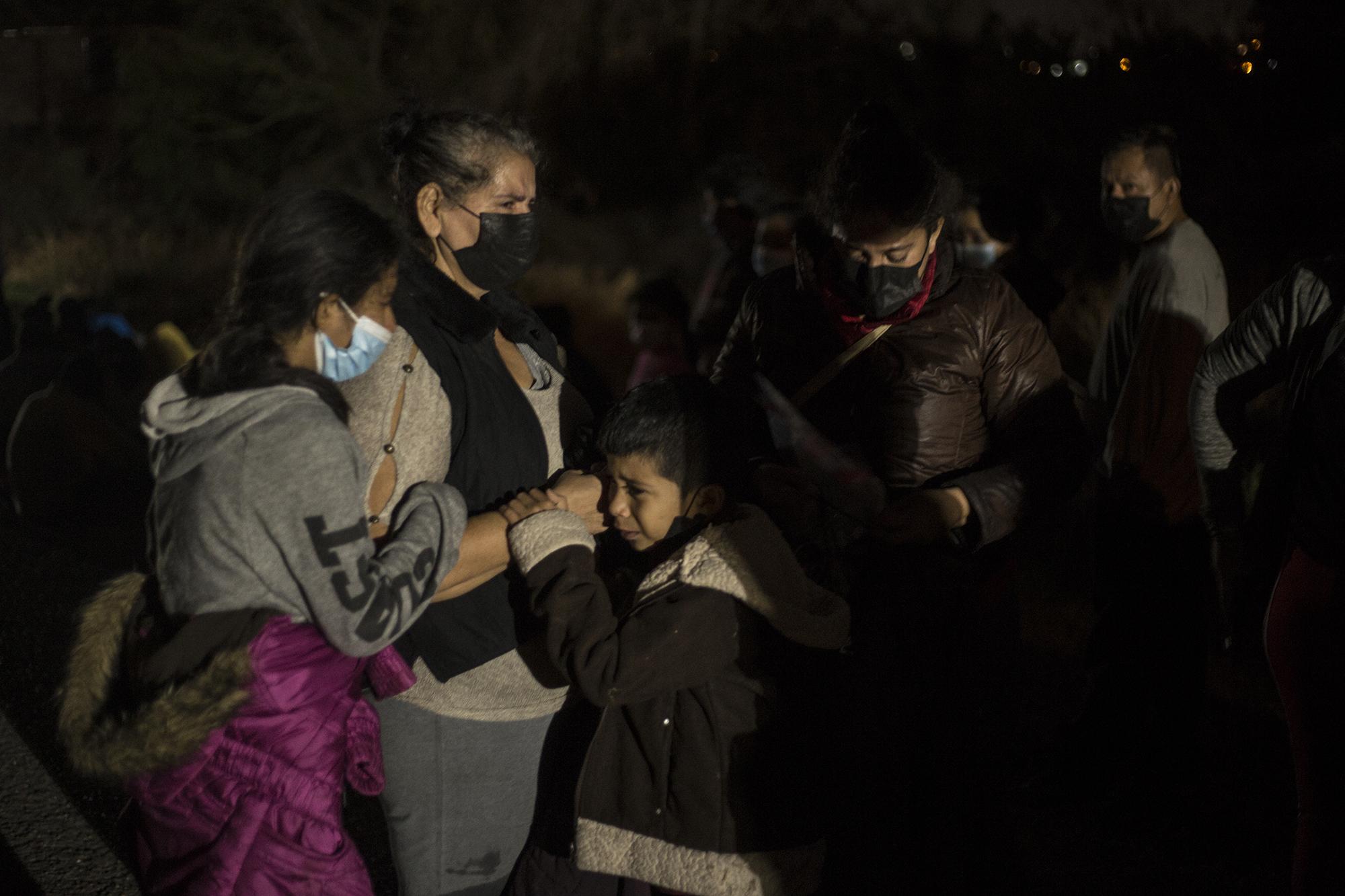 Since early December over 200 asylum seekers enrolled in MPP have been returned to Mexico, most of them from Nicaragua. The Biden administration claims it's made changes to MPP to address humanitarian and due process concerns, but the experiences of two asylum seekers recently returned to Tijuana reflect otherwise. Human Rights First has documented hundreds of other cases of brutal violence, and even murder, against asylum seekers forced to stay in Mexico under MPP, Kizuka said. The Mexican government has also been complicit in the implementation of the program.
With policies like MPP and Title 42 blocking migrants and asylum seekers from safely entering the country, it's unsurprising that some 650 people died while attempting to cross into the U.S. during Biden's first year — a record figure since the International Organization for Migration began documenting these deaths in 2014.
The Theater of Change
Many of the executive actions on immigration Biden signed on his first day and initial weeks in office were, we can now see, largely performative. While Biden reversed Trump's travel ban on predominantly Muslim countries, the admission of refugees to the United States fell to a record low in 2021. Biden also ordered a halt to the construction of the U.S.-Mexico border wall, but last month the Homeland Security Department announced it would use some of Congress's border security funding to close "small" gaps of the wall's sections that were left open when construction was halted, as well as expand border surveillance systems, known as a "virtual wall."
The number of undocumented people jailed by Immigration and Customs Enforcement has also significantly increased since Biden became president, despite being in the midst of a pandemic and ICE jails seeing massive coronavirus outbreaks due to the facilities' neglect. Earlier this month, the Biden administration petitioned the Supreme Court to allow it to indefinitely detain thousands of immigrants facing deportation, without granting them bond hearings.
Another of Biden's unmet promises is offering reparations to the more than 5,000 migrant families that were separated by Trump's "zero tolerance" policy. The Biden administration has halted settlement talks with the migrant families. Meanwhile, last year Biden extended the duration of Temporary Protected Status to people from several countries including El Salvador, Honduras and Nicaragua. But that's set to expire in December — a reminder of the urgent need for permanent protections for immigrants and asylum seekers.
This year's midterms pose a massive challenge for the Democratic Party and its ability to maintain a majority in Congress. Although historically Democrats have done little to truly improve the conditions faced by immigrants and asylum seekers, there's always the fear that things could become much worse under a Republican-led Congress and another presidential figure like Trump, or Trump's own return. For Central American and other communities, however, the struggles and resistance are constant regardless of which U.S. political party is in power.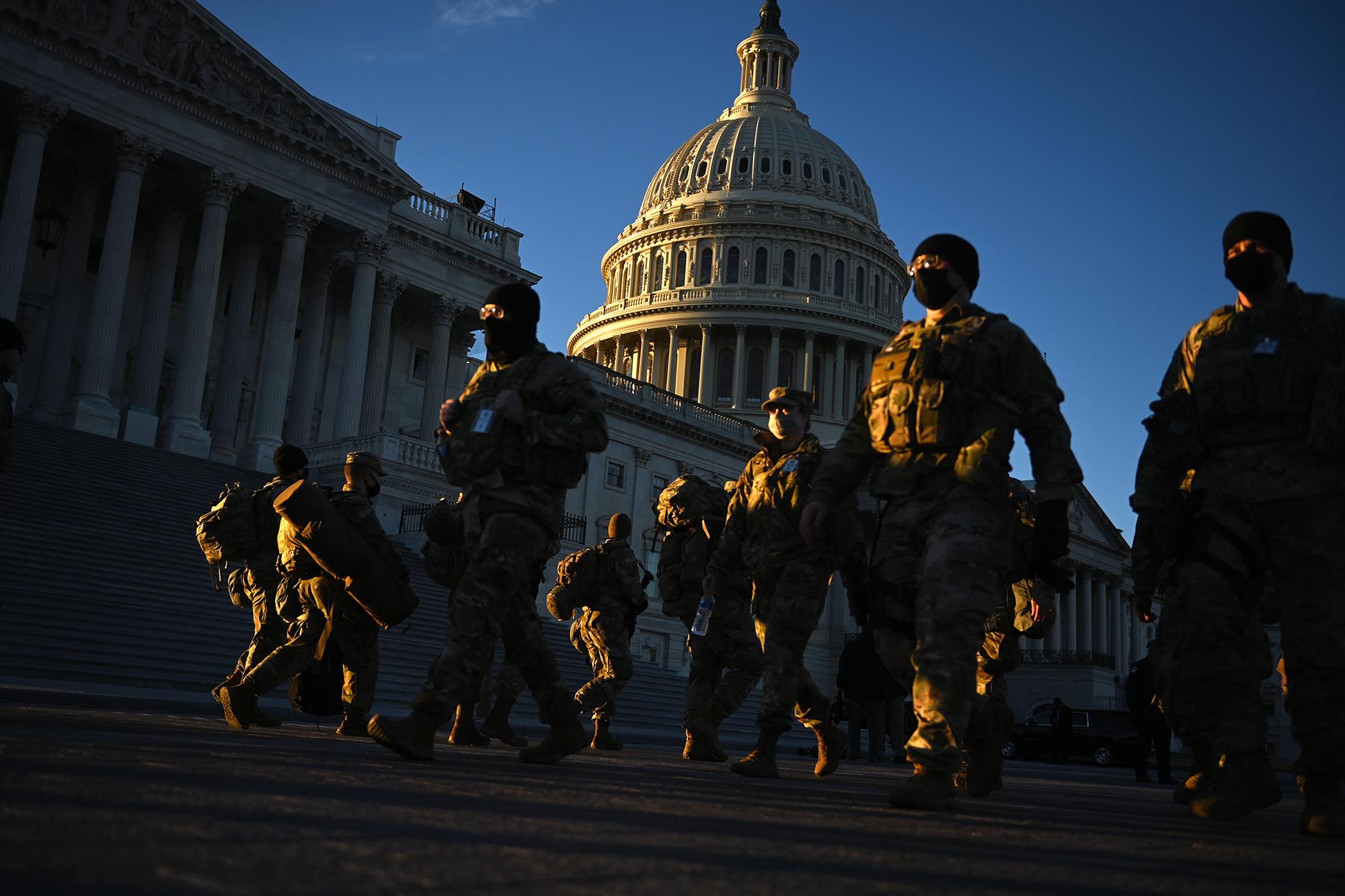 For Batz and Portillo, if Central America is going to eradicate corruption, maintain stable civil institutions, foster economic equity and safety, and provide Central Americans with the opportunity to stay home, those radical changes must come from the grassroots.
"We have to look at Indigenous communities. I always look to the ancestral authorities," Batz said. "Corruption is indeed a root cause of migration [and] the fight against corruption continues on a local level, not with what the U.S. government is proposing."
María Inés Taracena is a journalist from Guatemala based in New York City. Her work has focused on immigration, the U.S.-Mexico border, workers' rights, and other social justice issues. She's currently a news producer at Democracy Now!
Apoya el periodismo incómodo
Si te parece valioso el trabajo de El Faro, apóyanos para seguir. Únete a nuestra comunidad de lectores y lectoras que con su membresía mensual o anual garantizan nuestra sostenibilidad y hacen posible que nuestro equipo de periodistas llegue adonde otros no llegan y cuente lo que otros no cuentan o tratan de ocultar.
Tú también puedes hacer periodismo incómodo. Cancela cuando quieras.
Te necesitamos para seguir incomodando al poder.
Conoce
acá
cómo se financia El Faro y quiénes son sus propietarios.
elfaro.net/en/202201/columns/25951/Biden

PP:
PC:
PN:
PT:
items_count:
items_pivot:

YY:

MM:

FI slug:
FI name: January 2022
FI sort:

FT slug:
FT name:
FT sort:

FS slug:
FS name:
FS sort: