After weeding through a record 25 contenders at the polls on Sunday, voters sent José María Figueres (president, 1994 to 1998) and World Bank economist and 2019 treasury minister Rodrigo Chaves to an April 3 runoff. With 88% of the vote counted by noon Monday, Figueres notched 27% of votes, versus 17% for Chaves. 2018 presidential finalist and Evangelical pastor Fabricio Alvarado came in third with 15%.
In comparison to its northern neighbors, Costa Rica has long been a pillar of democracy. On Sunday, candidates across a wide political spectrum were allowed to seek office (unlike neighboring Nicaragua's criminalized candidates), voters cast ballots without incident, and the results were not disputed.
Yet regional political undercurrents, such as dissatisfaction with traditional political parties, corruption and economic inequality as key political issues, and new political actors emerging as a result, also drove Sunday's election. More than 70% of Costa Ricans said that traditional parties don't represent them, according to a 2021 report by the UN and University of Costa Rica. A motley slew of candidates tried to seduce voters yesterday.
To boot, two in five Costa Ricans stayed home, breaking the record for voter abstention set in 1958 after 10 years of steady incline.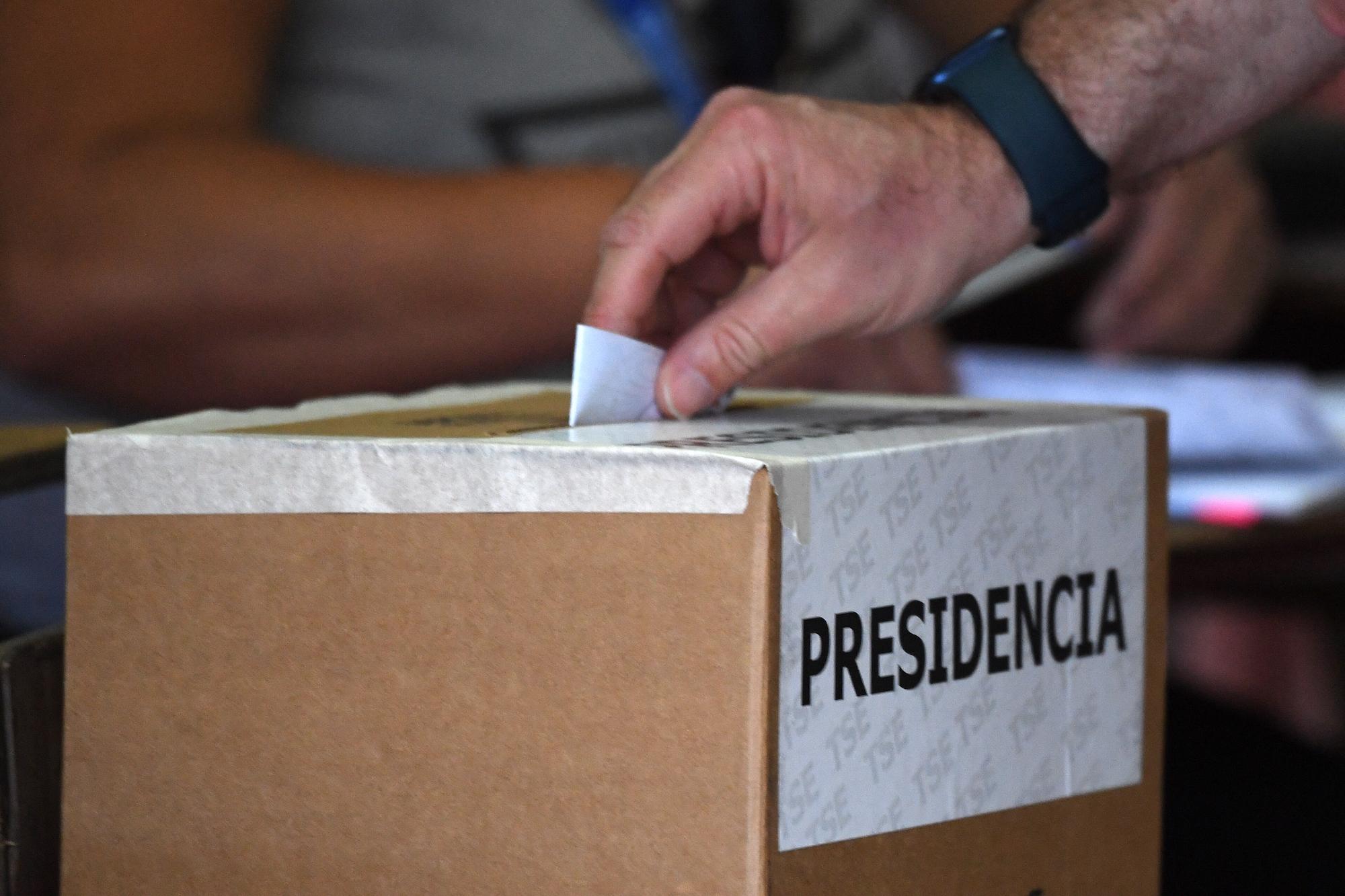 "We have a menu of parties of all kinds, with platforms without an ideological discussion or a movement or a political structure. Everyone is going after the masses," Costa Rican journalist and political analyst Álvaro Murillo told El Faro English. Instead of candidates defining what they stand for politically, he explained, most are looking for the voters to tell them what they should stand for.
In 2014, Costa Rica broke with its two-party system by electing an alternate candidate from the Acción Ciudadana party, Luís Guillermo Solís. In 2018, the party won the presidency again as Carlos Alvarado beat evangelical pastor Fabricio Alvarado after a tense electoral campaign in which the legalization of same-sex marriage became a point of tension.
But after two terms, this alternative to the two party system has not lived up to Costa Ricans' expectations. More than 70% of Costa Ricans are unhappy with Alvarado. In October 2020, rare protests even broke out against his negotiations with the IMF. A sense that, despite the agreement, Costa Ricans are faring worse economically has been a sore point in his presidency.
Corruption, the economy, and unemployment were Costa Ricans' main concerns in the lead-up to elections, per November polling, echoing the concerns of recent voters in neighboring Central American countries. An increase in unemployment, harsh blow to the tourism industry, and increase in inequality during the pandemic were front of mind for many voters as they cast their ballots.
The candidate for Acción Ciudadana, Welmer Ramos, came in tenth place, securing a meager 0.66% percent of the vote.
"These elections showed that our politics share more with the rest of Central America than we, who often consider ourselves "shielded" from the turmoil to the north, like to think," said Murillo. The same political tendencies are, "little by little, manifesting themselves here," he observed, adding that voters are seeking leaders who would solve their problems, but who also represent stability, as Costa Ricans are notoriously risk-averse.
The Return of Figueres?
Maybe that's why one of the candidates to make it to the next round is a familiar face in Costa Rican politics. José María Figueres, the 67-year-old candidate for the National Liberation Party, was president from 1994 to 1998. His father founded the party, served as president three times, and famously abolished Costa Rica's military.
Although well-respected by certain quarters of the private sector and Costa Ricans who believe he represents stability and continuity, Figueres's reputation has been stained by financial scandals. After leaving the presidency, Figueres became CEO of the World Economic Forum and resigned in 2004 amid allegations he received $900,000 in consulting fees from a French telecommunications company in violation of WEF regulations. The Paradise Papers investigation also revealed that he was a board member of a renewable energy company incorporated in Bermuda.
Any critiques of Figueres were drowned out on the debate stage by those lodged against the man he will face in the second round, Alvarado's former treasury minister Rodrigo Chaves. During a Friday presidential debate, Chaves admitted on TV to sexual harassment of two female colleagues at the World Bank between 2008 and 2013.
In 2019 the international organization demoted Chaves, froze his salary, and barred him from promotion. A fractured political field ultimately played to Chaves' favor, despite many Costa Ricans' calls for him to quit the race. 
With the two contenders only garnering a combined 44% of the vote on Sunday, and taking into account the record levels of abstention, neither has a clear path to the presidency.
Thanks for your time. P​lease pass along our work and consider funding independent journalism in Central America, in its most critical hour, at support.elfaro.net.