This feature was published in Spanish on Sep. 18, 2017.
1.
It's undeniable: this man loves animals. Devis Leonel Rivera Maradiaga recently confessed to 78 murders and to building a zoo in western Honduras with drug trafficking proceeds. He said so in a New York court. He didn't confess as a defendant, but as a witness in Fabio Lobo's trial, another self-proclaimed drug dealer and son of Honduras' ex-president Porfirio Lobo Sosa. But, let's be clear: the witness, Rivera Maradiaga, was the kingpin; the accused, a rookie. 
Rivera Maradiaga's zoo is still open to the public, and children under three enter for free. It's an eccentricity erected in the midst of a green valley. The 20-hectare manor is surrounded by hills in the middle of nowhere, or to be exact, an hour south of San Pedro Sula, one of the world's most violent cities.
The zoo is home to 538 specimens in need of care and food. The safari park built by Rivera Maradiaga is so big that almost 70 local families make a living harvesting the beasts' food. 
There are more than 50 big cats: dozens of lions and tigers —five white or albino tigers among them—, pumas, jaguars, ocelots… and a handful of tamed kittens that freely meander the park. Four hippopotamus are also distributed in three nearby areas connected by a channel feeding the water pools where they spend most of their days. The confinement includes a bunch of dromedaries and camels, several alpacas, ostriches, Amazonian tapirs, primates, bison, wildebeests, emus.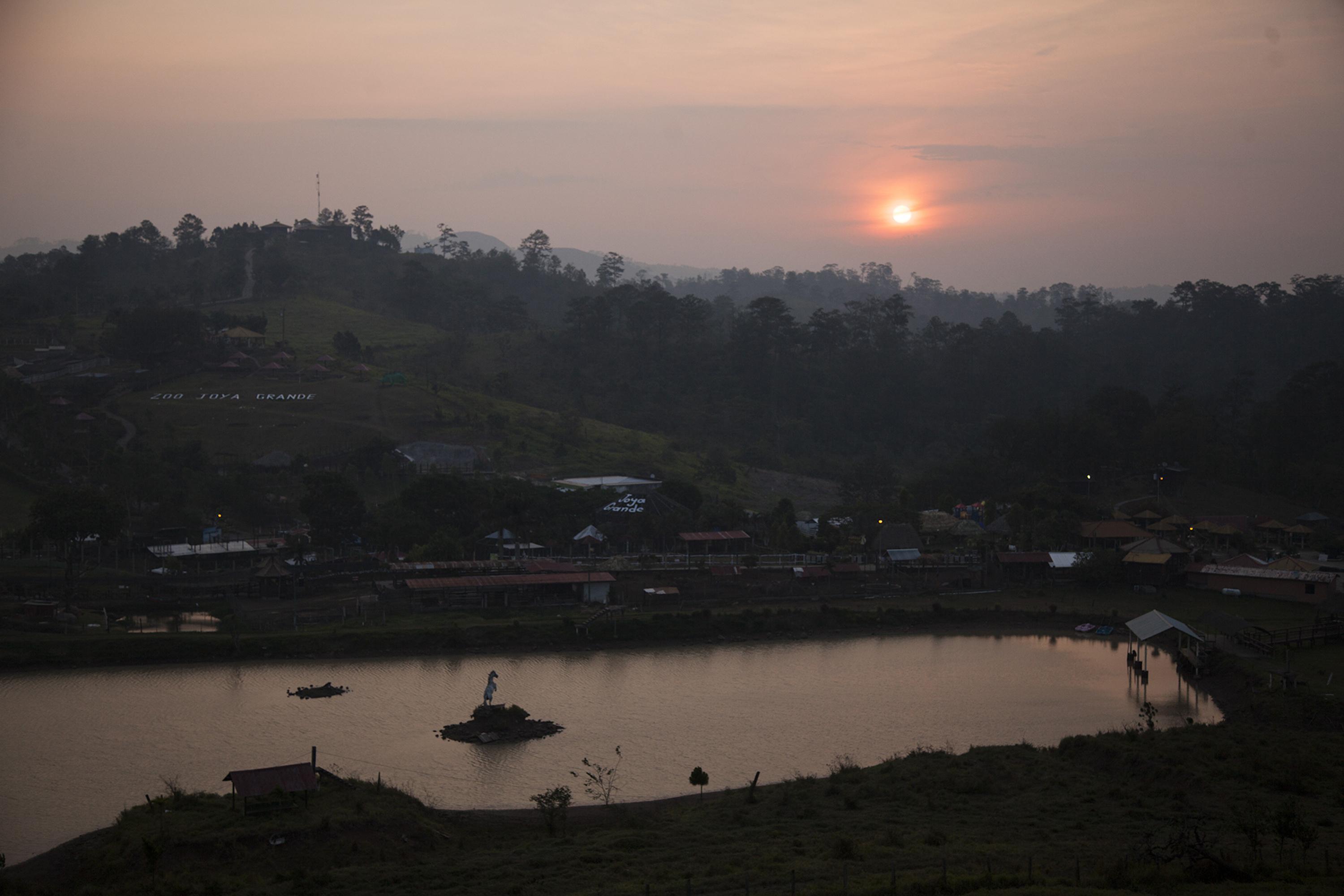 Four crocodiles of the acutus species, known as American crocodiles and native to Central America, swim in an artificial pond. It seems like they're constantly preying on a small benchless island. It is in that mound where, hanging from a tree, five paranoid spider monkeys live as castaways, well aware of their assassins in the water. They can see their lurking eyes peeping over the surface.
Blue and red macaws fly, without entirely deploying their wings, inside the aviary along with cockatoos and toucans. The luckiest pheasants, guinea and Japanese fowls wander freely amongst visitors. Here, the inability to fly is an advantage.
No highway leads to Joya Grande (which literally translates as Big Jewel). To visit the zoo from Santa Cruz Yojoa, visitors must travel eight kilometers by rural, dirt roads. Their website offers a terse set of directions: "Follow the signs."
Along with his brother, Devis Leonel Rivera Maradiaga ran the drug cartel known as Los Cachiros. The kingpin built this zoo because he loved animals, and because he knew that drug dealers have extravagant taste. But above all, he did it because he could. By registering his animal collection as a zoo, Rivera Maradiaga could legally buy and import new species. It's not that anyone in Honduras would have given him trouble; he did it to make transactions with the exporting countries easier, by the book. That's why, since he built it, the kingpin's whim has been open to the public.
The zoo has natural boundaries, but they're monitored regardless. In the past, Rivera Maradiaga's men could see anyone approaching the land from an observation tower erected in one of the hillsides. Today, that tower is the tourists' reception lobby, and a small private army providing security sweeps the periphery day and night in small vehicles. Besides the park, they also provide security to the pasturelands where the cows and horses who will become the felines' food, graze.
The safari park has seven cabins and four RVs. There are two pools, a zipline, restaurants, cafés, a go-kart track, a miniature train, paintball, and an artificially-built lagoon where visitors can cruise in rented pedal or rowboats. A small island emerges from the middle of the lagoon; in it, a huge sculpture of a neighing white horse stands on its two back legs. It cuts a strange figure in a zoo full of felines. Horses, it so happens, are another obsession of the Señor of Joya Grande. Two other horse sculptures, one red and the other dappled, rise in the entrance, welcoming newcomers.
This manor of exotic creatures is just as much an imitation of the eccentricities of the Colombian kingpin Pablo Escobar as an homage. Los Cachiros went as far as to pick, as a brand, the same colors and font that Escobar chose for his Naples Estate. They even placed a tree's silhouette as the main feature in the logo of Joya Grande.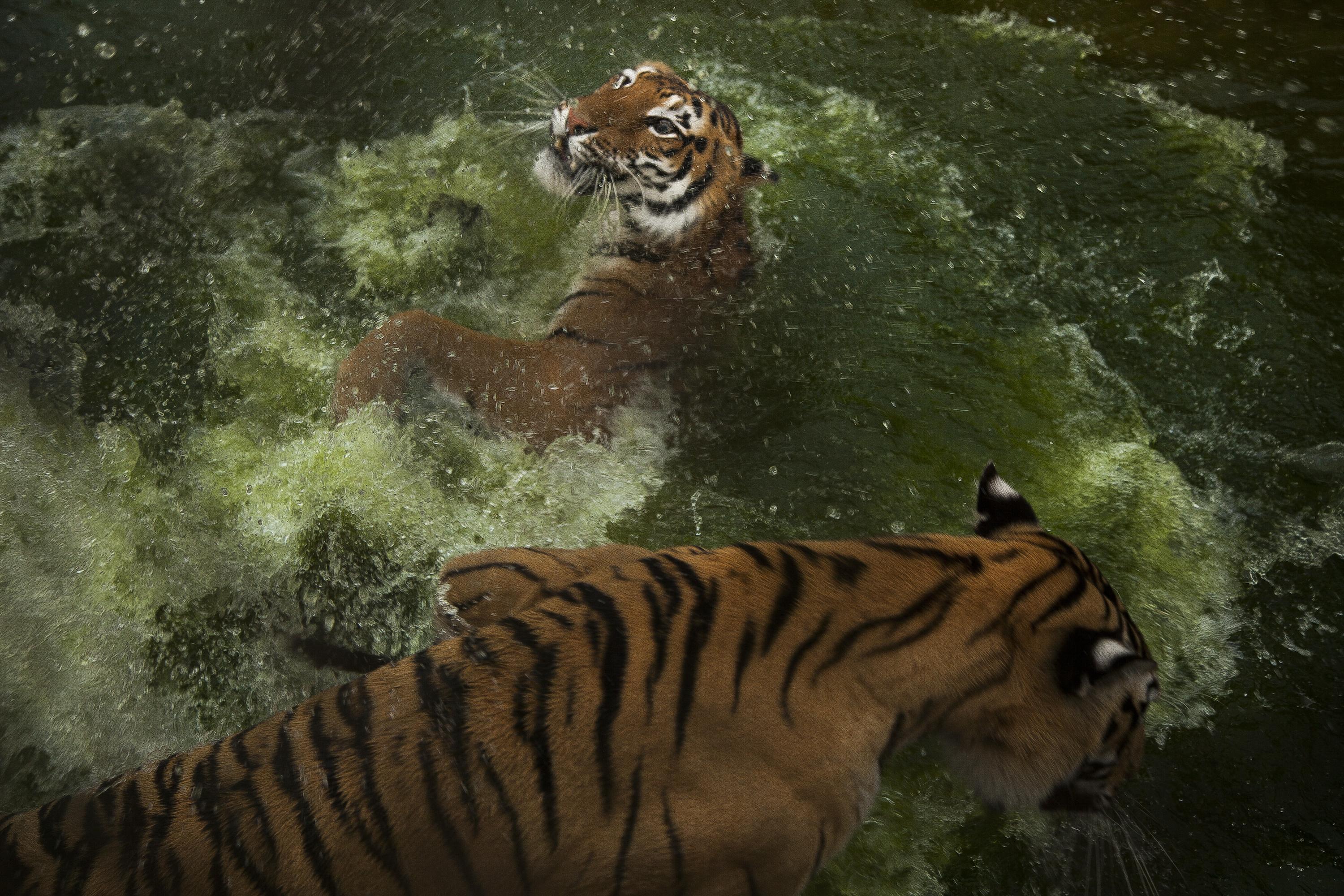 The Rivera Maradiaga brothers also adopted some traditions from northern Mexico, commissioning a corrido in their honor. It soon became one of the biggest hits in Honduras: "El Corrido de Los Cachiros." The musical grounding is identical to José Alfredo Jiménez' classic "Caminos de Guanajuato," later picked up by Los Tigres del Norte. It's that classic song that begins like this: "Worthless is life, life is worth nothing."
Rivera Maradiaga lived more than 300 kilometers from the safari, in Tocoa, Colón, but every once in a while he'd sleep in his private cabin within his zoo. He used to fly in by helicopter. Each morning he ate breakfast on the balcony and, before touring his property to admire his cats, he would stop to pet Big Boy, the only giraffe in all of Honduras. 
Big Boy was the man's favorite animal, the same man who confessed to several crimes in New York. The giraffe arrived five years ago, after a circus donated him from Guatemala. He's nine years old and feeds from green grass and leaves from the nance --a yellow round fruit-- tree. The zoo's employees complement Big Boy's diet with seven pounds of veggie concentrate and twenty of carrot, onion and lettuce. Big Boy is tamed and allows people to pet him. Everyone here talks about Big Boy, but no one will utter the kingpin's name. He's known simply as El Señor. 
We asked for a cabin on the night we got to Joya Grande. The manager offered a simply-built wooden two-room cabin with a porch and a balcony. "This used to be El Señor's cabin," he said, emphasizing El Señor, as if talking about Che or Rubén Darío. "That's where he stayed when he came here."
The moon was not visible on that gray-skied April night, and the air was hot and humid. Roars from the big felines drowned out an onomatopoeic symphony of who-knows-how-many excited species. Here, beasts reign at night. Barely visible in the pitch-black night, a family of zebras, father, mother and son, sleep just a few meters from our balcony, motionless and indifferent to the rest of the animals' jamboree. The morning, on the other hand, arrived calmly, with sporadic, lazy howls. Right in front of the balcony, Big Boy stretched his long neck. 
The rate for a cabin with two double beds is $200 per night. For half that price, guests can sleep in one of the RVs scattered near the cabins, each with a full-sized bed and a small cot offered as a twin bed. The prices are far too high for a Honduras home to the poor.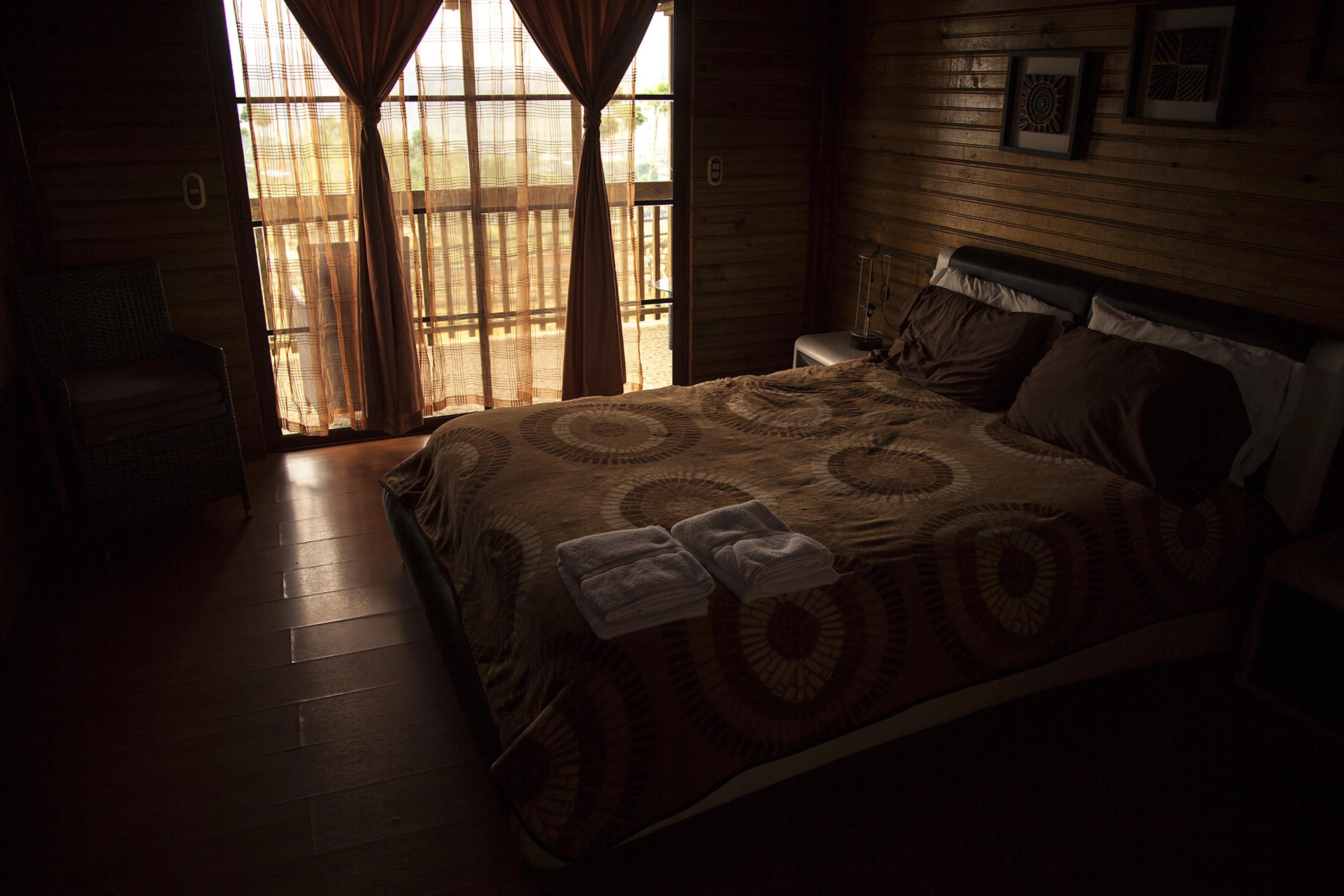 The lodging, however, doesn't justify the price. The cabins are filthy, as if no one has cleaned them since El Señor left. It's almost as if all the cheap-looking white furniture used as night tables, tarnished by cigarette burns and all sorts of liquids, had been there forever, collecting stains. New odors and textures have been accumulating on the cheap quilt with giraffe or leopard skin patterns. At some point, someone thought a pair of shabby plastic giraffe and leopard figurines were the finishing touch on the monument to tackiness. A nod to Walmart narcostyle.
As it happens, people that pay to sleep here don't necessarily do it out of love for animals or for the experience of sleeping with surround-sound roars. Two couples from San Pedro Sula arrived one night. Short after, they came out of their cabin wearing bathing suits, holding glasses and a bottle of whisky in their hands. They walked 10 meters to an outdoor hot tub. An hour and several drinks later, the four of them returned to their rented cabin. Somewhere in the valley cats growled. The fantasy was complete: Cachiros for a night with the animal kingdom at their feet. Nar-co-land wannabes. Joya Grande.
2. 
Emil J. Bove III, an assistant federal prosecutor for the Southern District of New York, is asking the questions. Devis Leonel Rivera Maradiaga answers. 
—Where are you from? 
—Honduras.
—Where in Honduras?
—Tocoa, Colón.
—Where do you live now?
—Prison.
—How did you end up in prison?
—I turned myself in to the DEA.
—Did you plead guilty to federal charges?
—Yes.
—What are some of the crimes for which you pled guilty?
—Murder, money laundering, leading a group of drug and arms traffickers. 
—How many murders did you confess to, in relation to your guilty plea?
—78.
—Did you also admit to attempted murders?
—Yes.
—How many?
—Fifteen.
Los Cachiros were the kings of organized crime in Honduras from 2003 to 2013. They became the main link between the southern narcos —Venezuelan and Colombian— and the very powerful Mexicans, especially Joaquín "El Chapo" Guzmán's Sinaloa Cartel. They partnered with big businessmen and had the politicians, military, and police in their pockets. They even survived the 2009 coup against President Manuel Zelaya and the isolation from the international community that followed. If global trade closed its doors to Honduras, drug trafficking grew. So did the number of Hondurans interested in making a narco-buck.
Even if Los Cachiros never made it to the Forbes lists, the cartel's estimated wealth at its peak was thought to be $1 billion. With this revenue, they would've held the seventh place in the list of the wealthiest businesses in Central America. With their fall in 2013, Honduran authorities seized some of their legal enterprises like the harvesting of African palm from the Aguán region, construction companies that laundered millions of dollars with state contracts, a mining company, several real estate businesses, and the zoo, Joya Grande.
Los Cachiros rose quickly. The brothers' criminal careers started when, as children, they helped their father grow marihuana and steal cattle. The cartel's name carries a family heirloom: In the Olancho department, where the Riveras are from, all men baptized as Isidros are nicknamed "cachiros." The Rivera family have been worshippers of San Isidro Labrador for as long as anyone can even remember. Devis Leonel and Javier Rivera Maradiaga are the sons of Isidro Rivera —Don Cachiro— and grandsons and great grandsons of yet other Isidros Rivera. The Rivera Maradiagas had a younger brother, Isidro the Cachirito, killed in 2003 during a bar fight between narcos over a woman. 
Cachirito's death was key in the organization's history. His murderer, Jorge Aníbal "Coque" Echeverría, was the leader of the Atlantic Cartel, for whom Los Cachiros worked back then. Driven by a thirst of vengeance and power, the brothers hunted Coque down. In 2004, after two failed murder attempts that left him badly injured, they finally got him. Legend has it that a convalescent Coque was deported from Panama and placed in the hospital wing of a maximum-security prison in San Pedro Sula. A man covered head-to-toe in casts laid on the gurney next to his. That same night, he tore his casts off, took out a weapon and killed Coque. The mercenary simply walked out of prison.
The capo is dead; long live the capos. Los Cachiros launched a war within the cartel to purge all Coque loyalists and assumed the undisputed leadership of the Atlantic Cartel, which they renamed after the family's namesake. Soon after, they bought the entire political system, controlled cocaine traffic from Venezuela and Colombia all the way to Mexico, and expanded their business by partnering with other drug traffickers in the region. Anyone in their way took a dose of lead.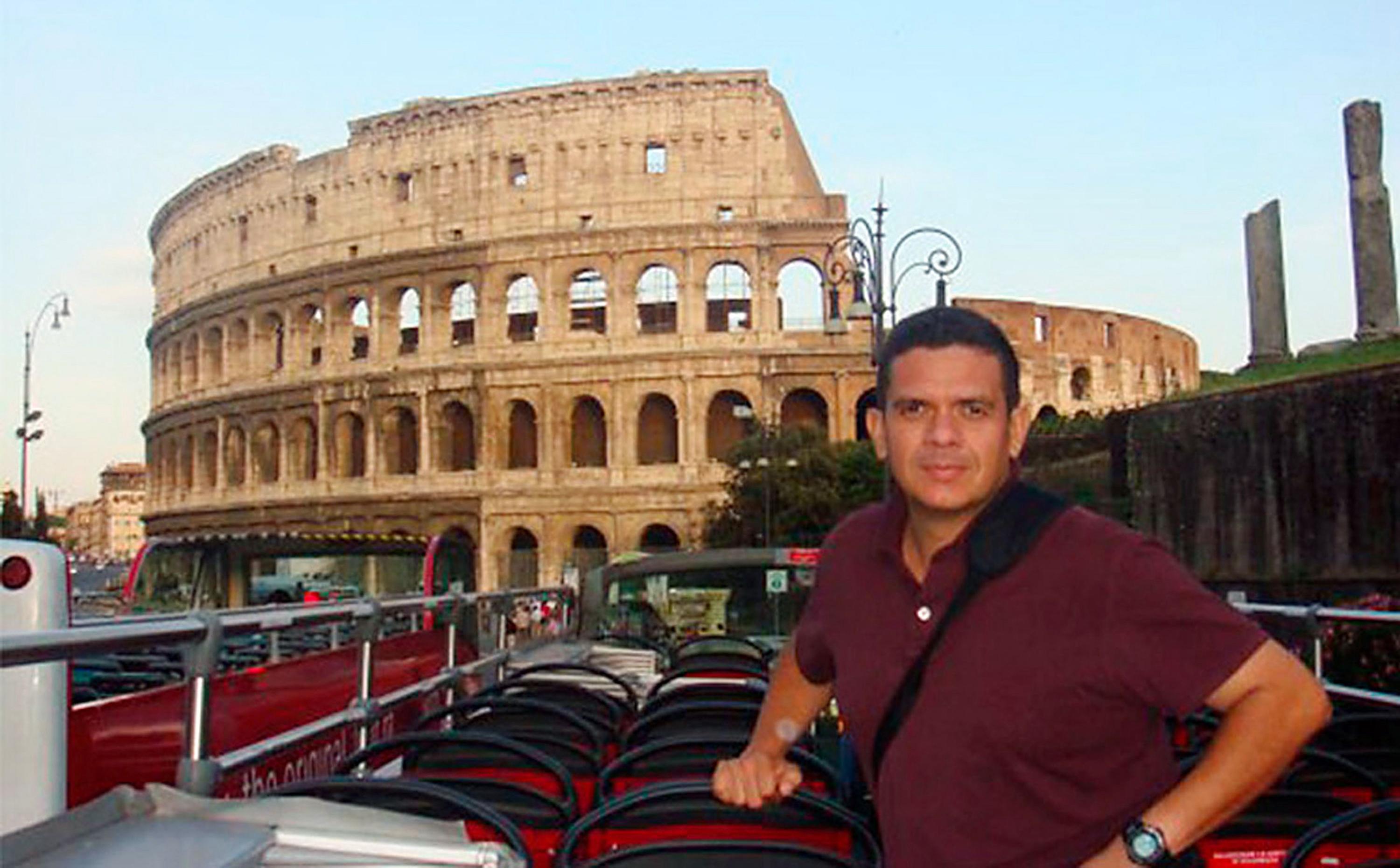 Their luck ran out in 2013 when U.S. President Barack Obama publicly named them Central America's most dangerous criminal organization. They started moving around a lot, attempting to rat out their powerful partners before the partners got them killed. After the Honduran government seized their properties the brothers struck a deal with the DEA, turning themselves in to survive.
Los Cachiros guaranteed the U.S. authorities that they had ministers, generals, police commissioners, and congressmen on their payroll. They even partnered with or bribed Honduras' presidential families, among them, former president Porfirio Lobo's son: Fabio Lobo, ex-president Lobo himself, and the brother of Juan Orlando Hernández, the current president. Julián Pacheco, the current Secretary of Public Security, was also in bed with them.
News that Los Cachiros had turned themselves in to the DEA broke, making the most powerful Honduran families tremble. Before that, anxiety had already made its way to Joya Grande, where 70 employees and more than 500 animals were left stranded after the fall of El Señor. 
3.
Petite veterinarian María Díaz tours the zoo wearing shorts, a cap, marathon-running shoes and a safari shirt with Joya Grande's logo. Since the zoo opened its doors for the public, Díaz has been the chief veterinarian at Joya Grande. She became its highest authority the morning of September 19, 2013, when Honduran prosecutors —flanked by soldiers— notified her that the property had been seized, and that until further notice she was in charge. Now she has the concession to operate the zoo. Díaz has a high-pitched, slightly coarse, but pleasant voice that seems incapable of shouting. Animal caretakers, guards and administrative staff looking for guidance, need to keep up with her as she strides through the zoo at a quick pace. She has stark, efficient answers for everyone. Now that El Señor is gone, it is crystal clear who runs things here.
When I met her, the vet opened a small doorway and led us to a patio off-limits to zoo visitors. One of the oldest houses in the manor stood half-dilapidated next to it. This building has become a warehouse for everything she finds in her strolls through the park: wires, pipes, screws… "It'll all turn out to be useful for repairs, to fix a crate or strengthen a mesh." Díaz walked toward a roofed plot next to the patio where she stroked an old quarantined dromedary camel. The animal had lived all its life in a circus, and arrived at Joya Grande a few days earlier, with an enormous, infected wound in its knee. Purple, like dead tissue. And white pus. "Don't let it sit," Díaz told the local campesino who now works as a caretaker.
The vet asked that an antibiotic be applied to the animal's infected knee. She requested a blue liquid that comes in a spray can and scares nesting flies from the wound. With a dry snout, the camel drooled and shrieked when the drug touched its skin. The new tenant looked beaten and sick, especially next to the rest of the zoo's muscled and healthy dromedaries. It's already 25 years old, a little over the average lifespan in captivity. Dr. Diaz merely intends to give the animal a better life in its last days. It's an act of futureless love, one that the zoo will not profit from. Why did she take it in? "Because the circus could no longer keep it. It's too old. They always bring them here because I'm unable to say no."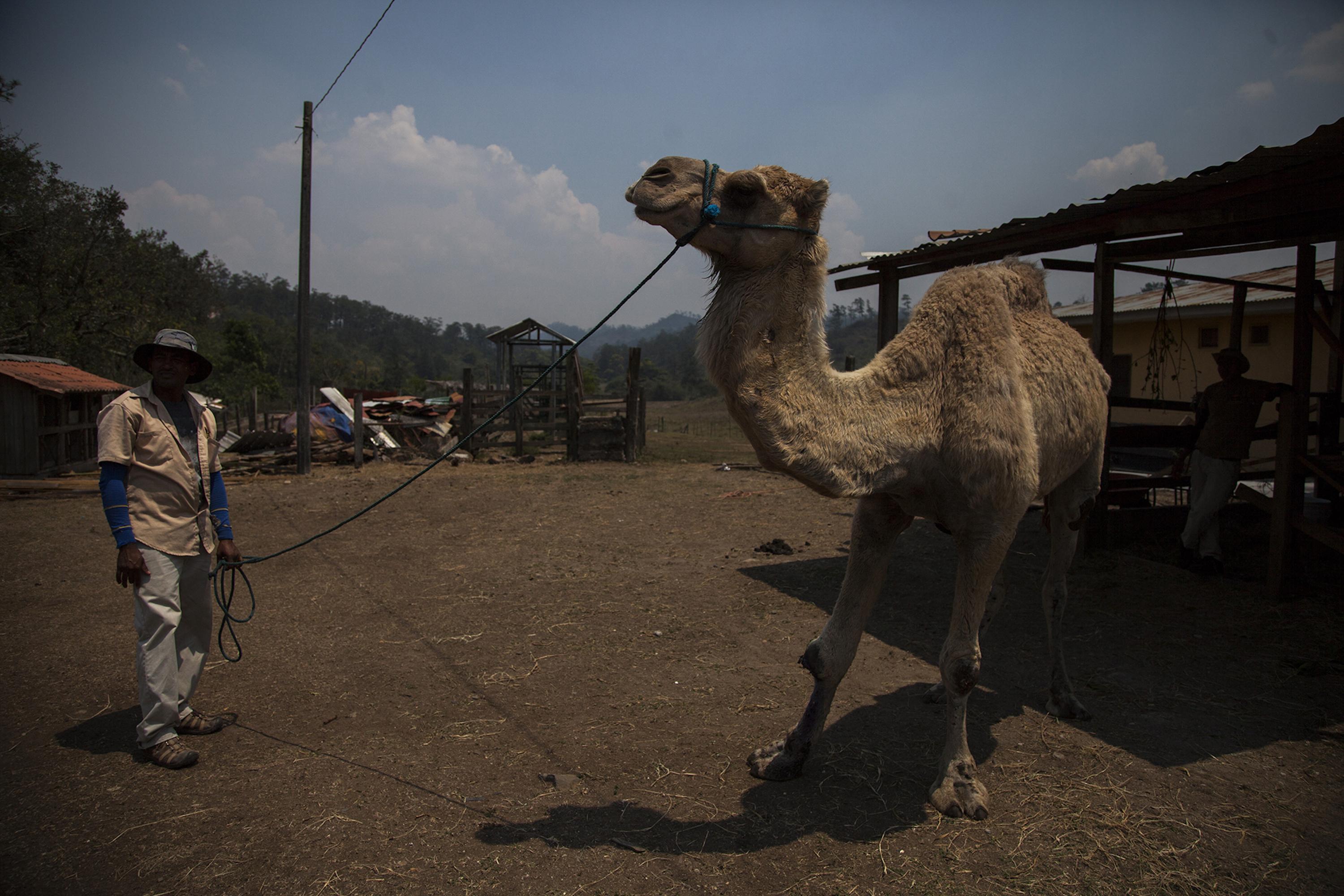 The veterinarian's 15-year-old daughter stands next to her. The teenager already knows she'll follow her mother's steps. She fell in love with animals in Joya Grande, where she grew up. Taking the dromedary's head in her hands, the girl caresses and soothes the animal. She smiles, and it smiles back. The zoo is her favorite place. This is where she spends weekends and holidays. If Joya Grande's future rests on veterinarians who love animals, the zoo will live a long life. "My problem with her," Díaz says, pointing at her daughter, "is that she wants to go into a jaguar's cage, but I won't allow it. When he was a cub he lived inside the house with us. She slept with him and fed him with a baby bottle. But the jaguar is grown now, and I don't want him to hurt her." They're like the Central American version of Marsh Tracy and her daughter Paula, the characters in Daktari, a TV show where they took care of animals in Africa. Dr. Díaz and her daughter do the same. But they do it in Honduras, where the wild beasts are the superior primates.
Born and raised in Guatemala, María Díaz married an Honduran vet she met in college. Together, they moved to Villanueva, a small town few kilometers south of San Pedro Sula. In Villanueva, Díaz opened a small veterinary clinic where she looked after neighbors' pets. How did a cat-and-dog vet become an expert in big felines? "A man came by one day. He wanted to see if I could examine his cats, who were sick. I said yes. They were four lions." She doesn't want to say who that Villanueva neighbor was, or how he got the lions, but that's how she started her involuntary specialization in exotic animals. That mystery man, remembers Díaz, put her in touch with the zoo owners. "They asked him if he knew anyone who could look after their animals. He said I could, and that's how I got here."
By then, Rivera Maradiaga already had all the required paperwork for his beast farm. It started out as a small animal collection, but with Díaz's arrival, they sought out more alliances with zoos in the region. The veterinarian would travel to Guatemala and Mexico looking for animal donations. She'd speak with circus administrators who could no longer keep their beasts. Visitors paid an entrance fee to tour the safari, but soon enough Rivera Maradiaga managed to broaden the offer by opening cabins and RVs —now called "Luxury Rolling Homes"— where guests from all over the country could stay. They wanted to have the best zoo in Honduras; so they built it. Rivera Maradiaga also built a hotel with lower fares than in Santa Cruz, the closest urban destination. That hotel was also raided and impounded. Today, it's also run by Dr. Díaz, who offers package deals that include lodging and Joya Grande tickets. "This was always conceived as a business," Díaz says. 
The zoo opened to the public without a proper design, and it kept growing that way. It never had an architectural plan to collect and keep the animals. "At the very beginning, there was a lot of money for its operation," says Díaz. The money, confessed the cachiro, came from drug trafficking. The Rivera Maradiaga brothers sent bricklayers to Guatemala City, where they had to copy La Aurora Zoo's building designs for replication in this span of land surrounded by dirt roads in the middle of Honduras. If there was so much money, why didn't they hire experts to build cages? "Because that's the way they work," says Díaz. "They already had the bricklayers they trusted, and that's who they wanted for the job."
The lack of expertise is evident. Some cages are too small, while others allow animals to move comfortably. Almost all the felines' crates are minimally built: they have cement floors and iron-rod fences covered by double mesh. The rods stand out. They're like buildings with a never-ending collection of columns because the builder —who knew nothing about engineering— was afraid it could collapse. The cages' excessive rods even prevent the cats from poking claws out.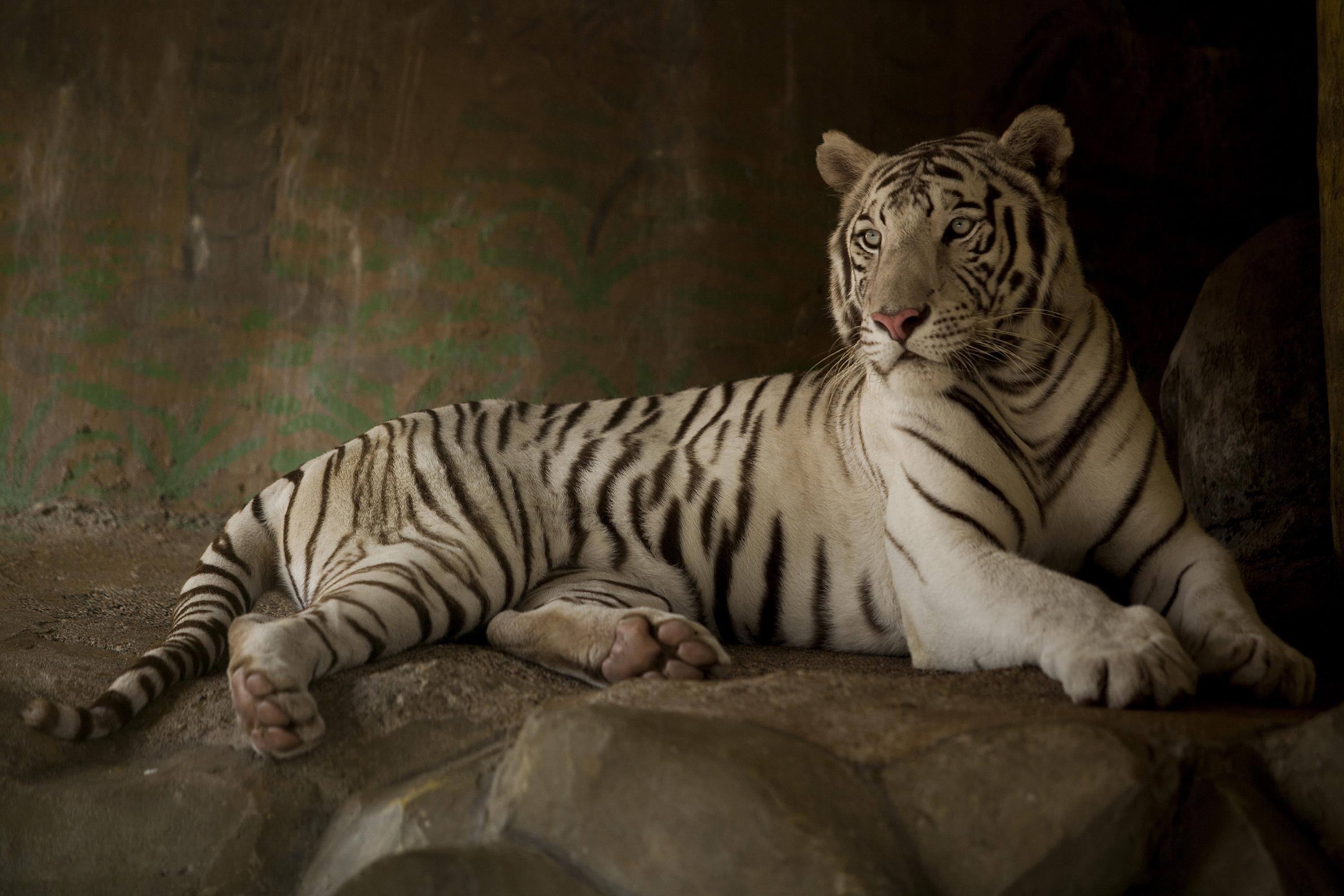 One of the shoe boxes is home to a huge, beautiful castrated lion that has lost its mane and can barely move. Similar feline cages sit left and right of his urban habitat.
Three Bengal tigers play on an ample terrace over a big water pool in one of the largest constructions. Despite their sedentary captivity, they show strong muscles. One tiger pounces over another that recedes until it falls into the pool, roaring in the water and bringing its front paws down. The preying tiger throws itself into the water too. The game's over as soon as two caretakers approach with two huge chunks of butchered horse. Immediately, the beasts come out of the pond licking their whiskers, ready to tear the meat chunks down to the bare bone. Each of these felines eats between 15 and 20 daily pounds of whichever animal meat they're offered. There hasn't been a single serious accident since the zoo opened, claims Díaz. Not a single caretaker or visitor has been devoured. Ever. Very few zoos in the world boast a security record as pristine as Los Cachiros' animal farm. 
4.
The dismembered body of broadcast journalist Aníbal Barrow was found in The Siboney, the American crocodile-inhabited swampy region of Villanueva in July 2013. Days earlier, Barrow was kidnapped in San Pedro Sula by a group of mercenaries under Los Cachiros' orders. Two gunshots took his life and his body was sprayed with gasoline; they tried to burn him. But they couldn't, so they tore Barrow apart and threw the pieces to a small lagoon next to the swamps for the crocodiles to devour. Apparently, the gasoline discouraged the animals and the police found the rotting bag two weeks later after following directions of one of the murderers whom they had already captured. The detainee explained that the mercenaries kept one of the journalist's arms for their bosses to see. Barrow was one of the 78 murder victims from Devis Leonel Rivera's confession. 
Nahúm Palacios, director of Televisora del Aguán, was another journalist victim of Los Cachiros. He covered land disputes between peasants and landowner Miguel Facussé. Palacios was ambushed in 2010 in Tocoa, Los Cachiros' hometown. Shots from an AK-47 killed him. Devis Leonel Rivera Maradiaga confessed to ordering his murder as well.
The brothers also murdered Julián Aristides Palacios, the Honduran anti-drug prosecutor. According to Rivera Maradiaga's testimony in New York, the crime was a deal among narcos.
—In 2009, did you and other drug dealers in Honduras discuss the General (Julián) Artistides?
—Yes.
—With which drug traffickers did you talk about General Aristides?
—Fredy Nájera, Neftalí Duarte Mejía, Moncho Matta, Luis Valle, Arnulfo Valle…
(Pause.)
(Luis and Arnulfo Valle were the Valle Cartel leaders and they controlled drug trafficking to Guatemala. They were captured and extradited to the United States in October 2014 as part of Washington's anti-drug offensive. Ramón Matta Ballestero was the biggest drug dealer in Honduran history, and probably in Central America's. Moncho Matta, or Juan Ramón Matta, is his son. His father was Colombian Pablo Escobar's partner. In the '80s his wealth was valued at more than $2 billion. Those were the days when the CIA and the U.S. Army carried out secret operations with Iran to finance the activities of Nicaragua's Contras. Matta founded his own airline, called SETCOM, which never carried commercial flights. He chartered flights for the CIA and Department of State, as well as for his enterprise. The biggest drug dealer in Central America was a U.S. contractor. He also owned coffee and tobacco plantations and cattle farms that employed around 5,000 people. Taking for granted his immunity, he helped Mexican capo Rafael Caro Quintero orchestrate the murder of DEA agent Enrique Camarena Salazar. That's the crime that got him and kept him in prison since 1998. Honduras' Office of Seized Acquisitions and Goods impounded 17 of Ramón Matta Jr.'s properties in 2014.)
(Play.)
—You mentioned someone by the name of Fredy Nájera. Does he hold a political position in Honduras?
—Yes.
—Which one?
—Representative.
—After the talks with the men you just described, what was the agreement? 
—The agreement was to kill him. 
—Did you and other drug traffickers pay to have general Aristides killed?
—Yes, sir. 
—Do you know how much was paid?
—Between 200 and 300,000, approximately.
—Who committed the murder?
—A group of police officers.
—Members of Honduras' National Police?
—Yes, sir.
After General Aristides Palacios' murder, Devis Leonel Rivera Maradiaga and his brother Javier went to Tegucigalpa to meet with then presidential-candidate Porfirio Lobo Sosa, also known as "Pepe Lobo." His campaign had already received generous donations from Los Cachiros. This time, according to the narco's testimony, the brothers asked Lobo to guarantee that —if he won— he wouldn't allow extradition to the United States. Later on, assures Rivera Maradiaga, his organization donated an extra quarter of a million dollars. Lobo admits to the meetings with Los Cachiros, but not to any promises or campaign contributions. 
Porfirio Lobo won Honduras' presidency at the end of 2009 and governed up until early 2014. During all those years, Los Cachiros multiplied their drug-dealing operations and extended their assassins' reach. In 2012, according to his confession, they tried to murder representative Fredy Nájera, the same man Devis Leonel Rivera Maradiaga mentioned in New York as his accomplice and liaison with president Lobo. The congressman survived the attack, but five bodyguards were killed in his attempted murder. All of them are part of Los Cachiros' murder tab of 78 people. 
Sonia Marlen Ramón Montes was one of the Rivera Maradiaga brothers' last victims. They hunted her down across several borders until they finally found her in November 2013 in Rivière-des-Prairies, a Montreal neighborhood where she lived as a refugee after fleeing Francia, her hometown, a small village in northern Honduras. She was the last living member of her family. La Tribuna newspaper explained the crime: 
"Los Cachiros' powerful hand reached Canada, where the victim had found refuge, after fleeing the criminal group's ferocious persecution. Ramos Montes was the last living member of the Montes clan. All her kin, parents, siblings, offspring, nieces and nephews were wiped out, allegedly by Rivera Maradiaga's organized criminal group, Colón's Almighty. Her murder was initially linked to an act of vengeance over a vendetta that didn't originate in Montreal or Canada, but in Honduras. This vendetta led to the death of 15 people, all of them members of the same family, apparently stemming from an agricultural conflict (...)."
5. 
Three decades ago, Jaime Rosenthal Oliva invested over $5 million dollars to house almost 10,000 crocodiles in a farm close to El Siboney swamps, where journalist Aníbal Barrow's remains were found. 
The 80-year-old is considered the wealthiest man in the country. He owns one of the 10 largest fortunes in Central America, which consolidated through the financial services he offered at Banco Continental, where Los Cachiros laundered their money. 
The bank was founded during the so-called Honduran boom of the 1970s. Since then, it's been the center of the Rosenthal empire, including insurance companies, a cement plant, sugar mills, a football club, the newspaper El Tiempo, a cable TV provider, the largest meatpacking company in the country, and several agribusinesses. 
In the '80s, wearing the Liberal Party's colors, Rosenthal ventured into the political big leagues. He was Honduras' vice president in 1986, as revolutions and counter-revolutions ripped through Central America. Honduras hosted U.S. military bases and its partners the anti-Sandinistas, better known as the Contras. In the midst of all the political and martial turbulence, Vice President Rosenthal opened a crocodile farm. 
He hired Ofran Kobi, a renowned Israeli crocodile hunter, who learned his trade in African rivers and moved to San Pedro Sula, where he spent two years hunting American crocodiles all the way to the borders with Guatemala and Nicaragua. He would transport them in small aircraft to the farm. On one day like any other in 1989, as he told the Israeli newspaper Haaretz, he landed near a guerrilla camp where the Nicaraguans demanded to see his freight. When they saw the Israeli wasn't transporting drugs or weapons, but live crocodiles, they were startled and detained him for questioning. He recalls being a prisoner in the Contras' camp for several days until Vice President Rosenthal flew in by helicopter to set them free — both the crocodiles and him. Shortly afterwards, due to differences with President Azcona Hoyo, Rosenthal stepped down as vice president.
In his Haaertz interview, Kobi told his version of the Honduran farm's inception: "Rosenthal was a Romanian Jew who traveled to Honduras after the Second World War and built his empire. His story with crocodiles starts with his daughter, who studied abroad in the United States. She fell in love with a boy there. In order to lure her back home, Rosenthal asked his daughter's boyfriend if there was anything he wanted. The American boy responded: 'a crocodile farm.'"
There are some inconsistencies in the recollection of the Israeli Tarzan. All of Jaime Rosenthal's biographical references claim that he was born in San Pedro Sula and not in Europe. The Romanian was his father, Yankel, who set foot in Honduras as a 16-year-old in 1929. He married Esther Oliva, a Salvadoran. Soon after, Jaime was born. Contrary to Kobi's declarations, family legend has it that the passion for crocodiles dates long before Patricia, Jaime Rosenthal's daughter, left for college in the Unites States and fell in love. It came even before the first Honduran Rosenthal was born. It came from the patriarch. Young Romanian Yankel Rosenthal started his American life hunting crocodiles in Honduran rivers. That was his first source of income, the start of the family's economic activity. Los Cachiros got their start stealing cattle; the Rosenthals, hunting crocodiles.
Up to two years ago, the farm was open to visitors, who could tour a section of the almost 30-hectare property nestled in a colossal Honduran mahogany and teak plantation of 750 hectares. The farm was also home to seven lions and a small pack of monkeys, but the family's business was crocodile breeding for meat and skin sales. It wasn't even a successful business; the farm's annual cost was one million dollars and always lost money. A couple years ago, Rosenthal told Forbes magazine that he intended to sell crocodile skin to big fashion houses worldwide: Gucci, Louis Vuitton, Cartier. Months later, Honduras' richest man was detained. 
Today, Rosenthal is under house arrest in San Pedro Sula, accused by Honduran courts of tax evasion and forgery. This trial has allowed him to circumvent extradition to the United States, where he was accused in 2015 of laundering Los Cachiros' money through his Banco Continental. Both his son Yani and his nephew Yankel —named after the Romanian grandfather— are accused of the same crimes. They both turned themselves in to U.S. authorities.
In an interview with the U.S. news outlet Insight Crime, Rosenthal revealed that he conducted business with Los Cachiros since they were kids. The patriarch Isidro Rivera sold him beef from stolen cows for his meatpacking factory. As the Riveras' businesses grew, explained Rosenthal, his bank gave the brothers several loans. The Honduran millionaire asserts that he never knew his clients were drug dealers. 
A family that started out selling two or three cows and in a few years became a corporation owning mining companies, real estate firms and construction companies, didn't raise any red flags in Banco Continental in their due diligence before granting them loans. With time, the Rosenthal family's bank came to manage a good part of Rivera Maradiaga's accounts. The Rivera family was such a good client that Rosenthal's bank authorized a loan for a quite unusual business: a zoo in the middle of nowhere, in a valley eight kilometers away from the small village of Santa Cruz de Yojoa.
Los Cachiros' fall scandalized Hondurans. Not because their fall confirmed what many already knew —that drug trafficking and organized crime had infiltrated the country's political and economic systems, the armed forces and the police— but because up to two years ago it was unthinkable that a man like Jaime Rosenthal could be detained and his properties seized.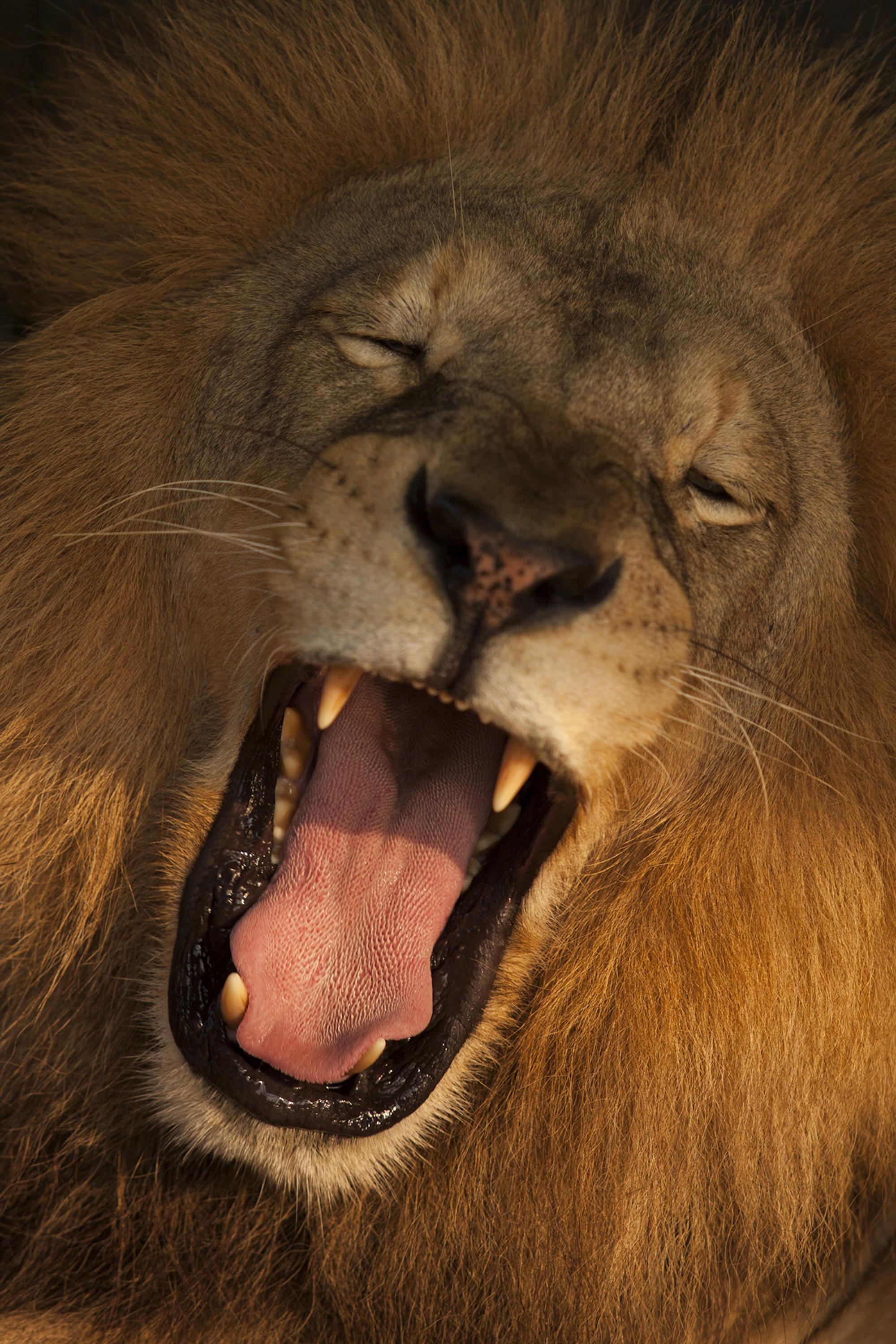 There's a popular Honduran saying: The narco reaches as far as the gringo wants him to. The crocodile collector and tycoon's luck ended when someone in Washington decided the new U.S. priority in Honduras was to fight drug trafficking. Rosenthal was one more domino piece that, pushed by Los Cachiros' cooperation, has fallen.
By the end of July, Yani Rosenthal pled guilty to laundering Los Cachiros' money. He's awaiting his sentence, which can add up to 10 years in U.S. prison. In court, prosecutors explained how part of the money laundering scheme worked. One of the family's companies, partnering with Inversiones Continental, bought Los Cachiros' cattle at auctions. As time passed, the Rosenthals and the Riveras only developed more sophisticated financial transactions. But their relationship was, in essence, exactly the same their parents had forged: one sold the cows and the other bought them.
The Honduran state seized several of the Rosenthal group's enterprises and froze their bank accounts. The Continental crocodile farm didn't make the cut, so it was kept by family members who no longer have access to their own financial resources. This carried its consequences. By October 2015, 500 employees from the crocodile farm hadn't been paid in over a month. 9,000 crocodiles and seven lions had spent the same amount of time without food. The reptiles became international news when they started committing cannibalism. That's when Honduras' wealthiest man's crocodile farm started receiving donations for the animals. Since then, the crocodiles are fed cow and chicken entails and corpses from the fish that die trapped in the El Cajón dam.
6. 
The ex-president's son, Fabio Lobo, tried to keep Los Cachiros' animal farm. Poisoned with adrenaline, he wanted to keep playing narco when everything around him had collapsed. President Obama had already publicly said that Los Cachiros were the most dangerous cartel in Central America. The Honduran government, making sure they had media present, had seized several of their properties, among them the zoo. The entire country saw it on TV. It was a public scandal. But Lobo Jr. didn't get the message.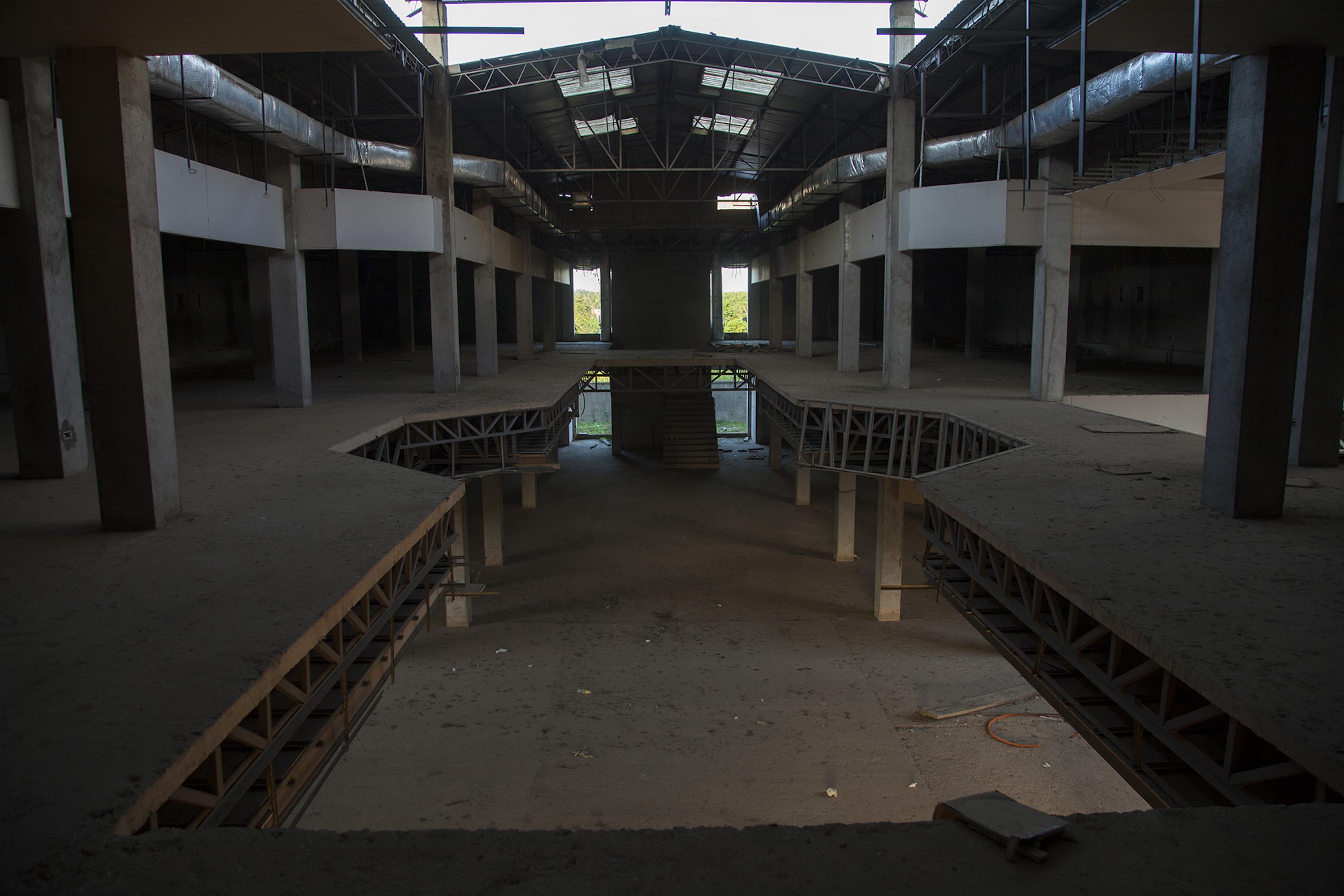 When at the end of 2013 the Office of Seized Acquisitions and Goods opened a bidding process for the administration of Joya Grande, Fabio Lobo presented an offer and pressured public officials to grant him the concession. Before he got it —and he nearly did— he fell into a trap.
The Rivera Maradiaga brothers had struck a secret deal with the DEA. They agreed to coordinate certain operations and give testimony incriminating public figures in exchange for keeping some of their family properties and getting their parents out of Honduras.  
By the end of 2013, when Porfirio Lobo had barely a month left in his presidency and Hondurans speculated about when Los Cachiros would be apprehended, Devis Leonel Rivera Maradiaga made a phone call to the president's son. It was part of the arrangement with the DEA. He told Lobo Jr. that, despite the public accusations and his seized properties, they needed to keep working together. According to the legal file, Rivera Maradiaga summoned the president's son to a meeting in which he offered the chance to partner with him to bring to Honduras an "important" shipment of drugs from Colombia. The recipient, he said, was El Chapo Guzmán. Lobo Jr. agreed to provide security for the shipment without knowing that, on behalf of the DEA, the cachiro was taping the call. 
Weeks later, under Juan Orlando Hernández' new administration, the cachiro requested a second meeting with Fabio Lobo to go over the shipment's security. El Chapo, he said, would send an envoy to oversee the operation. Fabio Lobo met with both men, without knowing that the "envoy" was an undercover DEA agent. Lobo offered protection from army officials and police forces. They agreed on a price: $1 million for him and between $100,000 and $200,000 for each officer involved. The "envoy" asked if he could still provide protection now that his father was no longer president. Fabio Lobo guaranteed that he could.
There was a third meeting per request of the undercover agent. Fabio Lobo arrived with several police officers whose instructions were to give a detailed explanation of the security of the operation. The trap worked. According to the court files, during that meeting in June 2014, the officers laid out a map of Honduras and pointed out each police checkpoint. Then they drew a secure route to transport the cocaine. Right there each police chief took $100,000 as payment and an extra $200,000 to bribe subordinates, thus providing maximum armed security for transporting the cocaine on its route through Honduras.
The DEA got what it wanted. Fabio Lobo was detained in Haiti in May 2015 and taken to the United States, where he was charged for conspiracy to traffic cocaine. He pled guilty. Six of the Honduran police officers present in the June meeting with the DEA agent were also captured. They are all detained and await trial in the United States.
At the beginning of September last year, Judge Lorna Schofield addressed Fabio Lobo from a New York courthouse: "You were Honduras' acting president's son. You used your connections, facilitating strong government support for a drug trafficking organization (...) You abused your position to perpetrate this crime." She dictated his sentence: 24 years in a U.S. prison.
Ex-president Lobo, the convicted felon's father, hasn't been accused yet, despite the fact that Los Cachiros insist they paid him millions worth of bribes. Immediately after the accusations were issued, Porfirio Lobo Sosa called to a press conference where he said he was the victim of a vendetta orchestrated by the drug traffickers. "The first repossession of the criminal band's properties was during my tenure," he said. That happened in March 2017. Since then, under counsel from his attorneys, he hasn't spoken publicly again.
Last July he agreed to talk in his office, under the condition that I not quote him except for the parts he approved. Despite the pressure he's under, and with a son in prison, the ex-president still brandishes the same smile with which he posed in campaign rallies and in the great majority of the pictures taken during his tenure. Some of those very same images, where he's hugging his son Fabio and Los Cachiros, are now parading through New York's courthouses.
Pepe, as everyone in Honduras calls ex-president Porfirio Lobo, kept his folksy and direct rural-politician mannerisms. He wears jeans and a long sleeve shirt opened to the chest, where a gold chain is visible. At his age, wrinkles that have populated his face and dark circles under his eyes demonstrate that the last months haven't been the most peaceful in his life. 
Los Cachiros declared in U.S. court that they gave hundreds of thousands of dollars to Lobo's campaign, in addition to bribes to prevent extradition and guarantee state contracts. They said they did business with 80-year-old Ramón Lobo, overlord and representative from Colón, and the ex-president's brother. They also say that both his son and nephew took part in drug trafficking operations.
Among all the accusations against him, Lobo only pleads guilty to being a non-exemplary father. Fabio, he says, is one of the 11 kids he had to look after, besides his obligations as head of state. This was a son he only saw once every six months, but who, he suspects, used his name to gain influence.
The Lobo clan comes from the countryside. Every once in a while, the ex-president goes back to the country to work with his sons in the family estate they've kept in the department of Olancho, a woodworking and cattle province in northeast Honduras. Ex-president Manuel Zelaya comes from the same province too, as does Isidro Rivera, patriarch of Los Cachiros.    
When a mutual acquaintance introduces two strangers from rural villages, it's easy for them to trust each other. That's what Devis Leonel Rivera Maradiaga clearly stated before legal authorities in the United States. He said he met Fabio Lobo through another Lobo, Jorge, the accused's cousin. They met for the first time when Fabio offered Los Cachiros state concessions in exchange of a "fee" of 20 percent on every deal. Rivera Maradiaga was not only not bothered, but he responded that they had a slush fund with more than $1 million for bribes. That's how their relationship took off.
Because of those declarations, the Honduran Public Prosecutor's Office investigated public bids and state-awarded contracts with ties to the cartel's enterprises. They found 22.
Rivera Maradiaga also had this to say about the Lobo cub: 
—Los Cachiros controlled the landing strip in the Cortés department?
—Yes.
—Did the accused [Fabio Lobo] ever help any cocaine shipment land there?
—Yes, sir. 
(...)
—Where were the drugs coming from?
—From Apure, Venezuela. 
—How many kilograms had they sent, approximately?
—Approximately between 400 and 410 kilos.
—What kind of drug are we talking about?
—Cocaine. 
(...)
—Did you and the accused meet inside the drug-transporting vehicle? 
—Yes, sir.
—Why did you want the accused to be with you in the vehicle that escorted the truck full of cocaine?
—If we ran into any sort of problem, I would feel safer knowing that the accused could talk to the police (...) If there was any trouble, he'd take care of it. 
(…)
—How much, would you say, did you get from that cocaine shipment?
—Approximately 20 percent. 
—Can you estimate how much money was 20 percent of 400 kilograms, at the time?
—Approximately between $800,000 and $1 million dollars.
—And how did you repay the accused? 
—I gave him a gray armored Mitsubishi Lancer, an AR-15 rifle, and between $20,000 and $30,000 dollars in cash.
The president's son liked the game. He frequently asked to go to the landing strips, including once when he received a shipment in a private airstrip in Farallones, Colón. According to Rivera Maradiaga, the runway was Miguel Facussé's property, another of Honduras' most wealthy and powerful men who died of natural causes in the middle of this decade. Los Cachiros were well aware that having the president's son there lowered their risks. Fabio Lobo traveled everywhere surrounded by a Presidential General Staff-appointed convoy. But in a country where the DEA maintains radar systems and anti-drug trafficking operations, something went wrong on his trip to Farallones. The co-pilot forgot to turn off his GPS and a gringo radar specialist spotted the aircraft.
The police found nothing when they inspected the shipment. Someone from the police team told the cachiro and the cocaine vanished. To protect the stash, Rivera Maradiaga picked Fabio Lobo up from a hotel, and both of them —with the president's son's military and police security detail— safeguarded the shipment to its final destination.
I asked ex-president Lobo about the irony that his son was taken down by DEA activities he had helped expand. "[The DEA agents] didn't give me any details of their operations. We don't have the ability to fight drug traffickers. That's why we need the United States. They are very powerful," he replied.
Back in New York, Rivera Maradiaga swore that he also recorded a conversation with Tony Hernández, the brother of Honduras' current president, Juan Orlando Hernández. According to his testimony, the president's younger brother offered to resume payment for several pending contracts with the state. Lacking access to the recordings, Hernández denies the meetings ever took place. But his older brother, the president, told the press that he would not try to defend him if it turns out he had ties with drug dealers. "No one is above the law," he said.
Honduran politicians and businesspeople are more concerned about the judicial consequences of Los Cachiros' statements than their political ramifications. Up until now, the information revealed by the cartel's chiefs has not affected the political aspirations of anyone, not even of the alleged close collaborators. Rivera Maradiaga said, for example, that his organization gave millions of dollars to representatives Óscar and Fredy Nájera and to Tocoa's mayor, Adán Funes. All three belong to different political parties —the National and Liberal Parties, and Libre— and all three denied the cachiro's accusations. A few days later, all three of them won the primaries in their respective parties on their way to reelection. President Juan Orlando Hernández did too.
7. 
Two men attempt to tie a bale of leaves to a pole at the same height as Big Boy's head. They're two of his personal caretakers. Their only job is to tend to the star of the Los Cachiros zoo.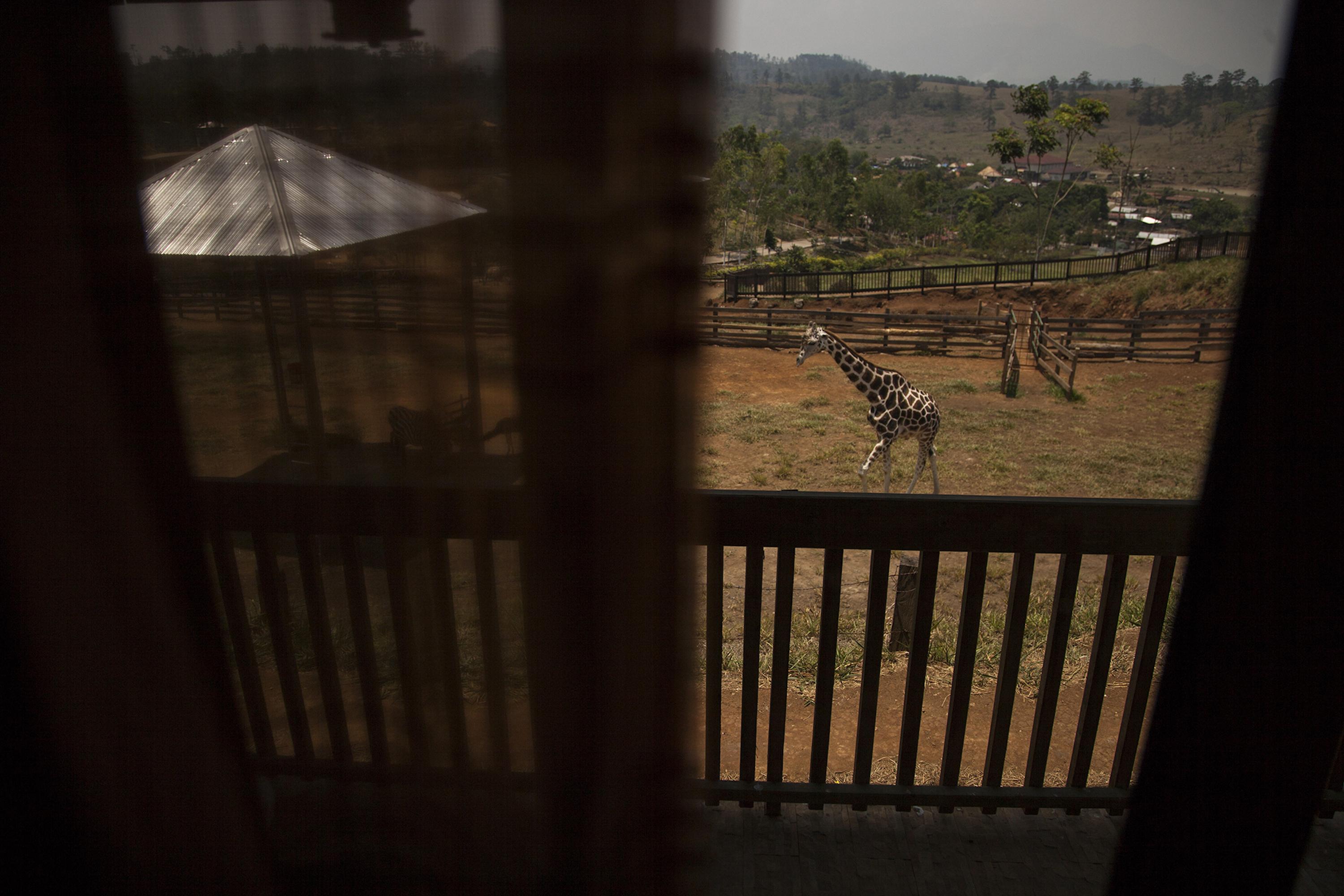 "Sometimes El Señor would come here with his friends," says a Joya Grande employee looking at men working a few steps away. She asks to be called Esperanza. "He'd fly here in a helicopter and only stay for a short while. He only stayed for the night." Esperanza has worked here since she was 16 and is still very young. She only spoke to "El Señor" a couple of times, she says. "We knew what he was up to, but nobody meddled. Life is just fine here, and there's no need to run your mouth. If he were here, everything would already be paved."
Esperanza is one of the few Joya Grande employees who talks about the zoo in the era of Los Cachiros. Most of the workers dodge questions alluding to them. But several men and women do remember the traumas of September 19, 2013. That day, dozens of soldiers and policemen cordoned off the property's entrances and evacuated the premises. It was a swift and efficient operation, but the property's forfeiture sowed uncertainty and dread. "We weren't told anything, and we kept working, business as usual. But after that, we did notice that no visitors came," says Esperanza.
Honduras' Office of Seized Acquisitions and Goods (OABI for its initials in Spanish) took over the property and decided to keep all personnel. The zoo kept its doors open to the public. "People stopped coming and it was up to us to pick up the zoo and start from scratch," recalls veterinarian María Díaz.
Soon after, the OABI started the bidding process for the concession for the zoo. One of the office's directors pragmatically suggested that the vet participate in the tender: no one could run that place packed with wild animals like she could. "I made a proposal that they accepted," says Díaz, "I was walking over to get the authorization when they told me I couldn't have it anymore, because Pepe Lobo's son wanted it, too."
But Fabio Lobo has already been apprehended by the DEA, and Honduran authorities finally awarded doctor Díaz the concession. The OABI also seized the Santa Cruz hotel, and included it in the tender deal along with the zoo. Nowadays, when Joya Grande's administrators offer lodging in Santa Cruz for a lower price, they pull up lodging photos from Google. The first ones that come up show hooded soldiers cordoning off the property.
Despite all the changes, in barely two years Dr. Díaz has brought the status of Joya Grande up, making it an attraction in the region. They host up to four thousand visitors some weekends. Both pools, the big and the kiddy pool, are full with families that spend memorable days here. Amazed, children stroll in front of animals' cages. Big Boy and the tigers are the most popular for selfies or for the Franciscan tradition of talking to animals. There are no sad children in Joya Grande. 
How do you explain a kid that all this, as beautiful as it is, was built by a man who confessed to 78 murders? Díaz, the pragmatic Honduran Daktari, ventures an answer: "There's no need for them to know. The only thing we care about are the animals."
*Translated by Alejandra Ibarra Chaoul