Melvin Reyes was arrested on Sunday, March 27, the same day the government declared a state of exception, and was accused of belonging to the Mara Salvatrucha. Twenty days later, a judge ordered his release. But just as he was to be set free, the police intervened and arrested him again, claiming their system had "profiled" him as a gang member. Reyes is still in jail. He is one of more than 47,000 people rounded up since the government of El Salvador declared a state of exception four months ago.
According to four dossiers presented to the court by the Attorney General's Office and obtained by El Faro, the state of exception has allowed authorities to carry out "investigations" with no due diligence. The grounds for hundreds of arrests provided in 1251 pages of court documents analyzed by El Faro tend to repeat themselves: suspicious appearance, looking like a gang member, fitting a "police profile" of a gang member or gang collaborator, assault on a police officer, attempted escape, nervous appearance, reports from social media, prior criminal records, anonymous accusations, confessions, being a known gang member, having tattoos.
The files record the arrests of 690 people in the departments of San Vicente, La Paz, Cabañas, Cuscatlán, La Libertad and Santa Ana, between March 27 and April 19, 2022. 518 of them had been profiled as gang members or collaborators prior to their arrest. It is impossible to determine the methodology used to create these profiles, when they were created, which investigators created them, and what evidence supports their assertions.
Prosecutors petitioned the courts to seal the case files, arguing that they contain privileged information on the gangs obtained via wiretap, that releasing the information would put the lives of police and soldiers at risk, and that the press would "twist the information in order to provoke panic in the population." But in many cases, police state that they detained a subject first, and only later discovered a police intelligence file identified the individual as a gang member. 
One paragraph has been copied and pasted throughout the court filings: 'During a preventative patrol [officers] observed a subject and proceeded to stop them. After consulting the police intelligence database they found the subject has a profile as an active member of MS-13."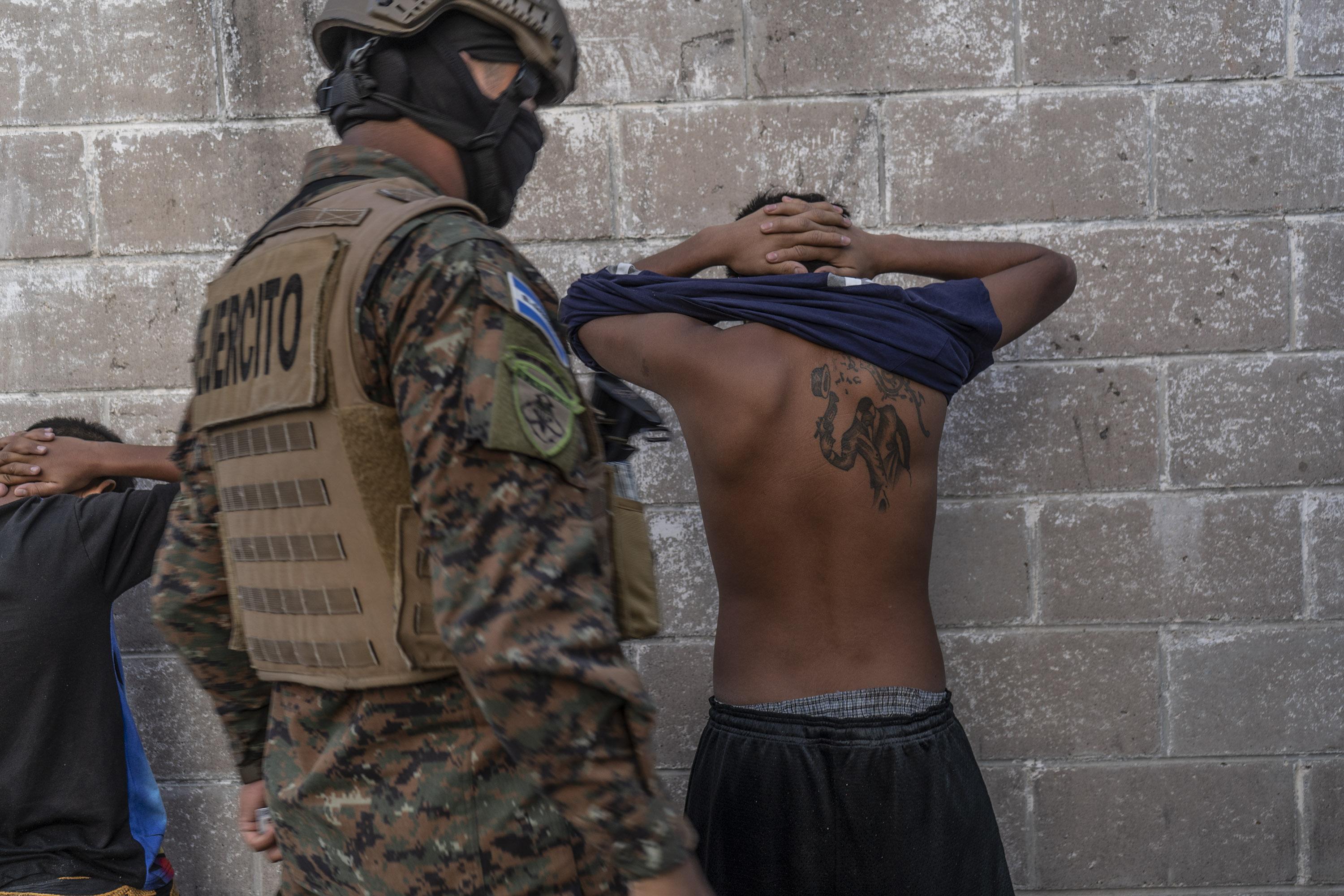 The other 172 people had no previous record with the Department of Police Intelligence; instead, authorities used broad and ambiguous criteria to identify the accused gang members, claiming they were outed by "the public," on social media, or via anonymous complaints. Fifty people were charged with being gang members based on their "suspicious" or "nervous" appearance. Another 50 were arrested simply for having tattoos, though the police records did not specify whether the tattoos alluded to gangs. Authorities detained and sent 13 people to Izalco Prison without even identifying the cause of arrest in their court files.
The head of the police union, Marvin Reyes, claims to have documented 50 cases where police refused to make an arrest because they considered it "arbitrary." For four months under the state of exception, the rights to criminal defense, free association, and communications privacy have remained suspended. New penal code reforms also concealed judges' identities and now prohibit them from granting bail to alleged gang members accused of "any crime."
El Salvador's Minister of Security and Justice, Gustavo Villatoro, maintains that the state of exception has simply made it possible for authorities to more effectively punish gang members for the crimes they have committed: "What is the lifeblood of the gangs? Murder, extorision, weapons, trafficking people and drugs. That is the multipronged criminal identity that we must confront with a single, unified force," Villatoro said on July 19 during a televised interview.
The confidential case files obtained by El Faro reveal that of the 690 individuals arrested, only ten were charged with drug possession (a few grams of marijuana or cocaine); two were charged with possessing a firearm; and a third was charged with both drug and firearm possession. An investigation from Insight Crime found that while detentions exponentially grew, authorities seized just 134 rifles from January to June 2022. They confiscated 117 in the same span in 2021.  
The measures instituted under El Salvador's ongoing state of exception have resulted not only in arbitrary detentions, but also in reported cases of torture, and at least 63 in-custody deaths according to human rights monitor Cristosal. Habeas corpus petitions filed with the Supreme Court of Justice have reached levels not seen since the end of the Civil War.
The documents reviewed by El Faro also contain a report by Attorney General Rodolfo Delgado to his subordinates, blaming the Mara Salvatrucha for the record wave of homicides in March that triggered the state of exception. "This systematic attack was orchestrated by the terrorist organization known as the Mara Salvatrucha and carried out through its rank and file membership, to commit homicides on a national scale," Delgado wrote. On May 14, El Faro revealed that the MS-13 killing spree was a direct result of the government of Nayib Bukele breaking a secret pact it had maintained with the gang since 2019.
None of the 690 people named in the four case files are accused of homicide, nor of aiding, abetting, or conspiring to commit any of the dozens of murders perpetrated in the aftermath of the collapse of the government-gang negotiations.
El Faro contacted the Attorney General's Office, Public Defender's Office, National Civil Police, and Ministry of Security and Justice for comment. None responded by publication time.
Arrest First, Investigate Later
"In the moment [of making an arrest,] police create a criminal profile of the arrestee, so they have the person on file and can then claim that they're a gang collaborator," an investigator with the National Civil Police (PNC) told El Faro, speaking anonymously for fear of losing his job.
In one indictment against a group of 300 people, prosecutors accuse all 300 arrestees of belonging to the same criminal structure, despite having carried out the arrests in several different cities, and without offering evidence of communication between the accused or even witness testimony.
"The identities of those who created the criminal profiles do not appear in any document, under the pretense of protecting confidential police intelligence," the PNC investigator said. "Some people had never even been profiled as gang members before, but [the police] just say they are, and then apply the decree [the state of exception]."
This claim is corroborated by the leader of El Salvador's police union (MTP): "We know of cases where people had no connection to the gangs, but police just created profiles on the spot, making up aliases for them and everything. And this has caused some tension among agents."
Agents who refused to carry out arrests they considered arbitrary have been threatened with transfer to remote parts of the country, or with increased working hours. The police union has so far reported three agents who were actually arrested and prosecuted for refusing to carry out orders — specifically, for refusing to create a gang profile on a disabled person in Soyapango, a working-class suburb of San Salvador.
Reyes and the police investigator are not the only officials who describe practices under the state of exception as "arrest first, investigate later." Bureau of Prisons director Osiris Luna admitted in a July 26 television interview that thousands are being held behind bars with no evidence having been presented against them yet. "One percent of all those arrested, who are not part of the gang structures, are currently under investigation by intelligence and investigation agencies, and if they are found innocent, they will be released," Luna said.
Throughout the state of exception, authorities have relied on profiles created by police intelligence or pulled from police archives. In their arguments before the court, prosecutors submit records of interrogation interviews, along with identity documents of the arrestees. No other evidence is included. "The Attorney General's Office is not individualizing the cases," said one of the sources who provided the case files to El Faro. "And the most concerning part is that they're arresting people simply for 'looking suspicious.' The police are just applying the state of exception whenever they feel like it."
The broad discretion given to the police under the state of exception has started to affect the police themselves, according to the anonymous investigator who spoke with El Faro. "We have eight cases involving family members of police officers whose brother, son, nephew, brother-in-law, etc. have been taken away," Reyes says, "[Police] are using the state of exception to carry out vendettas [among themselves] — all they have to do is call someone a gang collaborator."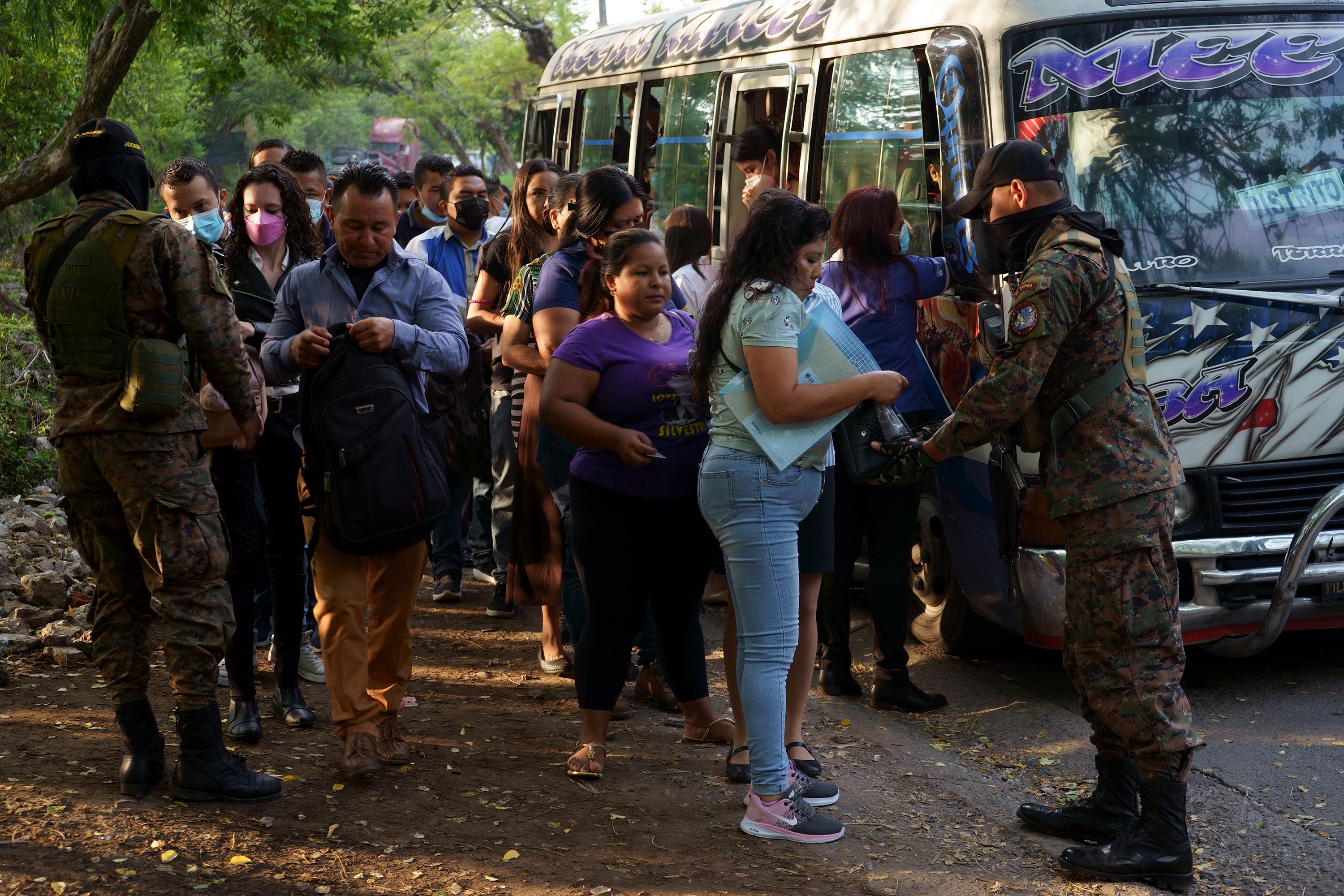 Geovany Pérez Mozo, a sergeant with the Armed Forces, spent 22 days working to enforce the state of exception. On April 18, he was given a 24-hour break and was at his home in San Bartolomé Perulapía, Cuscatlán, when five agents with the National Civil Police knocked on his door, handcuffed him, and hauled him away. According to the indictment, submitted by prosecutors before a judge in San Salvador, the sergeant "was found to have a profile identifying him as an active member of MS-13, for which he was charged with illicit association."
The indictment that led to Sergeant Pérez Mozo's ongoing confinement in Mariona Prison is only three sentences long and is based entirely on assertions made by the police. El Faro reviewed Pérez Mozo's police profile and determined that the sergeant's alleged ties to the gang was based on a family connection.
The police say Pérez Mozo is a gang member because one of his cousins is a gang member.
The sergeant is the cousin of Noé Efraín Pérez Mozo, a 25-year-old Salvadoran accused of leading a cell of MS-13. Per the dossiers obtained by El Faro, a protected witness identified Noe Efraín as a gang member and alleged that his cousin, Sergeant Pérez Mozo, had helped supply the gang with military uniforms and ammunition. In July 2021, nearly a year before the the state of exception began, police arrested Noé Efraín on charges of homicide and belonging to a terrorist organization, while the sergeant is being held on charges of gang collaboration.
Pérez Mozo, first accused of gang ties in May 2020, had already faced two prosecutions for his alleged involvement with MS-13: one in criminal court, the other in military court. He won both cases. In the criminal case, the judge determined that the prosecution's evidence was insufficient, and acquitted Pérez Mozo of all charges; the judge in the military court closed the case, and Pérez Mozo was allowed to continue serving with the Armed Forces. Then, while he was working his new assignment under the state of exception, the police arrested him again.
The "Crime" of Having a Record
Under the state of exception, police have arrested people for having been arrested in the past, regardless of the outcome of their old cases. People previously exonerated are finding themselves in custody once again. Others who were convicted of a crime in the past, but had already served their sentence, have been rearrested and charged with the same crime they were convicted of years ago, or a crime very similar to it.
The case files obtained by El Faro include at least 44 people arrested precisely for that reason. Uber driver Edwin Edenilson Mendoza Villegas, for example, was tried and exonerated for extortion in 2009 by a San Salvador court. But on April 1, 2022, officers in Cojutepeque brought him to the police station under the guise of checking on a "routine matter," and then detained him on charges of associating with criminal groups.
Others have been rearrested while serving sentences for past convictions, despite the Salvadoran constitution's prohibition of double jeopardy. Edgar Antonio Ayala Alfaro and José Jonathan Cruz Cruz confessed to being members of MS-13 and were convicted of belonging to a terrorist organization. The judge in Cojutepeque sentenced them to community service cleaning and collecting garbage in the municipalities of San Sebastián and Cojutepeque, in the department of Cuscatlán. While completing their sentence, both men were arrested under the state of exception, for the crime of illicit association.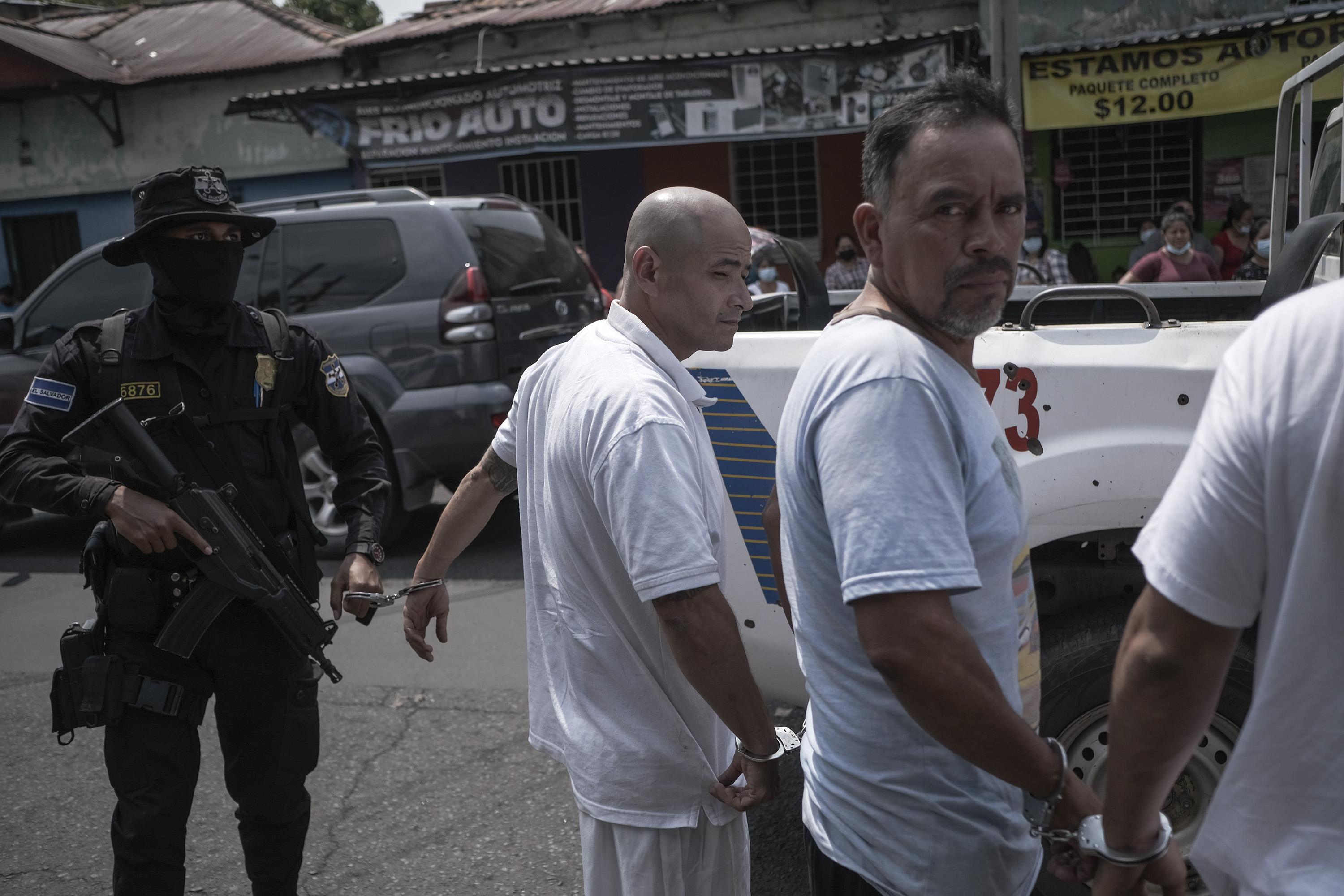 Ayala Alfaro was detained on March 28, 2022, while cleaning the San Sebastián market as part of his court-mandated community service. Police reported that he was not committing any crime at the time of his arrest. A statement signed by Walter Henríquez, head of the municipal public works department, reads as follows: "That day, [Ayala Alfaro] had been assigned to clean the municipal market starting at 8:00 a.m., which was the aforementioned young man's normal daily schedule. While he was fulfilling his community service obligation, at 11 a.m. the police approached him, placed him in handcuffs, and took him away."
The evidence used to imprison hundreds of people profiled in the case files obtained by El Faro is insufficient to prove the crime of illicit association, according to a judge with expertise in organized crime who spoke to El Faro on condition of anonymity, for reasons of security. "It's a mistake, and now we have a regime that bases its prosecutions, not on evidence, but on criminal records — on past crimes rather than current ones," the judge said. The Attorney General's Office, the judge added, must submit detailed evidence demonstrating ties to a criminal organization, such as testimony from a cooperating witness — someone providing testimony in exchange for a plea agreement, as is common in cases involving gangs — or a wiretap recording that indicates active involvement in gang activity.
Prison Director Osiris Luna publicly defends a different course of action. "No gang member will ever leave prison again," Luna said during the televised interview on July 26. The host asked Luna if he was talking about people who had already served their sentence. "That's right," Luna replied. "If someone steps one foot outside prison, he's already committed a crime… right then and there, we'll arrest him under the state of exception and send him right back behind bars as a gang member."
*Translated by Max Granger