"They'll interview you, and if you've done nothing wrong, then you'll go home," a police officer told Francisco Huezo López, 64, at his house in La Reina, Chalatenango. It was 6:30 in the evening on June 27, 2022, three months into El Salvador's state of exception. Two months after he arrived at the police station, the burly man's body was returned to his family with a blow to the head and bruises on his right cheek, arms, and feet. He had died in Mariona Prison on August 24.
Huezo's autopsy report establishes his cause of death as pulmonary edema —flooding of the lungs usually caused by heart problems, pneumonia, or blunt force trauma— but leaves room for other possibilities: "Cause of death still under review," it reads.
He's not alone. La Prensa Gráfica (LPG) reported on August 10 that Medicina Legal, the coroner's office, found signs of torture and murder in at least 35 of 69 registered deaths. All 35 autopsies reported the same cause of death and note of ongoing evaluation as Huezo's file. 
LPG published three coroner's reports of deaths in Mariona of pulmonary edema with signs of lacerations. On June 28, the paper wrote that Medicina Legal contradicted prosecutors' claim that Carlos Cabrera, 32, died of an ulcer. Four days earlier, the coroner noted that the body of Julio César Mendoza Ramírez, 25, showed signs of strangulation. In the third case, the family of Dionicio Adonay Ramírez, 24, questioned the official cause of death, citing a deep perforation at his collarbone.
Huezo's oldest son, of the same name, recalls their last exchange. "'Look, dad,' I told him. 'I only ask that you stay strong. Lots of people are going to support us, but we'll have nowhere to turn.'" The police arrested his father for a single entry in his police report: having been declared innocent in November 2021 of charges of illicit association with gangs.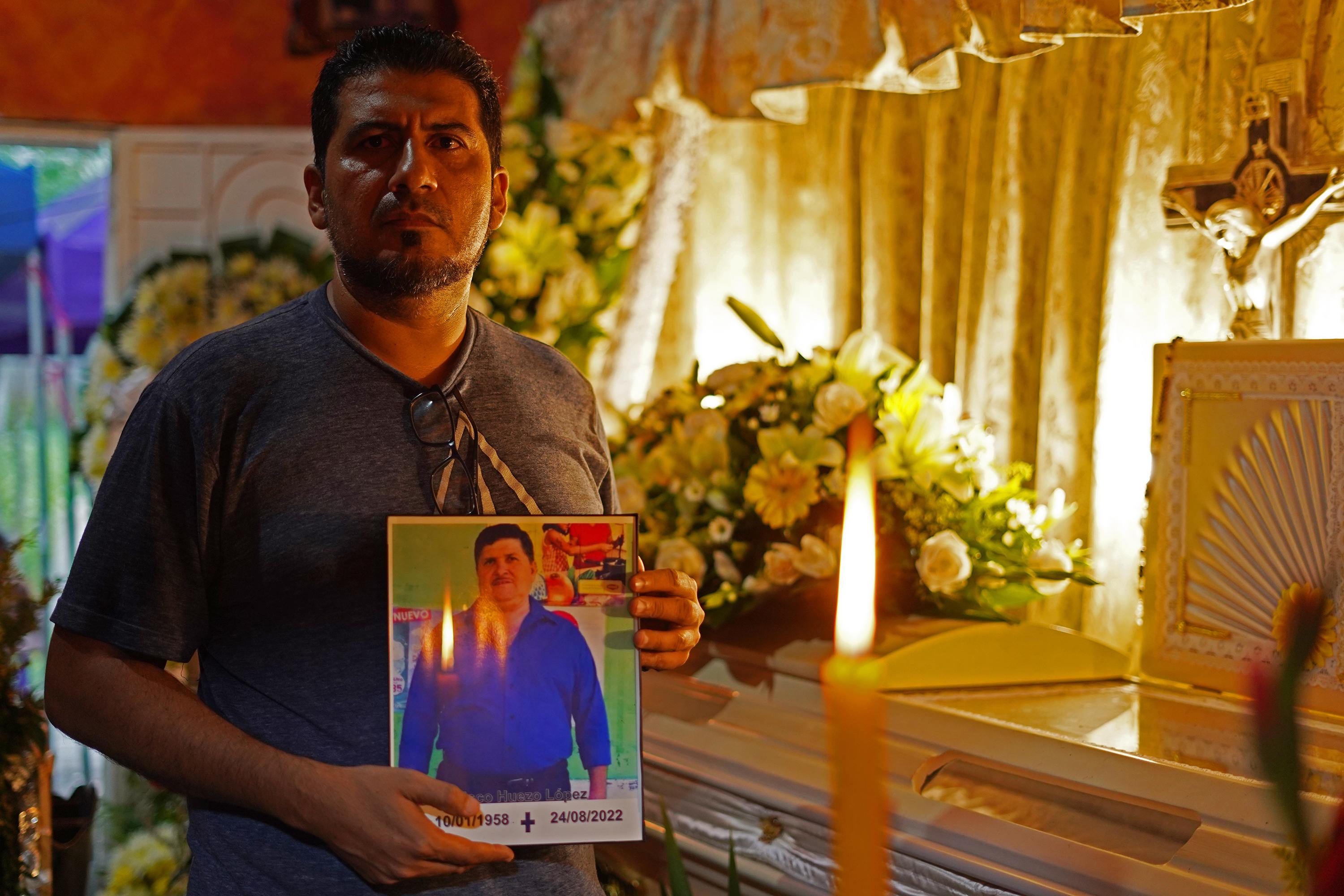 President Nayib Bukele ordered a month-long state of exception on March 27, 2022, that suspended the rights to defense, communications privacy, and free association on the heels of the most violent weekend since the end of the civil war that marked a collapse in his government's covert gang negotiations. Through August 23, after four extensions of the measures, authorities reported 50,500 arrests, an average of 338 per day. 
In the same span, human rights monitor Cristosal reported 2,650 arbitrary arrests. Hundreds of detentions reviewed by El Faro were made based on spurious police reports — some of which were even written after the arrests, showing how the emergency measures enabled Salvadoran police officers to capture first and investigate later.
Huezo was processed by one of many judges in courts created under the state of exception to hold hearings for hundreds of the accused at once, denying bail on evidence sometimes as threadbare as having shown "nervousness" at the presence of police or soldiers. A judge convened Huezo's first hearing without notifying his family nor allowing him to present documents of a blood pressure condition to argue for bail. His family sought a public defender, but the institution said it had no information on detainees or the dates of hearings. 
In his first hearing on July 11, a judge sentenced him to six months of pre-trial detention without his family's knowledge. The Public Defender's Office scheduled a meeting with his son for August 29 to review documents to present in his second pre-trial hearing, so the family sought a private attorney to push for a quicker review of the denial of bail. The court set a hearing for August 25, but he died the day before.
Not Guilty
La Reina is a hilly livestock community some 40 miles north of San Salvador. Huezo ran a shop out of his home near the town square, in the neighborhood Las Delicias, producing dairy products to sell from his shop and distribute in San Salvador. His family says that he worked in the trade since he was seven years old. After suffering an assault in 1994, at 36, he sold some of his cows and migrated to Boston, Massachusetts, where he worked for a recycling firm, leaving his dairy business in the hands of his wife and oldest son. Three of his four children and most of his six grandchildren also moved to the United States.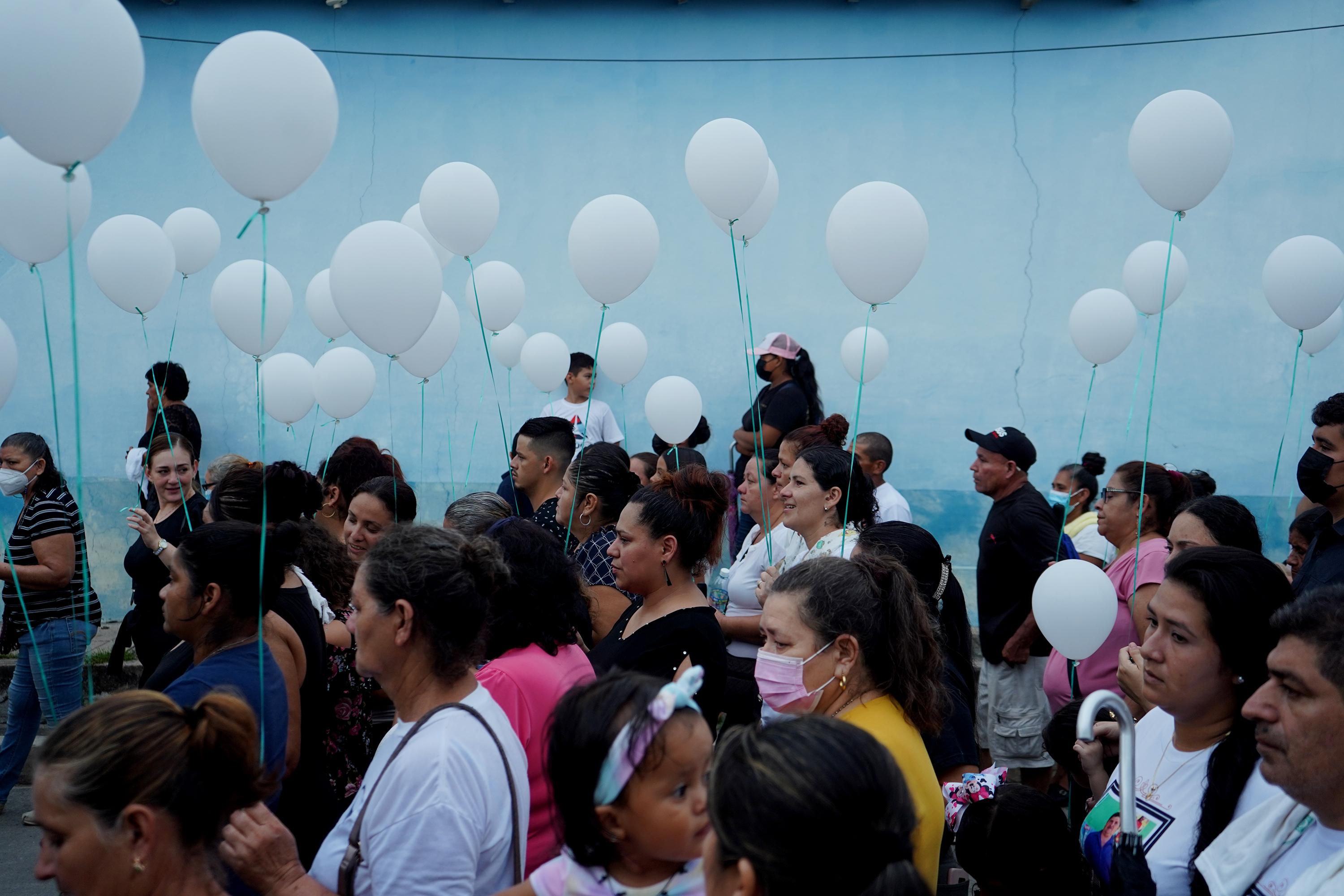 In February, 2010, Huezo, who goes by Don Paco, returned home. "He came on his own; he wasn't deported. He felt he had already spent a long time there," says his son, a secretary in the La Reina mayor's office, currently led by a coalition between ruling party Nuevas Ideas and ally GANA. Upon returning home, his father picked up his milk and cheese business. Then came his arrest.
Three years ago, a member of the Mara Salvatrucha and protected cooperating state witness claimed to know the inner workings of the MS-13 clique Fulton Locos Salvatrucha, of the Hollywood program. He confessed in court to 14 homicides, named his accomplices, and revealed the names of 132 people who he claimed belonged to or collaborated with the gang. On Nov. 19, 2019, police mounted an operation in various municipalities in the department of Chalatenango and captured every last one of them — Huezo included. 
It became clear that the witness had lied when evidence contradicted his testimony. For example, he told the court that on May 23, 2014, he witnessed six gang members carrying shotguns and pistols all gun down two brothers by the last name Sosa. A ballistic report found that only two weapons had been used. In another homicide, he claimed they used a firearm and a corvo knife, but an autopsy found no evidence of use of a blade. He even misspoke on matters that he should have clearly recalled, like his entry into the gang: The gang leaders who he said gave him the initiation beating were detained at the alleged time of his rite of passage.
He also claimed that the gang gave $30,000 to three merchants in La Reina to be laundered and that one of them was Huezo. He was arrested and detained for six days until a court granted him conditional release at his first hearing due to his heart problems. On Dec. 17, 2020, he went to trial, and the witness contradicted himself again. At first he claimed that he had given each merchant $10,000, but under cross-examination said he had never handled more than $2,000 for the gang. 
The judge dismissed the case against the merchants, and the Attorney General's Office lost an appeal in November 2021 on lack of evidence that Huezo had accepted illicit money and contradictions in the witness's testimony.
Anonymous Source
Two months ago, on June 27, two police officers reported that they arrested Huezo and Óscar Edmundo Amaya Maldonado, a man exonerated in the same 2019 case, while on patrol. "A consultation was made with an anonymous source in the neighborhood to look into the subjects. Sources said that they previously met with and collaborated with MS-13 members," they wrote.
But Huezo wasn't arrested during the patrol, the police didn't find him in the street, and he wasn't with Amaya. Security camera footage from his business shows that two police officers arrived by motorcycle to ask for Huezo, request his ID, and question him about his 2019 arrest. The family showed the officers documents of his exoneration, but they insisted that he should go to the police station to corroborate the information on his ID and answer questions from a detective. Huezo then climbed into his son's truck and traveled to the station, where he learned of his arrest for allegedly collaborating with a gang. He was held for three days at the station in La Reina and then transferred to Mariona Prison. 
"I told the police that we're not against the president, or anything, even the state of exception. We support it, because we've been harmed by the criminal organizations," Huezo's son told El Faro. "We've paid extortion to live and work here. We've been the victims. What we oppose, I told him, is you wanting to take a person away who has nothing to do with delinquency."
"I don't know if my dad received medical care or whether they simply pulled him out of prison already dead into an ambulance," he added. "I don't want any other family to suffer as we are."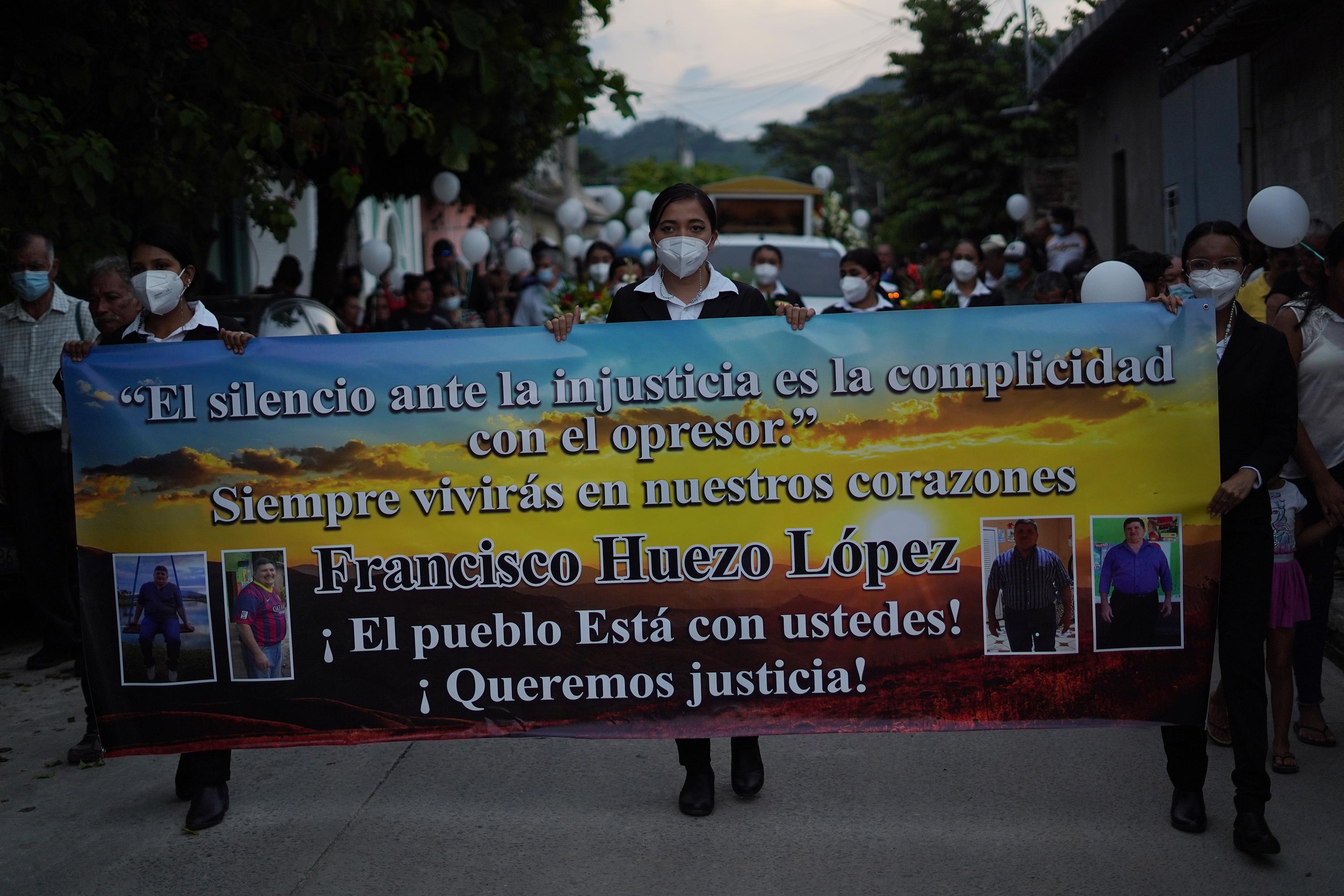 El Faro reviewed Huezo's police report and found no information on how he supposedly collaborated with the gang, or with whom or where he held the alleged meetings. The report only states that in 2019 he was detained "for terrorist organizations (sic)" and contains photos taken from his Facebook account and the supposed gang alias "Paco," the nickname used by family and friends. Multiple neighbors told El Faro that a second alleged gang alias in the file, "Culo Azul" ("blue ass"), refers to someone else in the town.
The police station in La Reina declined to comment to El Faro on Huezo's arrest, deflecting to departmental headquarters. "You have to call the real chief of communications, but they just moved her to a new post and haven't replaced her," said the local police representative.
Huezo's son recalls his trip to the coroner's office: "The person who greeted me at Medicina Legal told me that I should feel lucky about my tragedy. He told me, 'You'll be able to take your dad home and bury him. Lots of people don't have that same fortune. Nobody claimed them, so they end up in La Bermeja, a common grave.'"
He was buried on August 26, a sweltering Friday afternoon. His family marched with a sign with photos of his father and a message: "Silence in the face of injustice is complicity with the oppressor."