On Tuesday, November 1, a photograph of Guatemalan judge Miguel Ángel Gálvez appeared on social media alongside seven others as part of a macabre and menacing bingo card — a fraction of the roughly thirty prosecutors, judges and independent journalists who have been imprisoned or forced into exile by the Guatemalan state this year. All of their faces, including Gálvez's, were marked with a red "X." 
The threatening image was published by an influential group of right-wing operatives with ties to former military officers and Guatemala's economic elite, known as the Foundation Against Terrorism (FCT). The caption read: "This is how the legal snipers of the @FCTGuatemala do our work: one judicial shot, one civil death. This is how we combat [...] the globalist agenda against Guatemala. Just a few more to go…"
It is because of accusations filed by the FCT that Gálvez, before he resigned from his position on Tuesday, was facing impeachment proceedings that threatened to repeal his immunity and send him to prison. The FCT is also responsible for leveling similar complaints against several former officials from the Special Prosecutor's Office against Impunity (FECI), which resulted in the imprisonment of Virginia Laparra and Siomara Sosa, as well as Leily Santizo, the former head of the International Commission against Impunity in Guatemala (CICIG). The president of the FCT, Ricardo Méndez Ruiz — a self-described "ultra-right activist" who has bragged about his inclusion on the Engel List, the United States' catalog of corrupt Central American officials — tweeted on November 1: "4 days left for the corrupt judge Miguel Ángel Gálvez to leave Guatemala."
On November 4th, the final day of the FCT president's ultimatum, the Guatemalan newspaper La Hora reported that Judge Gálvez, according to information from the Guatemalan Migration Institute (IGM), had left the country early that morning — an unusual assertion, given that official government sources do not typically provide information to the press regarding individual citizens' travel activities. Stranger still, given that initially Gálvez denied the claims of the IGM and La Hora, only to later admit that he was, indeed, in Costa Rica.
At the time of this interview, Gálvez was about to leave the country for Costa Rica, but claimed that he was not going into exile and planned to return to exhaust what few options he had left to prove his innocence before a co-opted justice system. In all likelihood, he did not know whether he would actually return. On November 15, Gálvez announced his resignation, and sources close to the judge told El Faro that he would not come back to Guatemala, and that he now considers himself in exile.
Gálvez said that he left Guatemala by commercial plane at 6 a.m. on November 4. "I was wearing a face mask, a hat and a hooded jacket, and when I got to the immigration kiosk, the agent was busy with a few different tasks and she barely looked up at me," he said. But, when the agent handed him back his passport, she said, "Have a good day, Judge Gálvez." While Gálvez knew that his face and name was now familiar to most Guatemalans, having been featured in the news in recent days, he admits that the experience was a startling one. Today, in Guatemala, being a judge means being afraid.
"The only option left"
A few days before he fled the country, Miguel Ángel Gálvez spoke with El Faro at his home on the outskirts of Guatemala City. "There's a strong terror taking hold in Guatemala," he said.
"How many prosecutors and judges are in Washington, Mexico, Costa Rica, Switzerland?," asked Gálvez. "There's a lot of fear. Twenty days ago [the first week of October], I received a recognition in San Pedro La Laguna [in the department of Sololá, 175 kilometers northwest of Guatemala City] and I met with all the Indigenous mayors. They told me that the military has come into the community to give presentations, that the FCT has held meetings, that they were even asking for a list of people who had gone to testify on the issue of the genocide."
The "issue of the genocide" is a reference to the trial for the genocide committed by the Armed Forces of Guatemala against the Ixil Mayan people in the early 1980s. The two trials against former Guatemalan dictator Efraín Ríos Montt and one of his officers, in 2013 and 2017, unleashed a counterattack spearheaded by the country's financial and military elites against a justice system that, for the first time in history, they did not control. Ever since, spaces for civil activity in Guatemala have been shutting down.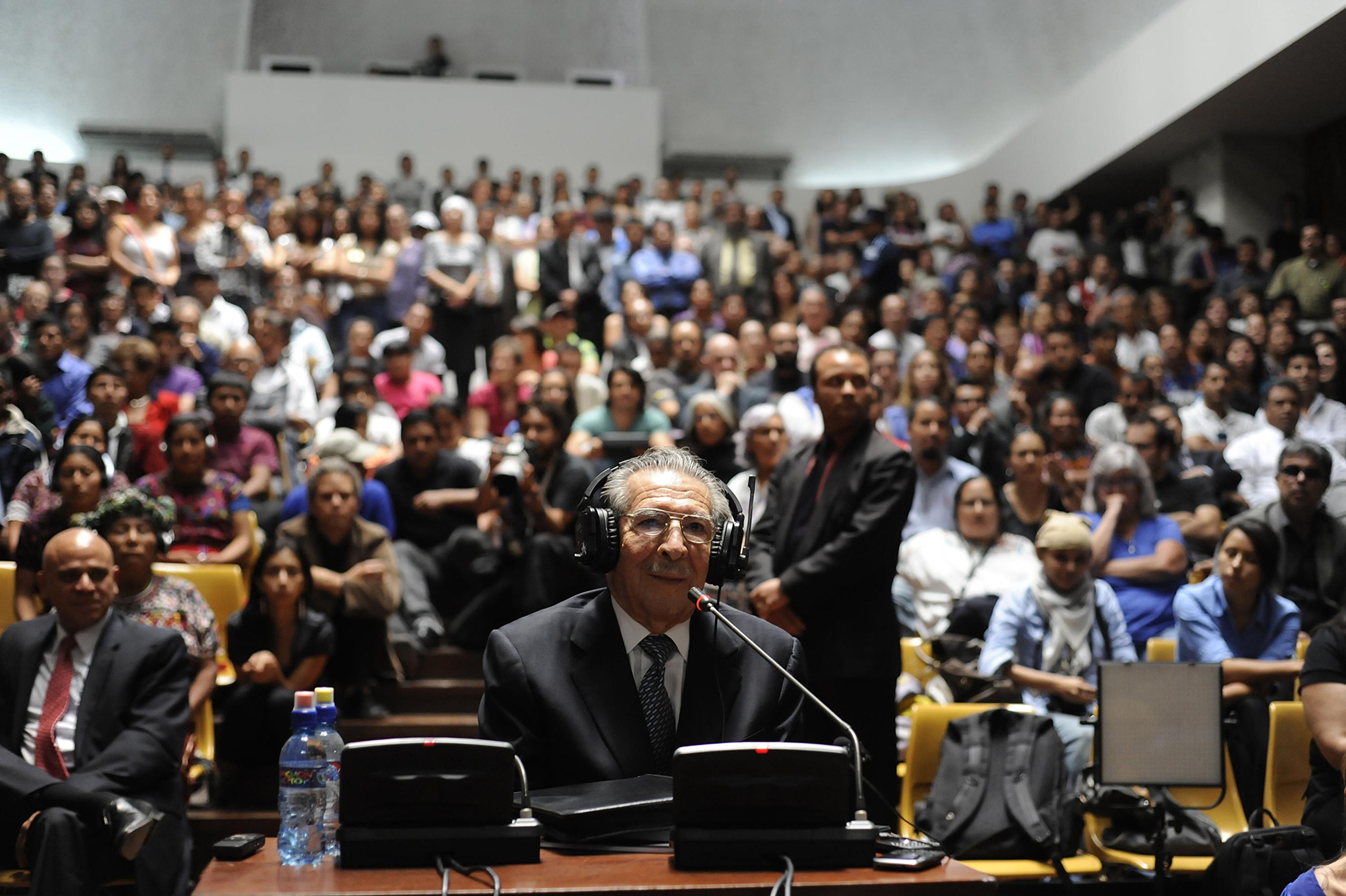 A lot has changed since 2015, when president and retired general Otto Pérez Molina was ousted from office on charges of corruption. Now, Gálvez says, the situation has only gotten worse, with more and more violations of freedom of expression and the press, "especially against journalists working with grassroots media outlets, who are no longer in their homes; most of them have taken refuge in churches."
—Ask them why, and they'll tell you: 'I don't know who's in jail, so-and-so has left the country.' What does that suggest? Look at the case of Juan Francisco Sandoval, for example, where they use privileged information from conversations with his lawyer in their investigations against him; or the case of the journalist who interviewed Virginia Laparra, who had to leave the country because they threatened her and then used the interview as evidence of obstruction of justice."
—So, the only thing left is to leave the country?
—That's the only option left, because it's not possible to stay in Guatemala under these conditions. It's a really hard situation. If the process is plagued by irregularities [Gálvez has been prevented from accessing his case files, and his defense attorney has been disqualified] then what is there left to do? Unfortunately, this is how things are now.
Two Decades of Threats
Gálvez is short, wears glasses, and has thick, gray hair that he has recently started to dye. Like the majority of judges and prosecutors in Guatemala who faced persecution for taking action against a power structure that was thought to be untouchable, Gálvez has a deceptively fragile physical appearance. But for over two decades, he has presided over high-profile cases of serious human rights violations, war crimes, and corruption. And for two decades, he has faced threats and harassment.
Gálvez says, however, that in May, when he handed down his ruling in the Diario Militar case, also known as the "Death Squad Dossier," and sent nine ex-military officers to prison for their role in the murder and enforced disappearing of 196 political dissidents from 1983 to 1986, he faced an intense campaign of online harassment, and suspicious unmarked vehicles began to follow him with increased frequency. Nothing, however, that he had not experienced before.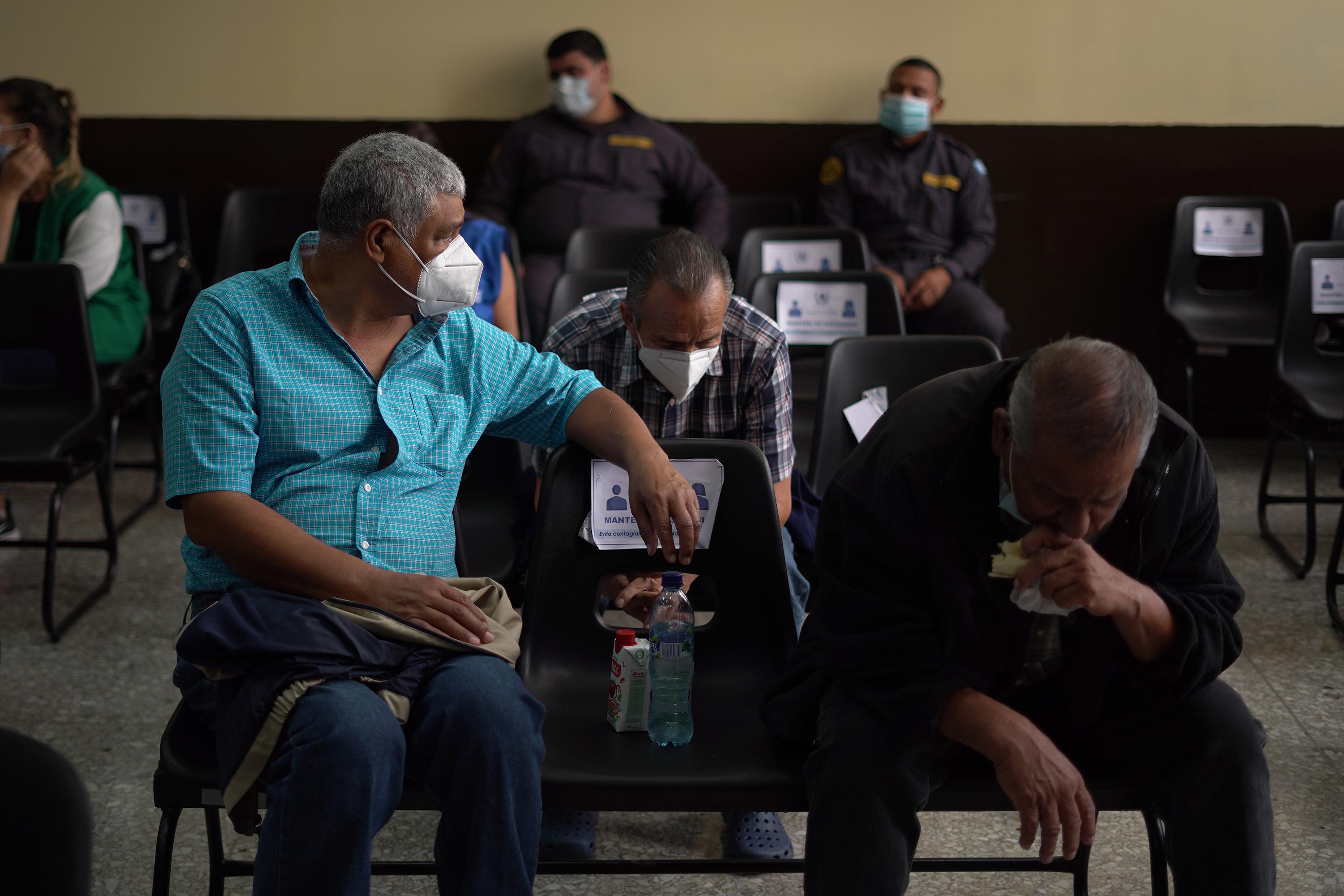 In 2001, Gálvez was appointed to a special jurisdiction court in Chiquimula, a city in the eastern part of the country, where he presided over cases involving organized crime, drug trafficking, and kidnapping. That's when the threats began, and they were constant and direct. "Not so much from the criminal structures, but from people involved with the government and with drug trafficking," he says. "When I would leave Chiquimula, for example, we would travel by car, with my security team, and big trucks or SUVs would catch up to us and roll down their windows and flash their rifles at us."
One case Gálvez presided over involved the transport of cocaine in armored bank trucks. The vehicles were guarded by agents of the National Civil Police (PNC), but, Gálvez says, the most direct threats he received came from the Presidential General Staff (EMP), the military unit in charge of protecting the president and his family.
"One day," Gálvez says, "three guys showed up wearing suits with badges on their lapels; I went to write down their names, but they told me, 'no, don't worry about it, we'll leave our cards.'" Gálvez says that the men identified themselves as members of the EMP: "'It's your choice,' they told me. 'If you want to denounce us, go ahead, denounce us, but the worst they'll charge us with is making threats, and we'll exterminate your whole family.' Then they showed me a photo of my son and a photo of my wife. 'It's up to you, nothing happened here,' they told me. Then they left, with one guy reaching out to shake my hand and saying, 'Thanks, very nice to see you,' and another even going so far as to give me a hug."
The case was closed due to a lack of safety guarantees for the prosecutor and Judge Gálvez. Several reports have since linked the EMP of the early 2000s to a variety of criminal activities. Years later, during a drug trafficking trial in the United States, it was revealed that, at the time, PNC agents were often used to guard cocaine shipments. The President of Guatemala, Alfonso Portillo (2000-2004), was extradited to the United States in 2013, where he was found guilty of money laundering and sentenced to 70 months in prison.
During the same time period, in Chiquimula, Judge Gálvez presided over a case against Jorge Mario Chigua González, the former mayor of Puerto Barrios, Izabal, who was facing prosecution for the extrajudicial killing of a journalist. Chigua was a member of the Guatemalan Republican Front (FRG), the ruling party. On the first day of the trial, the judge received a call.
"It was the president of Congress, Efraín Ríos Montt," Gálvez says. The country had transitioned to democracy and the former dictator had become president of the legislative branch, and the leader of the FRG. "He didn't tell me what he wanted," Gálvez says. "The only thing he asked me was, 'Do you have aspirations for promotion in the judiciary? If you do, we can include you on the list for eligible magistrates. If not, no worries. You'll be put on a list of those who are not eligible,' and then he hung up."
In 2010, Miguel Ángel Gálvez was transferred to the Seventh Court in Guatemala City, where he served as comptroller judge, and as a judge for the International Commission Against Impunity in Guatemala (CICIG), which had been founded three years earlier, and he started receiving threats again. Later, when Guatemala's "High-Risk" courts were created, Gálvez was asked to join one of those courts as a member magistrate. The president of the court Gálvez joined was Yassmin Barrios, the woman who would later deliver Ríos Montt's conviction on charges of genocide.
Together, Gálvez and Barrios handled high-profile cases, including the case of Rodrigo Rosemberg, the businessman who arranged his own murder in an attempt to oust the president; the murder of three Salvadoran members of Central American Parlaiment (Parlacen), along with their driver and four policemen; and the prosecution of the Zetas cartel in Guatemala. In 2012 another special jurisdiction court was created, with Barrios serving as president and Gálvez as comptroller judge. There, they presided over historic cases such as the burning of the Spanish Embassy, the systematic rape of Ixil Mayan women by the Guatemalan Army, and the genocide trial.
The trial against former General Ríos Montt began in 2013, and the focus of the entire country was trained on the proceedings. It was Gálvez who brought the case to trial. Zury Ríos, the daughter of the retired general and a current presidential hopeful, attended all the hearings, usually in the company of Méndez Ruiz, the man who now, nine years later, is trying to put an end to Gálvez's judicial career.
One day, during the genocide trial, Judge Gálvez was in his chambers with the door open, as usual. When he looked up, Ríos Montt was standing over his desk. "I stood up, greeted him, and asked him to sit down, and he told me I was acting as if I were still a lower court judge. 'If you'll remember,' I told him, 'Congress has placed me on a list of individuals ineligible for judgeships.' When I said that, he turned quickly and stared at me. I think he remembered that he was the one who had told me that I was going to appear on that list, because he finished the conversation and said, 'Very nice to see you,' and then left," Gálvez says.
That was the first time that the Inter-American Commission on Human Rights (IACHR) issued protective measures on Miguel Ángel Gálvez's behalf. In the end, Judge Barrios convicted Ríos Montt of genocide, but the Supreme Court ordered a retrial and the general died in 2018, before a second trial could take place.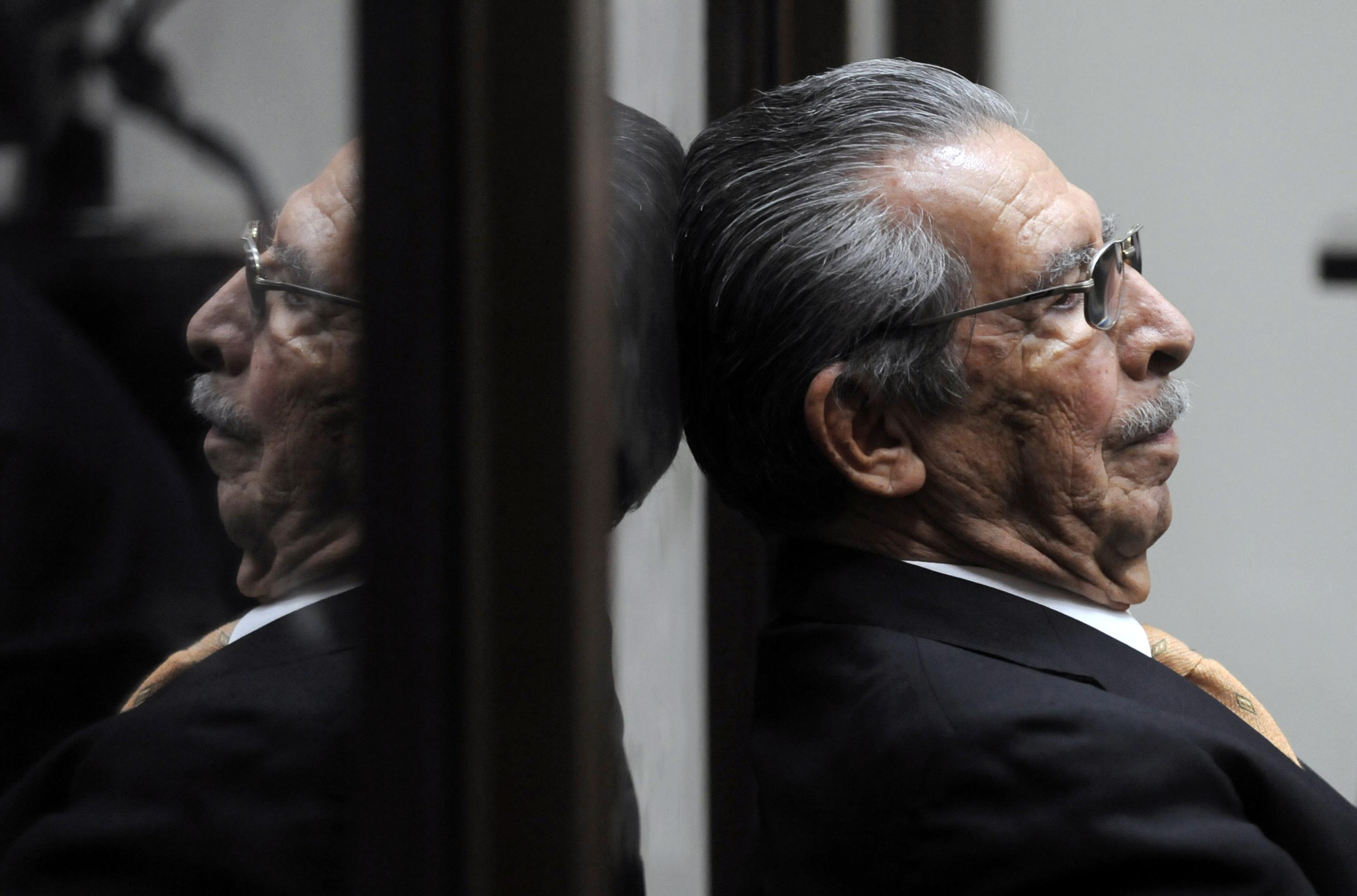 Gálvez has continued to hear war-crime cases in Guatemala, such as the prosecution of retired general Benedicto Lucas, also convicted of genocide, or the Sepur Zarco case, involving a group of military officers convicted for the systematic rape and enslavement of Q'eqchi' Mayan women in the 1980s. Gálvez claims that the father of FCT president Ricardo Méndez Ruiz, Ricardo Méndez Ruiz Rohrmoser, who served as commander in Cobán, Alta Verapaz, between 1978 and 1982, and who died in 2016, is implicated in the Sepur Zarco case.
Ruiz Rohrmoser was appointed Minister of the Interior after Ríos Montt carried out a coup d'état in March, 1982, and a 2018 study by San Carlos University has linked him to a case of genocide. The FCT president claims that his father was not a murderer.
In the Crosshairs of the FCT
The Foundation Against Terrorism's first complaint against Gálvez came in 2012, at the start of the Ríos Montt trial. Five other organizations with ideological orientations similar to those of the FCT, including Immortal Guatemala (Guatemala Inmortal) and the Association of Military Veterans of Guatemala (Avemilgua), also filed complaints against Gálvez at that time.
Subsequent cases, such as La Línea and Cooptación del Estado, which in 2016 implicated almost the entire cabinet of the party of then-President Otto Pérez Molina (2012-2015), along with dozens of businessmen with state contracts, earned him more enemies. Today, Gálvez has a total of 78 complaints recorded against him, a third of them filed by the FCT.
In 2021, Gálvez joined several other High-Risk Court judges — including Yassmin Barrios, Erika Aifán (who also has a hundred or so complaints filed against her and has gone into exile in the United States), and Pablo Xitumul (suspended in March for alleged abuse of authority) — in filing a petition with the Public Prosecutor's Office to request an end to the unfounded complaints.
"As a result of our petition to the attorney general, we received three more complaints against us," Gálvez says.
"At first they focused more on Erika [Aifán], but with me, the military joined forces with companies like Cementos Progreso, Cementos Novella [...] Especially after the arrest of Toribio Acevedo, during the Diario Militar case," Gálvez says. Toribio Acevedo is a lawyer who served as a member of the Presidential General Staff (EMP), and at least as recently as May was on the payroll of Cementos Progreso, one of the largest and most disreputable companies in the country, which has helped finance numerous political campaigns. Two others were prosecuted alongside Acevedo in the Diario Militar case: Jacobo Salán Sánchez (former head of the EMP's General Archive and Support Services, known as "The Archive," a death squad and military intelligence unit), and Marco Antonio González Taracena (Minister of Defense during the de facto government of General Óscar Humberto Mejía Víctores, 1983-1986, and head of The Archive during the Ríos Montt administration, 1982-1983).
"There is so much impunity that the criminal economic and military power structures have joined forces and now they're leading the charge on all of this," says Gálvez. This, he says, includes the campaign of threats against him.
"The La Línea case caused a lot of problems for them. It even seemed like they were taking a pause from things; I remember someone noting how calm everything seemed, but it was because they were taking over all the institutions," Gálvez says. "But just when they had the luxury of institutional control, the investigations led by Juan Francisco Sandoval [head of the Special Prosecutor's Office Against Impunity, or FECI, until July 2021] began, and then the case against José Luis Benito [Minister of Communications for the Jimmy Morales administration (2016-2020), implicated in alleged bribes to Alejandro Giammattei], and the whole relationship with the Russians [who own the nickel mines in Izabal and are allegedly implicated in bribes to President Giammattei]. And then, Juan Francisco is removed, the attorney general is reelected, and the reconfiguration continues."
According to Gálvez, the final assault began on May 6, at 9:35 a.m., when Ricardo Méndez Ruiz tweeted: "Tomorrow, when we hear about more gang members disappeared due to infighting and score-settling, these crooks and profiteers will blame the state and ask for reparations for [the victims of] Diario Militar. Of course, it won't be Judge Gálvez who will be imprisoned for his lying and obstruction."
Then, at 12:53 p.m., the FCT president sent another tweet: "Judge Miguel Ángel Gálvez, in the Death Squad Dossier case, claimed that it's not necessary for the court to comply with the sacred restrictions on time, place, and manner in the proceedings against the accused, and thus, this corrupt, lying judge granted a new request for a preliminary injunction."
Less than ten minutes later, the Twitter account of "Yes Master," a prominent social media troll known in Guatemala for harassing justice system workers, posted: "This corrupt liar needs a good beating. He's next. We need to cleanse our justice system of these scum."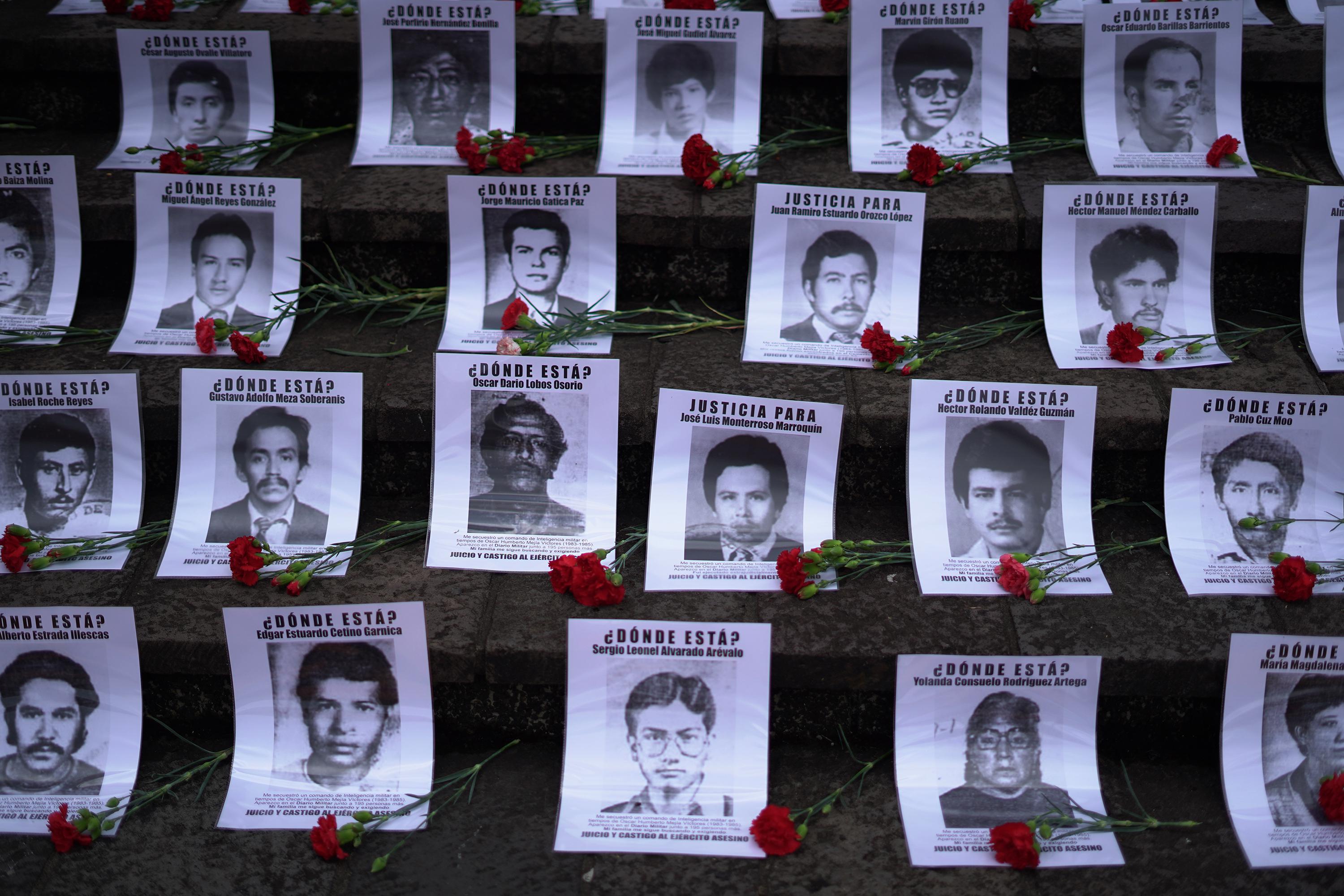 Later that afternoon, Méndez Ruiz arrived at the hearing for the Death Squad Dossier and sat down in the audience. "I was reading out the ruling," Gálvez recalls. "The courtroom was full." The judge eyed Ruiz with a feeling of unease, but continued reading the order for the pre-trial detention of nine ex-military personnel. Minutes later, Ruiz posted on Twitter: "It's Miguel Ángel Gálvez's turn. FCT Guatemala will handle this one.'
"When I left the Torre de Tribunales at 7:30 that evening, I started to be followed," Gálvez says. "A van was following us. We never saw the license plate. I was really tired but when I got home, because I had spent so much time sitting down, I went out for a walk, something I never do. It was about 8:00 p.m. When I looked up, I saw a person with a T-shirt standing on the corner, about three meters away, making this gesture with his hand." The judge pats himself a couple of times on the side of his waist, imitating the man's movements. Gálvez understood what the man was telling him: He was carrying a handgun.
"I didn't want to turn my back on him. I thought he was going to shoot me, but I couldn't just stand there," he remembers. "So, I turned around and started walking back to the house, sure that he would shoot me. But he didn't."
Terror Takes Hold 
"The current complaint from Méndez Ruiz is the same as the one from 2013," Gálvez says. "The problem is that now they've reconfigured all the institutions."
On May 6, after sentencing the defendants in the Death Squad Dossier case to pre-trial detention, Judge Gálvez asked the Public Prosecutor's Office to extend the investigation and execute more arrest warrants for others accused in the case. "The capture of Toribio Acevedo was the final straw," Gálvez says.
On May 11, Acevedo was captured in Panama while attempting to flee to Spain. That same day, Méndez Ruiz filed the accusation against Gálvez that led to the current impeachment process.
The Supreme Court of Justice had rejected two previous impeachment attempts against Gálvez in July, but this time, those same magistrates — a third of them are on the Engel List — immediately processed the new complaint, despite the fact that there were at least 40 other pending impeachment petitions against other officials.
Judge Gálvez claims that the current configuration of power within Guatemala's various state institutions is what will determine his future, and that of the rest of the judges in the country. "The problem is that they've had the benefit of controlling all the country's institutions," Gálvez says. "Take the executive, for example: the president has very little popular support at the national level, but he has the luxury of controlling all the institutions." Gálvez says that the ruling party has allies and accomplices in Congress, in the Public Prosecutor's Office, the judiciary, the Constitutional Court, the Supreme Court of Justice, the Court of Appeals, and the Supreme Electoral Tribunal. "I am extremely concerned about the rule of law at all levels. It's something we can't talk about," Gálvez says.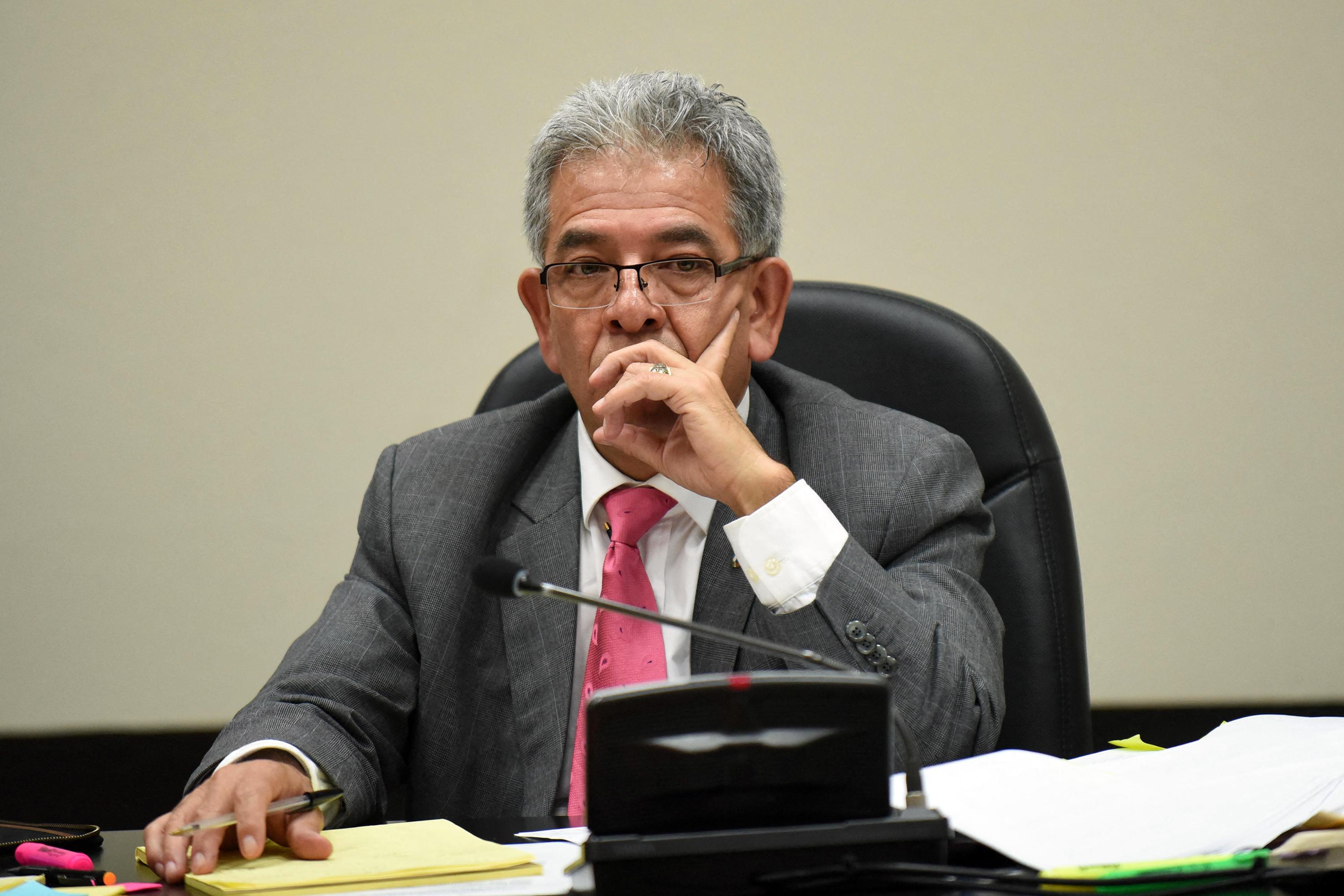 In October, the United Nations Committee on Economic, Social and Cultural Rights denounced Guatemala's lack of institutional protection for judges and other judicial personnel facing persecution. There is a reason that 28 of Guatemala's former judges, prosecutors and lawyers are now living in exile.
In July, a website called "La Panel" (a reference to "La Panel Blanca," or "The White Van," a vehicle associated with enforced disappearances during Guatemala's internal armed conflict) announced that it was ready to receive the go-ahead from President Giammattei to "disappear the new subversive guerrillas, who hide behind the FECI and the high-risk courts." The text included various military slogans.
Herbert Pérez, Gálvez's lawyer, says that the complaint that prompted the impeachment process against the judge lacks solid evidence. He says the FCT's complaint included a table featuring information on five defendants that was copied and pasted from page 38 of a report from the Centro de Investigaciones Económicas Nacionales (CIEN) from 2018, titled "La prisión preventiva en Guatemala" ("Preventive Detention in Guatemala"). The FCT accuses Gálvez of remanding the five defendants to "prisión provisional" ("provisional detention"), a term that does not exist in Guatemalan law.
Notably, only two of these rulings were actually issued by Gálvez. The other three were handed down by different judges, whom the FCT did not denounce. The same CIEN report also revealed that several judges, not only Gálvez, have used the term "provisional detention" as a synonym for "preventive detention," the standard term used in Guatemalan law.
Last July, the Inter-American Court of Human Rights again ordered the Guatemalan state to adopt urgent measures to protect Gálvez. Even so, the judge appeared to be on the verge of losing his immunity. The Supreme Court rejected all of Gálvez's legal appeals to stop the impeachment, and no action has been taken on any of the appeals for relief he has filed before the Constitutional Court and other instance courts.
—Was your impeachment already decided from the outset?
—Of course. The threats started coming from every direction on May 6, and the following week I informed the Supreme Court of Justice that I felt under threat and that my judicial independence was under threat. Because, as I see it, they were not threatening Miguel Ángel Gálvez; they were threatening Judge Gálvez in my jurisdictional function. And the court, instead of protecting me, moved forward with the impeachment process. They are limiting the exercise of my right to a defense.
The Supreme Court ​​warned Gálvez's lawyer that he could face sanction for filing so many appeals, or could even be forced off the case. Gálvez says that his observations of the impeachment process thus far left him with little doubt:
—If this were a legal process, it wouldn't be a problem, but this is a political process. What finally showed me just how bad things had gotten, was during the public hearing before the Constitutional Court, when [lawyer Raúl Falla of the FCT] had the gall to publicly insult me, to deliver speech full of hate, and to treat the magistrates with disrespect. He even ended his tirade saying, "Your honors, I hope you won't turn out to be caricatures by approving the injunction petition for this corrupt judge." Who put him in his place so that he would respect the court? Nobody. That's when I knew that someone was pulling the strings.
―Who?
―Who's financing the Foundation and all of this? It certainly gives the impression that there's someone higher up, and that these guys are just pawns who show their faces in public and do the dirty work.
In the hearing before the Constitutional Court, Raúl Falla said that Gálvez would end up "in jail or on the run." Now, the judge has renounced his position and is in exile. He says he feels like he is both a witness to Guatemala's gradual consolidation of the rule of law in recent years, and now, a sudden victim of its rapid regression.
—It puts an end to the rule of law. We're talking about violations not only of constitutional guarantees, but also procedural ones.
—What future do you see?
—That the next president will be one of theirs, and that the worst is yet ahead. That's when the population will react. For me these are all natural changes, and at the moment there's no other option. They've taken everything, especially the Supreme Electoral Tribunal [the highest authority in the country on electoral matters]. Some of those magistrates were involved in falsifying titles and qualifications. Logically, they won't prosecute them, but they have them by their tails, under their control.
At what was once his home, Judge Gálvez kept several folders containing printed-out news articles and tweets and newspaper clippings related to his targeting and harassment. 
"These shady types post everything on social media, and we still don't understand what they're saying," he said two weeks before leaving for Costa Rica, "They play bingo with us on social media. They have photos of all of us and when they take someone out, they put an X on their face. The only ones left, before they finally call bingo, are yours truly and Yassmin Barrios. Once they get us, the game is up."
*Translated by Max Granger