Taiwan's President Tsai Ing-wen will be in Guatemala tomorrow for an official visit to the island's last allies in Central America. She will also visit Belize on Monday. "External pressure won't stop our determination from moving toward international society," she told reporters on Wednesday.
Tsai was clearly referring to Honduras, the latest country to switch its allegiance from Taiwan to China, in a decision the left-leaning government of Xiomara Castro announced on the campaign trail and made official on March 14. Three other Central American countries have taken the same step in the last seven years. 
Guatemala saw it as an opportunity. The Guatemalan Ministry of Foreign Affairs issued a statement highlighting its "total support of Taiwan as an independent nation" and "shared values of democracy and mutual respect." President Tsai is expected to visit a new hospital in Chimaltenango, inaugurated in February with Taiwan's cooperation.
We can expect President Alejandro Giammattei to add the Taiwan card to anti-immigration and drug trafficking cooperation when dealing with the Biden administration in an era of spy balloons and congressional hearings over TikTok. Republicans have backed him despite sustained international criticism for corruption and judicial lawfare.
Not even Taipei's standing as a shareholder of the Central American Bank for Economic Integration, an underwriter of the authoritarian governments in Nicaragua and El Salvador, has stemmed the trend toward Beijing: Panama made the move in 2017, giving the Chinese Embassy a parcel of land overlooking the Panama Canal. El Salvador followed in 2019, and then Nicaragua in 2021. Costa Rica led the way in 2007.
The day after President Castro's announcement, Foreign Minister Enrique Reina explained the rationale on TV. He underlined Honduras' "great need", specifically in energy —they want China to get involved in 104-MW Patuca III hydroelectric plant in Olancho— and "a debt that's drowning us". 
Honduran national debt is the most concerning in the region, according to the Central American Institute for Fiscal Studies (ICEFI). 
Minister Reina stated they're "up to the neck" with $20 billion in debt, and that the country has to invest around $2 billion this year to repay it, a similar amount to what it paid last year. In the first quarter of 2023, the government already paid $442 million, per the Honduran Finance Secretary. According to Reina, as a part of that effort, Honduras unsuccessfully reached out to Taiwan to renegotiate a debt of $600 million.
President Castro will soon make an official state visit to China, according to Reina. A Chinese foreign ministry spokesperson, Mao Ning, welcomed the visit 'as soon as possible' at a Thursday press briefing.
The shrimp factor
Reina said Honduras's relationship with Taiwan was based on a yearly cooperation agreement of $50 million, and that they were looking for a change in the relationship from foreign aid to commercial trade.
"We have nine million pounds of frozen shrimp that we can't move. And people from the shrimp industry have urged us to seek new markets," he said, adding that Honduran coffee exports have also dropped (exportations fell 20 percent from 2021 to 2022, according to the Honduran Institute for Coffee).
The minister claimed this "isn't an ideological move" and, in a rebuttal to Taiwanese criticism, added that Honduran officials are not "naive" about Chinese intentions. Reina, who has worked in the Foreign Affairs Ministry since 1994, said that the question of relations with China has been around since at least 20 years ago, during President Pepe Lobo's administration.
In a statement, Taiwan said that Castro "has always harbored illusions concerning China" and said Honduras asked for billions, not millions, in cooperation.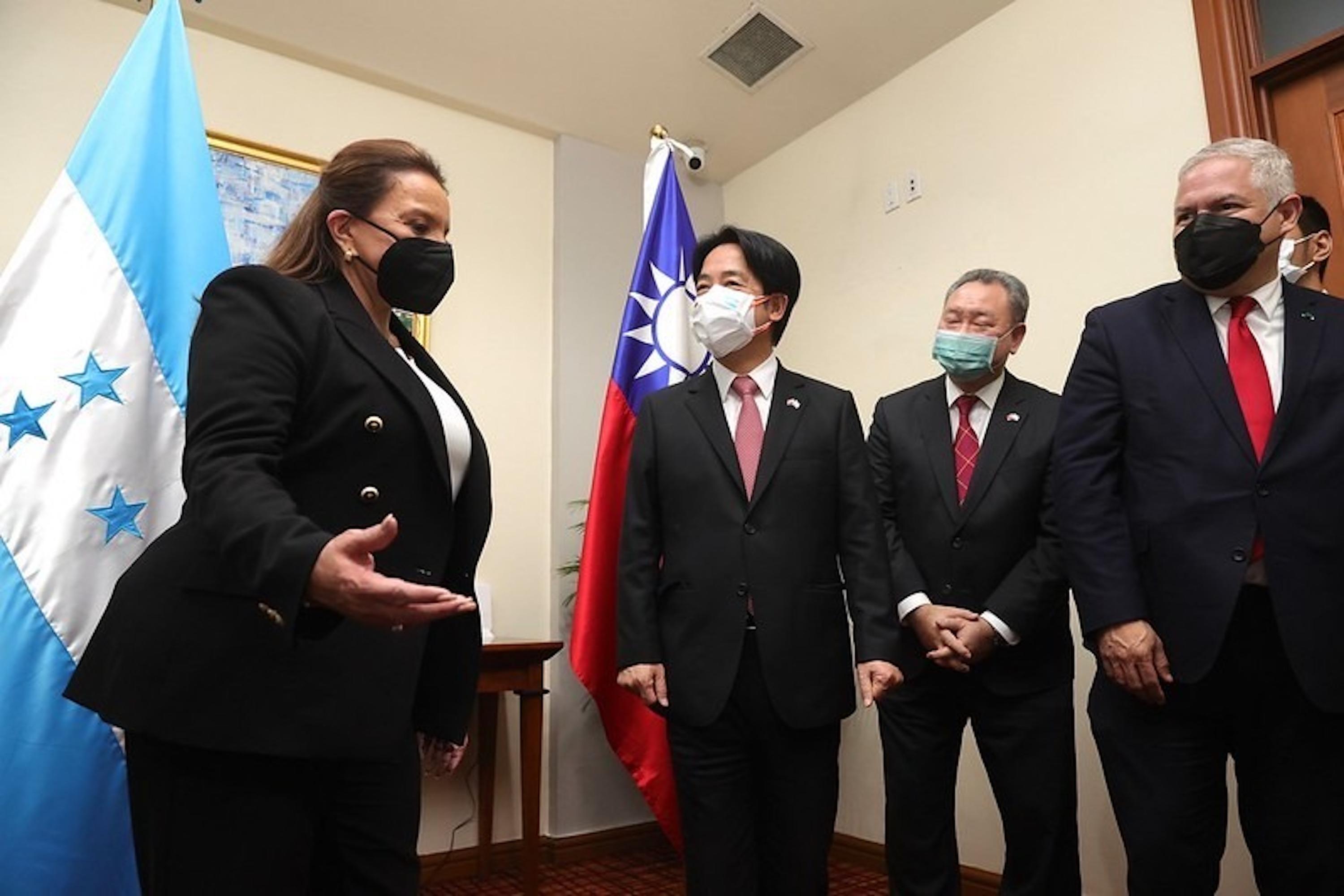 In the TV interview, the presenter bluntly asked Reina how easy it is for China to write checks for mega-projects. But regional experience shows that it isn't that straightforward.
China has funded the construction of a stadium in Costa Rica and a new national public library in El Salvador, a signature move of its global Belt and Road initiative. But no country in Central America has received debt restructuring or loans yet, as happened in Africa or elsewhere in the Global South.
"Getting Chinese investment isn't easy because they have to know the rules of the game in the region," Salvadoran politician Manuel Flores told El Faro English. Flores, a former FMLN lawmaker —with a stated interest in the party's 2024 presidential nomination—, is the president of the Salvadoran-Chinese Friendship Association (ASACHI). His years-long lobbying for Chinese relations before El Salvador switched in 2019 also earned him a nickname: Chino ("Chinaman") Flores.
But even he is careful to not overstate the benefits. "Name one big Chinese company that has been established in Costa Rica and created jobs, even after 15 years. Nicaragua and El Salvador still don't have investments," Flores said, though he pointed out that Nicaragua signed "a mini free trade agreement" to sell products like rum, cigars, and seafood. 
Flores seemed skeptical that Honduras can get a better deal — at least in the immediate term. "They have to build mutual trust, and respect. You may call it loyalty but the Chinese value friendship, above all."
"Persuade Taiwan it has no way out"
Established in 1949, Taiwan enjoyed diplomatic success for two decades until the U.N. voted in 1971 to recognize the People's Republic of China. Since then, the island lost the recognition of 75 nations.
"The long-term strategy is to persuade the Taiwanese that they have to accept unification and negotiate a deal with China," said Andrew Nathan, China expert and professor of political science at Columbia University, in an interview with El Faro English. "As they have taken away different partners, they send a signal: 'You guys have no way out.'"
Nathan, who directed Columbia's Weatherhead East Asian Institute in his 50-year career and sits on the Advisory Committee of Human Rights Watch Asia, says the notion that China is seeking to "take over the world" is "kind of exaggerated." He gives more weight to the idea that Beijing wants to "balance the United States' high level of influence in its Asian region, where the U.S. has been dominant for a long time." 
China "often makes promises in exchange for diplomatic recognition that ultimately remain unfulfilled," said State Department spokesperson Vedant Patel in a press briefing on March 27. Patel warned about "loans (that) end up saddling countries with very complicated and bad debt," and "cooperation on infrastructure projects that end up bearing no benefit to [local] job creation."
It's a common talking point for the US. In May 2021, when El Salvador's President Nayib Bukele announced $500 million in China's "non-refundable aid, without conditions," Brian Nichols, Assistant Secretary for Western Hemisphere Affairs, replied: "Nothing from China comes without conditions."
Nathan said those sorts of warnings are ultimately toothless. "If I were El Salvador, I wouldn't want to sacrifice my own welfare over diplomatic relations with Taiwan, because it has paid a lot in the past," he argued. "They cannot compete, in that respect, with China."
---
This article first appeared in the March 31 edition of the El Faro English newsletter. Subscribe here to tune into Central America.