Lorena awoke with her right-hand finger flayed raw after spending the night biting her nails. She unleashed all her anxieties onto that finger — all the stress she had accumulated on the run from the police, moving from one place to the next, in constant fear of being arrested. Today is Saturday, May 25, 2022. Sixty-five days ago, on March 27, the government of El Salvador declared a "state of emergency," suspending multiple civil rights and imprisoning tens of thousands of people across the country. Four days later, on March 31, Lorena and her family fled their home. "I never thought I'd be doing the same thing I did five years ago all over again," Lorena says, sitting in a hotel room, tears streaming down her face. In 2017, she and her family went on the run after they were accused of belonging to "terrorist organizations," a crime for which they were later exonerated.
Lorena's mother Norma, a woman in her early 50s, sits by her side. Norma doesn't try to stop her daughter from sobbing — she knows this is the only way she can push through the trauma. Norma's son Gustavo, a few years older than Lorena, is sitting in the corner. He watches them both in silence, taking refuge in his cell phone, gazing at the last picture he took of his baby boy before fleeing. Gustavo doesn't know how to ease his sister's pain either, when she tells their story — a story that, to protect their safety, the family only wants published if it does not include their real names.
As we talk, Lorena pulls a thick stack of papers out of a plastic bag — over 250 pages she's collected to corroborate her testimony. She sets the documents on the bed and starts to go through them with me, page by page, describing in detail what happened. There's no hint of a lie in her words. There's no way to deny the documents I hold in my hands: reports from the Human Rights Ombudsman's Office (PDDH), psychological and psychiatric reports from the Institute of Legal Medicine (IML), a copy of the court ruling that declared her innocent, medical prescriptions for antidepressants, and other evidence omitted from this story, along with identifying details from her testimony, to protect her safety. The documents describe how Lorena and her family were charged, how a judge dismissed those charges due to a lack of evidence, and how that same judge ruled them innocent — a ruling that was put down on paper, which I now hold in my hands. But none of that matters now. Lorena and her family have decided, once again, to flee.
Why run if you have nothing to hide? It's a common refrain in El Salvador these days: "If you haven't done anything wrong, you have nothing to fear," tweeted congressman Walter Alemán, a representative of President Nayib Bukele's ruling party, Nuevas Ideas, on April 14, 2022. And Lorena and her family don't have anything to hide: they've already been tried and acquitted in a court of law. But they continue to live in fear. And this is why they've decided, once again, to go on the run: because they know that not even an acquittal will be enough to prove their innocence under the state of exception.
*** 
Norma, Lorena, and Gustavo fled their home when the state of exception began. They had heard that in the rural area where they live, authorities were arresting anyone who had gone through a criminal proceeding — even if that person was acquitted or had completed their sentence. "You're next," a group of police threatened them one day. Minutes later, they were gone. They left with $5 between the three of them, no change of clothes, and no safe place to go.
"I told my mom: 'We have to go, we have to go now! They're going to accuse us of something," Lorena says, recalling the breaking point that led to their decision: stay and take the risk, or get out. And there's no denying it: hundreds, if not thousands, of people arrested under the state of exception are in prison simply because they have a prior conviction or some form of criminal record. Time would prove that Lorena's fears were not at all far-fetched.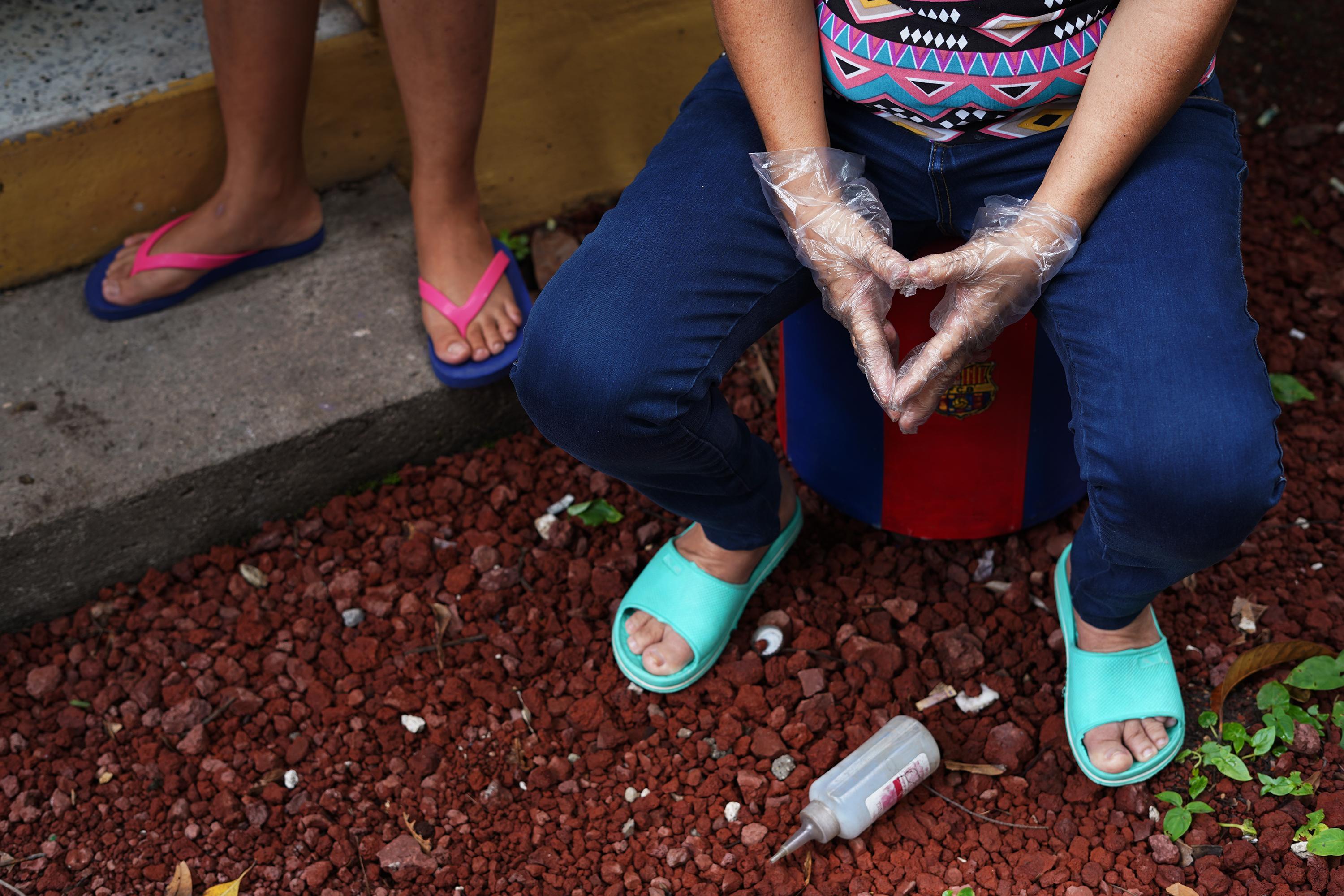 Lorena's fears are based on the fact that under the state of exception, there are no guarantees of due process: if a person is detained, they will be lucky to be released within the first six months while their case is being investigated. In its most recent publication on conditions in El Salvador, Amnesty International reported that the state of exception has "undermined the rights to defense, the presumption of innocence, effective judicial remedy and access to an independent judge," and claims that none of the tens of thousands of arrests would have been possible "if the judicial authorities had fulfilled their mandate." Amnesty has made repeated appeals to the government of President Nayib Bukele to respect the human and civil rights of its citizens.
Faced with an unaccountable and irresponsive justice system; in 2021, Bukele's ruling bloc in the Legislative Assembly removed a third of all judges and replaced them with magistrates loyal to the president. Many have resorted to filing habeas corpus petitions with the Constitutional Chamber of the Supreme Court of Justice, which by August 2022 had already registered 1,090 complaints. So far, not one of these petitions has been resolved by the Supreme Court, which is also stacked with judges loyal to the president. Under such conditions, few magistrates dare speak out, and those who do risk removal from the bench. This is what happened to special case judge Godofredo Salazar, who was demoted to a lower court in Ilobasco, Cabañas because Bukele —as the president himself tweeted— didn't like one of his past rulings. In El Salvador, separation of powers has become little more than a hollow construct.
"Two of them are in prison now. The regime arrested them," Norma says, referring to two of her neighbors who, like her, were acquitted of past crimes only to face re-arrest under the state of exception. "And what guarantees do we have that we'll be allowed to prove our innocence?" Norma knows the law. She never went to college, because she never had the money for it, but the two years she spent in and out of court —an ordeal that forced her family to mortgage their only asset, their home, against a $7,000 loan that they're still paying off— gave her enough of a legal education to make informed decisions like this one.
Norma's concerns echo the condemnations from Amnesty International, Human Rights Watch, and grassroots social organizations: there is no way to guarantee an effective defense, much less prove one's innocence, under El Salvador's state of exception. In the face of this criticism, government officials, like Vice Minister of Security Osiris Luna, have responded with a mix of apathy and denial, downplaying the significance of the arbitrary detentions: "Whoever isn't [a gang member], don't worry, that person will get out [of prison]." Arrest first, investigate later — that seems to be the logic. In a televised interview on July 26, Luna said that the government is taking a "technical approach" to detention, relying on "intelligence groups" from the National Civil Police and the Bureau of Prisons to create profiles and determine who to take into custody.
Reports of arbitrary detentions — and detentions categorized as illegal by watchdog organizations — are now an everyday reality in El Salvador. With little legal or institutional recourse, families of the detained have taken to the streets to protest. On July 19, relatives of the imprisoned gathered in San Salvador and marched with signs bearing messages like: "I'll exchange my freedom for the freedom of my son, who has a mental disability," and, "My father is our only breadwinner; we have nothing to eat." It was the first mass protest of its kind. On July 26, family members desperate to prove the innocence of their detained loved ones again took to the streets, protesting in front of the gates of the Legislative Assembly. This is El Salvador under the state of exception, where, at the time of the July protests, the government reported 47,789 "captured terrorists." That number has now surpassed 64,000. On August 9, another march took to the streets of the capital.
Lorena's crying begins to subside. Tears well up, are held back. Her body trembles. Her eyes, sad and small, grow puffier and more bloodshot with every sleepless night. "I've already lived through it, and now I'm living through it again. I don't want to go to any place, I didn't do anything wrong," she repeats over and over again, sitting on the bed in her hotel room. The place she's talking about is prison, where she was held before a judge eventually granted her pre-trial release prior to dismissing her charges altogether. These are the things I've talked about over and over again with Lorena, Norma, and Gustavo: everything they thought they would never have to go through again. The family let me accompany them for one and half months of their displacement, meeting me at two of the locations where they stayed before assuming stricter security practices that have since prevented me from contacting them.
Norma: Longing for a Life that Never Was
Every time I come to the hotel, Norma falls asleep. Sometimes it's for five minutes, sometimes ten, sometimes for half an hour. "I'm sorry for falling asleep, but when you're here, I feel safe," she tells me from the bed. This is the fourth time I've visited and it happens every single time. She throws a blanket over her and we forget she's there.
The hotel is the fourth place they've sought refuge. They spend their days in a cramped, three-bed room with a big, bright window that lets them keep track of the weather, lets them know if the sun has set, or if it's raining outside. They have access to a bathroom, which they also use to hang up what few clothes they have. They don't wash their clothes, because there's no way for them to do it, so they try not to get dirty. They pay about $30 per person for the room, which includes some meals. But they say the food is heavy and gives them indigestion.
They pay for the room with donations from a few friends, who have volunteered to support them, and who send them the money they need to stay on the run. If it weren't for this support, the family would have no means to survive underground. They've always had very little, but now they have even less. If they lose the house, they lose everything. The loan they took out a few years ago to pay the court fees from their first prosecution left them with a debt that keeps growing, and now they don't have enough to pay off their mortgage. "Losing [the house] would ruin our lives completely," Norma says.
Norma hasn't worked since 2017. Getting wrapped up in a criminal case left her, a woman over 50, with no job prospects. When she speaks, her memories betray a longing for a time when she could earn $500 a month working a stable job — enough money to provide a decent life for Lorena and Gustavo. She had social security, and she liked the work. But at her age, she would never find another opportunity like that, especially with a criminal prosecution hanging over her. Norma was still searching for a job when the state of exception was declared, and once again, she had to forget about working.
"If I'd gone to the United States, maybe our story would be different," Norma says, lamenting what she sees as a missed opportunity. "We wouldn't be in this situation."
This is their story now: asking friends to help cover the costs of being internally displaced in their own country. When the family fled in March, they barely had enough money to take a bus. That's how they got to their friend's house, where they stayed without a change of clothes until they could arrange for someone to bring them more. In the meantime, their friend lent them what he had on hand.
By mid-April, they were seeing regular TV news reports underscoring how, under the state of exception, anyone caught "helping criminals" would be arrested. Their friend started to get scared, not because he mistrusted them, but because of the risk of staying too long in a populated area just north of San Salvador, where the chances of a raid were high. The friend asked them to leave. The next day, the family fled again.
They started staying in hotels. They moved from one to another, and eventually to a third, which is where I'm meeting them today — a modest establishment with just a few rooms, where they finally feel like the chance of the police coming to look for them is low. But even so, they live with a constant sense of insecurity and fear. That's why Norma doesn't sleep. That's why she stays awake, like a sentry standing watch over her people, making sure they're safe.
One of those nights, Norma didn't sleep at all. A party at the hotel kept her awake — and not because of the cumbia music playing loudly in the background. Next to the window, two people were fighting loudly. Norma peeked through the blinds. She couldn't see anything, but she heard the voice of the hotel security guard approaching. "I'm going to call the police!" was all she could make out. Norma woke up Lorena and Gustavo: "If the police come, we're leaving," she told them. They packed each of their backpacks in case they had to run again.
Norma's family is not alone. Cristosal, a nonprofit human rights organization that has advocated for victims of forced displacement since well before the state of exception began, has documented cases of other families who are in the same situation. According to that organization, between March 26 and June 15, 2022, at least 85 people were displaced due to the state of exception, fleeing from the prospect of arbitrary detention, or because persisting threats from gangs were compounded by increased intimidation from state agents, police, or soldiers. "Unfortunately, yes, we've seen that the state of exception has been exploited by specific groups to displace people," says Rina Monti, Cristosal's research director.
With respect to the gangs, Monti, an expert on forced displacement, says her group has documented cases where families face threats for refusing to hide gang members from the police. If any of these gang members are then arrested, the family receives threats demanding they hand over their house to the gang, or announcing their imminent execution for "treason." Other cases of displacement involve families that have been evicted from their homes because one of their family members was arrested — even if the arrest was arbitrary and lacked any evidence of wrongdoing. "There are families that have to live with the stigma of being perceived as gang members," says Monti. These families, she says, "have to leave." They have no choice.
Gustavo: A Family that Fell Apart
Gustavo only leaves the hotel room to buy food or medicine. It's late June, and he hasn't seen his family in 90 days. This morning, he's on a video call with his family, celebrating his son's birthday, but unable to be by his side. "It will all be over at some point," he tells his wife. He smiles, but the gesture doesn't seem to reflect his real mood. Gustavo doesn't speak much. If there's one thing he struggles with every day, it's coming to terms with being separated from his baby boy. He hangs up the phone. "Do you think they'll keep extending the state of exception?" he asks me. My answer doesn't help calm his anguish.
I go back to reading the more than 250 pages of documents, which detail the judicial process that led to the family's acquittal in 2017. They confirm that the family was accused and arrested without any evidence connecting them to gang organizations. There's no doubt in their minds that everything they went through, and are going through again, is the result of specific police officers seeking to exact revenge for old vendettas. It would be impossible to report the details of this claim without exposing the family to more danger than they already face. Under the state of exception, even words must sometimes stay hidden.
Forced internal displacement has increased exponentially over the past ten years in El Salvador. According to a report published by the UNHCR in 2021, before the state of exception, some 71,500 cases of forced internal displacement were registered during the decade spanning 2006 to 2016. Between January and October 2021 alone, the Attorney General's Office (PGR) handled 1,170 reports of internal displacement.
El Faro contacted the PGR's press office to determine whether its Internal Displacement Unit had received any complaints from individuals or families forced to leave their homes due to the state of exception, but we never received a response — standard practice for public institutions under the Bukele government.
On June 21, 2022, El Salvador's Legislative Assembly extended the state of exception for a third time. That day, I was in the hotel with Gustavo, who was watching the livestream of the plenary session on his phone. He was listening attentively to the arguments that the representatives were making to justify the extension. "The state of exception has decreased homicides and people feel safer," they said, as they have been saying from the very beginning. But Gustavo got stuck on one phrase in particular, posted by multiple viewers in the video's comments: "If you haven't done anything wrong, you have nothing to fear." He said it out loud, baffled: "If you haven't done anything wrong, you have nothing to fear?"
That was the first day Gustavo shared his feelings with me. The pain came pouring out, all of a sudden, like he was vomiting it up: "We haven't done anything wrong, but look at us, look where we are. We've stopped working, we left our families, everything we've fought for. And I'm not afraid, because like everyone says, if you're not a criminal, you don't have anything to fear. I go out to buy things and I tell my mother, 'We can't be afraid, we need to act naturally, because we're not criminals.' But they're the ones who turned us into criminals!" Gustavo stops talking and loses himself in his cell phone again. He stays silent the rest of the afternoon.
Gustavo was accused of gang ties in 2017. He was the first in the family to be targeted. When his mother tried to intervene to stop the intimidation, the police formally accused her and her daughter Lorena of association with "terrorist organizations."
Gustavo says, without hesitation, that his family has twice been the victim of a system that is out to get them.
Under the state of exception, there is no guarantee of due process, no right to a defense, and this family knows it. Their fears are corroborated by every tweet from the National Civil Police (PNC), who regularly brag about arresting people simply for having a criminal record, or for having served a sentence. "We captured 2 dangerous gang members who would have been released today, after serving their sentence in Izalco [Prison]," the police tweeted on June 4. "They will return to their cells, this time for the crime of illicit associations, for which they face up to 30 years in prison," they added in a second tweet.
Like many Salvadorans, Norma, Gustavo, and Lorena know that there are no longer any legal mechanisms protecting them from being re-arrested for a crime for which they have already been tried and exonerated. They know, in other words, that if they are detained, they risk being subjected to double jeopardy — a form of re-prosecution expressly prohibited by the constitution.
"When a person has been previously prosecuted and their case has been resolved, whether through a dismissal or a conviction, and, in the case of the latter, that their sentence has been served, it is illegal for that person to be prosecuted again for the same facts alleged in the original case," explains Salvadoran attorney and criminal law expert Marcela Galeas. She underscores a series of problems compounded by the state of exception's assault on due process: lack of transparency, failure to provide legitimate justification for arrest, and insufficient information regarding criteria for detention. Galeas says these overlapping rights violations are creating a very dangerous situation.
"They're bringing cases where people are arrested just for having a criminal record, not for any specific criminal commission other than the one for which they were previously accused," she says. "So, what can they do? Nothing." And this — the lack of options, the lack of due process — is precisely why Norma, Gustavo, and Lorena decided their only option was to flee.
Lorena: The Persistence of Trauma
They can't keep paying for the hotel room. The money their friends gave them is running out. They've now been on the run for a little more than 100 days. Lorena scours the internet for leads on renting a room in a house: she checks ads on Facebook, the ones that pop up at the top of Google searches, but she can't find anything. Everything is too expensive for their budget. She's desperate. "I need us to be in a safe place. I don't mind sleeping on the floor, wherever, but I want to be safe. I don't want to sleep in hotels anymore — it's too dangerous," she says.
At one point, Lorena leaves me a voice memo making it clear that if they can't find a place to move, they'll have to consider turning themselves in. Surrendering without knowing why, surrendering to stop living as fugitives, surrendering to senselessness. I couldn't make out all the details, because her words were drowning in tears: "We have nowhere to go. We might as well give ourselves up," the message ended. Lorena has been the most affected by what the family is going through. When she speaks, she breaks down easily. Her trauma is on the surface. She takes medication to help her endure the reliving of her past.
The documents from the IML's psychiatric evaluations state that the whole family suffers from trauma, but that Lorena presents with a "severe psychological condition" and "suffers from anguishing and recurrent dreams." Sometimes Lorena dreams that they're coming for her, that the police burst in and arrest them. Lorena's nightmares are full of police. One night, she was up until 4 a.m., when she heard noise outside the hotel room. She could make out the muffled sounds of doors opening and closing in the distance, people whispering outside her room, cars parking by her window. For a moment, she thought it was just another nightmare. When she realized it wasn't, she curled up and clutched tight against her mother. Her first thought was that it was a police raid, like the one she went through in 2017 when she was arrested.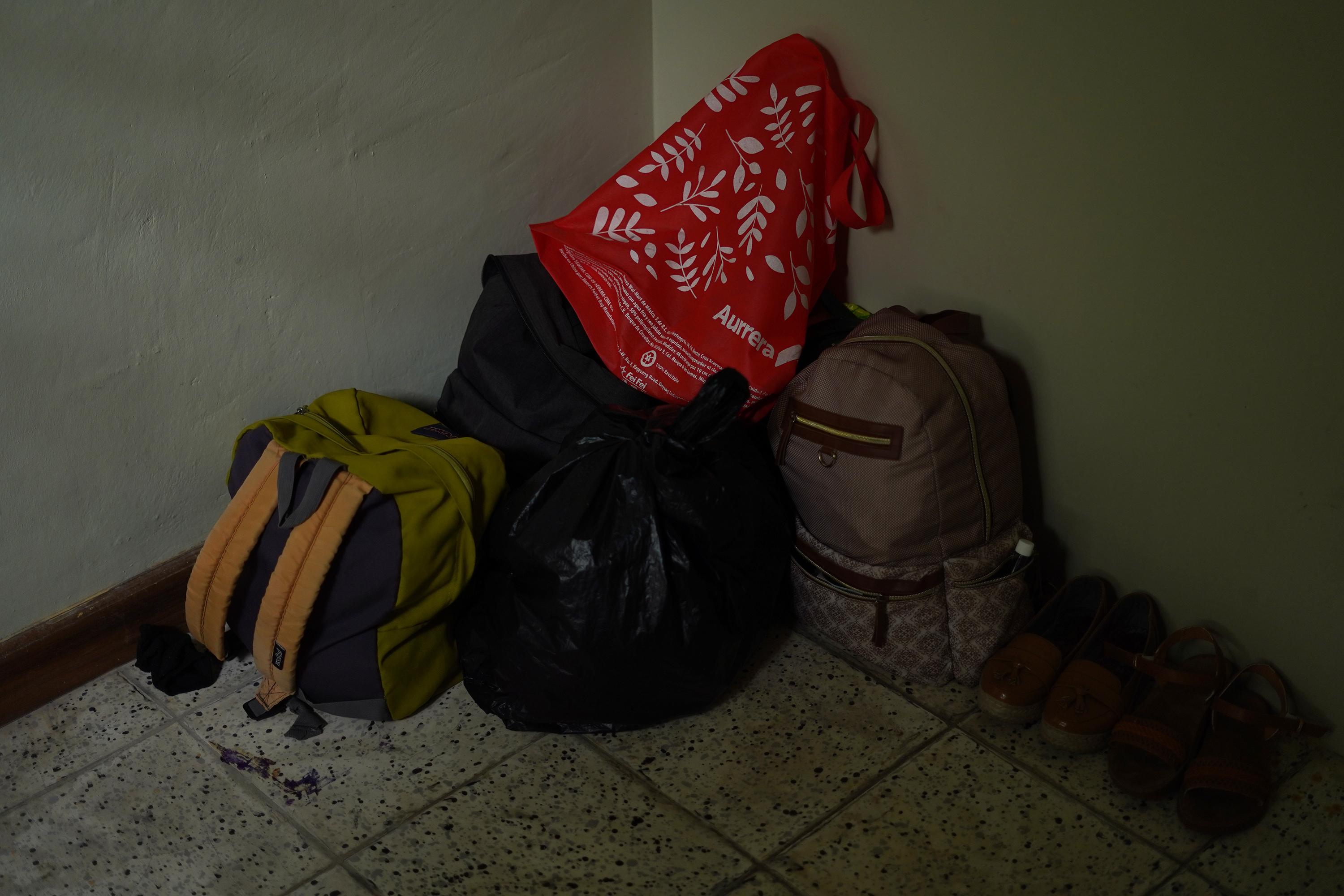 "We haven't slept at all. People are coming in and out of the place where we're staying. We're afraid los señores [the police] are coming for us," Lorena texted me the next morning.
According to the IML, this trauma is the result of her previous experience of detention and arrest. Not only does she have the daily fear of being taken prisoner, she also has permanent enemies: people who want to harm her wherever she goes.
In a parallel life, Lorena would be studying at university, realizing her dreams. But, she says, it's not life's misfortunes that are out to get her. It's the whole system — a system that wants her to pay for crimes she didn't commit. "They've been waiting for the right moment to get us implicated in something again," she says, referring to the police. "They ruined my life! My record! People never look at you the same once they smear you as a criminal."
***
Norma, Lorena and Gustavo found a new place to stay. In early July, they moved into a house. It's the sixth place they've relocated to in this 8,000-square-mile country we call El Salvador — "The Savior." The fifth was a small room they rented for just a few days. I have no way of knowing where they are now. They keep their location a secret, to protect their safety. And so far, they have managed to achieve their goal: to disappear inside their own country, and to escape a state of exception that shows no signs of loosening its grip.
*Translated by Max Granger