El Faro is an investigative newsroom that shines a light on corruption in Central America. Subscribe to our newsletter.

The June 25 elections saw the improbable outcome of social-democrat academic Bernardo Arévalo advancing to the presidential run-off on stark promises to halt the country's authoritarian slide and to facilitate the return of dozens of exilees.
But less than a week later, amid an intense smear campaign depicting Arévalo as an anti-family "communist", the Constitutional Court (CC) and Supreme Electoral Tribunal intervened in favor of a slate of establishment parties looking to delay the results on accusations of "fraud".
On Saturday night, the CC suspended the official results and ordered a review of the vote count reports, or actas, from polling centers around the country. The TSE reacted the next afternoon, complying with the order.
Despite the high court's assertion that the revision should not alter the August 20 date of the presidential run-off nor interfere with the alternation of power in January, and the TSE's setting of a reasonable deadline of five days for the review, there is a broad well-founded fear that these are steps to avert a presidency that could challenge governing elites.
On Sunday the Mirador Electoral, a coalition of observers of the vote including Transparency International, warned that parties' "intent to nullify the elections… without exhausting legal procedures with the corresponding authorities to resolve objections looks to create the conditions for an electoral coup, equivalent to a coup d'état."
On the steps of the court on Saturday night Arévalo called the situation "a danger to electoral integrity and to our democracy, which is being increasingly corroded by perverse legal schemes."
Behind the legal action were, among others, the UNE, of Arévalo's run-off opponent Sandra Torres; Vamos, of President Giammattei; Cabal, of ex-diplomat Edmond Mulet, who after polling in second finished in sixth; and Valor, of arch-conservative Zury Ríos, an early frontrunner who ended in a devastating seventh.
On Saturday they denounced "the great quantity of actas showing inconsistencies, alterations, and other discrepancies, which we can expose to the public without fear or uncertainty."
It was controversial enough that the CC admitted the motion given that, by law, the TSE is the forum of first recourse for complaints. What made it worse was the measure's disproportionality given the low number of objections on polling day: The TSE reported that parties had objected to 4,925 votes, less than 0.1 percent of all valid ballots cast.
The OAS observation mission called for respect for the results issued on June 26 by the electoral authorities. Together with the Embassies of Spain, Germany, France, Italy, and Sweden, the European Union asked Guatemalan institutions to respect "citizen's will, as clearly manifested in the June 25 elections."
The U.S. State Department warned that "undermining the June 25 election would be a grave threat to democracy with far-reaching implications."
The Giammattei administration, widely suspected to be responsible for a number of attempts to manipulate the elections throughout the past year, issued its own statement on Sunday calling for respect for "non-intervention in internal affairs."
"Amid the current confusion, certain actors who are unsatisfied with the election results are finding the opportunity to question the election in its entirety," Eduardo Núñez, Guatemala director for the National Democratic Institute, told El Faro English. "The risk is that the electoral regime in Guatemala could be completely dynamited."
"Exhaustion of the system"
The unrest gained steam on Friday when attorneys for Zury Ríos sued local vote counters in all 22 departments of the country and called for a do-over of the entire election.
It was a far cry from Ríos' initial concession, in which she asserted that the results "clearly represent a demand for change… I believe in democracy and I wish success to those competing in the second round." She later deleted the statement from her Twitter account.
Edmund Mulet, widely considered a moderate in a right-leaning field, initially declared, "Long live democracy!" Later, his party joined the legal action.
According to San Carlos University political scientist Luis Mack, "the 2023 electoral results demonstrate a deep exhaustion of the system, not only because of the 17 percent of null ballots, but because the first and second places barely add up to 28 percent of votes — the lowest figure since 1985," the year of Guatemala's transition from military rule.
The message of the polls elicited an expectedly emotional response. When the CC issued its ruling, an attorney for the Foundation Against Terrorism —which has openly supported Ríos— tweeted in capital letters: "A COMMUNIST WILL NEVER GOVERN."
Jorge Baldizón, the son of convicted money launderer Manuel Baldizón who launched an unsuccessful bid for Congress, promised on TikTok to request records on the creation of Semilla in 2017: "If we find any shortcoming, we will take the corresponding legal action".
He added: "We are totally against the '2030 agenda,'" echoing a far-right narrative condemning progressive causes like LGBTQ+ rights as foreign interventionism. Arévalo has said that his government would not push for marriage equality nor seek changes to existing abortion law.
Daniel Haering, co-founder of academic think tank Diálogos, argues that the moves against the vote count do not represent an organized political alignment, but rather a convergence of fears about a possible Arévalo presidency: "The Guatemalan political scene is highly fractured without strong leaders, and everyone is making their own play."
"The desire to bring everything to criminal court is a strategy that we've already seen in these elections, and it's a way to instrumentalize institutions like the Public Prosecutor's Office that they have co-opted," says political scientist Celia Luna.
Torres, the chameleon
For years it was Sandra Torres who, in the eyes of the Guatemalan Right, was a dangerous ex-guerrilla fighter as well as a pro-U.N. anti-family leftist. Now she is courting their vote by calling Arévalo most of those names.
Early last week she escalated her rhetoric, even winking to nationalism by calling Arévalo "Uruguayan," referring to his dual citizenship from his birth during his father's exile. (Four years ago, few seemed to mind that Giammattei has an Italian passport.)
Torres, too, is repeating the "2030 agenda" talk: "I cannot permit international agendas to come here and indoctrinate our children," tweeted Torres, whose running mate is a former Evangelical pastor. She added: "The Bible says Adam and Eve, not Adam and Steve."
Attuned to the hot-buttons, she called Arévalo a "puppet of Iván Velásquez and Thelma Aldana", the anti-corruption CICIG commissioner and former attorney general turned Semilla 2019 candidate, respectively, and asserted that he would "convert Guatemala into another Venezuela."
It's an effort to position her once Left-ish National Unity of Hope (UNE) party as "centrist" and Evangelical-conservative despite her career as a party boss without deep loyalties or ideological fervor.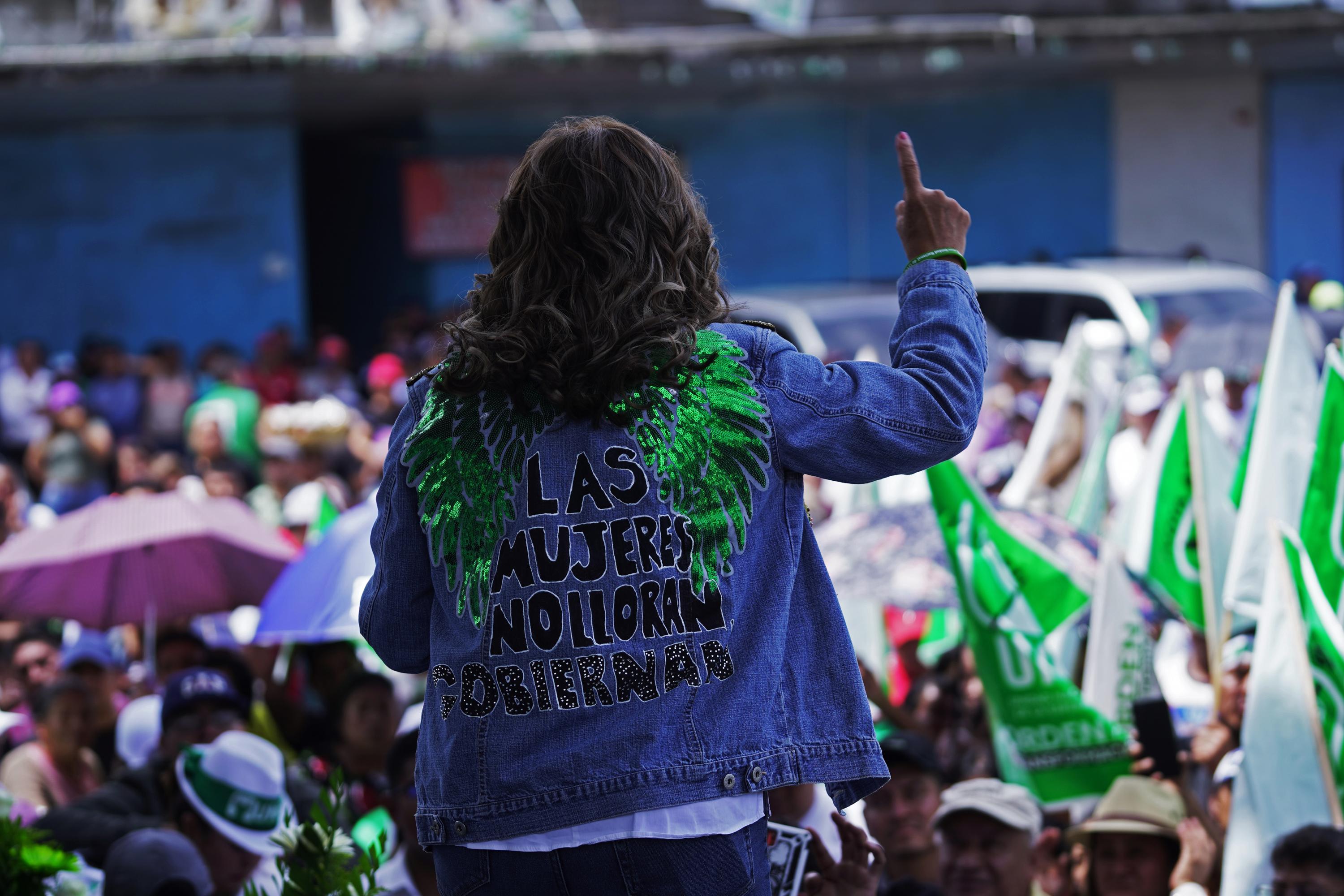 "We have to unsheath our machete to deal with corruption. Like Bukele in El Salvador, a jail for the corrupt," she tweeted, joining the host of candidates to make appeals —and even visits— to El Salvador in the hopes of securing Bukele's elusive endorsement.
Torres emerged weakened on June 25: In 2019 first-round polling she obtained over 1.1 million votes; this year, just under 882,000. Last Congress, her party swept up 40 of 160 seats, the most of any party. But this time the UNE won 28; Semilla gained from six to 23.
There are doubts as to whether Torres' pivot can actually play in her favor. The groups she is courting "have demonized her for 20 years. To think that they will have a change of heart in two months is a losing discourse," says Haering.
"But it shows that she's willing to do anything in her effort to win."
---
This article first appeared in the July 3 edition of the El Faro English newsletter. Subscribe here to tune into Central America.