El Salvador
Migration (don't use this one)
ef_english
My mother told us: 'I hope you never have to come back to El Salvador'
El Faro talked about the recent elections in El Salvador with six Salvadorans who left the country during the Central American migrant caravans. All of them—a mechanic, a day laborer, a DJ, and three brothers who work as bakers—expect never to return to the country where they were born. None has any hope that the candidates and their parties can make anything better.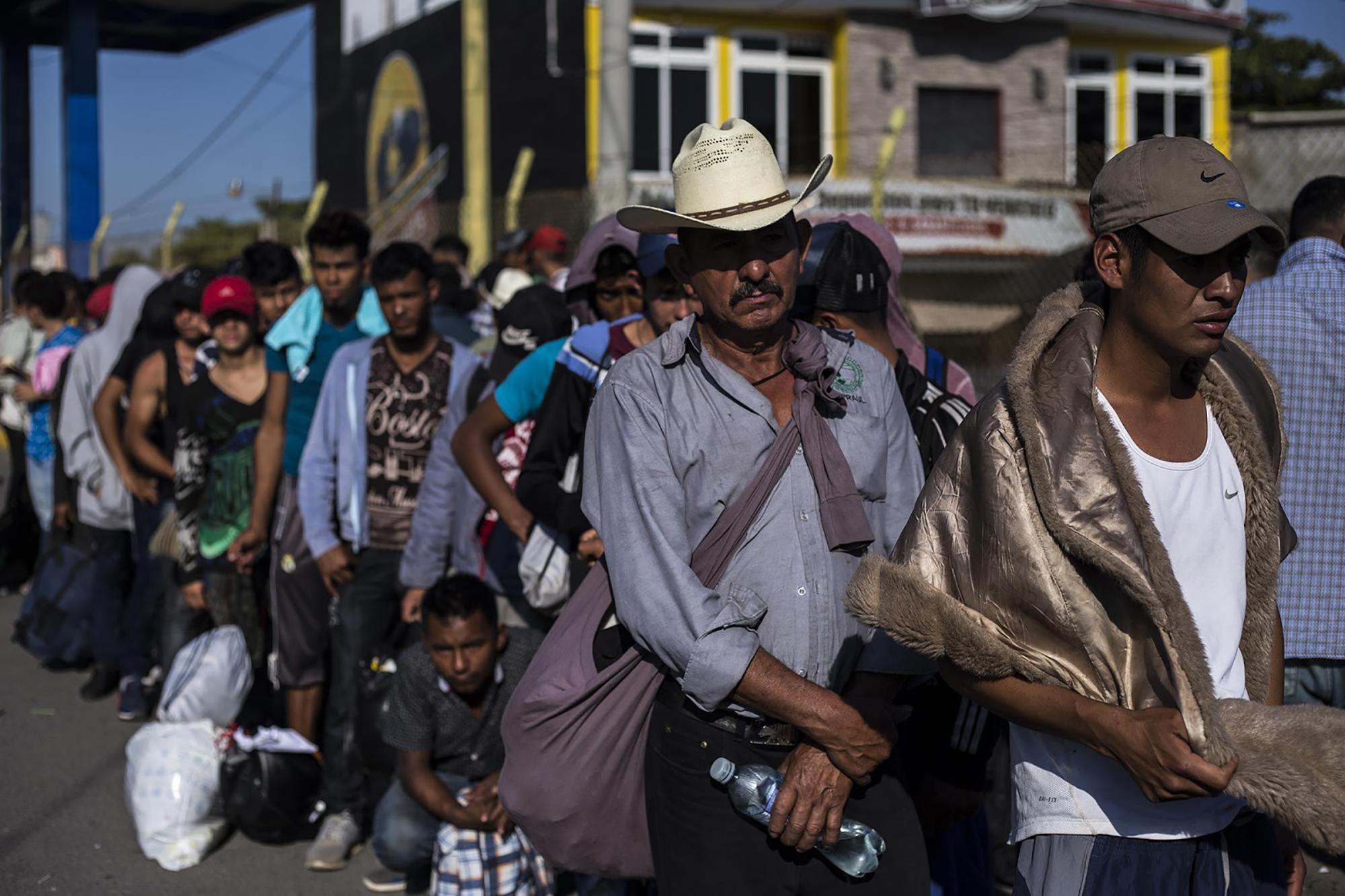 At first glance, it's hard to tell the difference between a Honduran and a Salvadoran: They wear on their skin the same signs of the sun; their accents have the same tone and tenor—an overabundance of thick, guttural "Js" ["Jotas," pronounced Ho-tahs] and that neutral croon that's so difficult to imitate. Most have rough hands, the product of years of physical work, but when they speak, they overuse the diminutive, giving the false impression that the places they come from are prone to tenderness.
Neither has the telltale sing-song of the Guatemalan or Nicaraguan, or the faint "r" of the Costa Rican. The word "chele" is always on their tongue, or the everyday "cerote" and "comodín," or "hijueputa," solid as a mallet, equally capable of signifying both an unforgivable insult or a token of the purest friendship.
The journey these migrants take doesn't help either: it imposes the same needs, the same hats, the same backpacks, the same broken and blown out shoes, the same distrustful outlooks, and the same questions.
"Do you know where the bridge is?," a man asked me—very near the bridge—as I wandered around the municipality of Ayutla trying to find Salvadorans to speak with about politics and the presidential elections. It was midday on Saturday, January 18, when hundreds and hundreds of Central Americans began to converge on that Guatemalan town on the border with Mexico.
Carlos was looking for the Rodolfo Robles bridge because he had heard a remarkable rumor: the Mexicans were no longer deploying teargas against members of the Central American migrant caravans; they were no longer using helicopters to terrorize those who crossed the Suchiate River to sneak into Chiapas. He had been told that they were now granting "permission to cross," simple as that. And he wanted to see it with his own eyes.
So we walked together toward the bridge. "What part of Honduras are you from?," I asked him. "No, man, I'm Salvadoran," he said, head down, as if it were a bad thing. "Right on," I said, with a big smile. He looked me up and down, frowning and curling his brow. After a few seconds, he said, "Not really."
Carlos is from Nahuizalco, Sonsonate. He is 34 years old, but looks much older, and he answered my first questions about the presidential candidates by quoting verses from the Bible: "The word says that in the last days things shall be seen," he said. "Like what things?" I asked him, assuming that we were in the last days. "All this, all this that you see now," he replied, assuming that I knew what "all this" was.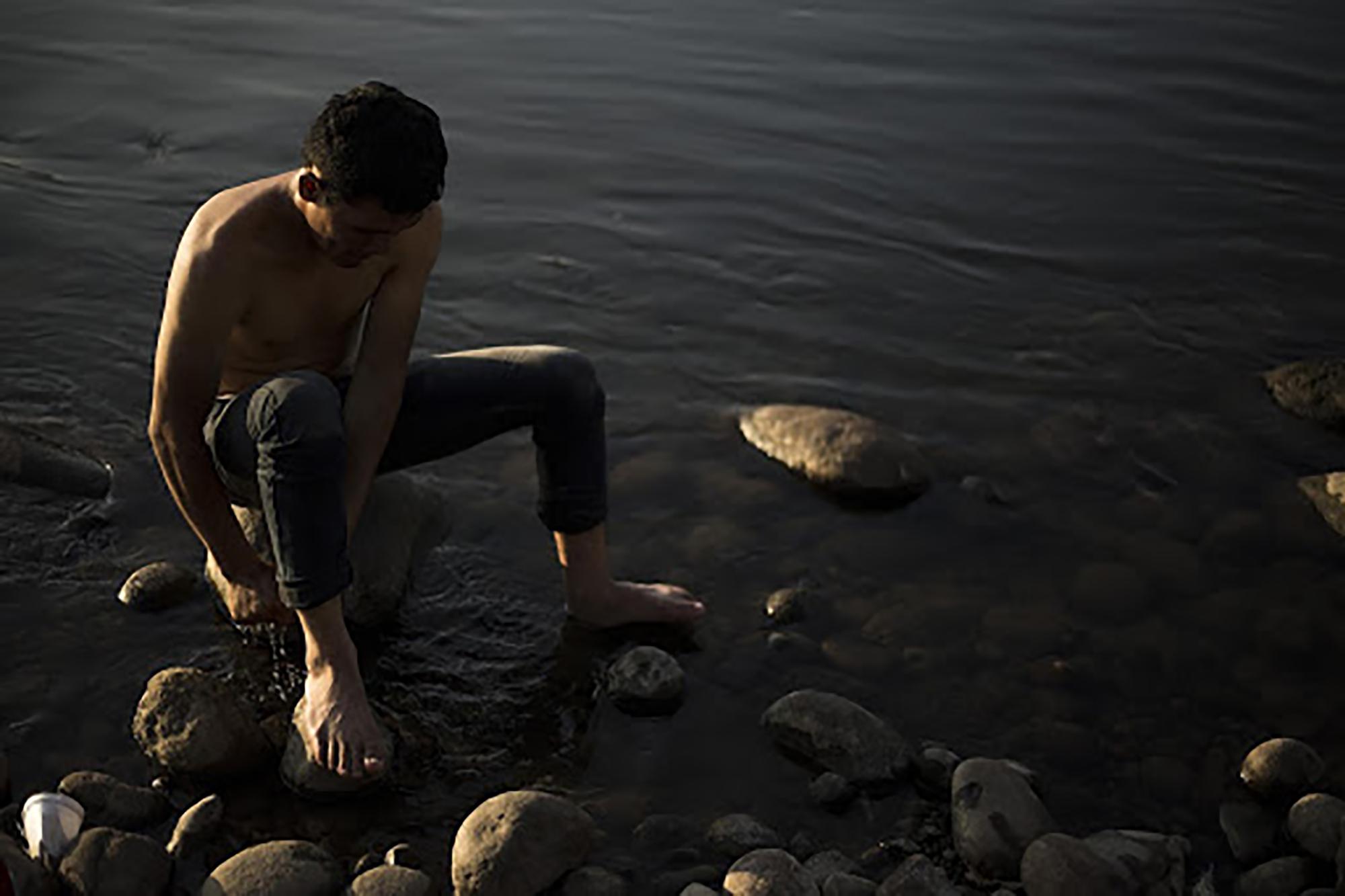 The Mara Salvatrucha-13 terrorized Carlos. He won't even speak the name of the monster who came into his mother's tortilla shop one day to demand she pay the gang an impossible amount of money. His mother had to close the tortillería and Carlos became solely responsible for feeding the family: two younger sisters and his mother, who now turned to him for answers.
From the age of 19, Carlos had worked as an auto mechanic, a job for which he holds no degree or title—he learned by watching his father take apart engines. He worked in a shop that charged mechanics to use the space and tools—until the Mara Salvatrucha-13 showed up there as well, demanding extortion: $200 dollars per worker, every month. "And where was I going to find that kind of money?" So he left the shop, hit the road, and found himself in Ayutla.
"But elections are coming, Carlos. Don't you think there's a chance that things could change?" I said, prodding him toward the heart of the matter. "Look, we're all grown up now," he replied, as if I had asked him about Santa Claus. Carlos doesn't believe there is any human force capable of changing anything, at least not for the better. The only one who can fix things, he said, is God—and since God is not a candidate for president in El Salvador, he wasn't interested in talking about it any further.
When we arrived at the Rodolfo Robles bridge, Carlos discovered that things weren't quite as simple as just walking over into Mexico: hundreds of people formed a kilometers-long line as they waited their turns to be registered by Mexican customs.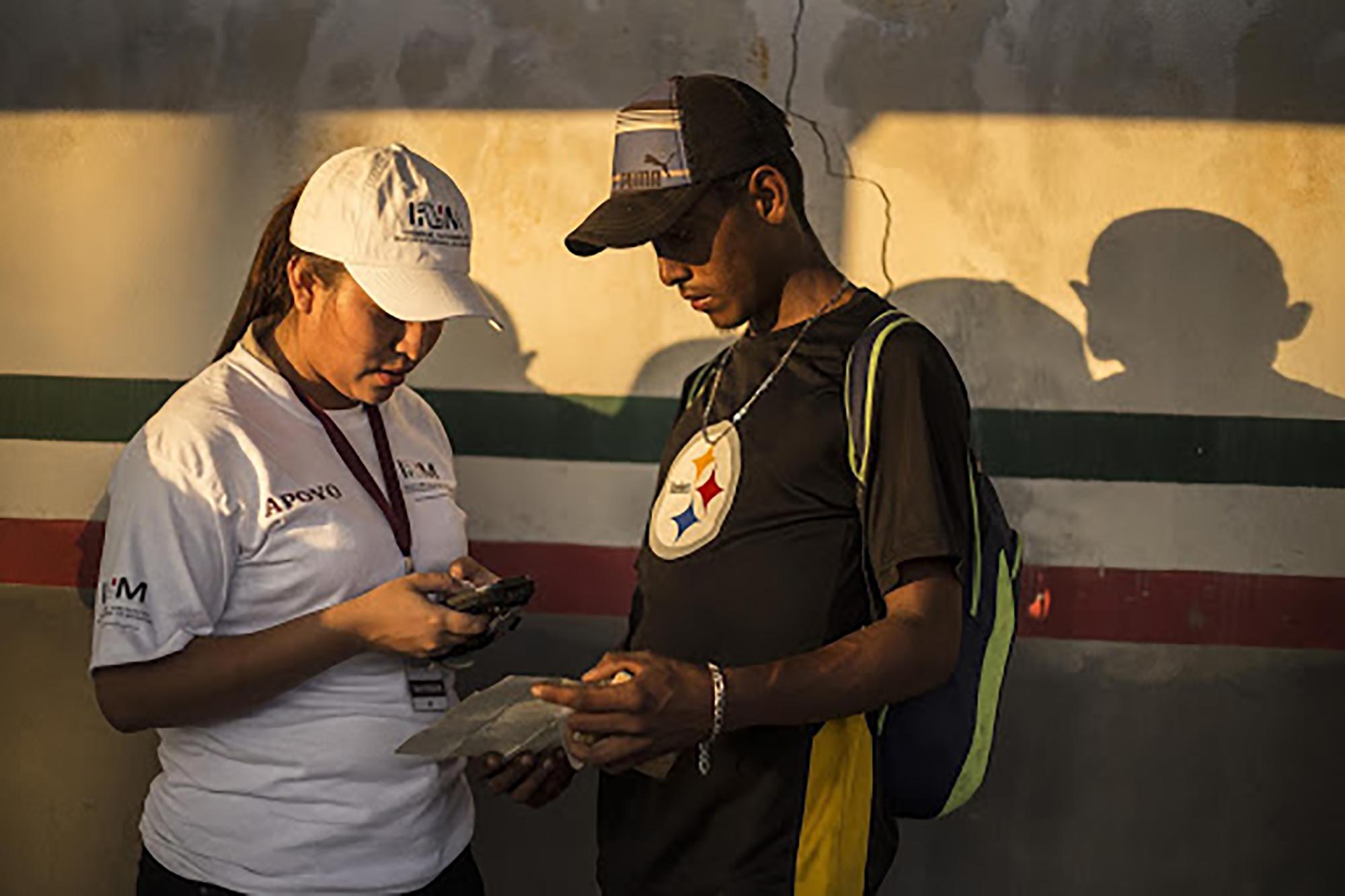 Although the immigration authorities had set up several awnings along the bridge, there weren't enough to shelter the whole crowd, so Carlos, who for a time was the last in line, had to wait in the harsh and unforgiving sun as his patience quickly melted away.  "Thank you," he said, followed by "Goodbye," which I correctly interpreted as "Stop asking me stupid questions." So I had no choice but to continue on my way, walking down that long lineThe day before my conversation with Carlos, 2,373 people had registered to apply for a humanitarian visa, among them 1,933 Hondurans and 262 Salvadorans. That line across the Rodolfo Robles bridge has now become a fixture: as the days pass, it has neither dwindled nor disappeared. One week later, the number of people registered was at 10,466: 1,203 Salvadorans, 1,396 Guatemalans, 7,644 Hondurans, 206 Nicaraguans, seven Haitians, two Cubans, two Brazilians, three people from Angola and one from Ecuador.
"A bag of dog food"
Election days don't bring up such bad memories for Joaquín Ernesto, who in past elections has found work as an assistant for both the Christian Democratic Party (PDC) and the National Coalition Party (PCN). It's simple, he says: you work from four in the morning until well after nightfall, delivering packages, helping people whose names don't appear on the official voter lists, carting around water and food. All day, for ten dollars.
"Plus a little food," adds Joaquín, to complete the list of job benefits. For him, it's a terrific deal: a whopping ten dollars, plus a meal for the day, is much better than what the day labor bosses offer. On top of that, he gets the extra satisfaction of playing a kind of prank: When he works, he wears a vest with party colors, but he has never voted in his life—not for anybody. "They would hand out a ballot and I would throw it away," he said, smiling through the metal that crowns a few  of his teeth.
Joaquín Ernesto is 27 years old, from the town of San Ignacio, in the municipality of Chalatenagno. I noticed him when his loud and sonorous voice boomed through the crowd, shouting "Cipote" to get the attention of a young boy. The only way Joaquín has been able to survive in El Salvador is by working the land—unfamiliar land, whose owners hire him to bend his back in the tomato, squash, radish, or cabbage fields for six dollars a day. Or, when he is afforded that rare luxury known as overtime: seven dollars a day.
"It's hard to live on this," he told me, "even harder since my wife underwent kidney stone surgery and I had to go into debt." In short, Joaquín Ernesto is a very poor campesino.
After waiting some 26 hours, he found himself among the first in line, and it was almost his turn to register as a humanitarian visa applicant. He spent that time making friends with those waiting with him, all Hondurans. 
"Look, I don't care if they tell me one bullshit lie or another bullshit lie," he told me when we finally got into it and he gave me a quick lesson in practical politics: "That's how my brother was—at first he followed the Frente [Farabundo Martí National Liberation Front, or FMLN], then he supported ARENA [Nationalist Republican Alliance]. Everywhere he went he walked around waving that little flag. But everything stays the same—he's a worker, same as me."
Joaquín had another brother who left farmwork to pursue carpentry. "They left him lying there, next to his chainsaw, as they drove by, shooting from the car." He never found out why they killed him—no one ever provided any explanation to Joaquín or his family. As he sees it, in cases like these it's best not to go around asking too many questions, lest death turn around and set its sights on you. Better to just resign yourself as quickly as possible and get back to harvesting radishes.
That's what politics are to him: something completely useless—except on election day, when he can earn ten dollars, plus "a little food."
A Honduran man listened attentively as we talked, eager to get a word in. Politicians and presidents, he offered without anyone asking, are worthless. "This president of ours (Juan Orlando Hernández) would only be of any use if someone ground him up and turned him into a little bag of Doggie," referring to a brand of dog food. "At least then you could feed him to the puppies," added Joaquin Ernesto. As I walked away, they were still laughing.
DJ
"I was beside myself when (ex-president Mauricio) Funes won, happy, thinking the country had changed. And now where is he? Hiding in Nicaragua. And Nicaragua won't hand him over—they'll take him in. I voted for that idiot. I voted for Carita de Nuégado too. And nothing. Nothing," Hever (with an "H") tells me, by way of confession, after I reveal to him my own sins. "Politics never reaches the people," he says.
I knew that Hever was Salvadoran when I heard him talking to the others in line, explaining that in El Salvador, despite being paid in dollars, "it's not the same" as in the United States. He was determined to find out the official exchange rate of the dollar to Mexican peso—but just out of curiosity, since he didn't have a single dollar to his name.
Hever considers himself lucky. He left El Salvador with one dollar and ten cents, which was enough to get him from San Miguel to the Mexican border. "Look, I haven't walked at all. I left at one in the morning and by nine at night I was already here."
He liked bragging about his luck, about the truckers who gave him long rides, or the generous Guatemalan who gave him 85 quetzales ($11 dollars), or the Honduran who sold his cell phone so that they could pay for food and a ride for two.
Hever doesn't have a campesino lilt to his speech. He has a tattoo on his right forearm and an earring in his left ear. He wears a stylish haircut, is not very tall or very short, and is talkative by profession: he worked as a DJ for a mobile outdoor party outfit, with  "full luces y full video," as he describes it. Of course, the DJ and party setup wasn't his, but the owner would lease it out to him and Hever would take it around to different towns and villages in the department of San Miguel. "You work two times a week and earn about $150 dollars for that week. This is very good," he said. But, unsurprisingly, Hever's luck took a turn for the worse.
"I came here because of some trouble," he said, not wanting to get into details. "Wherever we went in San Miguel, we had to pay the gang to let our crew in. They would lift everyone's shirts, looking for gang tattoos. Sometimes you pay $50 for the whole crew, or $100 dollars for one gig. You're working for them, and they don't mess around," he explained, hinting at the "trouble" he had mentioned.
Hever cares a lot about having well-informed and competent opinions about politics. He is sure that the next president of El Salvador will be Nayib Bukele, but he's skeptical: "Maybe they will get some things done during the last two years of Nayib, because he'll want to strengthen the party so that they can continue governing through someone else. Even more now, since people don't want to vote for ARENA or for the Frente."
Before leaving the country, Hever managed to see a presentation on Bukele's plan for governing, and he had some sharp observations to share: "What the fuck is the point of an airport in San Miguel? What benefit am I going to get out of an airport? I'd like to see them open a bunch of factories and plants that could provide work for all the vagrants wandering the streets. They don't have this over in Oriente. They want to open an airport in this tiny country. Since when does anyone believe that this will revitalize the area? They said the same thing about the Port of Cutuco," he groaned.
Hever likes to stay informed—that's why he's here: he learned about Mexico's new immigration policy that offers identity cards, with permission to work, as well as to enter and leave the country without restrictions. "This means that now you don't have to go to prison and then get sent back to the same mess you got out of." The same mess, he said, lighting a cigarette he had pulled out from behind his ear.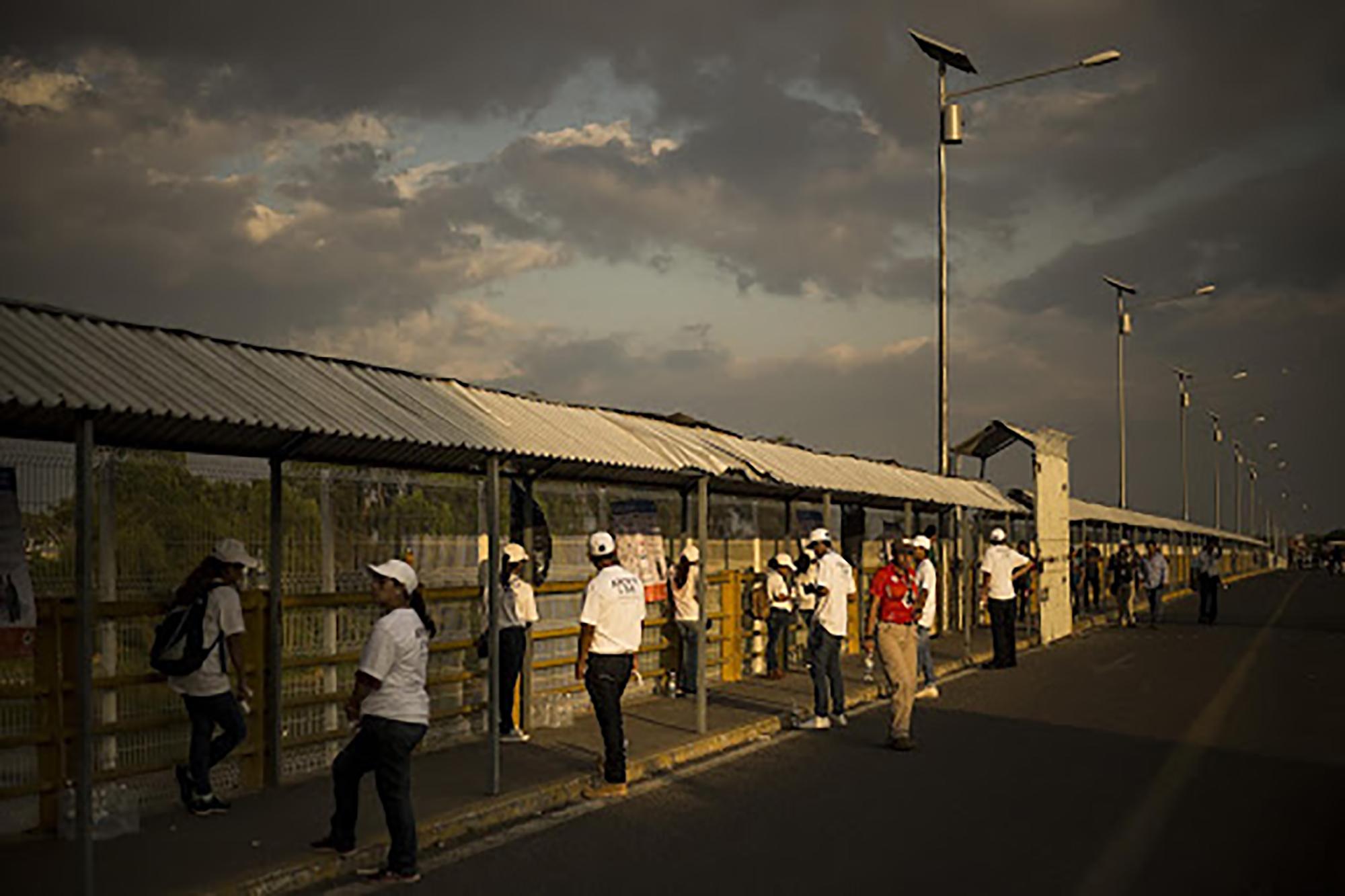 Don't Come Back
Cristian, Jairo, and Balmore are, without a doubt, cut from the same genetic cloth. It comes as no surprise to learn that they are brothers. Three young Salvadorans, short and stout, with straight hair damp from sweat. They had just joined the line on the part of the bridge where there are no more awnings, and the sun rules mercilessly.
The three brothers are very close. Cristian, the oldest, is 25 years old and is the group's official spokesperson. Jairo is 23, and Balmore is 22. Between all three, they have five kids who have grown up together. Each one of these young men owns his own home, built on communal land in the municipality of Izalco, in Sonsonate; thus, they live—or used to live—in a kind of family commune, along with their mother, for whom they all feel great love and devotion. Their section of shared land had enough space to open a small bakery—a business that supported the family with enough food to eat. Or, that should have supported the family.
Cristian, Jairo, and Balmore are well-versed in expressions that celebrate the benefits of being part of a strong family. "The strength of the pack is in its unity," recited Balmore, sincerely. Jairo gave it a shot: "Remember, one lone swallow… doesn't make… I mean, she doesn't like to make a nest for just one bird."
The problem is that there are bigger packs: "The bakery was just getting going, and we started having problems—with our debts, and with the cipotes," Cristian said. Of course, when he talks about the cipotes, he's not talking about his kids, but about the gang members who had begun demanding extortion.
"Because now, if you're starting up a business, you have to pay a fee to be allowed to work. The country is beautiful, but the problem is the gangs—they're out of control. Every president promises the same thing. That the gangs, that the criminals...But the gangs control the country," said Cristian, who feels responsible for his younger brothers.
Cristian had crossed into Mexico before, and for a while had lived there undocumented. He worked for a few months in Monterrey, but had come back to help out in the bakery and to be with his family.
In some respects, the three brothers are able to see the glass as half full: For example, they acknowledge that the government programs that "gift" uniforms, shoes, and school supplies to the community are a huge help for precarious economies like theirs. This makes it possible to send their kids to school. None of the three brothers managed to make it past ninth grade: "Our parents couldn't afford for us to stay in school and get a diploma. With a diploma, you can manage," lamented Cristian.
"Look," said Jairo, "Bukele is the same because he's teamed up with GANA, a conservative political party founded in 2010. It's all a scam. All of those parties are right-wing. It's the Right," he said, as if saying "Right" explained everything. "All the politicians that were with GANA are with Nayib now," he said. The founder is Tony Saca, and he's in prison for corruption. I don't know exactly how much they stole, but it was a lot."
When they were young, said Balmore, things were dangerous too. As proof, he points to a scar on his left cheek, a reminder of the time a group of police caught the three brothers playing cards and decided this--being lazy--was reason enough to beat them. 
"Nothing changes anymore. Nothing can change. Whoever wins, wins. Now, with the whole gang situation, nothing can change," concluded the oldest brother, then something tightened up in his throat and he had to take a few seconds. Recomposing himself, he continued: "The whole family cried when we left. The three of us brothers are all there is. We all live together. We have a big house and we all live there together."
There, on that sun-baked bridge, the three boys made an oath, promising to the heavens and to each other that they would come back for their mother, that they would save money and come back and live together, in a home, like they were always meant to live. They promised that they would never forget her, that they would break their backs, do whatever it took, but sooner or later they would once again be a pack, or a flock of swallows, and none of them would nest alone.
"What was the last thing your mother told you before you left?" I asked. There was an uncomfortable silence. The three Hondurans circled up to hear Cristian's answer, which came out in a whisper. "That she hoped we would never have to come back."
*Translated by Max Granger
Apoya el periodismo incómodo
Si te parece valioso el trabajo de El Faro, apóyanos para seguir. Únete a nuestra comunidad de lectores y lectoras que con su membresía mensual o anual garantizan nuestra sostenibilidad y hacen posible que nuestro equipo de periodistas llegue adonde otros no llegan y cuente lo que otros no cuentan o tratan de ocultar.
Tú también puedes hacer periodismo incómodo. Cancela cuando quieras.
Te necesitamos para seguir incomodando al poder.
Conoce
acá
cómo se financia El Faro y quiénes son sus propietarios.
elfaro.net/en/202001/el_salvador/23910/My-mother-told-us-%EF%BF%BD%EF%BF%BD%EF%BF%BD%EF%BF%BD%EF%BF%BD%EF%BF%BD%EF%BF%BD%EF%BF%BD%EF%BF%BDI-hope-you-never-have-to-come-back-to-El-Salvador%EF%BF%BD%EF%BF%BD%EF%BF%BD%EF%BF%BD%EF%BF%BD%EF%BF%BD%EF%BF%BD%EF%BF%BD%EF%BF%BD.htm

PP:
PC:
PN:
PT:
items_count:
items_pivot:

YY:

MM:

FI slug:
FI name: January 2020
FI sort:

FT slug:
FT name:
FT sort:

FS slug:
FS name:
FS sort: