Migration
El Salvador
United States
Transparency
ef_english
El Salvador Backs U.S. Claims that Ongoing Deportation Flights Are Coronavirus-Free
Amid El Salvador's weeks-long national quarantine, some 1,500 Salvadorans have returned on deportation flights from the United States and Mexico. Whereas Guatemala called off all deportation flights after confirming 50 cases of Covid-19 among deported migrants, El Salvador continues to back the claims of U.S. officials that Immigration and Customs Enforcement (ICE) is not deporting anyone testing positive for Covid-19 to El Salvador. Meanwhile, the government announced that it would reopen its borders on May 1 to Salvadorans stranded abroad.
Editor's Note: This translation has been abridged from its original version.
Just before noon on Tuesday, April 21, a commercial plane carrying thirty Salvadoran deportees touched down in San Salvador. Officials escorted the group to the offices of the Autonomous Executive Port Commission (CEPA in Spanish) in terminal one. While generally open to the press, the area has been closed off since the quarantine took effect as a preventative measure. "Unless you're from the president's press department, you can't go in," an official told El Faro at the entrance. The Salvadoran government alleges that the deportees have not been infected with Covid-19.
The group's arrival is yet another indicator that the Salvadoran government's quarantine has not stopped the flow of deportees from the United States, which, having registered almost 1 million positive cases and 56,000 deaths to date, has become the global epicenter of the new coronavirus pandemic. The Salvadoran government has even contradicted U.S. human rights monitors reporting that immigration authorities are failing to treat symptomatic migrants in their custody, even as U.S. prisons, jails, and detention centers become hotspots for contagion. 
Guatemala, in contrast, has ruled that it would no longer receive deportees from the United States. President Alejandro Giammattei took to national television on April 17 to announce that his government would suspend deportation flights "until [the U.S.] can provide us with bills of health certifying that the passengers are free of the coronavirus." The move came after the Guatemalan government discovered roughly 50 cases of Covid-19 across multiple deportation flights. 
From March 16 to April 17 alone, El Salvador has received 1,500 deported migrants, including 46 unaccompanied minors, from the United States, according to the Salvadoran government. A deportation flight from Mexico also arrived on Thursday, April 23, carrying 41 people—most of them pregnant women and children who had been staying in Tapachula, Mexico. Upon arrival, the government sends deportees to quarantine facilities for a period of 30 days. The government has refused to disclose information about the health of these returning Salvadorans to the press. "At this time we have no information to share with the press about the condition of returning Salvadorans," Astrid Ávalos, spokeswoman for the General Directorate for Migration and Foreigners told El Faro on Tuesday, April 21. 
Hours later, her office claimed via social media that U.S. immigration authorities test deportees for the virus before departure, sending those testing positive to a healthcare provider on U.S. soil.  Yet the minister of health, Francisco Alabí, said in a press conference that deportees are a "high-risk group" as they are returning from a country "where the virus is actively spreading." When asked about positive cases among deportees, he only said: "It's a group that, at some point, will likely be affected."
At the time of publication, ICE confirmed 287 positive cases among detainees, along with 32 cases among its employees. By Tuesday, April 21, it had only tested 425 of the 32,000 people in its custody. The Washington Post has reported that ICE is not testing deportees; rather, it is only taking their temperature. The U.S. Embassy in El Salvador redirected El Faro's requests for comment to ICE, which, at the time of publication, declined to respond.
Conditions in government quarantine facilities shrouded in secrecy
Salvadoran officials have also declined to share deportees' health information with the Human Rights Ombudsman. Deputy Ombudswoman Beatriz Campos, the lead monitor of deportees' state of health, said that by Saturday, April 19, the government had shared a list of 500 deportees who had tested negative, but that they have yet to disclose information about the remaining thousand deportees.
César Ríos, director of the Salvadoran Institute for Migration (Insami), a non-governmental organization working on issues related to the Salvadoran diaspora, reported that the government allowed Insami to witness the first group of deportees arriving during the quarantine on March 17. Doctors checked each person's temperature and asked if they had symptoms, according to Ríos. That was the last time that his organization was able to observe the health inspections.
"The Ministry of Health is assessing the humanitarian conditions of each returning flight, so we can guarantee that the people are healthy, said Ricardo Cucalón, director of the General Directorate for Migration and Foreigners, in a press conference on April 22. "None of our [quarantine] centers are contaminated in the slightest."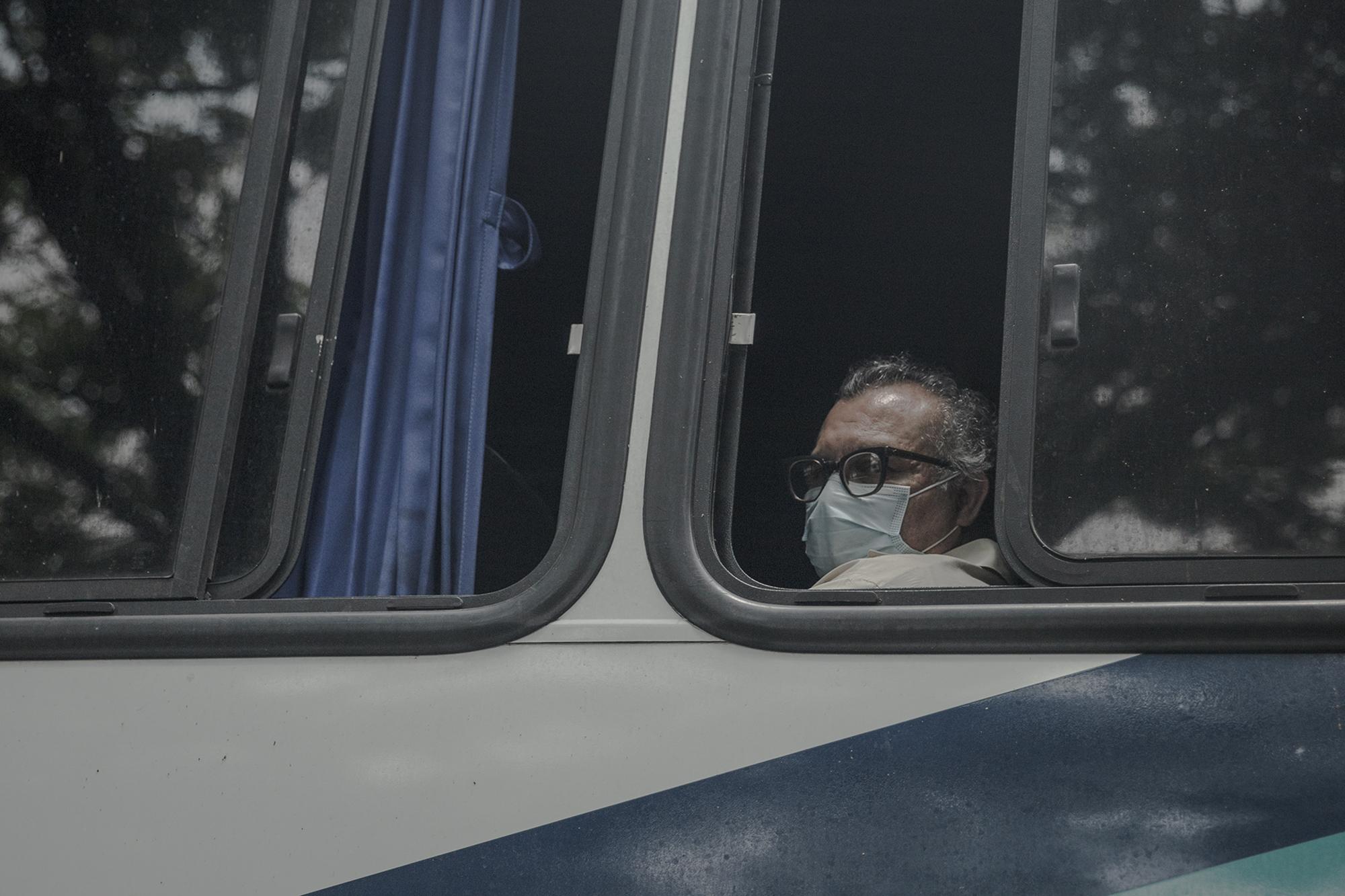 El Faro gained access to a General Directorate report on the nine governmental quarantine facilities housing 746 deportees. The last group named in the report, of 37 people, was admitted into the system on April 10 and sent to wait out the quarantine on the basketball courts of a public sporting facility already occupied by 172 people accused of violating the quarantine. According to the Human Rights Ombudsman, the most-recently admitted group has not mixed with the others detained there. 
There are other quarantine facilities that do not appear in the official report. Police sources told El Faro that a group that arrived on Tuesday, March 14, was transferred to a facility by Lake Coatepeque, Santa Ana. Similarly, the Ombudsman reported that a group of 40 deportees with arrest warrants were sent to a facility in La Paz.
El Faro attempted to verify the final destination of the group of 30 deportees who arrived on Tuesday, April 21, but police officials in charge of transport refused to comment. Later, a police checkpoint at the Comalapa highway exit prevented El Faro from following the minibus transporting the group to its destination. "The ranking official traveling with the unit told us that you were following them," said the agent in charge when asked for the reason for the stop. "But we'll let you continue on in a second." Five minutes later, they released the team from the checkpoint, but by then the team of reporters had lost sight of the minibus.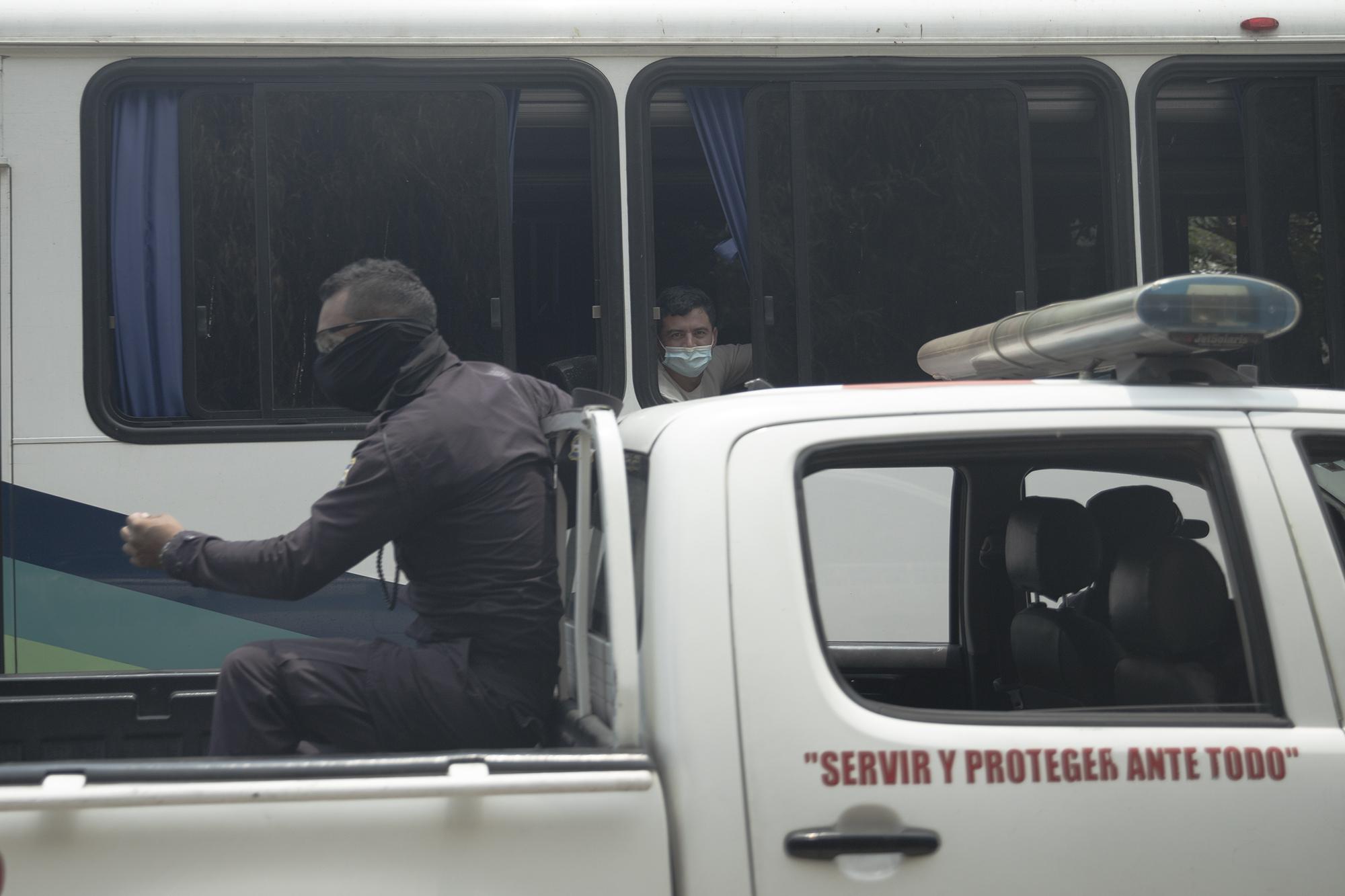 El Salvador will allow citizens stranded abroad to return home
Even as the airport in San Salvador continues to receive deportation flights, 4,500 Salvadorans remain stranded abroad. That said, the executive branch, Ministry of Foreign Affairs, and the General Directorate announced a legislative proposal on Wednesday, April 22 that would allow citizens to gradually return from abroad. The move represents a pivot by Bukele, who has been under pressure from the Supreme Court and Legislative Assembly since mid-March, when the borders and international airport closed for most purposes, to authorize the citizens' return while upholding the quarantine and preventing contagion.
The move comes two days after Bukele vetoed a bill passed by the Assembly compelling the Ministry of Health to devise a plan for their return, arguing that signing the bill would constitute a "grave violation of [residents'] rights" because the quarantine centers were unfit to receive 4,500 more people from abroad. Alexandra Hill, minister of foreign affairs, called instead for their gradual reentry.
Bukele's change in course, however delayed, fulfills an order from the Constitutional Chamber to present "a plan for gradual repatriation" of Salvadorans stuck abroad. The court established that preventing repatriation is a violation of the right to freedom of movement, and asserted that the emergency measures passed on March 15 placed no restrictions on that right. The court gave the administration until April 14 to comply, but Hill wrote to the Chamber indicating that generating an accurate list of citizens abroad would require at least 30 days.
Manuel Carranza, an attorney and consultant for international affairs and business who is stranded in Mexico during the pandemic, estimates that, given the airport closure, only about 900 of the 4,500 Salvadorans abroad would have the means to plausibly return home, most of them from Mexico, Panama, Costa Rica, California, and Miami. While Salvadoran authorities claim to be in constant contact with deportees, Carranza and other Salvadorans abroad who are not subject to deportation have reported that they have not received any response from their local consulates. By law, consulates must "facilitate the repatriation of Salvadoran citizens as necessary, by intervention or support."
During the same press conference on Wednesday, April 22, Conan Castro, legal counsel to Bukele, announced a new executive order to martial resources—sanitation, food, and quarantine lodging—for citizens arriving from abroad. He also announced that the borders would reopen for Salvadorans on May 1, after 41 days of closure. "We're still sorting out the details with the airlines; it will largely depend on people's vulnerability," added Castro.
If the government complies with the Constitutional Chamber, elderly people and pregnant or lactating women would be among the first allowed to return, followed by parents with young children and those whose health leaves them especially vulnerable.
*Translated by Roman Gressier
Apoya el periodismo incómodo
Si te parece valioso el trabajo de El Faro, apóyanos para seguir. Únete a nuestra comunidad de lectores y lectoras que con su membresía mensual o anual garantizan nuestra sostenibilidad y hacen posible que nuestro equipo de periodistas llegue adonde otros no llegan y cuente lo que otros no cuentan o tratan de ocultar.
Tú también puedes hacer periodismo incómodo. Cancela cuando quieras.
Te necesitamos para seguir incomodando al poder.
Conoce
acá
cómo se financia El Faro y quiénes son sus propietarios.
elfaro.net/en/202004/el_salvador/24355/El-Salvador-Backs-US-Claims-that-Ongoing-Deportation-Flights-Are-Coronavirus-Free.htm

PP:
PC:
PN:
PT:
items_count:
items_pivot:

YY:

MM:

FI slug:
FI name: April 2020
FI sort:

FT slug:
FT name:
FT sort:

FS slug:
FS name:
FS sort: