"They call us parasites, but we're not — we're people."
The old man elbowed his way into the noisy crowd that was trying to talk to us about their situation, and raised a bony finger. With the solemnity of a sharecropper, he flatly stated the obvious, "We're not parasites — we're people."
La Libertad
In November 2020, the year of the pandemic, after having reported on the devastating impacts of hurricanes Eta and Iota, we were trying for the second day in a row to leave San Pedro Sula on the highway to Tegucigalpa. Our first attempt was thwarted because a long stretch of the four-lane highway was so deep underwater that rescue teams were racing over the asphalt in motorboats.
The 2020 Atlantic hurricane season produced 30 named storms. Two of them became Category 4 hurricanes and made landfall on the Central American coast within two weeks of each other, slamming the northern coast of Honduras particularly hard.
Hurricane intensity is measured on a scale of 1 to 5 — the Saffir-Simpson scale — named after the two men who created it. Category 4 hurricanes produce winds of 250 kilometers per hour and it's incredibly rare to be hit by two in a single season, which is why World Meteorological Organization spokesperson Clare Nullis complained about running out of adjectives to describe that historic season.
It rained and rained in the Sula Valley, the economic engine of Honduras, drenching almost everything. It exposed the area's crushing poverty, rotted crops, flooded factories, destroyed bridges, and wrecked so many houses that still no one knows exactly how many. The rain flooded the roads to San Pedro Sula, cutting off all access to the city.
We made our second attempt to leave the Sula Valley as the waters began to recede. The road was clear and the Ulúa River, wide and murky, was slowly returning to normal. On one side of the road, I saw a calm lagoon stretching as far as the eye could see, or so I thought. Photojournalist Carlos Barrera spotted a roof just above the surface, and then another. The entire lagoon was dotted with tin roofs. A woman and her daughters were surveying the disaster from the roadside. She told us that the lagoon was actually a community, and that she used to live there in her humble home. The first hurricane flooded everything, she said, and just as soon as the earth had absorbed most of the water, the second hurricane flooded the area again. She told us the name of the community was La Libertad.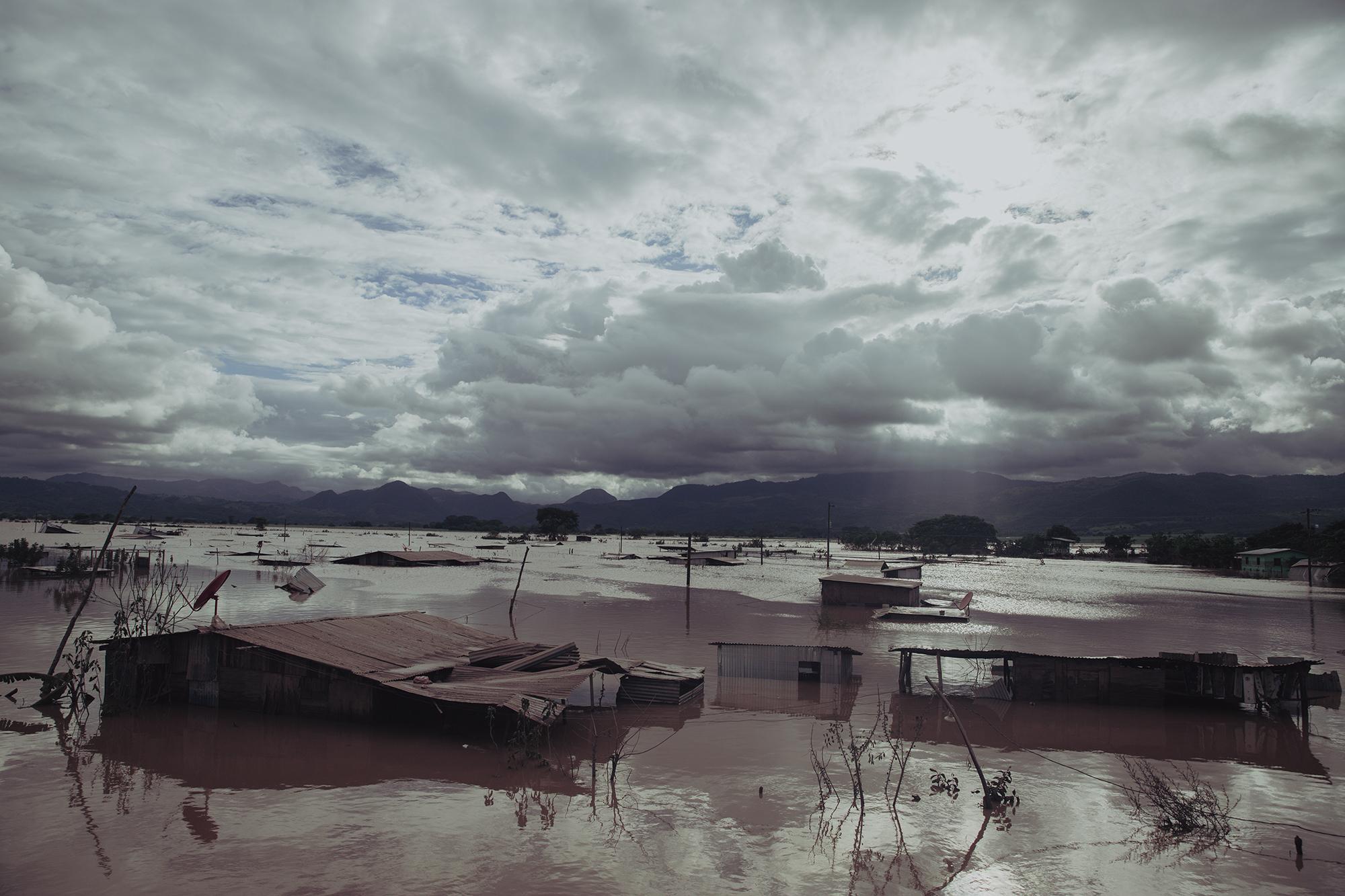 We didn't know it at the time, but over 200 families had been squatting in La Libertad. It was what Hondurans call an "invasion" — people with no place to go erect small houses on abandoned land without permission. Over time, other families show up and do the same. It becomes a community, a shantytown, a slum. We didn't know then that two sizable aqueducts run past La Libertad. When Hurricane Eta furiously poured a brutal amount of rain down on the neighborhoods on the other side of the highway, much of it ran into the aqueducts. In a matter of hours, they overflowed and water flooded the lowlands of La Libertad. Horrified by ankle-deep water that was rapidly rising to their knees, people grabbed what they could — children first — and fled. Some took refuge in shelters while others climbed a cahulote tree and watched everything — their everything — disappear until the water completely erased La Libertad from view. The small valley of humble homes was now a brown lagoon about three meters deep.
"Welcome home"
Almost two months after the hurricane floods, residents of the San Pedro Sula area began to plan a massive escape from the country on their Whatsapp groups and Facebook pages. Hondurans around the country got ready to leave, setting dates for their departures from the San Pedro Sula bus station. The rumor of a new caravan leaving for the United States spread almost as fast as the floods, and on January 16, the world again watched crowds of Hondurans walking to the Guatemalan border.
There have been a least a dozen caravans since 2018, when the first loosely organized band of undocumented Central Americans journeyed across Mexico to Tijuana. Most caravans since then were smaller and didn't attract the same media attention. As soon as their feet touched Mexican soil, they were broken up. The success and publicity of the original caravan stoked the delusion that by traveling en masse they wouldn't be stopped at the borders, and they would be safe from the many perils of the road. The original caravan departed from San Pedro Sula with only 250 people, while the caravan that formed after the hurricanes swelled to 9,000 Hondurans. Among them was 33-year-old Edwin Garcia, who had never travelled outside his country.
The hurricane caravan managed to get across the Guatemalan border, its sheer size enabling it to easily push past the gates and metal fencing, as the border police tried to hold it back. But it was too soon to claim victory. Things changed just a few kilometers down the road in the town of Vado Hondo. Hundreds of Guatemalan police and military forces blocked the road and beat back the crowd. "They gassed us," said Edwin, "with something that makes your throat and eyes burn. Then they chased us with clubs." And that sums up what happened.
The security forces carried large clubs, large enough to hit someone without getting very close. They wielded those clubs freely, as freely as they dispensed the tear gas. The caravan was cornered, divided, and hunted down. All this happened on January 19 in the municipality of Chiquimula, and marked the probable end to any more caravans. At a minimum, it became very, very clear that the United States is able to shift its borders whenever it chooses, all the way down to southern Guatemala.
Edwin, a strong and healthy young man, was able to evade the police and their clubs, and slipped away in broad daylight along with hundreds of other compatriots. Guided by other migrants, he set off north and begged for money and food along the way. He crossed Guatemala and made it all the way to Tecún Umán, a few steps from the Mexican border, the same place where the 2018 caravan broke through to begin its epic journey. But it's not  2018 anymore, and border security has changed.
"That's where they got us. They just grabbed us and shoved us into a vehicle. If you try to escape they beat you badly with clubs. The next day we were back in Honduras." That was the end of Edwin's journey, which only lasted a week from the day he set off from his homeland, until he returned on a bus after having been tear-gassed in Guatemala.
As a reward for helping to prevent irregular migration, the U.S. government announced an upcoming trip to Guatemala by Vice President Kamala Harris, thereby cementing Guatemala's position as the United States' main partner in the region. In all the excitement that followed the announcement of Harris' visit to his country, President Alejandro Giammatei suggested that the U.S. government send economic aid to build "walls of prosperity."
As of April 11, a total of 12,225 Hondurans have been repatriated by land. Their first stop back in Honduras is a very attractive house in the municipality of Omoa, a few kilometers from the Guatemalan border. It sits on about two acres of land overlooking the Caribbean Sea, surrounded by abundant gardens. The house itself has hand-carved wooden details and everything you would want to help you forget about the world and relax. That's why its previous owners — Yankel and Yani Rosenthal — liked it.
They are two wealthy businessmen, members of the Honduran aristocracy, cousins and heirs to the Rosenthal fortune, one of the 10 largest in Central America. Yankel was President Juan Orlando Hernandez's advisor for investment promotion during his first term. Both cousins fell from grace in 2015 when the U.S. government identified them as international drug traffickers. The Honduran government seized a large amount of property from them later that year, and both confessed in 2017 to laundering money for the savage "Los Cachiros" drug trafficking organization.
Their guilty pleas led to reduced sentences and both served only three years in U.S. prisons. After being deported back to Honduras in 2020, Yani rebounded very quickly from the gringo stain on his resume. Just a year after leaving prison, he is now the Liberal Party's presidential candidate in the November general elections. His main rival will be the candidate nominated by the National Party, the party of current President Juan Orlando Hernandez, who has also been linked by U.S. prosecutors to major cocaine trafficking operations in northern Honduras. The president's brother, Juan Antonio "Tony" Hernandez, was sentenced in New York earlier this year to life imprisonment for drug trafficking. Yani repeatedly complained during his presidential campaign about all the injustices he has suffered, "They don't want to return all my [seized] assets."
When deported Hondurans are repatriated, the first place they set foot is a hacienda built by criminal politicians with drug money. This is where Edwin arrived when he was deported from Guatemala. Instead of a welcoming hug, he was given a roll of toilet paper, a toothbrush, toothpaste, and deodorant by immigration officials. Then they turned him out into the street.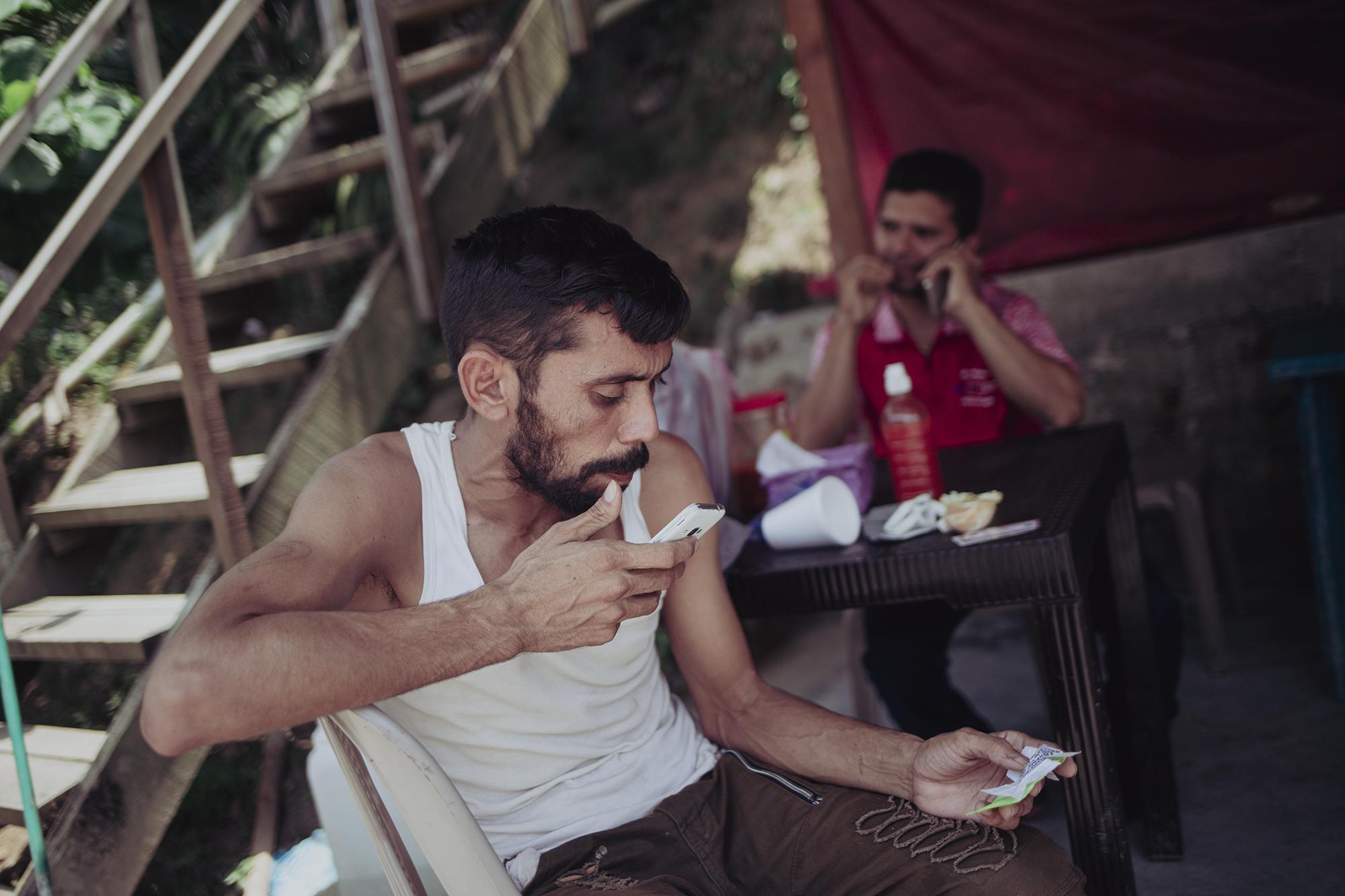 This scene is repeated almost daily by hundreds and hundreds of Hondurans who leave the Returning Migrant Center with their little bag of toiletries and prepare to head north again. Ucles Bonilla and his cousin were caught in Tamaulipas, Mexico, and do not plan to return under any circumstances to their hometown of Langue, in the department of Valle. They cannot go home because of the danger that awaits them there. Some of their relatives were involved in drug trafficking and were executed by rival drug traffickers who are now looking for the two cousins. They lingered outside the Center long enough to have a smoke and muster up some energy. In less than an hour, they boarded the bus that would take them back to the Guatemalan border. A day later, Ucles called to tell us that he was already in Mexico.
In pairs or alone, the deported migrants trickled out of the Center into the warm sun, gazing out at the familiar street, the postcard-perfect seashore, and their country. In pairs or alone, they immediately set out once again on the journey away from their Honduras. 
One standoffish youth only had time to tell us that he was caught in Chiapas before getting on the bus to the border. Two twenty-something boys from Yoro looked at the welcome bag with disdain. "What are we coming home to if there's nothing here for us? We just lie around in bed day and night here because there's no work for us." They set off on foot towards the border because they didn't have any money for a bus ticket. Two other men, both illiterate, became friends on the road. They carried everything they owned in the world. One was a rough-looking guy with yellow, calloused skin, from the department of Lempira who had been working as a day laborer on the tourist island of Roatan when the hurricanes hit and the entire island population was evacuated. He carried a sweater fashioned into a backpack where he kept the little bag of toiletries and little else. "There's nothing here for us, man. Central America is the worst, man, a total hellhole. We live off the streets, man."
The other was a little dark-haired man from Comayagua with indigenous features, fear in his eyes, and a very sparse vocabulary. He had been harvesting pineapples when the fields flooded from all the rain, rotting all the unpicked fruit. The owner of the pineapple plantation let him go. The two downtrodden men walked away, sticking out their thumbs without much hope of getting a free ride. They were planning to cross into Guatemala at some unguarded place since legal entry requires  two things they don't have — an identity card and a negative COVID PCR test conducted less than 72 hours earlier. Neither had the slightest idea how to get this test, much less the means to pay the US$100 cost. Both soon disappeared from sight on the road north.
Sitting in the shade under a tree was a man of indeterminate age, cowering like a frightened animal. Barely moving his lips, he told us he had decided to return home after having lived through a horrific experience in Mexico that he didn't want to talk about. He reluctantly told us he was from Teupasenti, in the far-off department of El Paraíso. He wanted to go home, but had no money. He went to the Returning Migrant Center to see if he could get a plastic bag of toiletries and board the bus that transports deportees who live in remote places. But the guard at the Center slammed the door in his face and told him that these "benefits" were only for deportees. So the man stayed under his tree, lost in the limbo of his own country, and watched as the bus departed without him.
As the bus drove past us, we saw dozens of hands angrily flipping their middle fingers at everything. The gate into the narco mini-palace converted into a deportee reception center bore a large, festive design, like a tourist destination. Two sailfish painted on the gate crossed their long, pointed bills and a sign on the wall exclaimed, "Welcome home!"
Stay Home
After a week of fruitless travel that ended in deportation, Edwin returned home to La Libertad. He returned to nothing. His children were living next to a drainage ditch and his crippled brother wheeled around in an adapted wheelchair that enabled him to make water deliveries to earn a little money. The devastated community was barely hanging on after the hurricanes. His little shack with its tin roof was still there.
He lives in a small cube with a dirt floor made of what most people would consider garbage. He has a red curtain for a door, and the tin roof has so many holes it looks like a sieve. None of his belongings look complete — three pieces of a fan, a piece of a bed supported by bricks, a piece of a closet with pieces of clothing, and some other things that were impossible to make out. His parents live a few steps away — two old people living in another shack, full of the same things.
Almost nothing has changed since he got back, except that his brother died from an infected sore on his back that he got from sitting too long in his wheelchair. The infection started during the hurricanes and ended up poisoning him from the inside. His mother still has the wheelchair.
The other change was that the residents of La Libertad decided to rename their community after the hurricanes, so La Libertad (Freedom) became Nueva Esperanza (New Hope).
And that's all.
Once the water receded and things dried out, the police tried to force everyone off their little plots of land, but that's nothing new.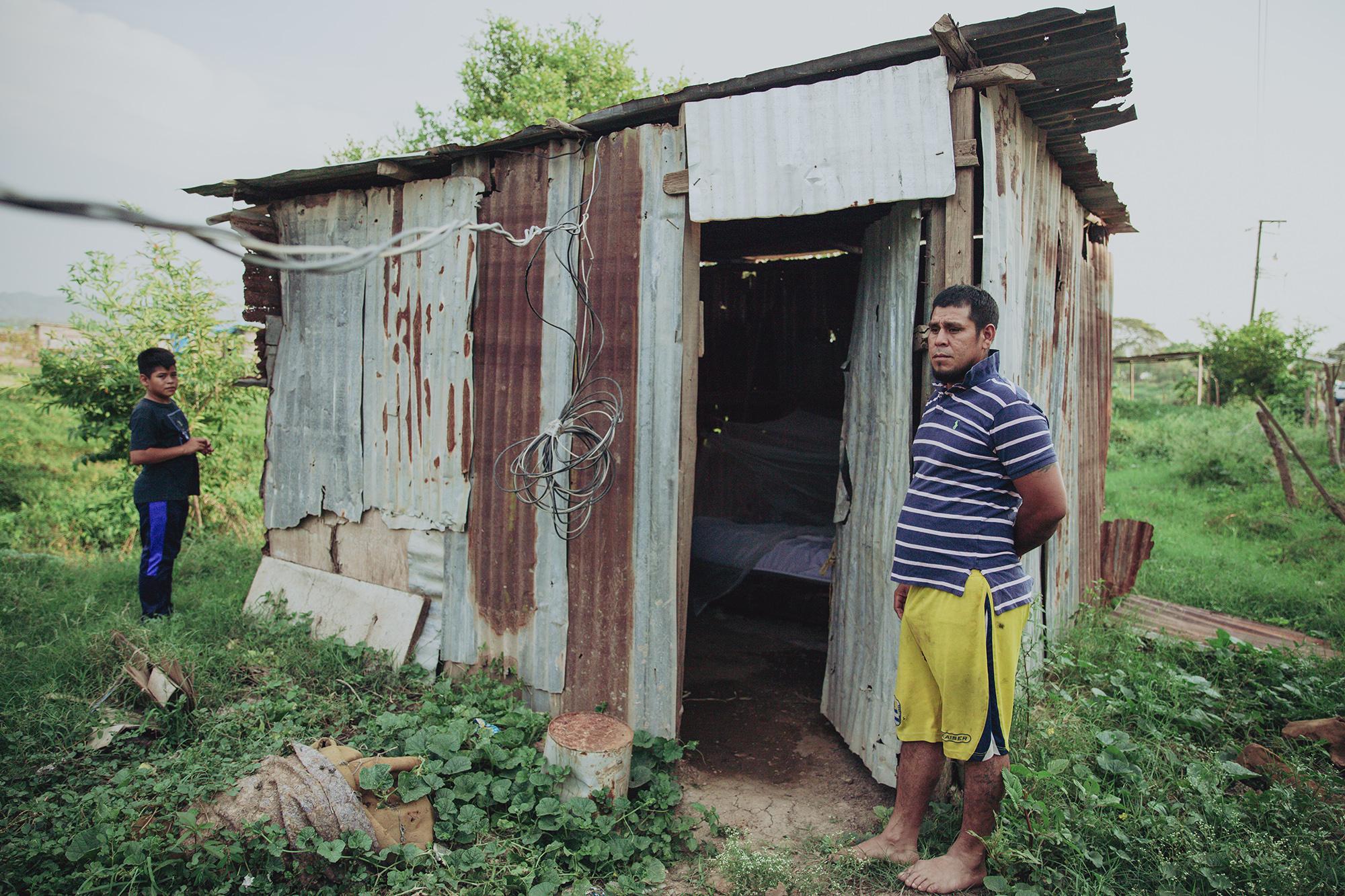 La Libertad, now Nueva Esperanza, is a 70-acre piece of land that is a microcosm of the history of Honduras. In the early 1920s, the Honduran government granted it to the Tela Railroad Company, one of the U.S. banana companies that indelibly shaped Honduran life. When the banana workers wanted to unionize, the company returned the land to the government, which sold it to a local landowner. It was sold several more times until it was acquired in 2011 by José "Chepito" Hándal, a businessman much loved in the Sula Valley for his astonishing generosity and folksy style. His wedding to Ena Hernández was almost a national event.
The La Prensa newspaper covered the wedding reception in 2007: "The bride wore a silk dress embroidered with fine gazar and adorned with sparkling rhinestones, designed by Lazaro, the famous stylist from Coral Gables, Florida. The groom chose a Western-style, all-black suit and cowboy hat. The couple was proclaimed husband and wife, and the wedding reception began. The room was decorated with elegant Tiffany chairs and huge chandeliers of citrus-colored flowers. The menu was a selection of seafood, lamb, beef, and a variety of cold cuts and gourmet snacks. It was all the creation of wedding planner Gerardo Trejo…" There was a Peruvian stepping horse show, a mariachi band, and fireworks brought in from Houston. Little horses carved of Guatemalan wood were given to the guests as souvenirs — everything a narco is supposed to do on his wedding day. In 2018, Chepito was sentenced to 17 years in prison and his wife to 16 years, both for money laundering. A U.S. court has submitted a request to extradite the Hándal on cocaine trafficking charges.
Some of the current inhabitants of Nueva Esperanza worked for "Don Chepito", taking care of his land and maintaining the fences. Then the boss's luck changed and the property was abandoned. Families from Olancho, Santa Bárbara, Comayagua and almost everywhere else showed up and began to populate the valley. "Before we came here, this land was abandoned. They used to dump bodies here, decapitated bodies," recalls a long-time settler, as if it were common knowledge. San Pedro Sula has been one of the most violent cities in the world for years.
Apparently, Chepito made many business deals with that land, and now several people claim to be its rightful owner. One is Munir Hándal, a relative of Chepito. Another is Hermenegildo Pinto Pinto, who brandishes a deed that says he bought the land in 2012. Another man surnamed Rapalo Quiñónez claims that the land has always been his and that Chepito fraudulently seized it. Then there is Sonia Portillo, who claims to have legitimate title to the land. Lastly, the 200 families (about 1,000 people) that lived there before the hurricanes are gradually returning to plant crops on their little plots of land. They are the only ones who don't claim to have property titles. Rather they appeal to the humanity of their compatriots, realizing that they are at the mercy of others whose claims are more likely to be backed by law and order.
The residents of Nueva Esperanza have held meetings, elected a board of directors, hired a lawyer, and collected money to put up a utility pole with a transformer. Neither the pole nor the transformer, which they call "El Chimbo" (barrel), are legal, but there they are. They pulled an electric trunk line and connected it to their transformer. Each little shack owner connects their own cable to El Chimbo. The authorities warned them that all this was illegal, because the people themselves were illegally squatting on that land. But they put up the utility pole anyway. Then the authorities made the only gesture that has ever acknowledged the existence of that settlement — they put a power meter on the pole so they could charge for the electricity.
They have also been strictly forbidden to dig wells, for the same reason that they were forbidden to put up a utility pole. So no house has potable water or a connection to the sewage system. Everyone fetches water from the Chamelecón river or wherever they can get it.
"They call us parasites, but we're not — we're people," said the old man with calloused hands. "They tell us that we can't dig wells because the land is in dispute. But we're not in dispute. What's in dispute is our hungry stomachs and our thirst."  This man's home was ruined by the first hurricane or perhaps by the second. Anyway, the flimsy walls of his dwelling were torn out of the ground, and ended up about 50 meters away along with all his belongings, crushed and buried under the mud.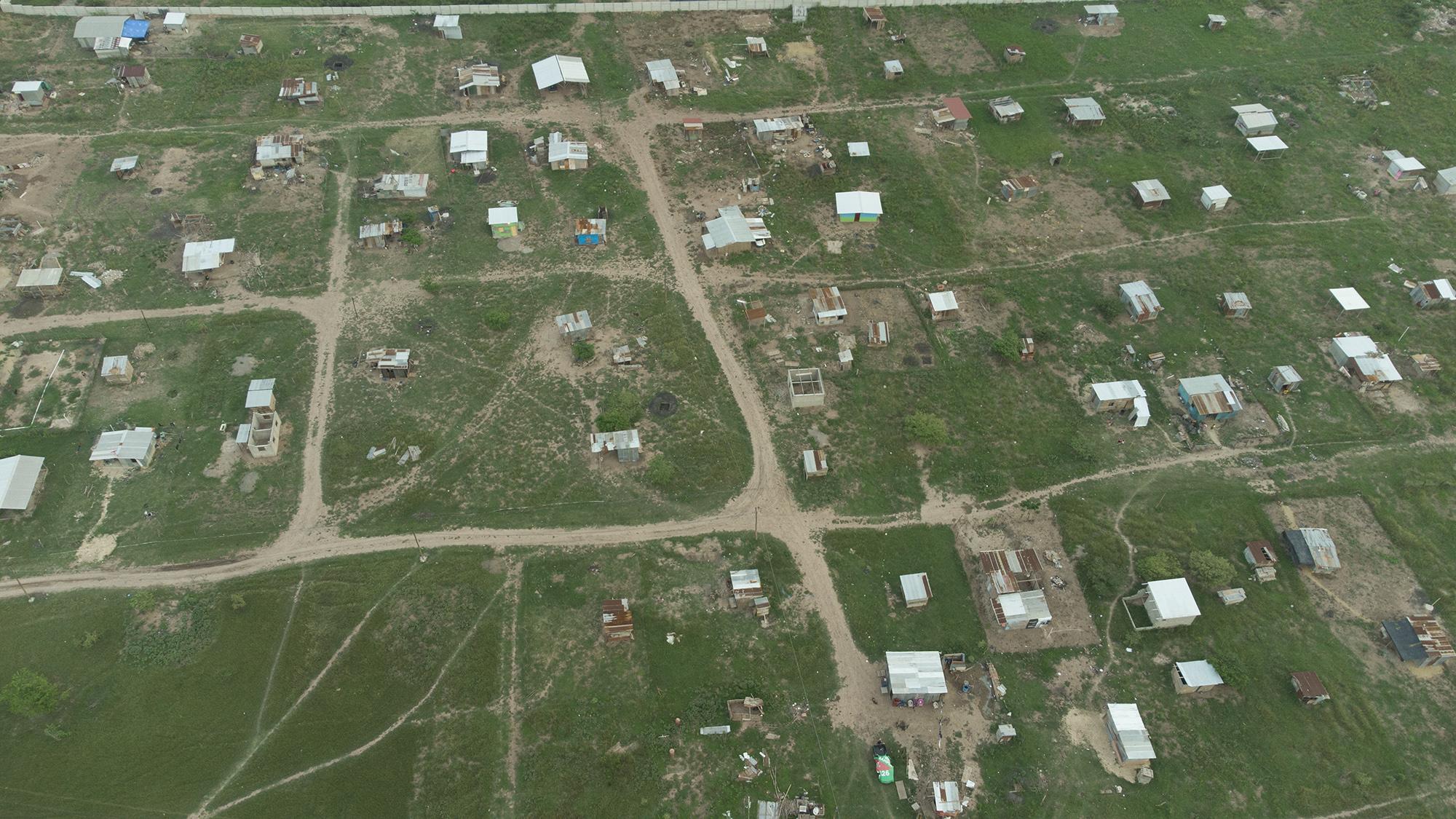 That's how they all live. That's how Edwin and his daughter and his parents live. That's how the old man with the calloused hands lives, and the lady whose son left in the caravan and returned all beaten up a few days later. That's how Edwin's brother, Hernán, lives; he has the only little shop around that sells cold Coca Cola. And that's how Edwin's 18-year-old son, Josué, lives. He dreams of only one thing — leaving. Preferably to the United States, but more than anything, he just wants to leave.
Edwin has been looking for work in a maquila for more than four months, but the competition is tough. Every day, from Monday to Thursday, thousands of people cluster outside the industrial parks in the Sula Valley in the middle of the night. Sometimes, one of the maquilas announces that it needs workers and the people at the front of the line are happy.
"They take 50 people and give them some tests, basic math and other exercises. Then they select two out of the 50 and make them take physical exams and other tests for a week. After all that, those two are told that they will be notified later. Sometimes they're hired and sometimes not," said Javier, who was fortunate enough to get a job in a maquila a few years ago. He is now president of the Nueva Esperanza community organization.
Edwin and Josué haven't been as lucky. No matter how early they arrive, other people are already in line. Or they are rejected for not having any experience, or for having a tattoo. "There's nothing here for us. There's nothing left to do but emigrate," says Josué, an energetic youth with a burning desire to become a singer in California. He's convinced that California is the place to be for singers, and he launched into a corrido to demonstrate his ability. Edwin joins in the song, stroking his cat.
After the 2020 hurricanes, people like Josué and Edwin swarmed the United States' southern border in numbers not seen in over 15 years. In February, 100,000 people were detained at the border, and then the number of detainees jumped to 171,000 in March. Hurricanes Eta and Iota hit Honduras in November, and as of April, 47,729 unaccompanied minors have tried to enter the U.S. since then. President Joe Biden, still in his first 100 days in office, sent an unequivocal message to Central Americans, "Do not come." Period.
Biden's remarks were followed up by radio skits broadcast in El Salvador and Honduras, and maybe other countries as well. Sponsored by the U.S. embassies in each country, the skits feature actors playing migrants who have been tricked into emigrating by evil coyotes who later abandon them on the road. The migrants voice complaints about the dangerous journey and their regrets about risking COVID-19 infection. The campaign is intended to discourage undocumented migrants from leaving home, but it doesn't address people who no longer have homes because of the hurricanes.
The days pass without much really happening. Josué and Edwin sit around, dreaming of leaving together and fantasizing about careers as singers. They make decisions about how much money they'll send back to their relatives in Nueva Esperanza, and plan all the routes and strategies for their journey.
The Economic Commission for Latin America and the Caribbean (ECLAC) estimates that the hurricanes caused US$1.88 billion in damages to infrastructure, agriculture, commerce and industry. There are still no official estimates of the number of homes destroyed and people displaced. César Castillo, a research coordinator for the Latin American Faculty of Social Sciences (Facultad Latinoamericana de Ciencias Sociales - FLACSO), sums up all the problems in Honduras as endemic "hopelessness." Of course, there is a profound distrust of the Honduran government, which promised, among other things, 42 mobile hospitals for coronavirus patients. They later dropped that number to 12, then to seven, then to five mobile hospitals that still are not operating.
Faced with so many catastrophes and a desperate public, the municipal government of San Pedro Sula decided to take action. It put up garish, yellow signs and giant billboards around the city displaying happy faces that could have been painted by a kindergartner, and a message that reads, "Everything's going to be alright."
*This dispatch is part of the Colapso series, a multiplatform project conducted by Dromómanos with the collaboration of several media outlets, including El Faro. The project explores natural resource and environmental issues, as well as the climate crisis in Mexico and Central America.
*Translated by John Turnure