The investigation, which Central American media outlets El Faro, ContraCorriente and Plaza Pública participated in along with The New York Times, The Guardian, and others, revealed that at least one current presidential candidate, five former presidents, one former first lady, and a handful of other politicians and businessmen in Honduras, Guatemala, El Salvador, and Panama have moved their money into offshore opaque accounts. 
Next Honduran President?

Honduran presidential candidate Nasry Asfura, leading polls with about 15 percent support, has been the majority shareholder of an offshore company in Panama since 2007, reports independent Honduran media outlet ContraCorriente. 
At the time, Asfura was a council member for Honduras' Central District, a position that is not directly elected by voters but rather chosen by political parties. He later served as a congressman from 2010 to 2014. The company remained active until at least January 2018. By that time, Asfura was serving his second term in his current position as mayor of Tecugicalpa, which has been tainted by corruption allegations. He is being investigated for embezzlement of $1 million in municipal public funds. 
"I haven't defrauded anyone or evaded anything," said Asfura in a press conference after the investigation was published. He said that he became a shareholder in the company in 2007 to search for financing to buy land, but the deal never happened so he left the company. He did not explain why it remained active until 2018. 
From the Engel List to the Pandora List
ContraCorriente's Pandora Papers investigation also revealed that Porfirio Lobo, president of Honduras from 2010 to 2014 who is part of the Engel List for accepting bribes from drug traffickers, was the final beneficiary of three offshore accounts that were active until at least 2016. Two were opened while he was president. 
"Why create foreign companies? To launder or hide money? No, because I'm not a criminal," Lobo told ContraCorriente. He said he created the accounts because insecurity in Honduras can make it dangerous to buy properties and because of Panama's lower interest rates. 
His wife, Rosa Elena Bonilla, also named on the Engel List, was also the final beneficiary of another offshore since 2011, while she was first lady. The company was dissolved in 2017. She signed documents stating that the account was not for any illegal purpose. Bonilla was convicted in 2019 for misusing nearly $800,000 in public funds, but was released in 2020 when the Supreme Court ordered a retrial.

The Pandora Papers also revealed that Ricardo Álvarez Arias, Honduran vice president since 2014, is the majority shareholder of an offshore company created in 2006 and dissolved in 2019. Álvarez did not respond to a request for comment. 
"The possession of offshore companies in itself is not evidence of irregular activities, but the fact that both Asfura and Álvarez were listed as shareholders while they were public servants raises questions," writes ContraCorriente.
Nearly half of Hondurans live below the poverty line, according to the World Bank. Yet politicians regularly siphon funds from public programs and make deals with drug traffickers for political benefit. This is part of the reason Honduras is one of the top 10 most unequal countries in the world, according to a ranking system used by the World Bank.
Cashing In after Leaving Office
In El Salvador, El Faro revealed that Alfredo Cristiani, president from 1989 to 1994 and responsible for the 1992 peace accords to end the civil war, opened 16 offshore companies — eight in the British Virgin Islands and eight in Panama — starting a year after leaving office. He also opened at least one account in 1992 while still president, reports El País. 
His wife, children, brother, and nephews, were also involved in the companies. In a period of three years, five of the companies moved more than $1.4 million dollars. One company was valued at $10 million as of 2008.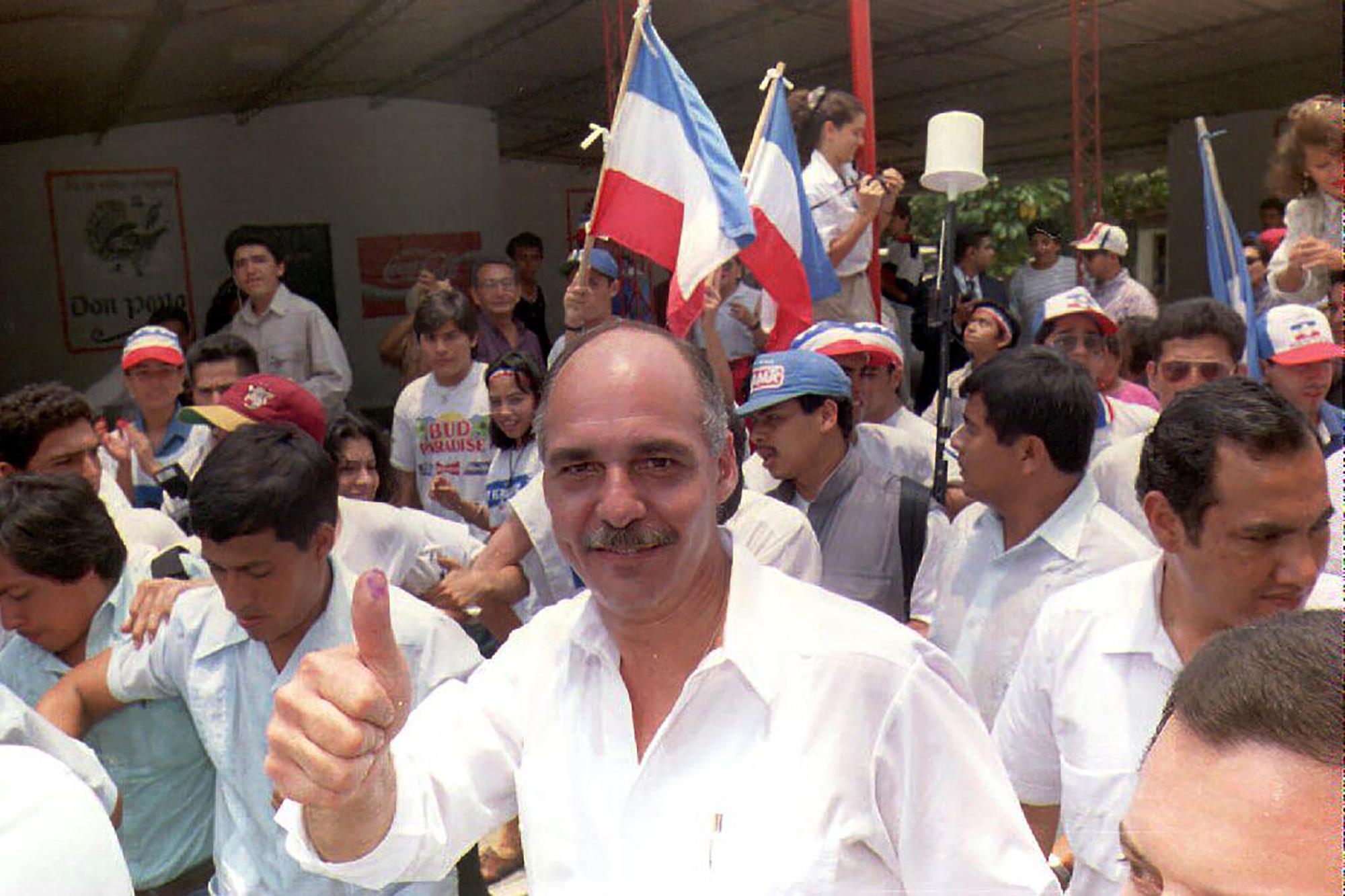 "Before taking office, Cristiani was already a prosperous businessman and heir to pharmaceutical, coffee, and cotton companies. But this was something different: Panama and the British Virgin Islands are countries known internationally for attracting foreign capital in exchange for non-taxation and maintaining absolute discretion over the identity of shareholders and beneficiaries,"  write El Faro's Daniel Lizárraga and Gabriel Labrador.
"The protection of the owners of offshore companies is legal," they continue. "However, this can lend itself to tax evasion in the countries where the money originates."
Cristiani wrote a letter to El Faro stating that he has always respected the law and that his lawyers will provide more details when they see fit.
El Faro previously revealed that Cristiani secretly spent $5.5 million from a private special discretionary fund in the president's office just five months before leaving office. Cristiani recently denied any wrongdoing when summoned before a legislative commission that grilled him about his handling of public funds while in office.
So far, the investigation has reported at least one offshore company with ties to former Salvadoran president Francisco Flores, who died in 2016. The company lists as a partner Mauricio Felipe Samayoa, who Salvadoran investigators identified as responsible for helping Flores divert $10 million dollars donated by Taiwan for earthquake victims. 
In Panama, the investigation identified three former presidents: Juan Carlos Varela who is the owner of a company in the British Virgin Islands, including during his presidency; Ernesto Pérez Balladares, who is director of three offshore companies, of which two were created during his time in office; and Ricardo Martinelli Berrocal, linked to offshores in the British Virgin Islands and Belize. 
Havens for Questionable Cash
The Pandora Papers have also revealed new information about the business dealings of some prominent members of Central America's private sector accused of corruption and human rights abuses. 
At least 30 people or companies involved in fraud or human rights abuses worldwide have opened trusts in the U.S., mainly through a South Dakota-based company called Trident Trust, reports The Washington Post. One is Federico Kong Vielman, a Guatemalan businessman whose family owns a palm oil production company accused of paying less than minimum wage and exposing workers to toxic chemicals, reports Plaza Pública.
Honduran businessman Fauzi Rishmawy, whose company was investigated by Honduran prosecutors for overcharging the government by nearly $950,000 USD for health equipment in an alleged corruption scheme, has at least three offshore accounts, reports ContraCorriente. 
The investigation also revealed the existence of six more offshore accounts belonging to former Honduran minister and prominent businessman Yankel Rosenthal Coello, who was convicted in the U.S. for money laundering for drug traffickers. His cousin, Yani Rosenthal also served time in U.S. prison and is now a presidential candidate. 
The State Department declined to comment on specific allegations from the Pandora Papers. In a Monday press briefing, a department spokesperson said the U.S. government "actively focuses on strengthening financial transparency and investigating possible illicit and sanctions evasion activity using all sources of information, both public and non-public."
For months, Biden has tied financial transparency to international anti-corruption efforts, which his office has labeled a "core national security interest." The White House wrote in June that "the Biden-Harris Administration has pledged to lead efforts internationally to bring transparency to the U.S. and international financial systems, including by reducing offshore financial secrecy, seizing stolen assets, and making it more difficult for those who steal to hide behind anonymity."
While none of these revelations confirm any illegal activity, the Pandora Papers are helping to provide a clearer picture of how Central American politicians and elites move their money. 
"It mostly demonstrates that the people that could end the secrecy of offshore, and could end what's going on are themselves benefitting from it," said ICIJ Director Gerard Ryle in a video explaining the worldwide investigation. "So there's no incentive for them to end it."
Thanks for your time. If you've gained from our reporting, consider funding independent journalism in Central America, for the price of a coffee a month, at support.elfaro.net.