After a month-long drought struck the canton of Las Delicias in Berlín, at last it was their turn to get water. María Alvarenga awoke early on July 22 to the sound of water rushing through the pipes of her house. When the water comes, they fill every available container to the brim ─ jugs, barrels, jars, gourds, coffee cups.
"Some people who can buy bigger containers are able to store more water," she says. Only people with relatives in the United States sending money home can install cisterns or buy the 1,000-liter plastic water storage tanks. María has no relatives abroad to send her money.
Alvarenga, 68, lives with her husband Isidro Benítez, 72. Their community has attracted attention recently for its geothermal energy potential that the Salvadoran government wants to harness for a Bitcoin mining facility. But the biggest problem facing the community is the lack of water. And they fear the Bitcoin Law will only worsen their water troubles.
If water comes to María's house for a day or two a month, it's only because the community got together to install a potable water service administered by a community association. They pay six dollars a month for the water service that supplies 900 families in 15 communities surrounding Berlín. Alvarenga and Benítez make their living from agriculture, such as their small cocoa crop and the fish they raise in one of the two pools they dug in their yard to capture water. They used to have livestock, but stopped due to the water shortage.
"When there's no water, we use the rainwater that we collect," says María, pointing to three barrels. The barrels stood empty and dusty until rain came on July 22, after almost 30 days with no rainfall.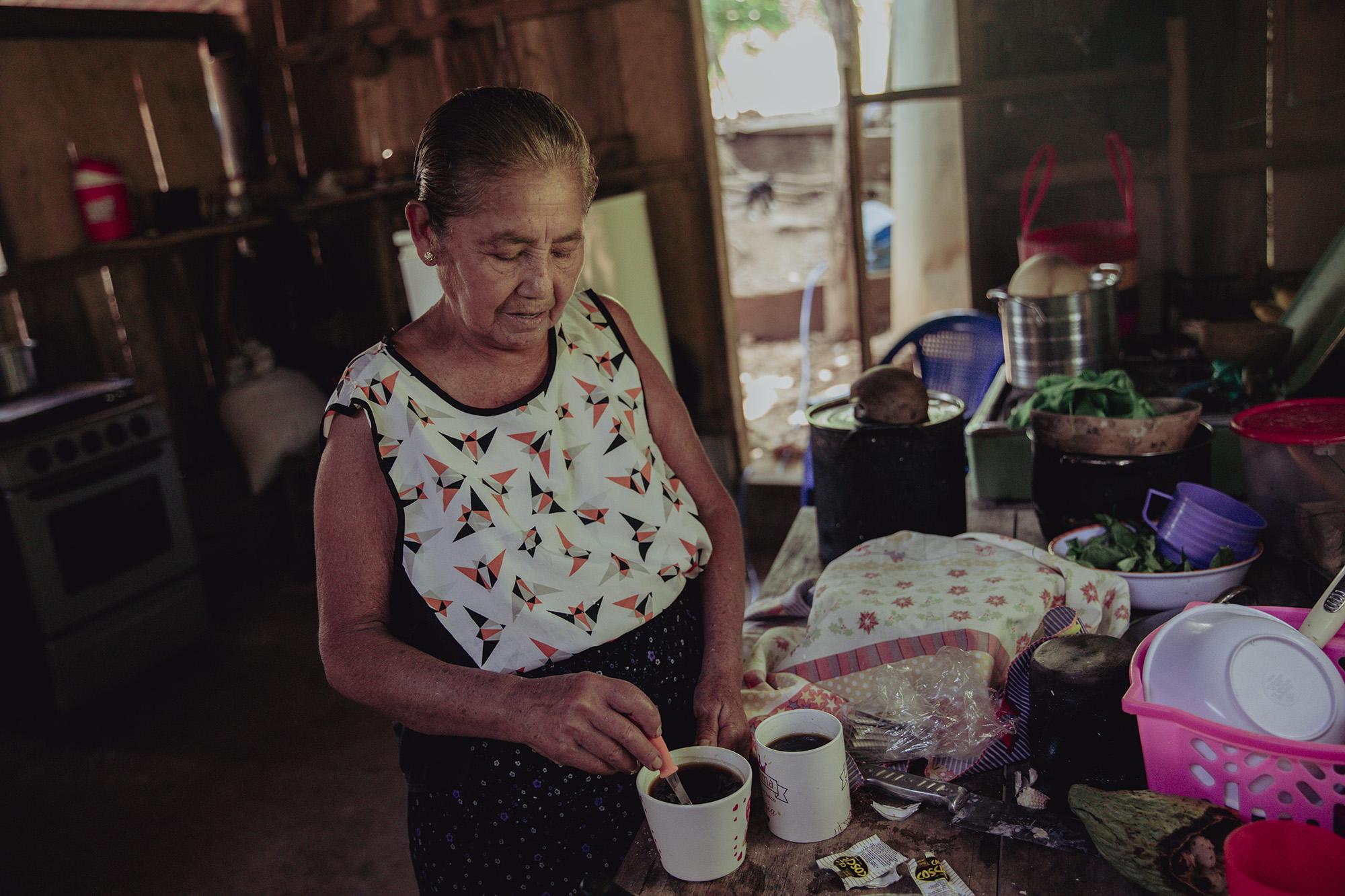 Inés Marroquín is president of the Asociación Múltiple El Milagro, which manages the community distribution of water. She says they'd like to supply water to everybody, but they can't. "People who are able to hoard water do exactly that, and those who can't have to go around asking for water until it arrives once a month." 
Nearby families also get their water from rooftop gutters that feed into large storage barrels, buying it, or hauling it from a spring. Many choose the spring since they can't always afford to pay between $45 and $60 for water, which equals two week's pay at the coffee plantations.
The association has to be careful not to overload their six pumps, which could cause damage they can't afford to fix and further aggravate the water problem. They can't keep up with the demand for water, but they try. To improve service, they recently installed another pump motor that cost $24,000.
The association started up in 1972 and developed a distribution facility supplied by the Santa Anita spring. The water is pumped from this spring and distributed via pipelines to various water storage tanks. This is an expensive facility for a poor area of Berlín, a municipality marked by extreme poverty and very high malnutrition rates, according to the World Food Program (WFP) and the Salvadoran government's Fund for Local Development (FISDL).
People here were troubled by President Bukele's proposed Water Resources Law submitted to the Legislative Assembly on June 18. Many fear that a law will be passed that benefits the private sector, worsening the community's already dire situation. "We're worried about private companies coming to build and break things at the Santa Anita spring," said Marroquín, adding that the Coca-Cola company has been seen in the area.
El Faro requested comment twice from the press office of Industrias La Constancia, the Coca-Cola distributor in El Salvador, but received no response.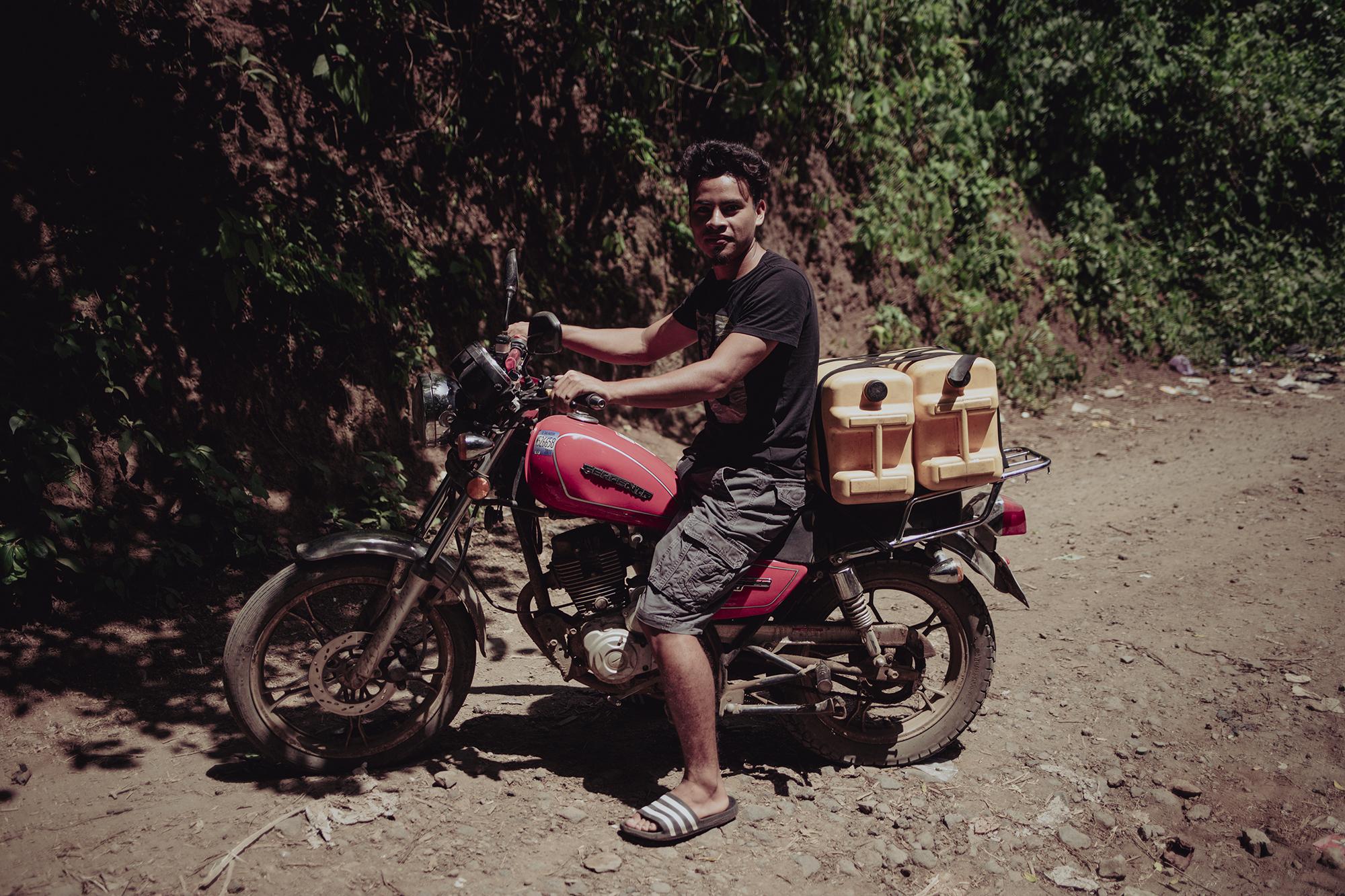 Berlín is an area with plentiful geothermal energy. The Berlín Geothermal Power Plant, operated by the transnational energy company LaGeo owner of 37 geothermal wells.
The communities around Berlín are connected by a rural maze of narrow, rocky, dusty roads that don't show up on Google Maps. The 15-year municipal development plan published in 2020 by the municipality with international aid reports that Berlín has been negatively affected by deforestation from logging operations and land clearing by coffee plantations; air, water and land pollution from agricultural burning; and smoke and gas emissions from geothermal energy operations. Water is one of many problems, but it's the one that hits the hardest.
Concern spread throughout the community following the news that the geothermal power plant was going to increase its production capacity, and rumors about Bitcoin mining have also been circulating. "There's a lot of unhappiness about all this," says Marroquín.
Residents have experienced the slow depletion in the water supply, and changes in water quality such as the whitish scum that floats on the surface. They don't understand the workings of Bitcoin mining, but just hearing rumors about something that could make their water shortage even worse leads them to reject it out of hand.
First steps for Bitcoin mining
Before it gets to Las Delicias, the water pipeline passes through the nearby canton of San Juan Loma Alta. The morning of July 22, a throng of women flocked to the main dirt road to await their turn at the community water tap. Each paid $6 for the right to fill up, and 50 cents to the person who operates the water valve.
The community water tap is like a town square, a place for women to gather, laugh, and share their woes in the shade of a scrawny tree while they wait for the long line of water containers to be filled. The lack of water is always a topic of conversation.
Alma Orellana, 50, is the coordinator of the Defenders of the San Simón Watershed. A community leader from Berlín, she stops to listen to the women's conversation. She's known locally as a staunch defender of the river, another local water source at risk due to low soil permeability, leading to declining river volumes. She got involved in the environmental movement after Hurricane Mitch in 1998, when a landslide in Berlín made her think that "natural disasters" aren't always so "natural."
Orellana says that locals heard about cryptocurrency mining from community radio broadcasts, which reported that geothermal energy will be used to supply power to rooms full of computers. Orellana argues that building more geothermal wells will increase deforestation. "People know that this is going to affect them. We've seen the damage caused by LaGeo's exploitation of water resources."
Before El Salvador's Bitcoin Law took effect on September 7, President Bukele tweeted that he had directed LaGeo to develop a Bitcoin mining plan that would provide the power supply needed for the system to operate. Bukele is counting on geothermal energy to power Bitcoin mining.
Mauricio Sermeño, president of the Unidad Ecológica Salvadoreña (UNES), a non-governmental organization that advocates for environmental protection and conservation in El Salvador, claims that while this initiative could increase geothermal energy production, which according to government data represents 26 percent of the country's energy supply, it would come with high impacts and very few benefits.
Although geothermal is one of the "clean" or renewable energies, Sermeño believes that there are always impacts "on the air they breathe, on the water they consume, on the soil, and from increased seismic activity."
Sermeño does not view Bitcoin or any cryptocurrency mining as a viable venture, because it requires "a huge, uninterrupted power supply." He compares it to a factory that consumes five megawatts per hour, which is an enormous factory. Bukele says that the 95 megawatts per hour generated by the new geothermal well will all be used for Bitcoin mining. "They're talking about 95 megawatts, but I think it will really be more," says Sermeño.
Bitcoin mining requires infrastructure, a data center, internet connectivity, and plenty of electricity and air conditioning because computers need to be cooled. "Our climate is too hot, and they [computers used in Bitcoin mining] generate a lot of heat. They need a certain ambient temperature to function. Air conditioning can double the amount of energy needed for this type of operation," says Sermeño, also citing the potential for higher carbon dioxide emissions.
A new study published in Resources, Conservation and Recycling found that Bitcoin mining produces large quantities of electronic waste. Because the computers used for mining need to be replaced frequently under the strains of non-stop processing, each blockchain transaction generates on average 272 grams of e-waste, according to the study — comparable to two iPhones. 
If additional production capacity for Bitcoin mining is needed, as President Bukele announced, this may require the development of more geothermal energy infrastructure, which could have an impact on the aquifers that supply these communities. The rumors that their water supply could diminish are enough to put drought-weary Berlín communities on high alert.
Natalia Santamaría, a geophysics specialist who has researched water usage with UNES, warns of microearthquakes produced by the drilling of geothermal wells. "This [seismic activity] could obstruct the flow of water to the communities." But to truly understand the environmental ramifications, Santamaría says that an environmental impact analysis of Bitcoin mining would be ideal.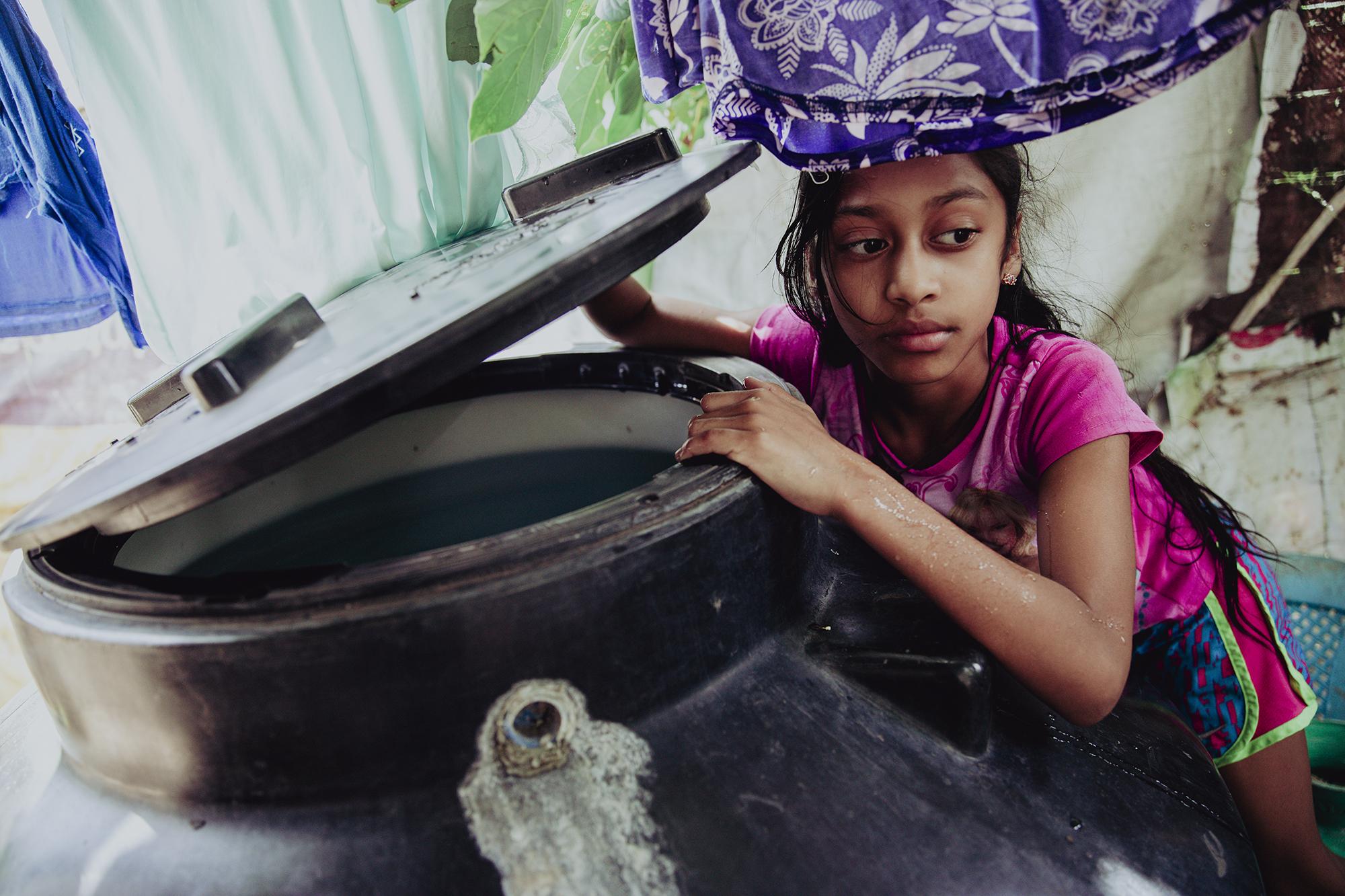 Sermeño and Santamaría agree that the current level of electricity generation from volcanoes isn't enough to cover El Salvador's current demand. Sermeño foresees dramatic consequences caused by the environmental impacts of Bitcoin mining, including energy shortages triggering frequent blackouts across the entire country.
El Faro contacted the LaGeo communications office on October 11 to ask whether they have an environmental impact study for Bitcoin mining or groundwater management in the areas surrounding the geothermal plant, whether the Berlín plant will be used for Bitcoin mining, and whether energy use by Bitcoin mining would lead to an energy shortage. LaGeo did not respond.
Orellana worries that increased water shortages related to Bitcoin operations will lead to more water conflicts. So far, environmental conflicts have mostly been about dumping pollutants in croplands or the excessive use of agrochemicals. "Some communities are trying to raise organic crops, while others are polluting," she says. But it hasn't escalated beyond that.
Back in Las Delicias, María Alvarenga sold her last chicken to pay the water bill. When she was young, she says it took her a whole day to fetch water from the San Simon River, near the town of Mercedes Umaña. "We went through a lot to get water," she recalled. She says that the six-dollar cost is unimportant as long as she has water for drinking and bathing. What's life without water? After a deep sigh, she replied: "It's cruel." 
*Translation by John Turnure