On Saturday, February 4, the authorities in El Infiernito and Managua's Modelo Prison began to take the political prisoners, some of whom had spent months without leaving their cells, out of their cells and into the courtyard every day for a few minutes of sunlight. Some of them imagined that Daniel Ortega wanted to freshen them up because he was going to free them, but they tried not to get their hopes up.
"We had thought we would be freed before and it didn't happen," said Wilfredo Brenes. He was incarcerated in April 2020 following his detention and torture three times for participating in the tranques in Masaya in 2018, as well as for bringing water to mothers of political prisoners who, in November 2019, staged a hunger strike inside a church in the southwestern city. "In prison we learned that whenever there was a strong rumor afoot, nobody was liberated," he said. "This time, we had heard nothing."
The Biden administration has not officially revealed when conversations began with the Ortega regime to free the 222 political prisoners who traveled by plane to the United States on February 9, but a spokesperson for the State Department told El Faro English that the operation was coordinated in "days, not weeks." An official offering direct services to those released from prison upon their arrival to Washington, D.C., said he was informed on Friday, February 3, and received confirmation the following Tuesday that they would be liberated.
A source close to the U.S. Embassy in Nicaragua also confirmed that it was Vice President Rosario Murillo who called Ambassador Kevin Sullivan to communicate the decision. The U.S. government did not alert the other embassies in the country, who, like the family members of the political prisoners, found out about it once their plane had left Nicaraguan airspace.
Brenes learned of the decision on February 8, the night before his release. Around 7 p.m., a prisoner from another facility called him on his cell phone —prison corruption makes even the prohibited possible— and told him: "They're freeing people here." Minutes later, guards arrived to tell him that he would be transferred.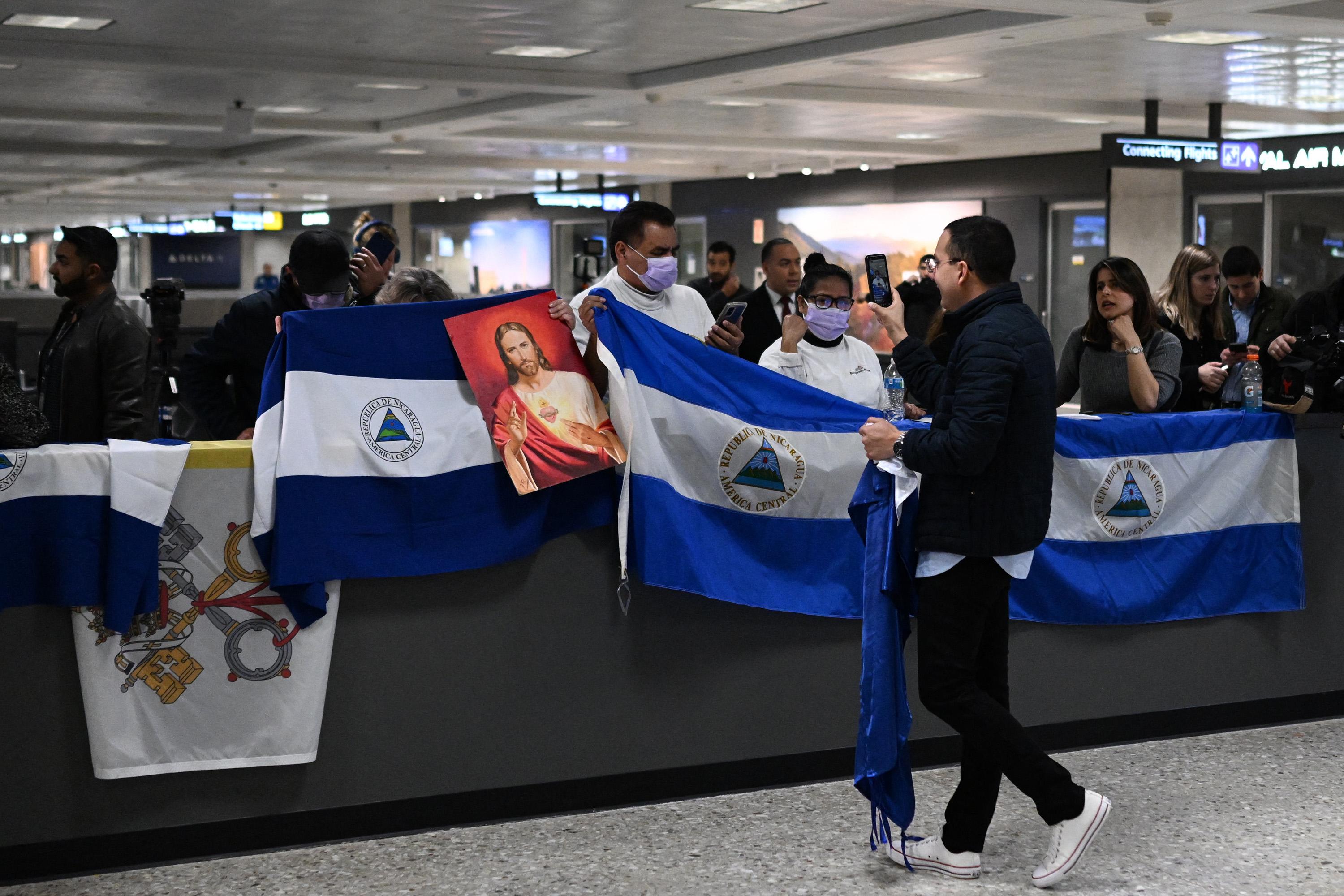 He and more than 200 political prisoners have now been stripped of citizenship and all civil and political rights in Nicaragua. Until hours prior, they had been scattered in facilities throughout the country. They arrived at the Air Force airport in Managua by bus around three in the morning on Thursday. Before stepping off the vehicle, prison authorities made them sign a document with a single sentence in which they accepted their departure from Nicaragua. In Brenes' case, the space where the country of destination should have appeared was left blank. He says he feared that he would be sent to Cuba or Venezuela to continue behind bars, but he signed anyway. He remembers that one of the guards whispered to him: "I want to leave, too."
On other buses, the "United States" was listed in handwriting on the documents. Some were forced to comply in the dark, without reading the document. Minutes after signing their names, they were all given new Nicaraguan passports with the date of issue identical when they started to receive sunlight: February 4, 2023.
Once on the tarmac, U.S. officials called on them to board the plane in alphabetical order based on their first names. Brenes, one of the last ones, hesitated. He says that he thought about staying, that he wanted to stay. His father, 89, and his daughter, 24, live in Managua. He asked: "What happens if I stay? Can I go free?" He was told that the United States was not responsible for what happened to him if he stayed, and that they could not guarantee his freedom.
He climbed aboard.
***
Student leader Max Jerez spent his first night in freedom wide awake. He's 29 and, underneath a thin beard, has the same boyish face made famous on Nicaraguan television sixteen years ago for giving flute lessons to children in his town. He has the gaze of those who try to mask their pain from the public eye.
Perhaps for that reason he speaks of the 19 months he spent in Managua's El Chipote Prison as if the prisoners were a collective being. "They tried to cause harm, to break you," he recounts. "There are those who, like Medardo Mairena, spent more than a year in punishment cells designed for short periods of time. They kept you there for months without visits from family and without knowing when the next one would be. They didn't let you know what time of day it was and they denied us things as basic as access to reading materials or even things to write with."
Jerez, too, spent nearly two and a half months in a punishment cell. That's where he was when his mother died. They informed him a month after the fact.
Twenty-four hours after the former political prisoners' arrival at the Westin Hotel, which hosted most of them in their first days of freedom and banishment, the place seemed like a tiny airport of hugs and calls over speakerphone. There are relatives of the political prisoners who booked a flight that very Thursday from Florida or California, or who sped down the highway from New York, Atlanta, or Montreal to make it to Washington just hours before the plane from Managua landed. Sheer chance had permitted journalist Carlos Fernando Chamorro —whose siblings Cristiana and Pedro Joaquín and cousins Juan Sebastián Chamorro and Juan Lorenzo Holmann had spent a year and a half in prison— to be in the U.S. capital at the time, for an event on the Nicaraguan dictatorship.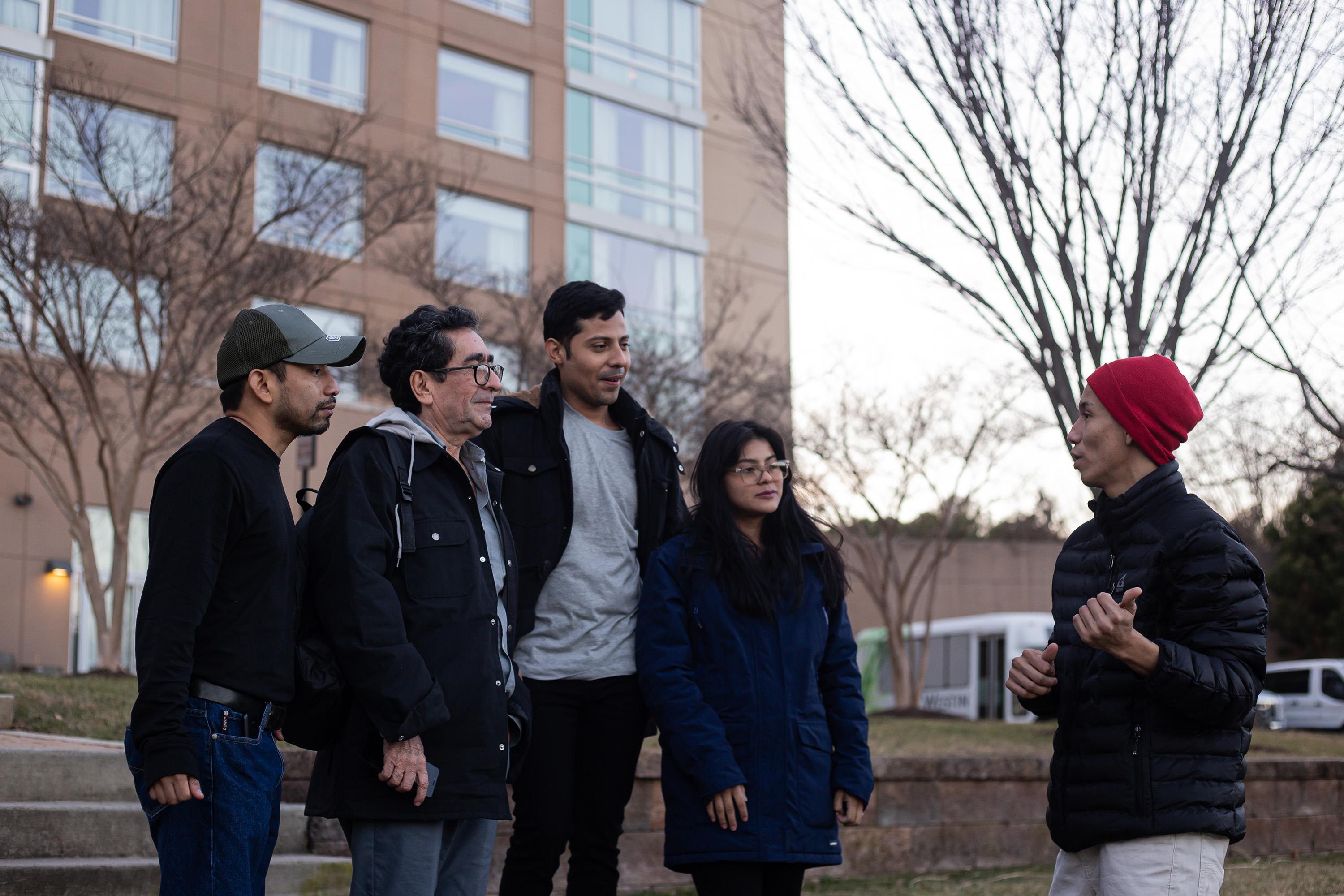 Their teary-eyed reunion on Thursday was one of the first to be captured in pictures that circulated throughout the Nicaraguan press in exile, even as the regime held a press conference in Managua branding them, yet again, as "terrorists" and "agents of foreign powers." But the joy was not dampened. Dozens of groups arrived at the hotel on Friday and Saturday to find their children, cousins, or siblings. The Nicaraguan diaspora in the United States received the liberated as if they were a liberating force.
There were also reunions among those who had been freed. As State Department staff and volunteers gave each a backpack with clothing and a cell phone and scheduled doctors' appointments for those who needed them, dozens of those who led the tranques in Masaya and Matagalpa in April and May of 2018 conversed for the first time on Friday after years in different prisons.
Max Jerez hadn't spoken in a year and a half with others who were detained from his organization and says that only upon boarding the plane he learned that so, too, had been imprisoned lecturer Thelma Estela Venegas, who he calls "la profe Thelma" and human rights attorney Nidia Barbosa. Both women, like Jerez, were leaders of the Civic Alliance for Justice and Democracy, a coalition of students, campesinos, civil society, and business leaders.
Many, and above all those who spent more time in lockdown, have spent the last four days in shellshock. A campesino leader recounted how one of his companions spent almost the entirety of Friday and Saturday without leaving his room. Under the argument of respect for privacy, the U.S. government has declined to offer details or figures on the health of the liberated prisoners, but some, like campesino leader Dominga de la Cruz, were immediately transferred to a hospital for 48-hour treatment upon arrival.
There are others who, like Jerez, were unable to sleep. Some of them, accustomed to their rigid prison cots, at first slept on their hotel rooms' floor. On Saturday, one of the liberated joked about how he had spent the whole night lying on his bed, unable to sleep but without changing position. "I've grown used to sleeping in a hammock, where you lie down and don't move," he said, seconds before admitting: "I'm emotionally destroyed."
***
The bewilderment and happiness of the surprise liberation, as well as the scars of months or years of lockdown or torture, were greeted upon landing in the United States by newfound uncertainty. Most of those who were freed have left behind children, life partners, parents, a home, and the job that they once held. They now feel forcefully transplanted to a country that speaks another language, and one where they must start from scratch, alone.
"On one hand, it's lovely. We're no longer in those cells, pleading for help from God every day, but concern remains for the family we left behind and that is still exposed. And we don't know what will happen to us tomorrow," says a young man who spent the last five months in El Chipote. "Many of us here had formal work. We had office jobs, administered businesses, and now, here… One of us, a man who is almost 70, managed a grain importation business and is now envisioning work as a security guard. I was the financier of a multinational firm, and I might have to work here painting houses, or something like that. It's a radical blow."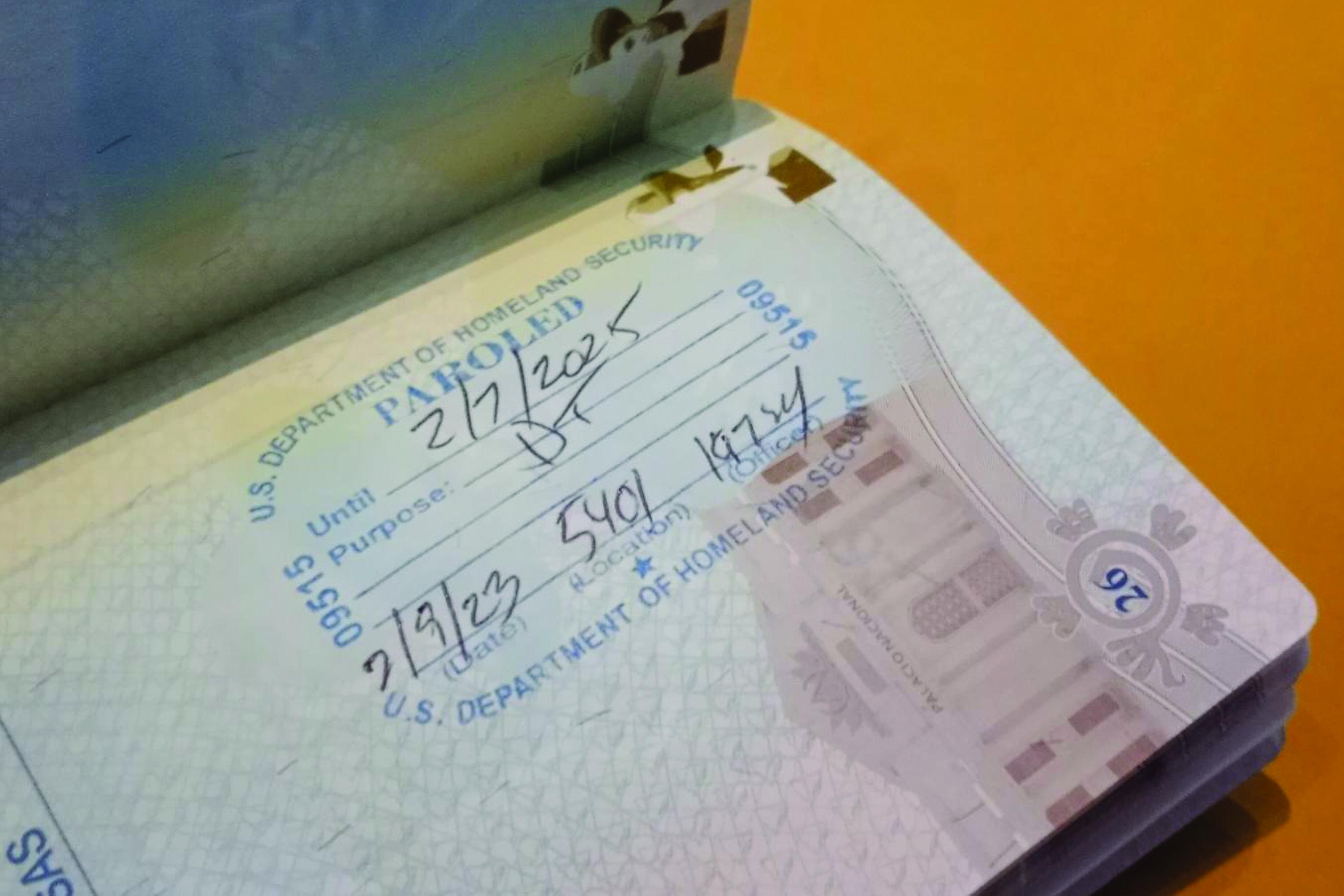 On Friday, after giving a jovial interview to the Spanish newspaper El País, sports journalist Miguel Mendoza, who was incarcerated in June 2021 for denouncing the Ortega regime's repression on social media, grew somber: "With us I saw humble people who were boarding a plane for the first time in their lives. I hope to God that they do not end up abandoned."
For the past three days, the main conference room of the Westin was a makeshift but effective reception headquarters for multiple U.S. agencies, as well as non-governmental organizations like Amnesty International, the International Institute on Race, Equality, and Human Rights, and Casa de Maryland. Around the room, some ten tables worked in shifts of up to 12 hours with signs reading, "contact family and friends," "telephone help," "travel," "luggage," "clothing and toiletries," "emotional support," "medical help," and "immigration and citizenship services." Over the microphone came announcements to those with doctors' appointments or visits and reminders of informational sessions.
Many of these tables worked as if on a ticking clock and on a case-by-case basis. The United States has granted two-year humanitarian parole to the ex-political prisoners and has promised work permits in one to three months, but it is estimated that 109 of those who arrived have no family members or friends in the country. That not only means the lack of a support network while facing the traumas of banishment. It also means not having a palace to stay or anyone to feed them as they await the permit or find an income.
Upon arrival they were told, furthermore, that they had been given a hotel room until Sunday. On the Thursday of their arrival, one of them approached a volunteer and, amid sobs, told him: "On Monday I don't want to end up in the street." Sitting at one of the enormous roundtables at the center of the room, on Friday another former political prisoner told a State Department staffer: "I have nowhere to go." She tried to calm him down: "We'll figure something out."
The Biden administration's goal was for each of the 222 to have registered or been assigned a temporary residence in the United States by the end of the weekend, and for them to be provided a flight to get there, by Saturday it had been determined that certain specific cases could remain at the hotel for as long as necessary. That same day, everyone who desired it and who knew their future address was assisted in filling out a U.S. asylum application. In the afternoon, officials from the Embassy of Spain, which has offered Spanish citizenship to each of the 222, held an information session with those interested in requesting it.
One of those who were released, a former Sandinista who was jailed in March 2019 after refusing to participate in the "cleansing operation" that repressed the 2018 protests against the dictatorship, wrote the address of a stranger on his form.
"That's what is bothering me. I'm going somewhere and I don't even know the address. A friend had only told me, 'Look, I'll write you down there,' and they put down the address, but I don't know if the lady will accept me, because she opened her doors to them and I've only put down the same address to be on my way out of here. All I know is that it's in California," he said. "I'm not the only one in this situation. Many of us are."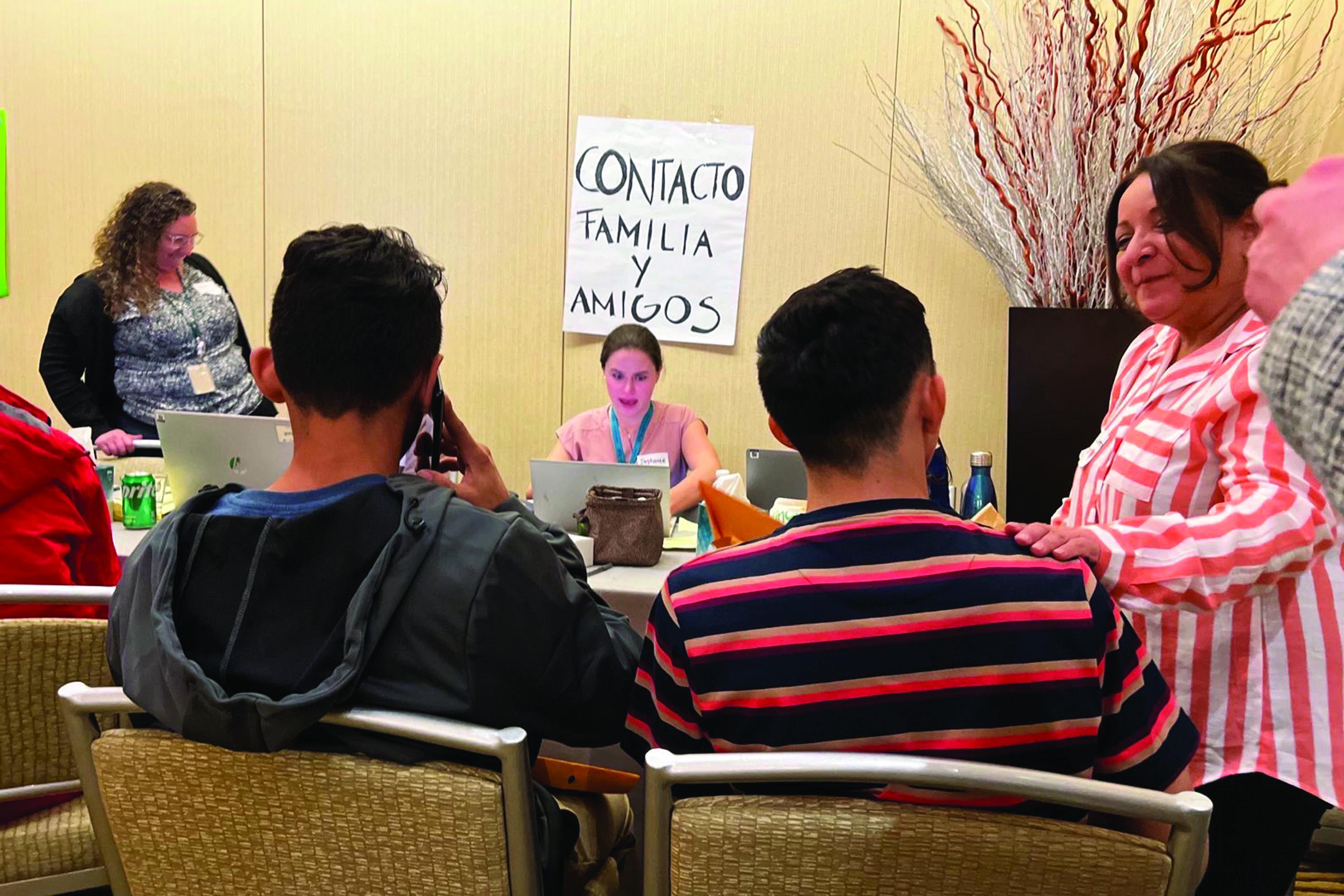 At the start of his imprisonment he says he faced daily torture while he was disappeared for two months before his formal entry into the prison system. He received constant beatings from police officers and masked men who he says had a Cuban accent. "I have just one testicle and I have the marks of the cuffs when the prison guards moved me from place to place," he said, pointing to a cluster of scars along his ankles and arms. He says he saw how others "were tortured until they defecated. The same happened to all of us there."
He spent the last two years in a solitary confinement cell that was five feet and eleven inches high and ten feet long. He saw nobody during that time and spent most of it without a conjugal visit because a guard had told him that the regime had his wife "in its sights." He feared that if he saw her she would be in increased danger.
Standing in the lobby of a four-star hotel and feeling out of place, he speaks with the braced mannerisms of someone for whom the labor of resistance has not yet concluded. He keeps his distance from other prisoners of greater political visibility, wealthier families, and those with more robust international support. Like many of those liberated with him, he does not forget that among the political prisoners are old allies to Ortega and leaders who did not support the violent tranques in which he and thousands of people from poor neighborhoods and municipalities defied the regime in 2018 until they were crushed by paramilitary forces and the National Police.
"You won't see them there," he said, pointing to a group of former prisoners in front of the hotel doorway that, nighttime upon them, was sifting through the suitcases and bags of clothing that Nicaraguan families from New York and Florida have donated for the recently released.
Like many others, on Thursday he mulled over not boarding the plane. "I would have died there, in a cell," he said with icy bitterness. "Freedom is worth something, but in this beautiful country that opened its doors to us… I preferred to be locked up. My people are over there."
He's one of the most visible prisoners due to the amount of time that he spent locked up, the torture he endured, and his recurrent hunger strikes, but he does not want his name to be published. Dozens of the liberated from every socio-economic class and differing levels of name recognition still have family in Nicaragua and reject interview requests —"not yet," says a student leader; "only off the record," a businessman sets as a condition— or ask that their name or identifying details be withheld. No matter that the Orteguista police can no longer reach them. Terror boarded the plane with them.
Miguel Flores, a companion of Jerez in the Nicaraguan University Alliance (AUN), sums up the reticence: "They've liberated 222 political prisoners, but millions of Nicaraguans have been left in fear, in poverty, knowing that if they speak out they can be imprisoned or banished. Ortega's strategy is still working." He will try to establish himself in Los Angeles, where his brother, who fled the country in 2019, already has an asylum case underway.
***
The priority, for many of those who boarded the plane on Thursday, is now to get their family members out of Nicaragua. A teacher who spent the last three months in prison as a punishment against her siblings, members of the opposition exiled in Texas, asserts that she only agreed to travel because she was promised beforehand that, once in the United States, she would have the chance to reunite with her children.
"When I saw the plane I began to cry and my heart broke into pieces," she said. "I couldn't say goodbye to my son, my father, or give them a hug…" Nobody from La Modelo had been willing to tell her father, in fact, on Thursday that she had been freed. "She's no longer here. Go look for her at El Chipote," she says officials told her father. When he arrived, he was sent looking at a third prison and thought she had been killed. "You people did something to her and don't want to tell me," she says her father told them.
Humanitarian parole is issued to individuals, meaning that anyone wanting to opt for family reunification needs to first obtain asylum. The process can take months or even years.
"I fear that if I voice my opinion they'll go after my dad and my mom," she said. "That's why I don't want pictures, or for my name to appear anywhere. I've been told that in Managua they're taking people away again. I thought about it on the plane: 'They're kicking us out, but they're already going to fill those cells again. God willing, it won't happen to our family.'"
She installed cameras in her home but knows it is no defense against the regime. She has asked her parents and oldest child to change their phone numbers and to stay off social media, despite the fact that the government has imprisoned many people who were not on social media, citing criticism of the regime posted from false accounts.
When speaking about how the Ortega government has now denied them citizenship, she took an ID card out of her backpack and laughed: "I have this as a souvenir." She was more worried when she learned on Saturday that the birth certificates of all 222 of the banished have been deleted from the civil record of Nicaragua. "We no longer exist in Nicaragua. My mom went to request my birth certificate and I no longer appear [in the record]," she said, disconcerted.
That could convert her future and that of the other exiled political prisoners in an administrative labyrinth. There are those who have left their children in the case of grandparents and aunts and uncles and now wonder who will legally represent them when arranging their exit before Nicaraguan authorities.
Unmarried couples could face a similar predicament: What document can prove their relationship in U.S. court? On the asylum forms completed this weekend at the Westin there was no option to include these partners, even in cases where they have had children together.
On Saturday night, a volunteer who had just finished his shift approached the former Sandinista who was tortured by the Ortega regime: "I've asked around, and if you apply for Spanish citizenship it will affect your asylum application here, because it's understood that you would have a safe country to go to. If you want to stay in the United States it's a problem, but in Spain things are more expedited."
A new dilemma is thus unfolding: stay in the United States or travel across an ocean with the hope of a shorter process. "The extraction of our relatives would be quicker," he thought out loud. "Yes, at least in the case of your wife and younger children. But that's your decision to make," responded the volunteer.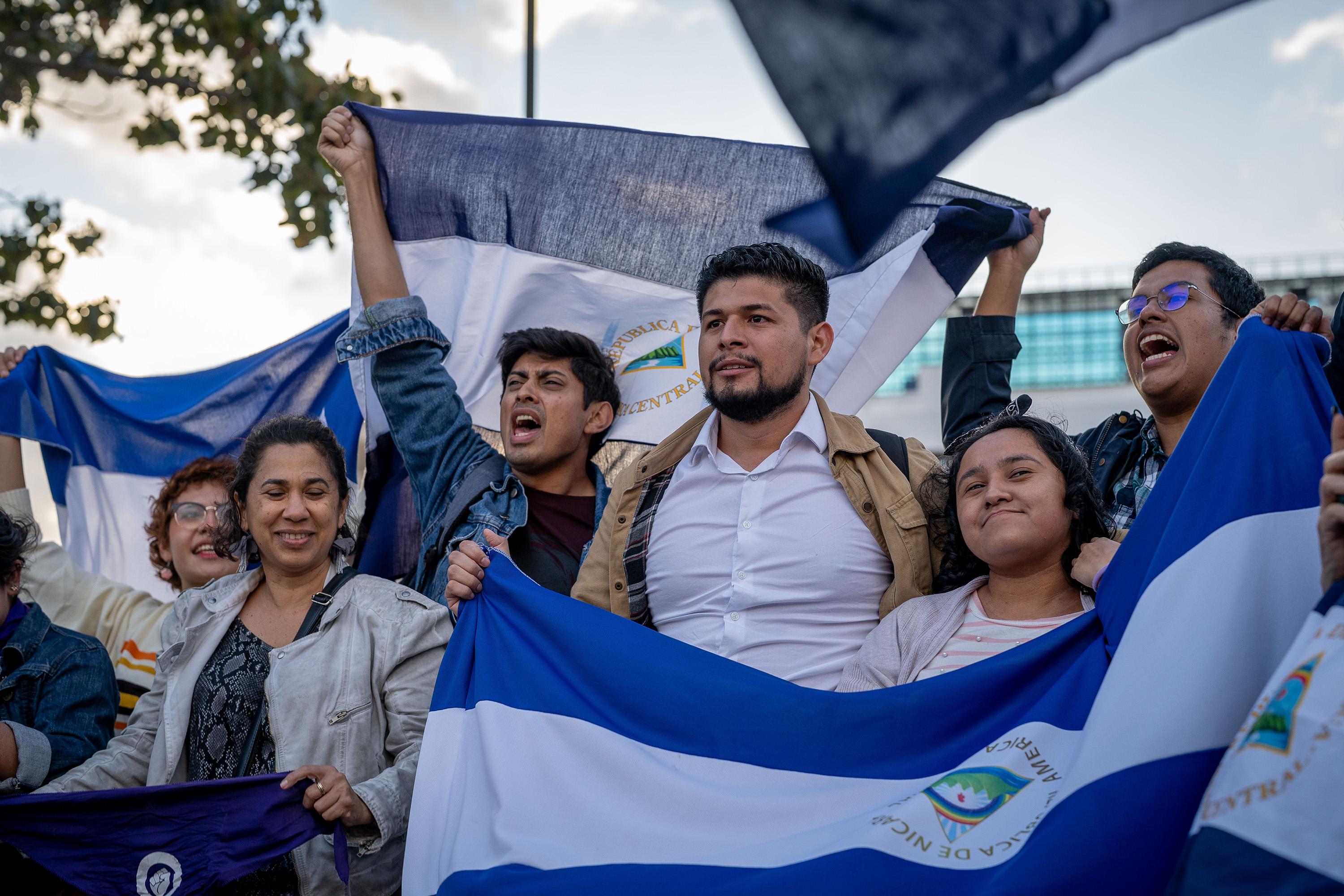 Outside of Nicaragua the man only has two sisters, both of them in Italy. "But they think that my father's death was my fault, because he had a heart attack," he said. "For that reason alone I want to leave here: because I want to pull my family out of there." Even in these tumultuous first days of conflicting emotions, his thoughts abruptly return to politics: "I participated to support the people. It was so that Nicaragua would not be as it is now, in the hands of the regime. And it's worth it, because soon our nation will be liberated. And if we have to return to liberate it one way or another… Many Nicaraguans there are cooperating with the regime out of obligation."
The young man who spent five months in El Chipote in retaliation against his exiled mother also left family behind. "I didn't participate in politics before," he said, "but now I can't stay neutral." On Saturday he flew to Tennessee, where he will stay with a relative.
Another former prisoner said on Friday that he planned to stay at first with a friend in Virginia. A group of five leaders of the tranques has settled down in the home of a Nicaraguan family in Maryland. "I have four uncles in Nebraska. One has been there for 22 years, and another for 15," said a young man, who had been freed from La Modelo, on Saturday. "I also have family in Miami, but they told me things are kind of complicated there."
Félix, the brother of Wilfredo Brenes, traveled to Washington and tried to convince him to go live with him in Canada. "It's a better country to live in. More to the north, people are more open," he said, sidestepping the words 'racism' and 'anti-immigrant.' But Wilfredo opted to fly to Florida, where he has another brother and where his oldest son lives.
Max Jerez will first travel to San Francisco and, later, Minnesota, where he has relatives of his own. "This is temporary," he said. "The dictatorship has said that our rights have been suspended in perpetuity, but dictatorships are not perpetual. I'll return to my country when there is freedom again, and that will be soon. There are more than 222 of us in the opposition."