In the afternoon on April 5, 2022, a dozen soldiers and police officers traveled twice to the home of José Alfredo Grande Martínez, a 45-year-old bricklayer who lived in the Emanuel neighborhood of Santa Ana, territory long held by the Mara Salvatrucha-13. When they first arrived, they asked to see his ID, told him everything was in order, and left. Hours later, they returned, ordered him into the street, forced him to kneel, demanded his cell phone, and handcuffed him.
"'Give me your cell phone,' they told him, but he doesn't own one, because he can't write," his wife Gloria recalls of the moment of the arrest. "'How is it that in this day and age you don't have a phone?', they insisted. 'I swear to God he doesn't use one,' I told them, and took my phone and gave it to them. They took it and pushed him against the wall. 'They say you're a [gang] collaborator,' they told him. 'Me? No, not me,' he responded."
The bricklayer was captured on the accusation that he collaborated with the 37 Locos Salvatrucha, a clique of MS-13. They took him to the 911 holding cells and, the next day, April 6, transferred him to Izalco Prison.
"The soldier gave me back the phone and cuffed him. I started crying out of nervousness, because I've suffered two strokes," said Gloria. Two of their daughters also pleaded, unsuccessfully, for their father's freedom. Later they denounced on social media what had happened, and the case went viral.
"They took him away for not having a cell phone, no matter that he's a hard-working person sustaining our home with no tattoos. He has diabetes, high blood pressure, and a heart disease and we must urgently bring him his medication @nayibbukele," Kathy, one of the daughters, wrote on Twitter on Apr. 9, 2022, in a bid for President Bukele's attention.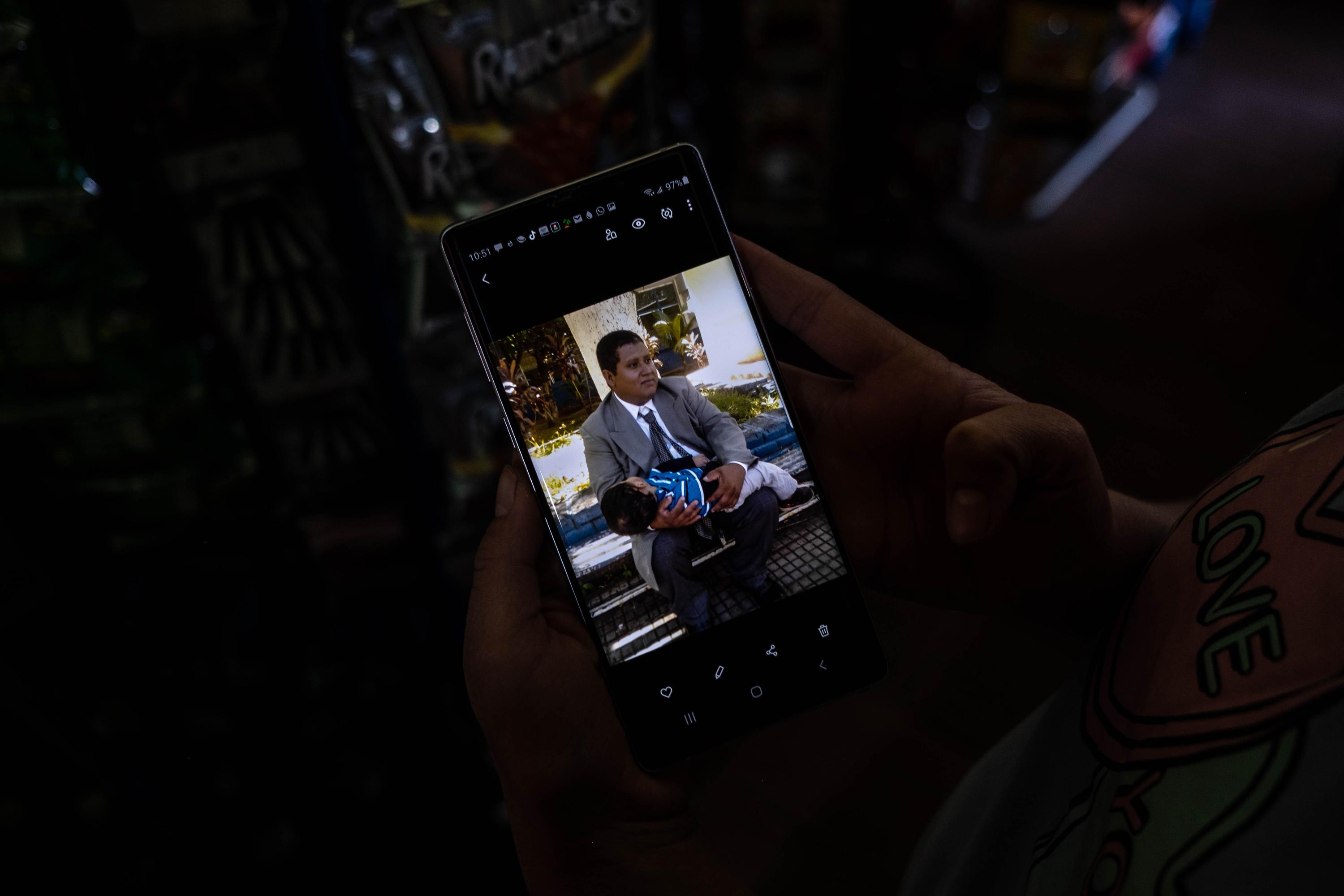 Security Minister Gustavo Villatoro commented on the case over Twitter the following day: "The man was arrested because he hid gang members in his house when the police patrolled the area. He and six gang members were being investigated following multiple citizen reports." The minister added: "They [the authorities] identified Grande Martínez by the alias El Gordo and as a paro [collaborator] of the clique 37LS."
"Poor detention procedure"
But Grande's arrest was arbitrary, according to the Control Unit of the Police itself, the office that corroborates incident reports.
The unit asserted that the officers who arrested him falsified information in their filing, omitted important information on where the alleged facts occurred, and used an "unqualified" source to accuse Grande of illicit association. The unit included these findings in a PowerPoint presentation titled, "Cases of supposed illegal or arbitrary detentions," emailed on May 21, a month and a half after his arrest, from Santa Ana's office to the headquarters of the control unit.
El Faro obtained this internal police document through Guacamaya Leaks, a filtration of millions of emails and official documents from the National Civilian Police (PNC) and Salvadoran Army, and contrasted it with witnesses of the detention and sources with access to the judicial file opened against Grande ten months ago in the Specialized Court of Instruction 2A in Santa Ana.
"Incongruencies exist in the procedure that was carried out, on the basis of a witness not qualified or registered by personnel specializing in the field [...], resulting in the possible violation of other citizen rights of the detainee," reads the internal review.
The arresting officers claimed to have received a tip that Grande was an MS-13 collaborator and that they then observed the bricklayer meeting with gang members in front of his storefront, but that he fled when he saw the authorities.
Their report omitted that they had already asked to see Grande's ID card, had already searched his home, and had found nothing illicit. Three relatives told El Faro that Grande was working at home shining a ceramic floor that he had recently installed when the soldiers pulled him into the street, that he had not met with anyone, and that a picture that authorities published of the supposed meeting was of people already detained in the 911 Jail in Santa Ana, some of whom are not even from the Emanuel community.
The internal review confirmed that agents falsified the report. "They asserted that they observed various subjects and that when they saw the police presence they fled. But in an interview, the officers said that they encountered a man [Grande] in the street, in front of his store."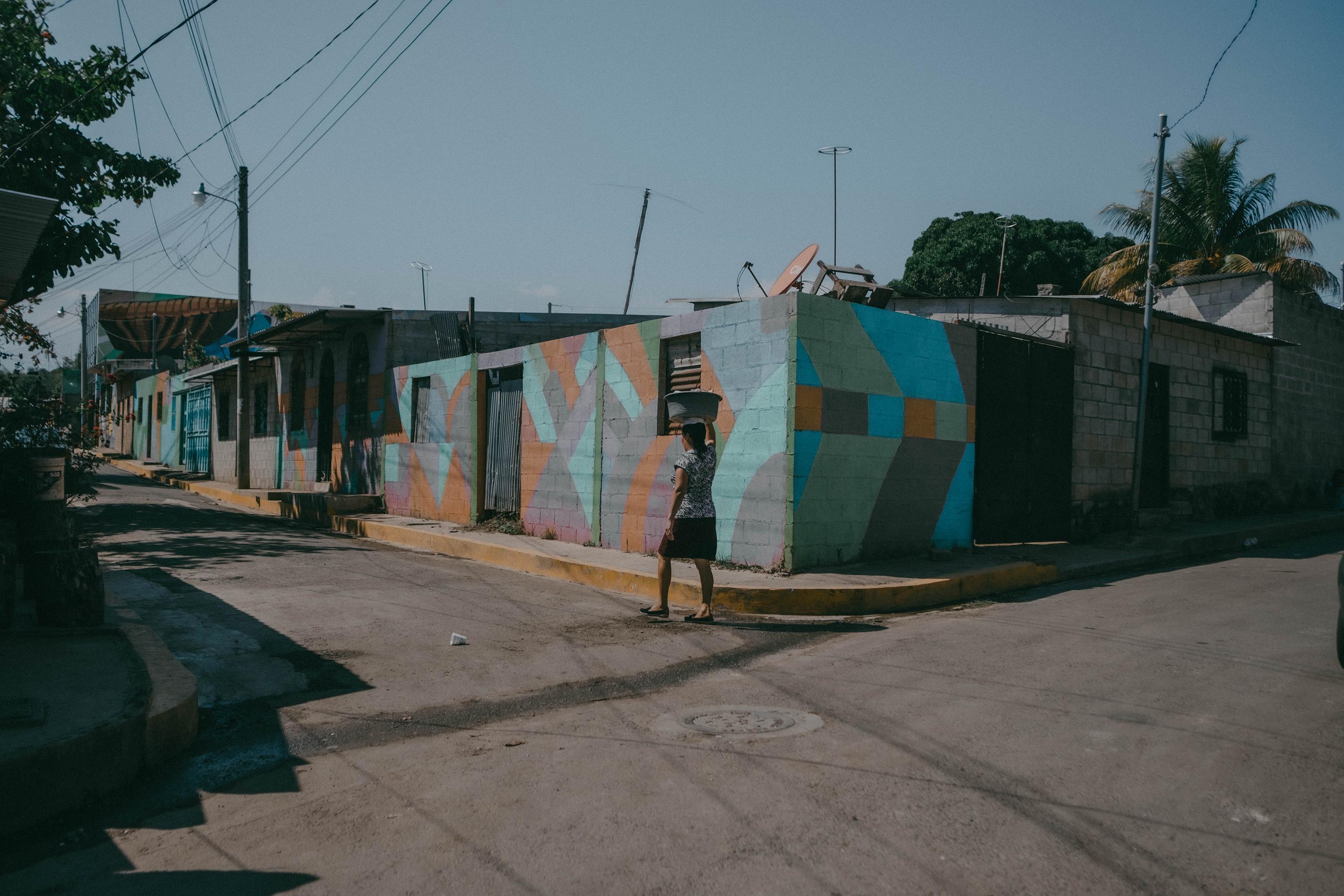 The Control Unit also found that the report did not provide the true names of the involved officers. The filing listed one corporal and two agents assigned to the tactical operations section in Santa Ana, who did not participate in the arrest.
In August 2022, El Faro published an investigation into hundreds of arbitrary detentions under the state of exception, in which a source from the investigations division of the PNC asserted: "[The officers] who created the criminal profiles [leading to the arrests] do not appear in any document, under the pretense of protecting confidential police intelligence." The investigator added. "Some people had never even been profiled as gang members before, but [the police] just say they are, and then apply the decree [the state of exception]."
Grande's arrest fits into this practice. The police report asserts that the police consulted the judicial database and found that all of those they captured "had priors for diverse crimes and were active members of MS-13." But Grande has no criminal record, according to a background check that the Prison Bureau issued on Dec. 6, 2022, which El Faro reviewed. 
The Control Unit also requested information from the Santa Ana delegation to determine which instructions officers had received for making arrests during the state of exception. A ranking officer responded that the instructions were to capture individuals with tattoos alluding to "terrorist organizations," those with a criminal record of forming part of those groups, and those found with evidence in their homes or cell phones of collaborating with them. "[Grande] did not meet these parameters," the Control Unit concluded.
Victims of the gangs and police
Grande and his family, now suffering the whims of the state, were once victims of the gangs.
Fourteen years ago, when the bricklayer worked for a construction company with operations in El Salvador, Honduras, and Guatemala, the family fled their home in Ciudad Arce under threats from gang members. "They wanted to take away my older daughter and rape her. We left everything and came here with what we had. We were traveling around until we found this place," said Gloria.
The family lives on a corner lot along the main street of Emanuel. At first they improvised a sheet metal shack, but last year they built a brick house with the help of relatives in the United States. Living on Mara Salvatrucha turf caused them problems with finding employment. "I sought a job at several businesses, but when they saw my address on my ID card they didn't give me work, saying, 'You must be a gang member,'" said Katherin, Grande's other daughter.
After their move, gang members again began harassing Grande's daughters, so the girls moved to El Palmar, another neighborhood in Santa Ana. "Sometimes those guys would tell him: 'Hey, gordo [fat man], why don't you give one of your daughters to me?' He would tell them no, so they told him, 'You'll pay the consequences,'" recounted Gloria. "They would only come to the house for food. We would look around to make sure nobody was around at night before heading over to where they stayed."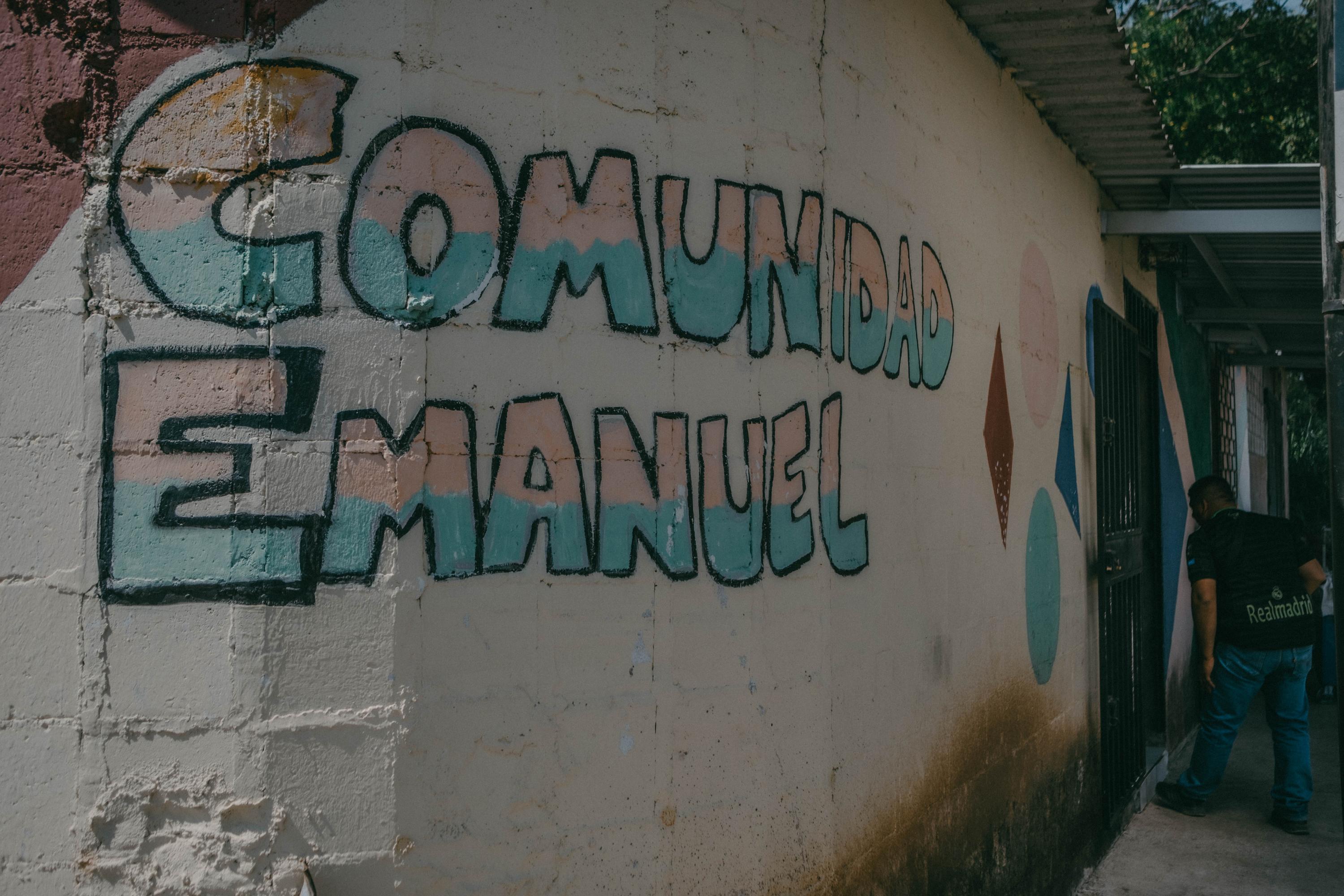 When Grande interrupted his work as a bricklayer due to knee pain and opened his store, the harassment continued. The storefront was on a strategic corner allowing the gang to supervise those entering and exiting the community, and they often demanded drinks. "Out of fear, I would tell him, 'Give it to them,'" said Gloria, "but he would get angry. He wasn't a collaborator. The authorities don't stop to think that you could sometimes be killed for something like that."
Five months after his arrest, Grande was transferred from Izalco Prison to the prison in Santa Ana. Despite the internal probe's finding that his arrest was unjustified, his family does not know when he will go before a judge. He has now been detained for more than ten months.
His capture has also affected his granddaughters, 13 and 15 years old, who were unable to attend school last year because, when their mother died, Grande had been tasked with taking them to school and preparing their food. "I came down with Covid, I got Guillain-Barré [syndrome], and I have Alzheimer's, so he was the one to take care of them," said Gloria. "There was a time when I wasn't even able to stand up. I say that I won't give up, that I won't let the shop go under. When he gets out, God willing, he will say, 'You didn't throw in the towel.'"
Two weeks after speaking with El Faro, Gloria was run over by a car and is recovering in Santa Ana's San Juan de Dios Hospital.