On March 22 and 23, the debate over El Salvador's restrictive abortion laws relocated to the Inter-American Court of Human Rights in San Jose, Costa Rica. The defendant, the state of El Salvador, had to explain what happened in 2013 when Beatriz, a young woman who was suffering from lupus erythematosus and pregnant with a fetus diagnosed with anencephaly —lacking a brain— was denied a therapeutic abortion despite her doctors' medical opinion that she needed one.
Beatriz had given birth before, and her first pregnancy had also put her life at risk. But this time, when she was 19 weeks pregnant, the hospital's medical committee believed that carrying the pregnancy to term could cause severe damage to Beatriz's body and health and concluded that the pregnancy should be terminated. But El Salvador's government and justice system would not allow it. Moreover, its arguments at the IACHR demonstrated that the Salvadoran state is proud of how it handled the situation.
The lawsuit contends that denying Beatriz access to an abortion irreversibly harmed her physical and mental health. Beatriz was 22 years old at the time. On Wednesday, her mother, who witnessed Beatriz's pregnancy ten years ago and heard her daughter ask for something to be done to prevent other women from suffering a similar fate, testified about her own indignation at the time and ever since: "Why did they put her through that torture when she was in the hospital every day for her treatment?"
In a trial that featured doctors and international experts, Beatriz's mother's testimony linked pregnant women's mental health and Salvadoran women's economic situation to the debate over the country's current terminal ban on abortions. In San José in late March, a discussion frequently centering individual political beliefs focused instead on a specific case: the experience of a woman whose last name was withheld to protect the entire family's privacy and safety. Beatriz lived in Jiquilisco, a fishing municipality, where she worked on a farm with her parents as a child before becoming a domestic worker as a teenager. In the final years of her life, she was a tortilla maker despite the fact that, her mother said, Beatriz's hands and feet had begun to deform. "My daughter was a strong woman," she recalled in her testimony.
In their closing arguments to the Court, the family's legal representatives —which include CEJIL, the Feminist Collective for Local Development, the Citizens' Group for the Decriminalization of Abortion and IPAS Latin America— argued that El Salvador's absolute criminalization of abortion is "arbitrary and abusive interference" in a woman's right to life. In addition to demanding comprehensive reparations for Beatriz's family in the form of guaranteed access to physical and mental health, education and financial compensation, they asked the state to "establish legal security for doctors" and to educate them on procedures for acting in high-risk cases. They also demanded legal reforms that recognize that the criminalization of abortion cannot infringe on a mother's right to health and life.
"You are the last chance for serving justice and for avoiding a repetition of the [rights] violations that Beatriz experienced, [the last chance] for health, for life, for women's dignity and autonomy," Salvadoran lawyer Iris Lima said on behalf of Beatriz's family. In 2017, Beatriz died of medical complications following a traffic accident; she had been in fragile health since 2013.
The state's delegation in Costa Rica, led by President Nayib Bukele's Legal Secretary, Conan Castro, included Vice Minister of Health Carlos Alvarenga; the Ministry of Foreign Affairs' director of International Human Rights Cases, Gloria Martínez; eight legal advisors; and priest and theologian Manuel Acosta. El Salvador's lawyers argued that Beatriz was never at risk of death during her second pregnancy and that she received the medical attention she required. While they did not deny that the entire ordeal took a toll on Beatriz's physical and mental health, they contended that those effects had not been caused by the state's failure to act. They asserted that the impact was unrelated to the country's abortion ban. "Neither Beatriz nor her relatives, nor any of the members of the medical team [that treated her] were investigated, tried or punished for the facts of this case, nor were they at any risk of being subject to a criminal investigation," Colombian lawyer Juana Acosta claimed in her closing arguments.
After the hearings concluded in San José, El Faro asked Conan Castro if the state's position was negotiable and whether it was open to the possibility of decriminalizing abortion in any situation. Castro said he had nothing to say on the matter. When asked if El Salvador's government would comment on the hearing, he said it would be done on the Executive Branch's social media after the final written arguments have been submitted to the Court. The deadline to deliver the briefs was April 24.
Before six of the seven judges of the Inter-American Court —the seventh judge, Patricia Pérez Goldberg, excused herself in writing from hearing the case— the discussion focused on the testimony of Beatriz's doctors Guillermo Ortiz and Rafael Baraona and the resolution of the medical committee at the hospital where she was hospitalized for 81 days before giving birth to a baby who died five hours after delivery.
Ortiz defended his and 14 other doctors' recommendation to terminate Beatriz's pregnancy for her health, noting that "it was the best time to intervene." Perinatologist Baraona, one of the three doctors who performed Beatriz's June 2013 cesarean section, said that her health "was always under control." On that basis, Acosta acknowledged in her closing arguments that "while it is true that those illnesses caused her tremendous suffering, which, of course, the state recognizes, that does not mean that she was at imminent risk of death…It is not the state's fault that she believed that she was going to die."
The "Beatriz case" has generated considerable international expectation for years, and even more so in recent weeks. The Inter-American Court of Human Rights' ruling will not be known for months, but it could set a precedent affecting abortion legislation across the continent. For that reason, Sebastian Schruff —the Argentine president of the Global Center for Human Rights and leader of the Christian anti-abortion campaign "No Next Roe", which seeks to prevent the ruling on El Salvador from affecting other countries— sat beside Castro as a member of El Salvador's state delegation.
Starting on March 21, the recent pro- and anti-abortion social media posts asking the Court for justice —a concept that each group equates with its own cause— became in-person sit-ins, banners, and candles at the gates of the Court. For three days, advocates of a terminal ban on abortion and proponents of the right to choose chanted hymns, popular music, and slogans. Self-proclaimed pro-life groups won the battle on the streets to impose their voices by sheer force of volume, but inside the courtroom the audience consisted mostly of green and purple handkerchiefs, the feminist struggle's distinctive colors.
In the state's assigned seats at the back corner of the courtroom, six light blue handkerchiefs stood out as an aesthetic response to Argentina's so-called feminist green tide. For two days, ultraconservative Costa Rican congressman and former presidential candidate Fabricio Alvarado sat beside them at the hearings. On Monday, in anticipation of the Court's potentially binding decision, Alvarado took to Twitter to urge President Rodrigo Chaves to sign the so-called Geneva Consensus —an initiative of the Trump administration— to keep abortion from being "imposed" on Costa Rica.
Opposing criteria for saving a life
On Wednesday at 9:00 a.m., the first day of hearings began with the reading of the Inter-American Commission on Human Rights (IACHR) report. For six years, the IACHR studied the case and concluded that it should be heard by the Court. In 2013, during the legal battle over Beatriz's pregnancy, the IACHR ruled that while protecting life from conception is a legitimate aim, criminalizing the termination of a pregnancy when the fetus has no viable chance of survival "does not meet the requirement of propriety" and loses meaning "given that the protected interest [the life of the fetus] will inevitably fail to materialize."
At the time, the Inter-American Court also ordered El Salvador's government to guarantee "all necessary and effective measures so that the medical team treating Mrs. B. can adopt the medical measures considered appropriate and necessary without any interference [...] and thus avoid harm to her rights to life, personal integrity and health, which could become irreparable."
Beatriz's mother, whose name is withheld from the case file for her protection, spoke next. For 20 minutes, at a loss for words and in a tone of shock, she revealed previously unknown details about how Beatriz learned of her second pregnancy when it triggered a lupus crisis that caused an eruption of sores.
"Her whole body was practically rotting away," Beatriz's mother recalled. She said that the stress that continued pregnancy caused to Beatriz's body was a factor in her 2017 death: "Beatriz died in a rather worrying condition," she said. "The state failed her the first time, and it failed her again [after the accident] by not giving her the treatment she needed when she was admitted to the hospital. She had an accident that she shouldn't have died from. She only had an injury to her face… my daughter was stable when she was admitted to the hospital."
Beatriz's mother described a precarious healthcare system that lacked adequate facilities and personnel: "Beatriz was admitted to the Jiquilisco Hospital because of her injury and there was a storm that night; the hospital flooded," she testified. "They transferred her to the hospital in Usulután and the doctor who received her there didn't know what the disease of lupus was, and I asked her, 'If she's a doctor, why doesn't she know what lupus is?'" After Beatriz was discharged, they had to return to the hospital the next morning because Beatriz had a cough that turned into pneumonia. A day and a half later, Beatriz died.
The doctors testified next. Dr. Guillermo Ortiz, who was the director of Maternity Hospital's high-risk pregnancy unit in 2013, explained that he met Beatriz in 2011, when the Jiquilisco hospital referred her to San Salvador's Maternity Hospital for a crisis 26 weeks into her first pregnancy. "She had already been diagnosed with lupus and was presenting with an exacerbation of [the effects of] lupus," he recalled. In addition to that disease, he said, Beatriz had rheumatoid arthritis and lupus nephritis —kidney problems— in her twenties.
During her second pregnancy, Rosales National Hospital called the doctor to consult him about the case. By that time, Ortiz told the court, Beatriz had already been informed that her baby was not going to survive outside the womb: "The first thing she said to me was, 'If my child is not going to live, doctor, I don't want to risk [my life] or nearly die like last time…help me to terminate my pregnancy,'" the doctor testified. Beatriz was 13 weeks pregnant at the time.
The gynecologist recounted that he had the young woman transferred to his unit at the Maternity Hospital so that he could continue to care for her. He also explained that he elevated her case to the hospital's medical committee, which consisted of the directors of all the facility's medical units. On April 19, 2013, the medical committee concluded that terminating Beatriz's pregnancy was the best option because the fetus could not survive outside the womb. The committee drafted a report with its recommendations. At that time, according to Ortiz, Beatriz "was not in crisis, but it was the best time to perform the intervention."
At one point in his testimony, Ortiz recommended establishing protocols to give doctors more leeway in cases like Beatriz's. "I saw many women die because they did not have the chance to have a timely abortion, despite having requested it as the chief [physician]," he said.
In a half-hour recess, protesters could be heard in the distance from the hallway, like elevator music, chanting Spanish singer-songwriter José Luis Perales' "Qué canten los niños" [Let the Children Sing]. Afterward, it was Rafael Baraona's turn to testify. In 2013, Baraona was deputy chief of perinatology and Ortiz's subordinate. His testimony was based on reading Beatriz's clinical file. "I didn't have much of a chance to talk to her," he admitted. Nevertheless, based on the results of her tests, Baraona claimed Beatriz was not experiencing renal failure because her blood had normal levels of creatinine, an indicator of kidney health. He also told the Court that her lupus was in remission.
In that context, he asserted, lupus is not a dangerous condition in pregnancy. The doctor even went as far as saying that "the vast majority of women who have lupus improve during pregnancy"; that comment prompted a sigh of indignation from the audience that sided with the family's attorneys.
Baraona also tried to discredit the medical committee that recommended terminating Beatriz's pregnancy. "That committee is made up of administrative personnel, not personnel who treat patients," he said. From the bench, Judge Nancy Hernández López confronted him by reading the list of specialists who signed the committee's minutes: "I don't think these are very administrative positions," she said. Nevertheless, Baraona persisted, claiming that if she continued reading, she would find committee members with administrative positions. "I have already finished the list; there [are] no more [names]," the judge replied.
The state's witness asserted that the Salvadoran Ministry of Health's protocol establishes that doctors may intervene in a pregnancy only if the woman is at imminent risk of death; in the meantime, the physicians can only monitor her. Minutes before, Ortiz had said that this limitation "is frustrating from the medical point of view…we know that it is highly likely that she will go into a critical state, [but] we cannot prevent it…We have to wait until there is a complication and by then there's a greater probability of harm and the chances of survival are reduced," he stated. Baraona argued that the norm is for "the termination of pregnancy to take precedence if it is not feasible to save both [lives]."
The Court asked both doctors to talk about how continuing a pregnancy in which her child had no chance of survival might have affected Beatriz's mental health. Ortiz said that it caused her great anguish: "A psychologist did an evaluation in which she said that [Beatriz] was experiencing grief and wanted to end it, and there was a history of suicide attempts." The physician noted that Beatriz called him constantly to let him know of her despair. "She would talk to me on the phone and say: 'Doctor, I don't know if I'm going to wake up. I don't want to die; I've already been through this once.'"
Baraona disputed that point by noting that the same psychologist's report said that Beatriz was "stable." Another judge, Humberto Sierra, then asked him if he had ever spoken to the mental health professional in person. The doctor acknowledged that his schedule did not coincide with the psychologist's and that he never spoke about Beatriz with her.
A questionable witness
Rafael Baraona's testimony served as the foundation for the Salvadoran state to claim in its closing arguments on Thursday that "Beatriz and Leilani were monitored, medically treated [and] stabilized, preventing serious risks and treating non-preventable ailments in a dignified way," lawyer Ana María Idárraga contended. She added that the psychological care Beatriz received while she was hospitalized proves that her mental health was also taken care of. Any impact on Beatriz's mental health as a result of the continuation of her pregnancy, the attorney said, "did not stem from the state's actions and therefore cannot be attributed to the State of El Salvador."
Court hearings do not ordinarily draw large audiences, but the courtroom was unusually crowded for Beatriz's case. Sitting in the audience, Ortiz muttered "lie" or "that's not true" whenever state representatives made statements that contradicted his account or were obviously false. For example, Ortiz did so when Idárraga tried to strengthen Baraona's standing as a witness by claiming that, while he had not been a member of the medical committee that studied Beatriz's case, he was part of the clinical committee, "which is the one that makes the decisions." But the medical committee's position is the last word on this topic and in this case.
When Acosta said that she didn't know where Beatriz got the idea that she was going to die because no doctor had ever told her that her life was in danger, Dr. Ortiz snorted and said, in reference to her first pregnancy, "because she had already lived through it!" The doctor even feinted at getting up: "I should step outside." A few minutes later, he corrected himself: "I'll raise my hand; maybe they'll let me speak." Those seated nearby told him that wasn't possible.
Abortion has always been illegal in El Salvador. However, between 1973 and 1997, Salvadoran law allowed for terminating a pregnancy in three circumstances: the pregnancy endangered the mother's life; the fetus could not survive outside the womb; or the pregnancy was the result of rape. In 1998, the law was revised and eliminated these three exemptions. In 1999, a constitutional reform was ratified that recognized the right to life "from the moment of conception." The doctors who treated Beatriz in 2013 argued that this reform prevented them from giving her a therapeutic abortion.
Acosta argued that, in Beatriz's case, there was "confusion on the part of the doctors" as to whether or not it was lawful to terminate the pregnancy. The state claimed that the "confusion" stemmed from the "case's extenuating conditions," including Beatriz's simultaneous lupus and nephritis, the fact that she had suffered pre-eclampsia in her first pregnancy, and the fetus's diagnosis with anencephaly in her second pregnancy, not from limitations imposed by the Penal Code. "The uncertainty did not derive from the legal definition of the crime," she said.
The state insisted on the need to defend the lives of both mothers and the unborn, but on the last day of the hearing, the Inter-American Court judges did not seem to be convinced about the strength of those arguments. The magistrates were particularly perplexed by the witness on whom the state based its case.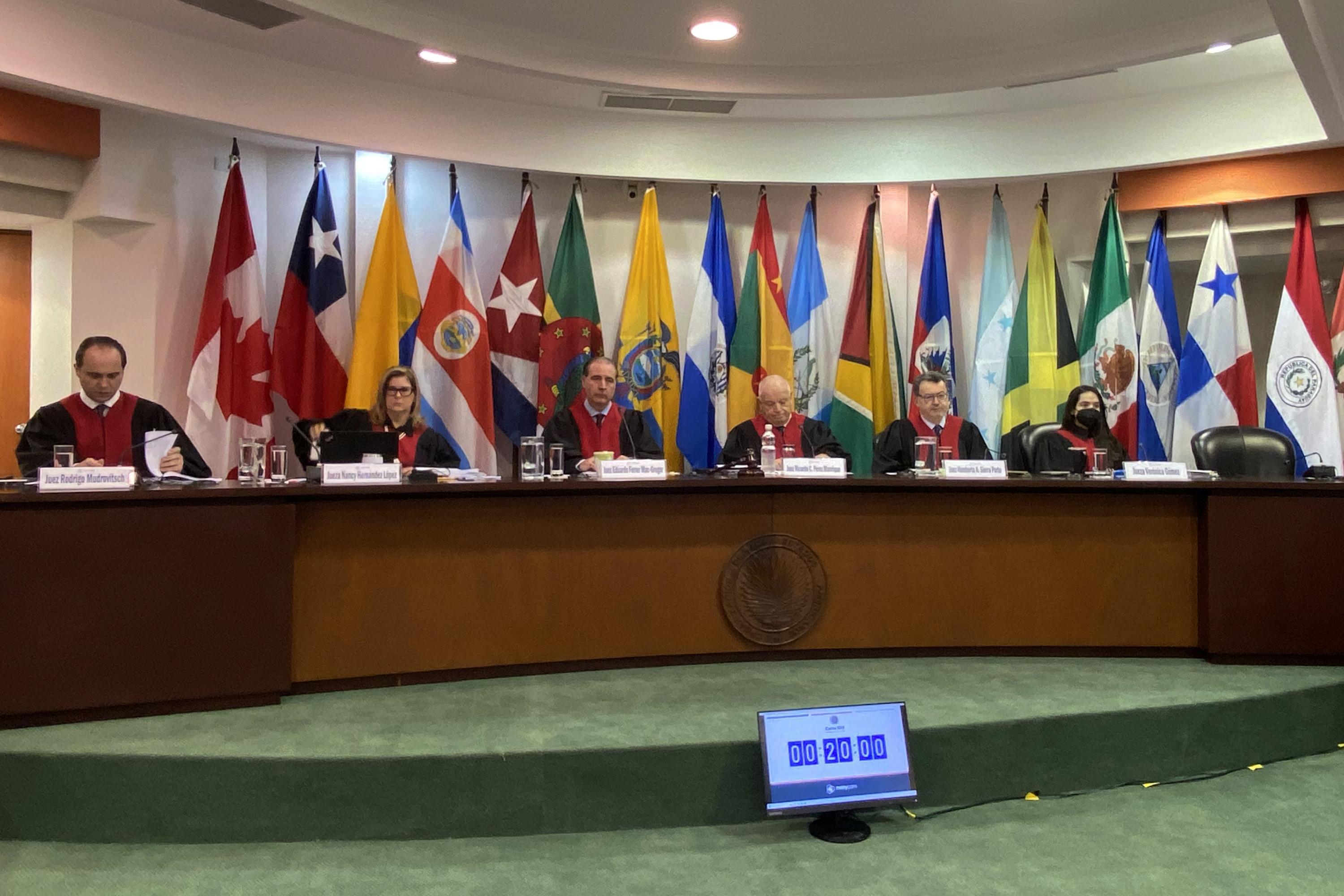 In the round of questions that followed the closing arguments, Judge Rodrigo Mudrovitsch expressed his doubts about the relevance of Dr. Baraona's testimony. "There is a specific point about Rafael Baraona that is very important for me [to know]. What was [his] contact [with Beatriz], [and] when [and] how did he know about the circumstances of that case?" he asked. The day before, Baraona had offered disorganized testimony. He answered the judges' questions for an hour and a half and ended up acknowledging that he knew more about the case from the clinical file than from direct dealings with the patient.
In fact, in its closing arguments, the plaintiffs asked that Baraona's testimony be thrown out. In Beatriz's 1,200-page medical file, Baraona is mentioned only five times, while Ortiz's notes appear on 95 percent of the pages.
On Tuesday, less than 24 hours before the hearings began, Ernesto Castro, the president of El Salvador's Legislative Assembly and a member of the ruling party, tweeted his assurance that "as long as the New Ideas [Party] holds the majority in the Legislative Assembly, there is not even the slightest possibility that abortion will be legalized." The Assembly's vice president, Suecy Callejas, also stated that "the Constitution is clear; life is defended here. We do not respond to any organization or international institution's lobbying." Callejas added that the Nacer con Cariño (Born with Love) and Crecer Juntos (Grow Together) laws were approved in 2022. The legislation stipulates personalized attention for mothers during their pregnancy and postpartum period and their children's early years.
Salvadoran Vice Minister of Health Carlos Alvarenga repeated that argument in Thursday's hearing. He testified only briefly, mentioning both laws to the Court as proof that El Salvador offers pregnant women comprehensive healthcare.
The last time the current government commented publicly on abortion was on September 17, 2021, when President Nayib Bukele posted on Facebook that the constitutional reform his vice president was spearheading would not include "any type of reform to any article that has to do with the right to life (from the moment of conception)." This position differs from his stance as a presidential candidate. On October 31, 2018, he said at a public debate at the Jesuit Central American University that he was in favor of abortion when a mother's life was in danger. Prior to that, in 2013 Bukele opined specifically on Beatriz's case; at the time, he called those who had prevented the termination of her pregnancy "fanatics." He has since deleted the tweet.
Castro declined to answer questions about President Bukele's change of stance.
An absolute right?
In San José, the State insisted on recognizing the unborn as persons and the legal value of their lives. "The human being is all or nothing," said Acosta. In response, attorneys for Beatriz's family and from the IACHR cited the Court's ruling in Artavia Murillo v. Costa Rica, which established that the right to life of the unborn was "gradual and incremental" while in the womb. Both Acosta and her colleague Ana María Idárraga —academics at Colombia's Universidad de La Sabana who have written analyses on the gendered approach of the IACHR Court's jurisprudence— asked the Court to "review" the Artavia case. 
"This is the court's opportunity to clarify that untenable position," Acosta argued on behalf of the state of El Salvador. Idárraba added that "this consideration of the gradual and incremental nature of the protection of the right to life was deeply flawed and needs to be clarified to maintain the coherence and integrity of [IACHR] jurisprudence."
That was also the central point in the testimony of US lawyer and academic Paolo Carozza, whom the state called as an expert witness. Between 2006 and 2009, Carozza was a member of the IACHR and served as its president in 2009. "Human dignity is universal," he said at the beginning of his testimony. He went on to explain that in cases like Beatriz's —in which the unborn child is ill, and its life is unviable after birth— valuing one being's dignity over another is "arbitrary" and "incompatible with the principle of non-discrimination."
Between 2019 and 2020, Carozza was a member of the Trump administration's Commission on Inalienable Rights. He argued that the Court cannot restrict the right to life and that the principle of the state's discretion in determining its protection must prevail. Questioned by the family's lawyers about whether an unborn fetus' rights should be absolute in cases in which the mother's life is at risk, Carozza conceded that, "if by absolute we mean that a pregnancy can never be terminated, even when the woman's life is directly in danger, [then] no, I don't agree with that." 
The state's expert witness ended by admitting that "very complex" medical decisions must be made when assessing the risks. He added that "almost by definition, it is difficult to answer how the conflict between rights should be resolved," but that abortion should not be presented as the only option. However, in cases of ectopic pregnancy, he agreed that "we all know that these need to be terminated as soon as possible to save the mother's life."
In its closing arguments, the state used Carozza's testimony to counter the IACHR and Beatriz's family's assertion that not terminating her pregnancy was tantamount to subjecting her to torture. "Protecting the unborn," said Acosta, "cannot be categorized as a form of torture. It stems from the need to protect the unborn." The lawyer cited a figure published by the World Health Organization (WHO) in 2021 that counted 73 million abortions performed worldwide. "We are talking about an annual loss of more human lives in gestation than people who have been killed in the first and second world wars and the Rwandan genocide combined," she said.
In response to the IACHR and the complainant's demand that El Salvador change its legislation to decriminalize abortion in four cases, the State said that it was concerned about the ambiguity of health as the justification for terminating a pregnancy. Acosta claimed that "the formulation of grounds [in some Latin American countries] permits ambiguous interpretations, which allow for eugenic abortions"; however, she did not cite specific countries or concrete legislation. Acosta also expressed "particular concern about mental health grounds" for terminating a pregnancy.
Attorney Isabel Jaramillo, whom the IACHR called as an expert witness, testified that protecting women's mental health is an essential reason why women must have access to abortion. Jaramillo's academic work has focused on violence, abortion reforms, and how these affect women's lives. In her testimony, she explained that, according to the WHO, public policy on sexual and reproductive health should be geared toward women's well-being and survival, and states should "trust women's autonomy" and their ability to know when their bodies are in a life-threatening situation.
The expert emphasized that the absolute criminalization of abortion affects low-income women and should be a key focus of the debate. Denying access to abortion, she said, assumes "that women have control over their time and that they are economically independent; it presupposes that when they decide to have a child they have the means to raise them, the time and knowledge to care for them, and the resources to feed and tuck them in." She added that 27.3 percent of Latin American women do not have their own source of income, 12 are unemployed and 19 are not paid for their labor.
The state acknowledged that Beatriz and her family were living in a vulnerable economic situation in 2013 but maintained that the fact is irrelevant to the case. Acosta even manipulated the expert's argument that the abortion law does not account for the context of inequality, insinuating that the Commission proposes decriminalizing abortion as a remedy for economic inequality: "It is true that we must address the causes of poverty, and it is true that for the poorest women accessing healthcare is much more difficult than for women who are [not impoverished], but is decriminalizing abortion really the way to address the causes of poverty? Are we focusing on something that is not the issue?"
The IACHR was also given time to respond to the arguments that Acosta and Indárraga made on behalf of the state and to offer its own. Julissa Mantilla, the Commission's president, reminded the Court of the importance of maintaining consistency with the jurisprudence in previous court rulings, in which it was established that "protection for the life of the unborn is not absolute nor does it prevail by itself over the rights of women." She also rejected the state representatives' attempts to separate El Salvador's criminalization of abortion from Beatriz's case. Mantilla pointed out that the state is guilty by omission because its current legal framework did not provide doctors with the option to terminate Beatriz's pregnancy while secure in the knowledge that they would not be prosecuted for doing so.
Tania Renaum, the IACHR executive secretary, remarked that Beatriz's story represented the experiences of other women whose voices had not been heard, and, as Guillermo Ortiz stated, died without being allowed to receive timely medical treatment to terminate their pregnancy in order to save their lives. "This case cannot be evaluated without considering the context of violence against women," she concluded.
Beatriz died in September 2017, but her voice was still heard in the San José courtroom where the hearings took place. Her family showed a video, recorded in May 2013, in which Beatriz expressly addressed then-president Mauricio Funes: "Help me so that the [Constitutional] Chamber allows for terminating a pregnancy. [...] I don't want other women to have to experience what I went through."
When the judges had asked all their questions and the Court's president had adjourned the hearing, IACHR and state representatives greeted each other and shook hands. The parties posed separately for photographs; they were conscious of the historic dimension of the case now being decided by the IACHR Court. Perhaps each side felt that it had won. Meanwhile, the debate over abortion raged on in the streets. By the end of the second day of hearings, demonstrators in blue handkerchiefs —who had been praying in front of the Court building to ask for wisdom in the ruling— were already calling the judges corrupt and chanting for Costa Rica to withdraw from the court.
*Translated by Jessica Kirstein