As presidential candidate Bernardo Arévalo takes the stage for a vigorous speech to close out his campaign, a wave of applause ripples across the Constitutional Plaza in the historic center district of Guatemala City. It's the evening of Wednesday, August 16. The plaza, spanning one square kilometer, has filled to the brim with several hundred attendees. There is a strange sensation of inevitable victory amid a democratic crisis that has roiled the Central American country for more than four years.
"Drawing from the tour through history that this plaza grants us, drawing from the seed that will germinate, we will not repeat what our heroes did. Rather, we will form a new springtime, rejuvenated for the times that will come. The new springtime will put an end to corruption!" proclaims the candidate.
The plaza is a thread woven through the cloth of Guatemalan history. In the early morning of June 18, 1954, as the book Bitter Fruit recollects, a U.S. military plane flew low over the square, scattering leaflets calling for the immediate resignation of President Jacobo Árbenz, the successor of Juan José Arévalo, father of the now-candidate. Days later, a group of radical Guatemalan military officers backed by the United States overthrew Árbenz and installed a military regime, putting an end to the ephemeral democratic "springtime" of civilian rule that lasted just one decade. In 1960, the country descended into an internal armed conflict from which it struggled to emerge for 36 years.
Those congregated sing the national anthem —"nor tyrants who spit in your face," says the first stanza— to the sound of a marimba band while a camera projects their faces onto a megascreen. Five drones buzz like giant gray flies in front of the candidate while he preaches "historic change" with a romantic, at times cheesy, aura of renewed hope similar to that of the 2008 Barack Obama campaign. Almost nobody had seen this day coming when, at the end of June, the opposition legislator and former diplomat had convened a more discrete campaign closure for the first-round contest in an acoustic shell that flanks the plaza to the west. That morning, June 21, polling by daily newspaper Prensa Libre had placed him in eighth place in a field of over 20 candidates. Today Arévalo leads the race by a wide margin in surveys by Prensa Libre and Cid Gallup.
Arévalo's rise appears to be an accident, a miscalculation by Guatemala's corrupt judicial system. Three popular candidates were struck from the race, clearing the way for his first-round victory. A democratic proposal —one that, according to Arévalo, includes broad consensus, respect for the division of powers, press freedom, and the return from exile of dozens of antimafia judges and prosecutors and journalists— has managed to take root in an exclusionary, authoritarian electoral field stained by alleged bribery and "extreme judicialization," arousing concern around the world.
"We have known that the risk of failure has been present throughout this campaign. Our history has never been easy. And there is a risk that the same old groups will get their way…" Arévalo begins. In his speech he invokes three times this iconic line popularized by Salvadoran autocrat Nayib Bukele —"the same old groups, los mismos de siempre"— to refer to his political rivals. So has his runningmate Karin Herrera, a charismatic biologist from the public San Carlos University, popular with the student movements, minutes earlier.
"Noooo!" cries the public.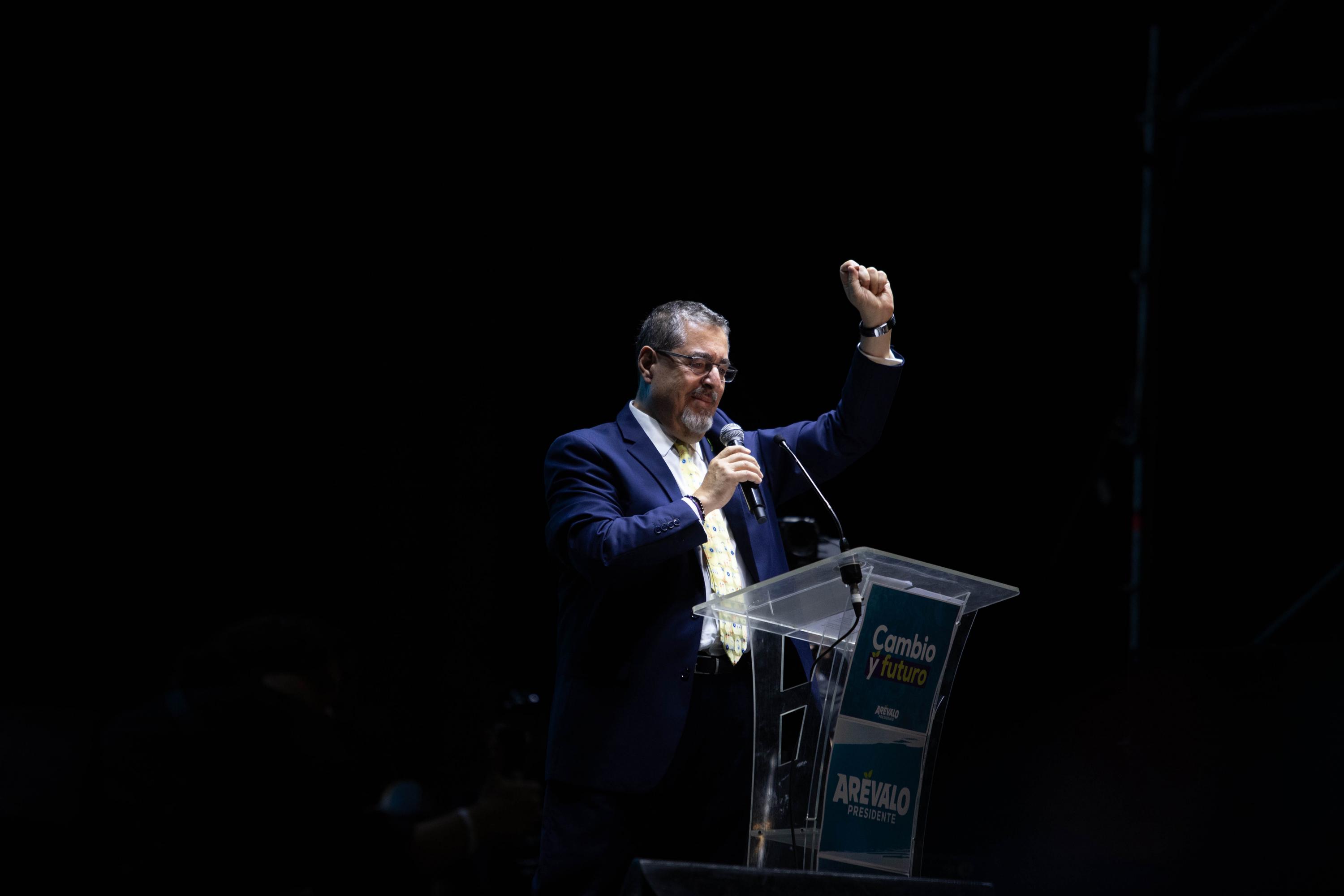 For now the Constitutional Court has not allowed the Public Prosecutor's Office —which has launched a series of creative attempts by any means possible— to remove the candidate or his Semilla ("seed") party from the race. In the morning, Cid Gallup placed him at a 22-point advantage over former the first lady, three-time presidential candidate, and political boss Sandra Torres, who has deployed a disinformation campaign accusing him of pushing "gender ideology". The morning polling suggests that the fear tactic in the majority Christian and conservative country has not stuck.
After the first round of voting in June, when the Supreme Electoral Tribunal was on the brink of certifying the results, the Public Prosecutor's Office accused Semilla of including 12 dead people in its membership rolls, of falsifying signatures in its creation in 2017, and even of supposedly laundering money. In their public arguments the prosecutors have drawn from a criminal complaint lodged by Arévalo himself in May of 2022 against an alleged plagiarist. Torres has replicated the prosecutors' arguments in her campaign.
"…but the only way to beat them isn't with speeches or rallies. We have to go vote. Voting is the only way to help this country move forward. Voting is the only way we have to make reality our dreams, our wishes, our desires for a dignified life!"
But with the elections set for Sunday —as if it were an arranged marriage— the public is still getting to know Arévalo and his small progressive party Semilla, born of the 2015 protests that led to the resignation of retired general and former President Otto Pérez Molina, who was tried and convicted last December of customs fraud. The party was born in this very plaza, concentrated in the capital-city middle class. Today Arévalo reminds the public that his father also took the podium in this plaza.
"In the journey of this campaign, I have not been alone. In addition to all of you, my father, Juan José Arévalo, has increasingly kept me company. Because he not only lives in me, but in each one of you, in all of the people who remember him as we travel the country. (...) I am not my father, but I am traveling the very path that he laid."
"A family member of his, I think it was his father, va? He left behind something beautiful, and my father remembers him. He comes from a good family," says Odilia Chocón Bran, a woman in her fifties who traveled to support the candidate with two friends from Fraijanes, a town 45 minutes outside the capital. After Arévalo's speech, in a pause in the conversation, she leans in shyly and adds in a quiet voice: "I need to find a job and he has promised to help us women."
Both the polling and social media suggest that Semilla has carefully nurtured its support among young people under 30. A series of musical acts trickle onto stage throughout the event, like Tijuana Love, a local house fusion group, and Danny Marín, a Guatemalan rapper who goes by Kontra. In a nod to the capital city's nightlife culture, the night ends with cumbia rebajada remixes to classics by Aniceto Molina.
"We're here to celebrate this new springtime and on Sunday we'll deliver a second surprise," says Andrés, a 28-year-old volunteer for Semilla who requested a day's vacation time to travel to the plaza from the eastern department of Jalapa. "If in 2015 we gathered in this central plaza to get rid of a corrupt [president], today we are here to demonstrate that we will bring a political party of the people to the presidency."
Fernando Hernández, an ecologist nearing his seventies, has also arrived to support the party. As deafening music blares from speakers in the middle of the plaza, he recalls that he, too, was here in 2015: "We wanted change, but we didn't have a path to achieve it," he reflects.
After Pérez Molina resigned, voters chose Jimmy Morales, a popular comedian with an anti-corruption discourse. Under the microscope of an investigation for illicit campaign finance, Morales expelled the International Commission against Impunity in 2019. The next January, when he completed his term, he was sworn in as a member of the Central American Parliament and recuperated his immunity, in a twist that was read as mockery of the will of voters. This year, Morales launched a fruitless bid for Congress. His brother Sammy obtained just 0.3 percent of votes in the presidential election. Their party obtained less than five percent of presidential votes and not a single seat in Congress, underperformance which —according to electoral law, in a country where dozens of parties have sprouted up and died in recent cycles— spells grounds for cancellation.
According to Fernando, if Arévalo wins his party must deliver on its promise to add more seats to the table. "Semilla should not limit itself to only its leaders' circles. They should bring more people in and listen to us, the elderly," he says. "Many of their leaders are young. They didn't live through the war."
Early this year, the election presented itself as a referendum on that era of military rule. But the electorate cast aside the possible presidency of arch-conservative Zury Ríos, the protegée of her father, General Efraín Ríos Montt, dictator from 1981 to 1983 during the bloody genocidal era of the conflict. After the first round, efforts by the parties of Ríos, Torres, and President Alejandro Giammattei to prevent the certification of the vote nurtured Arévalo's image as an anti-system candidate.
While in the last two years the state has imposed exile or prison as the cost of fighting against corruption and has incarcerated journalist José Rubén Zamora and anti-corruption prosecutor Virginia Laparra, the issues most capable of provoking mobilization from sectors of the country have been economic in nature, like the payment of mandatory motor vehicle insurance or problems or changes to the trash collection system. Attendance in the plaza during demonstrations has become a social thermometer of how far a movement can go, as well as its pluralism and longevity.
The last time that the plaza was almost filled was at the end of July 2021 after the dismissal of Juan Francisco Sandoval, the now-exiled former head of the Special Prosecutor's Office against Impunity. Multiple Indigenous authorities convened a national strike with the backing of university student movements, rural development collectives, and opposition parties.
In that moment they appeared to have found a remedy for the country's authoritarian drift, but then the judicial system continued to decay and the protests evaporated. Now Sandoval's entire team is in exile, in prison, or has been transferred. Congress has appointed the architect of his dismissal, Attorney General Consuelo Porras, to a second term through 2026 despite U.S. sanctions for obstructing corruption investigations.
Tonight over a dozen members of the Achí Mayan Ancestral Authority have arrived at the plaza from Rabinal, Baja Verapaz, in support of the candidate, dressed in white suits or blue-green multicolor huipiles and with staffs of command in hand. On Thursday a Guatemalan court would hear final arguments in the Rancho Bejuco trial, a massacre of 25 Indigenous people —among them 17 children and five pregnant women— in the hands of the Army and paramilitaries in July 1982, during the de facto rule of Ríos Montt.
"We're tired of impunity, corruption, los mismos de siempre," says Jorge González of the Achí Authority. "The best way to get rid of it is to support Mr. Arévalo so that he reaches office and jointly works toward development, fights human rights violations, kidnappings, and the plundering of our land. We have already presented Doctor Arévalo [to our community] and we have extended our support."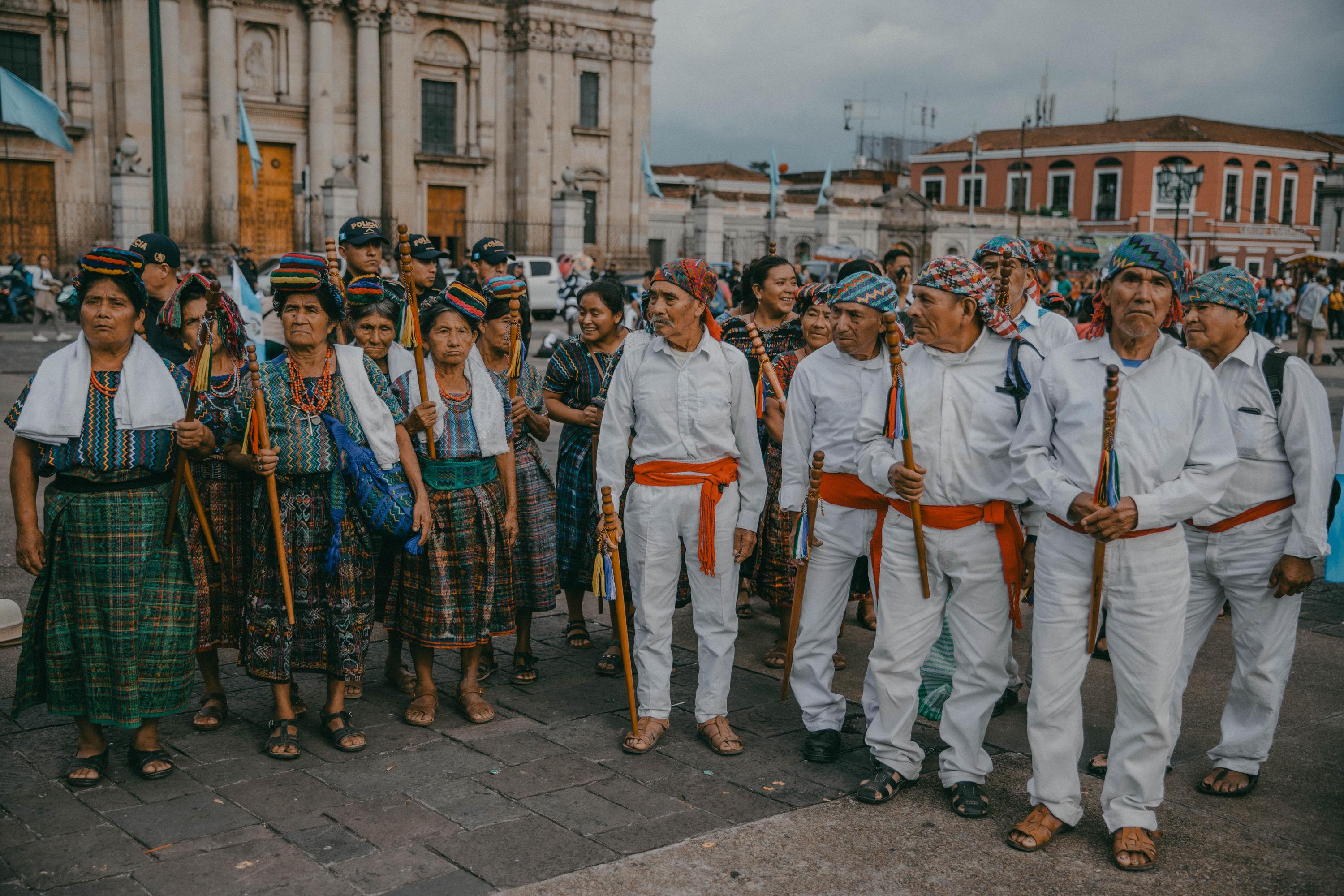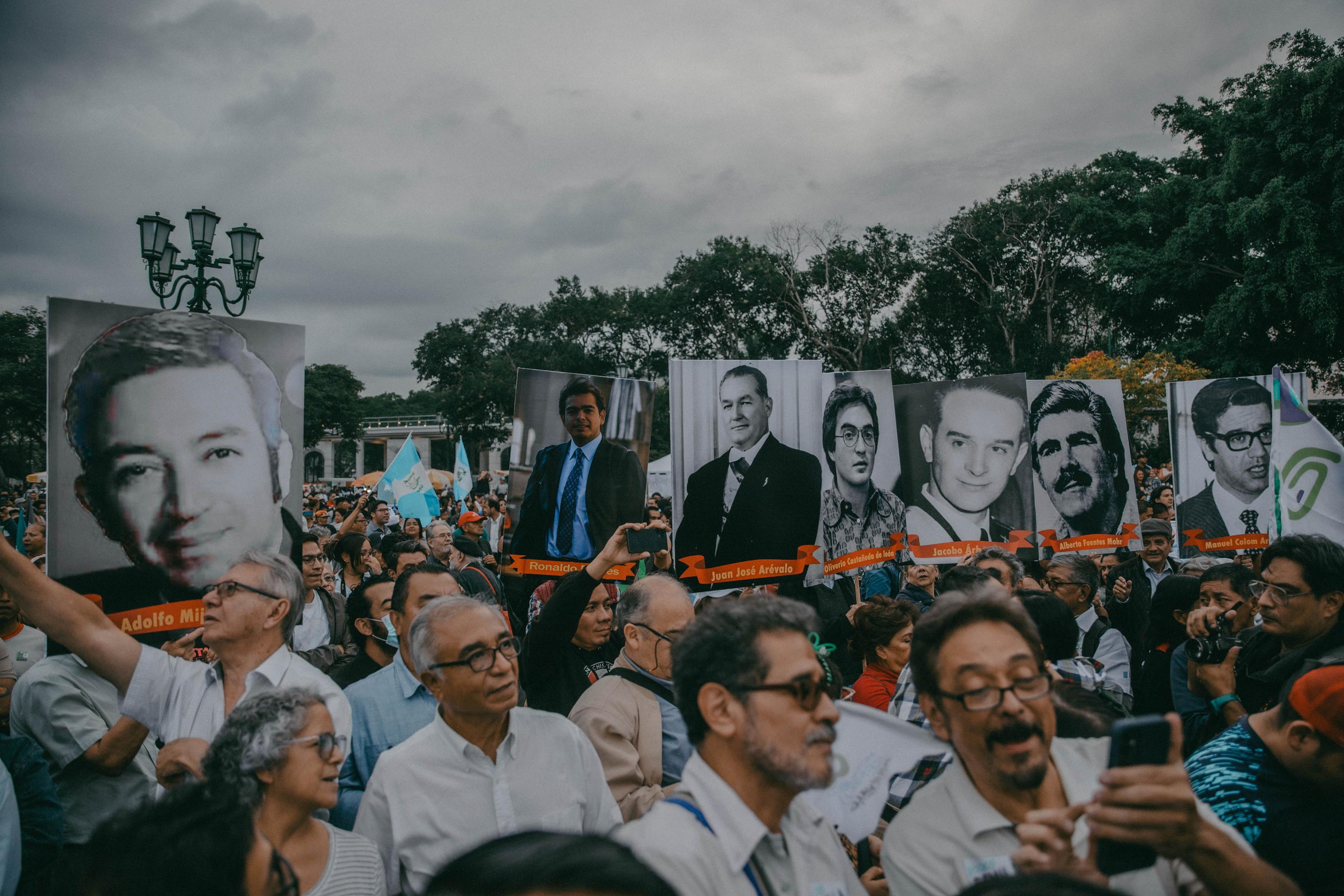 While Semilla appears to have positioned its anti-corruption discourse in the minds of many voters, that has not been quite the case for poverty, job insecurity, physical security, and the high cost of living, issues of enormous electoral importance in a country where one in two children under five years old suffers from malnutrition.
For four decades, Filomina Mazariegos, a woman from the western Guatemalan border department of San Marcos, has sold plastic trinkets of all sorts to demonstrators of all stripes. She does not skip a beat in sharing, as she sits on a bench of pebble slabs in the plaza, that on Sunday she will vote for Torres. In recent days the Torres campaign has shirked electoral law by handing out food and gifts to court voters, with a special interest in market vendors.
"I will definitely vote for Sandra, and I don't do it for the rice and beans. I do it because many people need it — and they're people to feel sorry for. When someone says, 'This bread is already stale,' there are others who will eat it," she shrugs. "If someone is a thief, they are going to steal. The only one who can teach us otherwise is God."
"This is the stronger party, and you can see that in the polls," says her husband Abel, setting aside some water bottles to join the discussion. They have laid out a white sheet in a corner of the plaza with dozens of hats, umbrellas, plastic blow horns of all colors, a water bottle cooler, and Guatemalan flags. Abel works for the Ministry of Education; Filomina, who worked for the government for two decades as a cook, has already retired from the Ministry. "The thing is that Semilla is looking for people with more resources. Sandra comes from down below," he adds. "She gives out food and looks out for people. This guy doesn't give anything."
As Arévalo leaves, I rejoin them to ask about his speech.
"It was good," is Filomina's only reply.
"She liked it because she sold a lot," chuckles Abel. "Look, I've worked for the state for 26 years, and I've seen many a government do more bad than good. Hopefully this is a good one."
"Do you mean to say that Arévalo's speech has changed your mind? Who will you vote for?"
"For Sandra," they reply in unison.
Abel adds: "The thing is, Sandra has promised five thousand [quetzales, some 630 USD] for retirees."
If Arévalo wins on Sunday, he says there will be efforts to prevent his swearing-in. "I have no doubt that between August 20 and January 14, if we win the election, there will be a good number of attempts to prevent it from happening," he told El Faro in an interview on Monday.
On August 13, a leaked video showed a leader of Torres' UNE party telling its fiscales, or vote-count monitors stationed at polling tables on election day, to be ready to object to the vote count: "Yes, I will need each one of you to be ready for impugnation. Because I can share with you that there is an instruction from the national coordinator of fiscales [of the UNE] for each table to be impugned." The party claims that the video was taken out of context, and that "'impugning a table' is, if you will, a colloquialism."
"How beautiful it is to feel people's hope. How beautiful it is that the people again feel that they can take the future of the country in their hands. How beautiful it is to breathe the dignity that is in the air right now," concludes Arévalo after stepping down from the stage, before a handful of microphones.
For tonight, at least, the plaza has been infected with a certainty that Arévalo will win on Sunday. But in these elections, the signs of possible interference to prevent him from wearing the presidential sash in January have been many. Today the plaza celebrated as if oblivious, or indifferent, to those odds.