El Faro is an investigative newsroom that shines a light on corruption in Central America. Subscribe to our newsletter.

With the presidential election set for Sunday, two polls this week place opposition legislator and former diplomat Bernardo Arévalo (64) with a gaping lead over former first lady and political boss Sandra Torres (67) in what would be the latter's third consecutive second-round loss since 2015. Cid Gallup puts the gap at 50 versus 32 percent; Guatemalan firm ProDatos found it to be even wider, at 53.6 versus 29.
Torres has sought to cast her opponent as a foreigner —"the Uruguayan candidate" she repeated at least a half-dozen times in their only televised debate on Monday— as well as an anti-family radical. But Cid Gallup found that Arévalo's negatives had not increased. In July, 20 percent of respondents in a preceding poll evaluated him negatively; in the more recent poll on Wednesday, he registered 19 percent.
In recent weeks false billboards, engineered voices, and social media videos impersonating Semilla have proliferated with messages in favor of same-sex marriage and against Christians and private property. Among Torres voters, though, just 21 percent said the country would worsen if he wins.
The looming questions are whether voting will be peaceful, just how successful any attempt to delay the certification of the results will be, and, once the winner is known, what efforts may arise to obstruct the January 14 inauguration.
On August 13, a leaked video showed a leader of Torres' UNE party telling its fiscales, or vote-count monitors stationed at polling tables, to be ready to object to the count: "Yes, I will need each one of you to be ready for impugnation. Because I can share with you that there is an instruction from the national coordinator of fiscales [of the UNE] for each table to be impugned."
The video stoked fears of an effort on Sunday to move to the courts the decision of who will be president — do you remember Bush v. Gore? Torres' party claims that it was taken out of context, that "'impugning a table' is, if you will, a colloquialism."
Just today, the OAS again expressed its "concern over the continued judicialization of the electoral process."
On Thursday, the Public Prosecutor's Office and allied Foundation Against Terrorism announced that prosecutors are expanding the criminal probe of Arévalo's Semilla party —announced after its surprising results in the first round— to include more allegedly plagiarized signatures in their 2017 enrollment.
Prosecutors say they have now found not 12, but 18 dead people in their registration records, which by law have at least 25,000 signatures. In a TV interview, top prosecutor Rafael Curruchiche stated: "We do not discard raids, arrest orders, or impeachment proceedings after August 20."
International and local election monitors, including OAS Secretary General Luis Almagro, have condemned the charges as a spurious attempt to expunge Arévalo from the election process because of his anti-corruption message.
"Each of the [three previous] excluded candidates has something in common: they were not controllable for the system. (…) There are groups who want to keep their immunity and privileges," said Almagro after visiting the country early this month.
Seven decades after the exile of his father, former President Juan José Arévalo (1945-1951), there are also clear far-right ideological currents motivating the push against Arévalo.
"We are moved by the same spirit as our soldiers during the hardest era of the war," Foundation Against Terrorism president Ricardo Méndez Ruiz told El Faro's Julie López, in an interview that will be published in Spanish later tonight. He's referring to the early-eighties civil war era, the years of a genocidal scorched-earth campaign against rural populations under Efraín Ríos Montt dictatorship.
Another Brazil?
It is expected that, if Arévalo wins, there will be efforts to bar him from taking office in January. "I have no doubt that between August 20 and January 14, if we win the election, there will be a good number of attempts to prevent it from happening. And they will come from different sectors," he told El Faro English's José Luis Sanz in a Monday interview.
His team, eying the recent assassination of presidential candidate Fernando Villavicencio in Ecuador, also has concerns over his physical safety: "For an attempt to occur, all you need is a crazy person. And we do not doubt that there are plenty of crazies in Guatemala, and more than one group who, in their desperation, could think of something like that."
But his packed campaign closure in Guatemala City on Wednesday was jubilant, evoking the Guatemalan Revolution of 1944 and the mass anti-corruption protests of 2015. It felt briefly as if his swearing-in were a foregone conclusion, reports El Faro English's Roman Gressier in a chronicle from the plaza.
The Achí Mayan Ancestral Authority arrived at the plaza from Rabinal, Baja Verapaz, in support of the candidate, dressed in white suits or blue-green multicolor huipiles and with their staffs of command in hand, offering their support to Arévalo. 
On Thursday a Guatemalan court heard final arguments in the Rancho Bejuco trial, a massacre of 25 Indigenous people —among them 17 children and five pregnant women— in the hands of the Army and paramilitaries in July 1982, during the de facto rule of military dictator Efraín Ríos Montt. A verdict could come soon.
"We're tired of impunity, corruption, los mismos de siempre [the same old groups]," Jorge González of the Achí Authority told El Faro English. "The best way to get rid of it is to support Mr. Arévalo so that he reaches office and jointly works toward development, fights human rights violations, kidnappings, and the plundering of our land."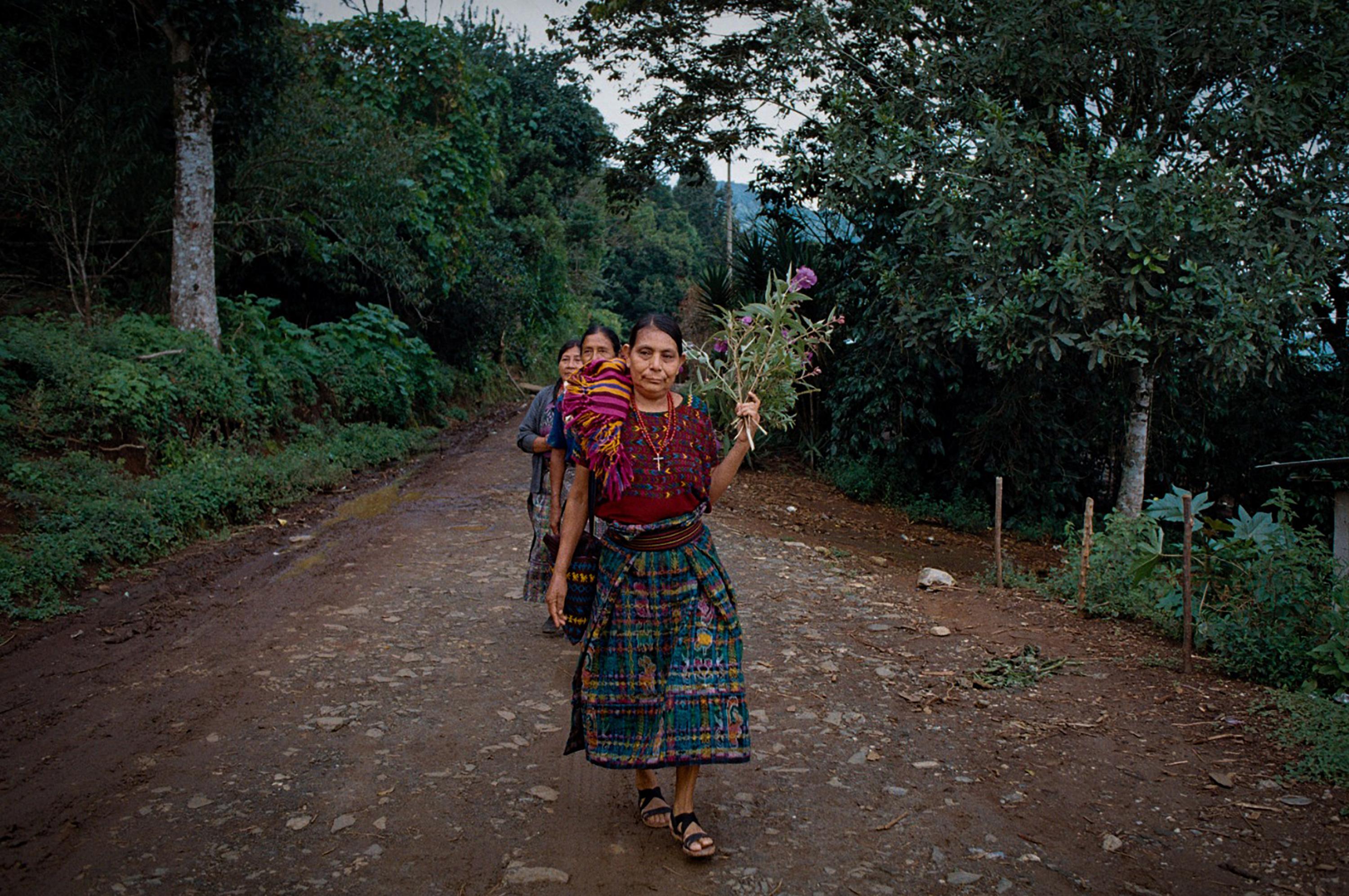 In his interview with El Faro Arévalo asserted that, if elected, "we will seek consensus and discussion with anyone," from Indigenous movements to elites. He has already met with the conservative business association CACIF and today diverse private sector organizations issued statements in "support for the Supreme Electoral Tribunal" or in "rejection of intimidatory actions" from the Public Prosecutor's Office.
The Episcopal Conference also took a stance: "We exhort the institutions of the state, in particular the Public Prosecutor's Office, to, in adherence with the law, favor a climate of citizen participation in peace and harmony and not intervene in the electoral process, the responsibility for which lies with the Supreme Electoral Tribunal."
On Friday the Supreme Court granted a permanent injunction to Semilla against the request to cancel their legal incorporation, effectively preventing further advances on that front until after October 31, when by law the electoral process will end.
Few believe that the ruling will effectively stop the legal harassment of Semilla. And other questions are on the horizon: If she loses, will Torres concede? This Friday, at her closing campaign event, she insisted on denouncing an alleged fraud that has yet to occur.
In the case that she does not, the public voice of the international community —in particular the United States— in endorsing the result could become key, similar to in Brazil last year. This may only come into play if the final distance between the candidates turns out to be as wide as expected.
If not, Guatemala will be in for a long night on Sunday.